From London to the Cotswolds: 5 Best Ways to Get There
The beautiful Cotswolds area provides the visitor with a charming snapshot of what country life was once like in rural England. Boasting numerous quaint villages with narrow lanes and thatched old cottages, extremely friendly locals, rolling hills, and fertile farmland, it's an area that has remained largely unspoiled through the centuries.
The Cotswolds also has the benefit of being close to London. Just 80 miles from London, this area of outstanding natural beauty is easily accessible by road and public transit and makes for an excellent day trip for those based in the nation's capital city. It's also widely regarded as one of the most romantic destinations in the UK, and makes for an ideal couples getaway, whether for a night's stay or a full weekend.
While visiting the Cotswolds, you may also wish to consider adding other nearby destinations to your travel itinerary. This is an especially good option if you plan on visiting for a weekend getaway or extended mid-week break given the Cotswold's central and easily accessible location.
The Cotswolds' also make for an excellent base from which to explore other great places to visit nearby such as Stratford-upon-Avon and Warwick Castle. And, given it's relatively mild weather, the Cotswolds possess a unique charm and is an area worth exploring in winter.
To help you plan the perfect Cotswolds day trip, overnight getaway, or weekend break, be sure to refer often to our list of the best ways to travel from London to the Cotswolds.
1. From London to the Cotswolds by Car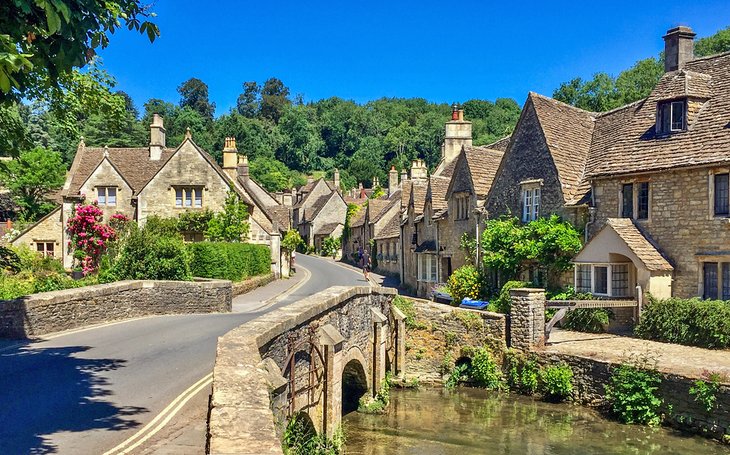 The Cotswolds is relatively easy to access by car. Around two hours travel time from London, the area is served by the M4, M5, and M40 motorways, and traveling by car is a good option for those who like to explore at their own pace. This will also give you the freedom to go where you want.
While some of the most picturesque villages require navigating narrow country lanes, larger destinations such as Stow-on-the-Wold and Moreton-in-Marsh are easily accessible from the motorways and offer plenty of attractions and things to do.
For those wanting to park the car and take the bus or local rail services, consider purchasing a Cotswolds Discoverer One Day Pass. These handy passes offer unlimited travel throughout the Cotswolds. All you need to do is park the car and pick up the pass at the nearest train or bus station.
2. From London to the Cotswolds Direct by Tour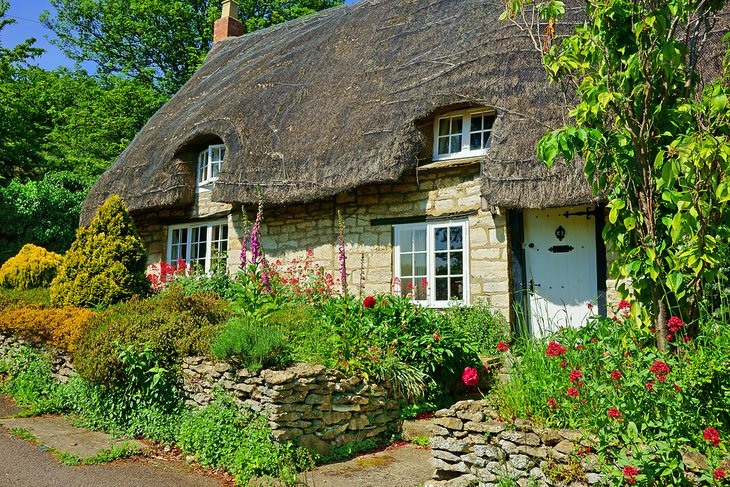 Thanks to its proximity to London the Cotswolds is the perfect place to visit as part of an organized tour that can easily be done in a day.
A popular option for those wanting an unhurried day trip is a fun lunch in the Cotswolds from London tour. Your comfy air-conditioned bus departs Victoria Coach Station at 8:15am and includes plenty of pleasant roadside sights along the way as you make your way through the English countryside.
Highlights include plenty of free time to wander the streets of a number of the region's prettiest villages and towns, including medieval Burford. Here, you'll have the chance to explore the town's old library, along with 12th-century Burford Church.
After working up an appetite exploring Bibury and historic St. Mary's Church, you'll stop for a great two-course lunch at the charming Swan Hotel, a historic riverside inn featuring a cozy stone fireplace, old oak beams, and great food (be sure to order the delicious bread-and-butter pudding!). An hour later, and you're on the way to the village of Bourton-on-the-Water for some free time exploring.
Your last stop will be the charming market town of Stow-in-the-Wold. Grab a spot of tea or explore the many boutique shops lining its high street, or simply wander its lanes and alleys with their old limestone townhouses. Lunch and attraction admissions are included with this tour, which returns to London's Victoria Station in the early evening.
3. From London to the Cotswolds by Tour Via Oxford, Stratford-upon-Avon, and Warwick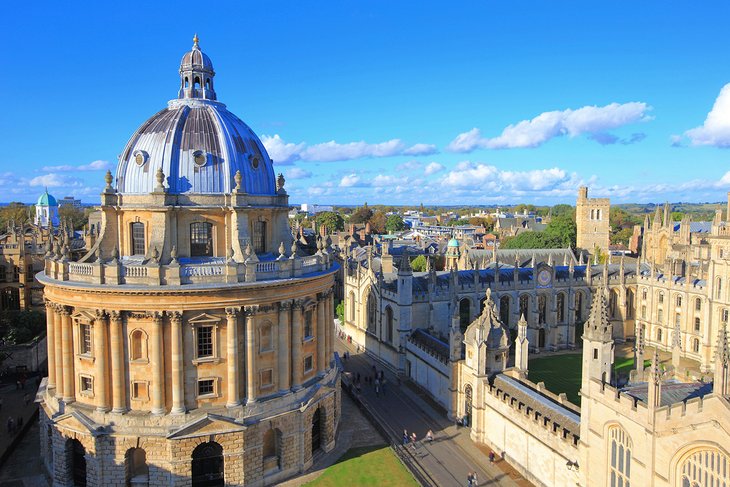 For those wanting to squeeze a few other popular places to visit into their day trip, a Cotswolds tour taking in Oxford, Stratford-upon-Avon, and Warwick Castle could be just the ticket. After an early 8:30am start from Victoria Coach Station (you'll find your air-conditioned coach waiting for you at Gate 1-5, complete with Wi-Fi and phone charging points), you'll be driven first to Warwick Castle. Here you'll enjoy a guided tour of the medieval fortress and its grounds.
Your next stop is Stratford-upon-Avon. Here, you'll visit the well-preserved Tudor-era home where playwright William Shakespeare was born and raised (guided tour provided).
From here, you're driven to beautiful Oxford, for a photo op at one of the city's top attractions: its famous university. A guided walking tour is included before boarding your coach and heading into the Cotswolds. As you drive through this incredibly picturesque region of England, you'll have plenty of opportunity to grab photos of some of its quaintest villages as mementos of your visit.
Included with this affordable tour package are the services of a professional guide, attraction admissions, and an audio guide with headset. Drop-off is at Vauxhall Bridge.
4. From London to the Cotswolds by Train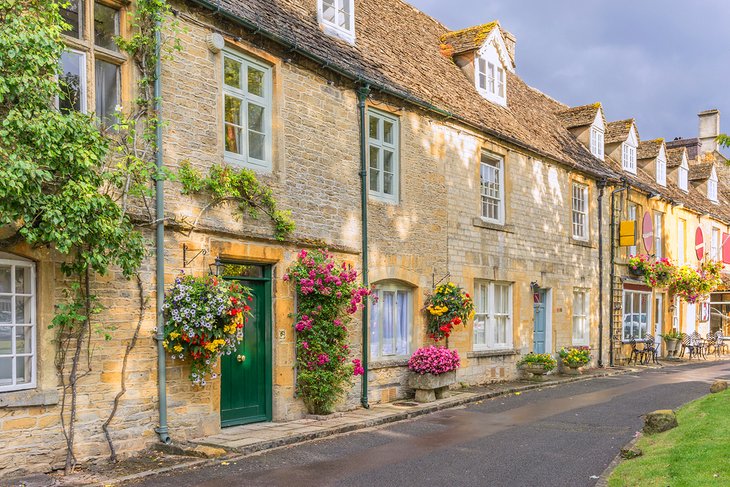 While some of the most-visited sightseeing destinations in the Cotswolds aren't accessible via train, it is possible to get to some of the region's larger towns and cities from London by rail. From here, you can consider renting a car, hopping aboard a local bus, or joining a shuttle bus for an excursion into remoter corners of the Cotswolds.
The most direct route is with Great Western Railway from London Paddington to Moreton-in-Marsh in the northernmost corner of the Cotswolds. The journey takes between 1.5 to two hours and travels through pretty scenery along the way. An added benefit, should you have time or are planning an overnight stay, is to break the journey up with a stop in Oxford.
The best fare deals are usually available after the morning rush hour, with sometimes substantial off-peak discounts being available online. Additional savings can be secured with the purchase of a BritRail Pass prior to your departure for England. This handy pass allows plenty of flexibility for tourists planning on using the rail network for specific periods of time.
To delve further into the Cotswolds from Moreton-in-Marsh, you'll want to arrange a car rental for the day, join an organized tour, or make use of the local bus service. While the latter can get you to some of the larger communities within the Cotswolds, such as Stow-on-the-Wold and Bourton-on-the-Water, it can be time-consuming. That said, if you're able to extend your visit for a few days, it can be a great way to explore this area of outstanding natural beauty.
5. From London to the Cotswolds by Bus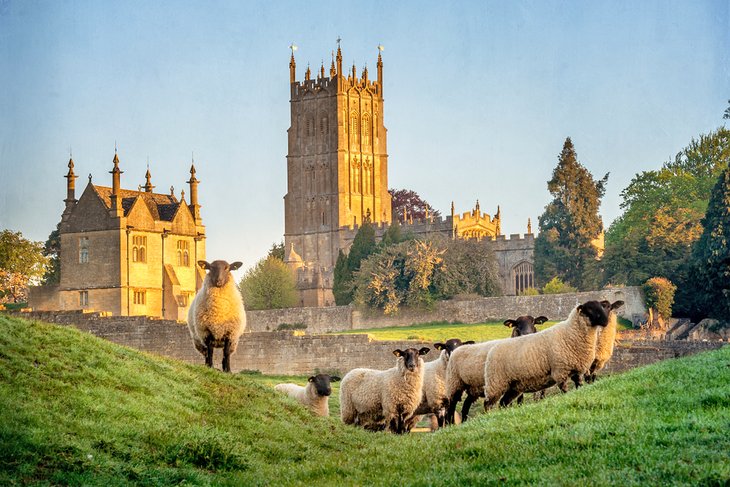 Moreton-in-Marsh can also be reached by bus. National Express coach lines offer a 2.5-hour journey from Victoria Coach Station. It's extremely affordable, with the best rates being available with advance purchase online. Other Cotswold towns can be reached by bus but typically take longer. For example, coaches to Gloucester or Cheltenham can take up to 3.5 hours to get there.
As with taking the train, once at your destination, you'll need to make use of local transit to get you around. Both Gloucester and Cheltenham offer accessible local bus and rail connections around the Cotswolds. A good option is the Cotswolds Discoverer One Day Pass. It offers unlimited travel for the day along with discounts for some attractions. Again, this method is perhaps best suited for those who plan on staying a few days in the area.