15 Top-Rated Weekend Getaways from London
We may earn a commission from affiliate links ()
London, whether you're passing through as a visitor or living here, serves as an ideal point from which to enjoy a seemingly endless choice of fun weekend getaways. Not only are weekend trips from London, England, easy to organize, but thanks to great rail and numerous flight connections, there are plenty of options for those seeking a memorable weekend getaway.
Fancy a trip to Paris? Easy! Take the fast Eurostar train through the Channel Tunnel or hop aboard a short flight from one of London's five airports. On a tight budget? You can even hop aboard a coach or bus for the journey to the French capital, a trip that only takes a few hours and often involves only bargain basement pricing.
Looking for something a little closer? Again, no problem: London's a major transportation hub that serves pretty much all of the UK. For somewhere quick and easy to get to, consider the delightful old market town of Windsor. Just 25 miles west of the center of London, Windsor offers a variety of short breaks worth looking into, including stays at historic bed-and-breakfasts and the chance to tour historic Windsor Castle.
Whether you're on the hunt for a cheap weekend getaway or an exciting last-minute city break in the UK or Europe, be sure to refer often to our list of the top weekend getaways from London.
1. Paris, France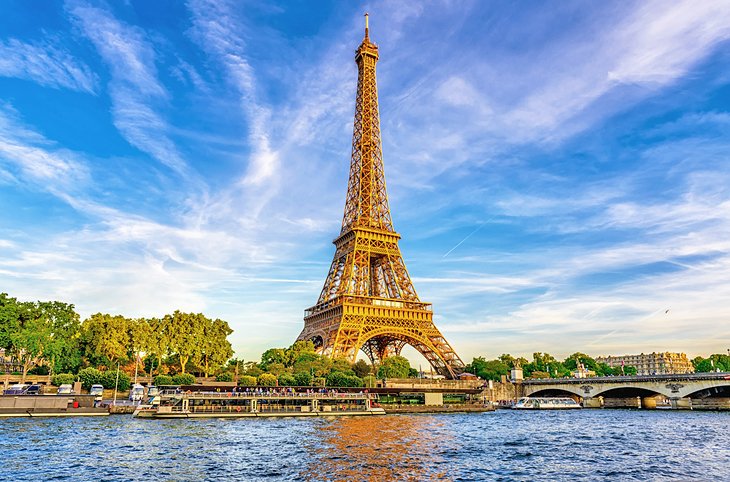 Few travel destinations fuel the imagination quite like Paris. Just a 2.5-hour rail journey or an hour by plane from London, the "City of Lights" offers no end of things to do during an exciting European weekend break. Topping the list for couples seeking a romantic getaway is visiting such iconic locations as the Eiffel Tower (perhaps the world's most romantic couples' selfie spot) as well as the Louvre, home to the famed portrait, the Mona Lisa.
In addition to its many fine-dining restaurants and pleasant street-side cafés, visitors should also spend time exploring the city's many markets. Tucked away down quaint old streets and alleys, it's here you'll quite literally get a true taste of Paris, the authentic Paris known and loved by those who live and work here.
Notable neighborhoods to explore on foot include the Latin Quarter, with some of its oldest buildings dating as far back as medieval times. Then, of course, there's magnificent Montmartre, famous for its connections to the city's vibrant art and literary scene, both past and present.
2. Bath, England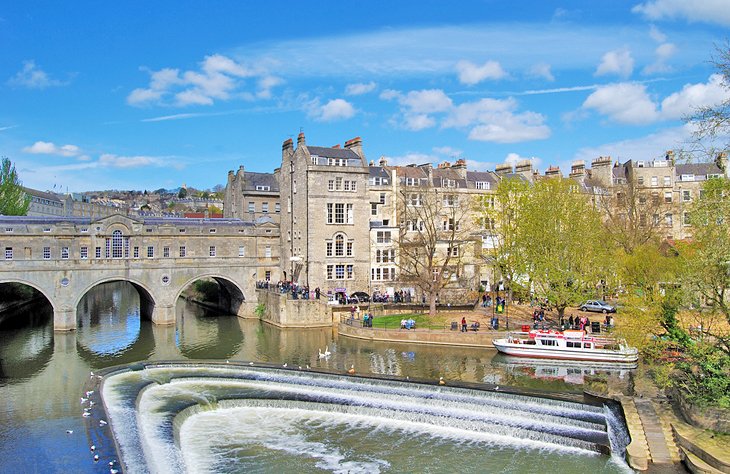 The historic town of Bath in Somerset is undoubtedly one of the most beautiful small cities in England. And as such, it's another destination that's a lot of fun to visit for couples seeking a romantic weekend getaway. An easy 1.5-hour train journey east of London, this charming destination is perhaps best known for the historic Roman Baths after which it's named.
Given the fact that 1.3 million tourists visit the site of these ancient Roman baths each year, you'd do well to plan your trip for a quieter time of year if you can be flexible. Christmas is, in fact, a wonderful time to arrive. Not only are there fewer line-ups and crowds to deal with at the baths and other top Bath attractions, there's also the opportunity to shop for locally made gifts and crafts in the popular Christmas Market, one of the largest in England.
3. Amsterdam, The Netherlands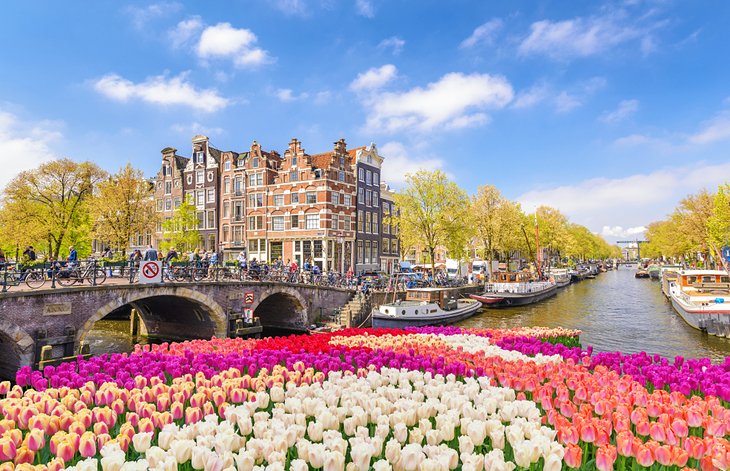 Long considered one of the leading city breaks Europe has to offer, the city of Amsterdam in the Netherlands is an easy one-hour flight from London. And thanks to the Channel Tunnel, it's also now extrememly easy to get to by train, too.
You'll find plenty of fun things to do in Amsterdam, from gallery hopping in the magnificent Rijksmuseum, with its classic artworks by such greats as Rembrandt, to hopping aboard a tour boat for a cruise along the city's famous canals.
4. Canterbury, England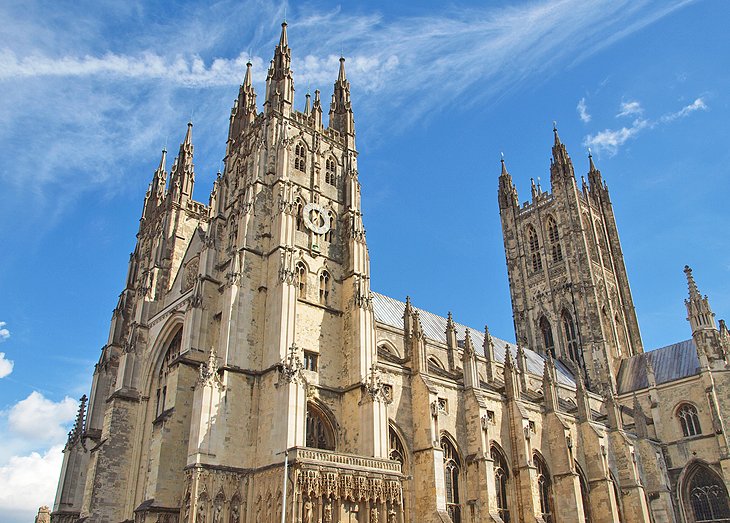 A favorite for history buffs, the cathedral city of Canterbury in Kent is an easy one-hour rail ride from central London. For a truly unique weekend getaway, book a stay in the excellent Canterbury Cathedral Lodge, located in the grounds of the cathedral. You'll be rewarded not just with an extremely comfortable place to stay but also some memorable views over the gardens and the cathedral. A stay here also includes privileges such as direct access to areas in the Cathedral Precincts.
5. Edinburgh, Scotland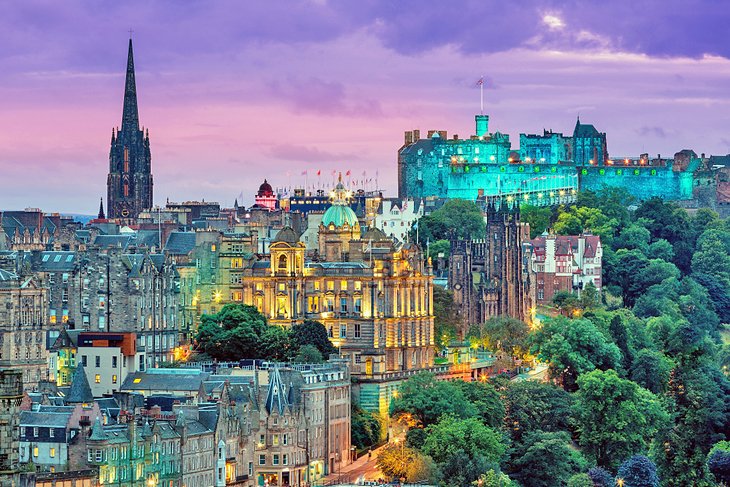 Just over an hour's flight north of London is another capital city worth exploring: Edinburgh. Sure, you could take the train, but the nearly five-hour journey will mean less time to explore the top points of interest in the Scottish capital.
Topping your list of must-see attractions is majestic Edinburgh Castle, which is easy to get to on foot from most centrally located hotels and B&Bs. You can expect to spend the best part of a day exploring the castle, and longer if you plan on seeing the many displays of historic artifacts, such as the impressive collection of crown jewels.
Within easy reach of the castle and the old part of the city is the Royal Mile. This stretch of historic old townhomes and shopfronts, as well as the New Town area, is a delight to explore on foot. In addition to the many fine old hotels, B&Bs, and guesthouses sprinkled about this pleasant Georgian-era neighborhood, you'll have access to Princes Street with its excellent dining and shopping experiences.
6. Cardiff, Wales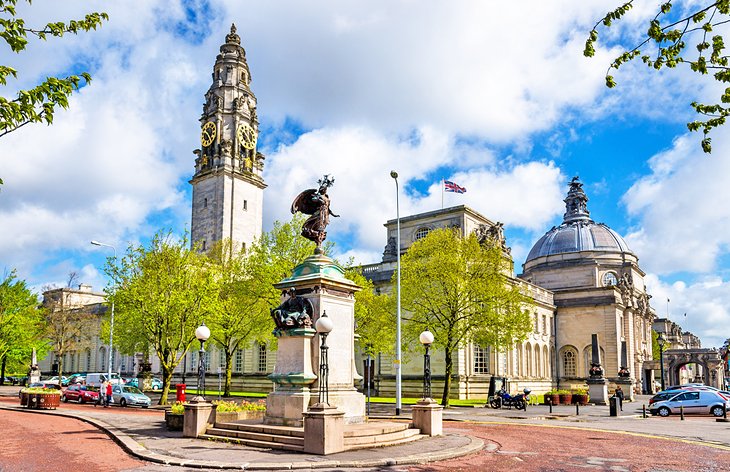 The capital of Wales, Cardiff, is another great UK weekend destination to explore. Easily accessed by rail or road – it's a tad under two hours by train from London – the city offers everything from luxury stays in grand old hotels to cheap breaks in modest accommodations. Wherever you stay, though, expect to have fun.
Not only are the Welsh among the friendliest of people, they're known for their handiwork and craftsmanship. This can easily be experienced by taking a fun self-guided walking tour of the city's pleasant Victorian arcades.
7. Dublin, Ireland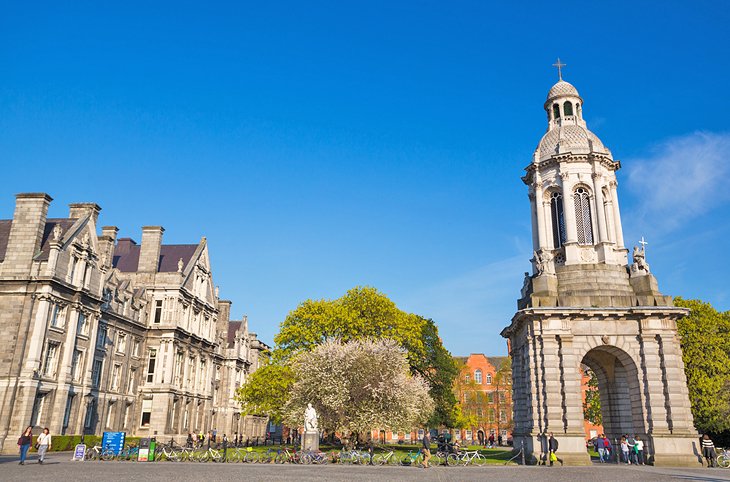 An easy one-hour flight from London, the Irish city of Dublin makes for a great weekend getaway for families and couples alike. As well as having numerous fun attractions geared towards specific interests, there are plenty of great places to stay, whatever your budget.
8. Brighton, England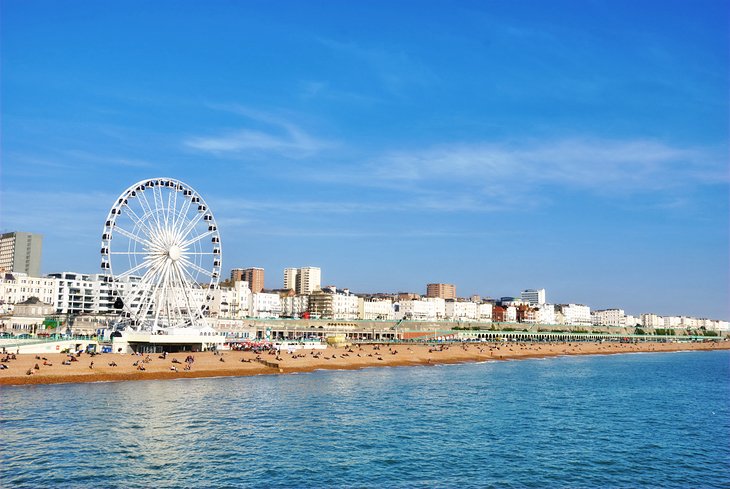 An hour by train due south of London, the picturesque city of Brighton provides an authentic British seaside weekend getaway experience. When it comes to accommodations, choose from the numerous fine hotels and B&Bs set in the old townhomes that overlook the beach.
Once settled in, head straight for the promenade. Here, you can walk for hours as you take in the views over the English Channel, the old Regency-era architecture that lines the streets, the many pleasant gardens and parks, and its two most recognizable landmarks, the Palace Pier.
9. The Channel Islands, England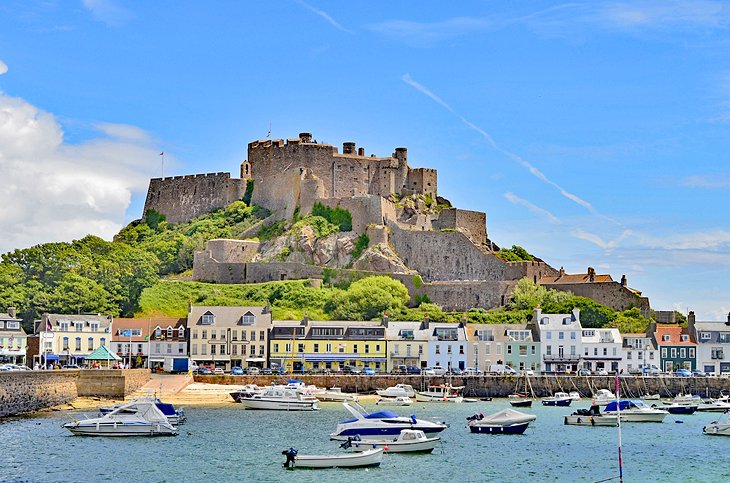 Often overlooked by visitors to the UK, the charming Channel Islands are only an hour's flight from the capital. This chain of islands off the coast of France includes the smaller islands of Guernsey, Alderney, Sark, and tiny Hern, but it's in Jersey-the biggest -that you'll want to begin your adventure (and possibly finish, depending on the length of your stay).
In addition to incredible views from almost every vantage point, you'll be rewarded with a relaxing break spent exploring seemingly endless walking and hiking trails, the quaint streets and fortifications of St. Helier, as well as sites such as the popular Durrell Wildlife Park.
10. Cambridge, England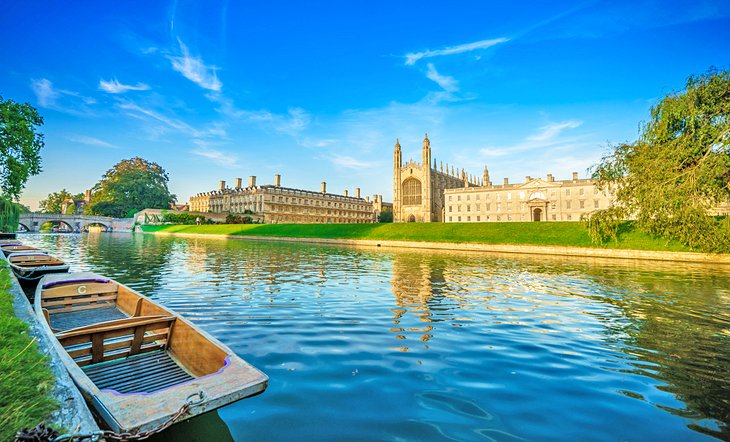 The university city of Cambridge is another great weekend getaway from London for those who don't want to travel too far. An easy hour by car or rail from the center of London, this beautiful old city has much to recommend it.
Try to set up shop as close to the heart of the old city as possible, as Cambridge was made to be explored on foot. There are many luxury hotels, as well as cheaper B&B options located here.
11. Berlin, Germany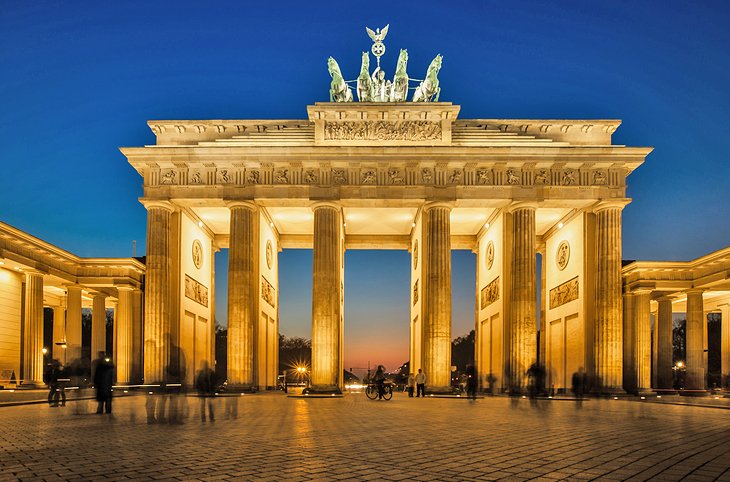 Most visitors to London are surprised to learn that they can fly to so many other European capital cities in under two hours. Take Berlin, for example. Just 1.5 hours away by plane, it's the perfect excuse to take a weekend break Europe-style.
There are also a surprising amount of good quality, affordable hotels near the city center. Many of the best are within an easy walk of such top destinations as the iconic Brandenburg Gate, the magnificent Museum Island area, and the remnant of the Berlin Wall.
12. Bournemouth, England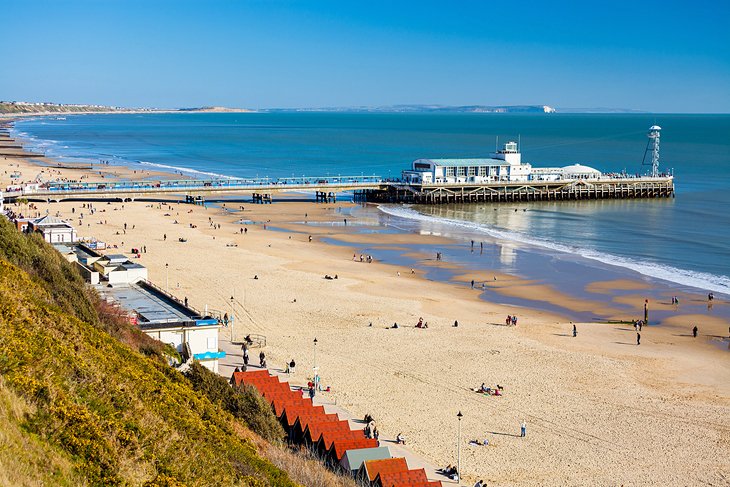 Another great seaside destination in the UK that's relatively easy to get to is Bournemouth in Dorset. Under two hours by train, Bournemouth is perhaps the classiest of the country's coastal towns. Here, you'll have plenty of great luxury hotels to choose from, along with elegant B&Bs and historic old inns, most of them within an easy walk of what the town is best known for: its beach.
13. Zurich, Switzerland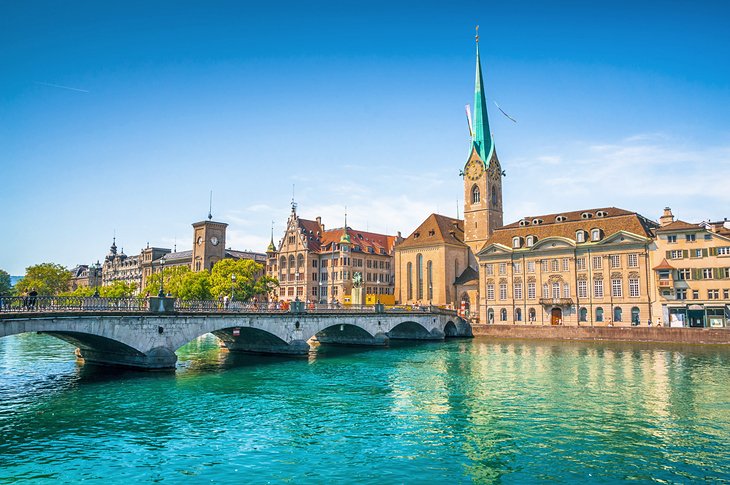 Just a 1.5-hour flight from London, the city of Zurich offers one of the best city breaks in all of Europe. Switzerland's biggest city has moved mountains to create an extremely pedestrian-friendly experience for visitors, who flock here to shop for luxury goods (Swiss watches are, let's face it, the best) as well as to soak up the culture and ambience of the Old Town.
After disembarking the airport train (fast and efficient), you'll find yourself in the heart of a multi-million-Swiss-franc redevelopment that offers wide streets for pedestrians, with few if any cars anywhere to be seen. It's here you'll find trendy hotels and chic restaurants, superlative shopping experiences, and, just a few minutes away, one of the most romantic city centers to be seen anywhere.
14. Windsor, England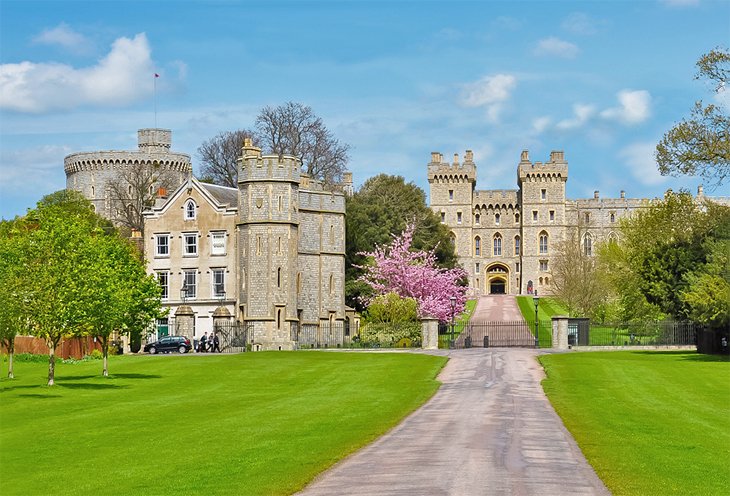 One of the top weekend getaways for those seeking short city breaks from London is to head to the town of Windsor. Just 30 minutes away by train, it's an easy trip that will drop you off in the midst of one of the most impressive old towns in the country, and just a few steps away from one of its most iconic landmarks: Windsor Castle.
15. Oslo, Norway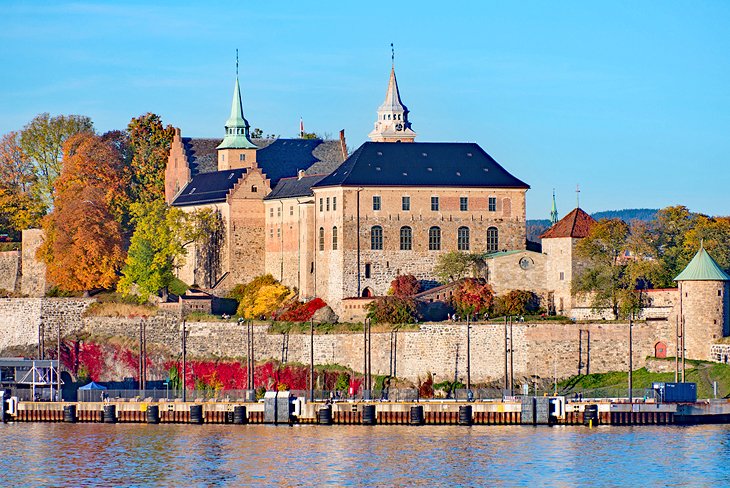 Oslo, the capital city of Norway, is only a two-hour flight away from London. While not a cheap weekend away – Norway is considered one of the most expensive travel destinations in Europe – Oslo offers many fun things to do.
If you can check into one of the city center hotels, do so; you'll enjoy access to one of the most pedestrian-friendly cities to be found anywhere. Start with a walk to the stunning Opera House, then head to the large Akershus Fortress, a military complex that guarded the city and its harbor for centuries. From here, it's a bit of a haul to the Royal Palace, but it's worth it.