From London to Windsor Castle: 5 Best Ways to Get There
As one of the top tourist attractions in the country, Windsor Castle is a must to include on your England travel itinerary. The official summer residence of the Royal Family for over 900 years – and Europe's longest still-lived-in royal residence – Windsor Castle is open to the public year-round and makes for an exciting (and easy) excursion from the heart of London.
Although just 23 miles from London, Windsor Castle can take a little more time to get to than you'd think if you're traveling by car or bus. But there's plenty to see on the way, and the journey can certainly be a lot of fun, too, especially if you include Windsor as part of a day trip to other popular attractions on the outskirts of London.
Better still, take advantage of the many unique transportation options available. One fun experience is to book one of the many popular guided tours of this stunning attraction. Most start from the heart of London (some with hotel pickups), and involve someone else taking care of every detail for you – including getting you there.
To learn more about the best ways to get from London to Windsor Castle, be sure to review our suggestions below. Safe travels!
1. From London to Windsor Castle by Organized Tour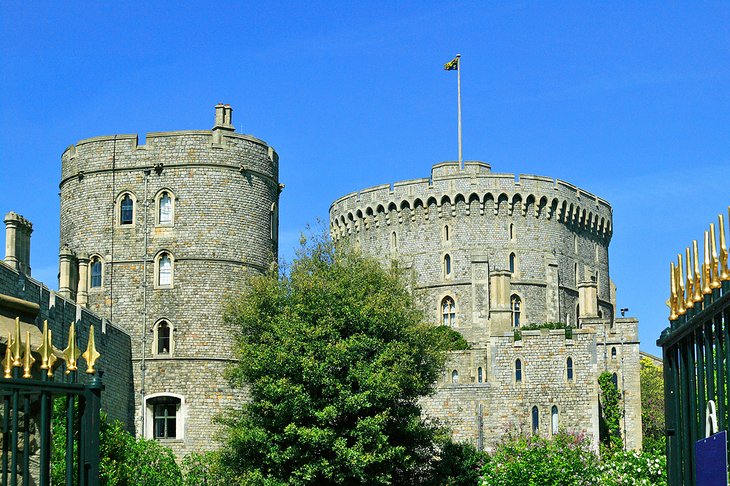 Our preferred option – and one that's a favorite of countless travelers to England – is to join an organized tour to Windsor Castle. One of the most popular includes a visit to some other of England's top attractions: the Stonehenge, Windsor Castle, and Bath day trip from London tour.
While it makes for a long and busy day, the opportunity to cram so much into your day makes it all worthwhile for those on a tight schedule. Traveling by luxury coach, you'll depart from Victoria Coach Station at 8am (boarding begins at 7:30), with an early evening return to the same location.
Windsor Castle is your first stop. Here, you'll be treated to a guided tour of highlights, including the State Apartments and St. George's Chapel.The Royal Family have called Windsor Castle home for over 900 years, and after Buckingham Palace, it remains one of the most iconic royal landmarks.
In addition to the wonderfully preserved architecture, decor, and furnishings, you'll also see rare paintings by the likes of Van Dyck and Rubens, along with colorful murals. A highlight of the hour-long visit is the chance to see the actual chapel where Prince Harry married Meghan Markle, as well as the Royal tombs. You will also catch the colorful Changing of the Guard ceremony.
From here, you'll visit Salisbury and Stonehenge, then end the day trip with a chance to see the Roman baths and exquisite Georgian architecture of Bath.
Another great option to consider is the London to Windsor Castle tour with lunch. This five-hour trip includes luxury coach transportation from London direct to Windsor Castle, along with general admission that allows you to explore both the castle and the town at your leisure. Other inclusions consist of a traditional fish and chip lunch and a stop at the famous Harrods department store.
These popular tours depart from centrally located Victoria Coach Station in Belgravia. Wear comfortable footwear, as there's plenty of walking involved. All attraction tickets and transport are included in your adventure, as are informative audio guides at most of the attractions you stop at.
2. From London to Windsor Castle by Train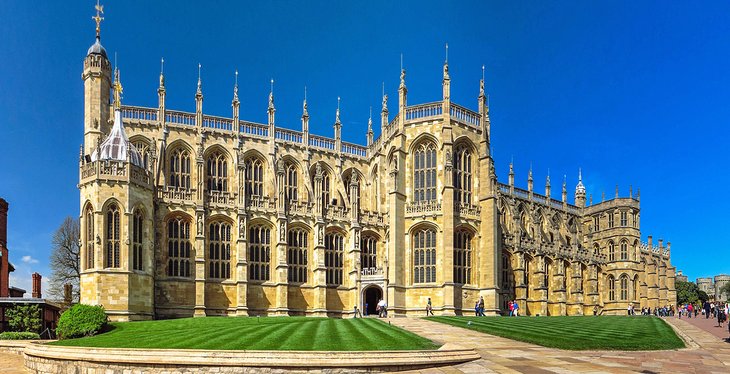 Train travel from London to Windsor Castle is easy and efficient. Depending on your departure point, the journey can take anywhere from just 20 minutes, as opposed to the nearly hour-long journey by road.
Served by Great Western Railway (from Paddington, with a quick change at Slough) and South Western Railway (London Waterloo), departures are frequent and arrive at either Windsor and Eton Central, or Windsor and Eton Riverside.
Whichever route you take, Windsor Castle is a short walk from these stations. While the route from London Waterloo doesn't involve any changes, it is slower and can take up to 50 minutes given there are more stops. Expect to pay around £10.50 for your return trip, whichever station you depart from.
3. From London to Windsor Castle by Steam Train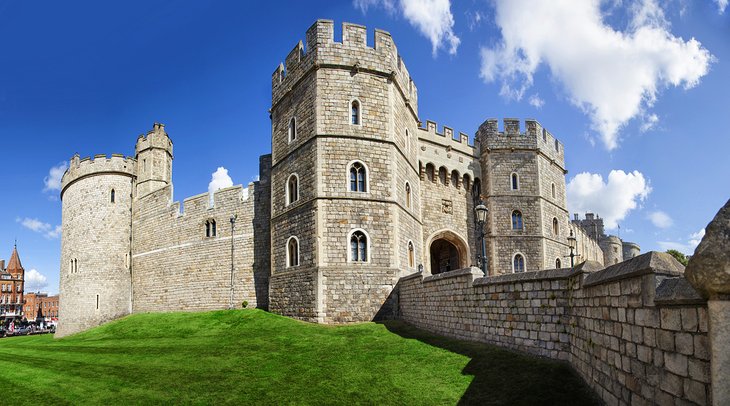 If you're planning on visiting Windsor Castle between June and September, why not consider taking an authentic steam train? Although offering only one-way trips (returns are easy via regular train or bus services) and departing only on Tuesdays, this unique experience offered by Royal Windsor Steam Express departs from London Waterloo station and is an experience you won't soon forget.
For an even classier experience, book an onboard brunch, served on route aboard the train's luxurious Pullman dining carriages. Snacks and beverages are also available or, if you prefer, you can bring your own picnic. Along the way, you'll pass a variety of landmarks, including the Houses of Parliament and the London Eye, as well as cross the Thames River. Tickets cost from £35, and an upgrade to the first-class departments is available.
The company also operates a classic steam launch out of Windsor. The Royal Windsor Steamboat Express operates during the same period, and is rapidly becoming one of the most popular things to do for those wanting to view the town of Windsor from the water.
4. From London to Windsor Castle by Bus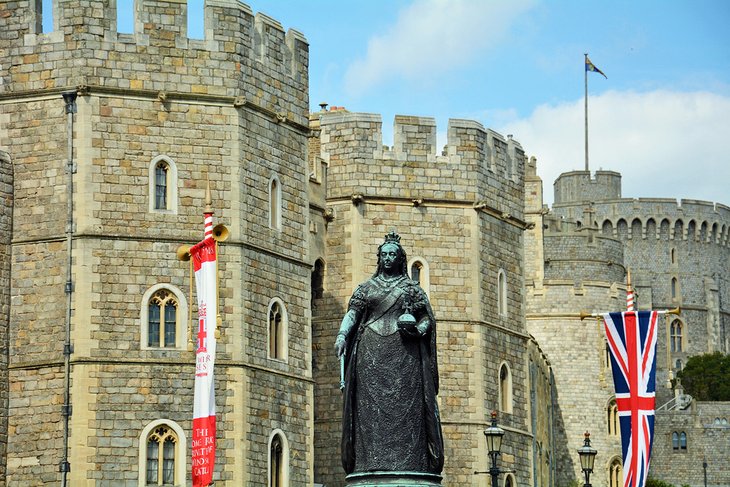 While not the fastest means of getting to Windsor Castle from London, hopping aboard a bus could be a good option for those seeking cheap travel to this iconic attraction. It's also handy for those not located close to one of the major train stations that serve Windsor. Costing around £6 or so for a return trip, Transport For London's Green Line buses (#702) serving Windsor depart from London Victoria once an hour and take up to one-and-a-half hours to get there.
Stops along the way where you can pick up the bus include Hyde Park Corner, Royal Albert Hall, Knightsbridge, Kensington, Hammersmith, Langley, and Slough (and the closer to Windsor, of course, the cheaper your fare). A bus stop is conveniently located adjacent to Windsor Castle.
Those planning on heading straight to Windsor after arrival at Heathrow Airport are also in luck. A good way to kill some time after a red-eye flight and before your accommodation check-in is making Windsor Castle your first attraction stop. Head to Terminal 5 and look for the First bus service (#8 or #9). Although a change is required at either St. Leonards Rd or Slough, buses leave every 30 minutes throughout the day.
5. From London to Windsor Castle by Car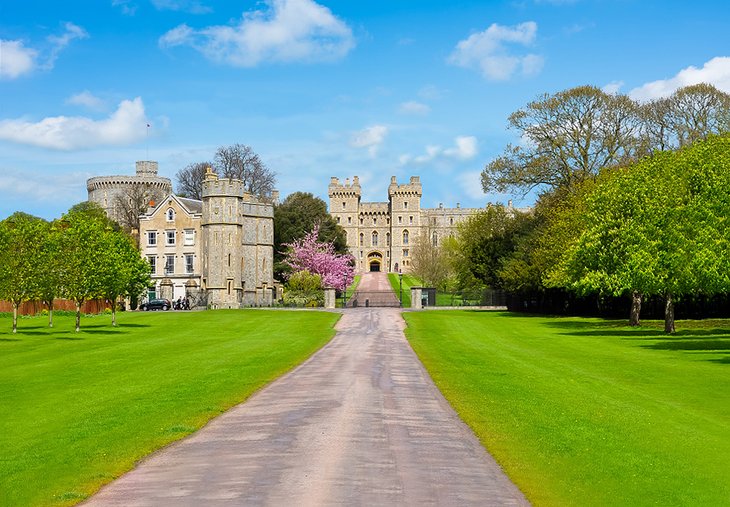 If you're brave enough to drive to Windsor Castle from central London, read on. First, allow plenty of time: London is a vast and often congested city, and rush hour can add substantially to your travel time. On a good day, you could expect at best to make the trip in an hour.
The most direct route will have you travel from central London east to Slough via the M4 Motorway before picking up the A355 to Royal Windsor Way, and then the A332 into Windsor itself. An alternative route involves taking the A40 and M4 (tolls required).
Regarding cost - it can soon add up. In addition to car rental costs (which can vary widely), you'll be subject to a city congestion charge, plus an emissions fee and any tolls.
Then there's parking. Rather than waste any time trying to find street parking (close to non-existent), head straight for the long stay parking options available (Romney Lock, King Edward VII, Datchet Road, or Alexandra Gardens). Just a 10-minute walk from the castle, they're relatively inexpensive for a full day's parking.