14 Top-Rated Attractions & Things to Do in Salisbury
We may earn a commission from affiliate links ()
Historically a center of the cloth industry, Salisbury – the county town of Wiltshire – lies at the point where the Rivers Nadder and Bourne flow into the River Avon. The city is most famous for its beautiful cathedral, a masterpiece of the early Gothic style that dates to 1220, when the building's foundation stone was laid.
The old city center is also worth taking time to explore and is the location of many important tourist attractions. Notable for its checkerboard layout, with lovely enclosed gardens squeezed between the houses, Salisbury was to become a model for medieval town planning.
On receiving royal market privileges, a bridge was built across the Avon in 1244, thereby creating perfect conditions for Salisbury to become a major trading center. These days, Salisbury is a much-visited tourist destination not just for its rich and storied history, not to mention its proximity to Stonehenge, just 10 miles north of the city center. It's also a popular place to visit for its many fine boutique shops and first-rate dining opportunities.
To ensure you make the most of your time in this historic city, be sure to read our list of the top tourist attractions and things to do in Salisbury.
See also: Where to Stay in Salisbury
1. See the Magna Carta at Salisbury Cathedral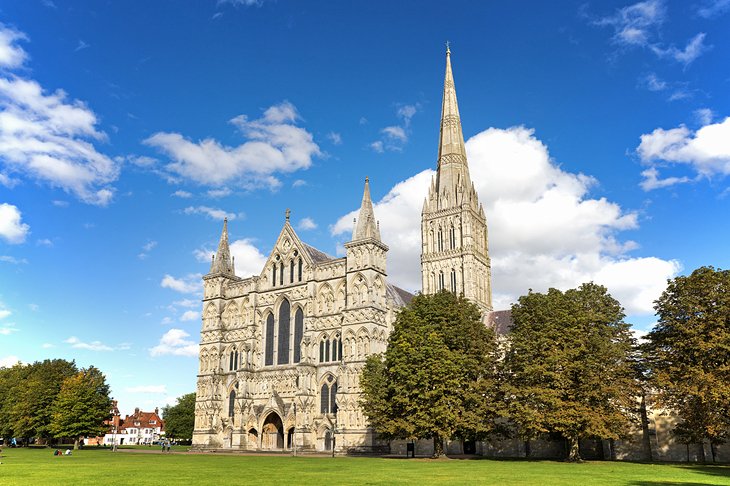 Completed in 1258, Salisbury Cathedral remains one of the most visited religious sites in England. Built in a typically English style, the cathedral's lovely interior of bright-colored limestone and darkly gleaming Purbeck marble is a delight to behold.
Notable features include the gallery-like triforium, where you can still hear the chime from the cathedral's faceless 14th-century clock, the world's oldest and the oldest such device in the UK. Also of interest are the many elaborate tombstones, some of them dating back to the 13th century. The cathedral's stained glass windows, most of which date from the 19th and 20th centuries, are exquisite, particularly the Gabriel Loire window in the Lady Chapel.
The Gothic cloister and the octagonal chapterhouse both date from the 14th century, the latter having a single central pillar acting as a vault support, a fine wall-frieze with pictures from the Old Testament, and tracery windows divided into four sections with 19th-century glass. Items stored here include one of the four original copies of the Magna Carta, the foundation of the British constitution and now a part of a fascinating exhibition, as well as other Anglo Saxon documents. Also stored here is the inspection report on the cathedral tower written by Sir Christopher Wren in 1668.
2. Explore Historic Cathedral Close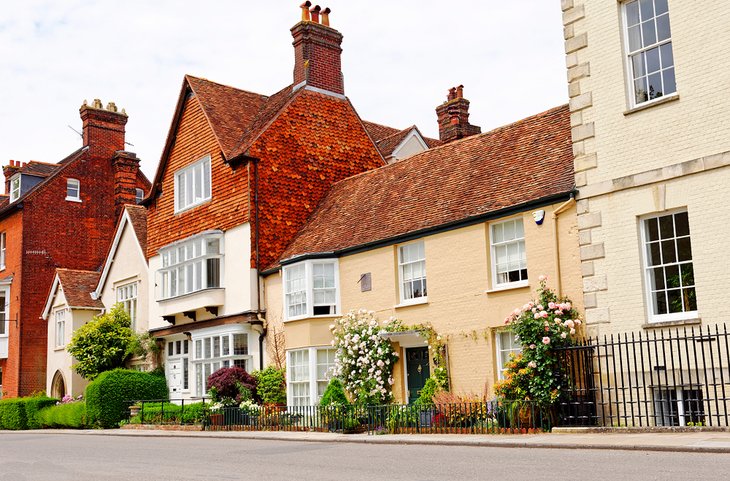 Separated from the rest of the city by three gateways – including the main entrance to the close, High Street Gate-Salisbury's wonderful Cathedral Close is well worth taking the time to explore. The curious will discover a number of well-preserved Elizabethan and Georgian houses with their lovely green lawns. Dating from between the 14th to 18th centuries, these were once the residences of the dean, ecclesiastical officers, and teachers at the cathedral school.
Of special interest is Arundells, the former residence of Prime Minister Sir Edward Heath. Other popular tourist attractions located here include Mompesson House, worth visiting for its rare collections of period furniture, glassware, and walled garden; the Wardrobe, a stunning 13th-century manor home that houses The Rifles Berkshire & Wiltshire Museum (plus tearoom); the excellent Salisbury Museum; and Sarum College, which offers a variety of concert and education programs.
3. Mompesson House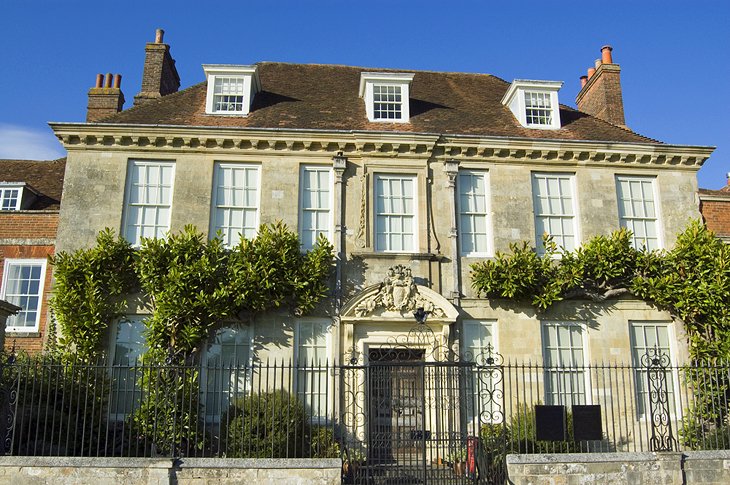 Perhaps the most important building to be located in Cathedral Close, the 18th-century Mompesson House is well worth taking time to explore. One of the county's most visited National Trust properties, it's certainly a grand affair, and has starred in numerous movies and period costume dramas such as Sense and Sensibility.
A highlight of this Queen Anne-style mansion is its superbly maintained interior, which is home to important plasterwork and antique furniture from the period. Other highlights include its fine collection of 18th-century glassware and its lovely oak staircase. Be sure to allocate time to explore the picturesque walled garden, too. There's also a great tearoom on-site.
4. Walk the Old City Center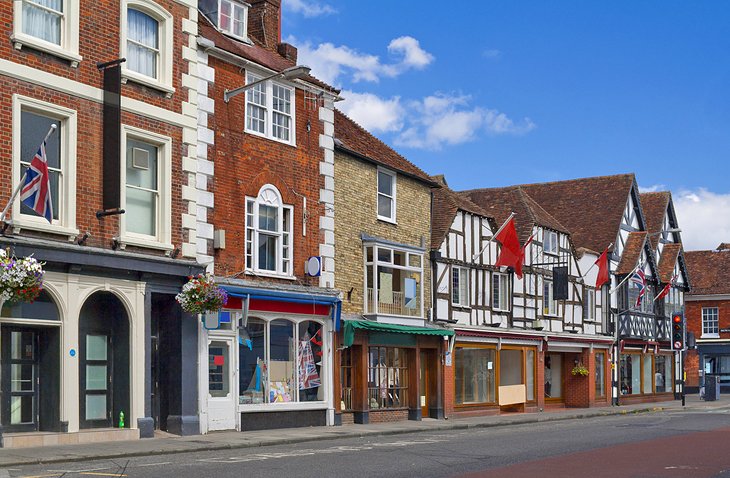 Undoubtedly one of the most popular things to do in Salisbury is wandering the many quaint streets of the Old City center. In addition to its great shopping, the area is chock-full of delightful architecture dating from medieval times to the 19th century. Highlights include the 15th-century parish church of St. Thomas of Canterbury; the wide market place with its medieval market landmark, Poultry Cross; the 18th-century Guildhall; and the 15th-century Plume of Feathers Inn.
Other nearby points of interest include the Red Lion Hotel, with its fine 1820s façade and pretty inner courtyard, along with Joiner's Hall, an attractive half-timbered building dating from the 16th century. Through the North Gate are the meadows of the River Avon, with their fine views of the cathedral, so famously captured by artist John Constable.
5. Tour Ted Heath's Arundells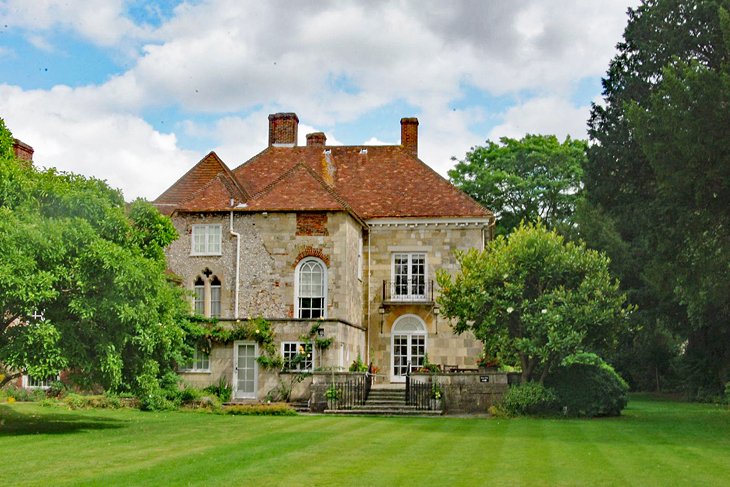 The former home of British Prime Minister Edward (Ted) Heath until his death in 2005, Arundells is one of the best known historic buildings, located in Cathedral Close. Opened to the public in 2008, it's a delightful building to visit and explore.
Highlights of a visit to the home, which contains evidence of its late 13th-century heritage, include the tasteful flourishes added during Heath's time here, including the display cabinets and custom furnishings he had commissioned. Displays include artifacts from his lengthy political career and his personal life, a sizable art collection (including works by none other than Winston Churchill), and musical memorabilia (he was an accomplished musician).
6. Explore the Roman Ruins of Old Sarum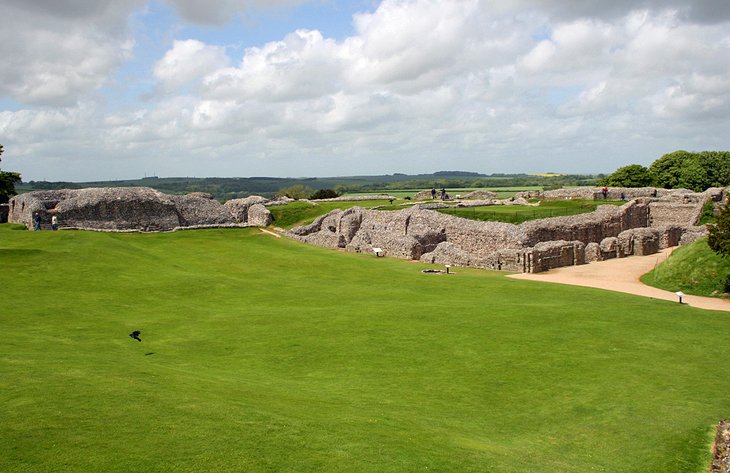 Old Sarum, the precursor of present-day Salisbury, was built two miles to the north of the city center on a hill that has been fortified since the Iron Age. The Romans built a fort of their own here, the camp of Sorviodunum, while under the Saxons a town settlement grew up on the site.
7. The Salisbury Museum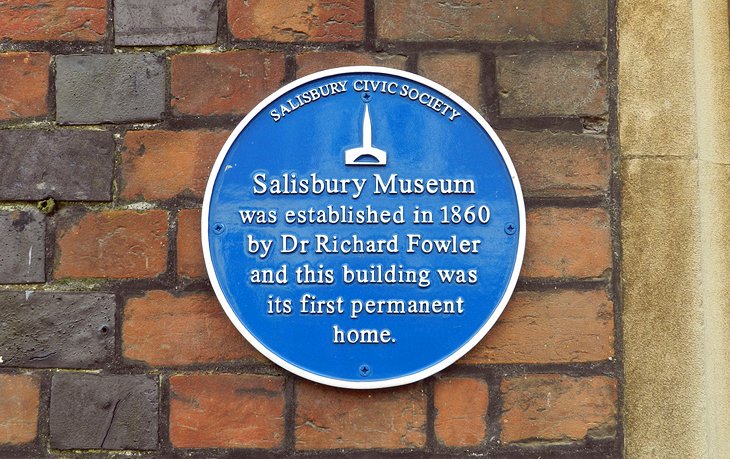 The award-winning Salisbury Museum has a wide variety of permanent displays and special exhibitions throughout the year that highlight the art and history of England, and Wiltshire in particular (it certainly helps that the area boasts such a rich ancient and medieval history). Highlights include the excellent Wessex Gallery, which houses its vast archaeological collection.
Displays cover the period predating nearby Stonehenge (just a 20-minute drive away) right up to medieval times and include treasures from Old Sarum and other sites. Of special interest is a display relating to the Amesbury Archer, whose 4,000-year-old grave was found nearby along with numerous artifacts, from pots and arrowheads to boars' tusks and even gold hair ornaments.
8. Visit Stonehenge & Salisbury Plain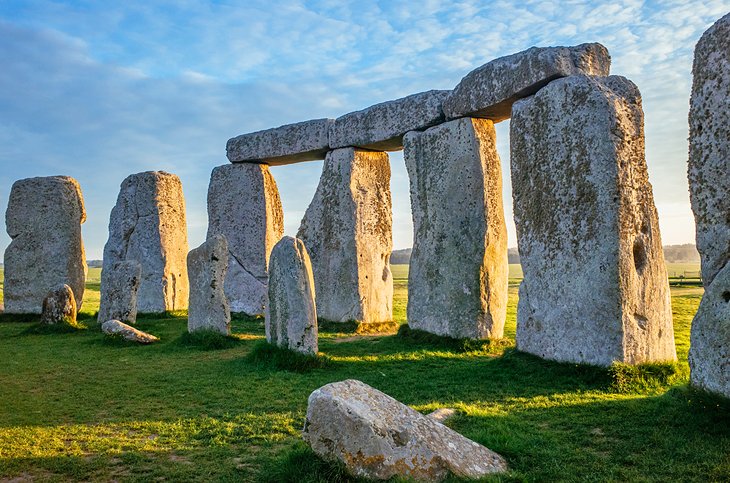 An easy side trip from Salisbury – it's just 10 miles away – Stonehenge is one of England's most recognizable historic sites. This fascinating prehistoric structure stands out dramatically in contrast to the relatively flat topography of the expansive Salisbury Plains, and while much has been learned in recent decades, there's still plenty of mystery and mystique to keep kids enthralled for hours.
Timed admission tickets should be booked online in advance of your visit, and audio guides are available. Also, check into the availability of a Stone Circle Access pass, which allows a limited number of visitors the chance to get up close to the stones before or after general admission.
In addition to its collection of huge Neolithic stones, the site has a relatively new visitor center, which offers a fascinating glimpse into the construction of the 4,500-year-old Stonehenge, and the lives of those who lived here and traveled from afar to worship here.
Highlights include fascinating interactive displays, replica Neolithic homes, as well as a café and shop. If time allows, be sure to also visit nearby Woodhenge, the remains of an ancient burial mound that is now marked out with concrete markers.
9. Take a Trip to Wilton House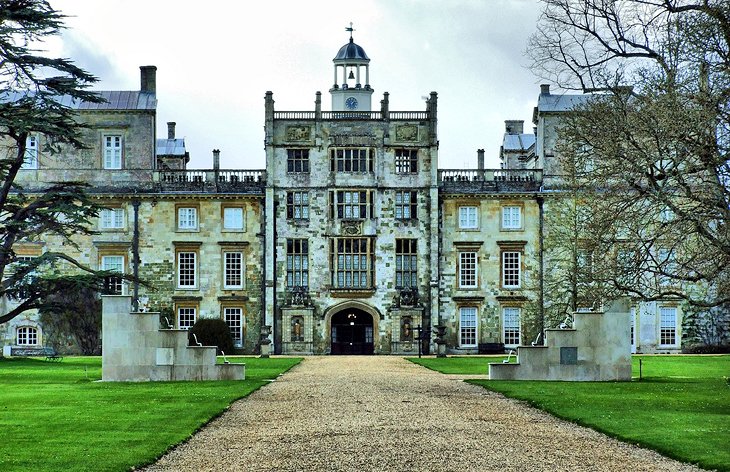 Built by architect Inigo Jones in 1653 after the original Tudor home was destroyed by fire, Wilton House is a masterpiece of the Baroque style and most notable for its huge white Double Cube Room. Decorated with gold-painted flowers and garlands of fruit and rounded off with a brilliantly colorful painted ceiling, the room is also fascinating for its portraits by van Dyck, as well as portraits of Charles I, Queen Henrietta Maria, and their three children.
Equally impressive is the Single Cube Room. Its painted ceiling has scenes from Sir Philip Sidney's Arcadia, written in 1590 while he was a guest at Wilton House. Other highlights of the house include paintings by Rembrandt, Rubens, and Reynolds.
The huge landscaped park surrounding the house harbors a magnificent stock of old trees, along with a great network of trails to explore. Another unusual feature is the Palladian bridge (1737) over the River Nadder.
Be sure to also visit the picturesque Village of Wilton, the old capital of the Saxon kingdom of Wessex, and later of Wiltshire. Famous for its carpets and antique shops, it's also home to an excellent weekly market. Salisbury Racecourse is also located here and features 15 race meetings each year.
10. Larmer Tree Gardens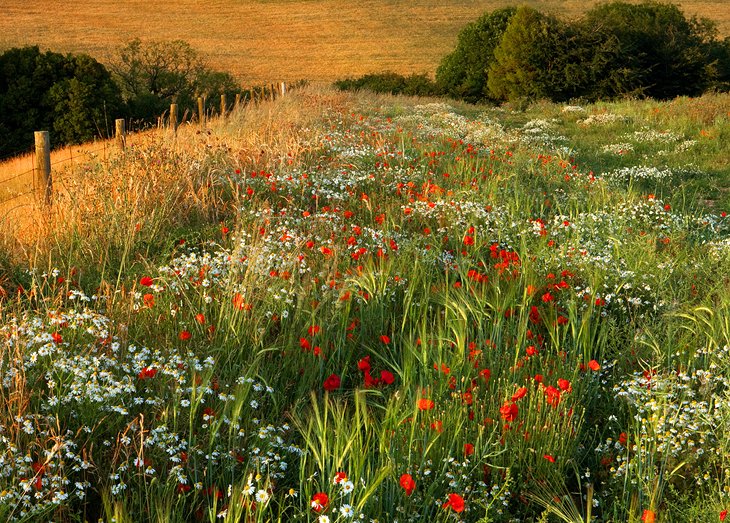 Larmer Tree Gardens – named after a landmark tree known to have provided shelter to King John in the 12th century – is set in the ancient forest known as Cranborne Chase. Established by General Pitt Rivers in 1880 as a pleasure grounds for "public enlightenment and entertainment," this stunning 11-acre attraction was the first privately owned gardens to be opened for public enjoyment. Here, you'll find native Indian buildings, a Roman Temple, and an open-air theater amid acres of gardens inhabited by pheasants, peacocks, and other exotic birds.
The gardens have also become popular as a wedding venue, and picnickers are encouraged to linger. Better still, try to time your visit to coincide with one of the many concerts or festivals held on the property, most notably the Larmer Tree Festival, a three-day event that draws large crowds.
11. Salisbury International Arts Festival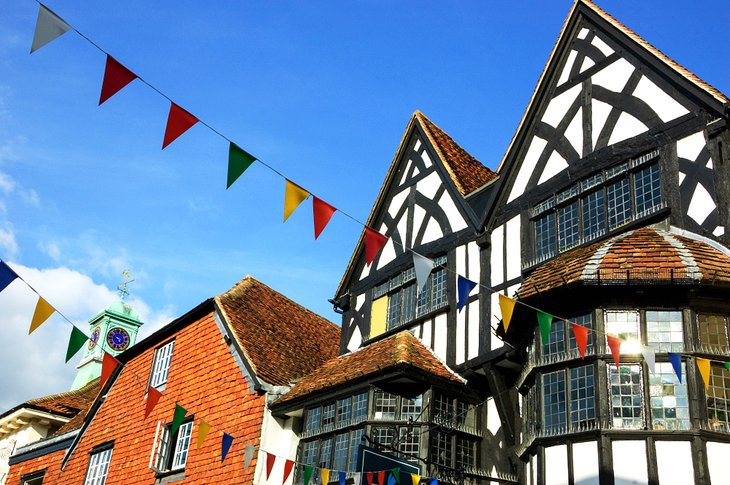 Founded in 1974, Salisbury International Festival takes place over two weeks each spring with a different theme each year and includes everything from orchestral, choral, and chamber concerts to recitals, film screenings, and lectures. Numerous venues are used, including St. Thomas Hall, Salisbury Cathedral, and other historical buildings.
12. The Rifles Berkshire and Wiltshire Museum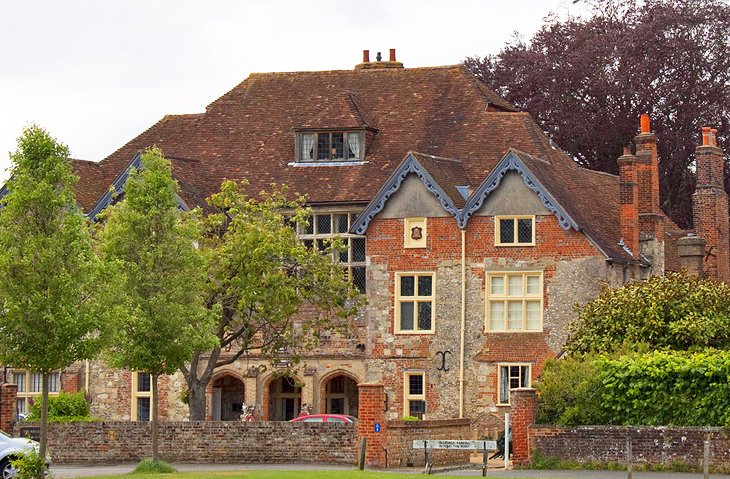 Home of the Rifles Berkshire and Wiltshire Museum, the Wardrobe is an elegant 13th-century building that is well worth exploring for its fascinating displays related to the history of the county's regiments. Covering an impressive four floors, this award-winning museum details regimental histories, as well as those of individual soldiers over a period of some 250 years.
13. Cholderton Charlie's Rare Breeds Farm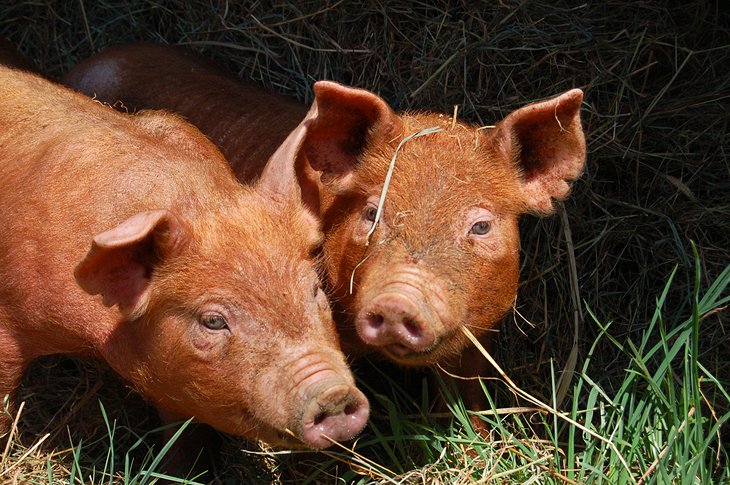 A fun-filled day trip for families, Cholderton Charlie's Rare Breeds Farm has rare breeds of animals such as goats, pigs, chickens, ponies, and sheep dating back hundreds of years, reflecting an animal heritage as interesting as its buildings and monuments. In addition to the many animals is a nature trail, water gardens, a picnic area, and an adventure playground for children.
Also popular at this attraction are the many opportunities to feed piglets and other young animals. An on-site restaurant is available serving lunches and dinner, as well as a gift shop and hostel-style accommodations.
If the kids haven't had their fill of furry farm creatures, you may also want to visit the River Bourne Community Farm. This fun family tourist attraction in the village of Laverstock, on the outskirts of Salisbury, has adopted a 1950s farm theme and is home to a variety of animals, including sheep, highland cows, and llamas, along with a café and shop.
14. Boscombe Down Aviation Collection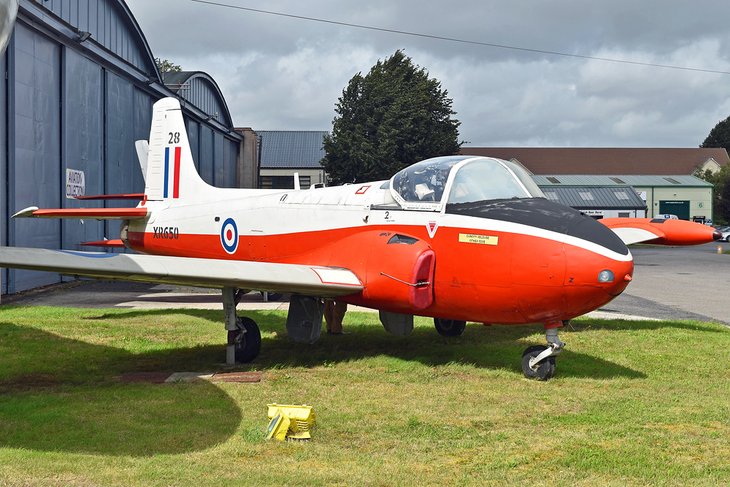 Where to Stay in Salisbury for Sightseeing
For those planning on spending time exploring Salisbury and nearby Stonehenge, we recommend these highly rated hotels and inns with easy access to the top attractions in and around this historic city:
More Related Articles on PlanetWare.com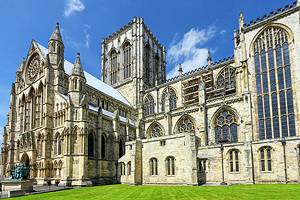 History at Every Turn: England has no shortage of incredibly well-preserved historic points of interest. Topping our list of must-sees is magnificent York Minster in beautiful York, the country's most picturesque walled city. Close behind is the city of Bath, famous since Roman times for its thermal springs and, in the Georgian period, for its wonderful cityscapes. And in the country's southeasternmost corner, Canterbury is home to a mix of Roman and medieval-era architecture, and the country's leading church, Canterbury Cathedral.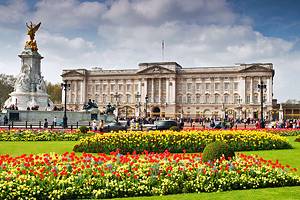 Big City Breaks: The vast city of London should feature high up on your England vacation itinerary, and features no end of things to do, with major sightseeing opportunities, including everything from castles to palaces and great theater. Other vacation ideas include the Midlands' city of Birmingham, popular for its world-class museums and art galleries, and Manchester, a modern city that's fun to explore via its extensive canal network, a remnant from its past as an important industrial center.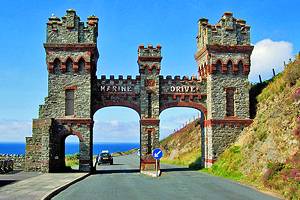 England Vacation Ideas: England's lovely Channel Islands - Jersey, Guernsey, Alderney, Sark, and Herm - are an excellent vacation destination, and offer plenty of great weather, beaches, and historic attractions. Also on our island travel radar, the Isle of Man makes for a fun trip, whether for a few days or longer. The scenic Lake District is also worth considering, popular for its hiking and biking adventures, as well as sailing and water sports on lovely Lake Windermere.