15 Top-Rated Tourist Attractions on the Isle of Man
We may earn a commission from affiliate links ()
The Isle of Man, while not a large island – it's just 33 miles long and 12 miles wide – offers plenty of fun things to do for tourists, and many fascinating points of interest. Situated in the Irish Sea, midway between England, Northern Ireland, and Scotland, the Isle of Man benefits from a mild climate and boasts more than 100 miles of beautiful coastline, consisting largely of sweeping sandy beaches and steep, rugged cliffs.
Most of the island is undulating and hilly, with a pretty mix of moorland and heath, gentle uplands, narrow glens with waterfalls, and areas of woodland. A must-do while you're here is enjoying a tour of its capital, Douglas, where you'll find many of the island's top points of interest.
Although the Isle of Man doesn't belong to the UK, it is a crown dependency, and as such has its own parliament: the Court of Tynwald. The Court is, in fact, the oldest parliament in the world, with the Queen the Sovereign and Lord Proprietor of the island (she's represented by a Lieutenant Governor).
The island – known the world over for its famous TT (Tourist Trophy) motorcycle race – is easily accessible by ferry from Liverpool. It even has its own airline, Manx Air, which provides flights to and from most of the larger English, Scottish, and Irish airports.
Find the best places to visit with our list of the top attractions on the Isle of Man.
See also: Where to Stay on the Isle of Man
1. The Town of Douglas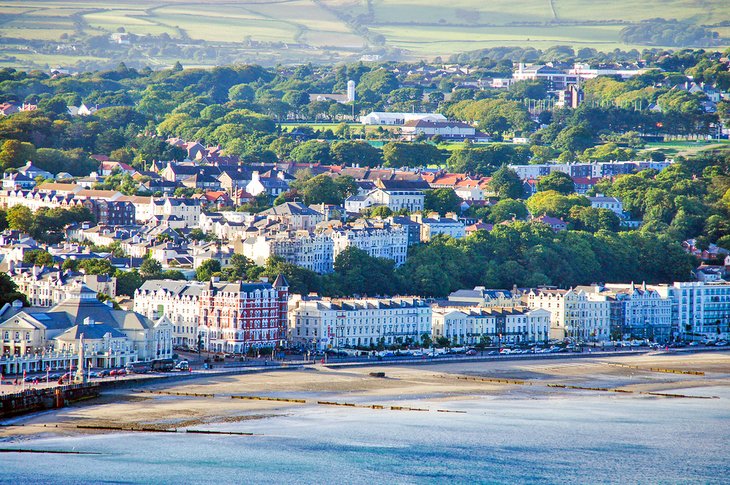 Douglas, the pretty little capital of this tiny island nation, sits on the shore of a beautiful bay into which the River Douglas flows. Visitors appreciate strolling the two-mile promenade with its excellent views across the large bay. Here, you'll see such landmarks as the harbor and the Tower of Refuge, a small castle-like structure built to house sailors shipwrecked on St. Mary's Isle.
The town offers a variety of accommodation types, from luxury hotels to modest guesthouses, as well as great shopping.
A wide range of tourist attractions includes horse-drawn trams, swimming pools, and golf. Handsome buildings line the streets, such as the Legislative Building (home of the Manx parliament) and the refurbished Villa Marina and Gardens, which hosts regular outdoor concerts. The Royal Hall and the excellent Gaiety Theatre are venues for a variety of cultural events.
2. Douglas Head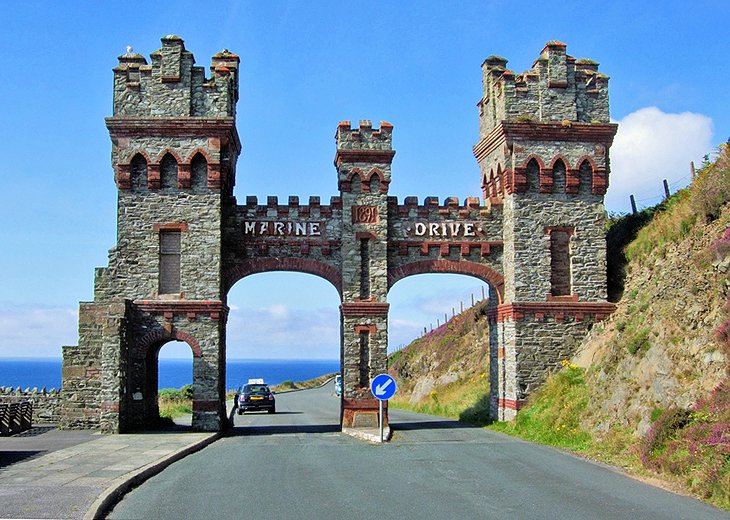 Some of the very best views on the Isle of Man can be enjoyed from Douglas Head, a rocky outcrop overlooking Douglas harbor and accessible along historic Marine Drive. Be sure to stop for a photo as you enter the drive's ornate gate.
In addition to its views, it's here you'll find the famous Grand Union Camera Obscura. Perched on the hillside, this unique renovated 19th-century attraction uses natural light and a series of mirrors to project images of the surrounding area onto the darkened building's walls to stunning effect.
Another relic of the island's popularity among Victorian tourists is the old amphitheater, the concrete steps and stage of which still sit in place. Other notable landmarks include the William Hillary Statue, a tribute to the founder of the Royal National Lifeboat Institute and a long-time resident of the island.
The Douglas Head Lighthouse, built in 1857, is also a must-see here, easily accessible by a public footpath. For a real treat, consider a stay in the original lighthouse keeper's cottage, which is available for holiday rentals.
Official site: www.nlb.org.uk/lighthouses/douglas-head/
3. Tynwald Day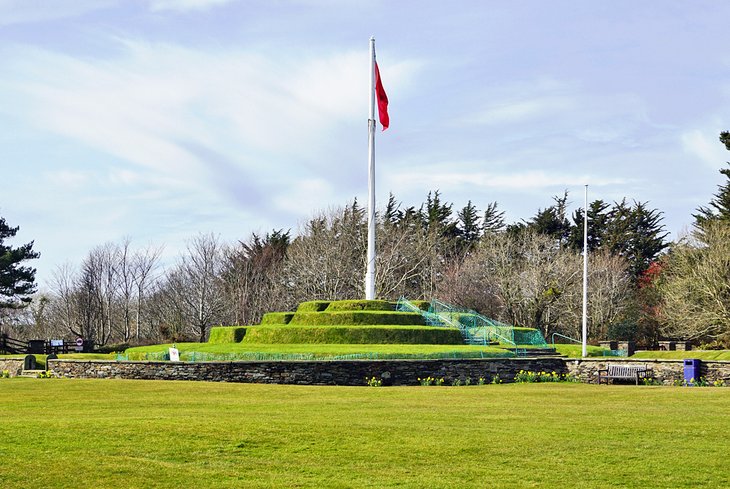 No visitor arriving on the Isle of Man in early July should miss the excellent Tynwald Day ceremony. Part of the Manx National Week celebrations, the event has been held each July 5 since 1417 on Tynwald Hill at St. John's, an ancient Bronze Age burial mound.
The event sees the proclamation of all laws passed by the island's parliament over the course of the previous year, and is read aloud in both Manx and English.
Thousands of spectators travel to St. John's to watch the ceremony and its lengthy procession. They're also here to participate in the accompanying fair and market, a variety of free concerts, and a superb fireworks display.
Even if you can't be here for Tynwald Day, be sure to visit the historic site and its Millennium Stone. It was erected from stones collected from each of the island's parishes to celebrate the 1,000th anniversary of Parliament in 1979.
4. Manx Museum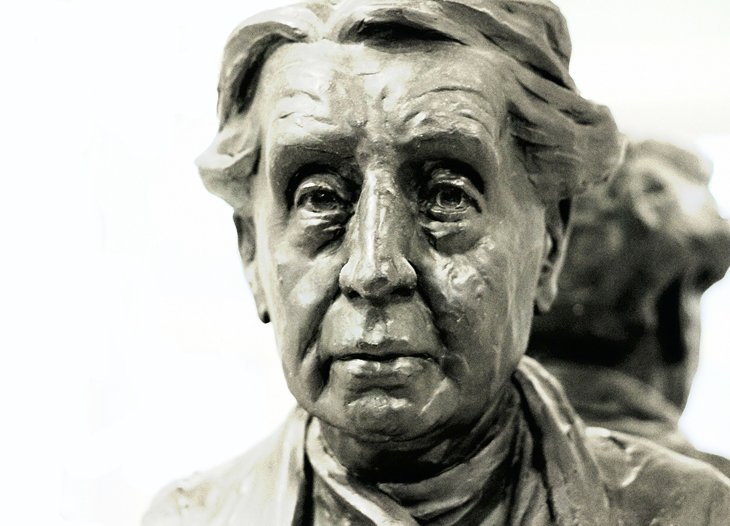 The excellent Manx Museum (Thie Tashtee Vannin) and its archives deal with the more than 10,000 years of island history. Displays include reproductions of rooms and domestic equipment of the past, as well as artworks by Manx artists and other British painters in the museum's National Art Gallery. Of special note here is the fine sculpture of famed Manx poet and playwright, Cushag.
Be sure to check out the important collection of material from the Celtic and Viking periods, including a collection of Manx crosses. Other highlights include displays and artifacts related to the island's famous TT Races; stories of island life during two world wars; and regular events and activities suitable for kids, families, and adults.
5. Castletown and Castle Rushen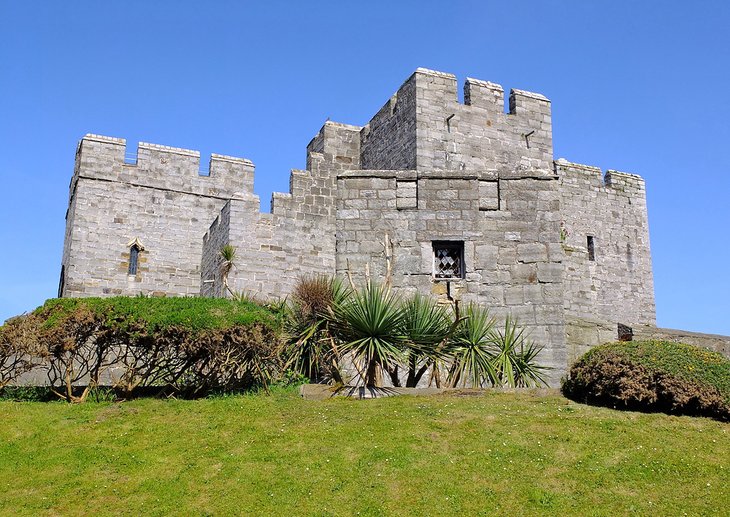 Castletown (Balley Cashtal), for many centuries the capital of the island, is where you'll find Castle Rushen (Cashtal Rushen). This former royal residence was built on the site of an earlier 13th-century Viking stronghold. Despite its age, the castle is extremely well preserved and stands in a prominent location at the center of the town, within an easy walk of many great restaurants, shops, and hotels.
Highlights include the clock in the south tower (presented by Elizabeth I in 1597); a unique sundial with 13 dials; and one of the island's greatest treasures, a Celtic crucifix brought from the little offshore islet, the Calf of Man.
The castle today serves as a museum showcasing the lives of the island's former kings, with fun tours offered by guides in period costumes adding an air of authenticity. Castle Rushen has also become a popular backdrop for weddings and other functions.
Also of note in Castletown is the Old Grammar School, set up in St. Mary's Chapel in 1702 and now a museum documenting education in the Victorian period. There's also a Nautical Museum with a fascinating collection of historic model ships. The Old House of Keys, where the country's original parliament once met, is also worth seeing.
Address: Castle Street, Castletown, Isle of Man
Official site: https://manxnationalheritage.im/our-sites/castle-castletown/
6. St. Patrick's Isle and Peel Castle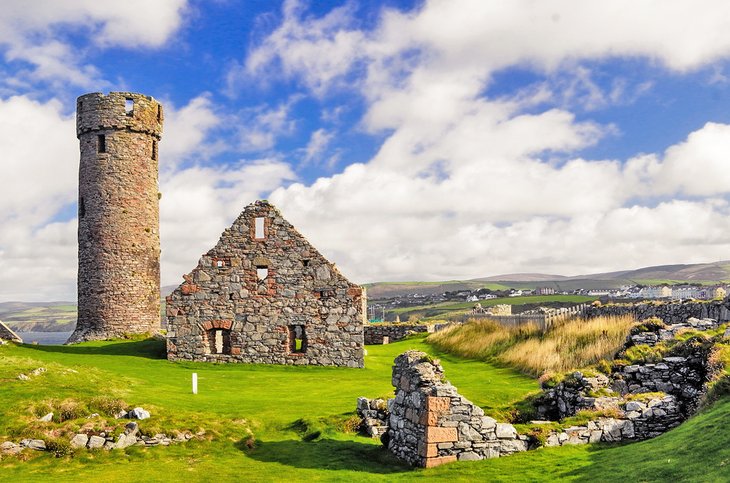 Outside the harbor of the small community of Peel and linked to the mainland by a narrow causeway is the rocky St. Patrick's Isle. Perched atop it sits Peel Castle (Cashtal Phurt Ny h-inshey), an impressive red sandstone structure surrounded by an imposing old stone wall.
Peel Castle was originally a place of worship before becoming the fort of Magnus Barefoot, the 11th-century Viking King of Mann. Highlights include St. Patrick's Church and the Round Tower, which date back to the 11th century, as well as the Gatehouse Tower, with its panoramic views. The 16th-century Great Garrison Hall is also worth seeing.
It's within the castle walls that you'll find the 9th-century Cathedral of St. Germanus, with its superb 13th-century choir and crypt. And be sure to ask your guide about the castle's resident ghost, the Moddey Dhoo, reputed to be a phantom black dog.
Afterwards, be sure to visit the nearby House of Manannan, with its replica Celtic roundhouse and a Viking longhouse. Also close by is the equally interesting Leece Museum, with its many fine displays and exhibits relating to Peel's history.
Address: West Quay, Peel, Isle of Man
Official site: https://manxnationalheritage.im/our-sites/peel-castle/
7. The Isle of Man TT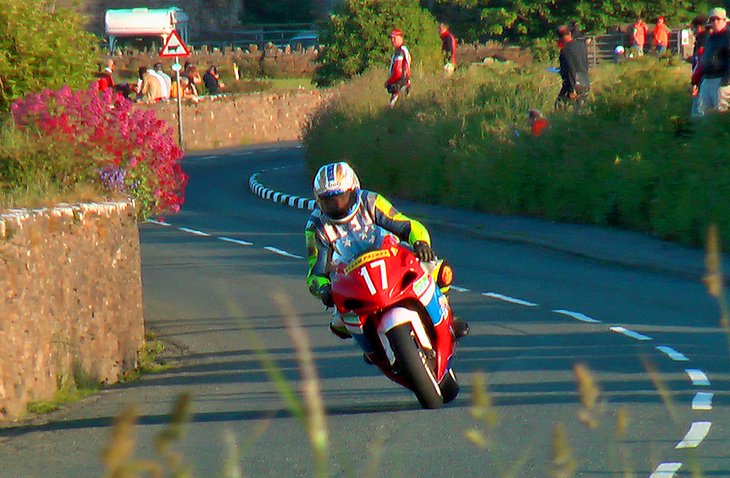 Thanks to a lack of speed restrictions on many of its rural roads, the Isle of Man has long been famous as a competition ground for motorcycle racing. The Tourist Trophy – now often known simply as the TT – is one of the most dangerous such events anywhere in the world. It's also one of the oldest formal races here, tracing its roots back to its inaugural race in 1907.
The circuit used for the event, which runs from late May to early June, is in the north of the island and begins and ends in Douglas. Along the way, it takes in Crosby; St. John's; Kirk Michael; Ramsey; and the highest point on the island, Snaefell (2,036 feet), for a total distance of 37 miles.
Attaining an average speed of 115 miles per hour, these heavy "touring" machines thunder along narrow country lanes, steep downward plunges, and sharp curves for a chance at the trophy, often completing the route in less than 18 minutes.
Official site: www.iomtt.com
8. Lady Isabella, the Great Laxey Wheel
Editor's Pick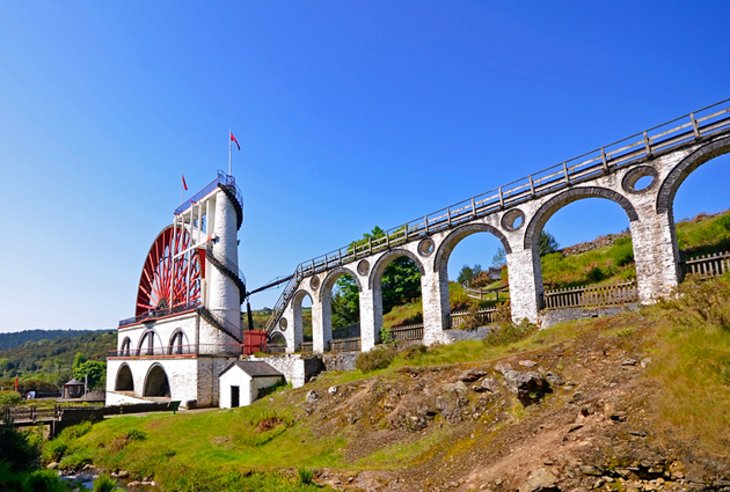 Located between Ramsey and Douglas is the little resort town of Laxey, a must-visit destination for its scenic beauty and wonderful historic attractions. It's in Laxey you'll find the island's most famous tourist attraction: the Great Laxey Wheel (Queeyl Vooar Laksey).
Also known as "Lady Isabella," this huge 72-foot waterwheel was built in 1854 to pump water out of the lead mines of the (once) Great Laxey Mining Company. It's considered so important a part of the country's heritage that school children are taught traditional Manx songs about it. A second waterwheel, the Snaefell Wheel (Lady Evelyn) is located in Laxey Glen Gardens just a few minutes away on foot.
Official site: https://manxnationalheritage.im/our-sites/laxey-wheel/
9. The Manx Electric Railway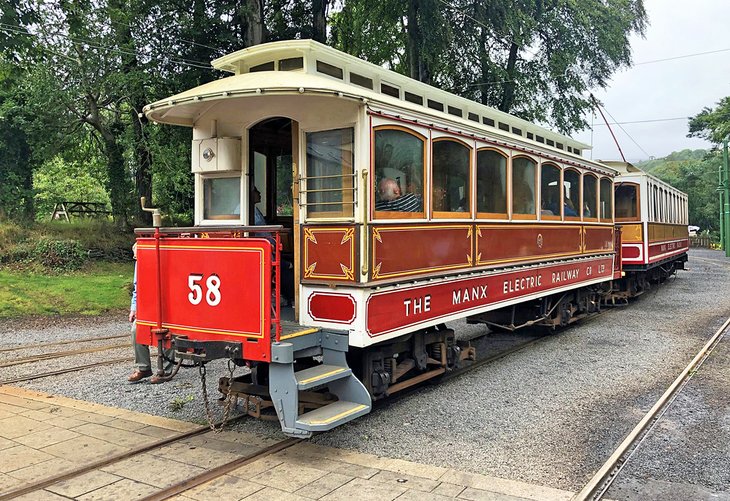 If you've got the time, a fun way to get to Laxey is via the Manx Electric Railway, which links the town to both Ramsey and Douglas. This scenic narrow gauge railway stretches some 17 miles across the island, and numerous scheduled stops allow the journey to be broken up.
Another heritage railway worth a visit is Groudle Glen Railway. This quaint two-foot narrow gauge railway operates on Sundays and runs special themed holiday trains.
Address: Derby Castle, Douglas
Official site: https://manxelectricrailway.co.uk
10. Port Erin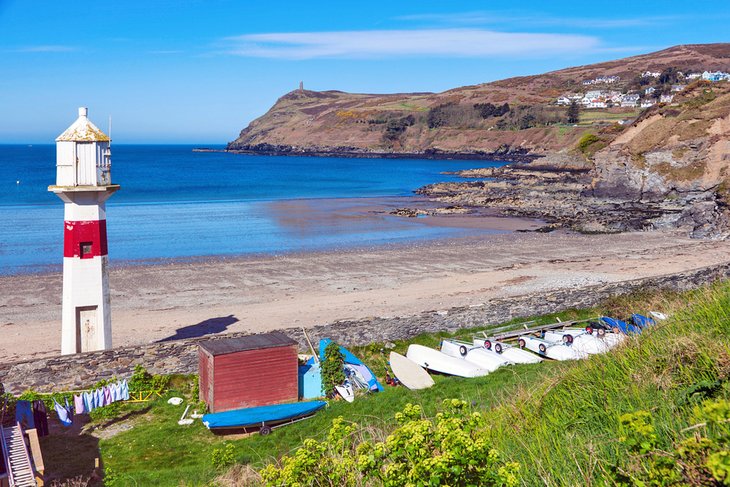 The picturesque resort town of Port Erin lies at the head of a deep bay sheltered by 400-foot-tall Bradda Head. It's the terminal point of a small old-time steam railway from Douglas, the 15-mile Isle of Man Railway.
This small community is also a great place to begin a hiking tour of the island, which is undoubtedly one of the top free things to do here. For some of the island's wildest and most beautiful scenery, a walk along the cliffs to Fleshwick Bay and then continuing a mile inland to Niarbyl and Dalby is highly recommended. In places, the cliffs plunge dramatically straight down to the sea, offering numerous excellent views and picnic spots.
Tourists in fact travel to Port Erin from across the island for its sandy beach in the enclosed harbor, its lovely parks and gardens, as well as its seaside cafés and restaurants. It's also where you'll find many reputable bed-and-breakfasts and hotels, galleries, and shops – and many memorable things to do, such as enjoying a spectacular sunset over Port Erin Bay.
Be sure to look for the commemorative plaque to a famous Manxman who came from Port Erin: Fletcher Christian. He instigated the famous mutiny on the Bounty; his adversary, Captain Bligh, is said to have married on the island.
11. Cregneash Folk Village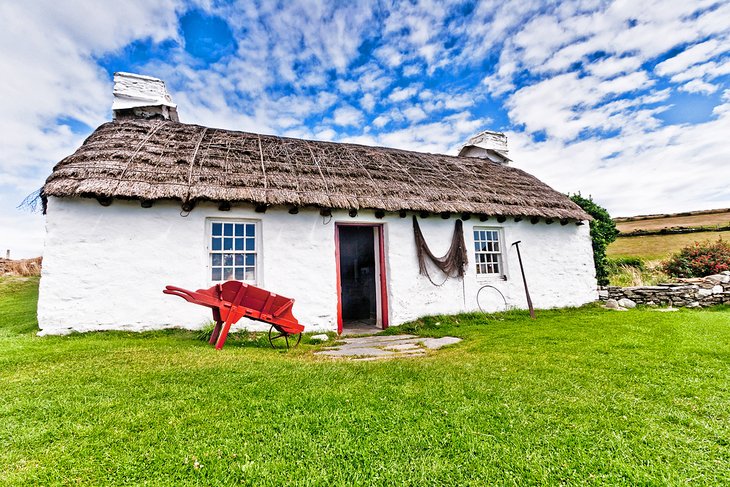 Located on remote Mull Hill (430 feet high) and the most southerly town on the island, Cregneash (Creneash) is where you'll find a group of six chamber tombs known as the Mull Circle, or Meayll Circle. The village itself is famous for its role as a "living museum" that preserves the traditional Manx way of life.
Dotted around the village are well-preserved 19th-century farm buildings and cottages, many of them thatched. Farm animals include plough horses, Loghtan sheep, shorthorn cows, and, of course, those Manx cats. Demonstrations of crafts and old farming techniques are available, as is a first-rate tearoom and café. Guided tours are available.
Another living museum to check out is the wonderful Grove Museum of Victorian Life ( Thie Tashtee "Yn Chell"). Located in the former summer house of Duncan Gibb, a Liverpool merchant who faithfully (and in great detail) documented country life in the Victorian era, this is a must-see for lovers of period drama for its insight into these past times.
Official site: https://manxnationalheritage.im/our-sites/cregneash/
12. Isle of Man Motor Museum
The newest large attraction to set up shop on the island, the Isle of Man Motor Museum in Jurby opened its doors to the public in 2015. Since then this fun attraction has grown to include an impressive collection of some 500-plus vehicles of all types. The museum grew out of a private collection assembled over a period of 30 years and supplemented by ever-expanding exhibits of vehicles on loan.
Given the island's racing heritage, it will come as no surprise that there are 200 classic motorcycles on display, ranging from an immaculate 1902 Clement to electric motorbikes and TT winners. There are also examples from classic names including Norton, Velocette, and Sunbeams. Car-lovers will enjoy the chance to get up close to iconic vehicles, including an Austin 7, a 1952 Cadillac "flower car," as well as luxury brands such as Lotus and BMW.
There are many other historically significant vehicles, including a 1903 Turner-Miesse steam car, a 1953 Humber Super Snipe made for the Queen, firetrucks, and even a steam traction engine. All of these make this fun museum one of the top indoor activities on the Isle of Man, and a great thing to do when it rains.
Address: Jurby, Isle of Man
Official site: www.isleofmanmotormuseum.com
13. Snaefell and the Mountain Railway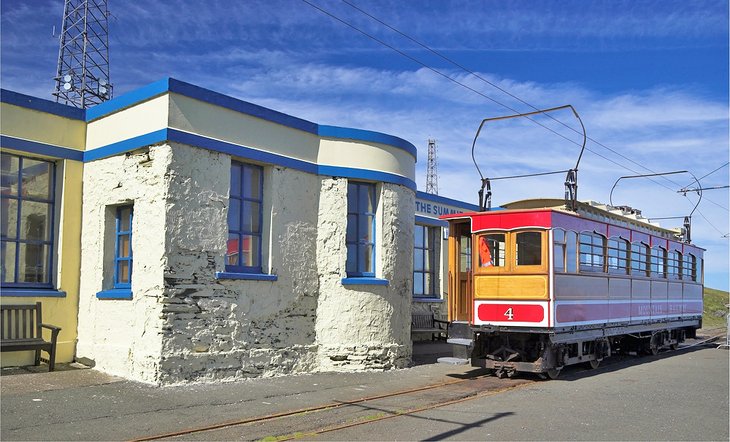 Snaefell, which literally translates from the Old Norse as "snow mountain," is not only the tallest summit on the Isle of Man – it stands at 2,037 feet – it also just so happens to be one of the easiest to ascend, thanks to the excellent Snaefell Mountain Railway.
This electric train line operates "trams" that run the four miles between Laxey and the summit regularly, between April and October, offering wonderful views along the way, as well as a café at its summit station.
You can, of course, also choose to climb Snaefell. If so, a great option is to take the train (or drive) to the Bungalow railway station. From here, take the footpath the rest of the way. It's a 45-minute hike that is relatively easy to manage. The view from the top is certainly spectacular, and takes in Scotland, England, Northern Ireland, and, on a clear day, even faraway Dublin.
Official site: https://manxelectricrailway.co.uk/snaefell/
14. Calf of Man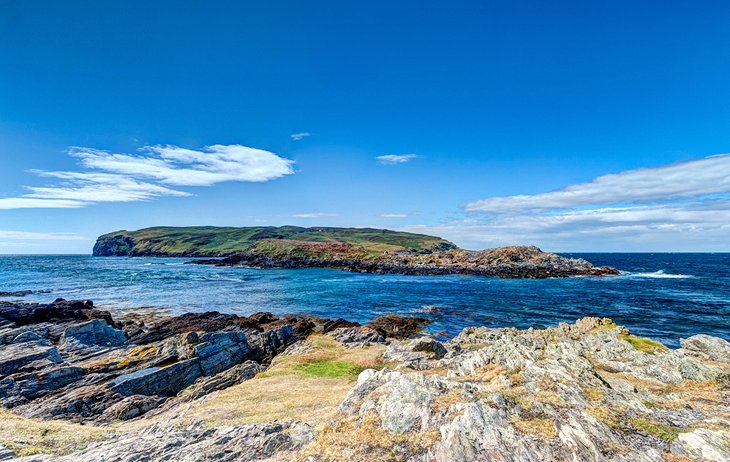 Located just a short boat ride from Port St. Mary and Port Erin, Calf of Man – population, two – is a 618-acre island managed by Manx National heritage and a delight to explore. It's a particularly popular location for bird-watchers, who flock here for extended bird-watching adventures, which include a chance to observe the native Manx shearwater. You'll also catch a glimpse of a colony of seals.
Overnighting is possible thanks to a limited number of self-catering accommodation units (so book ahead). Also fun is hiking between the four lighthouses that call Calf of Man home, two of which can trace their roots back to the early 1800s.
15. Curraghs Wildlife Park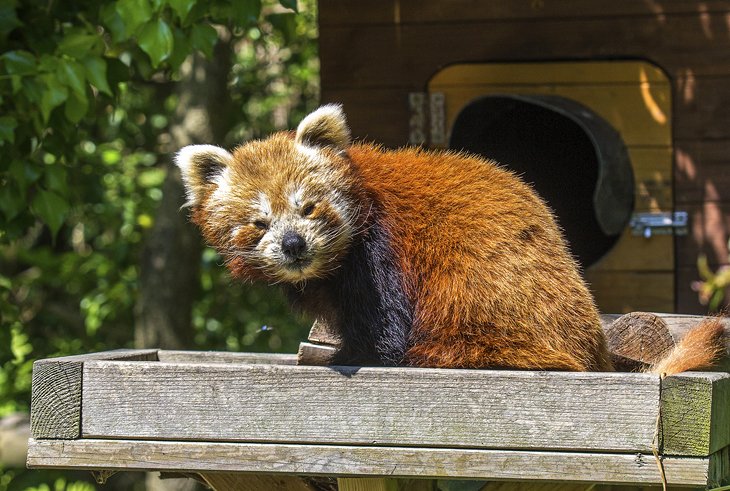 Established in 1963 in an area of wetland known for its abundant flora and fauna, Curraghs Wildlife Park is a great distraction for young and old alike. While 160 acres have been set aside as a conservation area, the 26-acre wildlife park itself is home to some 100 wetland wildlife species from across the globe, all of which can be enjoyed as you make your way through the site's numerous walk-through enclosures.
There are also many well-marked nature trails to explore. These include a popular butterfly trail and a treetop trail, and keep an eye out for the non-native red-necked wallabies, escapees that have set up in the surrounding area. Other highlights include a kids' farm and petting zoo, a playground, and a fun miniature railway.
Address: Main Road, Ballaugh, Isle of Man
Official site: www.curraghswildlifepark.im
Where to Stay on the Isle of Man for Sightseeing
Luxury Hotels: Those seeking a dose of traditional luxury won't be disappointed by a stay at the Regency

Hotel

. Located at the north end of Douglas Promenade, this luxurious seafront hotel boasts fantastic service, spacious and elegantly appointed rooms, and a delightfully old-fashioned wood-paneled restaurant.

Another great luxury hotel in the heart of Douglas is the completely refurbished The Claremont

Hotel

. Behind its whitewashed Victorian façade, you'll be spoiled with award-winning dining (available in-room 24-hours a day), complimentary breakfast and toiletries, plus concierge services.

The Englewood

Lodge

is also worth considering, and offers a variety of luxury accommodations, unparalleled hospitality, and first-rate amenities.
Mid-Range Hotels: Douglas is also home to a good number of reasonably priced mid-range hotels, too. One of the top-rated is The Empress

Hotel

, a pleasantly decorated Victorian building that is now a three-star seafront hotel boasting marble bathrooms, a complimentary English breakfast, and well-appointed rooms.

Other recommended hotels in this category include the very modern Ramsey Park

Hotel

in Ramsey, noted for its comfortable rooms with lake views, and The Rutland

Hotel

on Queens Promenade in Douglas, a traditional Victorian-style seaside hotel, which offers a variety of spacious rooms and suites, many with views over the water.
Budget Hotels: Those on a fixed budget are also well catered to, with one of the top choices being the

Adelphi

. This budget hotel is just a short walk to downtown Douglas and offers great value, especially when you consider a complimentary cooked breakfast is included with your stay.

Other great budget options worth looking into are Athol

House

, a delightful family-run bed-and-breakfast just steps away from the seaside in Douglas, and The Edelweiss Guest

House

, a quaint three-star hotel offering en-suite rooms that is also located in the island's capital.
More Related Articles on PlanetWare.com
Whether you're visiting the Isle of Man for a weekend getaway or as part of a longer exploration of the surrounding British Isles, this beautiful island in the midst of the Irish Sea serves as a great jumping-off point to a variety of UK destinations. And best of all, you can get to each of them by water.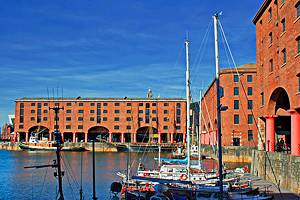 Ferry – Cross to Mersey: A less-than-three-hour ferry ride away is the iconic English city of Liverpool. Located on the Mersey estuary, this cultural city is perhaps most famous as the birthplace of the Beatles, undisputedly the world's most famous band. It's easy to dedicate a whole day touring the many places John, Paul, Ringo, and George once frequented, from the rebuilt Cavern Club to wandering Penny Lane and Strawberry Fields, to purchasing souvenirs and memorabilia at The Beatles Shop. And, of course, you can easily hop a train to visit other great destinations and attractions in England, including nearby Manchester and the famous tourist attractions of London.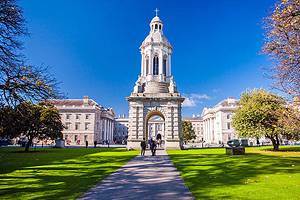 Down to Dublin: A three-hour trip that is well worth taking is the Douglas Dublin ferry route. As the capital of Ireland, Dublin has many great things to see and do. Highlights include Trinity College and College Green, a must-explore as part of a walking tour (whether self-guided or something more formal), and the city's favorite shopping spot, Grafton Street. And when you're done exploring Dublin, a car rental (or bus) can get you to those other picturesque destinations Ireland is so famous for, such as beautiful Killarney, Galway, or lovely Limerick.