13 Top-Rated Day Trips from Manchester
Author Bryan Dearsley traveled to Northern England in the spring of 2022 to explore cities, including Manchester and the surrounding area.
Thanks to its ideal location in the middle of England and the fact that it's served by a major international airport and is home to plenty of great places to stay, Manchester makes an excellent base from which to explore the surrounding area on fun day trips.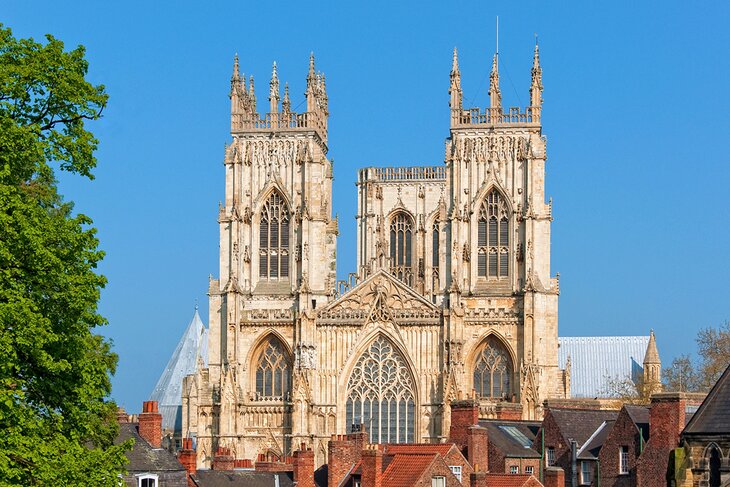 Be sure to include some of the many wonderful small towns and villages within an easy drive or rail trip from the city on your day trip itinerary. If you do, you'll be rewarded with a chance to enjoy stately old manor homes, including a number run by Britain's National Trust, along with some of the country's most beautiful scenery.
Larger destinations that make great getaways or weekend breaks include cities such as Sheffield, Birmingham, and lovely Coventry. All of these great UK travel destinations are within an easy commute and deserve to be included on your Manchester travel itinerary.
Discover more of the best places to visit around what is widely regarded as one of the best cities to visit in England with our list of the top day trips from Manchester.
1. Have a "Fab Four" Time in Liverpool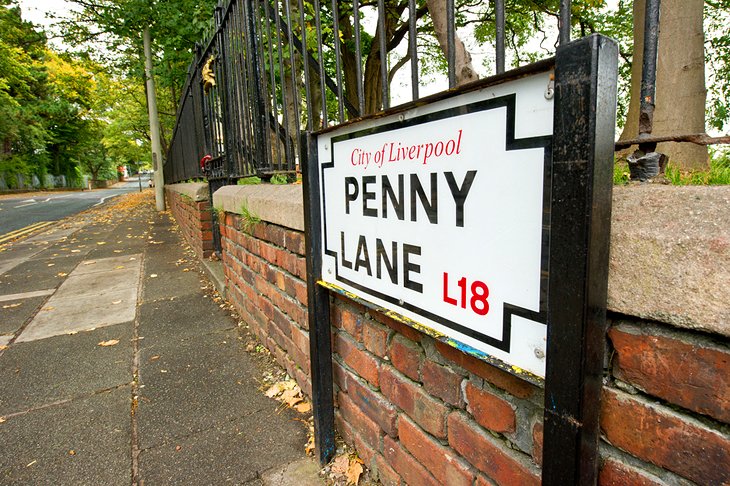 Highlights: Short train ride to many Beatles attractions including museums and shopping
Just a short train ride west of downtown Manchester is another of Britain's most visited cities: Liverpool. Visitors come from far and wide to visit the birthplace of The Beatles, taking in such iconic landmarks as Penny Lane and Strawberry Fields, as well as the rebuilt Cavern Club, where the Fab Four thrilled audiences in 1961 before hitting the big time.
Other related attractions include the fun Beatles Story in Liverpool's trendy Albert Dock area, with its renovated old warehouses and wharves. Also worth seeing are Paul McCartney's childhood home on Forthlin Road, now a museum with many interesting displays of Beatles' memorabilia, and the famous Beatles Shop. Here, fans can get their shopping fix with the purchase of everything from Fab Four inspired clothing to signed photos and artwork.
For those willing to explore these and other Beatles-inspired locations on foot, look into the Cavern Walks. This excellent walking tour takes in many of the above sites.
Interested in a Beatles-themed weekend break in Liverpool? Consider booking a stay in the fancy and centrally located Hard Days Night Hotel. In addition to naming its elegant suites after band members, the hotel has thoughtfully stocked each room with plenty of unique memorabilia, from photos and artwork to musical instruments.
2. Little Moreton Hall, Congleton
Highlights: Fun guided tours by costumed characters, year-round events, afternoon tea
Little Moreton Hall is a fun excursion. Located just 35 kilometers south of Manchester in the pretty village of Congleton, this stunning old building is widely regarded as one of the most impressive half-timbered mansions in England.
Built in 1508 for a wealthy landowner and remaining in his family for over 450 years, Little Moreton Hall has been meticulously restored and preserved. It's certainly striking to look at, and consists of multiple stories featuring superb half-timbered construction and a pretty inner courtyard, a moat, and a garden that together paint an excellent picture of rural life in 15th- and 16th-century Cheshire.
Now owned and operated by the National Trust, the property offers a number of interesting interpretive tour options, including one with a court jester, as well as a variety of fun events and programs year-round. A restaurant and tearoom are located on-site, as is a well-stocked gift shop.
If you're visiting on a Sunday, consider attending one of the weekly services in the building's private chapel.
Address: Newcastle Road, Congleton, Cheshire
3. Salford and the Art of L.S. Lowry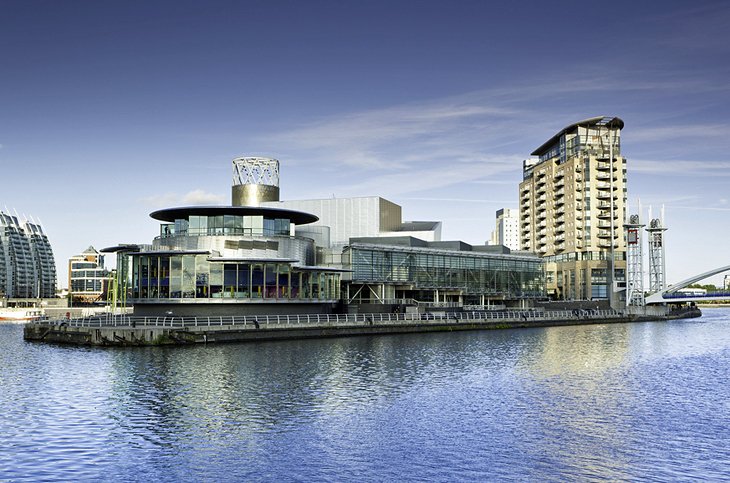 Highlights: Preserved canals, art museums, historic buildings
Just five kilometers west of downtown Manchester, the university town of Salford, on the River Irwell, boasts many first-rate attractions. These include Ordsall Hall, a 15th-century manor house well known for its magnificent timbered Great Hall. Also of interest is the Bridgewater Canal, one of the best-preserved historic inland waterways in England.
Another must-see is The Lowry, a beautifully designed art center and gallery, as famous for its architecture as it is for its collections. Located on the redeveloped Salford Quays, the Lowry Centre is best known for its large collection of original works by artist L.S. Lowry, famous for his unique matchstick figures set against the backdrop of everyday Salford scenes. In addition to its Lowry collection, the facility also boasts two performing arts theaters.
Address: Pier 8, The Quays, Salford
4. Take a Trip to England's Lake District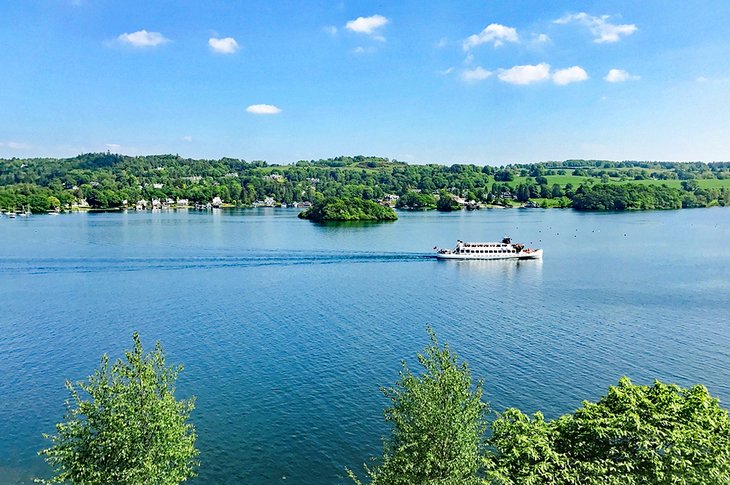 Highlight: Organized tours to this area of outstanding natural beauty include a boat ride
Located only a 90-minute drive north of Manchester and about the same time via train, England's Lake District is one of the most picturesque corners of this island nation. Fortunately, for visitors to Manchester there's an even easier way to take in the best sightseeing in this area of outstanding natural beauty: join an organized tour of Lake District National Park.
One of the best tours takes visitors to the Lake District from Manchester, with pickup and drop-off in Chorlton Street. In addition to seeing the pretty scenery of this UNESCO World Heritage Site from the comfort of your air-conditioned coach, your trip includes a pleasant cruise on famous Lake Windermere.
The trip also includes a lunch stop at Hawkshead, one of the prettiest of the region's many quaint old villages. Plenty of time is allocated to allow you to walk and enjoy the village's shops and landmarks as you follow in the footsteps of such legendary writers as Beatrix Potter and William Wordsworth.
5. The Old Market Town of Altrincham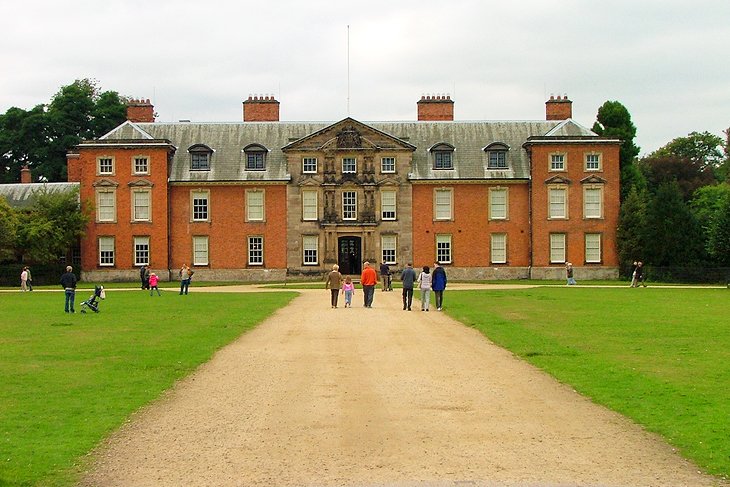 Highlights: Historic market town with manor house, gardens, and family events
Located about 13 kilometers southwest of Manchester, Altrincham began as a market town in 1290 and makes a pleasant day trip. Attractions include Stamford Park and its numerous historic sites, as well as the town's medieval market square with its restored whipping post, a rather somber reminder of the cruel justice once meted out to thieves and those accused of witchcraft.
A must-see is the lovely Dunham Massey Hall. This spectacular 18th-century National Trust property is worth visiting for its extensively replanted grounds, deer park, and watermill. The property's White Cottage is also well worth a visit. Built around 1500 or so, this timber-framed structure is famous for its beautiful trussed open hall.
A restaurant and a café are also located on-site, and regular fun events are held for kids to enjoy.
Address: Woodhouse Lane, Altrincham
6. Take a York Weekend Break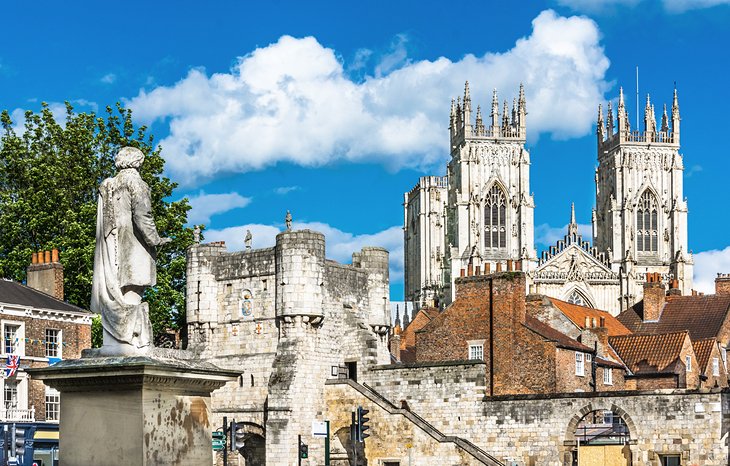 Highlights: Tour York Minster and explore the famous Shambles and UK's longest city walls
Just an hour away from central Manchester by train, the historic city of York is a marvelous choice for a weekend break or overnight getaway. Wherever you stay in this remarkably preserved medieval city, you're never more than a short stroll away from the action.
After getting your fill of stunning York Minster, stroll through the aptly named Shambles. This fascinating network of narrow alleys and winding laneways dates all the way back to the 14th century, where they began life as the homes and shops of meat vendors.
After exploring the shops and galleries that now fill these timber-framed buildings with their overhanging upper floors, find one to dine in. There are plenty to choose from, covering everything from casual fare to fancy teas and fine dining (reservations are recommended).
Day two, for the adventurous, should involve walking along the magnificent medieval city walls, the largest of their kind to have survived the centuries. It's a three-mile hike, most of it above ground and offering incredible views over the city's landmarks. It's an adventure that can take a few hours; and longer still if you stop and enjoy the vistas, particularly stunning as the sun sets, and take time to explore the even older Roman ruins.
The key is finding somewhere to stay close to York's top things to do. A favorite is the highly rated Grays Court Hotel, which features charmingly decorated rooms just steps away from York Minster (ask for a room with a view of this beautiful building). The elegant Principal York is also worth considering, and is located near the train station and the York National Railway Museum.
7. Ashton-Under-Lyne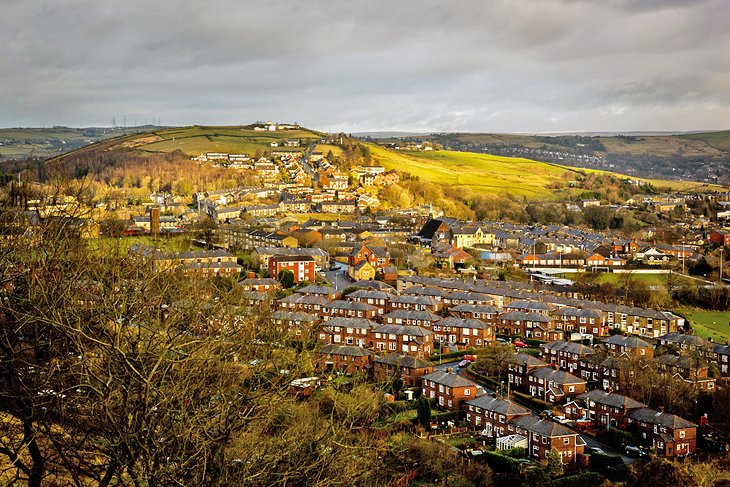 Highlights: Attractive small town with historic church and military museum, close to Manchester
Ashton-Under-Lyne lies on the Tame River just nine kilometers east of Manchester, and is home to one of the Midland's oldest churches, St. Michael and All Angels. Completed in 1262, this fine old church is in fact one of the best preserved of the 116 medieval churches in the area.
Another attraction worth exploring is the Museum of the Manchester Regiment. Located in the majestic old Ashton Town Hall, this fascinating museum illustrates the history of the Manchester Regiment, as well as the local community from the 18th century. Be sure to check out the excellent exhibition about the history of military medals.
8. The Bolton and Bury Loop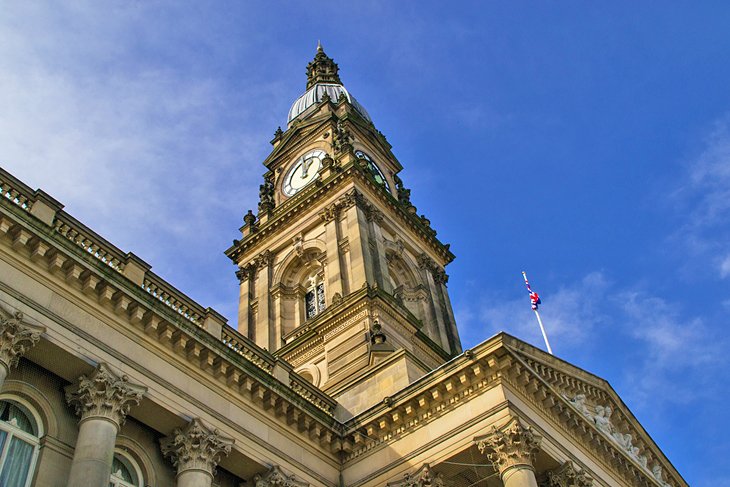 Highlights: Scenic drive with pretty countryside through historic towns
A fun excursion if you're traveling by car, the Bolton and Bury loop takes you through some of the prettiest countryside north of Manchester. Bolton should be your first stop, where you'll enjoy wandering the nearly 800-year-old town center. Notable landmarks include Bolton Parish Church, completed in 1871, and the Town Hall, opened in 1873.
Another great tourist attraction is Hall i'th' Wood, a typical medieval merchant's house containing both Stuart and Georgian furniture. Also worth a visit is Smithills Hall. Set above Ravenden Brook on the lower slopes of Smithills Moor, this 15th-century structure features a nature trail and garden center.
Next stop is Bury, a short drive east of Bolton, where you'll find a vibrant arts scene, including a museum, art gallery, and library all under one roof. Also of interest is the Bury Market, located on the same site for the past 600 years and attracting visitors from miles around.
9. Stockport's Tudor Mansions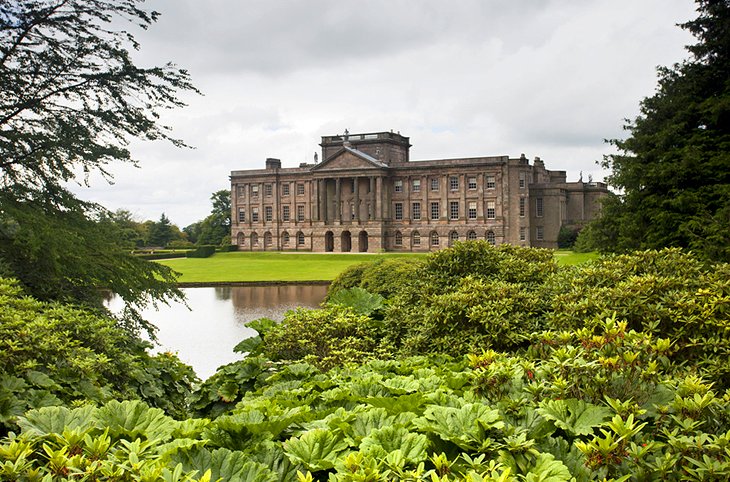 Highlights: Historic town with old homes and famous viaduct, plus pretty villages
An easy 30-minute drive southeast of Manchester or just 10 minutes by high-speed train, Stockport and its surrounds have much to offer for a day trip or extended weekend break.
Stockport is perhaps best known for its famous viaduct, built in 1840 and made famous by local artist L.S. Lowry. The town also contains a great many fine old mansions, the most interesting being beautiful Underbank Hall.
With its oldest sections built in the 14th century, this fine Tudor building makes a perfect photo stop, as does the majestic Stockport Town Hall, with its tall wedding-cake-like cupola. The town hall also serves as home base of the Stockport Symphony Orchestra, which regularly offer first-rate classical concerts.
A short drive south of Stockport is the village of Disley, home to splendid Lyme Park, one of the biggest Tudor houses in Cheshire. Highlights include a chance to view the building's detailed decorative work and fine quality furnishings, along with its magnificent country park setting and splendid views.
Another landmark home in the area is Bramall Hall, one of Cheshire's most important black-and-white, timber-framed houses (1590).
10. Quarry Bank Mill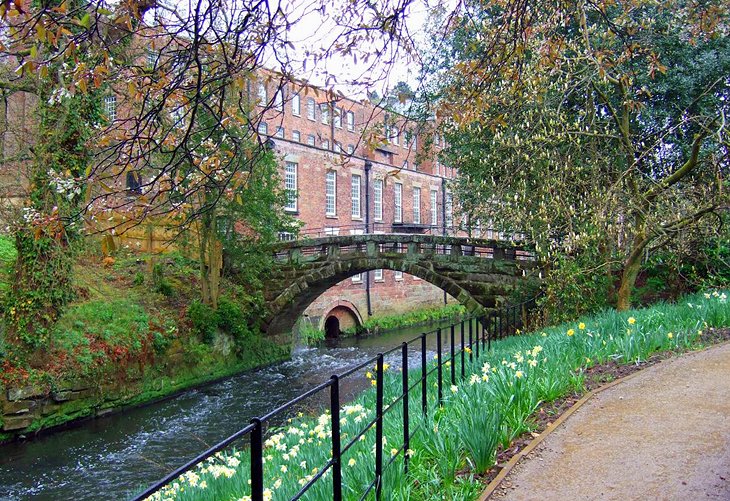 Highlights: Pretty village with historic working textile mill, pleasant gardens, and walking trails
About 20 kilometers due south of Manchester and easily accessible by road and rail, the tiny village of Styal, near Wilmslow, is home to Quarry Bank Mill, Europe's largest working textile museum. Here, in the Apprentice House, you'll see sobering displays relating to the often-difficult lives of the many children forced to work in the cotton industry.
As you make your way through the factory, costumed interpreters explain the history of cotton production from bale to bolt, offering a fascinating insight into one of the industries that helped establish the British Empire. Afterward, visit the stunning gardens and stroll to the picturesque village of Styal and through the ancient woods along the River Bollin.
Address: Styal Rd, Styal, Wilmslow, Cheshire
11. Macclesfield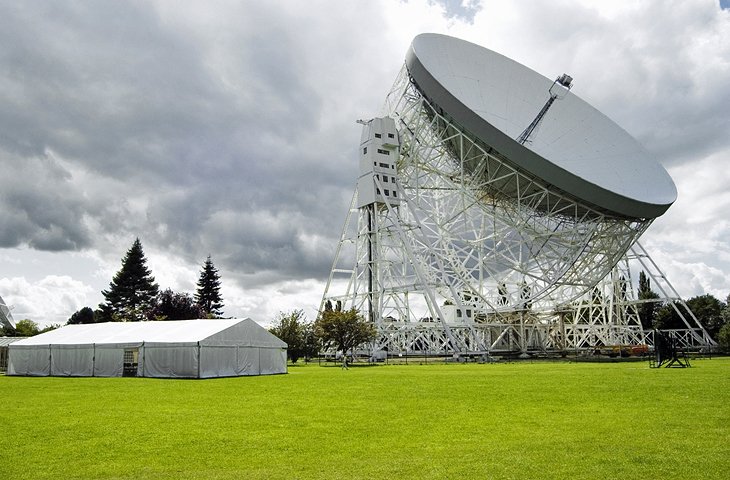 Highlights: Silk museum, huge telescope with planetarium, public parks with trails
Macclesfield, on the Bollin River 27 kilometers south of Manchester, was once one of England's major centers of silk manufacturing. Today, you can learn about the former importance of this industry in the Macclesfield Silk Museum highlighting its history.
Another attraction of this once-important industrial hub is the world-famous Lovell Telescope, a giant dish 76 meters in diameter. Built in 1957 and once the world's largest steerable radio telescope, it's part of the Jodrell Bank Science Centre and the Nuffield Radio Astronomy Laboratories, the site includes fascinating interactive displays on astronomy, space, energy, and satellites, along with planetarium shows and an arboretum.
Also worth a visit is Hare Hill, a nearby National Trust property that includes a lovely walled garden, as well as extensive parkland. A little closer to Manchester but on the main Macclesfield road is Alderley Edge, a steep red sandstone escarpment enjoyed by day trippers attracted by the rolling fields and surrounding woodland.
12. Knutsford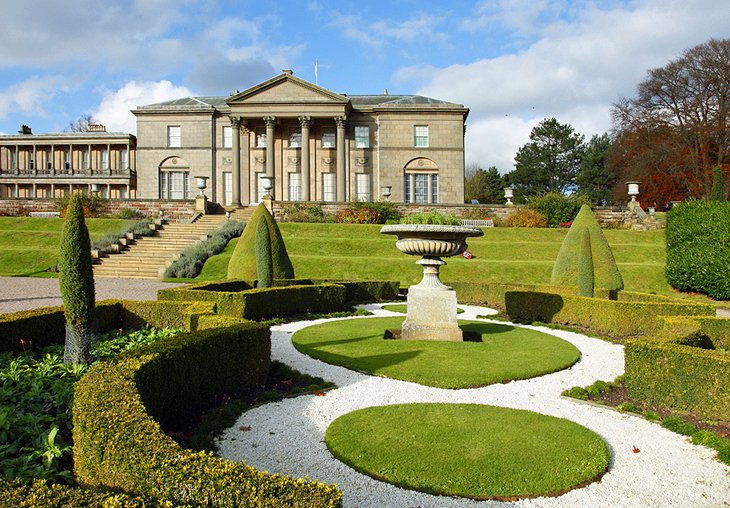 Highlights: Great restaurants and a popular manor house with working farm and deer park
Picturesque Knutsford, about 21 kilometers southwest of Manchester, is noted as a popular dining destination thanks to its many splendid restaurants. It's also famous for being the setting of author Elizabeth Gaskell's best-selling Cranford novel.
A must-see is nearby Tatton Park, one of Northern England's most popular historic attractions. Highlights include a 1930s working farm, a medieval old hall, a magnificent mansion, and a deer park set amid 1,000 acres of parkland and lakes.
Also, be sure to visit Uppermill, the largest village in Saddleworth, with its museum, craft shops, and tearooms. Home to the Rushcart Festival each August, it's a great place to catch a glimpse of England's famed Morris Dancers.
13. Head to North Wales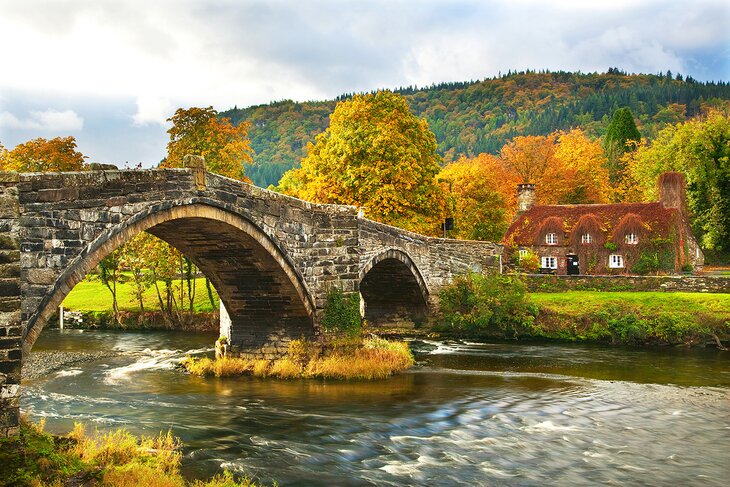 Highlights: Visit small towns and historic sites on an organized day trip
A visit to the popular tourist region of North Wales is certainly time well spent, and can easily be accomplished from Manchester if you hook up with a professional tour operator.
One of the best options is to join a full-day North Wales sightseeing adventure from Manchester. With handy pick-up and drop-off at Manchester Airport, you'll be whisked away by coach, first to the lovely seaside town of Llandudno, a Victorian-era resort destination with one of the best-preserved promenades and piers in the UK.
Other highlights of your day-long excursion include Conwy Castle, the famous Pontcysyllte Aqueduct, and the romantic small town of Betws-y-Coed. You'll also pass through parts of stunning Snowdonia, too. It's one of the most scenic corners of the country so have your camera at the ready.
Read More: Best Small Towns in Wales
Map of Day Trips from Manchester
More Related Articles on PlanetWare.com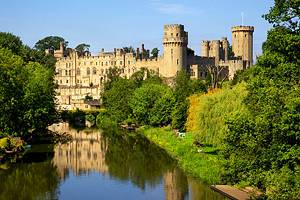 Top Attractions in England: Thanks to the country's brilliant rail network, it's easy to get to England's top attractions. Popular destinations within easy striking distance of Manchester include Chester, famous for its world-class zoo (Chester Zoo); Warwick, home to the remarkably well-preserved Warwick Castle; and Birmingham, popular for its museums and art galleries.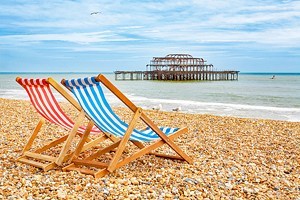 UK's Best Beaches: Many visitors are pleasantly surprised by the quality and number of great beaches in England. One of the top-rated beach experiences can be enjoyed in the seaside resort town of Brighton in Sussex, famous for its promenade and pier, and Rhossili Bay Beach on the spectacular Gower Peninsula, near Swansea in Wales. Also worth a visit is beautiful St. Brélade's Bay Beach on Jersey in the Channel Islands.