15 Top-Rated Tourist Attractions in Leeds
We may earn a commission from affiliate links ()
This pleasant university city on the River Aire offers great shopping in its historic downtown area and has a number of interesting museums and art galleries. Leeds also has a long-established tradition of industry, especially textiles, and its primary importance is as West Yorkshire's commercial and financial center.
The city is also the cultural hub of the area and boasts numerous fun things to do. Highlights include annual events such as the Leeds Festival in Bramham Park; the Leeds International Concert Season, a year-long celebration of music featuring more than 200 concerts; and the Leeds International Film Festival. The city's many attractive parks and gardens are ideal for relaxing walks, especially the 700-acre Roundhay Park, one of the country's largest city parks, and Golden Acre Park.
The surrounding Yorkshire Dales and moors are also worth exploring and offer some of the country's best hiking and biking trails. Particularly popular is the Meanwood Valley Trail, site of an annual footrace that draws participants from across Britain, along with famous Ilkley Moor.
To learn more about why Leeds is fast becoming one of the most popular places to visit in England, be sure to read through our list of the top tourist attractions in Leeds.
See also: Where to Stay in Leeds
1. Civic Quarter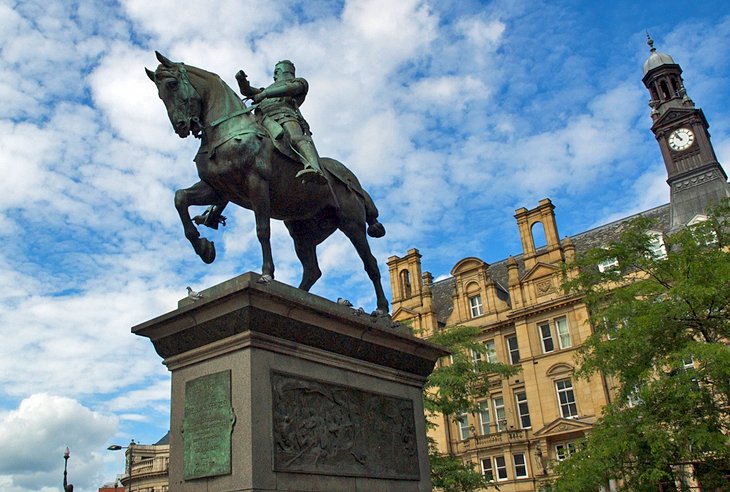 The hub of Leeds' Civic Quarter is the pedestrian area known as City Square, famous for its numerous statues. These include figures of the Black Prince and inventor James Watt. Nearby is Joseph Priestley Church, as well as the spectacular Town Hall, consecrated in 1858 by Queen Victoria. A lovely Corinthian colonnade adorns its front, dominated by a 200-foot-tall clock tower, and its ornate Victoria Hall is used frequently for concerts.
In Victoria Square, Leeds Art Gallery is a must for art lovers. Its superb collection of works by British artists include 750 paintings by J.S. Cotman (1782-1842), as well as works by Constable and Gainsborough together with Italian and French masters such as Courbet, Renoir, and Signac. The Henry Moore Sculpture Galleries contain works by the artist and his contemporaries Jacob Epstein and Barbara Hepworth.
Finally, be sure to visit Millennium Square, a focal point for theatrical performances and concerts. The square is also the location of Leeds City Museum, with its excellent departments of geology, zoology, ethnology, and archaeology.
Another important city structure is Leeds Civic Hall with its owl decorated towers, the heraldic emblem of the city.
Address: City Square/Millennium Square, Leeds
2. The Headrow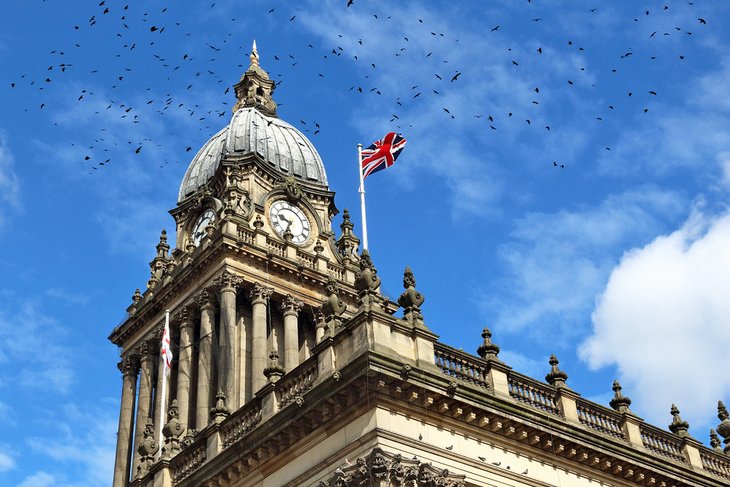 The Headrow is a pedestrian-friendly half-mile where many of the city's premier shopping, civic, and cultural attractions are found. Perhaps the most notable building here is Leeds Town Hall. Opened in 1858, it served as the template for countless civiv buildings across Britain and its empire (occasional tours are given).
Headrow leads into Westgate, Eastgate, and Quarry Hill, which also host important cultural attractions. These include the West Yorkshire Playhouse – the biggest production theater outside London – and the Grade-II-listed Leeds City Varieties, the oldest music hall in the world.
Another theatrical landmark is the Grand Theatre, an opera house that serves as home to Opera North.
3. Briggate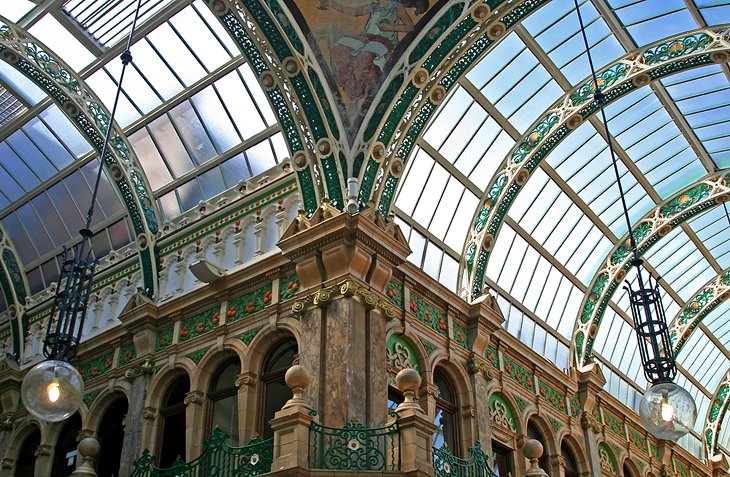 The Briggate area is famous for its historic shopping arcades, many of them of architectural significance. Those to explore include Grand Arcade, built in 1897 and home to a number of small boutique shops, and Thorntons Arcade, completed in 1878 and notable for its clock with four life-size figures.
Queens Arcade was opened in 1889 and is home to high-end designer and novelty shops, while County Arcade in the Victoria Quarter was completed in 1903 and features marble floors, intricate stonework, and elegant iron domes. The jewel in the crown is undoubtedly Queen Victoria Street; although only arcaded in 1990, it's the largest expanse of stained glass in Europe.
4. The Royal Armouries Museum, Leeds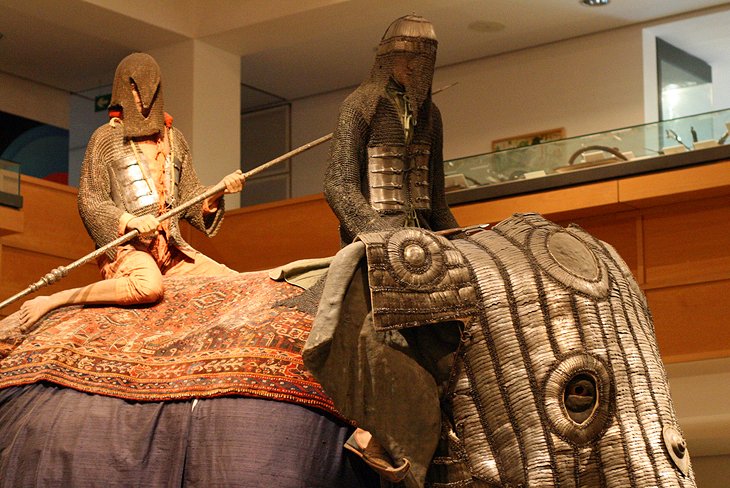 In the city's dock area, the Royal Armouries Museum is home to Britain's national collection of arms and armor. Boasting more than 8,500 objects on display in six impressive galleries, the museum covers some 3,000 years of armor and weaponry from across the globe.
Highlights include the Tournament Gallery, showcasing the splendor (and brutality) of medieval jousting tournaments (it's also where you'll find the full-body armor worn by Henry VIII), and the impressive Oriental Gallery with its many fine examples of arms and armor from Africa and Asia. There's even a collection of weapons and swords used in the hit movie, The Lord of the Rings. Add live demonstrations and stunning re-enactments to the mix, and this museum is a must-see.
5. St. John the Evangelist's Church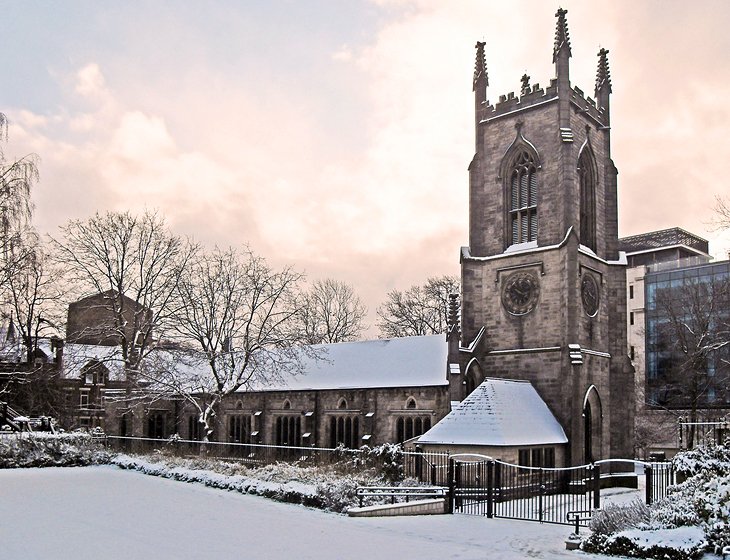 The finest of Leeds' many lovely churches – and also the city's oldest – is St. John's in New Briggate. Built in 1634, its interior is notable for having two naves, as well as an original Renaissance rood screen, pulpit, and stalls.
Other religious sites worth visiting in Leeds include St. Anne's Cathedral, the Roman Catholic cathedral in Cookridge Street (built 1904), and the Georgian Church of Holy Trinity on the riverbank in Boar Lane (1727).
6. Leeds Corn Exchange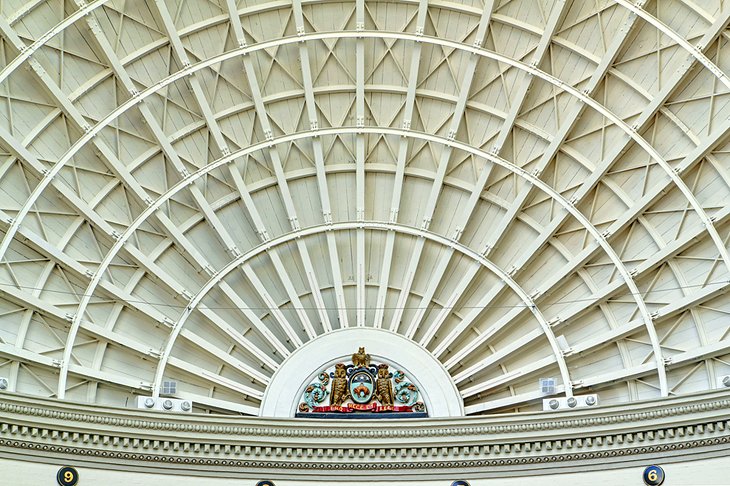 One of only three such structures surviving in the UK, the Grade I listed Leeds Corn Exchange is considered one of England's finest Victorian-era buildings. Designed by Cuthbert Brodrick and completed in 1864, the building is now home to an eclectic variety of independent boutique shops, galleries, and cafés.
7. Harewood House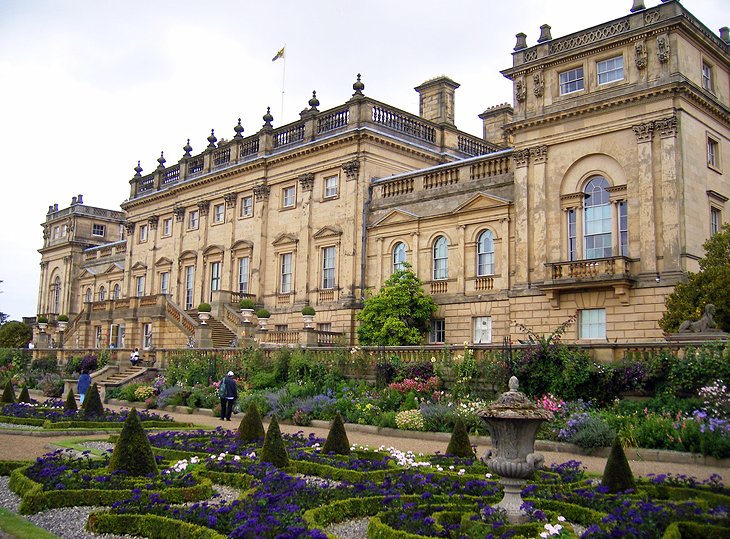 Harewood House, seat of the Earl of Harewood, is a magnificent Georgian country house that took 30 years to build and was completed in 1771. Just eight miles north of Leeds, this spectacular home has interiors designed by Robert Adam and includes fine wall and ceiling paintings by Angelika Kauffmann and furniture by renowned English furniture maker Thomas Chippendale.
As well as an outstanding collection of porcelain, it has a large number of valuable works by the likes of Reynolds, Gainsborough, and El Greco. Outside, the grounds include a beautiful landscape designed by Capability Brown, with a 32-acre lake, a bird garden, and the remains of a 12th-century castle. For a truly memorable stay, book into one of the estate's self-catering cottages, all within easy walking distance of the main house.
Address: Sandy Gate, Harewood, Leeds
Official site: www.harewood.org
8. Leeds Industrial Museum at Armley Mills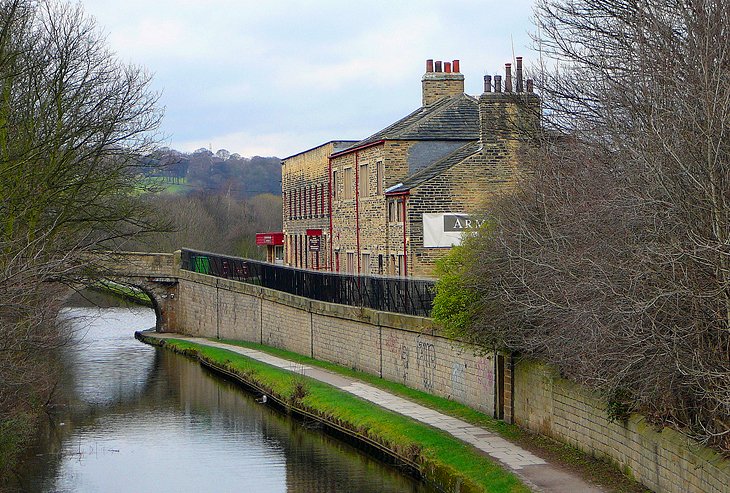 Just two miles west of Leeds city center on Canal Road is the former Armley Mills. Once the world's largest woolen mills, this huge building is now home to the excellent Leeds Industrial Museum. The museum presents the fascinating history of wool production in Yorkshire from the 18th century onwards, as well as exhibits concerning the manufacturing of textiles and clothing, printing, engineering, and locomotives.
While there, spend a little time exploring the nearby Leeds and Liverpool Canal, which links these two important industrial cities. Stretching 127 miles and even crossing the Pennines, this remarkable feat of engineering encompasses some 91 locks on its main line. The Thwaite Mill, a carefully restored watermill in nearby Stourton, is also worth visiting.
Address: Canal Road, Armley, Leeds
Official site:https://museumsandgalleries.leeds.gov.uk/leeds-industrial-museum/
9. Temple Newsam House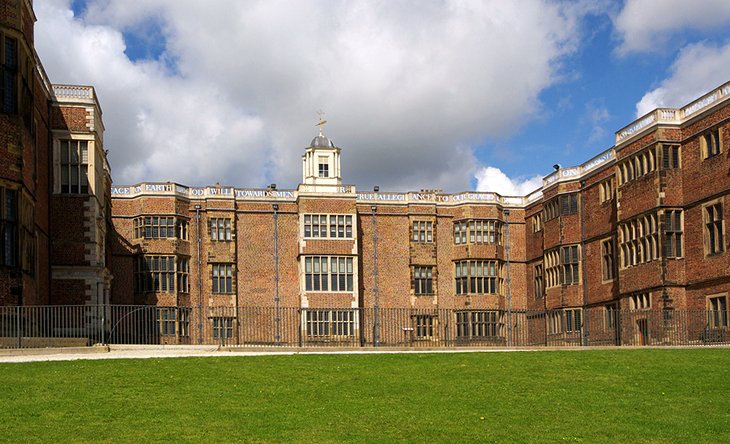 Temple Newsam House, a magnificent 40-room Tudor-Jacobean mansion, is a must-see when in Leeds. Set in a sprawling 900-acre park on the city's outskirts, it's famous as the birthplace of Lord Darnley, the husband of Mary Queen of Scots.
Interior highlights include a variety of Old Master paintings, as well as furniture by Thomas Chippendale and collections of Leeds creamware and silver. Exterior highlights include the beautifully manicured grounds with their marvelous rose bushes and rhododendrons, as well as one of the largest working rare breeds farms in Europe.
10. Thackray Medical Museum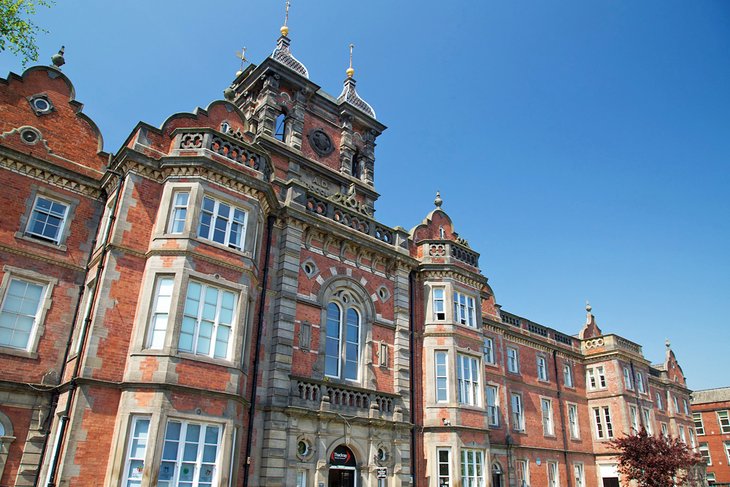 The interesting and recently renovated Thackray Medical Museum is well worth checking out. Located next to St. James's University Hospital, this fascinating museum has a collection of 20,000 medical artifacts, and displays the development of medicine through the ages.
Displays include an authentic reproduction of a slum area of Leeds during Victorian times, including the sights, sounds – and even smells – that would have permeated such neighborhoods. Other exhibits deal with areas of healthcare and surgery, as well as childbirth. A café and shop are located on the premises.
Address: 141 Beckett Street, Harehills, Leeds
Official site: https://thackraymuseum.co.uk
11. Lotherton Hall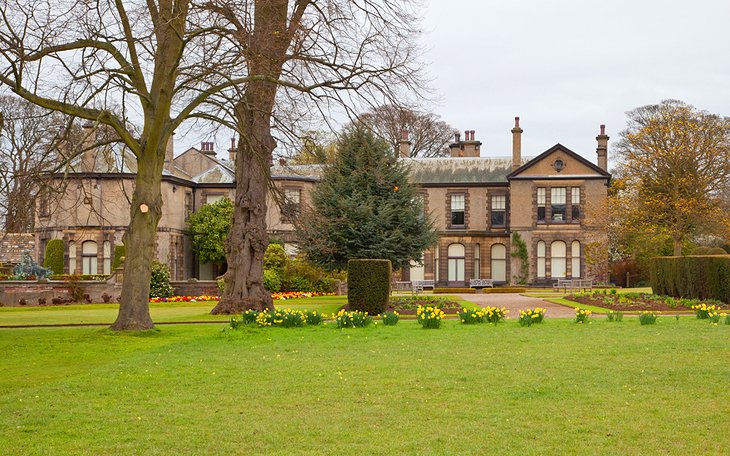 Edwardian era Lotherton Hall was built before WWI for the Gascoigne family, avid collectors of antiquities and art. Particularly good are the Oriental Gallery, which has items dating back to the 19th century, and the Nightingale Gallery displaying the work of local artists.
The house is surrounded by a formal Edwardian garden and a bird garden that's home to over 200 species. There are also a number of superb walking trails on-site, as well as an adventure playground for the kids. A picnic area and café are also available for visitors to use.
12. Abbey House and Museum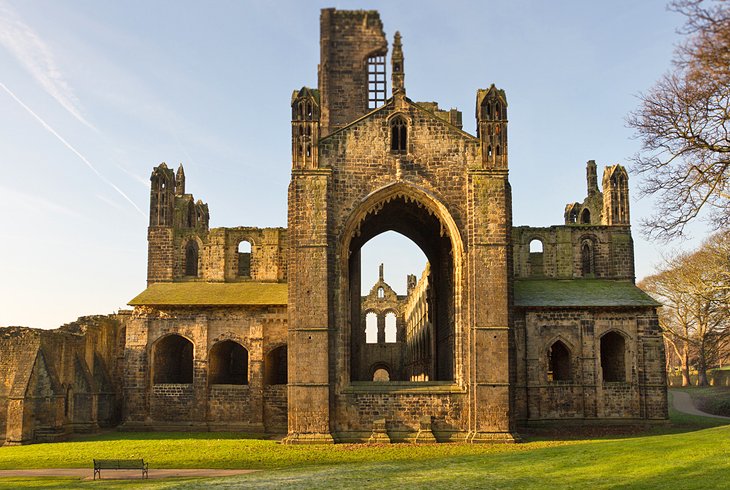 Located about four miles west of Leeds in Aire Valley, Abbey House Museum in Kirkstall is in a magnificent Cistercian house built in 1152. The picturesque remains include a roofless church with a narrow choir and a ruined tower, an almost completely preserved chapterhouse, as well as a refectory, kitchen, and various other buildings.
The gatehouse is now part of the Abbey House Museum with its reproduction houses, shops, and workshops illustrating life in Yorkshire through the centuries. If visiting near Christmas, check the attraction's website for details of special events and programs for the kids.
Address: Abbey Walk, Abbey Rd, Kirkstall, Leeds
Official site: https://museumsandgalleries.leeds.gov.uk/abbey-house-museum/
13. Wakefield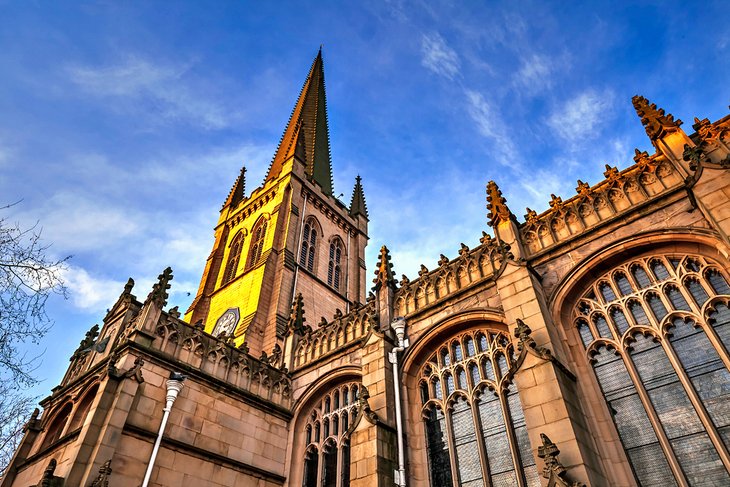 The town of Wakefield, an easy 30-minute drive south of Leeds, contains an interesting open-air sculpture gallery and is the birthplace of English author George Gissing (1857-1903). The Wakefield Theatre hosts performing arts events, as well as a city museum.
Other notable attractions include the ruins of Sandal Castle, Wakefield Cathedral, the and Wakefield Art Gallery. Also worth visiting is Nostell Priory, built on the site of a medieval priory in the 18th century. The house contains a collection of Chippendale furniture, paintings, and Chinese wallpapers.
14. The National Coal Mining Museum for England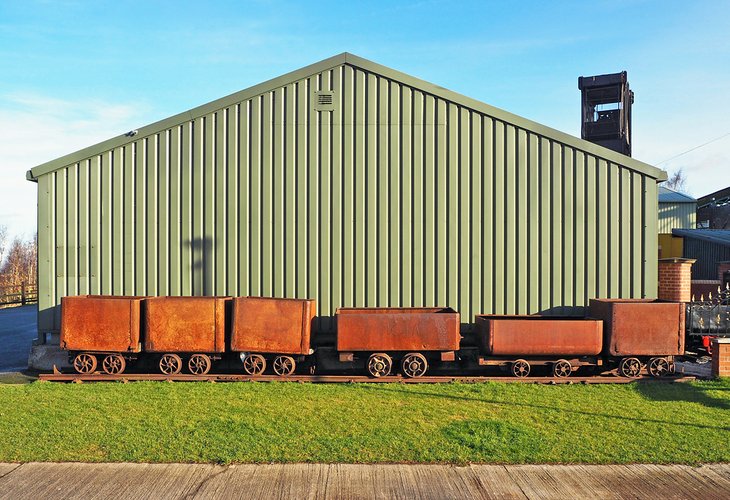 Another popular destination that's popular for tourists is the National Coal Mining Museum for England. Located at the former Caphouse Colliery in Overton, just a short drive from Wakefield, this first-rate attraction showcases the often hard life of the miners at one of the country's oldest coal mines (it dates as far back as the 1770s).
Highlights include guided underground tours and a visitor center with exhibits relating to the colliery's long history. For the kids, be sure to catch the fun ride on one of the "paddy" trains used to haul workers around the vast site.
Address: Caphouse Colliery, New Road, Overton
Official site: www.ncm.org.uk
15. Harrogate: Britain's Floral Resort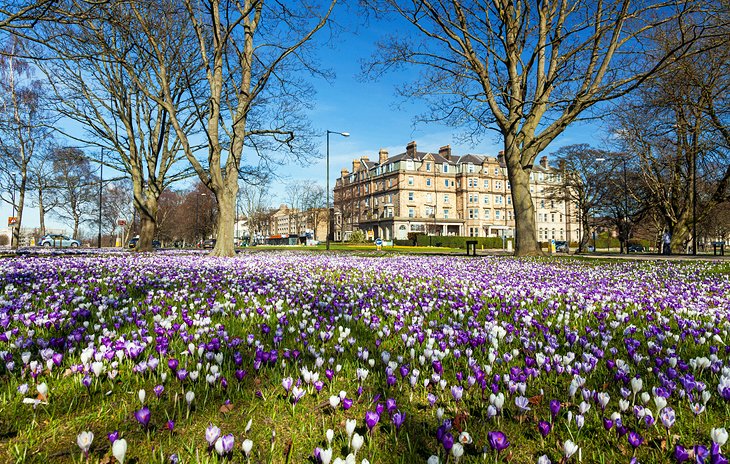 Harrogate is a pretty spa town that owes its fame to the medicinal springs discovered here in the 16th century. Today, it's primarily a holiday resort known for its parks and flowers, earning it the title of Britain's Floral Resort.
One of its most popular attractions is RHS Garden Harlow Carr. In addition to its diverse garden types, there's a museum of gardening, a model village, and guided tours of the 68-acre site. Harrogate also enjoys a reputation for great shopping on account of its elegant boutiques and antique shops.
For culture vultures, the Harrogate International Festivals (year-round) consist of a series of excellent festivals considered to be among the best in Europe, featuring everything from opera to drama performances, as well as cabaret, street theater, and literary events.
Address: 32 Cheltenham Parade, Harrogate
Official site: www.harrogateinternationalfestivals.com
Where to Stay in Leeds for Sightseeing
We recommend these centrally located hotels near the top attractions in Leeds: