14 Top-Rated Things to Do in Coventry, England
Author Bryan Dearsley visited The Midlands of England in the spring of 2022 to explore this historic region, including the city of Coventry.
Coventry is an exciting place to spend a few days, especially if you're a fan of staying busy. Located a mere half hour from Birmingham and two hours northwest of London, this vibrant English cathedral city is packed with fun things to do.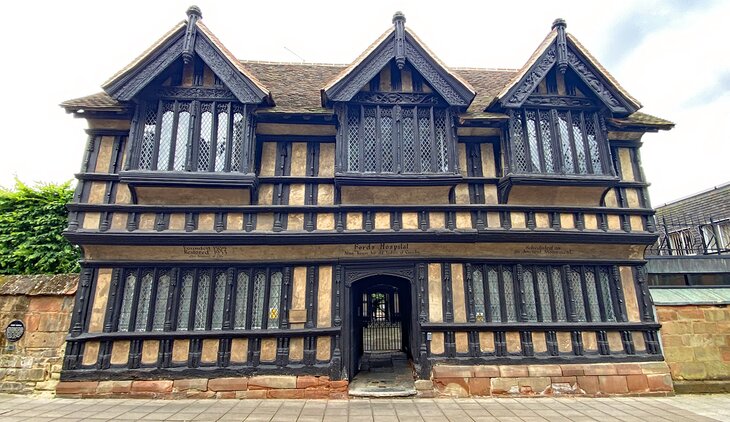 Tour the ruins of a medieval cathedral, enjoy a quiet picnic in a country park, or visit the impressive motor vehicle museum, where guests can learn about the city's important history in the auto industry.
Whether you're hoping to catch a show, traipse around medieval ruins, or tempt your tastebuds with gastronomical delights, you won't be bored during your visit to this exciting city. Coventry is the place to go for non-stop events in the Midlands.
Before you go, plan your sightseeing itinerary with our list of the top things to do in Coventry, England.
1. Get Revved Up at the Coventry Transport Museum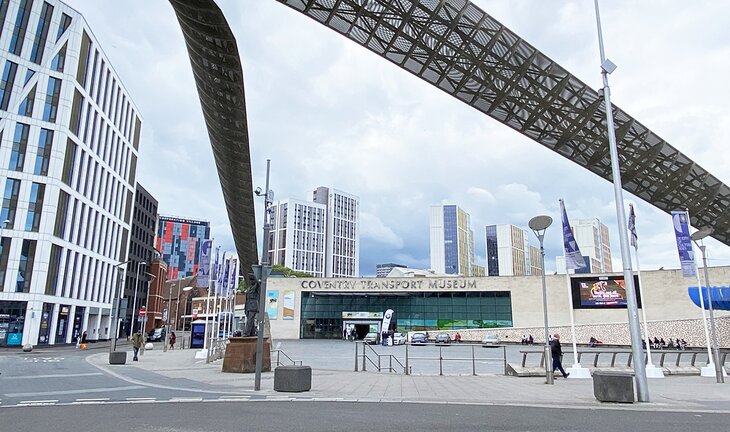 If you weren't a car buff before arriving in Coventry, you're sure to spark an interest in all things vehicular during your visit. The city's number one tourist attraction is a testament to the area's history as a car manufacturing hub. Known as the Coventry Transport Museum, its vast collection was once housed in the Herbert Art Gallery and Museum.
Since 1980, its vast collection has been on show in the museum's current locale, which is set conveniently in the city center. Here, you'll find one of the largest collections of publicly owned British cars, bikes, and motorcycles, as well as more than one million artifacts, including photos and books.
Organized chronologically, it's easy to take a trip through time in this eclectic museum. The interactive exhibits make this an especially fun spot to spend a few hours with the whole family. A fan of speed? You'll love getting up close and personal to two of the museum's most impressive exhibits: Thrust SSC and Thrust 2, the world's fastest cars.
Address: Millennium Place, Hales Street, Coventry
Official site: www.transport-museum.com/
2. Wander through History at Coventry Cathedral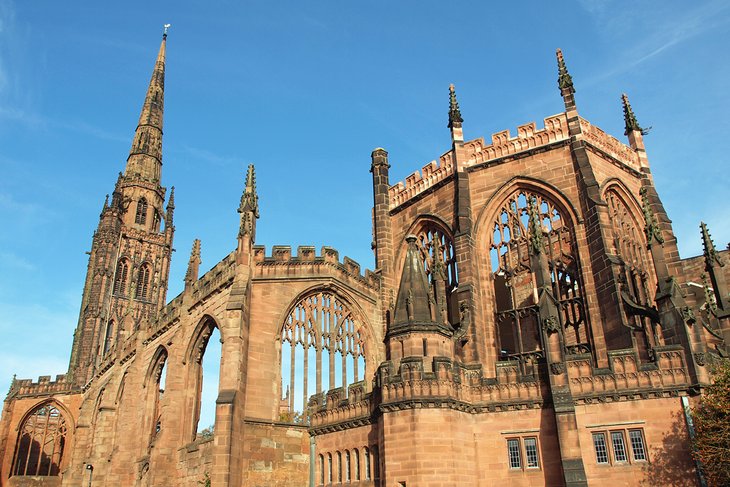 A dramatic juxtaposition greets visitors to the Coventry Cathedral, welcoming them to worship in the "new" cathedral built in the early 1960s and soak up the history in the ruined "old" cathedral that stands beside it.
In the 14th century, the Church of St. Michael (a.k.a. the "old" cathedral) was erected on this site. Its dramatic structure rose high above the city center, its remarkable interior awash in magnificent details of sacred importance. Sadly, the cathedral burned along with many of the city's buildings when bombs were dropped on the city during the Second World War.
The remains, which include a Gothic spire and remarkably ornate walls, were left as a memorial. Today, they serve as a memento of the peace and forgiveness that arose from the bombing, as well as a reminder of the immense damage caused by war. Interestingly, the sacristies were partially rebuilt by young volunteers from Germany after the war. Also in the old cathedral is a unique cross made from two burnt beams that were rescued from the ruins.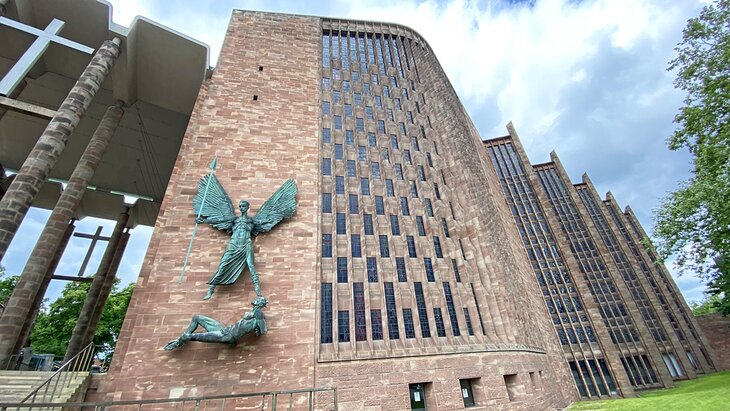 Be sure to allocate time to explore the interior of the new cathedral, too. Linked with the ruins of the older building by a canopied porch, its many interesting features include the zigzagging walls of the 420-foot-long nave with their tall, altar-facing stained-glass windows.
The huge glass screen with its figures of saints and angels at the building's west end is also worth seeing, as is the baptistry, notable for its font made from Bethlehem stone.
The cathedral is easily reachable by foot and is about a 12-minute walk from the train station.
Address: Priory Street, Coventry
Official site: www.coventrycathedral.org.uk/wpsite/
3. Enjoy a Picnic among the Bluebells at Coombe Abbey Park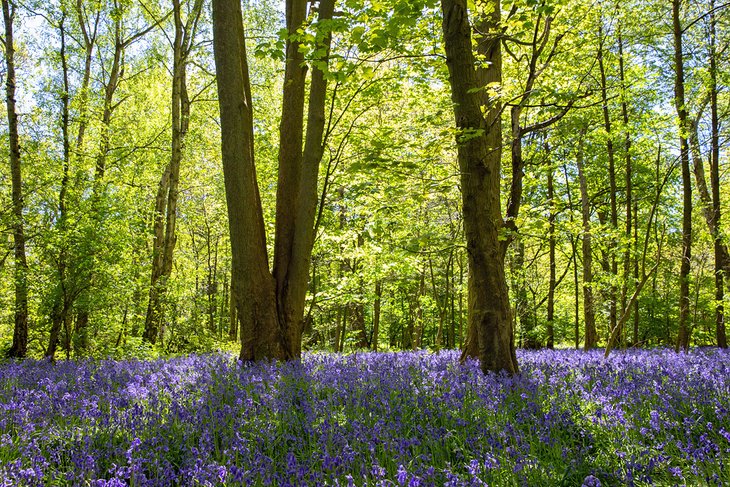 While wandering around Coombe Abbey Park is one of the best things to do in Coventry at any time of year, spring is one of the most beautiful times to visit. From mid-April through May, the bluebells are in bloom, blanketing the park in a sea of violet so breathtaking, you'll think you've entered a fairy tale.
Pack a picnic and enjoy a whole day spent exploring this 500-acre wonderland. It's home to a sparkling lake, verdant woodland, and captivating gardens. You'll want plenty of storage space for all the photos you'll take, and binoculars if you're an avid bird-watcher.
Trails wind around the property, making it easy to find your way. Also on-site are a discovery center, playground, GO Ape! adventure ropes course, a fishery, and an area where guests can feed ducks and swans. Didn't pack lunch? No worries. You'll find plenty of tasty treats in the café.
Address: Brinklow Road, Coventry
Official site: www.coventry.gov.uk/coombe
4. Get Inspired at the Herbert Art Gallery and Museum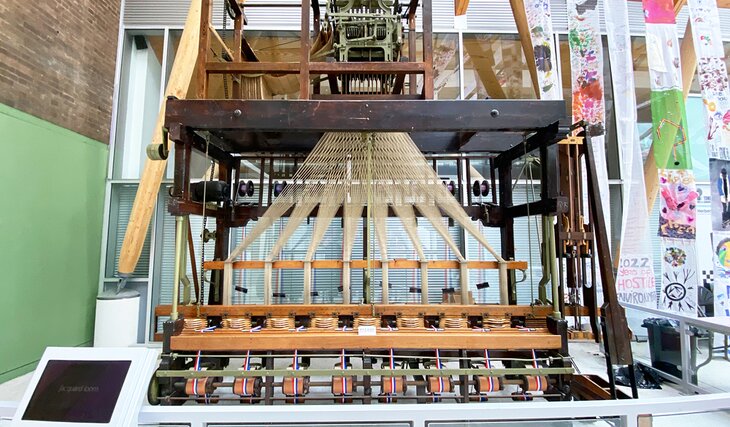 You'll find a little bit of everything at the Herbert Art Gallery and Museum. One of the best tourist attractions in Coventry, this expansive space is what happens when you successfully mix a history museum with an art gallery. Packed with exhibits, this popular venue contains historical and archeological artifacts, natural history specimens, art of all genres, and a detailed history of Coventry from the 1500s to today.
Set within a spectacular building topped by a wave of glass, the bright and airy space plays host to some of the world's best creations, as well as a records archive and a learning center featuring interesting talks by experts in multiple fields. The exhibits are grouped into four main categories: Visual Arts, Archaeology, Natural History, and Social and Industrial History.
With so much to see, it can at times feel overwhelming. Take a break in Alfred's Café or grab a gift in the Museum Shop.
Address: Jordan Well, Coventry
Official site: www.theherbert.org/
5. Go Bird-Watching at Brandon Marsh Nature Reserve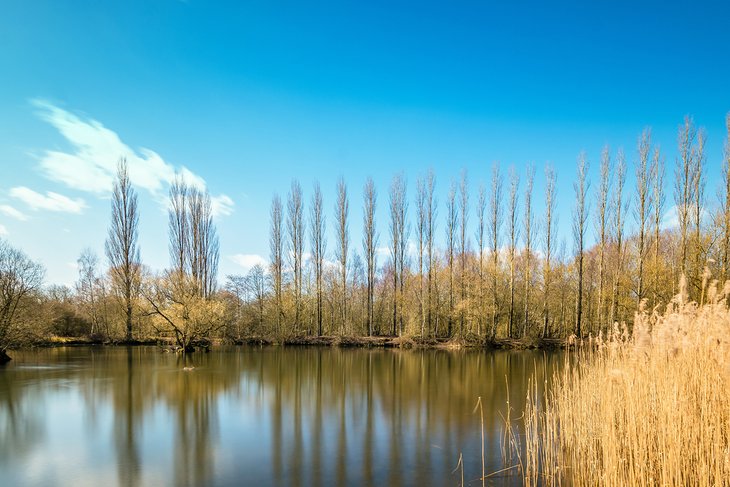 Visiting the Brandon Marsh Nature Reserve is one of the best things to do in Coventry for bird-watchers. A serene, 92-hectare sanctuary, this is a perfect place to visit to spot your favorite British fowl. Make use of the nine bird hides to get up close and personal to the area's most prized creatures, then wander the multiple trails that wind their way through the property. Don't forget to pack binoculars and a good camera!
The Kingfisher Trail takes about 40 minutes to complete, while the shorter Woodpecker Trail takes close to 20 minutes. Both are well-suited for those in wheelchairs or pushing strollers. Along the way, you'll pass grassland, woodland, reed beds, and plenty of pools created by the extraction of gravel many years ago. All are home to impressive flora and fauna.
The Badger's Kitchen is a perfect place to quell hunger pangs. Don't miss a stop to the visitor's center. Also, Mouse Manor is a fun spot for kids, where they can climb through the nest of a harvest mouse.
Speaking of children, they'll also love the brass rubbing trail, guided tours, and pond dipping activities.
Address: Brandon Lane, Coventry
Official site: www.warwickshirewildlifetrust.org.uk/BrandonMarsh
6. Pause for Reflection at War Memorial Park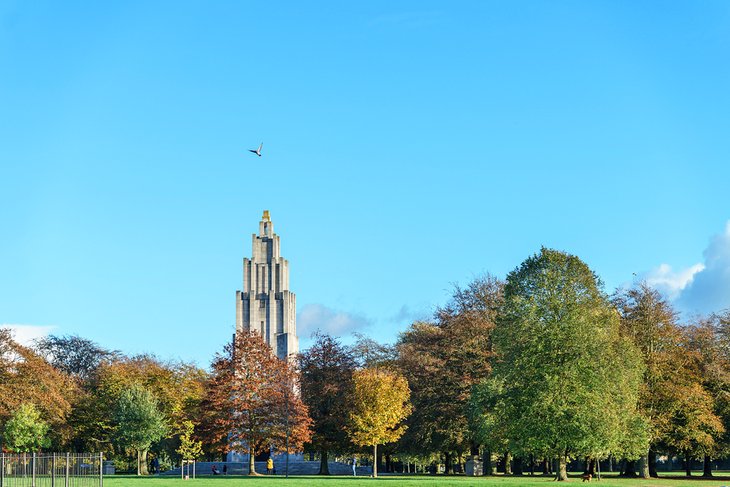 War Memorial Park is a lovely spot to enjoy a tranquil respite. The city's largest park, this top attraction was created in 1921 in remembrance of local soldiers who lost their lives during the First World War.
The main draw, in addition to the lush, green lawn and well-manicured gardens, is the 90-foot War Memorial designed by an architect known as Mr. Tickner. Also of note are the 800 spectacular trees planted in memoriam to those who died during war. The Missing Faces project includes photos of 264 locals who were killed during WWI.
Also known for hosting fun and uplifting events, this is where you'll find the annual, three-day music fest, Godiva Festival (once known as the Coventry Carnival Gala Day), as well as the Legends Festival and War Memorial Park Food Festival.
Pavilions provide shade or rain cover for picnics, and there's a café on-site for snacks.
Address: Kenilworth Road, Coventry
Official site: www.coventry.gov.uk/warmemorialpark
7. Find the Elephant at St. Mary's Guildhall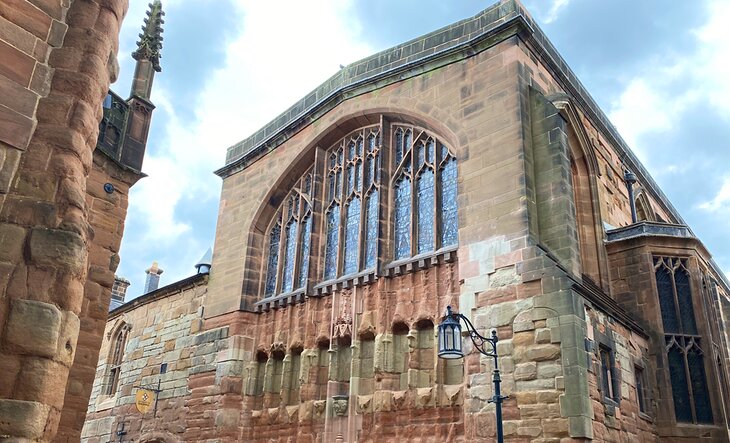 While the newly revamped St. Mary's Guildhall is often occupied by private events or weddings, its status as a historical monument makes it well worth a trip. Just be sure you arrange your visit in advance to ensure you can get in.
Set beside Coventry Cathedral, this remarkable building dates to 1352, making it one of Coventry's oldest structures. It once served as a prison for Mary Queen of Scots.
Inside you'll find the Coventry Tapestry, dubbed one of the "rarest and most important examples of art in the country." You can also view other important medieval artifacts such as furniture, stained glass, and an armory. Other highlights of this extensively renovated attraction include modern interactive exhibits, a digital tour, and other exciting attributes.
Insider's tip: Search for the elephant carrying a tower upon its back. Hint: Look for stained glass. This unique emblem is part of the Coventry Coat of Arms.
Address: Bayley Lane, Coventry
Official site: https://stmarysguildhall.co.uk/
8. Check Out the Lady Godiva Statue in Broadgate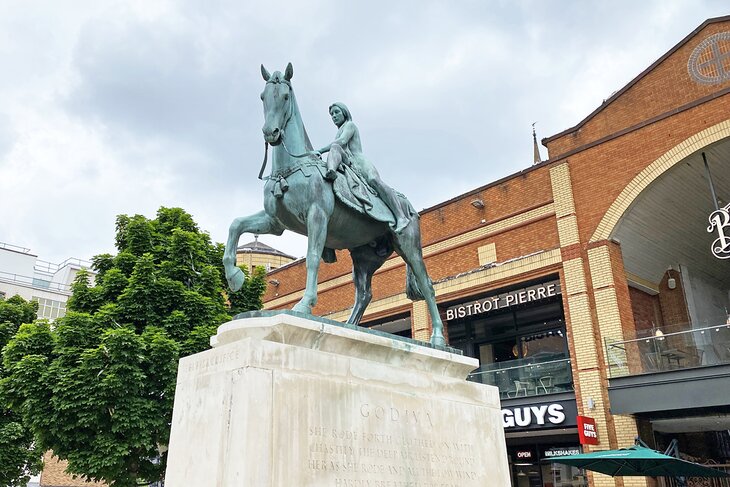 While you might expect to spy a historic monument in a medieval part of town, the iconic Lady Godiva statue stands stoically in the heart of Broadgate Square. Surrounded by shops, restaurants, and entertainment venues, this interesting Grade II-listed statue has an equally intriguing back story.
According to legend, Lady Godiva was the very religious wife of Leofric, the Earl of Mercia. In protest of her husband's high taxes on local citizens, Lady Godiva reportedly rode through Coventry wearing nothing but her long hair in the mid-11th century. Legend has it that only one townsperson, nicknamed "Peeping Tom," refused to avert his eyes during the spectacle.
This statue, created by William Reid-Dick in 1949, stands as a reminder of this memorable moment. Behind it lies the Broadgate Clock, similar to a giant cuckoo clock, which opens to display a statue of Lady Godiva riding her horse as it chimes each hour. Peeping Tom appears above her to take a peek.
Address: Broadgate Square, Coventry
9. See Coventry's Other Famous Spire at Holy Trinity Church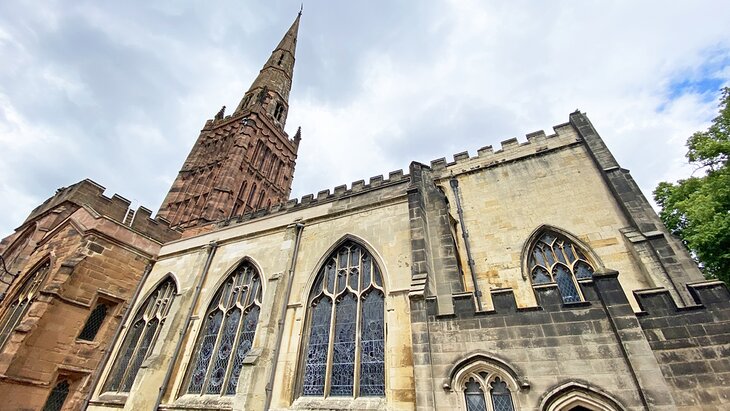 Tucked around the corner from Broadgate and the city's famous Lady Godiva statue, Holy Trinity Church boasts one of Coventry's tallest spires. Built in 1166, it stands an impressive 327 feet tall.
Be sure to pop in for a look around the church's beautiful interior. Highlights include a rare stone pulpit made in 1470, elegant stained-glass windows, and a number of tapestries created to commemorate the coronation of the late Queen Elizabeth II.
Also worth seeing is a unique medieval painting entitled Doom. Painted in 1430 and only recently rediscovered, it shows Jesus Christ standing in judgement of souls, determining whether they'll end up in heaven or hell.
Address: 5A Priory Row, Coventry
Official site: www.holytrinitycoventry.org.uk
10. Find Your Groove at Coventry Music Museum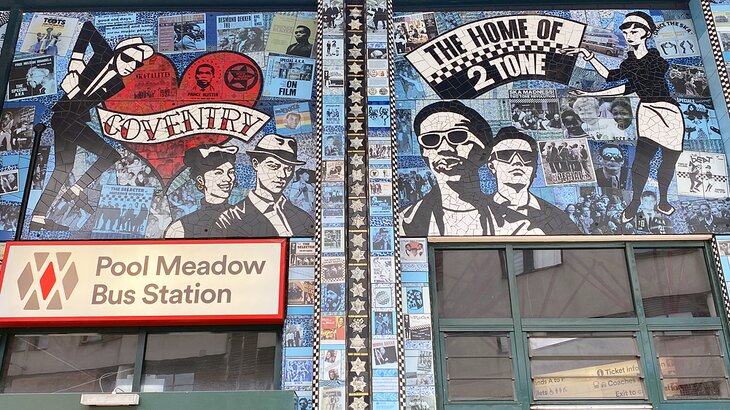 Music lovers unite at the Coventry Music Museum. It's filled with memorabilia that follows the Coventry and Warwickshire music scene all the way back to Roman times. You can spend hours in this excellent cultural attraction. The vision of local resident Pete Chambers, a music historian and journalist, and his wife, Julie, this must-visit attraction is run by music fan volunteers.
Whether you like to strum a guitar, bop to the beat, or compose your own songs, this eclectic space is a haven for those who love to feel the rhythm of British sound. It features a 2-Tone village with a café and shop; the Coventry Music Wall of Fame; and exhibits celebrating famed musicians such as Johnny Goodison, Delia Derbyshire, The Primitives, John Lennon, and Yoko Ono.
Ride in the Ghost Town Car or try your hand at creating your own sound in the on-site recording studio. Then stick around for a concert, which are often held on weekends. The museum also chooses a band or artist of the month to showcase current Coventry-based talent in the underground Knights venue.
The museum is open from 10am to 4pm Thursdays through Saturdays, and 10am to 3pm on Sundays. It is also open on Bank Holiday Mondays.
Address: 80 Walsgrave Road, Coventry
11. Take Flight at the Midland Air Museum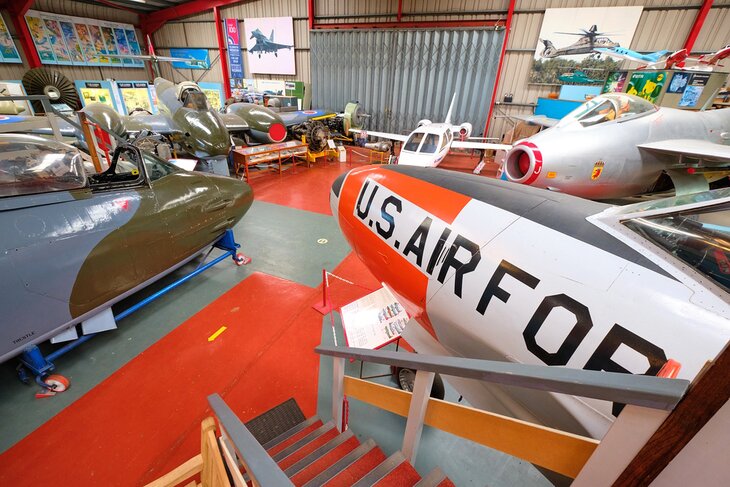 Aviation enthusiasts will fly high during a visit to the Midland Air Museum. Located beside Coventry Airport, this impressive facility is home to over 45 aircraft. What began as a small collection of aeronautical artifacts in 1967 grew to the first-rate museum it is today.
Tour the Vulcan bomber; sit in the Meteor cockpit; learn the history of aviation in the Midlands; and get up close and personal to the story of Coventry-born engineer, Sir Frank Whittle, the man responsible for the first British jet-powered plane. You'll spy jet engines as you've never seen them before-from both inside and out.
When you've ogled all there is to see, hit the Argosy Tea Room for a warm cuppa and snack, or visit the shop for a take-home model kit, aviation-themed book, painting, prints, posters, and more.
Address: Coventry Airport, Rowley Road, Coventry
Official site: http://midlandairmuseum.co.uk/
12. Two Wheels Good: The National Motorcycle Museum
Petrol-heads who've visited the Coventry Transport Museum should also pay a visit to the amazing National Motorcycle Museum. Located in Bickenhill, just 15 miles west of Coventry, this huge collection officially opened in 1985 and has welcomed countless motorbike fans since.
Set amid eight acres, this popular attraction is home to a collection of over 850 British-made motorbikes spanning a period of 100 years. Guided tours are available, and a food court and shop are located on the premises.
Address: Coventry Road, Bickenhill, Solihull
Official site: www.nationalmotorcyclemuseum.co.uk
13. Shop and Dine at FarGo Village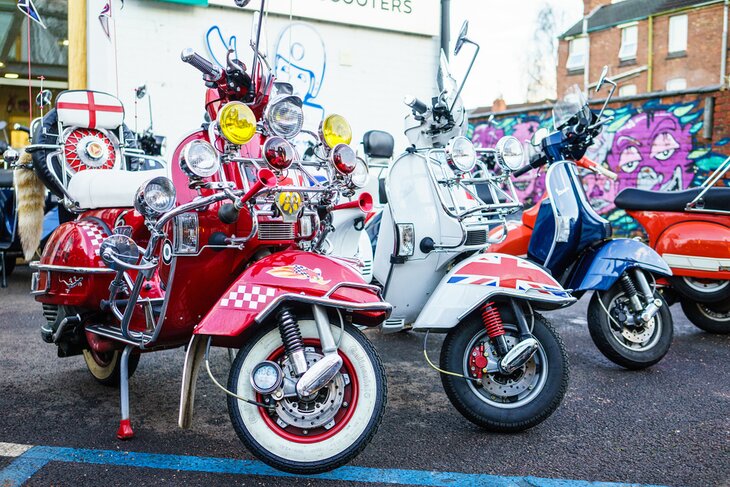 There's nothing mainstream about the ever-expanding FarGo Village. An eclectic "artistically re-purposed industrial space," this cultural hub is home to more than 40 independent businesses. Whether you're looking for funky artwork, one-of-a-kind clothing, or vegan or artisan food, you'll find it all here. Oh, and a museum dedicated to Sgt. Bilko (a.k.a. Sgt Bilko's Vintage Emporium). Talk about unique!
When you aren't sifting through the distinct merchandise in the repurposed shipping container stores or eyeing the street art and graffiti, be sure to catch one of the multiple events held in The Box. A slew of fun festivals also take place in this exclusive venue. Friday Lates take place each Friday from 5:30pm to 10pm and include fantastic food, music, and evening shopping opportunities.
Insider's tip: While technically open daily, many of the tenants of FarGo Village take Mondays and Tuesdays off. Check their individual hours before heading out to be sure you aren't disappointed.
Address: Far Gosford Street, Coventry
Official site: www.fargovillage.co.uk/
14. Coventry's Old Alms Houses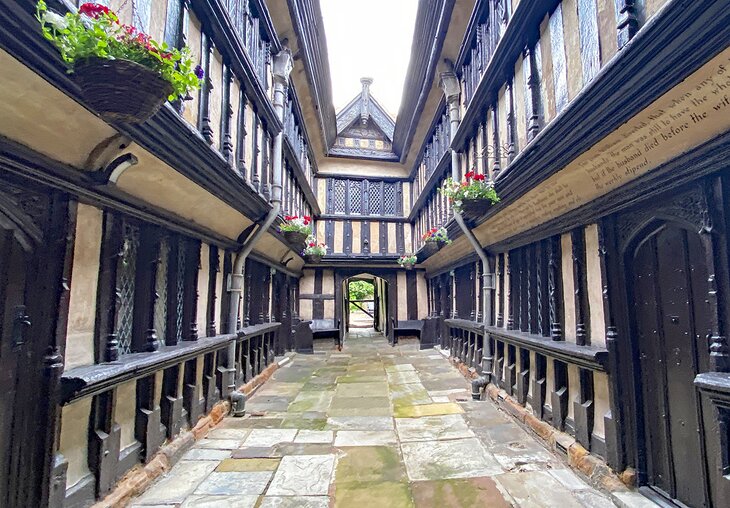 Among Coventry's best preserved half-timbered old buildings are a number of unique alms houses. The tradition of alms houses, usually established for poor or elderly members of the communities, continues to this day in Coventry.
Among the best examples are Ford's Hospital in Greyfriars Lane. Established in 1509, it houses married couples to this day, and while it's private property, you can get a good glimpse of the building's exterior. Founded in 1506, the half-timbered Bond's Hospital is another old almshouse that's still in use.
Other similar old buildings that featured prominently in the city's past include Whitefriars Monastery, the cloister and the dormitory, which have been preserved and now house a local history museum.
Address: Greyfriars Lane, Coventry
Coventry - Climate Chart
Average minimum and maximum temperatures for Coventry, United Kingdom in °C
J
F
M
A
M
J
J
A
S
O
N
D

6

0

6

0

9

2

12

3

15

6

19

9

21

11

20

11

18

9

14

6

9

3

7

1

PlanetWare.com
Average monthly precipitation totals for Coventry, United Kingdom in mm.

56

48

51

48

56

56

46

66

53

53

58

66