14 Best Romantic Getaways in the UK
Author Shandley McMurray lived in London and has traveled extensively throughout the UK.
From weekends spent at the charming coast to days spent roaming the majestic woodlands of ancient forests, romantic getaways abound in the UK. It's a dream spot for couples looking to up the romance. You're sure to find pretty villages and a perfect place to canoodle while soaking up some history (and a bit of rain) when you head to the UK for an amorous vacay.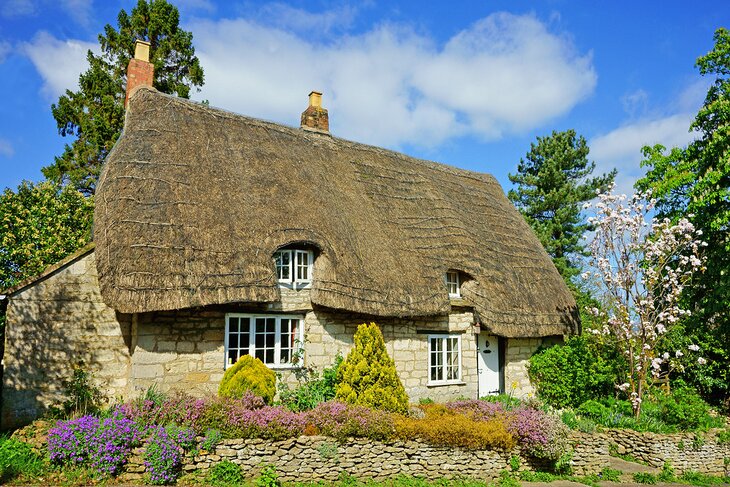 Not convinced the UK is romantic? It's time for you to witness a misty morning on a heather-clad moor, see a sunset from atop a medieval castle, and traipse through a Scottish glen made by fairies. There are literally castles around almost every corner of the UK. It doesn't get much more romantic than that!
Use our list of the best romantic getaways in the UK to help plan a perfectly loved-up holiday.
1. The Lake District, England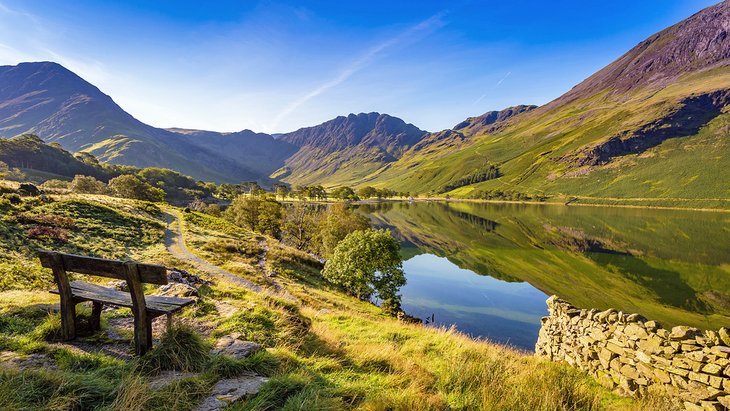 Romance abounds in England's stunning Lake District. Arguably the most picturesque region in the UK, this natural wonderland offers panoramic views so captivating, they'd make an ideal setting for a romance novel. Not surprisingly, some of England's best writers were inspired by this phenomenal landscape. William Wordsworth, Samuel Taylor Coleridge, and Beatrix Potter are just a few examples.
The Lake District's sprawling moors are so vibrantly green, they look painted, and when the sun shines on its deep blue lakes, little can beat the glistening wink they offer to passersby. This UNESCO World Heritage Site is home to fells, mountains, and luscious valleys, not to mention the 16 glacial lakes.
Hike or climb the rugged mountains, hold hands on a sightseeing cruise, or explore the 300 stone circles of Castlerigg at sunset. These are just a few of the most romantic things to do in the region. When it's time to move your adventure behind closed doors, check into a quaint B&B or romantic hotel in one of the charming nearby towns.
Ambleside lies serenely by the banks of Windermere Lake. Hawkshead is a historic pedestrian wonder, and Bowness-on-Windermere features boutique stores, galleries, and cute cafés.
2. The Cotswolds, England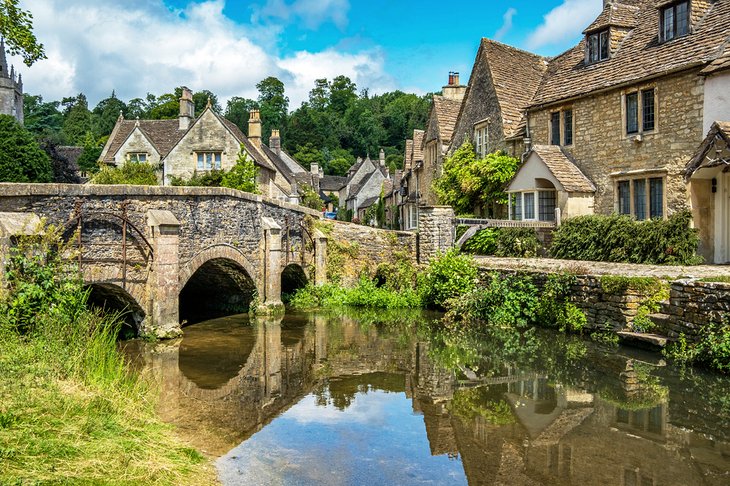 If you weren't feeling amorous before entering the Cotswolds, you'll be fully in love by the time you leave. Blanketed by 800 square miles of undulating hills and lush fields, and peppered by the most adorable fairy-tale villages, it's easy to be charmed by this magical region. No wonder it's been deemed one of the most romantic getaways in the UK.
Honey-colored stone cottages with sloping slate roofs, ancient bridges, and vibrant blooms line the historic laneways of the best villages in the Cotswolds. Castle Combe in Wiltshire is about as charming as English villages get, while the shimmering River Windrush in Bourton-on-the-Water (a.k.a. the Venice of the Cotswolds) ups the romance level to a perfect 10. Not surprisingly, this region is considered one of the prettiest points of interest in the country.
Pack a picnic and head to the remarkable Cotswold Way National Trail for an afternoon (or multiple day) excursion. This postcard-worthy, 102-mile trail winds its way along the Cotswold Hills' escarpment, passing multiple sweet villages between Chipping Camden to Bath. It's easy to understand why this is one of the best places to visit in England for a weekend.
3. Bath, England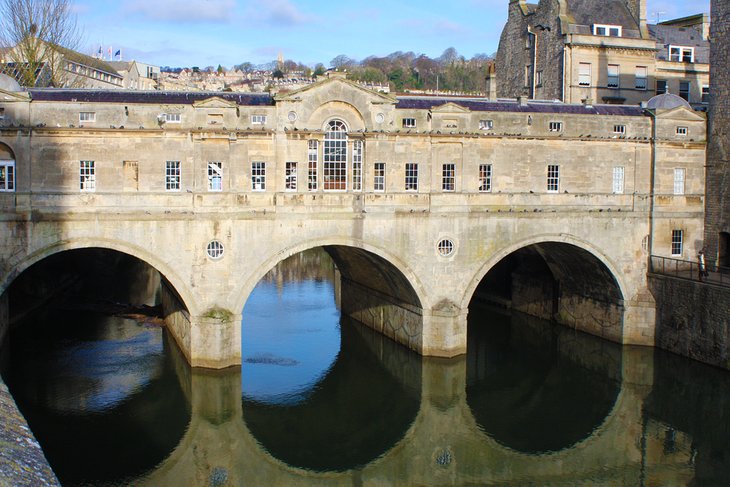 History and romance seep through the walls of Bath's most beloved Roman and Georgian buildings, and the romantic River Avon adds an ambience of amour. One of the UK's most attractive cities, this historic gem is a must-visit for those who like to enjoy their canoodling with a side of culture.
Rich in architectural treasures like the Roman Baths, which are deemed one of Bath's main attractions, this entire city has been named a UNESCO World Heritage site. The Thermae Bath Spa is a special spot for a romantic interlude that includes spa treatments, a swim in a rooftop pool, a dip in thermal baths, and a relaxing visit to steam rooms.
Stroll across the Pulteney Bridge, poking your heads into the sweet shops, and grabbing a bite in the enticing restaurants on your journey. Don't miss the Royal Crescent, a late 18th-century, 500-foot-long crescent of iconic terrace houses that border the perfectly manicured Royal Victoria Park.
4. Isle of Skye, Scotland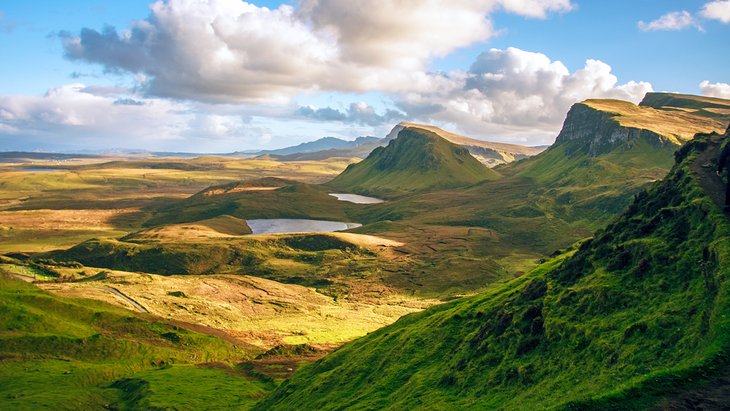 The minute the Isle of Skye pops into view, your heart will swell with big emotions. Peppered with untamed mountains, lush valleys, and sparkling streams, the scenery is so spectacularly romantic, you may be inspired to "pop the question."
In addition to dreamy beaches, waterfalls, and glens, you can enjoy a loved-up exploration of the island's other fascinating attractions. Quiraing's rugged cliffs and deep lakes are worthy of a hike and a lazy picnic, while the enchanted Fairy Glen and Fairy Pools will have you believing in the magic of something other than your love.
Portree is the Isle of Skye's main town, and its pastel waterfront cottages, winding streets, and scenic harbor are lovely enough to entice you to stay for an extra day or two. It boasts sweet restaurants, cute shops, and a variety of bed-and-breakfast and hotel options.
5. The New Forest, England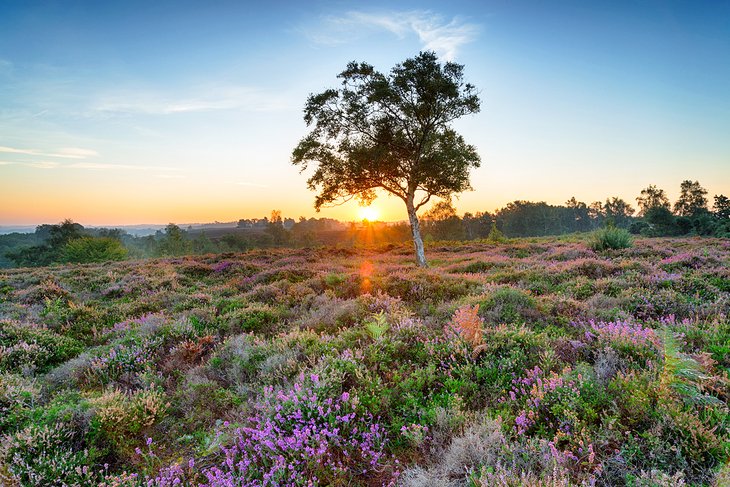 Picture this: You're wandering along a winding footpath, making your way across a verdant moor, surrounded by towering ancient trees, when you come face to mane with a wild pony. He looks at you; you look at him. It's love at first sight.
Reachable in about 90 minutes from London, The New Forest is as calm as the capital is buzzy. Here, you can relish in couple time spent exploring idyllic woodlands, peaceful heaths, and serene glades where wild cattle, donkeys, deer, and ponies run free.
A popular romantic getaway in the UK, this expansive national park offers a wide variety of couples' activities like cycling, hiking, horseback riding, archery, sailing, and fishing.
You'll also find a range of cafés, restaurants, shops, and accommodations in the pretty towns and villages. Lyndhurst is the unofficial capital of the area, while Milford on Sea, Barton on Sea, Fordingbridge, and Lymington are also worth a visit.
6. Edinburgh, Scotland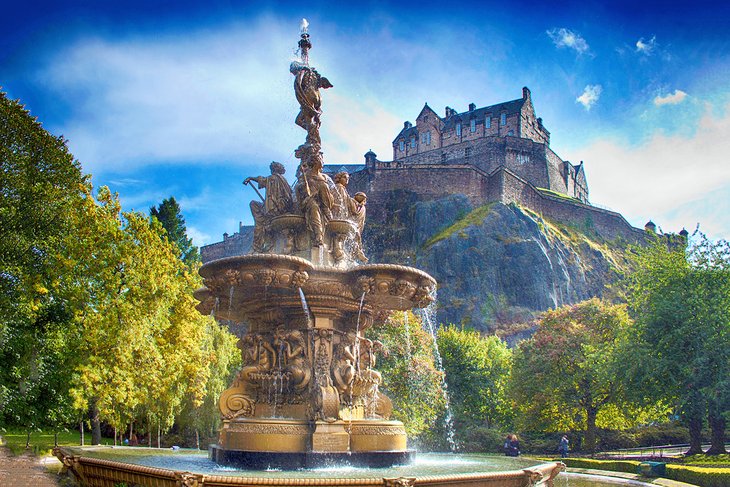 Castles and bridges and beaches, oh my! Edinburgh is a pretty romantic place for a weekend fling. Plus, it's filled with fun things to do, so you'll never get bored. Whether you're hoping to shop in eclectic boutiques, dine in a swanky restaurant, tour a castle, or watch a live Scottish jig, you can do it all, and so much more, while arm in arm in Edinburgh.
Edinburgh Castle is one of the Scottish capital's top attractions for good reason. Perched in all its regal splendor atop Castle Hill, it offers not only exceptional views of the sprawling city, but also cannon fire (at the One o'clock Gun), a remarkable Great Hall, and an impressive collection of crown jewels.
While the panoramic view from atop Calton Hill is spectacular during the day, time your visit to Edinburgh Castle for later in the evening for an even more romantic experience. Hit this spot during sunset, and you'll have found a perfect setting for a dreamy date. Not surprisingly, Edinburgh has been deemed one of the best places to visit in Scotland.
7. London, England

With its bevy of tourist attractions, award-winning restaurants, and endless entertainment venues, London is one of the best places for couples to enjoy a weekend break in the UK.
Whether you'd like to stroll arm-in-arm across romantic bridges lining the Thames, ogle the jewels at the Tower of London, or wind your way to the top of St. Paul's Cathedral, you'll both be happily in awe—of each other and the phenomenal attractions.
Take time out to enjoy high tea at one of the many top spots like, Fortnum & Mason, The Langham, and The Beaumont. Then you can practice a little retail therapy. Oxford Street, Regent Street, and Covent Garden top the list of London's best places to go shopping, but you'd be amiss if you didn't explore the city's top markets.
Gaze into each other's eyes as you line up for a cup of the city's best coffee in Borough Market or show your love with an extravagant bouquet from Columbia Road Flower Market. Then grab a picnic and enjoy it in Hyde Park or Kew Gardens.
Accommodation: Best Resorts in London
8. Durdle Door, England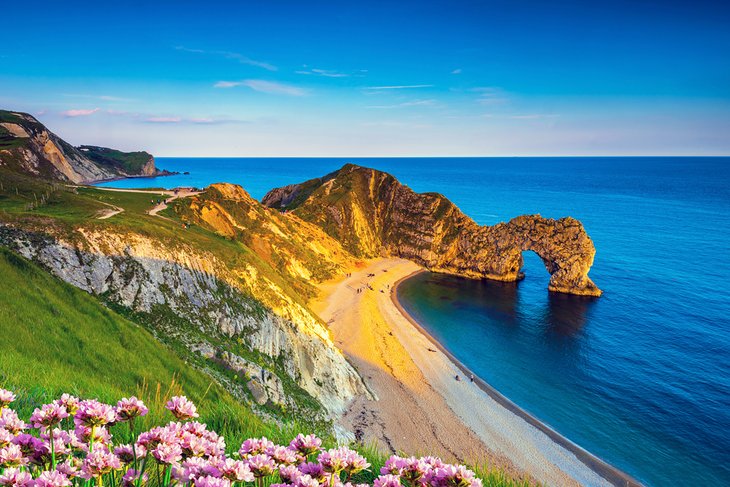 There's something about a golden beach that screams romance, even if there's not a palm tree in sight. Add a dramatic limestone arch jutting into an azure sea, and you really can't beat the setting for a starry-eyed afternoon or evening.
Durdle Door lies in south Dorset on the gorgeous Jurassic Coast. It is part of the 20-square-mile Lulworth Estate. The "door" itself sits in the picturesque Lulworth Bay. Taking photos is a must, as it's tough to beat the magnificent scenery. You can also spend time looking through the rock pools, exploring the beach, or visiting the nearby Lulworth Castle.
Getting to this secluded utopia isn't straightforward. You'll have to walk about 15 minutes down a footpath that leads from a hilltop car park. Be sure to turn left at the end of the path to reach Durdle Door. If you turn right at the steps, you'll arrive at Man O'War beach, which is also worthy of a visit but devoid of a rock arch.
9. Giant's Causeway, Northern Ireland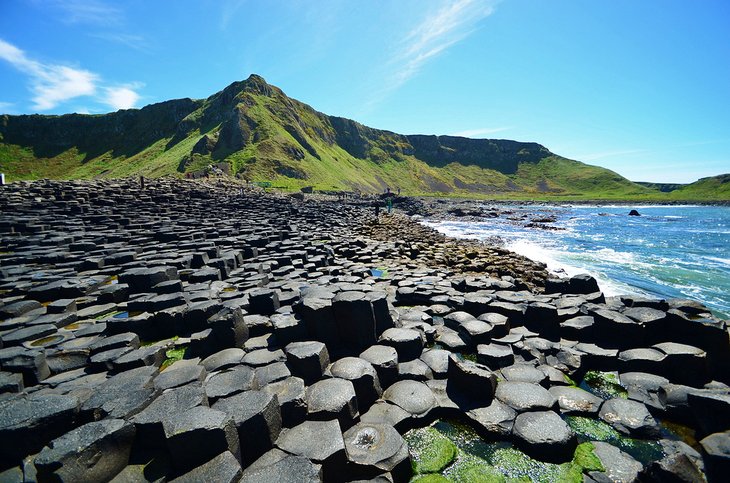 Experiencing something amazing can help bring a couple together. When that amazing thing is as spectacular as Northern Ireland's Giant's Causeway, you can't help but be mutually starry-eyed and awestruck.
Set majestically at the base of giant basalt cliffs, this otherworldly wonder is one you won't want to miss. Over 40,000 huge, hexagonal-shaped columns emerge from the sea, stretching their way towards the top of the grassy hills above. The rocks are so large and unique, it's easy to understand how this top Northern Ireland attraction earned its name: it looks as if they were placed here by giants.
Giant's Causeway is the only UNESCO World Heritage site in Northern Ireland and one of the best places to visit in the country. Search for the Camel, a lava-formed creation rumored to be the camel of the mythical Irish warrior, Finn McCool. Follow the path to the sea in Port Noffer to find the Giant's Boot, and rest in the Wishing Chair, a natural throne-type seat made from rock columns.
10. Kent, England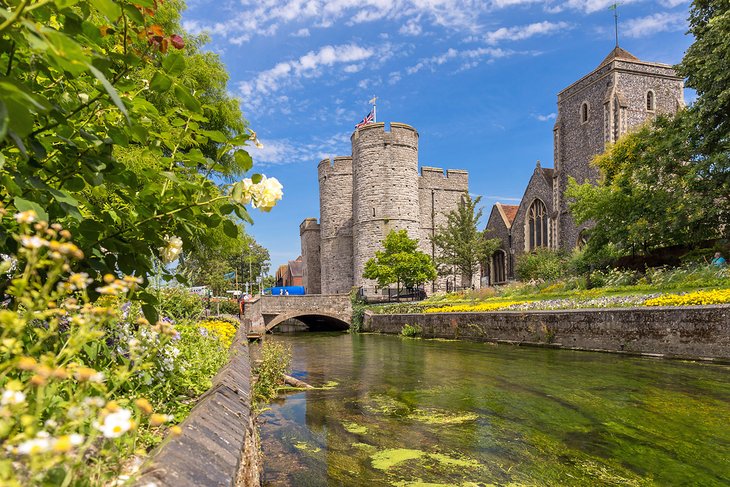 When you first step foot in Kent, do yourselves a favor and take a second to inhale. Close your eyes, grasp your loved one's hand, and take a slow, deep breath of the crisp country air. Next, open your eyes and prepare yourselves to gasp with delight at the picture-perfect scenery surrounding you.
Dubbed "the Garden of England," Kent is a stunning locale that makes it easy to feel amorous. Rolling hills, sprawling farm fields, and blooming orchards captivate the hearts of nature lovers, while the quaint fishing village, Whitstable, and charming Broadstairs are irresistibly quixotic.
Canterbury is the most romantic city in Kent. The medieval spirals of its top attraction, the Canterbury Cathedral, stretch invitingly towards the sky, while the intricate stone details are captivating. You'll find plenty of other attractions in Canterbury, including charming shops, romantic cafés, and attractive streets to entice you to stay.
Kent also boasts beaches, castles, museums, art galleries, stately homes, quaint shops, fab restaurants, and thousands of pretty walking and cycle trails.
11. Windsor, England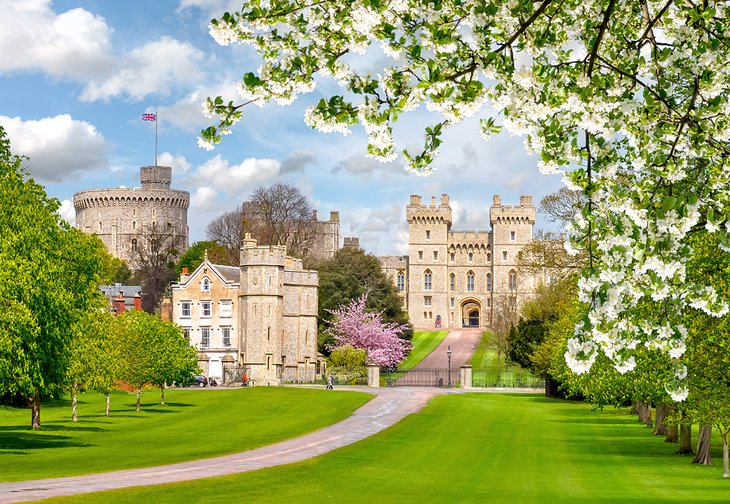 Located about an hour west of London, delightful Windsor is easily reached, making it a perfect locale for a romantic getaway in the UK. Best known as the home of Windsor Castle, the sometime residence of the Royal Family, this historic town is enchanting in its own right.
Located on the south bank of the River Thames, Windsor is a palatably sized town peppered with high-end shops and restaurants, as well as quirky cafés, fudge stores, and chic boutiques.
Behind the castle, Frogmore House and Gardens is one of the most popular tourist attractions in Windsor. You've likely heard of this lovely spot, which hosted the wedding reception for lovebirds Prince Harry and Meghan Markle.
Soak up the history with a walk across Windsor Bridge. On the north side, you'll find Eton, a small town known best for being home to the famous school, Eton College.
12. Stratford-Upon-Avon, England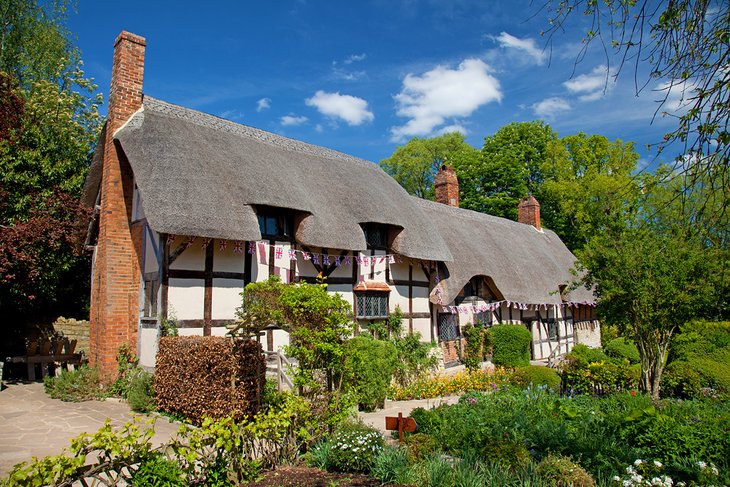 Stratford-Upon-Avon is a Tudor town bursting with charm and history. It was once home to William Shakespeare, and the famed writer's presence can be felt pretty much everywhere. If you're both fans, book in to enjoy one of his plays as performed by the Royal Shakespeare Company.
The sparkling River Avon runs alongside this ancient market town, adding to the dreamy atmosphere and enticing visitors to enjoy a picnic for two on its lush banks. In fact, picnicking is one of the best things to do in Stratford-Upon-Avon. Find a spot near one of the romantic bridges, one of which dates to the 15th century and the other to the 19th century, for an even more picturesque backdrop.
Tour Shakespeare's birthplace, wander among the streets lined by half-timbered houses, and traipse through the lovely grounds at Shakespeare's New Place. A one-mile walk from the town center will get you to Anne Hathaway's romantic, thatched-roof cottage, one of the top places to visit in Stratford-Upon-Avon. (We're talking about Shakespeare's wife, not the actress.)
13. Loch Lomond, Scotland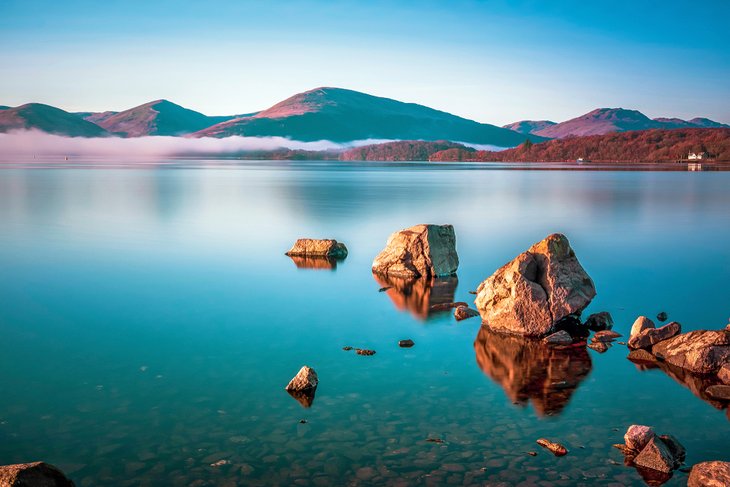 While not as famous as Loch Ness (where are you, elusive Loch Ness Monster?) Loch Lomond is a stunning, and less mysterious, place to spend a romantic getaway in the UK.
Scotland's largest lake, this freshwater wonder runs across the south side of the Highlands and offers lovers a serene spot to enjoy a boat cruise, hike, swim, fish, canoe, or bike ride. Other amorous and popular things to do around Loch Lomond include picnicking, biking, boating, and shopping at Loch Lomond Shores.
If you find it more romantic to sleep under the stars, spend a night or two camping in the Trossachs National Park. The sunsets are spectacular, especially if you view them from atop a mountain. If you prefer to enjoy your passionate escape in more luxurious surroundings, head to the impressive, 17th-century mansion, Cameron House at the lake's south end.
14. Cambridge, England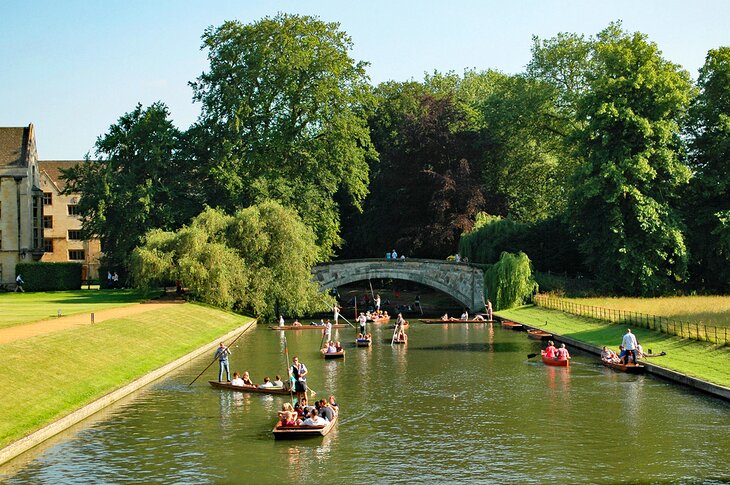 There's something especially romantic about Cambridge. Best known as the home of one of the world's most prestigious universities, this historic market town is peppered with architectural marvels that will leave your hearts fluttering.
You can see most of them, and a bunch of the town's top attractions, while participating in the most romantic of activities—punting along the River Cam.
Easier than it sounds, boats can be rented in all seasons, and you can sit back and relax while your partner stands on the stern, navigating your way below the Mathematical Bridge that leads to Queen's College, past King's College, and beside the spectacular "Backs" of Trinity College. It's kind of like being romanced in Venice, but with a little more rain.
Renting bikes is one of the best things to do in Cambridge, as it makes traveling by land much easier. Lock it up and enjoy a picnic in one of the many lush parks, grab a cuppa from a charming café, or invest in a romantic novel from one of the area book shops.