14 Best Places to Visit in Winter in the UK
We may earn a commission from affiliate links ()
The UK is a beautiful place to visit at any time of year, but there's something about winter that brings out its true magic. Thatched roofs loaded with snow, frost-laden meadows, and outdoor skating rinks make everything feel festive and fun.
Climb the snow-covered tors in Devon's Dartmoor National Park, browse London's Christmas markets, or sled through the Scottish Highlands. There are so many great places to visit in winter in the UK. Plus, you won't have to fight the spring crowds or balk at summer's high prices.
While it would be nice if the UK was all fluffy white flakes and bright blue skies during winter, that's not always the case. More often than not, its famously rainy countries will be plagued by cold drizzle, so pack an umbrella, waterproof shoes (a.k.a. wellies), and layers.
Now that you know what to pack, plan your chilly journey with our list of the best places to visit in winter in the UK.
1. Edinburgh, Scotland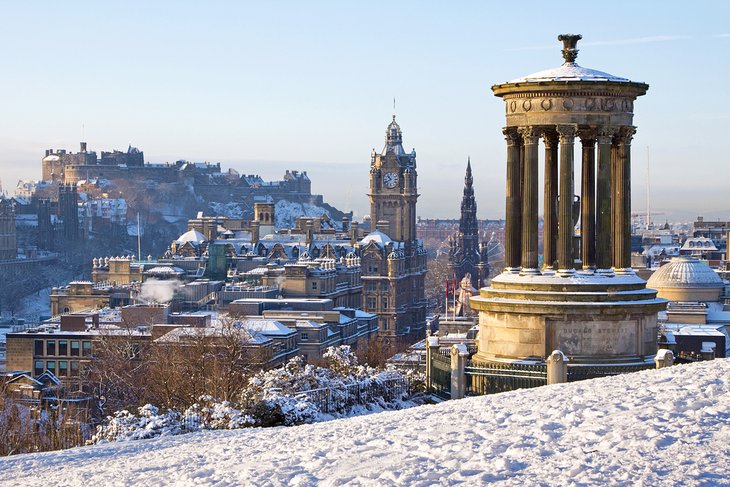 Scotland's capital is majestic in every season. Add a sprinkling of snow and festive lights to the mix of ancient buildings and cobbled streets, and you've got yourself some romance. Did we mention the towering Edinburgh Castle perched atop a hill? Told you it was a magical setting.
Visit before the holidays, and you'll be treated to adorable Christmas markets, extravagant lights, and festive music along the charming streets. Lace up a pair of rental skates and swirl your way around an outdoor ice rink – St. Andrew Square and Murrayfield Ice Rink top the list.
Those who visit for New Years (a.k.a. Hogmanay), one of the most popular holidays in the country, are in for a treat. Edinburgh celebrates the first of Jan with a three-day event. We're talking street parties, torchlight processions, and concerts. It ends with a bang fireworks style on the 31st.
Accommodation: Where to Stay in Edinburgh: Best Areas & Hotels
2. York, England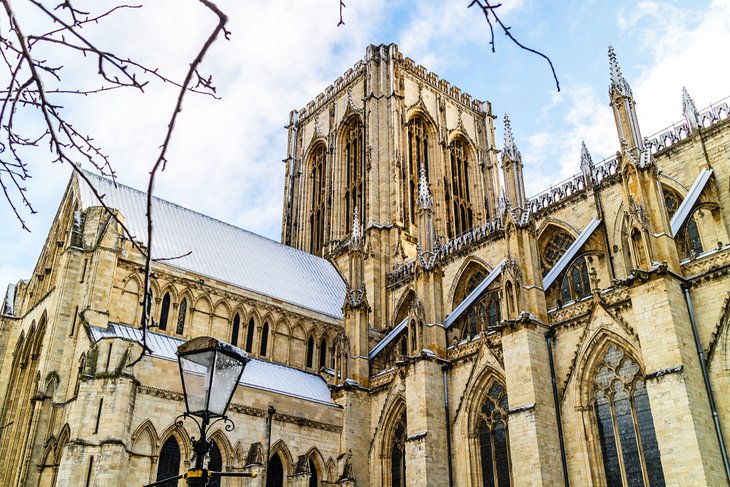 Like Edinburgh, York also plays host to festive Christmas Markets. The infamous, and award-winning, St. Nicholas Fair takes up most of the city's streets. An outdoor ice rink, carol singers, a giant lighted tree, and vast market featuring 100 wooden chalets line Parliament Street and St. Sampson's Square.
Grab a hot chocolate and wander around the historic Shambles, where you'll be transported to the 13th century. A narrow street lined by medieval buildings made of timber, it is perfectly captivating and boasts a wide selection of eclectic shops and a Yuletide Village featuring local arts and crafts.
When you've had enough festive cheer, head to the town's crown jewel – the Gothic York Minster. You won't have to jostle though crowds to enjoy its hallowed walls. Then, walk atop the city's ancient walls to enjoy unbeatable vistas without the foot traffic that plagues warmer months.
3. Isle of Skye, Scotland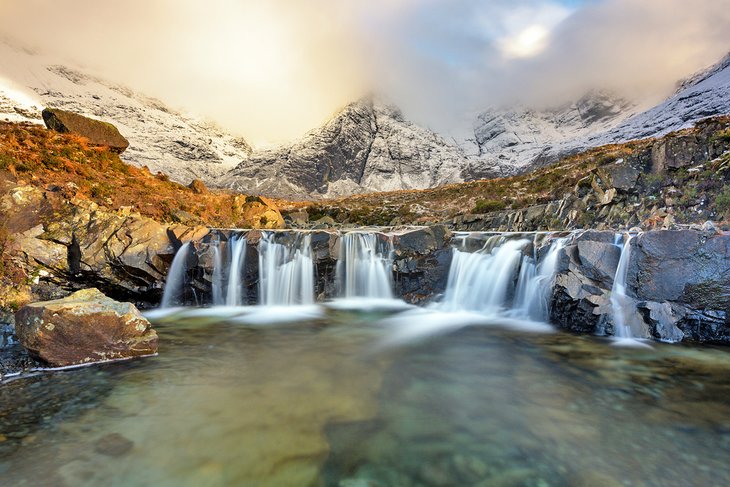 Scotland's Isle of Skye is one of the most enchanting places in the UK, and possibly the world. This star of the inner Hebrides region has everything you'd hope for in a Scottish vacation, including castles, mountains, and fairy glens. As long as you dress warmly, you can enjoy them all.
Slip on a warm coat and waterproofs for a trip to the Fairy Pools. While you won't want to jump in for a swim (even in summer they're freezing), these lovely pools are worthy of a visit.
Bring your camera, as you'll want to snap a zillion photos of the warm winter light reflecting off the pools and the snowcapped Black Cuillin Mountains towering above them. Speaking of light, winter visitors get an added bonus: it's much easier to catch a sunrise at this time.
During summer, the sun makes an appearance at four am (talk about early!). In winter, it doesn't rise until a more acceptable 9am. The sun begins to set around 3:30, showering the sky with remarkable pink hues and sometimes rainbows. If you're lucky, you may spot the Northern Lights.
Read More: Top Tourist Attractions in the Isle of Skye
4. The Cotswolds, England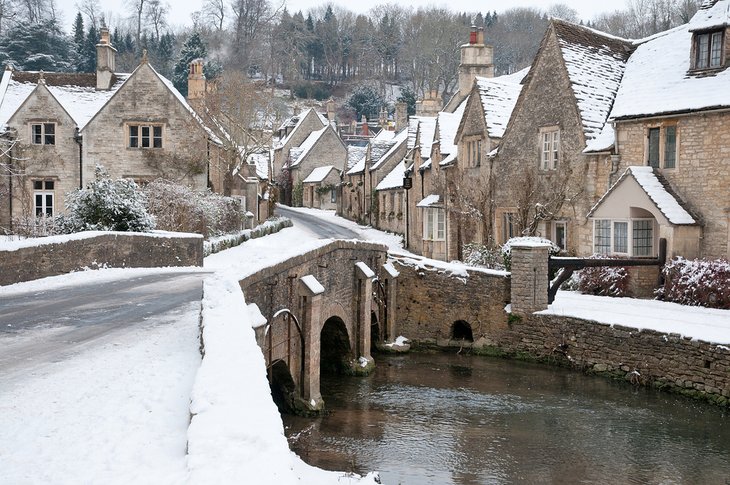 You'll be hard-pressed to find a more entrancingly beautiful place than the Cotswolds, especially when the tiny ancient towns are blanketed with snow. Grab a sled and hurl yourself down the hills near Broadway Tower or don hiking boots to marvel at the shimmering meadows of the Malvern Hills.
Then, head to the area's real showstoppers: its storybook villages. Cobblestone laneways, honey-colored stone buildings, and quaint thatched-roof cottages pepper each town, upping the charm factor dramatically. You won't be able to stop yourself from taking photographs and uttering an audible "ahh" (or 20) over its overt loveliness.
Popular towns like Castle Combe, Bibury, Bourton-on-the-Water, and Painswick are charming at all times, but look even more phenomenal without the hordes of tourists that bombard their tiny streets in spring and summer.
Book a husky ride with Arctic Quest. Based in Tewkesbury, this creative company offers sled dog adventures you won't forget. Get a full mush experience (where you're pulled behind a team of huskies). After your ride, warm up at the campfire with a hot chocolate.
5. London, England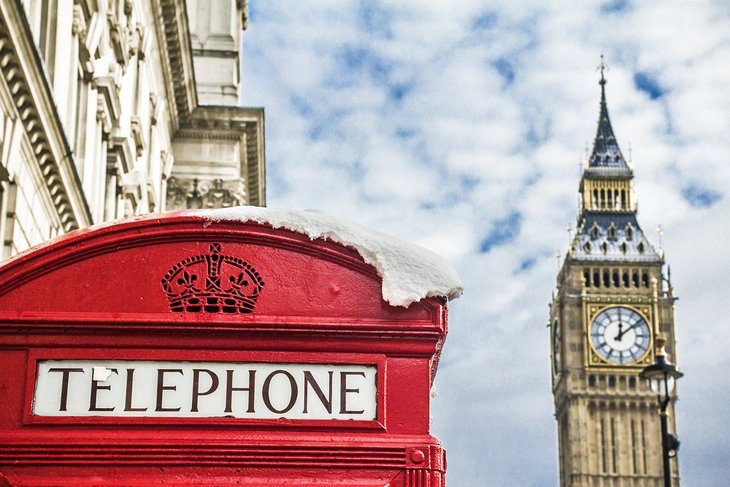 There are many reasons to visit London in winter. The city is adorned with festiveness, stretching from the banks of the Thames River to the vibrant streets near Trafalgar Square. Once it snows, which happens rarely, the city becomes a quiet utopia made even more beautiful by the recent dusting.
Take the opportunity to enjoy an empty Tower of London, and snap selfies on the barren streets near Westminster Abbey and Big Ben. Then, skate outside the Natural History Museum or visit Winter Wonderland in Hyde Park. Book tickets to a pantomime (a.k.a. "panto") for extra fun.
Shoppers unite at Covent Garden, which is peppered with local artisans selling their unique wares. Stick around for one of the impromptu concerts and prepare to be entertained (whether you want to or not) by the numerous buskers.
Those hoping for more highbrow finds head to the city's most celebrated (and impressively decorated) shopping district found along Regent and Oxford Streets. Snap photos of the adorable window decorations on Carnaby Street (just east of Regent Street) on your way to Hamley's, the city's best toy shop.
Accommodation: Where to Stay in London: Best Areas & Hotels
6. Canterbury, England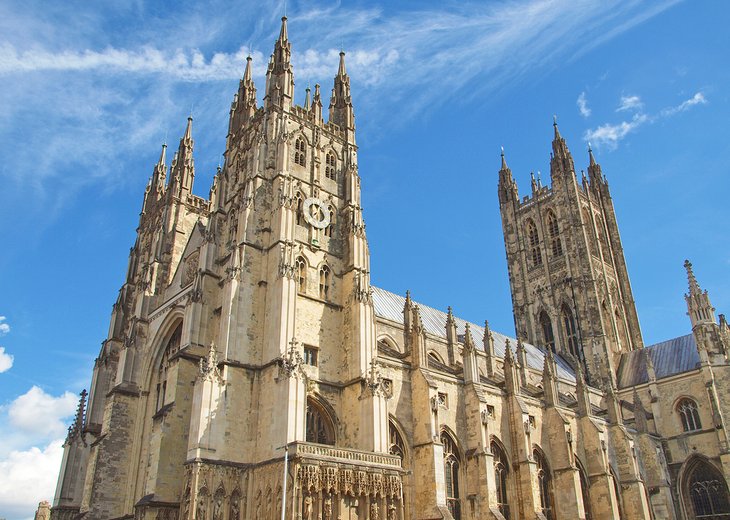 County Kent is so stunning, it was dubbed the "Garden of England" by Henry VIII. Rolling hills, dramatic cliffs, and medieval towns make this an unmissable locale, even in winter. Of all the region's beautiful cities, Canterbury is the most captivating.
Like most large English cities, Canterbury plays host to Christmas markets in late November through December and boasts festive lights that stay up much longer to enhance the charming cobblestone streets.
A trip to Canterbury Cathedral is a must. Gothic towers adorn this UNESCO World Heritage Site, stretching so high above the streets that they're impossible to miss. In its shadow lies King's Mile, a collection of winding streets spotted with independent shops and eateries selling everything from cheese to art.
7. Bath, England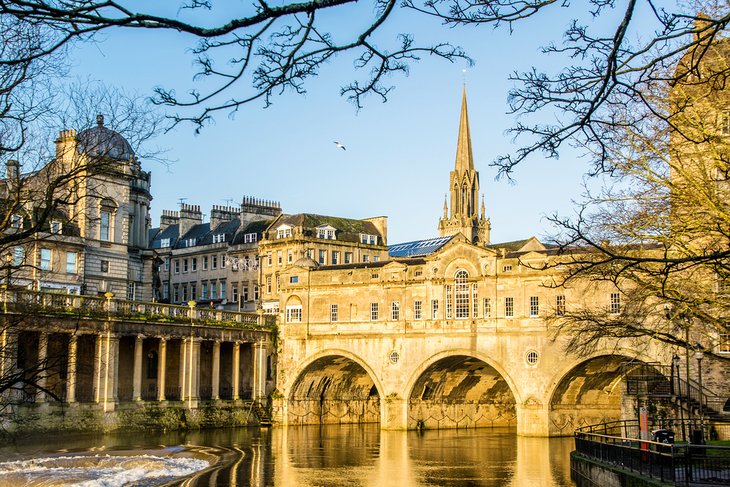 Arguably one of England's most elegant and gorgeous cities, Bath thrives during the winter months. The town's Christmas market has been voted one of the best in the country and features over 170 chalets selling unique gifts and tasty treats set within ancient streets lined by Georgian buildings.
Every November, the city hosts the annual Bath Mozartfest, a nine-day festival honoring the famed composer as well as his contemporaries like Beethoven and Schubert. Over 16 concerts are performed by world class musicians in some of the town's most beautiful venues.
Bath's main attraction is over 2,000 years old and a perfect place to warm up. Established in 75 BC, the award-winning Roman Baths boast ancient hot springs and an enviable spa. They also stay open for twilight hours and offer special three-course holiday meals in the on-site Pump Room Restaurant.
Bath Abbey is particularly enchanting when draped with snow. Head inside for some warmth, and admire the stained-glass windows (the King Edgar Window is incredibly intricate) and carved angels found throughout the building.
Visiting nearby Longleat (a stately home with its own safari park) is a must. Each winter, they decorate the home and park with dazzling outdoor exhibits, including an amazing display of Chinese lanterns as part of the Festival of Light.
Accommodation: Where to Stay in Bath: Best Areas & Hotels
8. Dartmoor National Park, England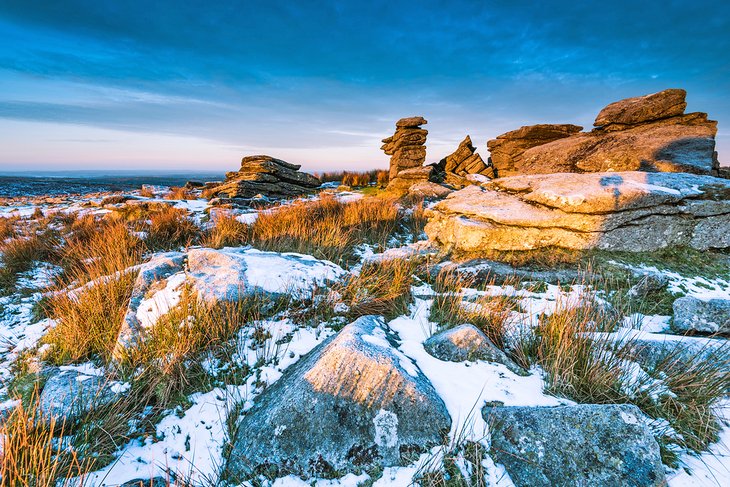 Moody and romantic, England's moors are the stuff of dreams and fairy tales – just ask Emily Brontë! A sprinkling of snow on Dartmoor National Park transforms this beautiful landscape into a magical winter wonderland. Add roaming ponies, sheep, and cows to the scenery, and you've got a wonderfully bucolic setting.
Located in Devon, near England's west coast, Dartmoor is beloved by outdoor adventurists. Deep river valleys, towering tors, and golden heaths mark this rugged landscape, inviting visitors to bike, hike, raft, or climb its granite boulders. Some even pack a sled (or sledge, as it's known in the UK).
Pack warm, waterproof layers and be prepared to encounter all types of precipitation during your winter visit. Everything from heavy mist to pounding rain to sleet to snow to ice can envelop the area within a day.
9. Cairngorms National Park, Scotland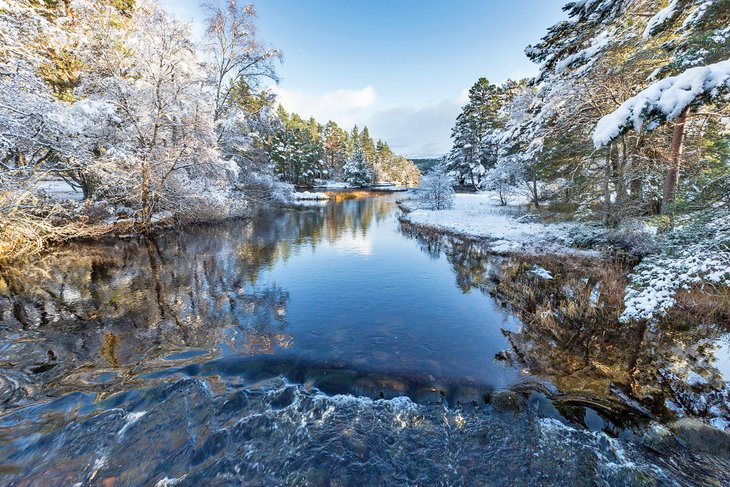 Sometimes you come upon a place so beautiful, it takes your breath away. Cairngorms National Park is one of these places. While beautiful in all seasons, there's something about winter that ups the picturesque qualities, not to mention the tranquility, of this Scottish gem.
Located in the Scottish Highlands, Cairngorms National Park presents visitors with a slew of things to do. Its high elevation almost ensures enough snow to ski, sled, or snowshoe during the winter months. Plus, the lack of leaves at this time makes it easier to spot the incredible wildlife.
Sign up for a dogsledding adventure with the Cairngorm Sleddog Center in Aviemore. You can't beat the views, and the experience is unforgettable. Then, hit the slopes at one of the area's three ski resorts: CairnGorm Mountain, Lecht, or Glenshee.
Accommodation: Where to Stay near Cairngorms National Park
10. The Wild Atlantic Way, Ireland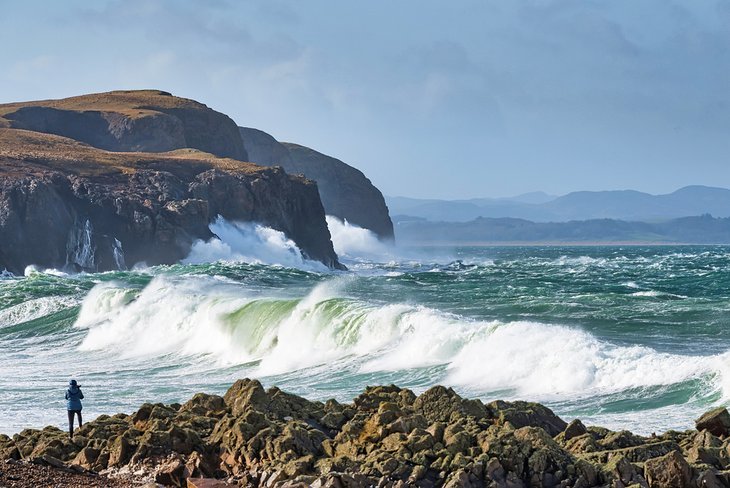 The remarkable Wild Atlantic Way winds its way along Ireland's Western coast, stretching over 2,600 kilometers from Donegal to Kinsale and passing adorable villages on the way. A popular path with locals and tourists alike, this coastal route offers visitors a chance to glimpse the most scenic vistas in the country.
While winter's slippery conditions can make climbing about the rugged cliffs more dangerous than normal, it's still a good time to visit this picture perfect route. Be sure you're prepared with proper clothing and good shoes that aren't likely to slide on frozen ground.
Hike the trails and climb the hills of Glenveagh National Park. If it's wet or icy, opt for the Garden Trail or Lakeside Walk, which are easier and flatter. Visit the historic, Gaelic Donegal Castle located in the heart of Donegal. Then, warm yourselves with a hearty lunch at one of the local pubs.
11. Oxford, England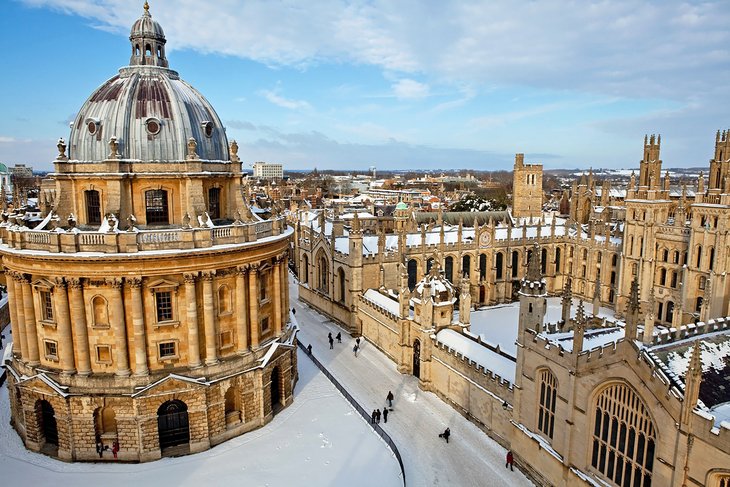 Oxford is one of the oldest and most majestic cities in England. History seeps from every crevice of this famed university town, which is spotted with some of the country's most impressive architecture.
It's best to visit the spectacular medieval buildings on foot. Walking tours of all types (including sightseeing tours and those aimed at fans of J.R.R. Tolkien and Harry Potter movie buffs) are available to book at the Visitor Information Center on Broad Street.
On your journey, you'll pass iconic structures like the Bodleian Library and Christ Church Cathedral, which are made even more stunning when sprinkled with snow. For a bird's-eye view, visit Carfax Tower in the center of town before being tempted by the shops and restaurants lining the pretty High Street.
Or climb the tower at the University Church of St. Mary the Virgin. It boasts impressive city and countryside vistas. At night, catch a concert or play at the Sheldonian Theater on Broad Street.
Accommodation: Where to Stay in Oxford: Best Areas & Hotels
12. The Lake District, England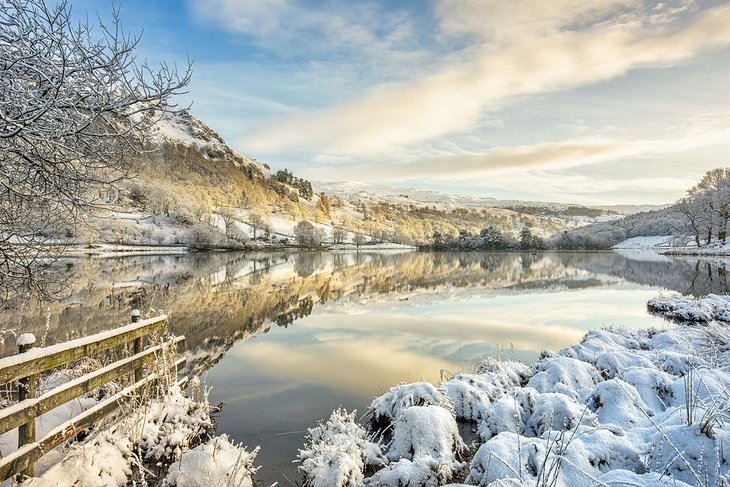 Cumbria is home to a truly phenomenal area of natural beauty – The Lake District. In addition to the 16 lakes that inspired the region's name, there are majestic mountains (the tallest of which is Scafell Pike), verdant valleys, and romantic moors. But the fun doesn't stop there.
The towns of the Lake District put on a wonderful show at this time of year. Christmas markets filled with independent booths selling unique gifts spring up all over – including the towns of Windermere, Ambleside, Hawkshead, and Cockermouth.
Ulverston brings life to the classic Charles Dicken's holiday tale, A Christmas Carol. Each year, this historic market town transforms its streets into Dickensian-era markets featuring street performances and residents roaming the area in period costumes at the Ulverston's Dickensian Christmas Festival.
13. Brecon Beacons, Wales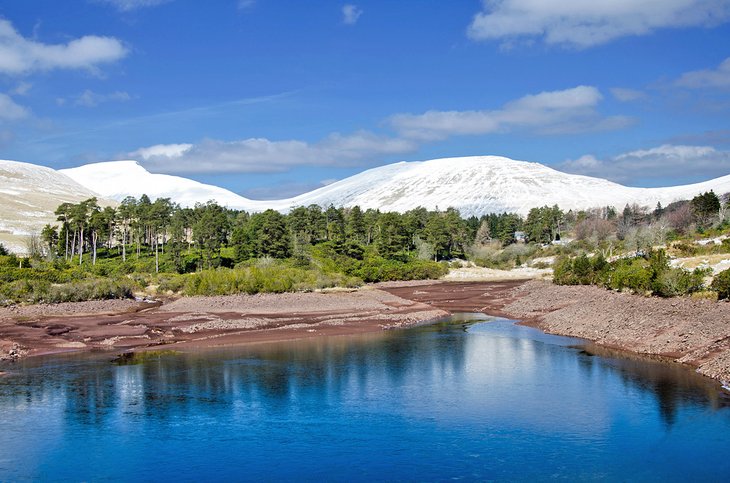 Winter really is the best season to see a mountain range, and the Brecon Beacons are more than worthy of a visit during the coldest months. One of the best tourist attractions in South Wales, this dramatic range is breathtakingly beautiful, and it covers over 46,000 hectares.
If you're hoping to hike (which is the best way to experience these peaks), we suggest gearing up properly and pre-planning your route. Don't head out if the weather is bad, tell a friend where you're going, and be aware of the tide schedule so you don't get caught.
Now that you're ready, head to the Begwyns. An easy 3.2-kilometer walking trail offers unsurpassable views without the need to hike up mountains. Plus, it only takes about an hour, so you won't get too cold.
Hoping for a more difficult trek? The Cwm Llwch from Cwm Gwdi Walk is a challenging way to summit Britain's highest mountain, Pen y Fan. It's almost 13 kilometers long, involves a climb of 576 meters, and will take about five hours to complete.
14. Cambridge, England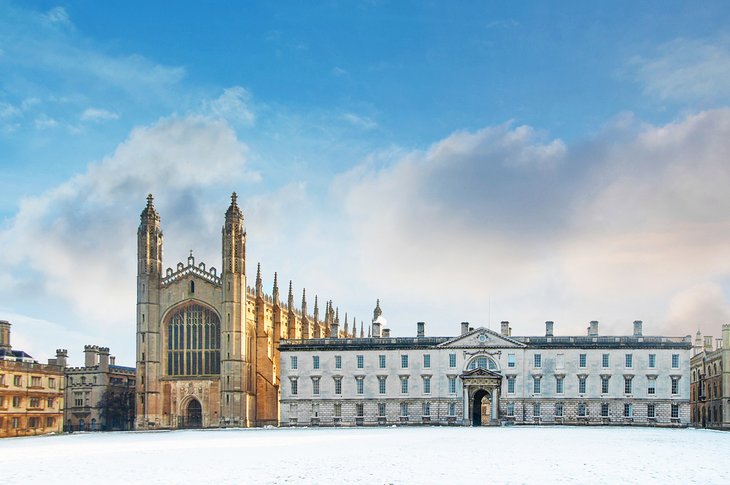 Wonderful things happen in Cambridge, and we're not just talking about the discoveries made by the city's talented university scholars. Punting along the River Cam is one of the most popular activities in Cambridge, even during the winter.
Each year, the city hosts the Big Christmas Lights Switch On, which happens in mid-November. A couple of weeks later, visitors are presented with the Mill Road Winter Fair. Here, they are treated to festive music, tasty treats, and even dancing in the streets.
Join in the fun at Winter Wonderland in Parker's Piece Park. While here, you can show off your skating skills on the covered outdoor ice rink, ride a giant Ferris wheel, or slide down an ice slide. When you've had enough, warm up with a hot chocolate topped with marshmallows.
Accommodation: Where to Stay in Cambridge
More Related Articles on PlanetWare.com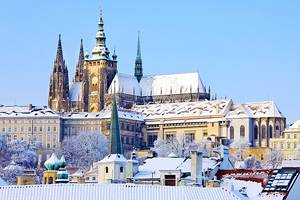 More Places to Visit in Winter: The UK isn't the only spectacular spot to visit at the end of the year. If you're looking to ski, skate, or have a snowball fight, check out these awesome winter holidays with snow. Want a winter romance? Head to Prague between December and February.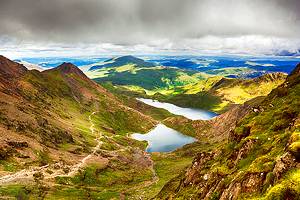 Other Places to See in the UK: Whether you're hoping to soak up history in York, luxuriate at a spa in Bath, or spy the Queen in Windsor, you'll love these fun weekend getaways in England. For more of an outdoor adventure, head to these gorgeous tourist attractions in Wales.