14 Top-Rated Attractions & Things to Do in Warwick, England
Author Bryan Dearsley traveled to England in the spring of 2022 where he spent eight weeks exploring its towns and cities, including the beautiful city of Warwick.
Situated on the River Avon, Warwick is the principal town of the English county of Warwickshire and has been dominated for more than 900 years by its spectacular castle.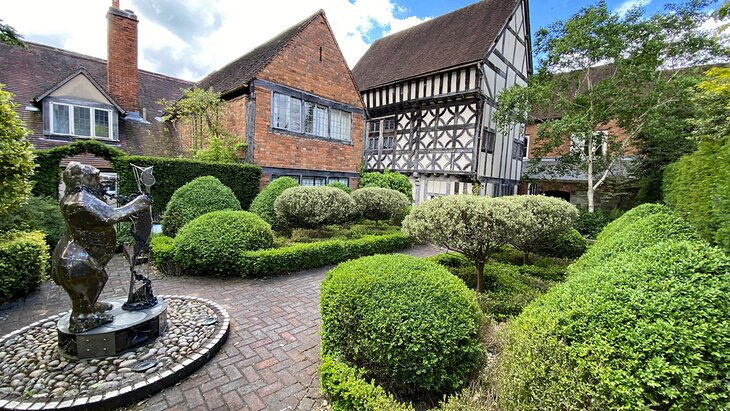 Today, you can find many fun places to visit and attractions to enjoy in this picturesque old town. Popular things to do include enjoying a pleasant stroll among the market stalls in Old Square and Jury Street, and hunting through the town's many antiques shops for local produce at the weekend Warwick market.
When putting together your travel itinerary for this historic destination, be sure to use our list of the top attractions and things to do in Warwick, England.
1. Discover Historic Warwick Castle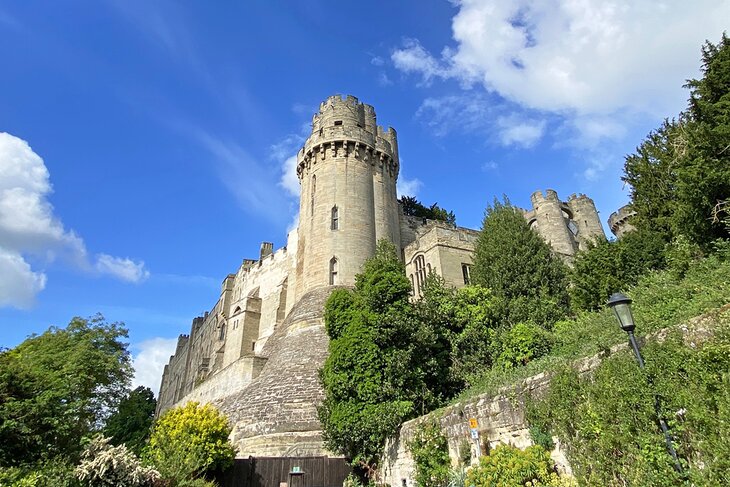 The market town's most popular tourist attraction, Warwick Castle is a massive battlement-crowned fortress that can trace its roots all the way back to the time of William the Conquerer.
Completed around 1068, it is reached via the former stable yard and adjoining moat, where visitors are faced with an extensive area of parkland that boasts a number of gardens, among them a peacock reserve and rose garden.
The inner courtyard is entered through the imposing 14th-century Gatehouse, where visitors will first notice the castle's walls and towers, which stand up to 131 feet high in places. The fortifications themselves date from the 16th century, with major renovations having taken place in the 17th and 18th centuries. At this time, the castle became the country seat of local nobility, and its magnificent collection of furniture, porcelain, sculptures, and paintings also date from this period.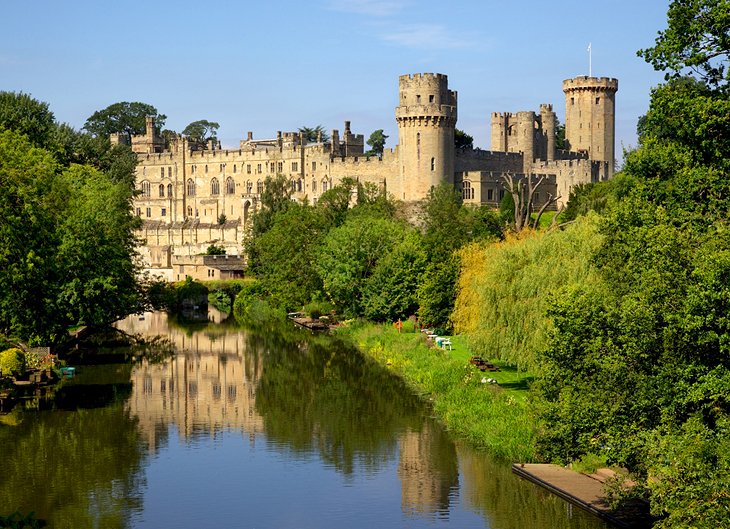 Fast forward to the 21st century, and today Warwick Castle is considered one of the UK's top tourist attractions. Other notable features within the castle include unique interactive experiences, the 14th-century Castle Dungeon, and a full-scale working siege machine (trebuchet).
It's also home to the country's second largest collection of old weapons and armor as welded and worn by knights of old, and a wax model museum designed by London's Madame Tussauds.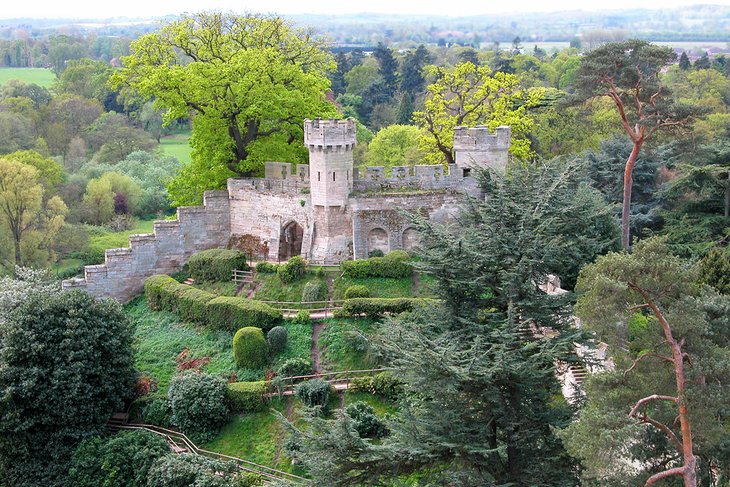 A new addition just for kids is the fun Horrible Histories maze. Based on the bestselling history books and TV shows, youngsters must find their way through the maze while facing such challenges as boarding a Viking vessel and surviving the trenches of WWI.
Interesting accommodation packages are also available that include a stay in a glamping-style tent, or in an attractive knight-themed cabin.
Address: Castle Lane, Warwick
Official site: www.warwick-castle.com/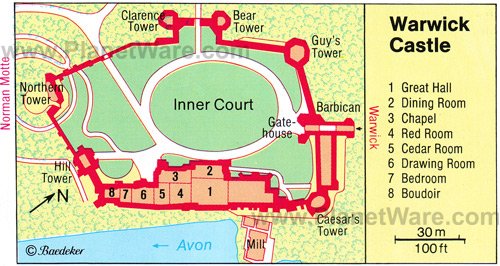 2. Explore Old Town Warwick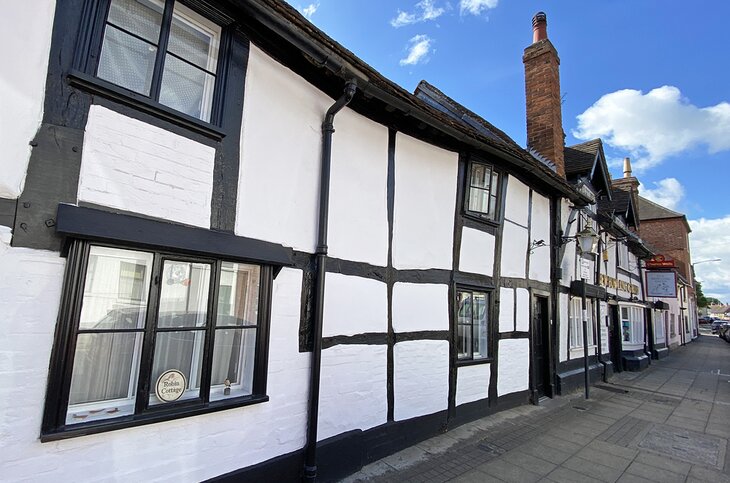 Many of the streets in Warwick's old town still have attractive 17th- and 18th-century buildings that will appeal to tourists.
Points of interest include the Court House with its Georgian ballroom, Landor House, and the lovely Shire Hall with its octagonal tower lantern. The West Gate has been retained from the old town walls, and guilds have assembled in the early-Gothic St. James' Chapel since 1383.
An especially fun thing to do is visit the always-bustling Warwick Charter Market held here each Saturday throughout the year. A Warwick tradition that has been held in Market Square for more than 500 years, the market is a great way to experience the historic town center as you sample delightful tasty treats or buy locally grown produce.
Shoppers should also venture over to Swan and Smith Streets to explore the boutique shops, a particularly fun thing to do during one of the town's many excellent festivals. One of the best of these is the town's popular folk festival.
For those visiting in winter, there's also an enchanting Warwick Victorian Evening held close to Christmas time.
Location: The Court House, Jury Street, Warwick
Official site: www.visitwarwick.co.uk
3. Visit Medieval Lord Leycester Hospital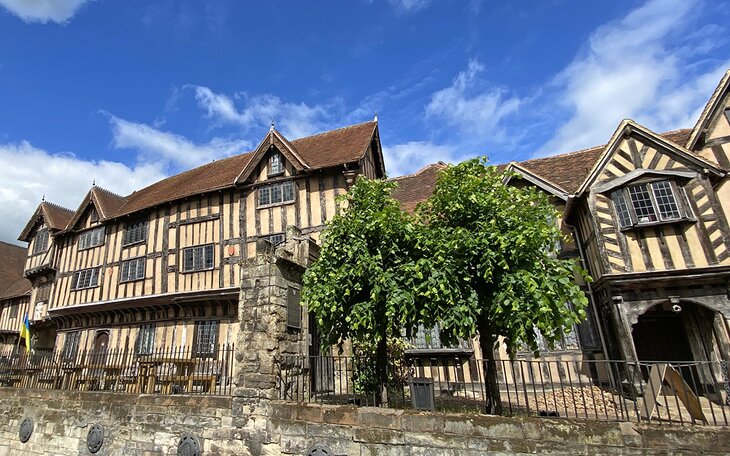 Located in the very heart of the Old Town on Warwick High Street, the Lord Leycester Hospital consists of a series of magnificent half-timbered medieval buildings that date as far back as 1383. Named after a benevolent local aristocrat, the buildings became a charitable home for aging soldiers and their spouses in 1571.
While still serving this purpose, much of the complex is open to visitors and is often used for various ceremonies, private functions, and even as a film set. A must-do is to book a meal in the Brethren's Kitchen, a superb eatery that's been serving up great meals (and high teas) for over 500 years.
Be sure to also visit the attraction's Master's Garden. Tucked away behind the Lord Leycester Hospital, this attractive garden has been a cultivated place of peace and serenity for more than 500 years. You'll also see a section of the old town wall that hems the garden in.
Editor's note: Lord Leycester Hospital is closed for refurbishment until the summer of 2023.
Address: 60 High Street, Warwick
Official site: www.lordleycester.com
4. Take a Stroll through St. Nicholas' Park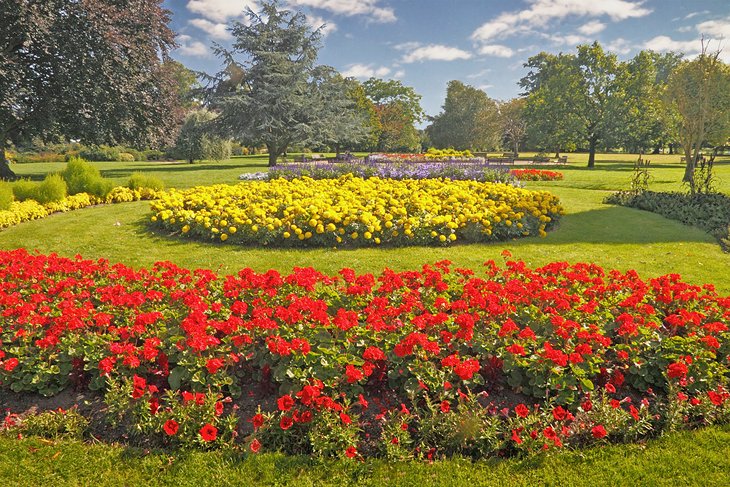 Known affectionately to locals as St. Nick's, St. Nicholas' Park is a Warwick point of interest that's well worth a visit. If you can squeeze this large 40-acre public green space into your Warwick travel itinerary, the short walk from the castle is well worth doing. If you're driving, there's also plenty of parking on-site.
Amenities guests can enjoy include the town's leisure center, including an indoor swimming pool, as well as a "children's corner" featuring a mini-fairground with fun rides that's suitable for kids up to age 12. Also available for families to enjoy are an outdoor paddling pool and mini-golf.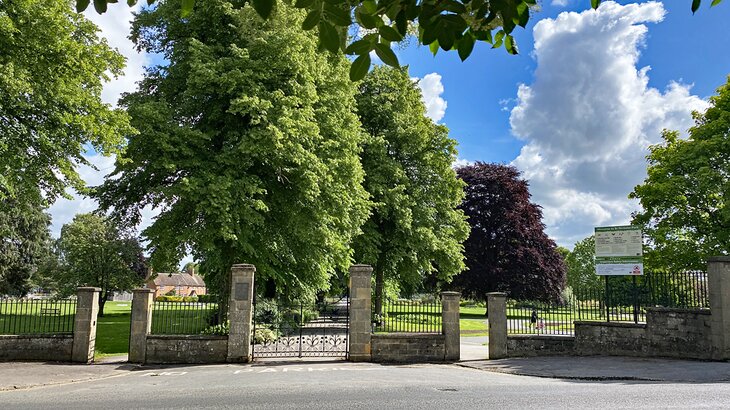 Be sure to spend some time wandering the formal gardens. Highlights include a pleasant pagoda in which to relax, or renting a rowboat for a paddle on the river. There's also an on-site café, as well as a program of musical concerts in the warmer months of the year.
Other nearby gardens worth exploring include the charming Guy's Cliffe Walled Garden, adjacent to the ruins of the 18th-century Guy's Cliffe House.
Official site: www.warwickdc.gov.uk/info/20311/major_parks/501/st_nicholas_park
5. Visit Historic Hill Close Gardens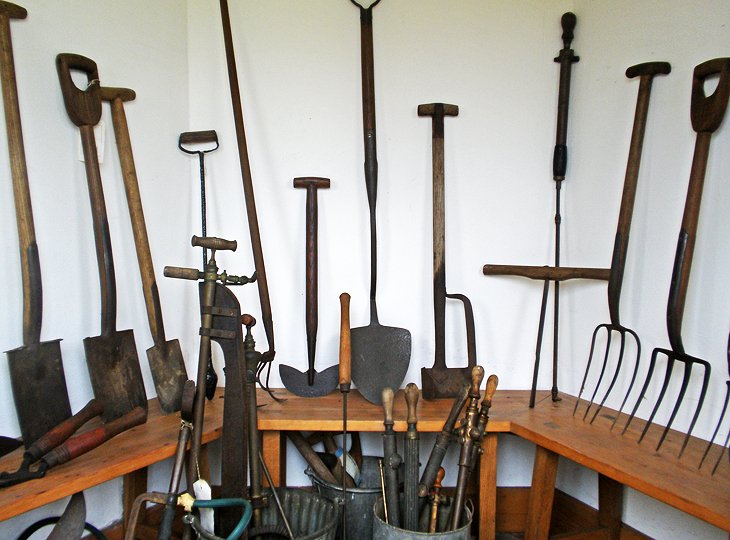 Hill Close Gardens is a delightful network of 16 fully-restored Victorian gardens, with high hedges between the quaint summerhouses, old fruit trees, and heritage flowerbeds.
Notable as the only surviving gardens of this type in the UK, it's a remarkable opportunity to step back in time while enjoying what would once have been the pride of Victorian families who purchased plots of land outside the town center to indulge their passion for gardening.
Set overlooking the popular Warwick Racecourse, visitors can also choose from a wide selection of plants and historic varieties of fruit and vegetables available for sale. The visitor center offers refreshments at the tearoom plus exhibits about sustainable gardening practices. For families, an educational (and fun) children's garden has been established for young gardeners to enjoy.
Address: Bread and Meat Close, Warwick
Official site: www.hillclosegardens.com
6. Climb the Tower of the Collegiate Church of St. Mary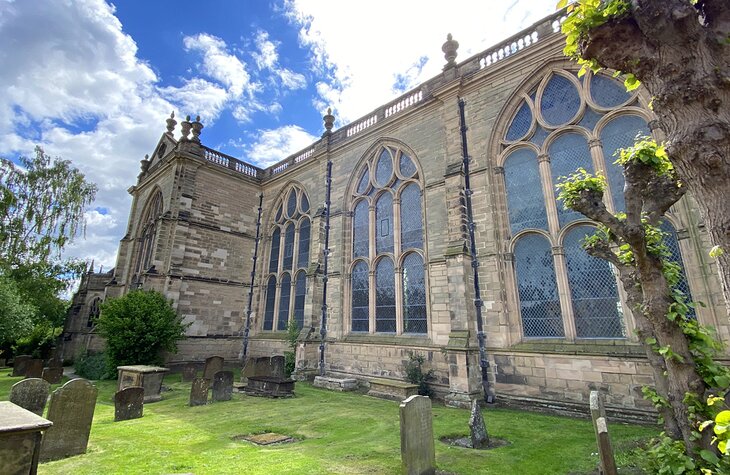 Built in 1443, the Collegiate Church of St. Mary was reconstructed after a 1694 fire with help from Christopher Wren.
The most splendid feature of this must-visit historic attraction is the Beauchamp Tower on the south side of the choir, which can be climbed. While admission to the church is free, a small fee is charged for the privilege of climbing the tower, but is worth it for the great views.
The tomb of the church's founder, Richard de Beauchamp, Earl of Warwick (1381-1439), is located in the middle of the chapel. His spectacular marble sarcophagus features 14 gilded copper mourners made by medieval sculptor John Massingham. The tomb of the Earl of Leicester, a favorite of Elizabeth I, is also here.
Other notable features include the choir. Completed in 1394, it's where you'll see finely carved choir stalls (1449), a cedilla, an Easter Sepulcher, and the tomb of Thomas Beauchamp (d. 1369). The church's ancient Norman crypt dates from 1123.
Informative guided tours are available. There's also a shop located on-site, and for a small fee, you can create (and take home) your own brass rubbing. Concerts and organ recitals are also held here frequently.
Location: Old Square, Warwick
Official site: www.stmaryswarwick.org.uk
7. Explore the Past at the Warwickshire Museum: Market Hall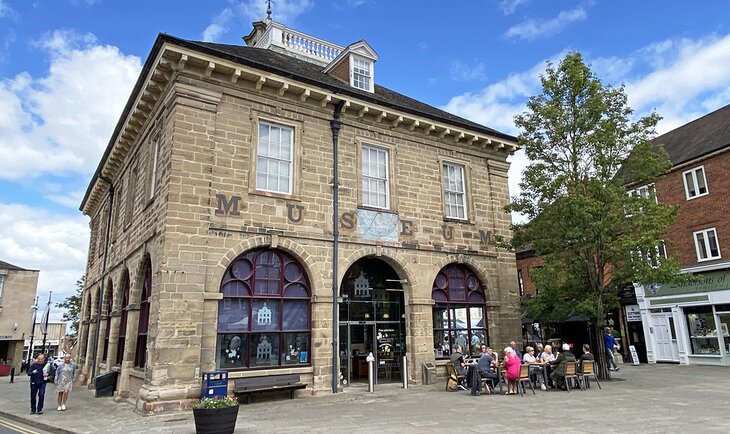 The Warwickshire Museum is really two excellent attractions in one: the Market Hall Museum and St. John's House (you can read more about the latter below). The Market Hall is itself somewhat of a Warwick landmark, and has dominated the Old Town since being built in the 1600s.
Originally constructed as a shelter for traders doing business in the once thriving market held here, it's now home to an extensive early history collection covering archaeology, social history, geology, and natural history.
In addition to the building itself, highlights include its famous Irish Deer skeleton plus a large stuffed bear, and the 16th-century Sheldon Tapestry. Displays and exhibits show how the building itself was used over the centuries, including a tiny room that once served as a city jail cell.
Time here is certainly well-spent, and it's widely considered one of the top free things to do in Warwick. A gift shop is located on the premises.
Location: Market Hall, Market Place, Warwick
8. Visit St. John's House Museum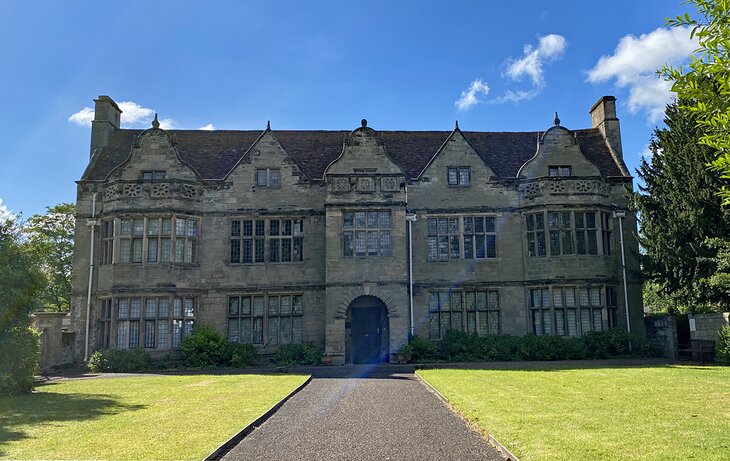 While much of The Warwickshire Museum's large collection is kept in the city's historic Market Hall, the museum's Jacobean home, St. John's House, boasts a number of other exhibits of interest to sightseers. These include fascinating reconstructions of a Victorian kitchen and classroom (the mansion once served as a school house), along with exhibits of period costumes, toys, dolls, and games.
Also located in St. John's House and well worth a visit is the Royal Regiment of Fusiliers Museum (Royal Warwickshire). Highlights include displays focusing on the regiment's storied history, numerous weapons and artifacts, and an impressive collection of medals.
Address: St. Johns, Warwick
9. Take a Drive to Royal Leamington Spa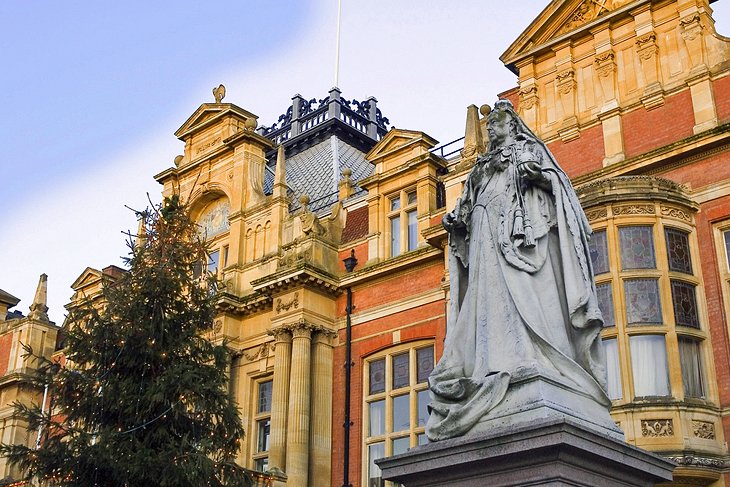 Royal Leamington Spa lies only two miles east of Warwick and is famous for its wonderful medicinal springs and gardens. While enjoying this popular day trip from Warwick, tourists can take a stroll through the attractive glasshouses and flowerbeds at Jephson Garden or visit the splendid Royal Pump Room Gardens with its art gallery and café.
One of the other popular things to do here is to simply wander the town's idyllic tree-lined avenues, with their Victorian and Georgian architecture, stopping to enjoy the numerous specialty shops and restaurants. Theatergoers are spoiled for choice, too, thanks to the rich program of regular productions on offer at the Royal Spa center and the Loft Theatre Company.
Address: 35c Park Court, Park Street, Leamington Spa
Official site: www.royal-leamington-spa.co.uk
10. Learn about Shakespeare's Connection to Charlecote Park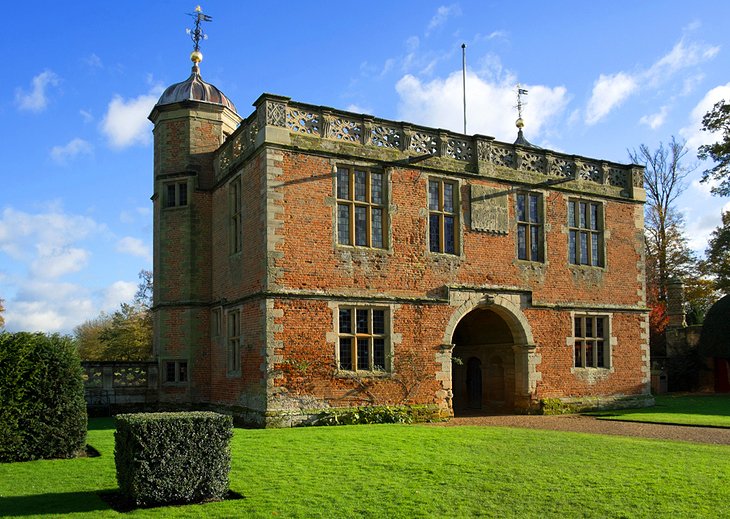 Just four miles east of Stratford-upon-Avon and six miles south of Warwick, Charlecote Park is perhaps most famous for its connection to Shakespeare. Legend has it the Bard was supposed to have been caught poaching here, and after receiving a lashing as punishment, went on to lampoon his captor in the somewhat laughable justice of the peace in Henry IV.
Visiting this delightful (and very large) Tudor mansion today is a treat. Highlights include some of the best preserved Victorian-era décor and furnishings in England, as the home was extensively refurbished during the 19th century. Of special interest is the huge and ornately decorated library and the still operating Victorian kitchen.
Also of note is the perfectly preserved laundry house from the same period, along with a tack room and a fine display of historic carriages. The extensive gardens and grounds are also well worth exploring.
Location: Charlecote, Nr Wellesbourne, Warwick
Official site: www.nationaltrust.org.uk/charlecote-park
11. Enjoy the Castle Views from the Mill Garden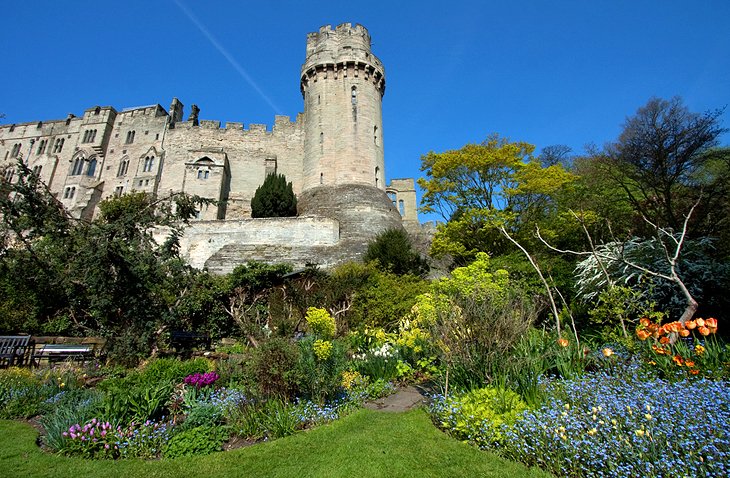 Situated on the banks of the River Avon and butting up against the outer walls of Warwick Castle towering high above it, the delightful Mill Garden is a must-see for gardeners, as well as those who appreciate a great view.
Although measuring just a half acre in size, this privately owned and extremely picturesque garden has become something of an icon, due as much to its incredible location as the hard work that went into its construction over a 60 year period that started in 1938. Spending some quiet time here will reward visitors not just with views of the castle walls, but also the ancient Old Castle Bridge (now ruins), as well as a number of swans who nest nearby.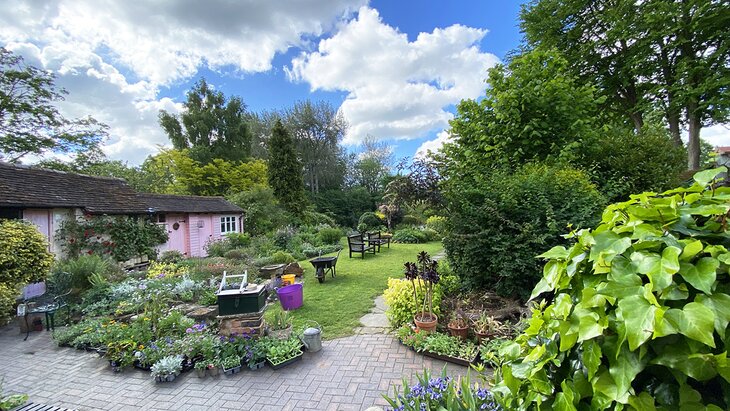 A highlight of a visit to the gardens is the walk down Mill Street. Just a few minutes' walk away from the eastern gateway leading into the castle, this picturesque street curves gently down towards the Avon River and is lined by beautifully preserved (and extremely photogenic) old half-timbered homes.
Address: 55 Mill Street, Warwick
12. See the Castle Views from the New Avon Bridge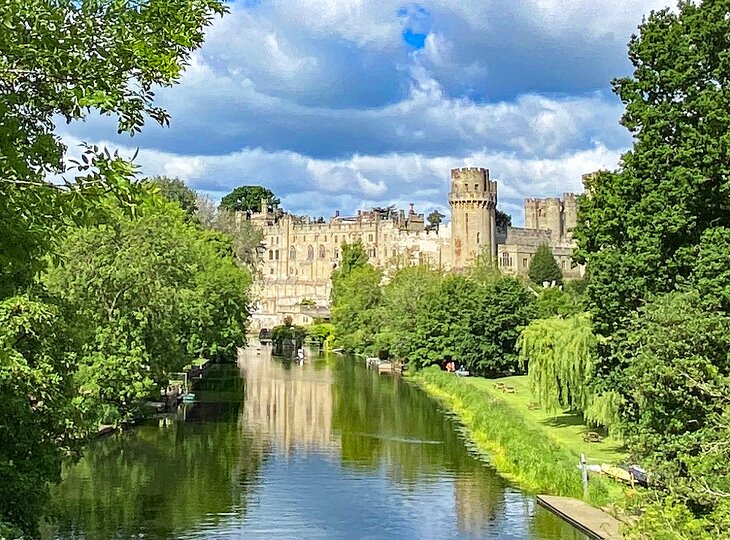 Although part of a busy roadway into Warwick, it's worthwhile making the short walk from the medieval town center to the "new" bridge across the River Avon. It's easily accessible from St. Nicholas Park. Here, you'll be rewarded with some of the most spectacular views of Warwick Castle and the river. You'll be in good company, as this is also a favorite spot for photographers.
Afterwards, take a slight detour to Bridge End. This charming row of houses features a number of half-timbered and stone buildings dating from the late Middle Ages.
Location: Bridge End, Warwick
13. Explore the River Avon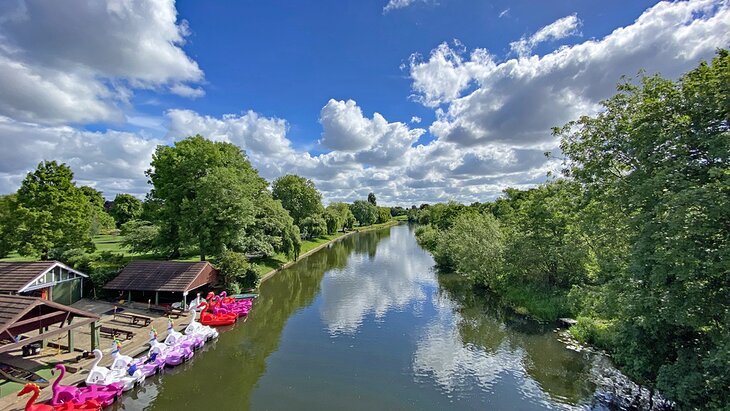 You can in fact access the River Avon from a number of locations in Warwick. One of the best spots to enjoy the river, also called the Upper Avon or Warwickshire Avon, is from St. Nicholas Park.
From the park entrance, head in the opposite direction of its main facilities to the banks of the river. Sheltered by trees and delightfully green, peaceful, and quiet, the riverside trail affords splendid views over this most famous of English rivers.
And don't be shy to stop awhile on one of the many benches that line the river. Better still, bring a blanket and a picnic, as this picturesque riverbank setting makes for a romantic picnic spot for couples and families alike. Afterwards, you can follow the river for a mile or so towards Royal Leamington Spa.
Tucked beside the New Avon Bridge, the friendly folks at Warwick Boats offer a variety of fun ways to explore the river. For families wanting a great river-view of the castle, hop aboard one of the fun swan- or dragon-themed pedalos and head under the bridge, camera at the ready. Those wanting a more challenging experience can rent a kayak, canoe, or paddleboard for a few hours to explore the river. Motorboats are also available for hire.
Location: Nicholas Park, Warwick
Official site: https://warwickboats.co.uk
14. The Museum of The Queen's Royal Hussars - Churchill's Own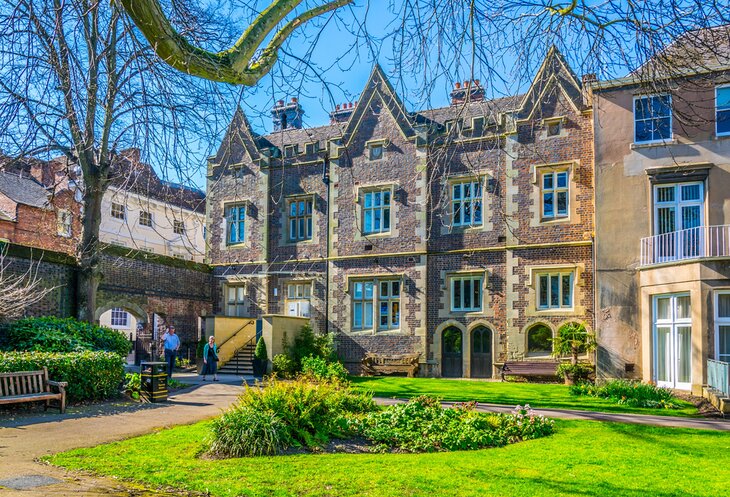 Now housed in the refurbished Trinity Mews building on Priory Road, the Museum of The Queen's Royal Hussars offers a fascinating look at one of the country's most decorated army regiments.
The museum's impressive collection provides a comprehensive history of the regiment, from its foundation in the 17th century to the present time, including displays dealing with its role in the Battle of Waterloo. Guided tours are available.
Another military museum and one of the top things to do for free in Warwick is the Warwickshire Yeomanry Museum, which records the history of the Cavalry of Warwickshire.
Address: Trinity Mews, Priory Road, Warwick
Official site: www.qrhmuseum.com
More Related Articles on PlanetWare.com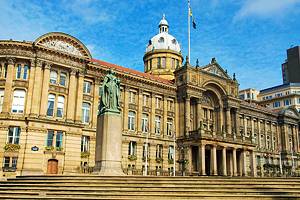 Big City Getaways: As the nation's capital, London offers no end of fun things to do for travelers to the UK, from exploring magnificent Kew Gardens to watching the changing of the guards at Buckingham Palace. Other great English cities to explore include the industrial centers of Birmingham and Coventry and Cambridge, with its historic colleges.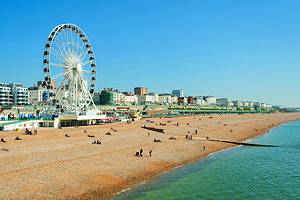 Beside the Seaside: England has long been known for its fantastic seaside towns and great beaches. Our favorite seaside town that's perfect for a day trip is beautiful Brighton, popular for its lengthy promenade and pier. Also fun to visit are Dover, famous for its spectacular white cliffs and castle, and nearby Folkestone, known as the location of the Channel Tunnel and for its creative quarter.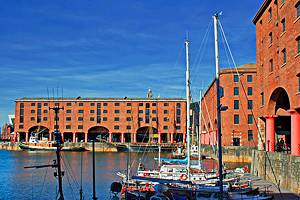 England Travel Ideas: There's no end of fantastic sightseeing opportunities in England. Your travel itinerary should include at least one or two northern destinations, including Liverpool - famous, of course, as the home of the Beatles - and York, one of the country's best preserved medieval cities. Historic Bath is another must visit, and is famous for its old Roman Baths and splendid Georgian architecture.