Exploring the Top Attractions of London's Kew Gardens
Officially known as the Royal Botanic Gardens, the spectacular 330-acre Kew Gardens is widely considered the world's most important collection of living plants. Situated in southwest London on the banks of the River Thames, between Kew and Richmond in the county of Surrey, it also serves as an internationally acclaimed botanical research and education institution, employing over 650 staff.
All told, Kew Gardens boasts more than 30,000 plant types, while its impressive Herbarium (open to researchers only) includes a collection of over seven million specimens. Adding to its prestige is the fact many of the specimens in this vast collection were in fact gathered by some of England's most famous scientists and explorers, such as Charles Darwin and David Livingstone.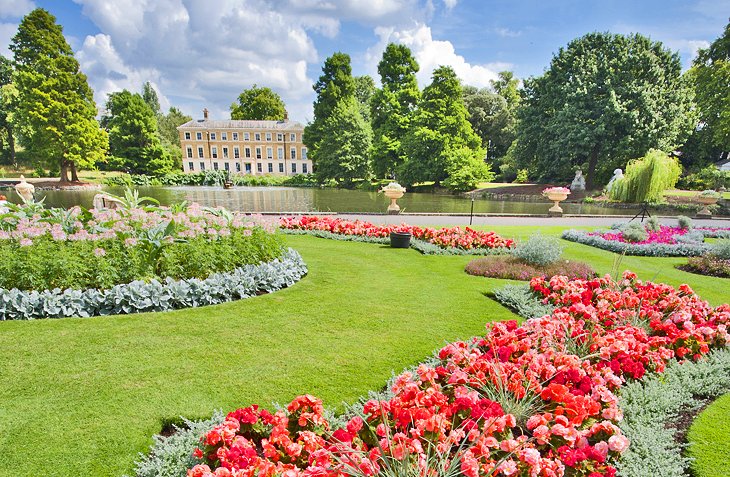 Founded in 1759, Kew Gardens is one of England's top tourist attractions with some 2.1 million visitors passing through each year. It's a wonderful place to spend a day, whether you're a fan of flowers or fantastic architecture, or simply looking for some superb green space in which to relax.
And if you're visiting London in winter, check out the availability of tickets for Kew's magnificent displays of illuminations during the popular (and often sold out) Christmas at Kew event. Adding to the magic are numerous vendors selling seasonal foods and beverages, the perfect way to keep warm (and merry!) as you explore this magical setting.
To learn more about the many fun things to do here, be sure to read through our list of the top attractions of London's Kew Gardens.
1. Flowers, Plants, Trees, and Glasshouses: Kew's Many Wonderful Gardens
Kew Gardens is home to countless superb collections of plants, each handily contained in well-marked areas. Collections include everything from cacti to carnivorous plants, ornamental grasses to orchids, and roses to rhododendrons.
While many of these collections are found outdoors (Britain's climate is perfect for gardening), there are also numerous collections set in Kew's many unique glasshouses, ensuring a visit at any time of year can still be rewarding.
The Ultra-Modern Davies Alpine House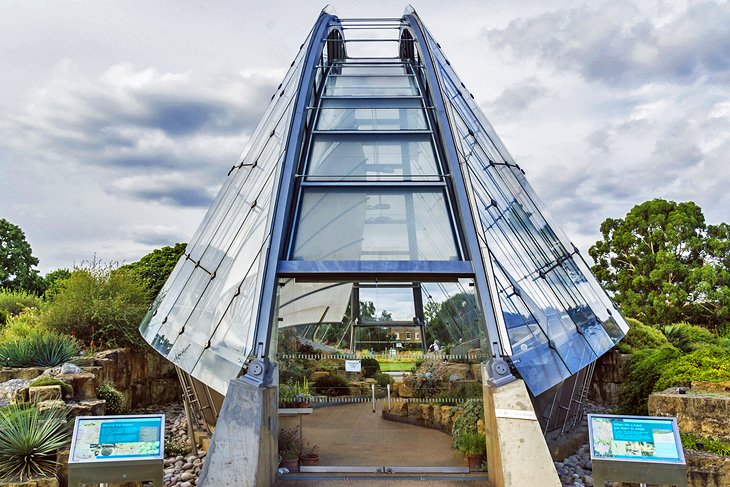 A relatively new addition to Kew, the spectacularly modern Davies Alpine House opened in 2006 and reaches a height of 10 meters at its center. It was designed specifically for plants capable of surviving at altitudes of up to 2,130 meters.
Displays are frequently rotated and include small ferns and lavenders, thymes and tulips, along with lesser-known species. One of the most interesting species housed here is the extremely rare Chilean Blue Crocus, once thought to be extinct.
The Palm House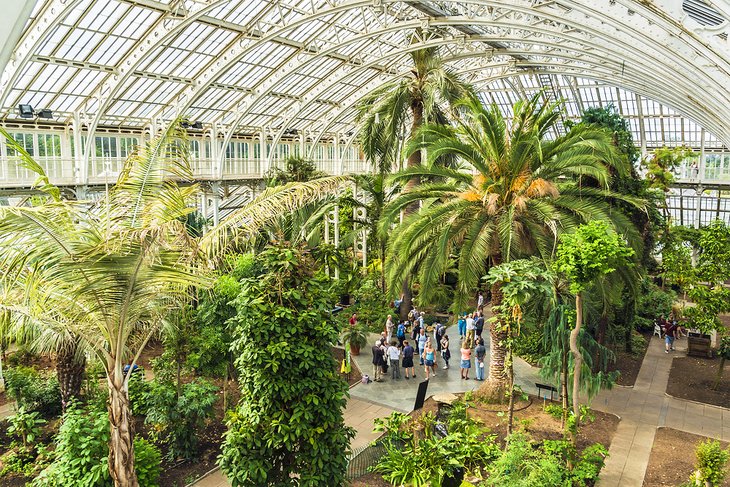 The stunning Palm House, along with the fully restored Temperate House, earned the architect and engineer duo of Decimus Burton and Richard Turner great acclaim at the time of its construction in the mid 19th century.
The Palm House alone contains an astounding 16,000 panes of glass, along with many rare species of plants, including the double coconut palm (the plant with the world's largest seed). Another highlight here is a cycad specimen that's been in Kew since 1775. An elevated walkway has been added to the structure to allow a bird's-eye view of its trees.
The Temperate House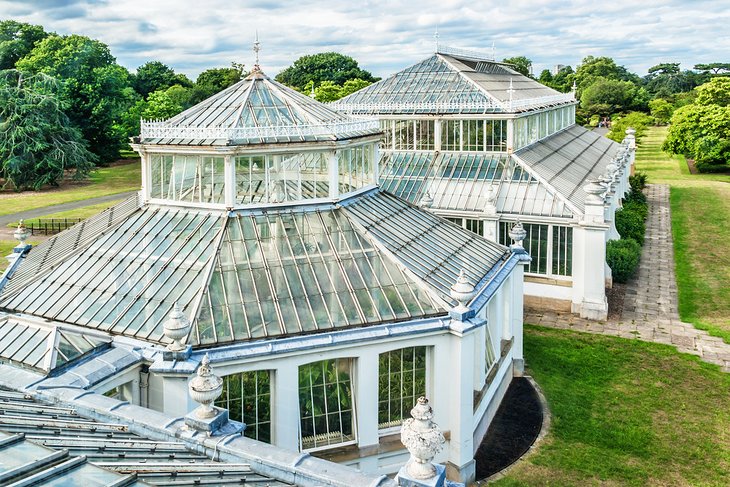 Built along with the Palm House by Decimus Burton and Richard Turner in the mid 19th century, the Temperate House is also well worth a visit. It's home to more than 1,500 temperate plant species from across the globe, and also offers a stunning glimpse of Victorian-era architecture.
Princess of Wales Conservatory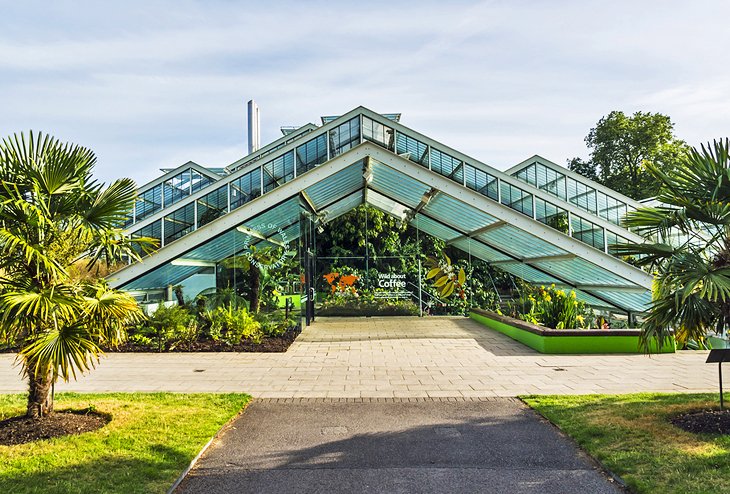 Opened in 1987 by Princess Diana, the Princess of Wales Conservatory is home to 10 unique microclimate zones and includes 1,500 species of tropical orchids and water lilies, including giant Asian specimens.
Floor-level viewing windows also allow visitors a fascinating look into a variety of marine species. These include piranha fish, along with tree frogs and water dragons.
Waterlily House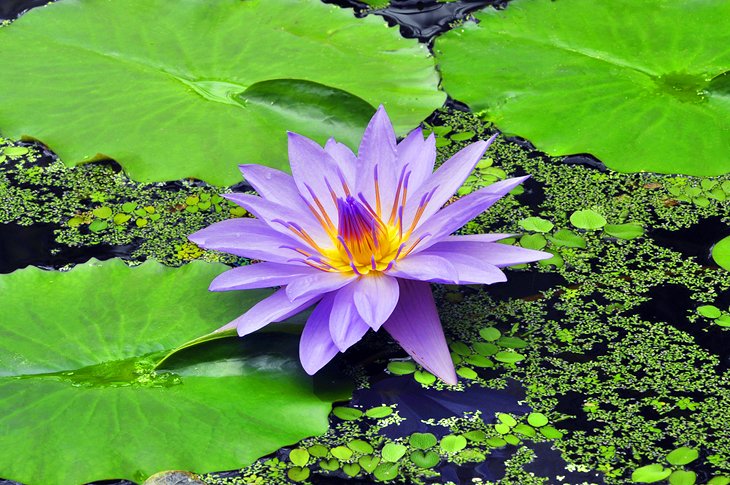 The hottest (and most humid) of Kew's many houses, the Waterlilly House was built in 1852 as a home for the largest species of water lilies. Some of them, like the Victoria amazonica, can grow many feet in diameter and live for decades.
The Life of Trees: Explore the Arboretum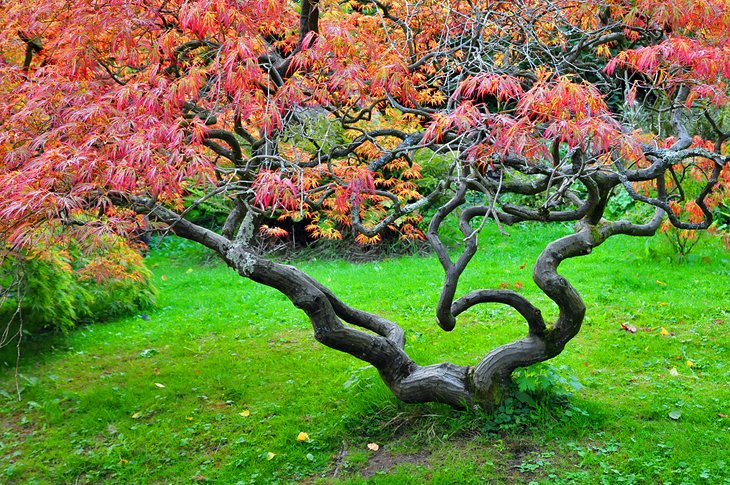 Kew's awesome arboretum covers more than half of the property's 300 acres and includes a huge collection of hardy trees. Divided into three regions, its sections include the North Arboretum, with the original 1759 botanic garden; the West Arboretum, with the Lake, Bamboo Garden, and Rhododendron Dell; and the South Arboretum, with its Berberis Dell and the grounds of Queen Charlotte's Cottage.
The nearly mile-long Holly Walk contains the largest collection of mature hollies in Europe. Once a laneway that joined two former estates, this lovely walk includes many original trees planted in 1875. While most popular in late autumn, they do bloom with small white flowers in spring.
2. Palaces to Pagodas: Kew's Superb Architecture
In addition to its many superb collections of flowers and plants, Kew Gardens is also of great interest to students of fine architecture. Whether your preference is for historic or modern day structures, you'll find something impressive in this fine collection of architectural styles.
Queen Charlotte's Cottage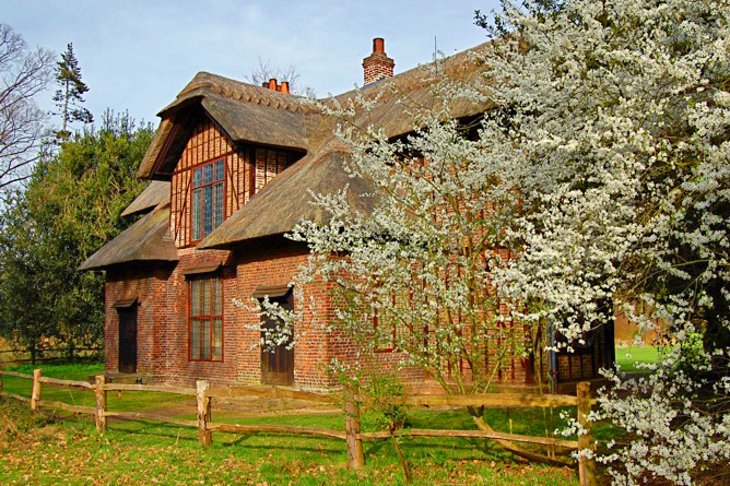 Built for Queen Charlotte between 1754 and 1771, this quaint thatched cottage was a long-time favorite residence of Queen Victoria. The garden and woodlands remain just as they were in her time and include one of London's loveliest displays of bluebells. Admission is limited to weekends and public holidays, so be sure to time your visit accordingly.
Kew Palace and the Royal Kitchens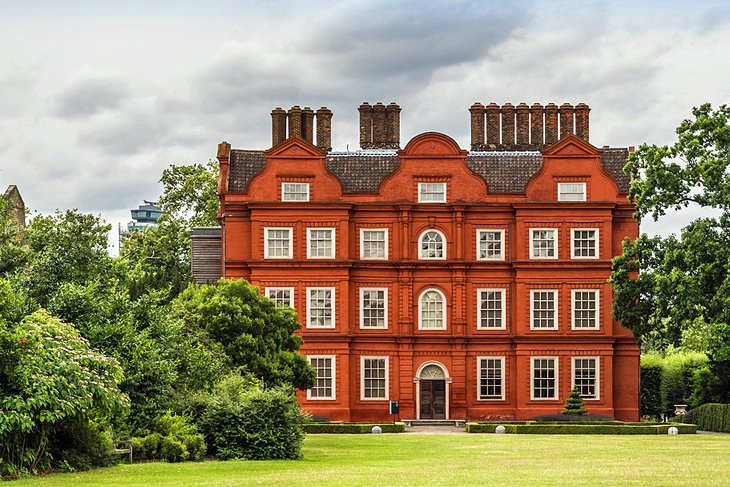 Also referred to as the Dutch House for its construction style (it was built for a Dutch merchant), Kew Palace-the smallest of Britain's royal palaces-was most famously occupied by George III during his fits of madness.
The furniture, furnishings, and art provide a fascinating glimpse into the domestic life of the royal family in Georgian times. Of special interest are the wonderfully restored kitchens, along with the Queen's Garden, with its collection of rare 18th-century medicinal plants.
The Japanese Collection: Chokushi-Mon and Minka House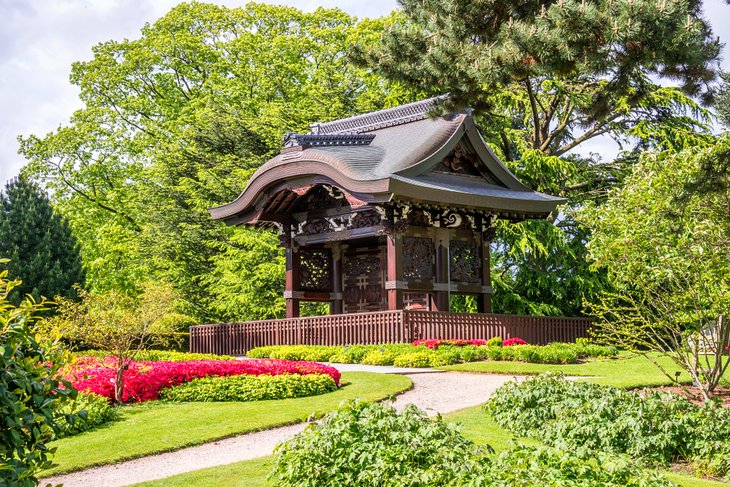 Brought to Kew in 1911, the Chokushi-Mon (translated as the Imperial Envoy's Gateway) is a lovely, not-quite-full-size replica of the gateway into one of Tokyo's holiest temples.
The Minka House is another must-see. This lovely traditional Japanese wooden house (or minka) was originally erected in Japan in 1900 and reassembled in Kew's Bamboo Garden in 2001.
The Nash Conservatory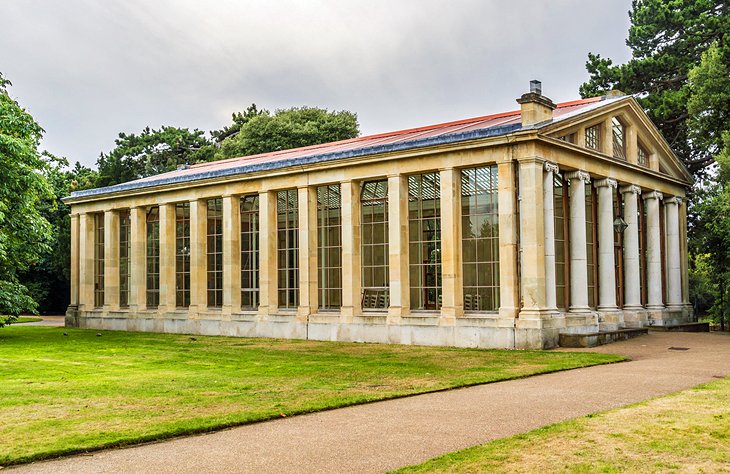 The oldest of Kew's glasshouses, the Nash Conservatory was originally located at Buckingham Palace but was moved to Kew in 1836. This stunning piece of architecture, designed by John Nash and lovingly restored, is now used as Kew's educational center and for functions and is a must-see for its superb styling.
The Orangery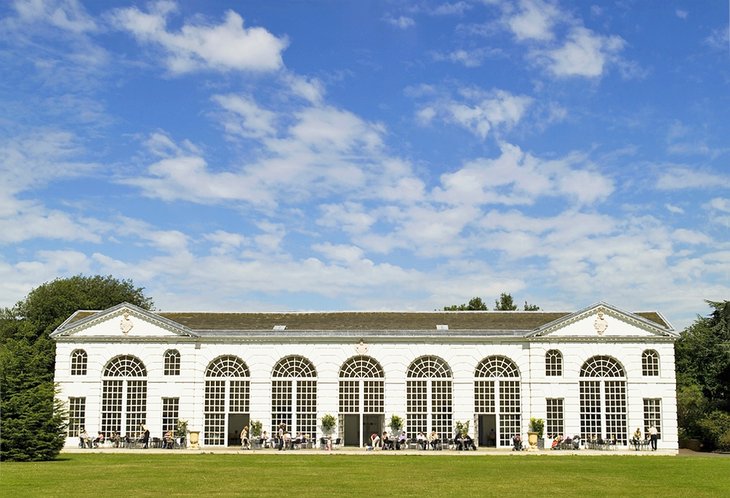 Designed by William Chambers, the lovely Orangery was built in 1761 and for many years was the largest classical-style building in Kew Gardens. Built as a hothouse for citrus plants (something it was soon apparent the structure wasn't well suited to), this lovely building is now home to a great restaurant.
The Pagoda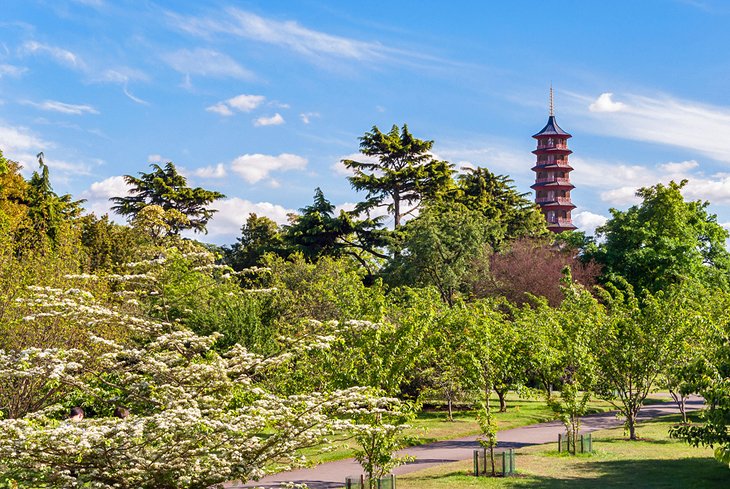 Erected in 1762, Kew's spectacular Pagoda is 49 meters high with 10 stories, each of which has a projecting roof. The steep staircase is located in the center of the building and remains a focal point of the splendid gardens surrounding it.
After major renovations, the public can once again climb its 253 steps in order to admire the views over the surrounding area. This must-see Kew attraction is closed during the winter months.
3. Visually Stunning Galleries and Museums
Kew Gardens contains a number of stellar art collections focusing on plants and flowers, as well as an interesting museum dedicated to gardening. As tempting as it might be to stay outdoors, be sure to take some time checking out these fantastic displays.
The Marianne North Gallery of Botanic Art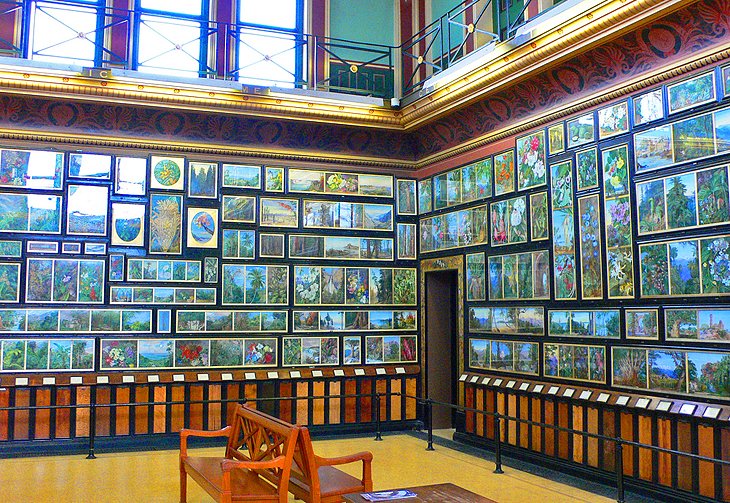 Opened in 1882, the Marianne North Gallery of Botanic Art pays homage to the artist after which this massive collection is named. The daughter of a politician, North traveled far and wide across North and South America, Asia, and Africa in order to pursue her passion for painting plants and flowers.
This stunning collection includes 832 of her paintings and is Britain's only permanent art exhibit dedicated to the career of just one woman.
Museum No 1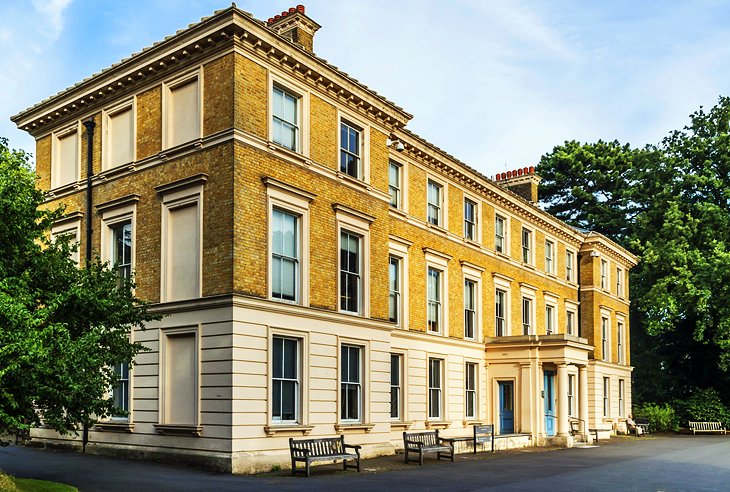 Opened in 1857, Museum No 1 is in fact Kew's only remaining museum, and houses a superb collection of tools, clothing, food, and medicines. Established to demonstrate our dependence upon plants, the collection includes some 83,000 specimens under themes such as Healing plants and Plants for Energy.
There are also numerous interesting rarities, including a portion of a wreath found in the coffin of Pharaoh Rameses II.
The Shirley Sherwood Gallery of Botanical Art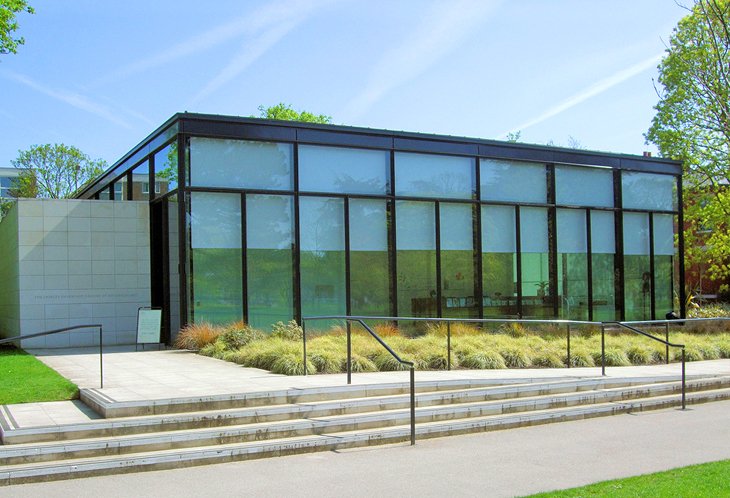 The Shirley Sherwood Gallery was the first gallery in the world dedicated solely to botanical art. Here you'll find works by the Bauer Brothers, Walter Hood Fitch, and Georg Ehret. Exhibits are rotated regularly.
4. Adventure, Exploration, and Education
Kew Gardens is also a great place to entertain-and educate-kids of all ages. Adults, too, will love the many fun opportunities to explore the life of plants and related areas of 'non-stuffy' study.
Established in 1841, the Library at Kew Gardens boasts the world's most comprehensive collection of botanical reference books. It's also home to more than 300,000 books and magazines, seven million letters and private papers, 200,000 pieces of art, and more than 200,000 photos.
Kew has also done a superb job of ensuring that even its lowly old Compost Heap is of interest to visitors. Kew's compost is derived from waste from the gardens and the stables of the Household Cavalry and is used mainly in the gardens. A viewing platform-made of illegally harvested wood seized by British customs-offers a fascinating glimpse into the composting process, plus a chance to see Kew's resident peacocks enjoying the warmth the compost pile generates.
Walking Tall: The Treetop Walkway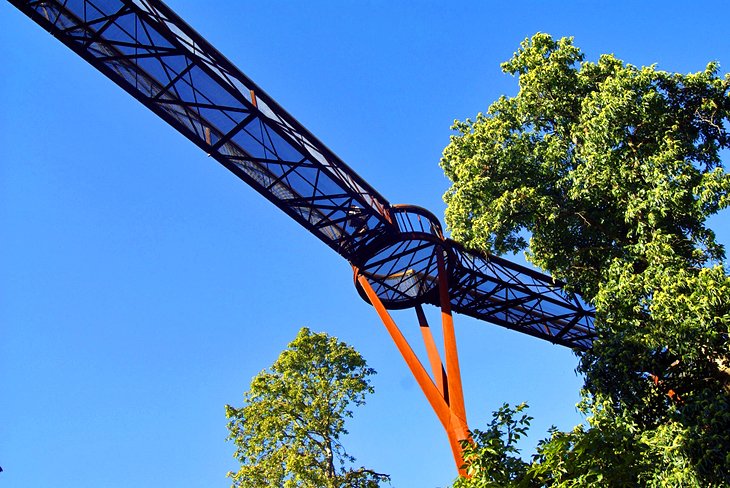 Fun for the whole family, the excellent Treetop Walkway is almost 18 meters high and 200 meters long and extends across a lovely wooded area of Kew Gardens. A lift takes visitors to the start of the walkway (there are also stairs).
Tracing Roots: The Remarkable Rhizotron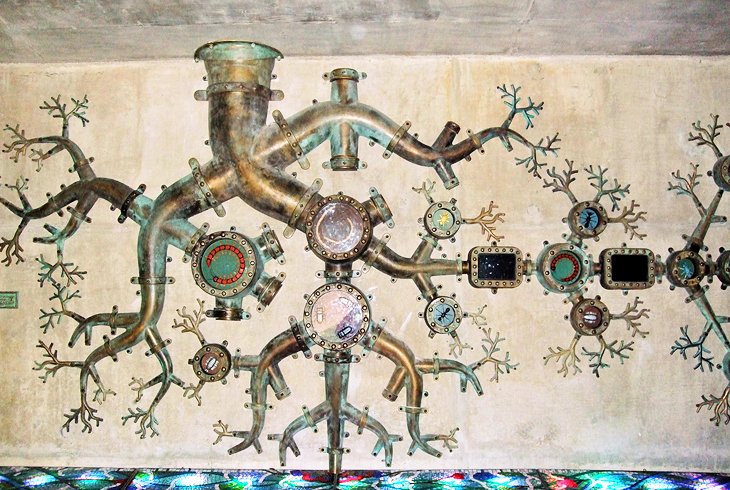 This unique display provides visitors with a fascinating insight into what goes on underground to enable a tree to mature and grow, and includes a series of fun, interactive screens showing the role of roots and soil in this lifecycle.
The Hive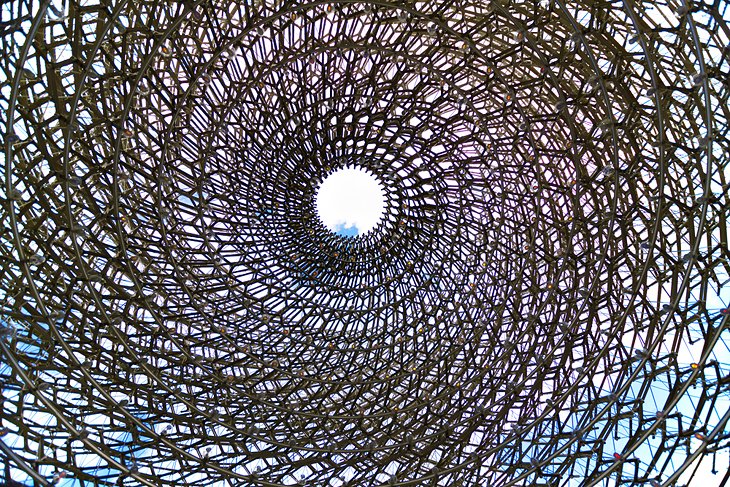 The newest of Kew's many unique structures, The Hive offers guests a fascinating opportunity to better understand how bees function in our world, and the importance of their sometimes fragile existence.
Standing 17 meters high and resembling the complex interior of a beehive, this impressive aluminum structure was erected in Kew in 2015 in a charming wildflower meadow. It cleverly uses displays of light and sound triggered by an actual beehive located elsewhere on the site.
Sackler Crossing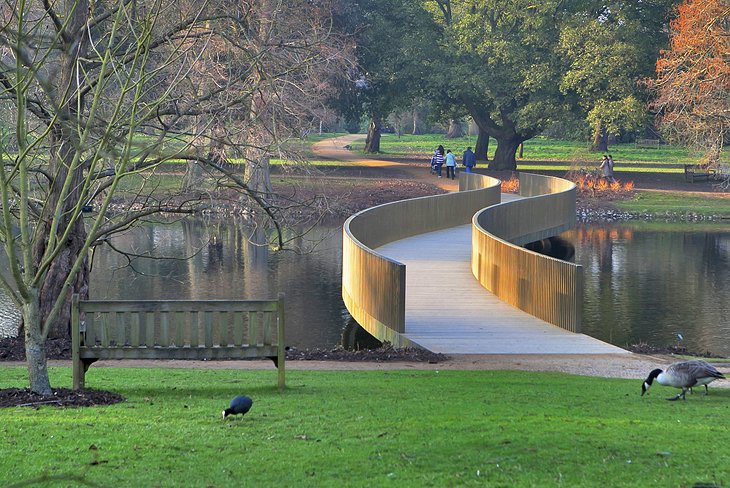 Made from black granite and bronze, the spectacular Sackler Crossing spans the lake at Kew Gardens and is noteworthy for its minimalist, sweeping double-curve design. The bridge is part of a trail network connecting the art galleries with the glasshouses and woodlands, as well as the Minka House.
Touring Kew Gardens
Excellent guided walking tours are available for visitors to Kew Gardens at no cost (daily at 11am and 2pm). Those with hearing issues can also enjoy tours led by guides trained in sign language, while special sensory tours are available for the blind and visually impaired. Themed tours of facilities such as the greenhouses and library are also available (check the Kew website for further details).
The Kew Explorer, a fun "road train," takes visitors on a circular tour around the property. A running commentary is provided, and you can exit the vehicle at designated stops. Separate tickets are required and can be purchased from the driver.
Tips and Tactics: How to Make the Most of Your Visit to Kew Gardens
Tickets: If possible, save time by purchasing your tickets online.
Garden Guides: An excellent series of printed guides are available for purchase (and sometimes for free) prior to your visit or from the Kew Gardens shops. These include maps, apps, and souvenir guides. Discounts for these guides are offered when purchasing tickets online.
Food and Drink: Five food outlets are available at Kew, including quick snacks, kid-friendly restaurants, and fine dining.
Events: Be sure to check Kew Gardens' online calendar prior to your visit for useful information regarding special events and closures (see their official website link below).
Getting to Kew Gardens
By Underground: Kew Gardens Station is connected to London's Underground network via the District Line and is just a few minutes' walk from the attraction.
By Train: South West Trains operate direct to Kew Bridge Station from Waterloo (via Vauxhall and Clapham Junction). For further details, including special two-for-one admissions, visit www.nationalrail.co.uk.
By Road: Kew Gardens is well signposted from Kew and Richmond (the postal code for GPS systems is TW9 3AB). But, as is so often the case in London, public transit is convenient, inexpensive, safe, and reliable.
Parking: On-site parking is limited (paid), and some free parking is available on Kew Road (A307) after 10am.
Address
Royal Botanic Gardens, Kew, Richmond, Surrey
What's Nearby?
While a visit to Kew Gardens can easily swallow up the best part of a day, if you do find yourself in a position to explore a little further afield, you'll be well rewarded for the effort. Two excellent museums close by are the London Museum of Water and Steam, with its collection of working steam engines, and the Musical Museum, located at Kew Bridge, with its superb collection of automated musical instruments.
The town of Richmond is also fun to explore and offers many great opportunities for a riverside stroll along the Thames, as well as dining and shopping. Alternatively, if you haven't had enough of big open green spaces, pay a visit to the 2,300-acre Richmond Park, the largest city park in Britain and a popular spot for a picnic.
More Related Articles on PlanetWare.com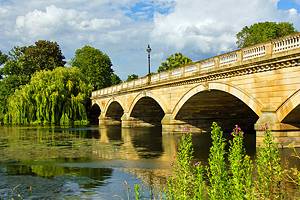 Nearby Attractions: If there's still a little room in your London travel itinerary for other great attractions in the vicinity of Kew, be sure to include stunning Hampton Court Palace. Hampton Court is one of the best places to get your Royal Family fix, with guided tours providing access to a variety of historic rooms and apartments. Consider also Wimbledon, home to the world's best-known tennis championships and the Wimbledon Lawn Tennis Museum, and, closer to the heart of London, magnificent Hyde Park, where you'll also find another great royal residence, Kensington Palace. For the big picture, have a look at our Top-Rated Tourist Attractions in London.