16 Top-Rated Things to Do in York, England
We may earn a commission from affiliate links ()
Although Yorkshire has long been divided into four counties, York is still considered the capital of this lovely corner of Northern England.
The city is filled with fun things to do and attractions that reveal the many layers of its long history. York boasts the country's longest circuit of medieval city walls, stretching over two miles and offering marvelous views of the city. It is also home to York Minster, the largest medieval church in England.
York is immensely walkable. Restrictions keep vehicles away from the major attractions that you'll most likely to want to visit, ensuring a safe, traffic-free experience as you wander.
For more great ideas about these and other things to do in this beautiful part of England, read through our list of the top attractions in York, England.
See also: Where to Stay in York
1. York Minster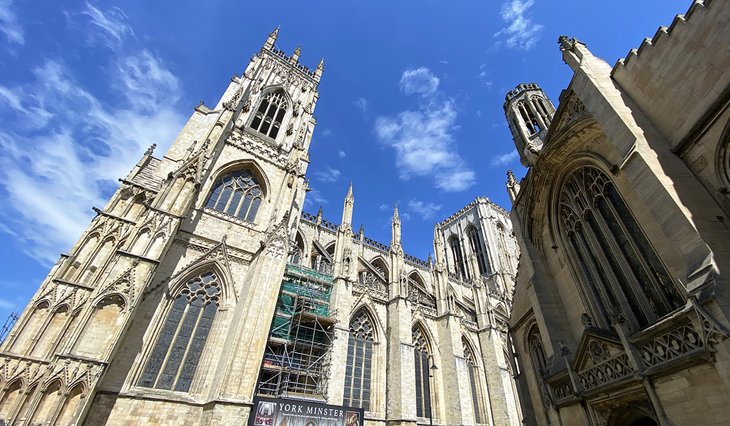 Imposing York Minster, known in full as the Cathedral and Metropolitical Church of Saint Peter in York, is a must-visit. It was built to commemorate the monks who converted those living in the surrounding countryside to Christianity. You'll spot its spires from pretty much every corner of the city, making it an easy attraction to find.
Dedicated to St. Peter, York Minster's bishops even sat on the council at Arles in 314 CE. After this, little is known until 627 CE, when the oldest documented wooden church was built here for the baptism of King Edwin of Northumbria. Succeeding Saxon and Norman constructions were destroyed, and the present cathedral was built in the Gothic style in the 13th century.
A highlight of a tour is seeing the Minster's impressive stained-glass windows, most notably the Pilgrimage Window. Dating from about 1312 and positioned above a stunning golden dragon's head that stares up at it, the window depicts Peter surrounded by pilgrims along with a few unusual details, such as the funeral of a monkey.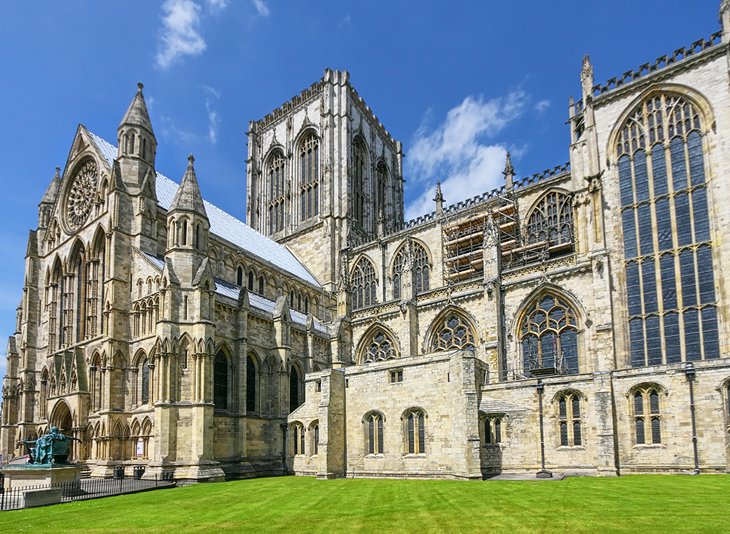 Also of interest is the Cathedral Treasury, with its interactive galleries portraying the building's colorful history from its Roman roots to today. Displays include more than 2,000 years of remarkable artifacts found nearby that provide an insight into the cathedral's important role over the centuries.
And if you've got a head for heights, York Minster's spectacular medieval Central Tower, the highest point in the city, is a must-do. But be warned: it does involve a climb of 230 feet up 275 steps, so be prepared to expend some energy.
2. National Railway Museum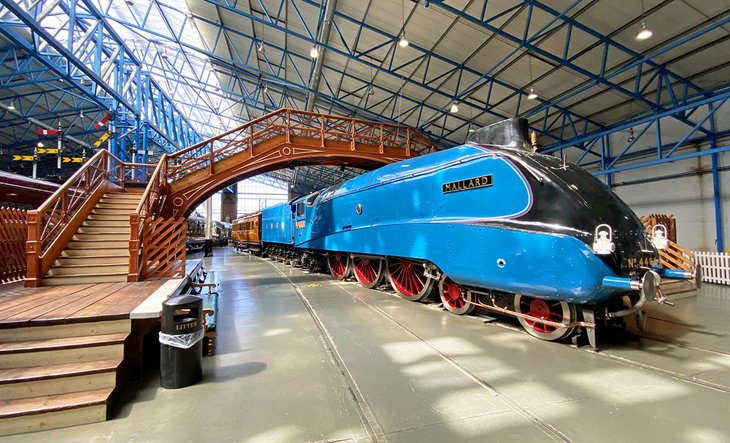 Located just a short walk away from York railway station, the National Railway Museum has an impressive array of locomotives and carriages dating from 1820 to the present day. You'll want to begin your adventure exploring the many exhibits in the Great Hall. Here, you'll find displays and engines related to the early days of steam, from the famous Stephenson's Rocket, which pulled Britain's first passengers, to the exquisite Mallard, the world's fastest steam engine.
The Great Hall also houses an impressive collection of modern diesel and electric engines, including a Japanese bullet train. Other fun things to do here include climbing over a replica pedestrian bridge for a bird's-eye view of the engines, and taking a fast virtual ride aboard the Mallard Experience.
Over in Station Hall, preserved railway platforms and their parked engines offer an authentic peek into the workings of a Victorian-era train station. Highlights include a Victorian mail train from 1838, turn-of-the-century freight and steam trains, and luxurious Edwardian Pullman carriages.
Also on display is a collection of Royal Trains, including carriages once used by Queen Victoria. If possible, try to time your visit to coincide with one of the regular demonstrations of the facility's vintage turntable for an up-close look at how these massive machines were turned around (check the museum's official website below for details).
The museum also boasts more than a million artifacts. The collection includes everything from posters to paintings, along with more than 1,000 hours of unique recordings relating to Britain's rich railway history. A reference library, known as the "Search Engine," is also available for those wanting to dig a little deeper.
3. Medieval York City Walls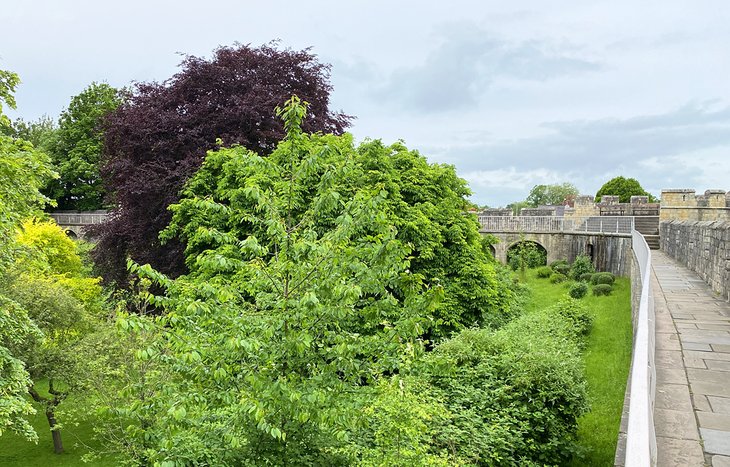 A walk along York's medieval city walls leaves a lasting impression of this beautiful city. Built mainly in the 14th century, the walls incorporate some of the city's original Roman structures and total over two miles (3.4 kilometers) in length.
Adding to the fun is the chance to explore four of the old gates, all of them well-preserved. These include Walmgate Bar, Monk Bar, and Bootham Bar, all with their original portcullis, and Micklegate Bar with its three knights.
If you've only got time to tackle part of the wall, the stretch of wall between Bootham Bar and Monk Bar offers excellent views of York Minster.
4. Ramble through the Shambles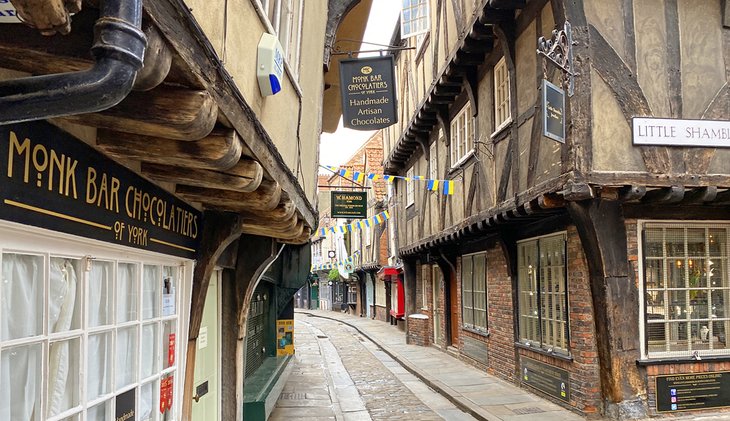 One of York's biggest tourist attractions is the Shambles, a narrow 14th-century thoroughfare with lovely overhanging timber-framed buildings.
Once known as "The Great Flesh Shambles" for its numerous butcher shops and stalls, the area is now an eclectic mix of shops, restaurants, tearooms, and boutiques. Look up as you stroll, and you can still spot the meat hooks outside many of these old shop fronts.
The Shambles is also where you'll find five of York's fascinating Snickelways. This collection of small streets and winding footpaths connects the old city and is a treat to explore. The area is especially fun to explore in early winter, when the streets are lit as part of the city's annual Christmas Festival.
5. York Castle Museum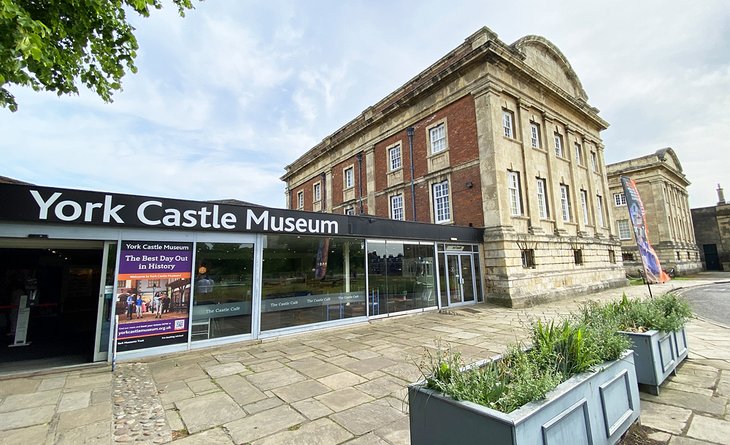 Built on the site of the original castle, York Castle Museum offers a marvelous insight into the English way of life throughout the centuries. Highlights include Kirkgate, a perfect recreation of a Victorian street, complete with shops; Toy Stories, a history of children's toys; and a Victorian parlor and 17th-century dining room.
Another fascinating exhibit is The Cells in the old Debtors Prison. A highlight of a visit is seeing the former Condemned Cell once occupied by highwayman Dick Turpin. The site has in fact been a place of incarceration for more than 1,000 years, with the York Crown Court still holding those accused of serious crimes.
6. Clifford's Tower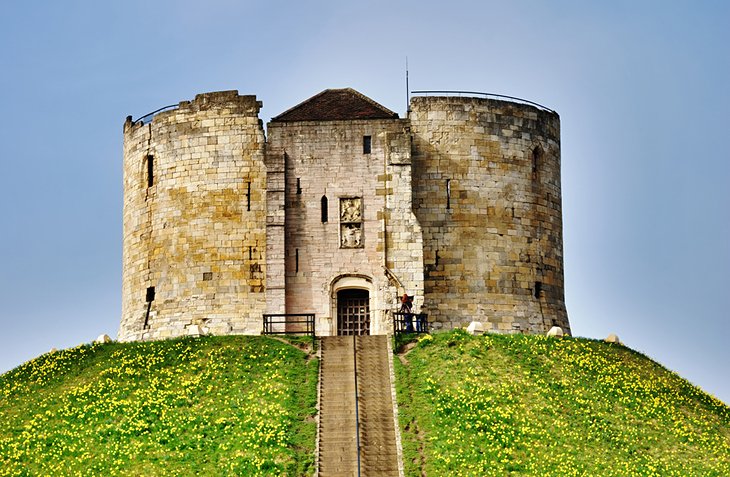 Located between Fishergate and Skeldergate Bridge and overlooking York Castle Museum, Clifford's Tower was originally built of wood by the Normans in 1068. What you see towering above you today, however, was constructed in the 13th century as a replacement for the original wooden fortress, and is the oldest remaining part of York Castle.
Named after Roger de Clifford, who was executed here in 1322 as leader of the Lancastrian party, the tower was also infamous as the place where the king would put those he had executed on display.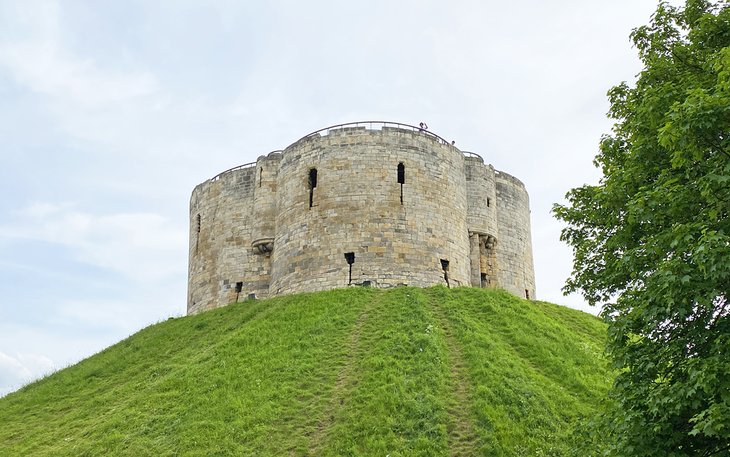 7. Jorvik Viking Centre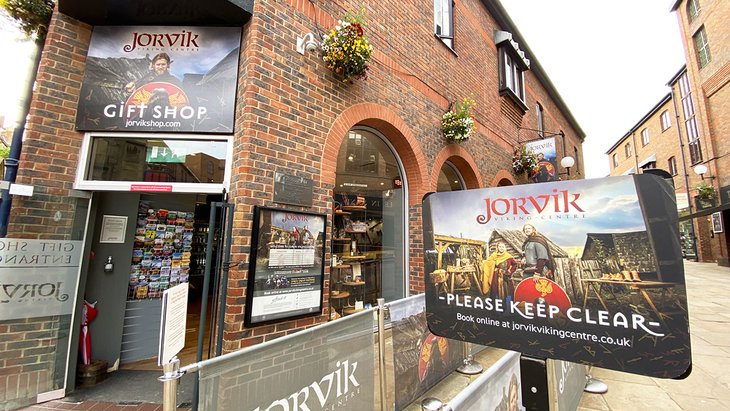 The Jorvik Viking Centre in Coppergate documents the daily lives of the Vikings in 9th-century York, or "Jorvik." The site includes reconstructions of Viking dwellings and medieval workshops and is built above the remains of 1,000-year-old wooden houses.
8. Castle Howard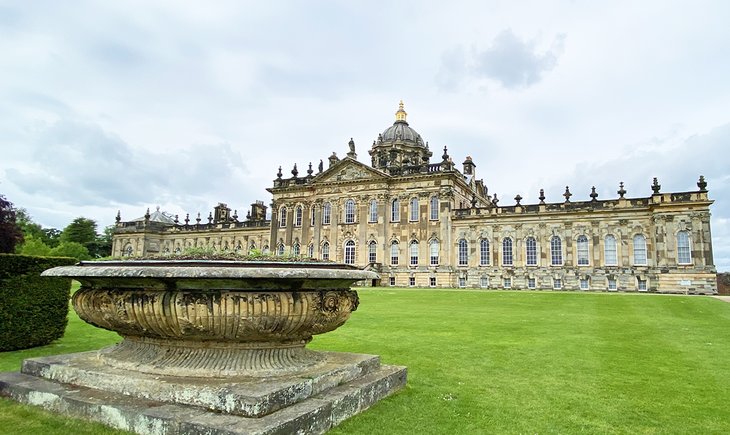 An easy 30-minute drive northeast of York is majestic Castle Howard. Set amid 1,000 acres of parkland and richly furnished with antiquities and treasures, family-owned Castle Howard is undoubtedly one of England's most spectacular country estates.
This magnificent Palladian mansion, famous as the backdrop for acclaimed TV drama Brideshead Revisited, was built for the third Earl of Carlisle by dramatist-turned-architect John Vanbrugh. Its many elegant rooms contain paintings and carvings, period furniture, and costumes, as well as valuable vases and statues.
The grounds are on a scale to match the house, with an impressive family mausoleum, an obelisk, a pyramid, and the lovely Temple of the Four Winds. And, of course, there's the spectacular fountain at the front of the mansion, perfect for the ultimate "selfie."
9. Yorkshire Museum and Gardens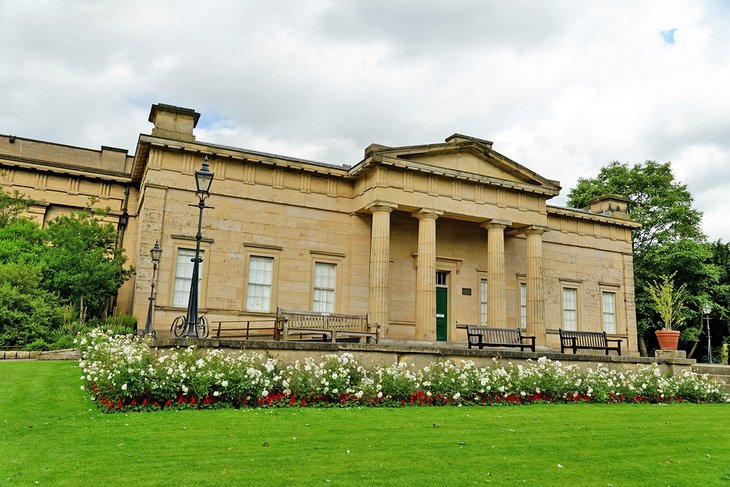 Along with its superb geological and natural history collections, the Yorkshire Museum contains many important Roman and Anglo-Saxon archaeological artifacts. It's also where you'll find the 1,000-year-old Cawood Sword, the best preserved such Viking weapon in the world. Medieval sculptures and utensils are exhibited in St. Mary's Abbey.
Be sure to spend time in the lovely, and free to enter, Museum Gardens. Extending across some 10 acres in the heart of the old city, this beautiful garden is home to more than 40 species of birds, as well as trees, shrubs, and flowers under the ruined walls and arches of the medieval St. Mary's Abbey.
10. Stonegate and Barley Hall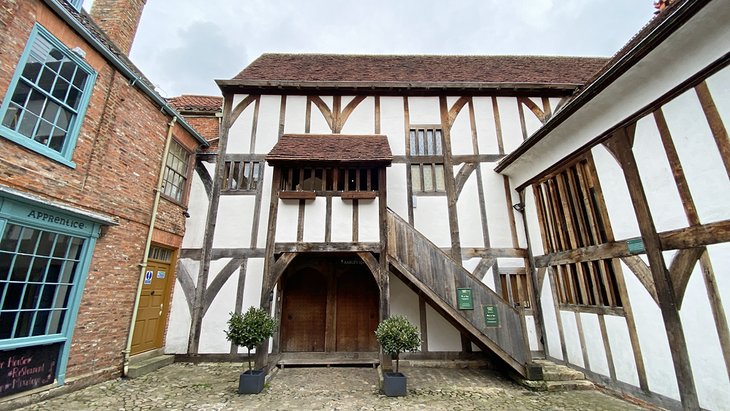 The area between Coney Street and King's Square near York Minster is a bustling pedestrianized shopping quarter famous for its narrow cobbled streets and charming shops and cafés. It's where you'll find old St. Helen's Church, named in honor of the mother of Emperor Constantine, with its 15th-century stained glass windows.
11. Explore the River Ouse by Boat or on Foot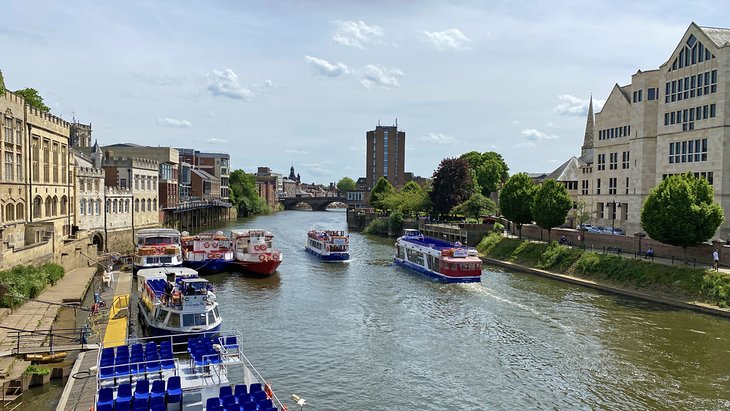 Spend time exploring the banks of the River Ouse, which splits York in two. In addition to its numerous lovely gardens, you can see wonderful examples of riverside architecture, such as the majestic 15th-century Guildhall.
Another great view of York can be enjoyed from a cruise on the river, either on an all-weather passenger boat or on a self-drive motor boat. In the summer, cruises also go to Bishopthorpe Palace, the riverside residence of the Archbishop of York. And don't forget to stop for a sweet treat from the Solar Ice Cream Boat.
12. Visit York's Many Churches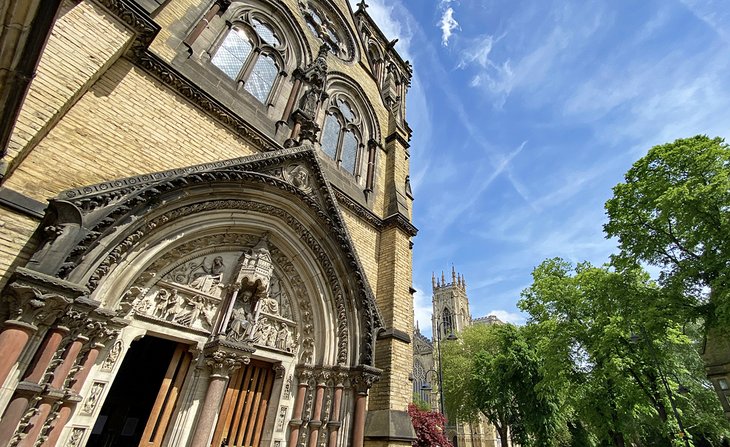 Two of York's prettiest churches are St. Martin-le-Grand in Coney Street, a charming mix of medieval and modern architecture, and St. Michael's in Spurriergate, with its 12th-century arcades, glass paintings, and impressive 18th-century altarpiece.
Other churches of note include St. Mary's in Bishophill Junior, with its Saxon tower and an altar by Temple Moore; St. Denys' in Walmgate, with 14th-century stained-glass windows; St. Margaret's (also in Walmgate) with its Roman doorway and tower; and attractive little Trinity Church (14th century) in Goodramgate, with its small garden.
The 15th-century All Saints Church in North Street is also worth visiting, and is notable for its stained-glass windows, and the Oratory Church of Saint Wilfrid, York, usually just called York Oratory, is known as the "Mother Church of the city of York."
13. Head to Beverley to See Yorkshire's Other Minster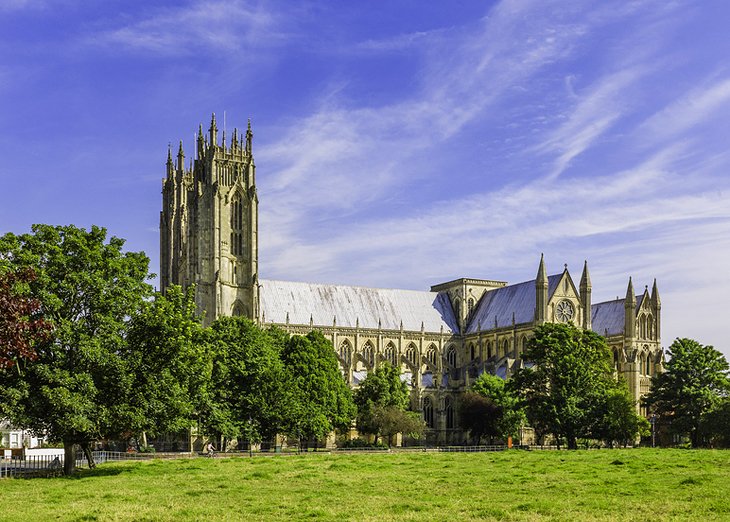 Just 29 miles from York, the attractive old market town of Beverley lies in the foothills of the East Yorkshire Wolds. Its best-known landmark is the impressive Beverley Minster, a 334-foot-long cathedral made even more famous for its starring role as a stand-in for London's Westminster Abbey in the hit TV series, Queen Victoria.
Notable highlights include its lovely Romanesque marble font and the Maiden's Tomb. The choir is a magnificent example of Early English architecture, and its choir-stalls (1520) have the largest number of misericords in England (68).
14. Yorkshire Wolds Way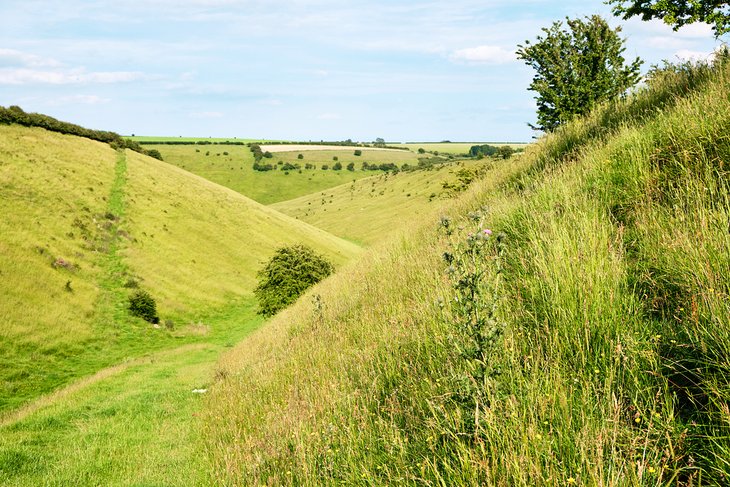 Part of the National Trail Network, Yorkshire Wolds Way passes through the delightful scenery of the North Yorkshire Moors and the Yorkshire Wolds, which in places rises to heights of up to 800 feet.
15. Yorkshire Air Museum & Allied Air Forces Memorial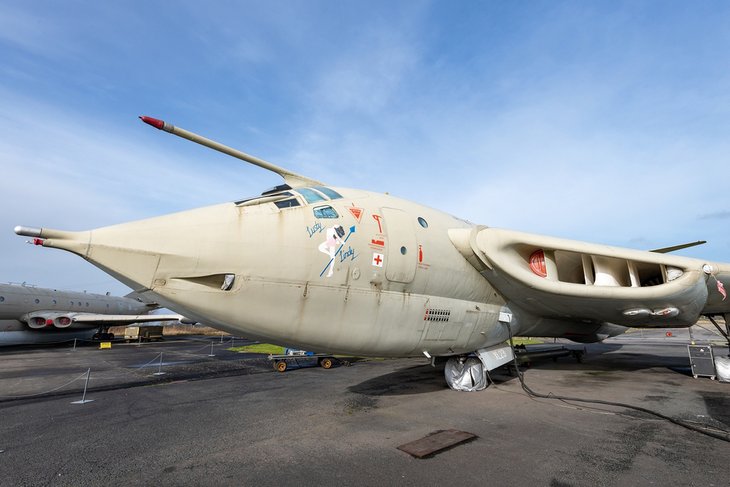 Just 20 minutes' drive east of historic downtown York, the Yorkshire Air Museum & Allied Air Forces Memorial makes a pleasant outing for those interested in the machinery and the history of war. Established in RAF Elvington, a former WWII bomber base, the museum encompasses the largest independently owned collections of aircraft in the country.
16. York Early Music Festival
The weeklong York Early Music Festival (NCEM) takes place each July and focuses on a different composer and theme each year. Events include choral and chamber concerts and recitals as well as larger symphonic performances in some of York's most popular music venues.
Where to Stay in York for Sightseeing
York's top tourist attractions lie within or just outside its irregular ring of ancient walls. Less than two kilometers across, this area is best explored on foot, so any address inside is a perfect location for sightseeing. This old city center is divided by the River Ouse, with most major sights on the northeast side. The rail station is just outside the walls on the west. Here are some highly-rated hotels in York:
Tips and Tours: How to Make the Most of Your Visit to York
More Must-See Destinations near York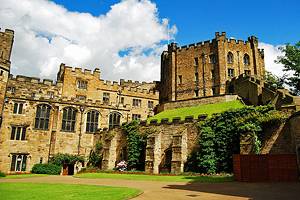 Most tourists visiting York want to see a bit more of northern England, too. Several interesting choices are not far away. Leeds, a short distance to the southeast, is a cultural center known for annual events such as the Leeds Festival, the Leeds International Film Festival, and the Leeds International Concert Season.
To the southeast is the university town of Hull, named the UK City of Culture for 2017. North of York is Durham, with its magnificent cathedral, and not far beyond is Newcastle-upon-Tyne, with the Theatre Royal and City Hall, which make the city a magnet for rock and pop concert goers.
Those planning to visit the beautiful Yorkshire Dales National Park should consider traveling a bit farther into the Lake District, where another national park protects 16 glacial lakes surrounded by fells, moors, and mountains.