14 Top-Rated Tourist Attractions in Hull
The maritime city of Kingston-Upon-Hull, usually known simply as Hull, lies on the north bank of the Humber, a tidal estuary that cuts through East Yorkshire from the North Sea.
The town was founded in 1292 by Edward I as "Wyke-upon-Hull" and in fact straddles both banks of the little River Hull, which flows into the Humber here. Fortified after receiving its royal charter in 1299, Hull remains an important port and busy commercial center for the region.
While the city doesn't have a cathedral, the Hull Minster is a noted site dating back to the 14th century. Hull is home to the Museum Quarter and offers many world-class tourist attractions, including Wilberforce House, the Hull and East Riding Museum, and the Maritime Museum. A bustling university town and a popular cultural destination, Hull was selected as the UK City of Culture for 2017.
Be sure to make use of our list of the top tourist attractions and things to do in Hull when heading to what is definitely one of the top places to visit in northeast England.
1. Hull Maritime Museum and the Museum Quarter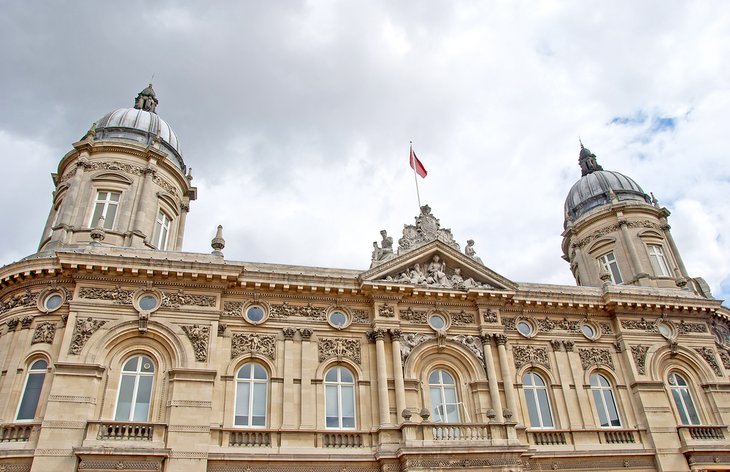 In the former Dock Offices and an integral part of the city's Museum Quarter, the Hull Maritime Museum explores the city's seafaring heritage through models, paintings, and fishing equipment. Its exhibits extend from the Bronze Age to the present day and include the city's Arctic whaling heritage, the North Sea fishing industry, and maritime trade.
Although currently closed for major renovations, this popular museum is scheduled to re-open in 2023 as part of the major new Hull Maritime City attraction.
Other marine heritage sites to visit in the Museum Quarter include Hull's last sidewinder trawler, the Arctic Corsair, as well as the Spurn Lightship. Be sure to spend time exploring the city's historic harbor area, too, which in the Middle Ages stretched between the Drypool Bridge and the Humber. Today, elegant yachts dock in the marina in the former Humber and Railway Dock and at Princes Quay.
Editor's note: Although parts of this popular attraction are currently closed for major renovations, it's scheduled to reopen in stages between 2022 and 2023 as part of the major new Hull Maritime City development.
Address: Queen Victoria Square, Hull
Official site: www.hcandl.co.uk/museums-and-galleries/hull-maritime-museum
2. Tour the Historic High Street and Wilberforce House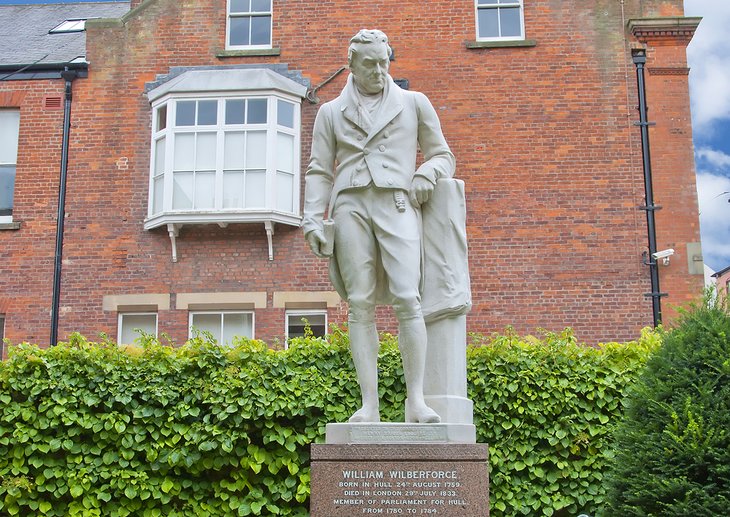 Located in the heart of Hull's Old Town area, Wilberforce house at No. 25 High Street is the birthplace of William Wilberforce. This attractive redbrick building is now a museum with interesting exhibits from the 18th and 19th centuries. Wilberforce was famous in his opposition to slavery, and the museum tells the story of the trans-Atlantic slave trade through to its abolition.
While sightseeing in the area, be sure to also visit Nos. 23 and 24, two Georgian houses with fine examples of period furniture.
Another wonderful old home is Maister House, a former merchant's home built in 1744 in late-Renaissance style with a Palladian-style façade and beautiful wrought-iron banister. Also on the High Street is Blaydes House (No. 6), another restored merchant property from the same period.
Address: 23-25 High Street, Hull
3. The Hull and East Riding Museum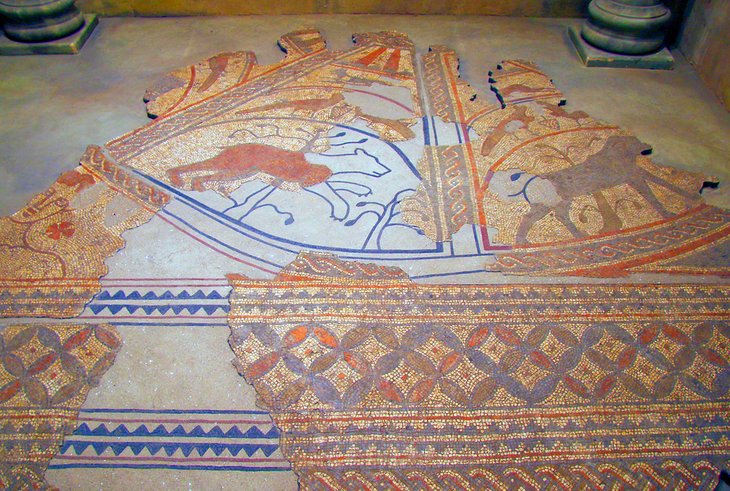 The Hull and East Riding Museum tells the story of the region from its geological origins in the Cretaceous period to its settlement some 10,000 years ago. Located in the city's Museum Quarter, this popular attraction is home to the famous Hasholme Logboat, a late Iron Age vessel dating from 400 BC.
It's also popular for its Celtic displays, the excellent Mortimer Collection of Prehistoric Antiquities, Roman mosaics, and Anglo-Saxon artifacts. A gift shop is located on the premises.
Also worth a visit, the Streetlife Museum of Transport houses a number of interesting exhibits and collections showcasing some 200 years of Hull's transportation history. Fun things to do here include riding vintage trams, visiting 1940s homes and shops, and horse-drawn carriage rides.
Address: 36 High Street, Hull
4. Take a Trip across the Humber Bridge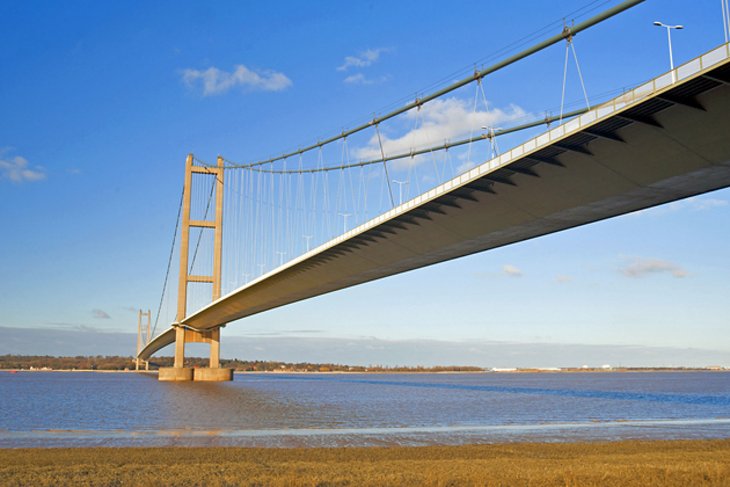 The Humber Bridge opened in 1981 and has gained acclaim for its harmonious blend of technology and aesthetics. At 4,954 feet end to end, it's one of the longest suspension bridges in the world without supporting columns. This impressive bridge offers superb views across the Humber from its pedestrian walkway.
While there, explore the Viking Way, a 147-mile-long walking trail that begins at the bridge and heads off into the Lincolnshire Woods, ending in Oakham. Also worth checking out is the 17-mile extension near Woolsthorpe, leading to Melton Mowbray.
The Hull Tidal Surge Barrier is also worth adding to your things to do list. Built to protect the old city from high waters, it's also the location of the monthly Sunday farmers market held at its viewing area in Hessle.
Address: Ferriby Road, Hessle, East Yorkshire
Official site: www.humberbridge.co.uk
5. See the Marine Life at The Deep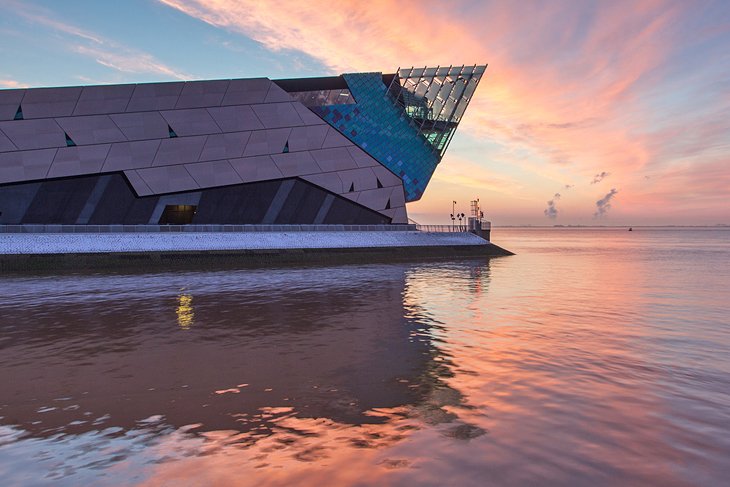 Shaped liked the bow of a ship, The Deep is a boldly designed "submarium," with a main tank that's buried 33 feet underground, making it the deepest such aquarium in Europe. Equally unique are the superb viewing opportunities available from its spectacular glass elevator and walking tunnel, with views to the aquarium's 6,500 fish, including sharks, sawfish, rays, and penguins.
With a focus on conservation, the Deep offers a unique blend of marine life, interactive displays, and audio-visual presentations telling the compelling story of the world's oceans.
For an added thrill, time your visit to coincide with the always exciting fish feeding frenzies. The attraction's on-site restaurant comes highly recommended, especially for its views of the aquariums and marine life.
Address: Tower Street, Hull
Official site: www.thedeep.co.uk/
6. Explore Art at Ferens Art Gallery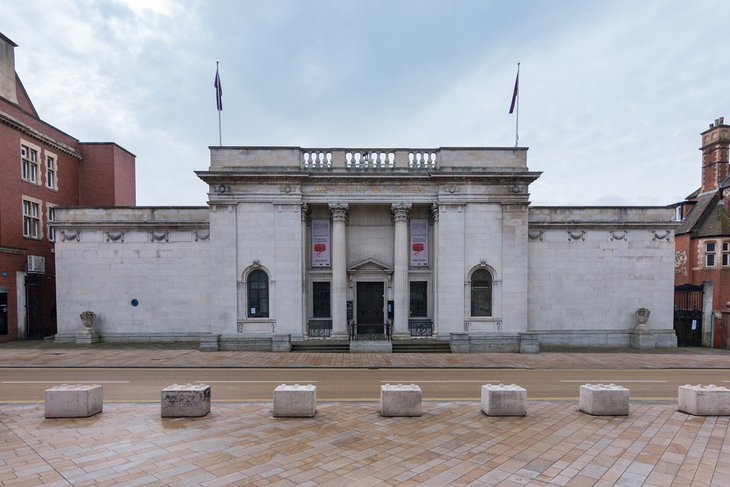 Newly renovated and reopened in 2017, the Ferens Art Gallery includes important works by Frans Hals, Canaletto, and John Constable, together with William Hogarth and Henry Moore. Also on display are permanent collections of marine paintings, as well as modern art.
If traveling with kids, be sure to spend time in the "Explore Art" gallery. Here, younger visitors can create their own masterpiece, which they can even take home with them, as well as learn about the creative process behind famous artworks. Afterwards, why not treat them to a snack in the attraction's cafe?
Address: Queen Victoria Square, Carr Ln, Hull
7. Hull Trinity House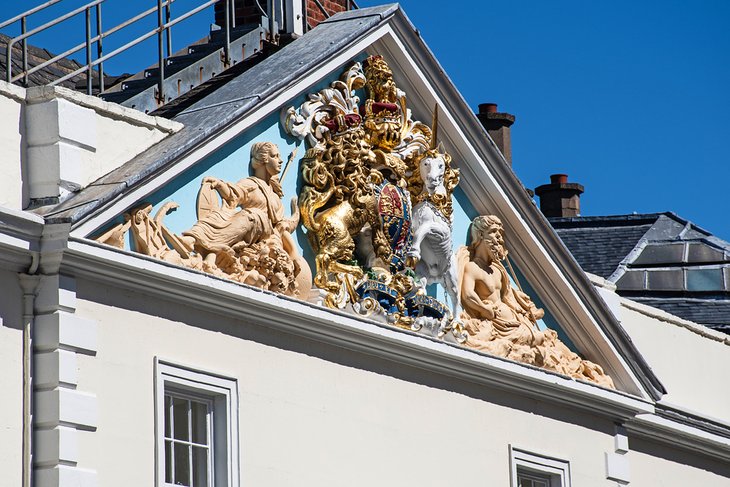 Whitefriargate leads to the oldest part of the city and Hull Trinity House. This attractive old building was founded in 1369 for the care of sick or needy seamen. From 1456, it served as their guild house, and in 1787, it became the location of the world's first naval academy, a function it continues to serve.
Due to its status as a working building, public access is by guided tour only. While this requires a little advance planning (tours should be booked up to a year ahead if possible), it's well worth it for the chance to see the site's numerous artifacts and memorabilia, as well as the students in their traditional 18th-century naval uniforms.
Hot Tip: Try to time your visit for the special Heritage Open Days held each September.
Address: Trinity House Lane, Hull
Official site: www.trinityhousehull.org.uk
8. Hull Minster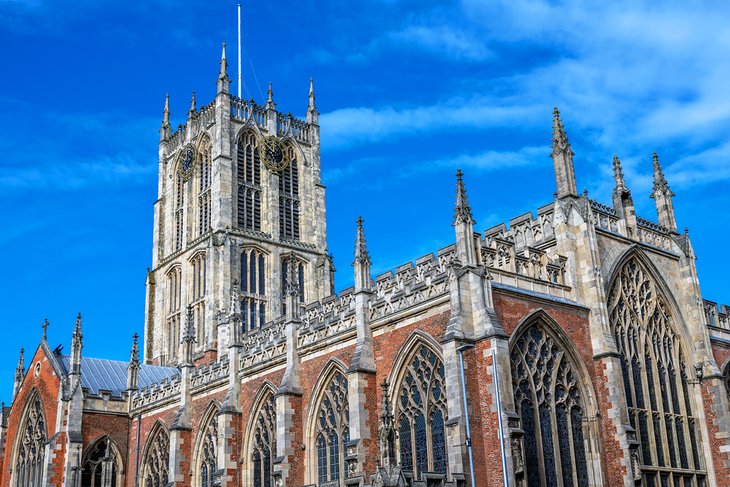 Situated in historic Hull Market Place, Hull Minster is, according to Guinness World Records, the largest parish church in England and can accommodate a congregation of more than 2,200. The building can in fact trace its roots all the way back to the 1300s.
Noted for its Decorated and Perpendicular styles, its fine tower, and richly decorated Gothic-style windows, the church was only granted Minster status by the Archbishop of York in 2017 (it was previously known as Holy Trinity Church). A visitor center and café are also located on-site, and the church is frequently used to house concerts and events.
Address: Market Place, Hull
Official site. https://hullminster.org
9. Hands on History Museum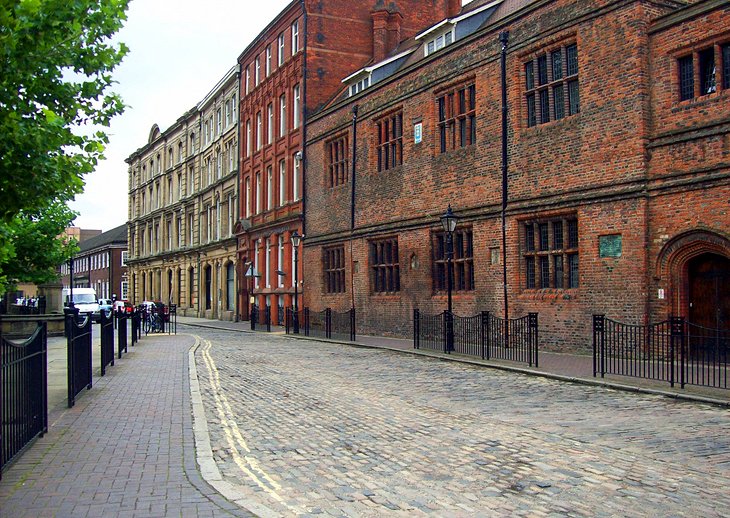 Located in the historic Elizabethan Old Grammar School (1583) southwest of Holy Trinity Church, this fun interactive museum houses the fascinating history of Hull and its people. Exhibits include a glimpse into Victorian times and the fascinating "Story of Hull."
Be sure to also visit the Egyptian Gallery, home to a 2,600-year-old mummy and unique replicas of King Tutankhamun's treasures.
Among the school's famous pupils were William Wilberforce (1759-1833), one of the most vigorous opponents of the slave trade and MP for Hull and Yorkshire for many years. An on-site gift shop sells a selection of souvenirs related to the museum's exhibits.
Location: South Church Side, Hull
10. East Park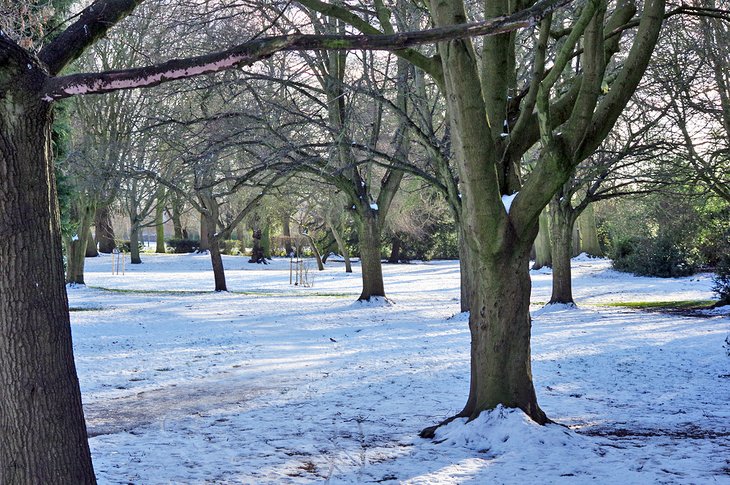 Hull's largest open space, dog-friendly East Park is a delight to explore. Notable features of this lovely park include an animal compound with deer, wallabies, rheas, and peacocks, as well as a variety of native Australian birds. It also hosts regular concerts and other events such as the "Hull Show" in warmer weather.
Opened in 1887 to celebrate Queen Victoria's Golden Jubilee, this Grade-II-listed park is a vibrant green space encompassing some 130 acres of parkland. Also well worth a visit is nearby Queens Gardens, with its lovely floral displays, fountains, and ponds.
Address: Holderness Road, Hull
11. Burton Constable Hall & Grounds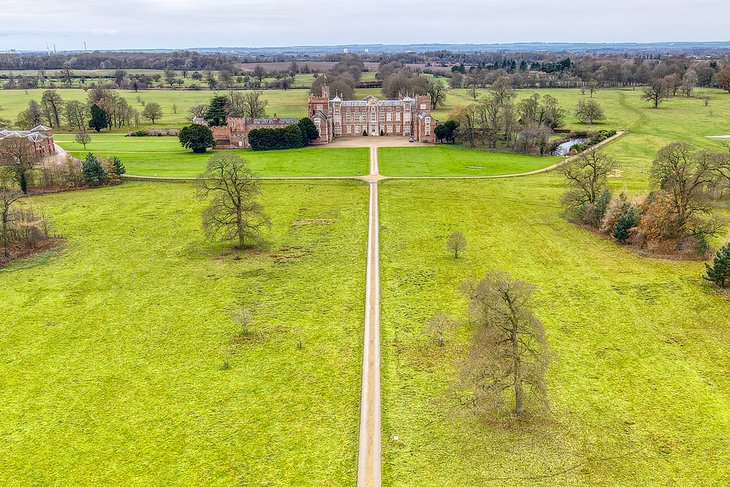 An easy 25-minute drive northeast of the Hull Maritime Museum, Elizabethan-era Burton Constable Hall makes for a fun excursion from the city center. The oldest parts of this sprawling manor house date back to the 12th century, and the same family – the Constables – have lived here for well over 400 years.
Highlights of a visit include seeing the home's well-preserved 18th- and 19th-century interiors, including the spectacular staircase, and a rare "cabinet of curiosities." Be sure to allocate some time to explore the estate's impressive 300-acre grounds. Afterwards, splurge on a memorable afternoon tea.
Location: Skirlaugh, Hull
Official site: www.burtonconstable.com
12. University of Hull Art Collection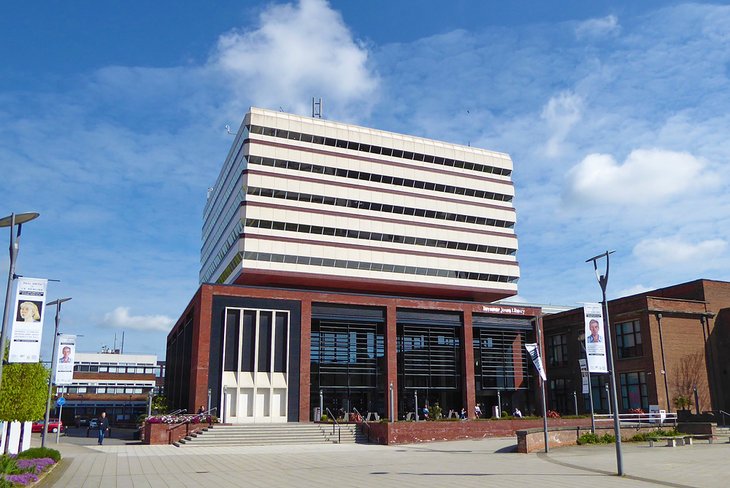 Located in the university's Brynmor Jones Library, a visit to the University of Hull Art Collection is one of the best free things to do in Hull. Its collection has many outstanding paintings, sculptures, and drawings produced in Britain between 1890 and 1940. Featured artists include Walter Sickert, Samuel Peploe, Lucien Pissarro, Stanley Spencer, Jacob Epstein, and Henry Moore.
Other notable exhibits include a collection of Chinese ceramics, costume designs, and cartoons. The gallery also holds regular exhibits from other UK art establishments. The university is also the home of the Hull City Archives, Hull Local Studies Library, and Hull University Archives.
Address: The Middleton Hall, University of Hull, Cottingham Road, Hull
13. Waters' Edge Country Park & Visitor Centre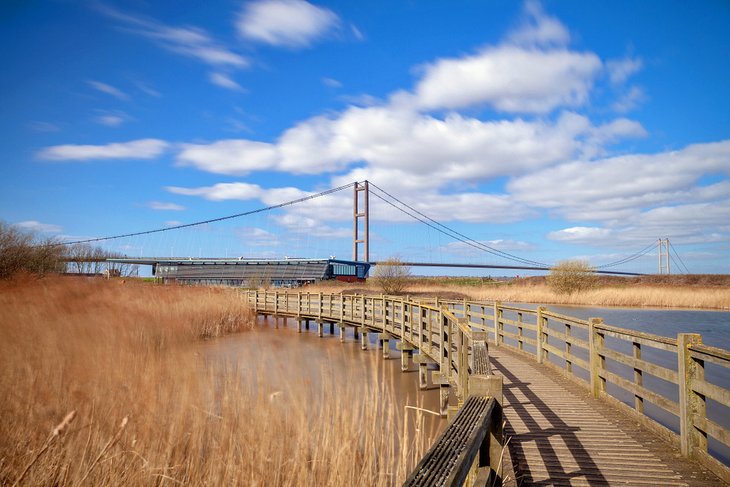 Paying a visit and exploring Waters' Edge Country Park & Visitor Centre is definitely one of the best free things to do in Hull. Located on the south bank of the Humber River, this wildlife and nature sanctuary is literally located just steps away from the Humber Bridge. Yet its proximity to this major Hull attraction doesn't detract from a visit. In fact, the views over this remarkable feat of engineering are quite dramatic, especially when framed by the natural setting of the park.
In addition to the fun-to-walk trails and boardwalks, be sure to pop into the Visitor Centre, which features fun activities for kids, as well as a playground. There's also an on-site shop and café.
Address: Maltkiln Road, Barton-upon-Humber
14 Barton-upon-Humber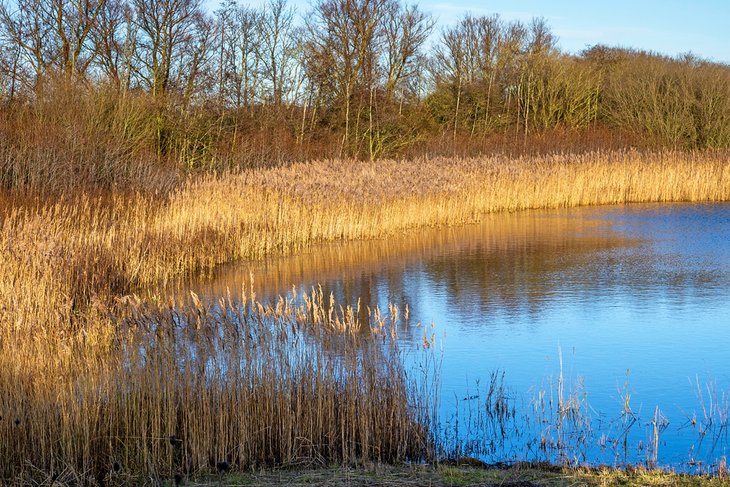 The town of Barton-upon-Humber – usually simply referred to as Barton – is just 11 miles from Hull on the south side of the Humber, a trip that involves crossing the Humber Bridge.
Barton is home to the 1,000-year-old St. Peter's Church, notable for its more than 2,800 burials from Anglo-Saxon to Victorian times. Now under the auspices of English Heritage (with limited opening hours), its Anglo-Saxon tower and baptistery have helped make it one of the most studied churches in England.
Other attractions in historic Barton include Baysgarth House Museum, the Wilderspin National School Museum, and 51 Fleetgate, believed to be the oldest residential house in North Lincolnshire. Also worth visiting is the town's Waterside area. Stretching along the Humber Bank, it's home to The Ropewalk arts center, Waters' Edge Country Park & Visitor Centre, and Far Ings National Nature Reserve.