15 Top-Rated Things to Do in Whitby, England
Whitby may be small, but what it lacks in size, it more than makes up for in attractions and ambience. A pretty seaside town in Northern Yorkshire, Whitby offers a unique mix of history, mystery, and charm. It's chock-full of fun things to do to keep everyone happy, even the kids.
From vampire-themed walks to a spooky, ruined abbey to lamp-lighted cobblestone streets, there's a lot to love about Whitby's distinctive allure. The birthplace of Dracula, this northern Yorkshire town is a must-see when visiting England.
Whitby is famed for hosting two very different celebrities over the years: 18th-century British explorer Captain James Cook and the famed character we mentioned earlier, Dracula. Well, Dracula didn't actually stay here, but his name and much of the book's scenery was created during Bram Stoker's stay in 1890.
Once a maritime hub for shipbuilding and fishing, Whitby also dabbled in the whaling trade. Today, its busy port, Blue Flag beach, and picturesque resort town cater to tourists who want to unwind.
Before you go, plan your trip with our list of the top things to do in Whitby.
1. Get in Touch with Your Gothic Side at Whitby Abbey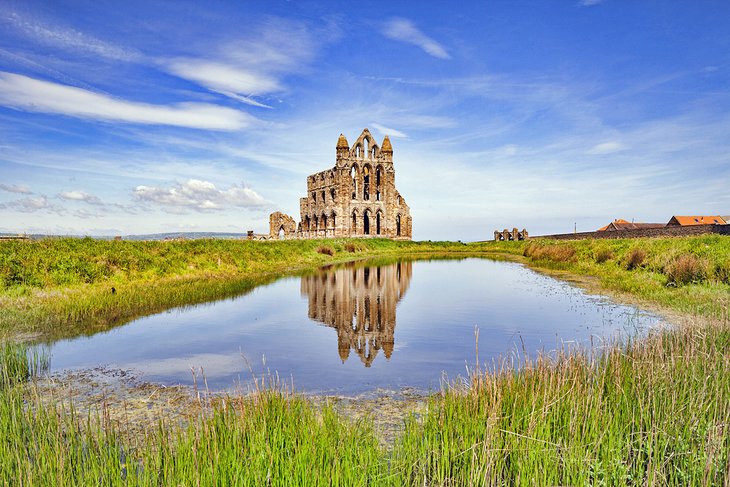 The remains of a striking 11th-century Benedictine monastery perch high above Whitby Harbor, brooding over the action below. The most popular tourist attraction in town, Whitby Abbey gives off an eerie, haunted vibe; its Gothic walls standing in theatrical glory beneath an oft cloudy sky. The view from atop the East Cliff is unbeatable. Bring a camera.
The first monastery to sit on this site was founded in the late 650s. A few years later, in 664, the Synod of Whitby determined that the Roman form of Christianity (not Celtic) would prevail, leading to a new date for Easter, and a more far-reaching role for the Pope.
It's easy to see why Bram Stoker used this abbey as an important setting in his famous novel. Walking around the building, its pinnacles, window tracings, and towering Gothic columns evoke a mysterious sort of calm.
Insider's tip: Scan a QR code on your phone for a free audio tour. There are only a few information boards spotted throughout the site, so you'll be happy for the added information. Also, climbing the 199 steps is one of the best ways to reach the abbey.
Address: Abbey Lane, Whitby
Official site: https://www.english-heritage.org.uk/visit/places/whitby-abbey/
2. Climb the 199 Steps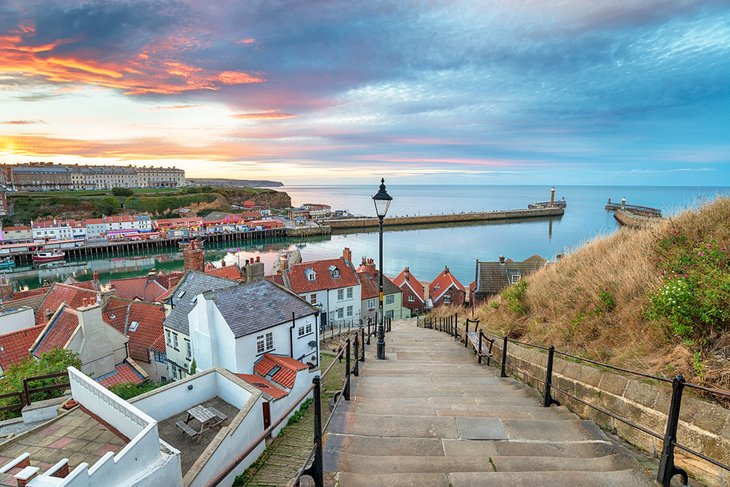 Dracula fans may recognize these steps from the novel. The famed creature ran up them while disguised as a black dog. Although climbing stairs (199 to be exact) may not be your idea of a fun thing to do on holiday, the view from the top is definitely worth the effort you expended.
Originally made from wood, these steps are thought to date to either the 12th century or mid 1300s and were replaced with stone in the late 1700s. They begin on Church Lane and end at St. Mary's Church atop the East Cliff. This is one of the most popular attractions in Whitby.
Stop and rest on the "coffin benches" to appreciate the magnificent view (and catch your breath). The staircase was originally used for pallbearers to transport coffins to the church cemetery. These wooden planks were used to give them a break on their way to the top, hence their name.
Insider's tip: Some believe that climbing the 199 steps was used to test a person's Christian faith. Climbing the stairs to attend church proved the people were faithful. Will you pass the test?
Address: Church Lane, Whitby
3. Bask in the Sun on Whitby Beach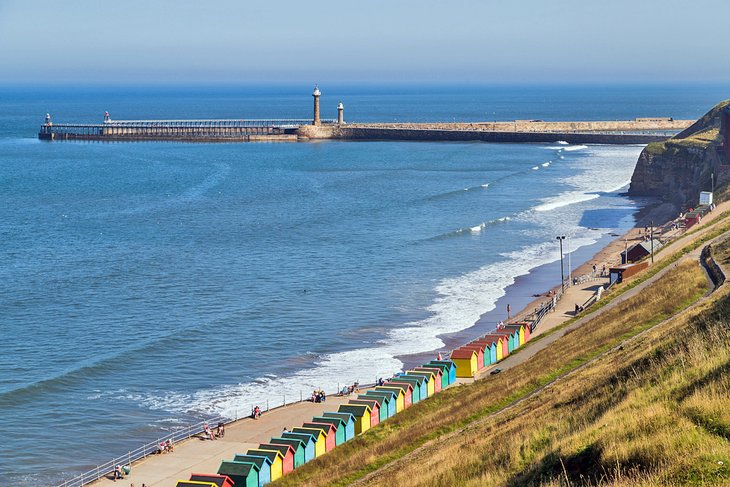 Multi-colored huts and a wide, paved boardwalk back beautiful Whitby Beach. The beach itself is so lovely that it's been presented with the only Blue Flag Beach award in Yorkshire. That means the sand is clean, the water clear, and the surrounding environment well protected. Each of these attributes make this an ideal beach for families.
It's a popular place to unwind. Visitors enjoy swimming (low tide is the calmest), sandcastle building, and relaxing with a picnic (and ice cream from a local shop). Take a trip in the cliff lift for an easy journey to the sand or walk yourself down the windswept cliff to the lovely beach below.
Kids will love exploring the rock pools for sea creatures, but it's the donkey rides that will have them begging to stay all day. Many beaches offer visiting children guided donkey rides along the sand during summer, a centuries-old tradition practiced throughout the UK.
The view from this golden beach is delightful. You'll see the harbor's two long piers helping guide the River Esk into the North Sea. Each is adorned by a picturesque lighthouse.
Insider's tip: Prepare yourself. The water is chilly! You'll want something warm to change into once you emerge.
Address: 1 Pier Road, West Cliff
4. Walk in a Great Explorer's Footsteps at the Captain Cook Memorial Museum
Whitby was the one-time home of 18th-century British explorer Captain James Cook, who stayed in town while apprenticing with a local shipping company. You can feel his presence today in the form of a giant statue and one of the town's star attractions: the Captain Cook Memorial Museum.
Here, you can explore the striking, 17th-century House on the Harbour, a.k.a. John Walker's House. This is where a young Captain Cook lay his weary head after a long day spent apprenticing for Captain Walker. This is the only surviving building in town that can be officially connected to Cook.
Inside, you'll find letters written by the famed Captain, as well as a painting of his wife, Elizabeth (whom he called Betsy) and a portrait of William Bligh, Cook's Master on the Resolution. Other art includes works created by artists who were brought along to record findings on the voyages.
Address: Grape Lane, Whitby
Official site: https://www.cookmuseumwhitby.co.uk/
5. Travel Back in Time at the Whitby Museum and Pannett Art Gallery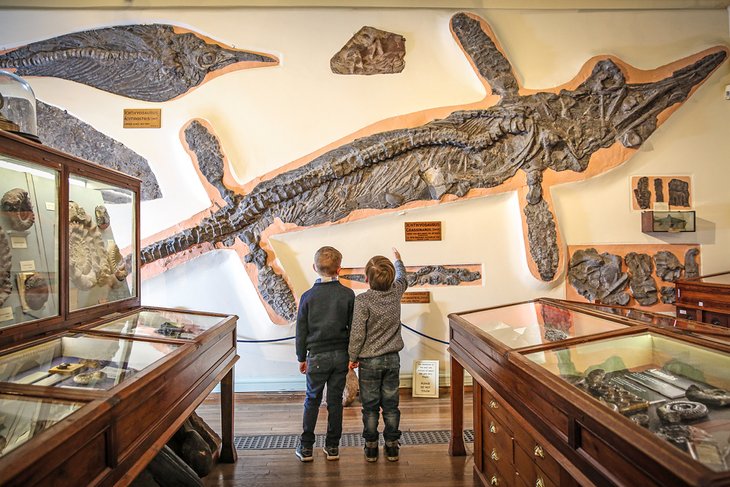 The Whitby Museum was founded in 1823 as part of the Literary and Philosophical Society. At the time, it was used as a place to exhibit strange and incredible fossils, as well as unique items brought ashore by sailors from foreign lands.
Today, the museum is housed in a lovely Victorian building. It retains the relics it began with, as well as other items such as large model ships, jet (a black mineral used to make jewelry), plants, shells, butterflies, taxidermized animals, and a large ichthyosaur skeleton.
In the same building, you'll find the Pannett Art Gallery, which displays multiple watercolor paintings of Whitby as it appeared in the Victorian times. New exhibits are added frequently, but the Staithes Group Collection is one of the gallery's star attractions.
A permanent display of works created by British Impressionist members of the Staithes Group of Artists, these pieces offer visitors a vivid trip through the past. You'll learn about the area's rural, domestic, and maritime lives in the late 18th and early 20th centuries.
Whitby Museum
Address: Pannett Park, Whitby
Pannett Art Gallery
Address: Pannett Park, Whitby
6. Step inside the Unique St. Mary's Church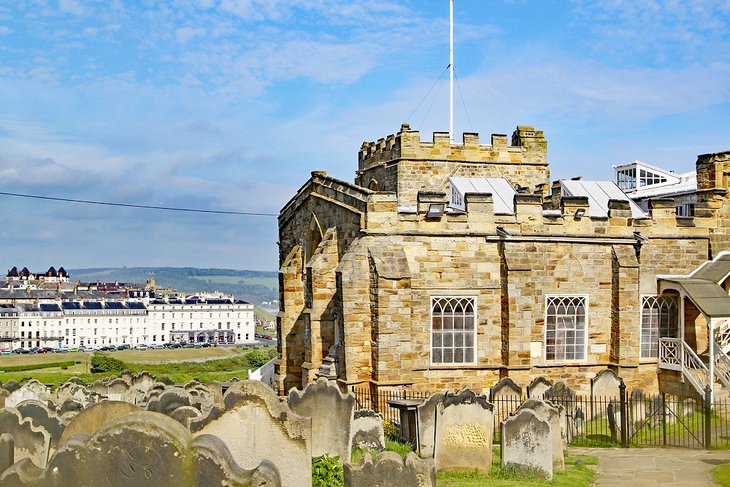 St. Mary's Church was designated a Grade I listed building in February of 1954, but it was deemed an exceptional structure centuries before then. Built sometime around AD 1110, this unique place of worship was a Norman masterpiece. Today, it's a real mishmash of eras both inside and out, and one of the best places to visit in Whitby.
Over the years, the church was added to but never rebuilt. While the interior dates to the late 1700s, the outer tower and transepts can be traced back to the 12th and 13th centuries. Both the nave and transept have galleries designed in the 19th century. Told you it's a hodgepodge!
Outside lies the eerie and beautiful churchyard used by Bram Stoker as yet another Dracula setting. Perched high atop the East Cliff, just behind the church, the graveyard holds much of the town's history in the form of tombstones belonging to sailors, townspeople, and the wealthy Cholmley family.
Insider's tip: See who'll be first to spot "Humpty Dumpty's" grave. The fictional egg is not actually buried here. This plot represents a canon that shared the egg's name.
7. Take a Time Out at Pannett Park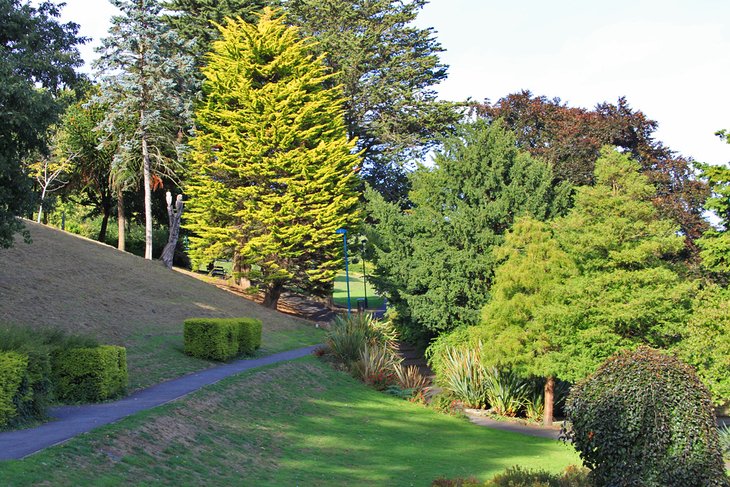 Looking for the best view of Whitby's red-tiled roofs? You'll find it atop the sloping hills of picturesque Pannett Park, winner of a Green Park award. Previously voted the "Best Public Park in Yorkshire," this is the perfect place to visit picnic or relax while enjoying an incredible vista.
Lily Pool is utterly serene, and the Commemorative Garden is a wonderful place to pay homage to veterans everywhere. The garden is flanked by giant oak arches framing an impressive view of Whitby Abbey, and the words "We Will Remember Them" are carved into the wall.
The Jurassic Garden is a real treat, especially for young dinosaur fans. Spot a Gharial crocodile (well, a replica of its skeleton), see plants that resemble those from the Jurassic period, and get up close to fossils. Score extra points with a trip to the adorable Play Area.
Pannett Park is also home to the Whitby Museum and Pannett Art Gallery, so be sure to plan enough time to enjoy each of these attractions during your visit.
Official site: https://www.pannettpark.co.uk/
8. Enjoy a Cuppa at Falling Foss Tea Garden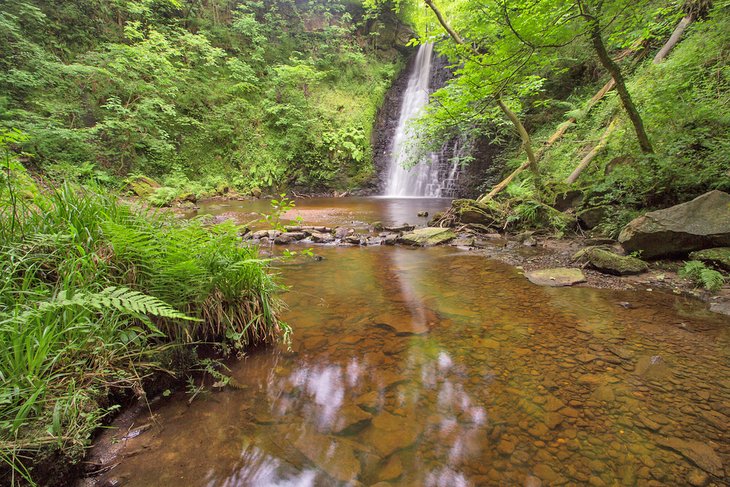 Midge Hall is a magical place located about five miles south of Whitby. It's hard to beat the beauty of this tiny stone cottage set beside a waterfall within a verdant forest. Add an adorable café on the grounds of the idyllic woodland and you'll never want to leave.
Whether you're hoping to sip coffee while enjoying the tranquil scenery, delight in a traditional cream tea (yum!), or partake in a light lunch (soup and a sandwich always hit the spot), your tastebuds won't be sorry you visited.
Once you've finished your tasty treats, explore the woods, build your own fox den from sticks, or run across the footbridge. Don't miss the Hermitage, a stone cave located a short walk from the waterfall.
Insider's tip: The tea garden is open from April through September and may be closed during bad weather, so call before you visit.
Address: Midge Hall, Whitby
Official site: https://www.fallingfossteagarden.co.uk/
9. Walk across the Whitby Swing Bridge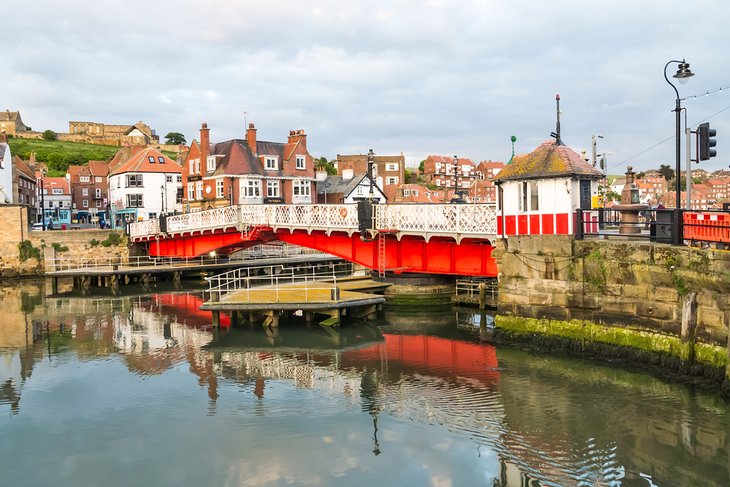 It's hard to miss this remarkable bridge – it is painted red, after all. While not the most glamorous of England's bridges, this popular crossing demonstrates an incredible feat of engineering. Instead of moving up and down like a drawbridge, it swings; hence its name-the Whitby Swing Bridge.
Built in 1908 to connect the east and west sides of town, the Whitby Swing Bridge wasn't the first bridge in this location. It's believed there have been multiple crossings in this spot since the 1300s. The current bridge spans 75 feet across the River Esk.
Cars and pedestrians cross this bridge daily, but it's when people cannot cross that the bridge is at its best. Manually operated by an on-site attendant, the bridge swings open in multiple sections to allow tall vessels to pass through. It's fascinating to witness.
The bridge, which isn't wide enough for two cars to pass each other, only opens during the two hours before and after high water. Then, it opens on the hour or half hour when needed.
10. Relax at Robin Hood's Bay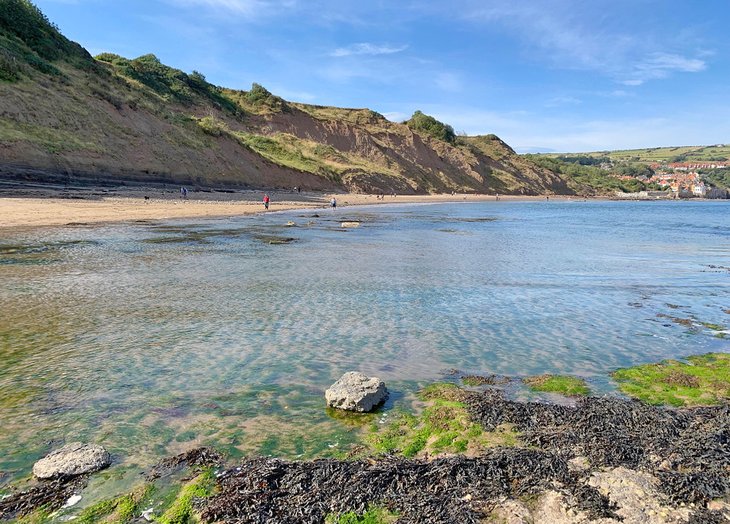 If you're looking for a stunning place to shed stress and gain serenity, Robin Hood's Bay is your best bet. Just under six miles south of Whitby, this natural wonderland is so beautiful, you'll gasp when it comes into view.
The bay itself is backed by a charming fishing village set on the North York Moor's Heritage Coast. It has all the things a tourist would hope for in a tiny town: adorable cafés, cute shops, and friendly locals who love to chat. It's by far one of the best places to visit for couples.
To get to the sand, you'll have to park at the top of a steep hill and walk down towards the strand. Along the way, you'll pass postcard-worthy cottages, boutique stores, and cobbled laneways oozing charm.
The only downside is the fact that you'll have to climb your way back up when you've had enough of the beach.
Official site: https://www.robin-hoods-bay.co.uk/
11. Dress Up at Whitby Goth Weekend
Twice a year (in April and October/November) the town of Whitby hosts one of the largest Goth events in the world. Whitby Goth Weekend was founded in 1994 to celebrate non-conformity and give a nudge to the town's Gothic history (we see you, Dracula).
Early on, the weekend-long festival was held in the Elsinore Pub. As it became bigger, large concerts became a major draw, as well as multiple Goth-themed events. One of the most popular things to do in Whitby, this weekend is so well attended that hotel rooms book up two years prior.
Today, the alternative festival still hosts concerts and incorporates the "Bizarre Bazaar," a large variety of quirky shops selling all things Goth and punk. This is a great place to pick up a unique gift or meet a man wearing a crow's mask. The costumes seen about town are amazing.
Official site: http://www.whitbygothweekend.co.uk/
12. Climb aboard the North Yorkshire Moors Railway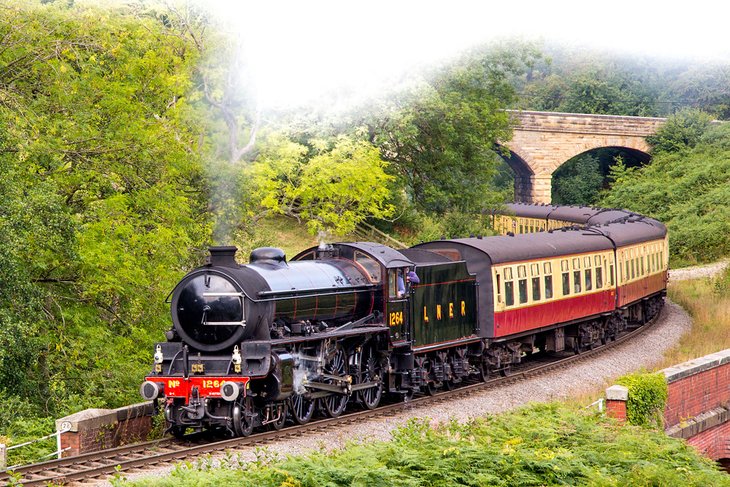 All aboard the historic heritage steam train! A wonderful way to spend a day sightseeing, the North Yorkshire Moors Railway zips visitors through some of the country's most gorgeous scenery: along the 24 miles between Whitby and the quaint market town of Pickering. Riding along the tracks is one of the best things to do in Whitby.
You'll be transfixed by the breathtaking vistas rushing past your window as the steam train chugs its way through the North York Moors National Park. Pickering offers a delightful trip back in time. Its station evokes the 1930s, and the adorable village center is filled with charming shops and cafés.
Also along the route is the famous Goathland station. Used to represent Hogsmede in the first Harry Potter film, this pretty station has also appeared in television shows. It's full steam ahead on this historic railway as long as you climb aboard between April 4th and October 30th.
Insider's tip: Have a camera at the ready if you book your train tour during the summer. The fields burst into violet blooms of heather, which is a remarkable thing to witness.
Official site: https://www.nymr.co.uk/
13. Walk through the Whalebone Arch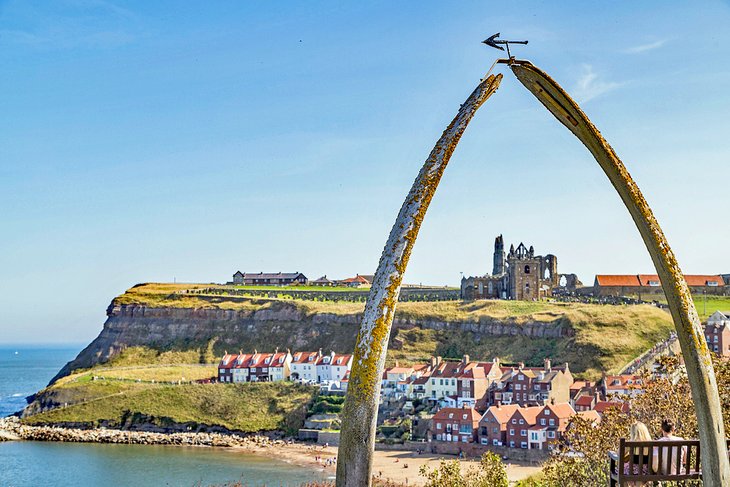 Bet you've never walked between two giant whale jaw bones. Well, you can do just that in Whitby. Known, fittingly, as the Whalebone Arch, this massive archway is a replica of the bones originally set here to represent the whalers' successful journeys in the 18th century. It's the most unmissable attraction in Whitby, literally.
The original arch was set upon the West Cliff in 1853 and frames an exceptional view of Whitby Abbey and the town's red-roofed cottages which lie directly across the bay. Standing 15 feet in height, it is hard to miss this iconic monument, which is actually the third of its kind.
The bones from the first structure were donated to the Whitby Archive Heritage Center. The second arch was made from a pair of 20-foot jaw bones from a 113-ton fin whale in 1963. It was donated to the town by Norway.
Today's iconic arch was set here in 2003 and consists of the massive jaw bones of a Bowhead whale, which was killed legally by natives of Alaska.
One of the most recognizable attractions in Whitby, this is a prime spot for photographs. We can almost guarantee you'll have to wait for others to snap their pics before you can jump in to use this magnificent arch as a backdrop.
Address: North Terrace, Whitby
14. Sandsend Beach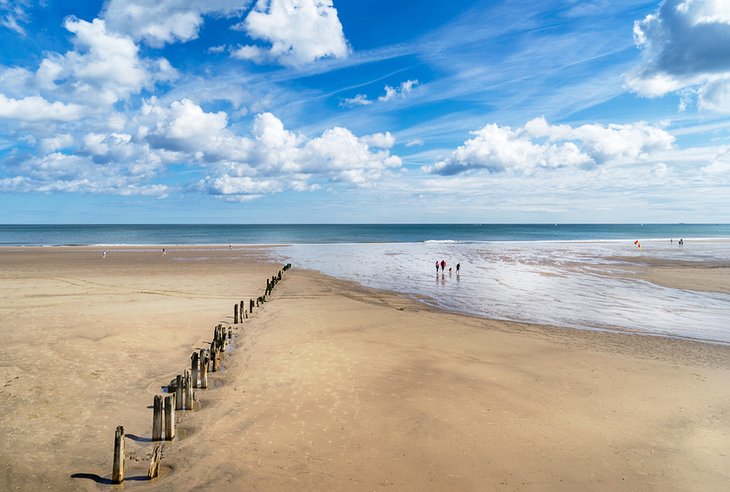 Sandsend Beach is one of the best beaches in Yorkshire. It lies between Runwick Bay and Whitby in the tiny village of Sandsend and features clean, soft caramel sand backed by low, rugged cliffs. Walkers can get here in an hour by heading west along the heritage coastline from Whitby.
Expect nothing but sand at this picturesque beach. Three miles of it welcome beachgoers to enjoy its rural beauty. You'll likely have the area to yourself when visiting off-season. If you're hoping for a bit more space to run around, visit during low tide, when more sand is exposed.
This is a hot spot for surfers when the tide is in, and a wonderful place to swim, fish, and hunt for fossils in the summer. If you're lucky enough to visit on a sunny day, you can even catch sight of Whitby Abbey in the distance.
Insider's tip: A designated swim area is set up during the summer to ensure a safe experience.
15. Buy a Gem from Heritage Jet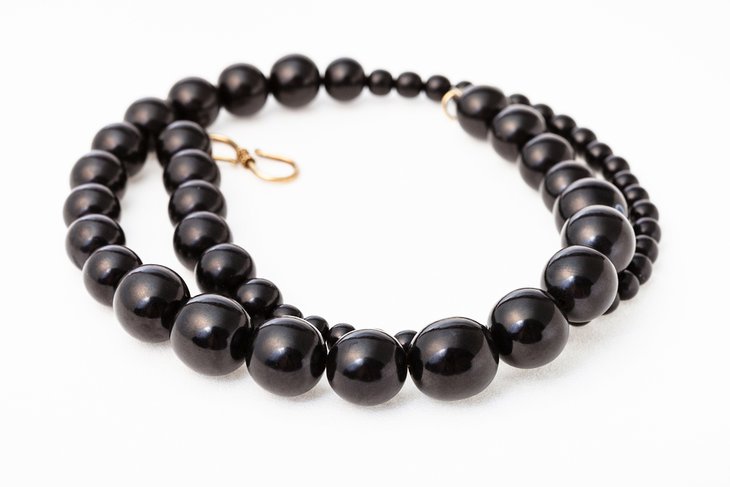 Jet is a rare and stunning gem found along eight miles of the UK coast. A type of lignite (aka coal), this unique, shiny black gem is renowned throughout the region. At Heritage Jet, a small shop located behind a crooked doorway off Church Street, you'll find the last remaining Victorian jet workshop, which dates to 1867.
This family-run shop has been in business through three generations, selling hand-carved pieces featuring exceptional workmanship. Whether you're looking for a statement piece or an understated souvenir, you're sure to find it, and a whole lot of history, in this eclectic shop.
Master carver Hal Redvers-Jones has been restoring Victorian pieces and creating modern jewels for over 30 years. His creations are so stunning, you'll be tempted to buy more than one. From rings to earrings to brooches to pendants to charms, you're sure to find something striking to add to your jewelry collection.
More Related Articles on PlanetWare.com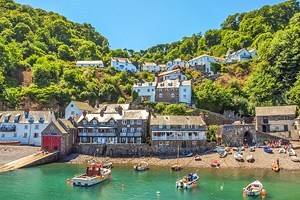 Perfect Weekend Getaways in the UK: While you'll likely spend much of your time in big cities (we see you, London and Dublin), the UK's most stunning beauty can be found outside these bustling metropolises. Check out these fantastic getaways from London or spend a weekend in these lovely English towns. Traveling with your significant other? Try one of these romantic weekend breaks in the UK.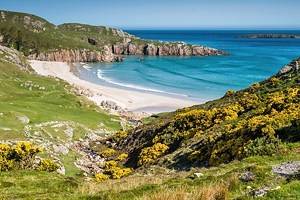 Other Things to Do in the UK: It's not all rain and mushy peas in the UK. In fact, you're in for a treat no matter which UK country you visit - England, Scotland, Ireland, or Wales. You'll find castles peppered throughout the Irish countryside, glacial lakes spanning England's picturesque Lake District, and lovely sand beaches lining Scotland's shores.