10 Best Beaches in Scarborough, England
Known as the "Brighton of the North" for its many seaside attractions and its popularity as a vacation destination, the North Yorkshire town of Scarborough is also well-known for having some of the best beaches in England.
Boasting a nearly two-mile-long stretch of sand that's split almost evenly in two by a tall, castle-topped headland, Scarborough's waterfront has undergone something of a transformation since it was first "discovered" by beachgoers in Victorian times.
The town's majestic old seaside hotels and venues are being renovated, its tourist attractions and parks modernized, and grand old townhomes are being snapped up by a new generation of homeowners fixing them up for both personal use and for rental as vacation properties.
To help you make the most of your time on this lovely stretch of English coastline, we've put together this list of the top beaches in Scarborough, North Yorkshire.
1. Scarborough Beach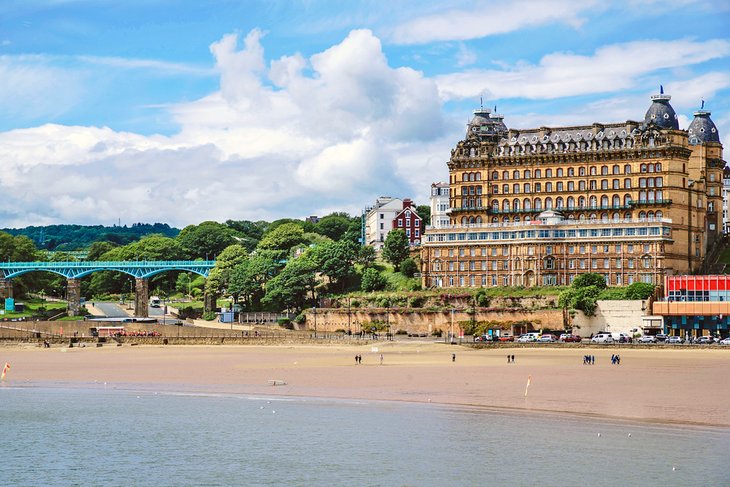 While many visitors think of Scarborough Beach as the entirety of the town's sandy waterfront, locals know better. For them, Scarborough Beach refers to the fine, sandy seafront that stretches north from Scarborough Spa, the town's Victorian-era entertainment and conference center, to the historic Grand Hotel Scarborough.
Although mostly covered at high tide, it's here that many families will stake their spot when the cool waters of the North Sea recede. Buckets and spades at the ready, the kids will be entertained for hours building sandcastles or burying themselves or their siblings in sand.
Older kids and adults will want to try their hand at sea kayaking or paddleboarding, or even surfing.
Notable places to visit near the beach include the historic Cliff Bridge, built in 1827 and still offering the best views over the beach and waterfront; the hilltop Clock Café, with its great coffees, snacks, and afternoon teas (if the flag's flying, it's open!); and St. Nicholas Cliff Lift, which connects the seafront with the bridge and town.
Address: Foreshore Road, Scarborough, North Yorkshire
2. South Bay Beach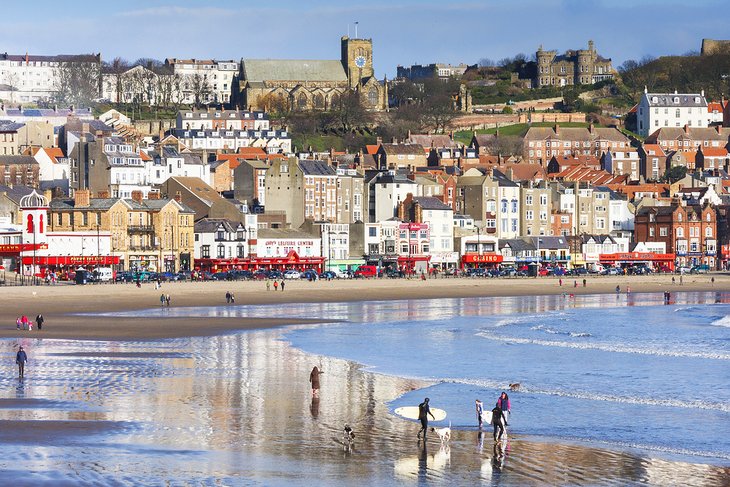 If you're looking for a Scarborough beach that features all the trappings of a traditional English seaside experience, head to South Bay Beach.
You'll know you're here as it's framed on one side by Scarborough Harbour and stretches southward past St. Nicholas Gardens to the blue roundabout where Foreshore Road turns into Cleveland Way.
Thanks to its location close to top Scarborough attractions like the harbor, the Big Wheel, and Central Tramway, as well as its proximity to numerous entertainment and dining options, it's the busiest of the town's beaches.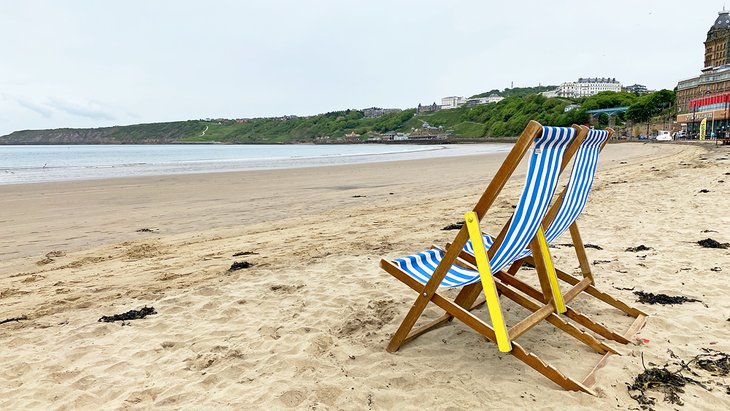 Families love it for its wide, soft sandy beach with its shallow shoreline that's perfect for kids to splash about in.
South Bay is also sheltered by Castle Headland, ensuring calm water with no undertow to worry about. It's also south-facing and something of a sun trap, making it perfect for sunbathing.
Adventurers and outdoors enthusiasts love South Bay Beach, too. Popular water sports include sea swimming, surfing, kayaking, and paddleboarding (rentals are available).
Address: Foreshore Road, Scarborough, North Yorkshire
3. North Bay Beach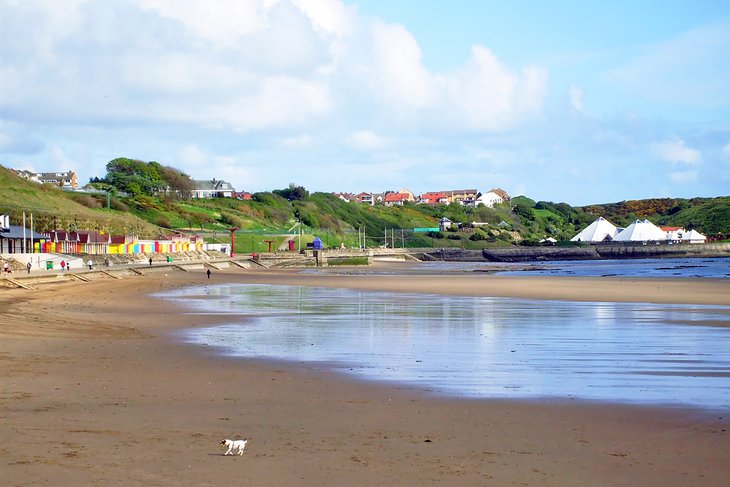 Located on the north side of Castle Headland, lovely North Bay Beach is so nice it has led to Scarborough's receiving a second great nickname: the "Yorkshire riviera."
Occupying a 1.5-mile stretch of curving coastline between Royal Albert Park's eastern perimeter and the popular SEA LIFE aquarium, this Blue Flag-awarded beach is less affected by traffic noise than South Bay, making it a popular spot for those who enjoy a more relaxing beach experience.
Backed by a long, wide esplanade and cliffs, the beach here is a mix of soft and hard sands, with the firmer, more packed section being revealed when the tide is out.
In addition to playing in the sand and splashing in the clean waters here, kids can also enjoy exploring the exposed rock pools for marine life at low tide.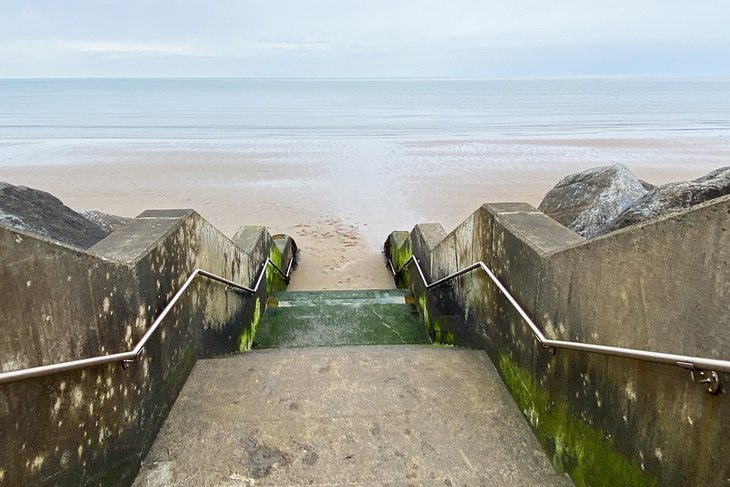 Beach huts are available for rent by the day or week, and lifeguards are on duty in peak season. North Bay Beach is also popular among water sports enthusiasts and has earned a reputation for its good surfing conditions.
Less developed than South Beach in terms of the traditional seaside town staples, the views both over the North Sea and along the coast in both directions are stunning. Better still, when you're done, walk up through Royal Albert Park for stunning views down to the beach nearly 1,000 feet below.
You can also get in some great views of the North Sea and coastline, including some wildlife spotting, by taking the 30-minute sightseeing walk along Marine Parade back toward South Bay Beach. In addition to nesting seabirds, you'll likely see dolphins and seals swimming by.
Location: North Bay, Scarborough, North Yorkshire
4. South Cliff Gardens Beach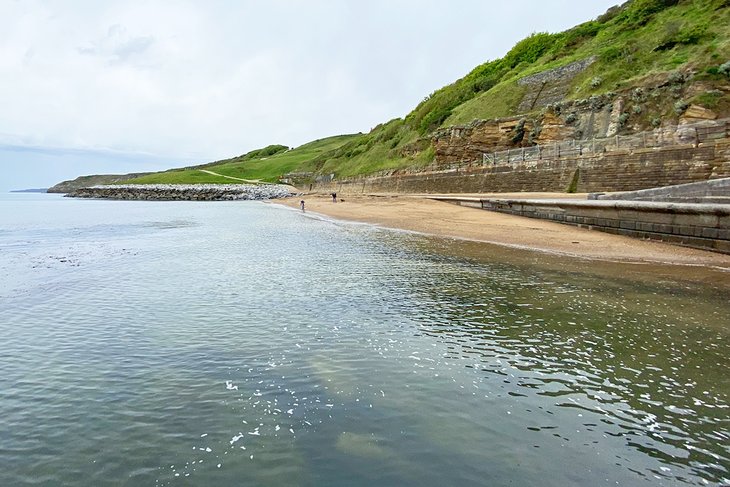 Stretching all the way from Spa Bridge to Holbeck, a distance of just over a mile, South Cliff Gardens has a lovely beach area that's well worth visiting.
While the gardens themselves were established in 1889, parts of the waterfront were reconstructed in the 1990s after a devastating landslide.
Where a hotel and a sizeable chunk of cliff once stood before sliding into the sea, there are now lovely gardens and pathways leading down to the newly constructed seawalls and two manmade promontories.
Next to these is a delightful beach area that's used mainly by locals and the occasional day-tripper in the know. This quiet beach is a mix of soft sand with harder sand exposed at low tide. In addition to swimming and sunbathing and is a popular spot to explore rockpools for crabs and shellfish.
If you're looking for things to do after a day at the beach, be sure to allow some time to explore the rest of the park. Notable features include heavily wooded slopes with trails and terraced walkways, a delightful rose garden, ornate Italian gardens, a unique star map, and a putting green.
The views from the clifftop section of the park are stunning, with numerous benches available for those wanting to linger a little longer.
Location: Esplanade, Scarborough, North Yorkshire
Official site: www.southcliffgardens.co.uk
5. Filey Beach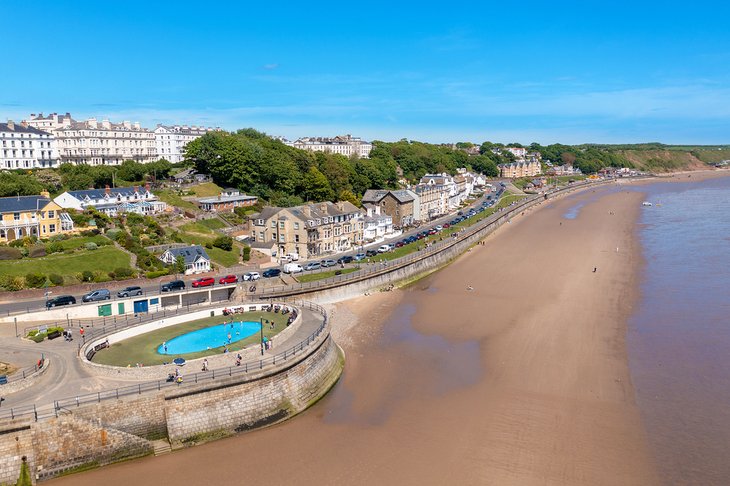 Located nine miles south of Scarborough in the town of Filey, a visit to Filey Beach is an easy 20-minute drive and well worth the journey. Far less commercial than its much larger neighbor to the north, Filey Beach offers the kind of authentic beachside experience that only a small seaside town can offer.
Stretching from Filey Brigg, a long peninsula jutting out into the North Sea that also provides shelter and calmer waters, all the way to the equally charming village of Primrose Valley two miles to the south, the sand here is perfect for playing on.
It's also a remarkably wide beach, boasting a low tide width of a quarter of a mile. At low tide there are also plenty of rockpools to explore.
In addition to swimming and sunbathing, popular beach activities include everything from walking to horseback riding.
Filey Beach is also a popular place to visit among water sport enthusiasts. Popular water activities include surfing, windsurfing, sea kayaking, paddleboarding, and sailing. Lifeguards are on duty here in peak season.
You'll also want to make a day of it by exploring the lengthy promenade with its series of outdoor artworks.
You'll see plenty of hikers using the promenade too, as it marks the beginning of the popular Cleveland Way coastal walking trail. This 109-mile trail follows the coast all the way up to historic Whitby and Middlesborough to the north, before heading into the beautiful Yorkshire Moors.
Address: The Beach Road, Filey, North Yorkshire
6. Cayton Bay Beach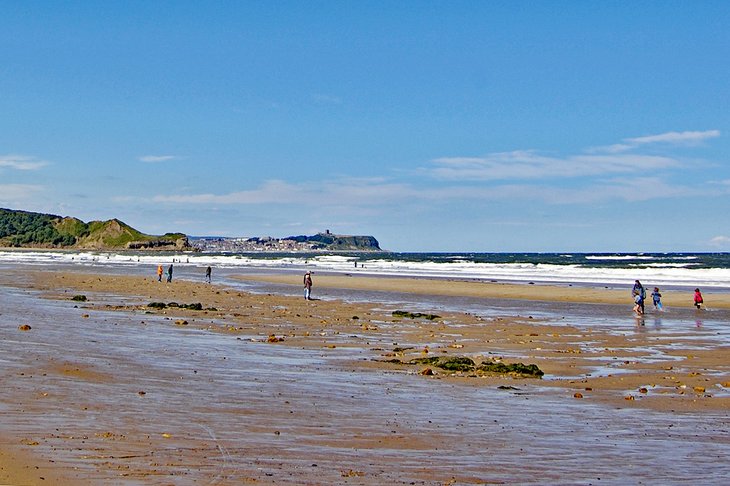 Located about halfway between Scarborough and Filey, Cayton Beach is another relatively quiet Yorkshire beach that's well worth visiting.
While it's possible to walk there from downtown Scarborough using the Cleveland Way, you'll need to allocate at least 90 minutes each way. Take the car and you'll cut this journey time down to around 20 minutes, while public transit buses take around 30 minutes.
However you get here, it's well worth the journey. Set on Cayton Bay, it's one of the quietest Scarborough beaches, with no traffic apart from cars using the dedicated parking area next to Clayton Bay Surf Shop.
While it's only accessible via a steep climb down to the beach, hearing nothing but the sound of waves makes it all worth it. Surrounded by cliffs and trees, the beach itself consist of fine sand that's easy to walk on, especially when the tide's out.
Its relative remoteness and exposure to North Sea winds and waves also make it popular among surfers and windsurfers. For those new to surfing, the Scarborough Surf School also offers lessons and equipment rentals.
Cayton Bay Beach is also a popular place for birdwatching in Scarborough, where you can spot many species of birds that nest in the cliffs overlooking the beach. The sole food vendor here, Lucy's Beach Shack, serves delicious homemade cakes, savory snacks, as well as hot and cold beverages.
Address: Cleveland Way, Clayton Bay, Scarborough, North Yorkshire
7. Scarborough Spa Beach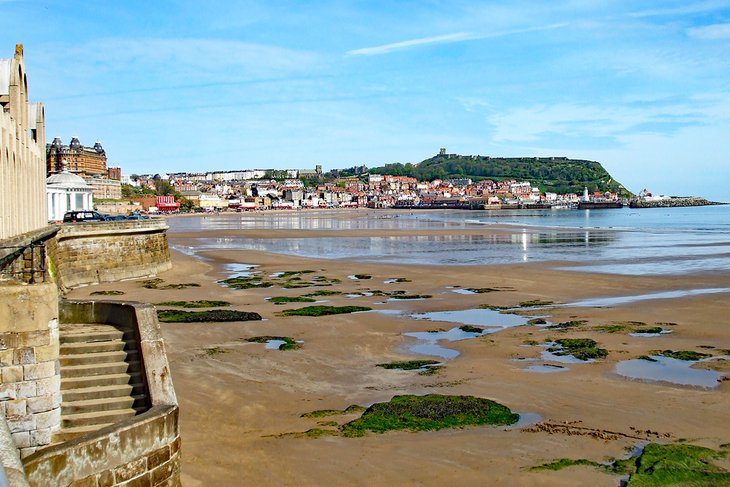 A short stroll along the promenade from Scarborough Harbour, and you'll find yourself at the historic Scarborough Spa. A top Scarborough attraction since it opened in the 18th century, this conference and entertainment center makes for a great spot to set yourself up for a fun day at the beach.
Scarborough Spa Beach offers an altogether more grown-up seafront experience, with many of the beachgoers here making use of the facilities at Scarborough Spa and to also enjoying lunch, partaking in an afternoon tea, or even catching a show.
While the beach is submerged at high tide, low tide presents a great opportunity to enjoy its hard-packed sand. Low tide also presents an opportunity to check out the monument to the original spa waters, the "Spaw", which first drew visitors to Scarborough.
While limited beachside street parking is available, there's usually plenty available at the cliff-top, which is easily accessible via the Scarborough Spa Cliff Lift.
Location: South St., Scarborough, North Yorkshire
Official site: www.scarboroughspa.co.uk
8. Scarborough South #2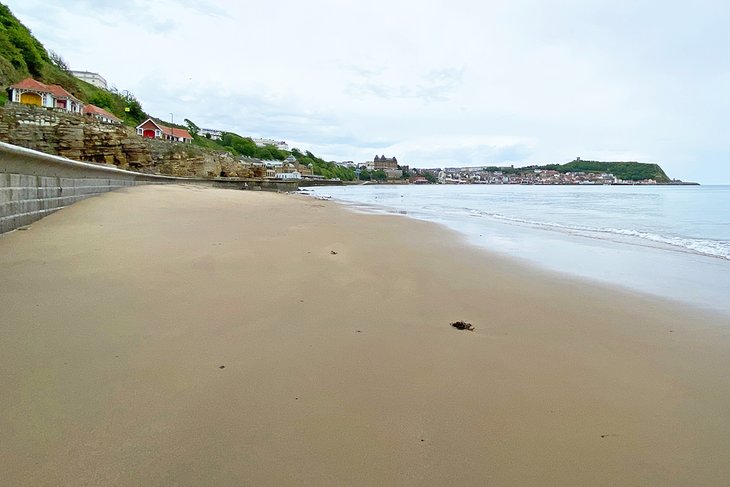 Located between Scarborough Spa and South Cliff Gardens Beach, Scarborough South #2 is far enough away from the hustle and bustle around the harbor to offer a quieter Yorkshire beach experience.
That said, it's also close enough to the many fun things to do around South Bay Beach, which can be something of a blessing for those traveling with kids wanting to hit the arcades and amusements to blow off some steam.
Boasting a long, sandy stretch of beach with shallow water entry, the security factor is high given the lifeguard service provided during the peak summer months.
As with most other Scarborough beaches, while this is a dog-friendly beach, there are restrictions during the busier summer months.
A slipway is provided that's suitable for kayaks, canoes, and small sailboats, and surfers can often be seen making use of the beach.
Location: Cleveland Way, Scarborough, North Yorkshire
9. Cornelian Bay Beach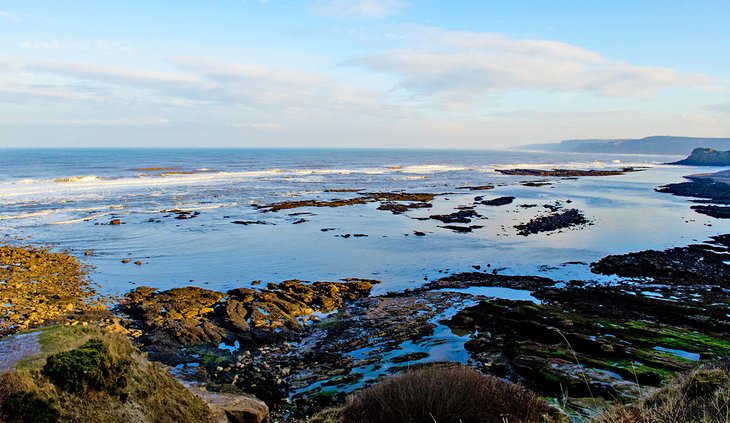 Cornelian Bay Beach gets our vote as the most remote beach in Scarborough. Less than three miles south and an hour's walk, this picturesque bay has only one access point, and that's via a relatively steep, sandy path just to the south of a rocky promontory known as White Nab. It will deliver you to the north end of this always quiet beach.
With no parking and no facilities, Cornelian Beach is for die hard beachgoers and water sports enthusiasts only. If that sounds like you, then just do it.
Location: Cornelian Bay, Scarborough, North Yorkshire
10. Royal Albert Park Beach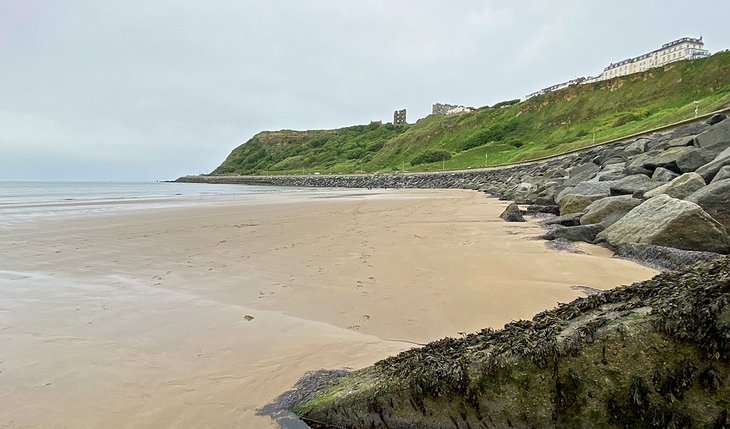 Royal Albert Park is a perfect spot for beachgoers wanting to enjoy the beach in Scarborough while having access to a more secluded section of the seafront.
The shore encompasses a wide stretch of beach that's mostly submerged at high tide, but you can take one of the three sets of concrete stairs down to the beach at low tide and find you have this beach largely to yourself.
Hard-packed sand stretches out to numerous rock pools at low tide, making it a fun beach to explore local marine life.
While there are no dedicated amenities here, the park does feature clean, convenient washrooms, as well as fun activities such as a skateboard park, tennis and basketball courts, a kids' playground, and spectacular views.
Address: Royal Albert Drive, Scarborough, North Yorkshire