12 Top-Rated Attractions & Things to Do in Durham
The old center of Durham, with its magnificent cathedral perched high above the River Wear, is a never-to-be-forgotten sight. Now a UNESCO World Heritage Site, the old city center boasts 600 listed buildings, including Crook Hall, Kingsgate Bridge, Elvet Bridge, and the Town Hall.
Durham is one of the most visited of England's many beautiful cities and boasts plenty of fun things to do. Highlights include exploring its historic architecture to dining at its many restaurants, as well as shopping in locations such as the popular Indoor Market.
To learn more about why this is one of the best places to visit, be sure to read our list of the top attractions and things to do in Durham.
1. Take a Guided Tour of Durham Cathedral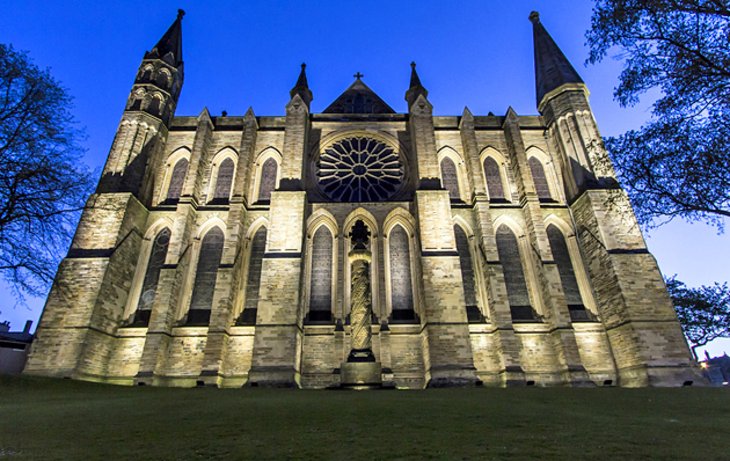 Durham Cathedral – or, to give it its full title, The Cathedral Church of Christ, Blessed Mary the Virgin, and St. Cuthbert of Durham – is famous for its beautiful British Romanesque-style architecture. Whether approached from the narrow streets of the Old City across Palace Green or from the banks of the River Wear over Prebends Bridge, this UNESCO World Heritage Site is truly awe-inspiring.
Completed between 1093 and 1133 (with a few 15th-century flourishes), the building is entered by the 12th-century northwest door once used by fugitives seeking sanctuary. Inside, visitors will be faced with many wonderful sights to explore. Highlights include the graceful Galilee Chapel, the Norman Nave with its massive piers and columns, as well as the Cathedral Tower (it's a 325-step climb to the top, so be prepared for a little exertion).
The cathedral also boasts the most intact set of medieval claustral buildings in the UK, including the 14th-century cloister featured in the first Harry Potter film. Guided tours of Durham Cathedral are offered daily and take 1.25 hours. The cathedral also has an excellent adult learning program for visitors wanting to know more about the area's history and includes lectures, workshops, and tours of the surrounding woods and riverbanks.
The Cathedral Library and Archive is also available to those interested in specific aspects of the cathedral's history. For those wanting to linger, a restaurant and gift shop are located on the premises.
Location: The College, Durham
Official site: www.durhamcathedral.co.uk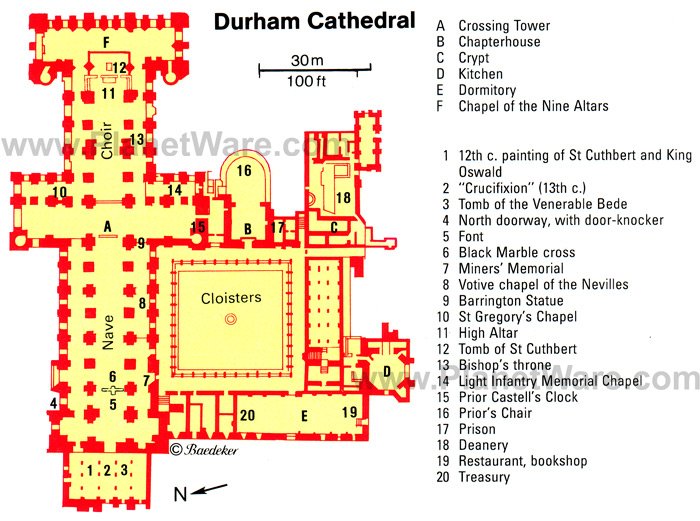 2. The Treasures of St. Cuthbert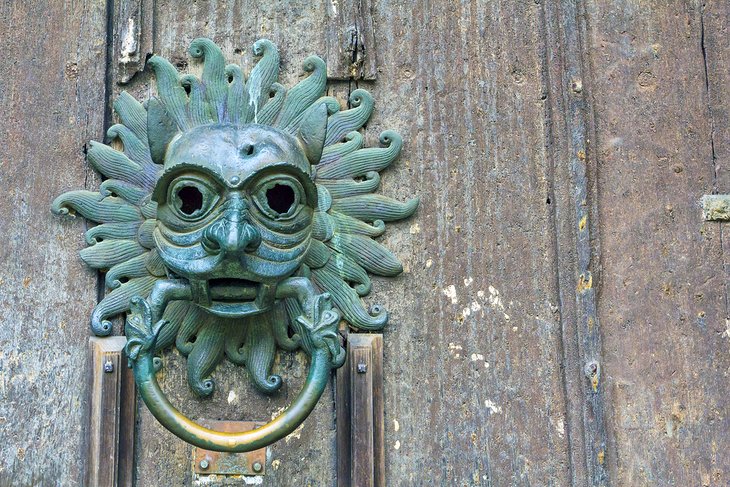 Located in a part of Durham Cathedral that once served as a monks' dormitory, The Treasures of St. Cuthbert include a variety of the attraction's most important collections and relics, representing more than 900 years of history.
Its oldest exhibits are the 7th-century wooden coffin of St. Cuthbert, a silver plate collection that once belonged to the Prince Bishops of Durham, and numerous ancient books.
Of special interest is the Conyers Falchion, an ancient sword used by Sir John Conyers to kill the legendary Sockburn Worm. These days, the only action the sword sees is when it's presented to each new Bishop of Durham upon entering the diocese at Croft Bridge for the first time.
The monks' quarters are themselves well worth seeing. A highlight is the monks' kitchen, which features a remarkably well-preserved octagonal ceiling and no less than eight fireplaces. Also of interest are the fascinating displays depicting the lives of the monks.
This popular tourist attraction also houses the original knocker used by sanctuary seekers in medieval times, a replica of which now graces the cathedral's main door.
Location: The College, Durham
Official site: www.durhamcathedral.co.uk/visit-us/open-treasure/treasures-of-st-cuthbert
3. Durham Castle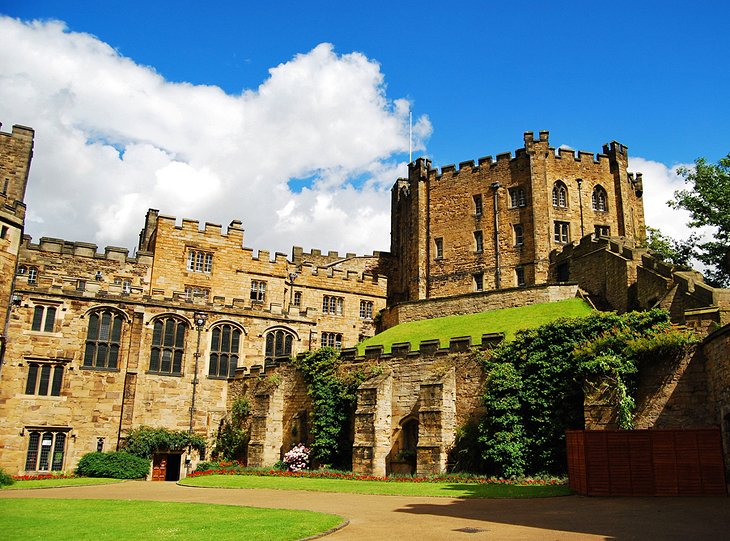 Built as a fortress by the Earl of Northumberland in 1072, Durham Castle – also part of the Durham UNESCO World Heritage Site – was presented by William the Conqueror to the city's prince-bishops. The most interesting rooms are the Norman Chapel, with its delightful carved archaic capitals; the large 14th-century dining-hall; the 16th-century chapel; and 17th-century Black Stairs complete with pineapple carvings.
The castle is also home to University College, the founding college of Durham University. More than 100 students live here, making this a truly unique building with more than 900 years of living history. For a truly memorable experience, look into availing yourself of the castle's unique B&B stays (during student vacations only). Tours of the castle are included with your stay.
Location: Palace Green, Durham
Official site: https://www.dur.ac.uk/durham.castle/
4. Durham University Museum of Archaeology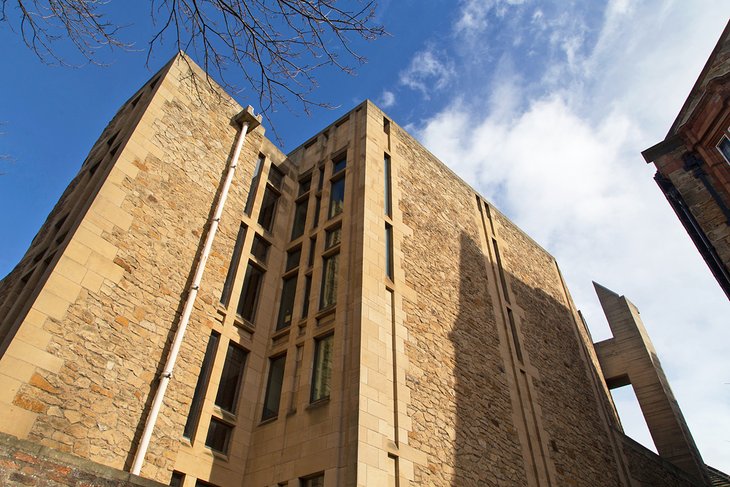 The Museum of Archaeology – located in Durham University's Palace Green Library – houses finds from the Roman, Anglo-Saxon, and Norman periods. The museum also boasts a sizable collection of medieval artifacts, many of them discovered in the old city center during major archaeological digs in the late 20th century.
The library is also home to the university's special collections, archives, and early printed books, including more than 70,000 volumes printed before 1850. Entry to the museum and library are free, as is admission to its lectures and educational programming.
Location: Palace Green Library, Durham
Official site: www.dur.ac.uk/archaeology.museum
5. Oriental Museum
The University of Durham's Oriental Museum on Elvet Hill, just a short distance from the old city center, has excellent art and archaeological collections from the Near and Far East. All of the major eastern cultures and periods are represented, from Ancient Egypt and India, to Tibet, China, and Japan.
Highlights include ancient pottery and jewelry, stone sculptures, and antique arms and armor. If possible, try to time your trip to coincide with one of the museum's special "touch tours," when visitors are given the unique opportunity to handle some of their most precious artifacts.
A shop and café are located on-site for those wanting to extend their stay. And be sure to check the museum's website for news of visiting touring exhibits and special events.
Location: Elvet Hill Road, South Road, Durham
Official site: www.dur.ac.uk/oriental.museum
6. Durham University Botanic Garden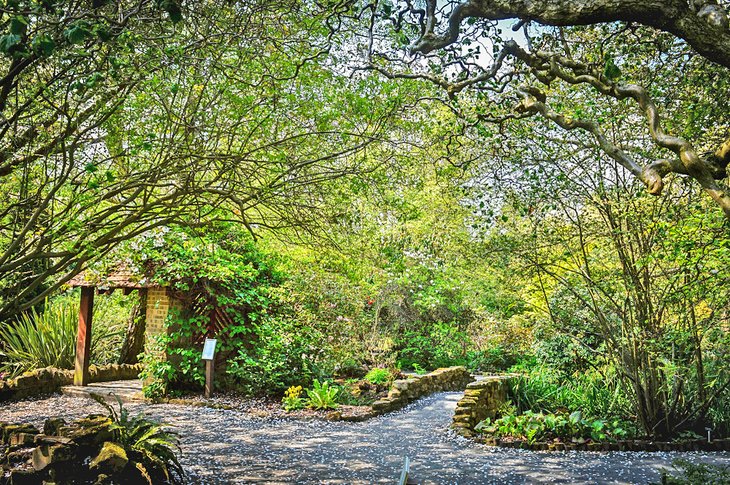 Occupying a 25-acre site just south of Durham City, Durham University Botanic Garden is well worth a visit. In addition to its many year-round programs and events, highlights include numerous plant collections from around the world, including China and South Africa. There's also a lovely woodland garden, an alpine garden, and a bamboo grove to explore.
The garden's impressive glasshouses are also worth checking out. These include collections of tropical rainforest plants, desert plants, and more familiar plants from the Mediterranean. Also interesting are the displays of tropical bugs, stick insects, scorpions, and tarantulas. Afterwards, pop into the visitor center with its café and gift shop.
Other notable gardens worthy of a visit are the English gardens at 13th-century Crook Hall, just a short walk from the cathedral. Tours and talks are available and are highly recommended.
Address: Hollingside Lane, South Road, Durham
Official site: www.dur.ac.uk/botanic.garden/
7. Durham Museum and Heritage Centre
The Durham Museum and Heritage Centre contains many informative and educational exhibitions relating to the town's rich heritage. Housed in a medieval church, it includes excellent audio-visual shows, brass rubbings, and a collection of beautiful stained glass windows.
Another great place to gather useful information about the city's past is the World Heritage Site Visitor Centre. Here, you'll find a variety of displays and exhibits relating the story behind the city's many historic buildings through film and interactive displays.
Location: St. Mary-le-Bow, North Bailey, Durham
Official site: http://durhammuseum.co.uk
8. Take a Trip to the Past at Beamish, The Living Museum of the North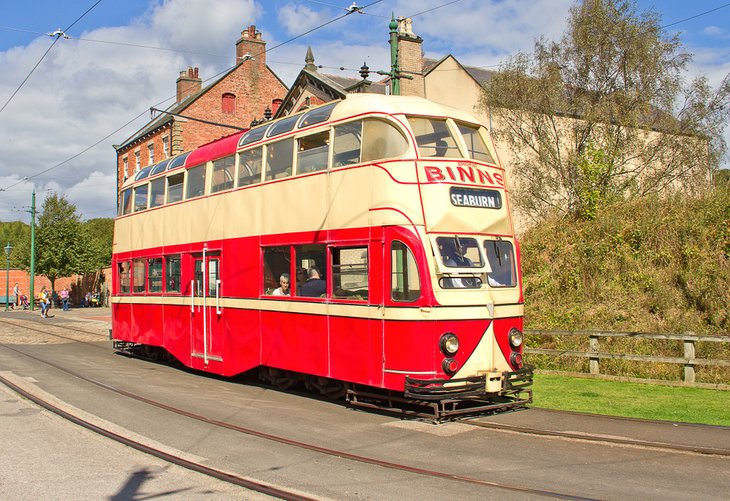 This fantastic living museum, set in 300 acres of beautiful countryside just 10 miles outside Durham, offers a look into the lives of those who lived in the area during the Georgian, Victorian, and Edwardian eras. Costumed characters bring the displays to life and help tell the amazing story of how the Industrial Revolution transformed the region.
Incredibly, all the buildings at Beamish were brought brick-by-brick from across Durham County and rebuilt on-site. Beamish also hosts numerous exciting events, including The Great North Festival of Transport, a Georgian Fair, and The Great North Festival of Agriculture.
And if you expect to make a day of it (you certainly should!), you can enjoy a snack or meal at any one of the many different eateries at Beamish, along with some great shopping opportunities.
Official site: www.beamish.org.uk
9. Durham Town Hall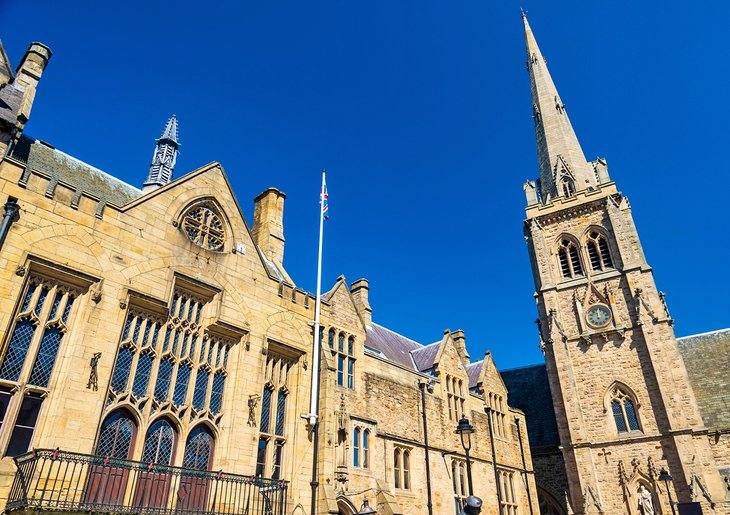 The interior of the Grade-II-listed Durham Town Hall is well worth taking a peek at. Its modest, glass-fronted reception gallery hides a variety of period rooms, including the dramatic Main Hall, with its stained-glass windows and hammer beam oak roof.
Also worth seeing is the Crush Hall. Here, you'll find some fascinating memorabilia regarding the life of Count Boruwlaski. Just 39 inches tall, the once famous Count died in 1837 at age 98.
Address: Market Place, Durham
10. Take the Kids to Wharton Park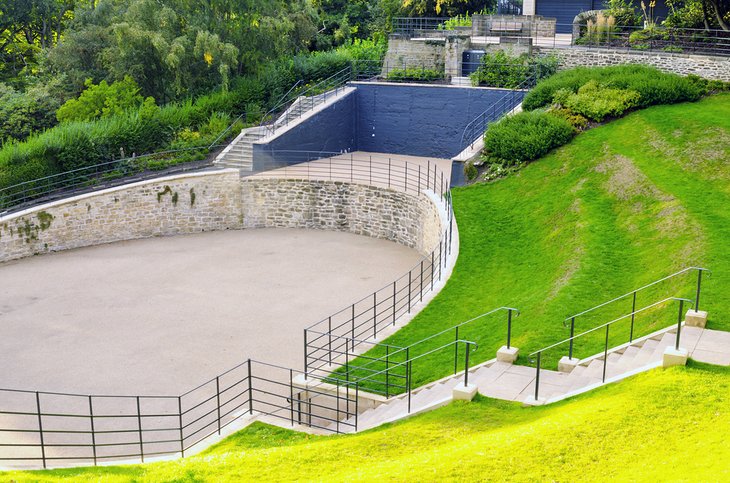 Covering 10 acres, Wharton Park is the perfect place to visit if you're traveling with kids in need of letting off some steam. Located just a short distance from Durham Cathedral and the city's busy train station, Wharton Park offers a variety of activities for families to enjoy.
Established in the mid-18th century, its setting on a hill makes it the perfect vantage spot to watch trains come and go, including historic locos and rolling stock as they trundle over the famous Durham viaduct.
It's also a great place to take photos of the cathedral and other city landmarks – even more fun when accompanied by a picnic! For the best views, look out for the mock battlements. Here, you'll find a number of well-placed viewing platforms.
The amphitheater here is also great to photograph – especially when in use (check out the facility's website for details of performances, concerts, and other events). There's also a fun mini race track where the kids can take control of their very own electric car. Fun educational workshops for young and old alike are also offered.
Address: 10 Princes Street, Durham
Official site: www.durham.gov.uk/whartonpark
11. Finchale Priory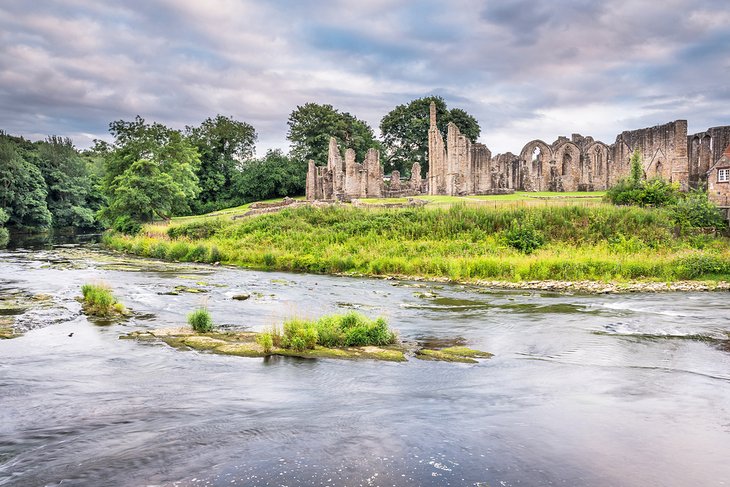 Finchale Priory is an English Heritage property located just minutes from downtown Durham. The charming remains of this once grand 12th century priory lie beside the River Wear and are well worth exploring.
Built in 1196 on an even earlier pilgrimage site, it served for some 400 years as a place of rest and relaxation for monks from nearby Durham Cathedral. Admission is free.
Location: Finchale Avenue, Framwellgate Moor, County Durham
Official site: www.english-heritage.org.uk/visit/places/finchale-priory
12. Ivesley Equestrian Centre
Ivesley, set amid 220 acres of beautiful countryside just six miles from Durham, is a must-visit for those interested in horses and equestrian sports. Amenities include an indoor school, show jumps, and several cross-country courses that can be accessed via professional teaching and schooling opportunities or rented out privately.
A highlight of a visit is the chance to explore the many nearby riding trails. The center is approved by the British Horse Society, and all instructors are BHS-trained. A variety of riding holidays are available, including stays in the center's B&B-style accommodations.
Location: Waterhouses, Durham
Official site: www.ivesleyequestrian.co.uk
A Brief History of Durham
Much of the city's early prosperity stemmed from its strategic position on the route to Scotland, as well as the powerful draw of St. Cuthbert's shrine. At the same time, the beautiful surrounding countryside was divided into large estates on which feudal barons erected splendid castles.
From the early modern period onwards, the coal industry came to play an increasingly important role, and pitheads and chimneys soon dotted the landscape. In the 19th century, the population swelled with an influx of immigrant workers, and while industrialists built grand houses, working class districts grew, and trade unions were founded. In fact, the annual Durham Miners' Gala is still a major event on the local calendar.