10 Best Things to Do in Scarborough, North Yorkshire
Gracing England's North Sea coast in North Yorkshire, the resort town of Scarborough offers plenty of fun things to do for those seeking a memorable seaside vacation. And you'll be in good company. Come summer, Scarborough's full-time resident population doubles from just over 100,000 to more than 200,000, all of them here for the same thing: fresh air, sun, sea, and sand.
Stretching from South Bay and following Marine Drive to North Bay, Scarborough's waterfront is a charming mix of sandy beaches and dramatic cliff faces interspersed with all the trappings of a traditional English seaside holiday resort.
From a bustling promenade lined with lovely parks and Victoria-era townhomes, numerous world-class attractions, and exciting things to do for family fun and adventure, Scarborough offers something for everyone.
To find out more about these and other tourist attractions, be sure to read through our list of the top things to do in Scarborough, North Yorkshire.
1. Explore Scarborough Harbour & Old Town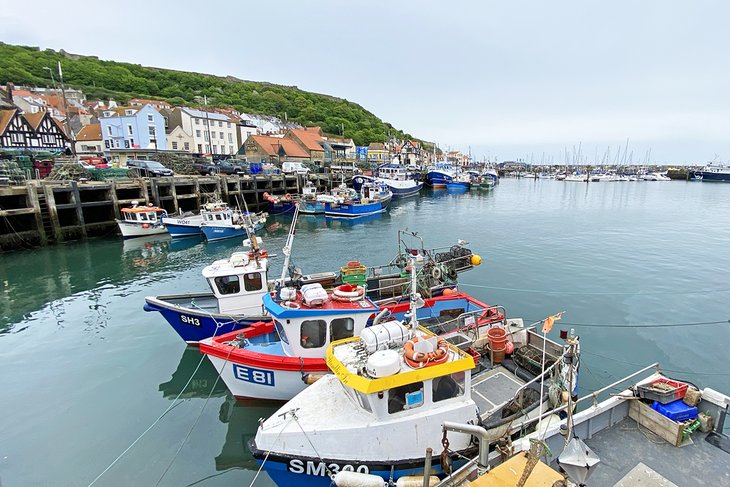 A self-guided walking tour of historic Scarborough Harbour and Old Town is a great way to kick off your North Yorkshire seaside adventure. Established in the 13th century and located between South Bay Beach and the starting point of Marine Drive, the town's picturesque harbor is fun to explore on foot, featuring level paved surfaces and plenty of great viewpoints.
Have your camera ready for some great photos of the town's colorful fishing boat fleet. Along with numerous small pleasure craft, these vessels are particularly photo-worthy if you frame the walls of Scarborough Castle, perched high above the harbor, in your shot.
Afterwards, pop into any one of the many seafood restaurants lining the harbor area to taste the fresh-caught fish these same boats caught earlier in the day. Popular choices include First Catch, Harbour View Café, and the wonderfully named Winking Willy's.
From the harbor and climbing up the hillside toward the castle, Old Town Scarborough is equally fun to explore. Encompassing an area of well-preserved old homes and structures like Scarborough Market Hall and St. Mary's church, it can be a hilly climb but is well worth it for the superb views over the town.
A self-guided tour option, the Scarborough Old Town Trail, is well worth following to be sure you don't miss anything.
Address: 18 West Pier, Scarborough, North Yorkshire
Official site: www.scarborough.gov.uk/scarborough-harbour/leisure
2. Wander around Peasholm Park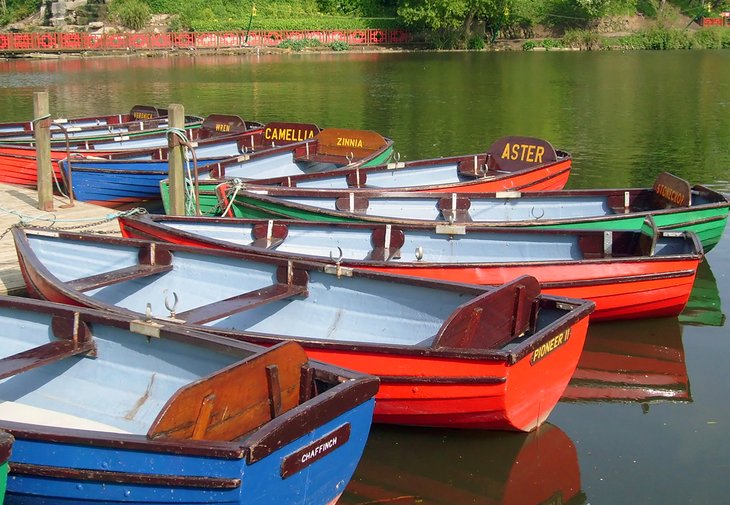 Widely acclaimed as one of England's top parks and public green spaces, Peasholm Park is another great excuse to put on the old walking shoes and head out for a stroll. Opened in 1912, this oriental-themed park covers 35 acres and is set in a pretty natural ravine to the northwest of the harbor and old town.
Fun things to do in Peasholm Park include renting a rowboat and taking a paddle on the large man-made lake or enjoying one of the fun mock naval battles that model boat enthusiasts have staged here regularly for over 80 years.
Other notable features include a tree walk experience; a putting green; and pretty gardens with Japanese-style ornaments, a pagoda, and bridge. There's also a pleasant wooded area to wander, which features trails and a waterfall.
Address: Northstead Manor Drive and Columbus Ravine, Scarborough, North Yorkshire
Official site: https://peasholmpark.com
3. Soak Up the Sun on Scarborough's Beaches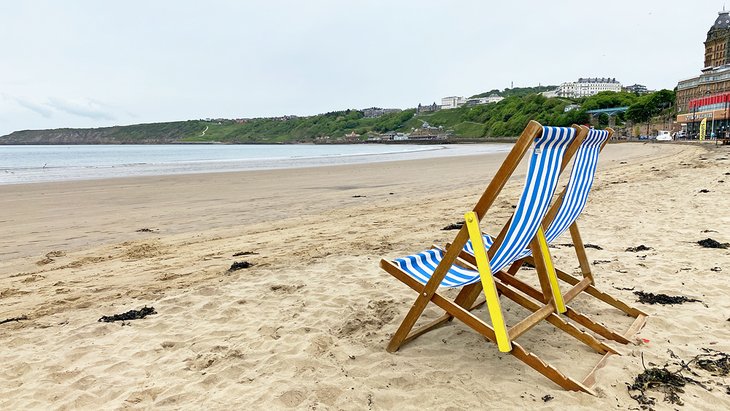 Scarborough owes much of its popularity as Northern England's top seaside resort to its excellent beaches. South Bay Beach is usually where families tend to congregate due to its location adjacent to Scarborough Harbour.
Sandy, safe, and boasting lifeguard services that add a further level of security for parents, South Bay consists of a long, wide stretch of sand that's perfect for playing and swimming. It's also popular for its proximity to a wide promenade featuring an array of amenities, including food and beverage vendors, numerous attractions and amusement arcades, as well as those classic seaside donkey rides.
Tucked away on the north side of town and accessible by public transit or a drive or walk along Marine Parade, North Bay Beach is usually the quieter of the two Scarborough beaches. In addition to its sandy shores, great swimming and sunbathing, and stunning North Sea scenery, it's a popular spot for surfers and windsurfers.
While dogs are not permitted on these two beaches in the summer months, they are allowed to visit during the shoulder months.
Address: Foreshore Road, Scarborough, North Yorkshire
4. Climb Up to Scarborough Castle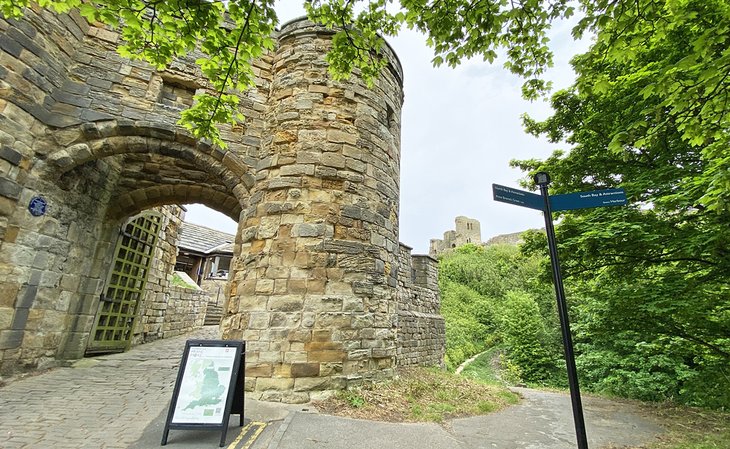 Perched high above the Old Town, Scarborough Castle is a must-visit attraction. Built in the 1100s and boasting commanding views over both South and North Bays, much of it is now ruins due to its having endured five sieges in its history. The most recent, during the English Civil War, was when much of the damage was done.
Highlights of a visit include the opportunity to explore the old gatehouse, which has survived largely intact, as well as walking the battlements of this impressive 16-acre site while admiring the views. You'll also see a medieval chapel, as well as learn about the even earlier Iron Age and Roman settlements that once occupied this strategic spot.
Audio tours are included with admission, as is access to the interesting exhibits housed in the Master Gunner's House. You'll also have a chance to learn more about archaeological digs on the site, as well as see retrieved artifacts, including ancient tools, pottery, and weapons. A café is located on the premises, along with a gift shop.
Address: Castle Road, Scarborough, North Yorkshire
Official site: www.english-heritage.org.uk/visit/places/scarborough-castle/
5. Scarborough Fair Collection & Vintage Transport Museum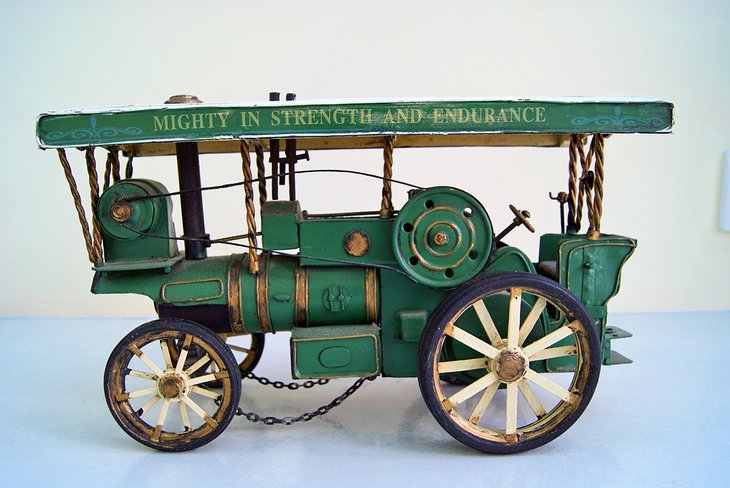 Although immortalized by the classic English traditional folk song, and later by the duo Simon and Garfunkel, Scarborough Fair as a medieval festival sadly no longer exists. However, visitors can get a taste of the old fairs that were once so common across England at the fun Scarborough Fair Collection.
Established as a private collection in the 1980s, this popular attraction has expanded over the decades to include all things related to traditional country fun fairs. It's the largest collection of its kind in the UK. Highlights include a large number of mechanical organs that are often put through their paces, steam traction engines, as well as vintage vehicles.
The stars, though, are the vintage fairground rides. These include everything from 19th-century carousels, historic caterpillar rides from the 1920s, and classic waltzers. For a special treat, book one of the museum's fun afternoon tea experiences, which include dancing to the accompaniment of a historic old theater organ.
Address: Flower of May Holiday Park, Stone Pit Lane, Scarborough, North Yorkshire
Official site: www.scarboroughfaircollection.com
6. Visit a Bronte Burial Ground at St. Mary's Church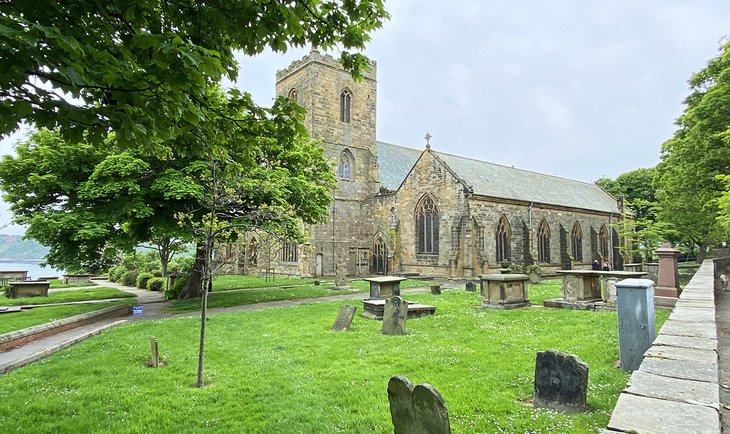 Built in 1150 and just a cannonball shot away from Scarborough Castle, the Church of St. Mary's surely must rank as one of the prettiest and most historically significant churches in Yorkshire. The church's history has long been entwined with that of the neighboring castle. Located just five minutes' walk up Castle Road, these two structures were built at the same period in history (possibly by even the same stonemasons), and each housed an opposing side in the English Civil War.
That war, in fact, saw parts of the church, which housed the Parliamentarians, and much of the castle (the Royalists) destroyed as cannonballs and musket shots poured from one to the other for six months. A visit today will reveal signs of the damage caused in the conflict and again later in WWII. Its rich history is portrayed in useful displays around the property.
Be sure to also spend time exploring the church's graveyard, part of which is situated across the road and nearer the castle. Here, you'll see the gravestone of Anne Bronte, younger sister to the writer Charlotte Bronte. Anne died in Scarborough, aged just 29, and was buried in the churchyard after losing a battle to consumption in 1849.
And if you see the sign outside saying "Refreshments Now Being Served," pop in for some delicious homemade cake and a cup of tea or coffee.
Address: Castle Road, Scarborough, North Yorkshire
Official site: www.stmaryswithholyapostles.com
7. Take a Stroll through South Cliff Gardens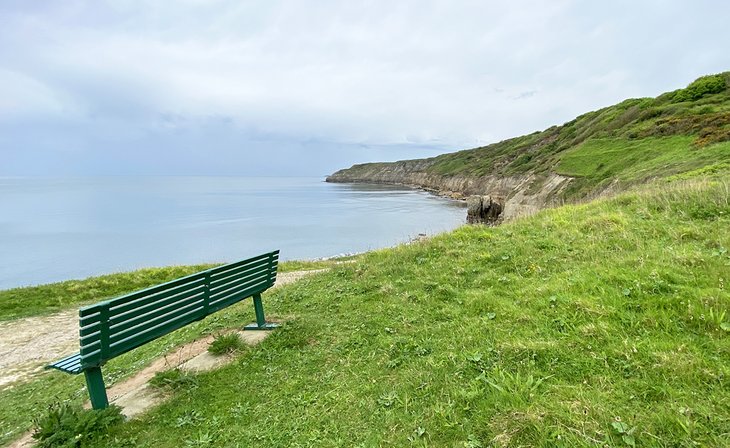 Walk south from Scarborough Harbour for a few minutes, and you'll find yourself in South Cliff Gardens. This multiuse green space covers an impressive 350-acre site, preserving its mix of coastal woodlands, wild grass, and manicured gardens for locals and visitors alike to enjoy.
The cliffside park features incredible views over the North Sea and the Scarborough coastline, with a network of fun pathways that zigzag down to the waterfront. Here, a superb coastal trail, Cleveland Way, links the Holbeck Hill neighborhood with South Bay Beach. Along the way, you'll pass lovely formal gardens, such as the Italian Gardens and Rose Garden; spot coastal wildlife; and enjoy a quiet side of Scarborough.
Other notable features of South Cliff Gardens include a Victorian-era cliff lift, a unique pedestrian bridge, a putting green, and the unique Star Map. The largest of its kind in Britain, this unique structure portrays a map of the 42 brightest circumpolar stars viewable in Scarborough.
Address: South Cliff Roundabout, Scarborough, North Yorkshire
Official site: www.southcliffgardens.co.uk
8. Historic Scarborough Spa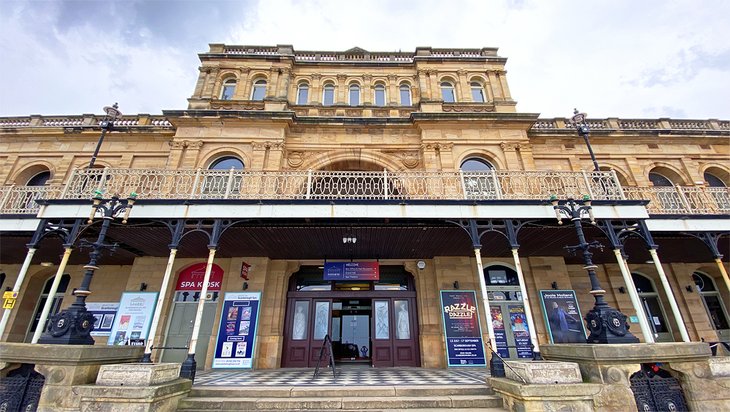 Located at the northern edge of South Cliff Gardens, Scarborough Spa opened in the mid 1700s and soon gained a reputation for their curative effects. The modest saloon that sprang up to serve guests soon after became the focus for most visitors, evolving over the decades into one of Scarborough's most important venues for conferences and concerts.
While the spa's waters are no longer a thing, its legacy as a place of entertainment and relaxation lives on. In addition to pop and rock concerts, it boasts the unique distinction of being home to England's last remaining professional seaside orchestra, with performances suitable for adults and kids.
Location: South Street, Scarborough, North Yorkshire
Official site: www.scarboroughspa.co.uk
9. Get Your Culture Fix at Scarborough Art Gallery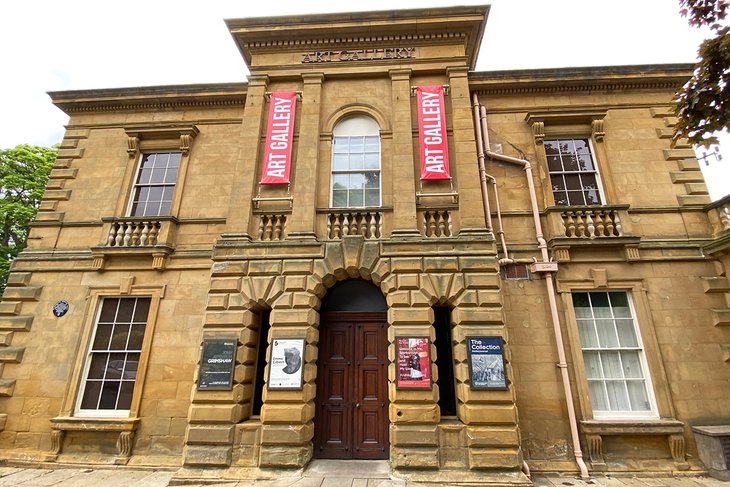 Established in 1947, Scarborough Art Gallery is set in an attractive old 1800s townhome in a quiet crescent that's easy to get to from the town's train station and waterfront. Highlights of a visit include exploring the town's large permanent collection of artworks, as well as regular temporary exhibits from across the UK and worldwide. A great little café is located on the premises.
The municipality also runs the Rotunda, a museum dedicated to Scarborough's coastal heritage. One of England's first purpose-built museums, Rotunda opened in 1829 and features a large collection of artifacts and information relating to Scarborough's rich natural and human history.
Address: The Crescent, Scarborough, North Yorkshire
Official site: https://scarboroughmuseumsandgalleries.org.uk/visit/scarborough-art-gallery/
10. Walk the Loop along Marine Drive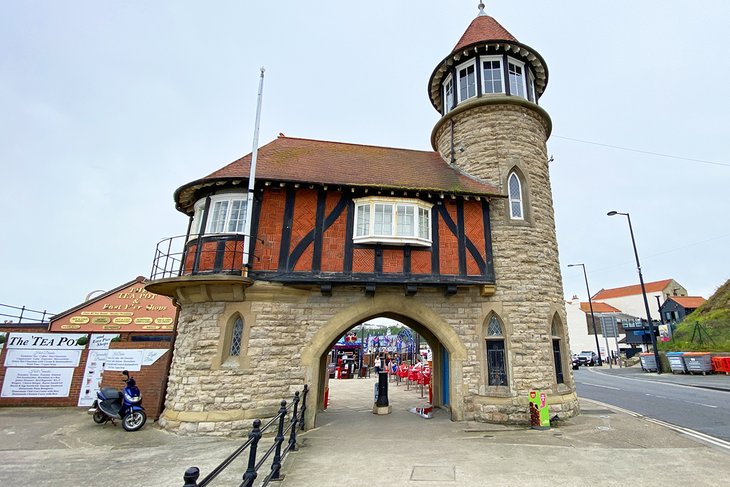 Stretching for five miles from Scarborough Harbour around the headland to North Bay Beach, Marine Drive makes for an excellent way to spend a couple of hours while getting some exercise. This level looping trail starts at the attractive old Toll House and follows the coast northward around the Castle headland. Along the way, you'll have plenty of opportunity to spot marine life, including seals and dolphins, as well as noisy nesting seabirds such as Kittiwakes in the limestone cliffs above.
Part of the England Coastal Path, it was constructed in the early 1900s to serve both as a seawall and a scenic coastal path. You can also make use of Marine Drive as an alternative route to climb up to Scarborough Castle and St. Mary's Church. Though steep in places as you climb up through pretty Royal Albert Gardens, there are plenty of benches along the way that are perfect for a rest and some scenery gazing.
A Brief History of Scarborough
While Scarborough's clifftops were used by the Romans 2,000 years ago as a signal station to warn against attacks from the sea, it's believed that it was the Vikings who established the first permanent settlement here around 966 CE. The city faced a turbulent history in the following centuries and was almost completely destroyed in the English Civil War of the mid-17th century, and even shelled by the German navy in WWI.
While the scars of this sometimes violent past can still be seen in places like Scarborough Castle and neighboring St. Mary's Church, a visit today fortunately reveals an altogether calmer seaside experience.
Map of Things to Do in Scarborough, North Yorkshire