12 Best Small Towns in Wales
Boasting some of the most attractive scenery in the British Isles, the tiny country of Wales should definitely be included on any UK travel itinerary. Here, you'll find everything from the stunning mountain scenery of Snowdonia to the rugged Pembrokeshire coastline, as fun to explore on foot as they are by car.
Along the way, you'll also come across some of the most interesting small towns to be found anywhere in the UK. Often surrounded by attractive scenery, be it stretches of rugged coastline or rolling hills, Welsh towns offer plenty of good reasons for you to want to pull over and explore.
Most will have been shaped by local farming practices or an industrial past that saw coal and slate mining predominate, each leaving its unique footprint on the growth and development of so many Welsh towns. This agricultural legacy lives on in market towns such as Brecon, while Llangollen owes much to the canals that fostered trade with the rest of the country in the 19th century.
The rich cultural and social history has also shaped these small towns, many of which boast the remains of old castles and abbeys, as well as still-active yet centuries-old harbors.
To help you plan the best places to visit on your trip, we've pulled together the following list of the best small towns in Wales.
1. Beddgelert, Gwynedd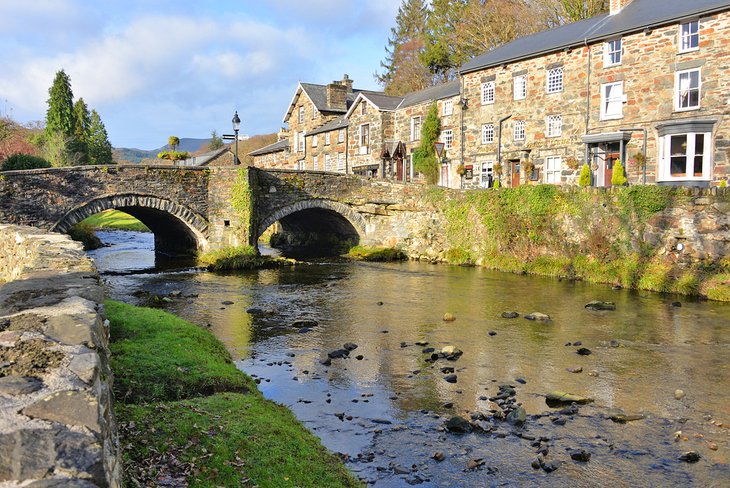 The subject of many tourism websites focusing on the best places to visit in Wales, not to mention countless photo albums the world over, the picturesque village of Beddgelert is a must-visit in Snowdonia. Located in the northwest county of Gwynedd, where the Colwan and Glaslyn rivers converge, its idyllic setting makes for a charming scene that just begs to have its picture taken.
Beddgelert is especially popular with hikers and outdoor enthusiasts as a place to begin exploring the mountains of Snowdonia National Park and the nearby Moel Hebog with its stunning views. And if climbing Wales' tallest mountain isn't for you, there are many easier walking trails and paths that afford spectacular views of the mountain and the surrounding scenery.
Be sure to also spend time exploring the village itself. In addition to its quaint church and main street lined with boutique shops and galleries, there are a number of excellent inns, guesthouses, and B&Bs offering accommodations, many including traditional Welsh breakfasts.
If you've got time to spare, take a ride aboard the fun Welsh Highland Railway. This scenic heritage railway can take you as far as Caernarfon and Porthmadog.
2. Betws y Coed, Conwy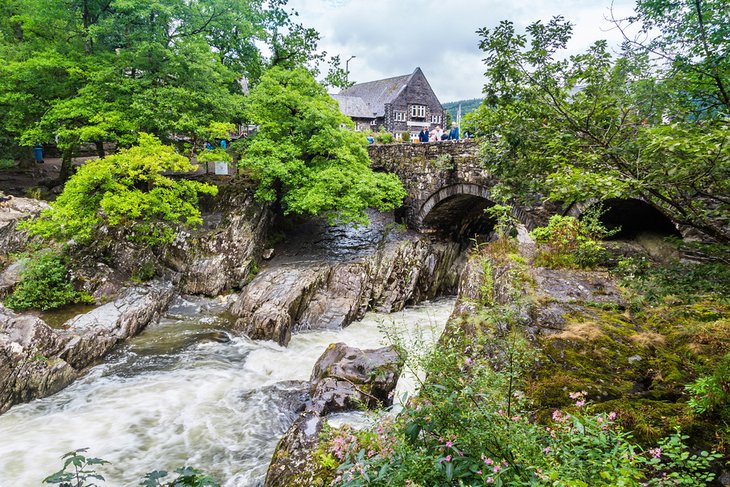 The riverside town of Betws-y-Coed in Conwy is equally attractive. Located in the county of Caernarfonshire in North Wales, this picturesque community is only a 30-minute drive east of Snowdon, and makes for a great jumping-off point for those wanting to explore Snowdonia National Park.
Located in the heart of the Gwydyr Forest, a fact that gives the town its name (it literally translates as the "temple in the wood"), it's a great place to visit in the shoulder seasons. Not only is the town much quieter before or after the crowds of summer holidaymakers descend, but you'll also be rewarded with either spring blossoms or the stunning foliage of the dense tree coverage in autumn.
And given the country's moderate spring and autumn weather, those who enjoy outdoor activities such as mountain biking or hiking will find less crowded trails.
Betws y Coed is not without fun-to-visit tourist attractions, too. Highlights include the attractive 500-plus year-old Pont-y-Pair bridge and the ruins of the old Pany Mill. The famous Ugly House, Ty Hyll, is also close by.
The town is also known for its waterfalls, with two of the best waterfalls in Wales, Swallow Falls and Conwy Falls, located within walking distance. Add to this mix its plentiful accommodation choices, reputable restaurants, and great shopping, and Betws y Coed is definitely a place you'll want to linger.
3. Llanrwst, Conwy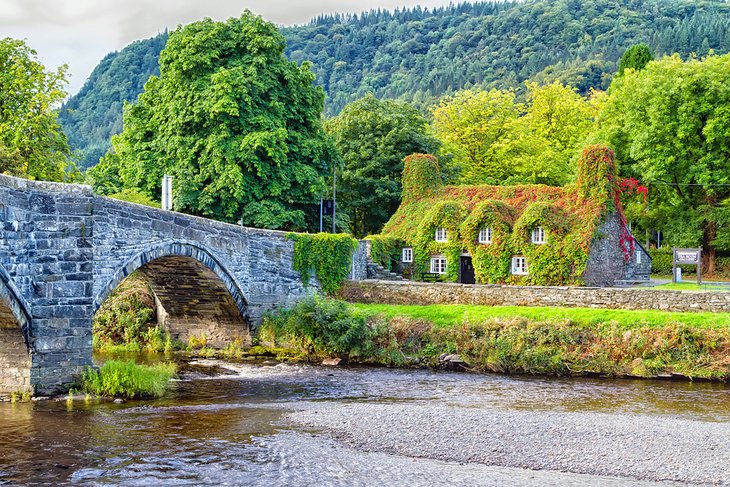 Located just a mile from Snowdonia National Park, the charming town of Llanrwst in Conwy is home to what must be one of the most photographed buildings in Wales. Known locally as Tu Hwnt i'r Bont and now a pleasant tearoom, this vine-clad, riverside building was constructed in the 15th century and served originally as a farmhouse, and later as a courthouse.
Pay a visit to Llanrwst in the autumn, and the building seems to turn fire-engine red as the vines change color. For the best photos, step across the adjacent Pont Fawr bridge to the far bank of the River Conwy.
Afterwards, visit St. Grwst church. This well-preserved building contains the remains of one of the country's most famous kings, Llywelyn the Great (1173 - 1240).
4. Llangollen, Denbighshire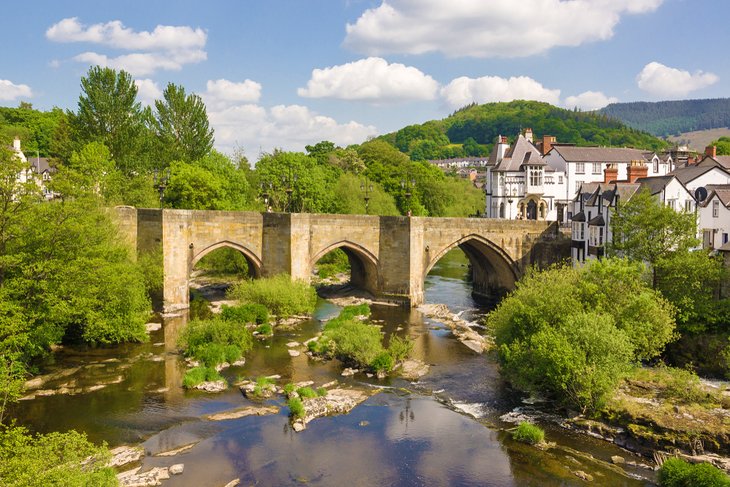 Another much photographed Welsh landmark can be found in the attractive town of Llangollen in Denbighshire. Now a UNESCO World Heritage Site, it's home to the spectacular Pontcysyllte Aqueduct. Built in 1801, the bridge carries the Llangollen Canal over the River Dee.
Standing at 1,000 feet in length, it's the longest navigable canal in the UK. And at over 100 feet in height, it's as breathtaking from above as it is below. While there are numerous vantage points from which to view the aqueduct and its 18 arches, you should really try to see the views from the canal itself.
These can be enjoyed from a footpath that crosses the bridge alongside the canal, or better still, aboard a canal boat or kayak. These sightseeing tours are readily available from local providers, as are longer canal boat excursions of a few days or a week or more.
5. Laugharne, Dyfed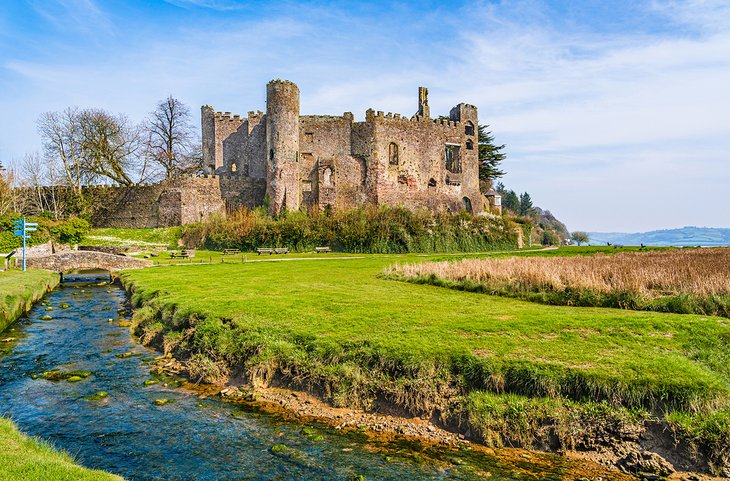 The people of Wales are justifiably proud of their rich cultural heritage. Nowhere is this more apparent than in the seaside town of Laugharne in Dyfed, the long-time home of famed Welsh poet Dylan Thomas.
From 1938 to his death in 1953, Wales' most acclaimed poet wrote a great deal of his work here. The actual house he lived in, the Dylan Thomas Boathouse, is now a must-visit museum, and affords great views over the Taf estuary from its tearoom.
Other highlights of a visit to the town include seeing Laugharne Castle. Although now largely in ruins, it's fun to explore this former fortress that played an important role in the English Civil War.
The town is also known for its seafood restaurants. It also makes for a great jumping-off point to explore other points of interest along the south coast of Wales, including the popular and spectacularly beautiful Pembrokeshire coastline.
6. Brecon, Powys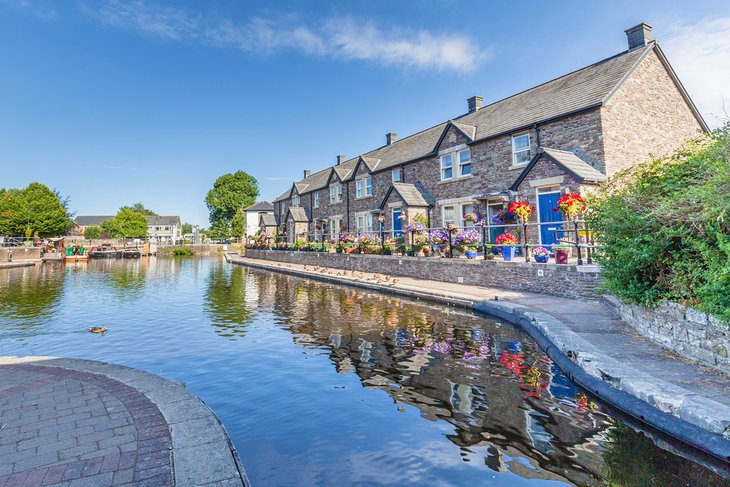 While you've no doubt already got Brecon Beacons National Park on your Welsh travel list, make sure you also include the town of Brecon. It's one of the top places to visit in South Wales.
This old market town in Powys has retained much of its charm and is home to a number of important tourist attractions. Topping the list is Brecon Cathedral. Although only granted cathedral status in the 1920s, parts of this impressive structure date back to the 1600s. A visitor center is located on-site and also includes exhibits relating to the 11th-century priory that once stood here.
Afterwards, be sure to walk to the town's canal basin, where a number of canal-side paths are just begging to be explored. The Regimental Museum of The Royal Welsh is also worth visiting. This must-see museum focuses on displays and artifacts related to the British regiment made famous for its role in the Zulu Wars and the popular film, Zulu.
Brecon also makes for a great base from which to explore the Brecon Beacons, a popular destination for hikers, bikers, and rock climbers.
7. Tenby, Pembrokeshire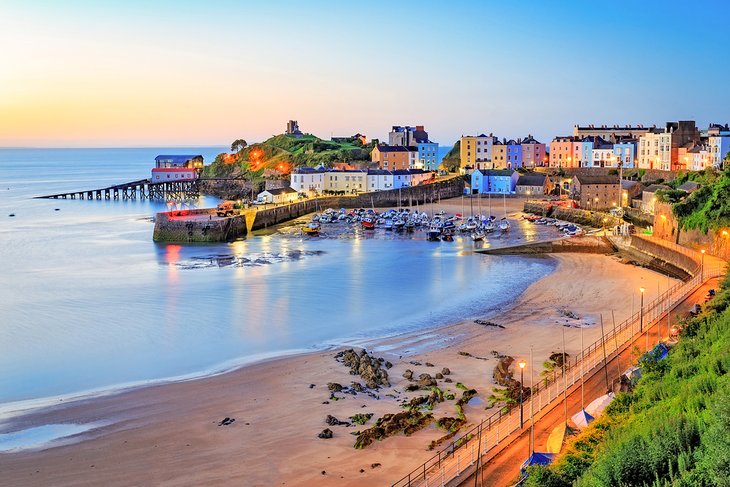 Tenby in Pembrokeshire is another Welsh seaside town that should be visited. Indeed, its iconic painted waterfront cottages are the subject of many a selfie. Overlooking the town's quaint fishing harbor on Carmarthen Bay, some of these charming old terraced homes can even be booked for overnight or weekend stays.
Other highlights here include the old town walls. Dating from the 13th century, they're still largely intact. You'll also want to visit the ruins of Tenby Castle, which can trace its roots back as far as the 12th century.
Families are drawn to Tenby for its sandy beaches: Tenby North Beach and Tenby South beach. Each of these popular beaches offer plenty of room to let the kids be kids. Also worth mentioning are the fully restored Tudor Merchant's House, dating from the 15th century; the Tenby Museum and Art Gallery; and historic St. Mary's Church.
8. Tintern, Gwent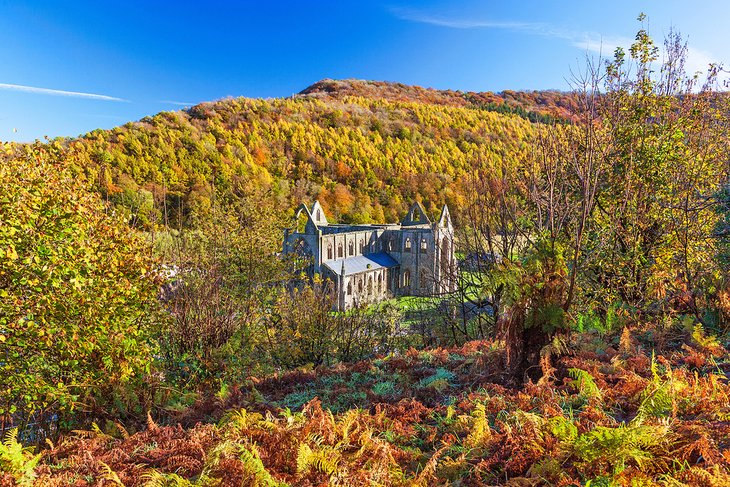 An easy addition to the travel itinerary of those visiting the attractions of Bristol in England, the historic village of Tintern is a must-do destination in Wales. Located on the River Wye in the Wye Valley area of Gwent, South Wales, its rolling hills, thick forests, and cultivated pastures and fields are among the prettiest scenery to be found in the UK.
A must-see here is Tintern Abbey (Abaty Tyndryn). The exterior shell of this impressive 12th-century abbey still stands, providing visitors with a clear picture of its former magnificence. An on-site visitor center features not just displays related to the abbey's history, but also its cultural connections to literature and art.
Be sure to also explore the Wye Valley, too. This area of outstanding natural beauty follows the River Wye for 45 miles. Along with numerous pleasant drives with many places to stop to take in the views, there are also plenty of great hiking trails to experience.
9. Hay on Wye, Powys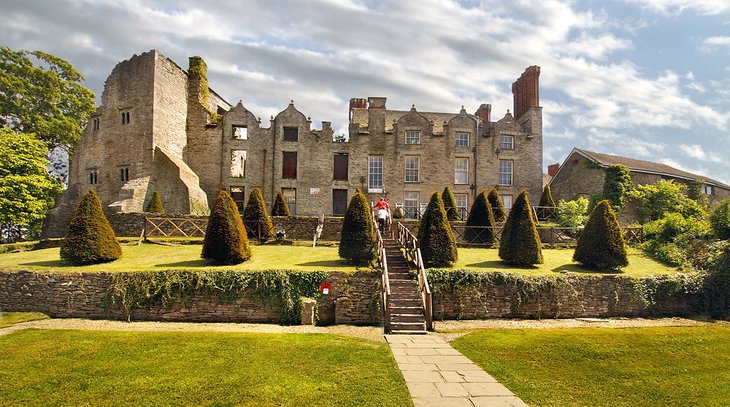 An hour's drive north of Tintern and equally close to the English border lies the charming market town of Hay-on-Wye. Located in the county of Powys, it's another great place to enjoy a small-town Wales experience.
Many tourists are drawn here from across the globe for the numerous bookstores that have set up shop here, many of them specializing in specific genres. This relationship with books started back in 1988, when forward-thinking towns' folk established the now famous Hay Literary Festival, held over a 10-day period in May and June.
Book fans and writers congregate here to swap stories (literally) and participate in book-related events. The town has also become something of a draw for its music festival, too.
The town also features a number of must-see attractions. Topping the list is Hay Castle. While remnants of the original medieval castle can still be seen, most have been incorporated into the later 17th-century mansion built on its foundations. Now open to the public, the castle's grounds are also fun to explore.
10. Merthyr Tydfil, Glamorgan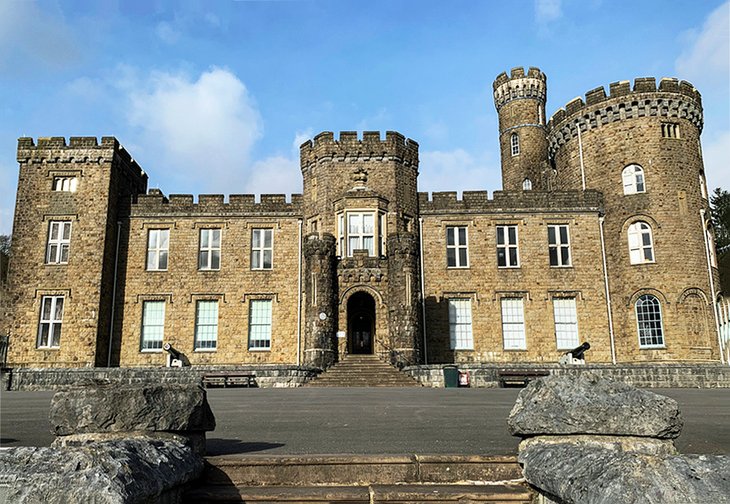 An easy day trip from the Welsh capital of Cardiff, a 20-minute drive to the south, the town of Merthyr Tydfil has much to commend it. In addition to its many dining, shopping, and entertainment opportunities, the town boasts a number of attractions that are well worth visiting.
One of the best is Cyfarthfa Castle (Castell Cyfarthfa). Now an art gallery and museum, this formidable looking mansion was built in the 1820s and can be visited as part of an interesting guided tour, or for any number of events and festivals.
Another must-visit is the Brecon Mountain Railway. Located just three miles away from the town center, this narrow-gauge steam railway can in fact be used to ferry you to (and from) nearby Brecon Beacons National Park, making Merthyr Tydfil an excellent base from which to explore the park.
11. St. David's, Pembrokeshire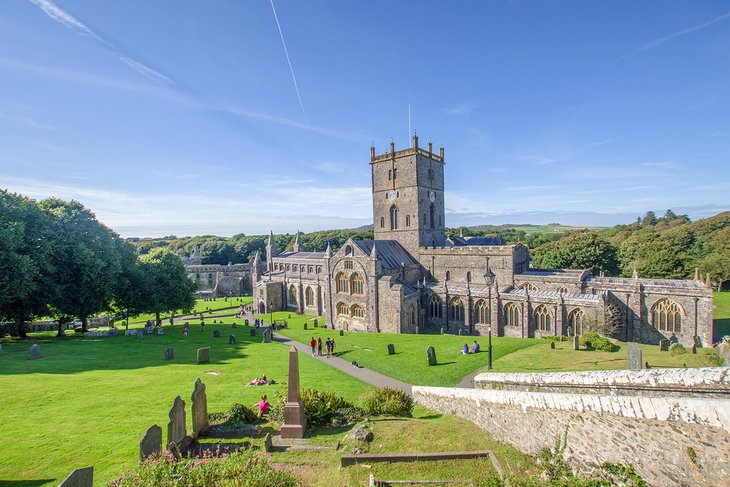 A drive through Wales also affords the chance to visit the UK's smallest city. Located in the beautiful county of Pembrokeshire and within a stone's throw of what's widely regarded as the country's most stunning coastline, this tiny community of just over 1,800 people was granted city status for its cathedral.
Constructed in the 13th century, St. David's Cathedral (Eglwys Gadeiriol Tyddewi) is notable for having been built on a location that would prevent its spire being seen from any distance away. Having survived intact by evading attention from passing Vikings, this magnifcent, well-preserved cathedral is a delight to explore.
Highlights of note include its nearly 800-year-old tower and its elegant Lady Chapel. Guided tours are an option and are highly recommended.
Other fun things to do in St. David's include visiting the Oriel y Parc Gallery. Located in the city's high street, this gallery features numerous works from the National Museum Wales, as well as by famed Welsh painter Graham Sutherland.
Also worth noting is the fact that St. David's is actually located within the boundaries of Pembrokeshire Coast National Park, making it a superb spot to bed down for a few nights as you explore the region.
12. Chepstow, Monmouthshire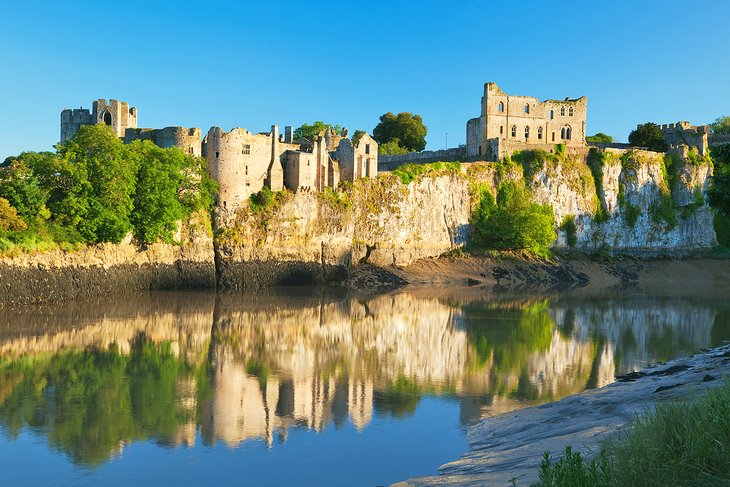 Just 17 miles away from the English city of Bristol and 19 miles from the Welsh city of Newport, Chepstow in Monmouthshire offers a great introduction to Wales for those on a tight UK travel itinerary.
Part of the attraction is this small Welsh town's riverside location. Set on the River Wye, it's home to one of the most picturesque castle settings in the country. Ordered constructed in 1067 by William the Conqueror, the fortress looks directly onto the river, providing a natural defense against attacking enemies.
The English influence is strong here, from the design of the castle to the surviving medieval and later townhomes lining its charming high street. Whichever side of the border you begin your Chepstow adventure on, be sure to include the views from a crossing of the historic bridge across the River Wye on your list of photos to take.
Map of Small Towns in Wales