14 Top-Rated Things to Do in Tenby
Tenby is one of the most popular seaside towns in Wales and for good reason. It has a vacation-mode energy along the southwest Welsh coastline, with incredible beaches and a history that dates to the Norman Conquest in the 12th century. Yes, people come here to relax, but there are so many things to do that you will be hard-pressed to stay still.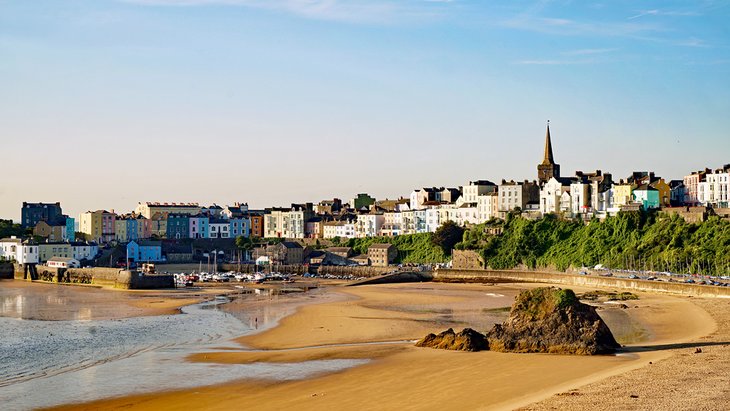 The town is surrounded by the stone walls that once protected it from invasions, and the ruins of Tenby Castle, still visible high above on Castle Hill. Enter the main part of Tenby through the Five Arches, where you are welcomed by colorful old buildings surrounded by intricate landscaping and delicate flowers. There are plenty of small eateries and cafés, where you can stop and enjoy a cup of coffee.
The town's popularity surged in the 18th century, when Tenby attracted the rich and famous, who came here to enjoy the clean bathing waters. Its popularity never ceased.
Tenby is a great place to visit to just get lost in the town with no timeline and see where your journey takes you. Start by reviewing our list of the top things to do in Tenby.
1. Relax at Tenby's Beaches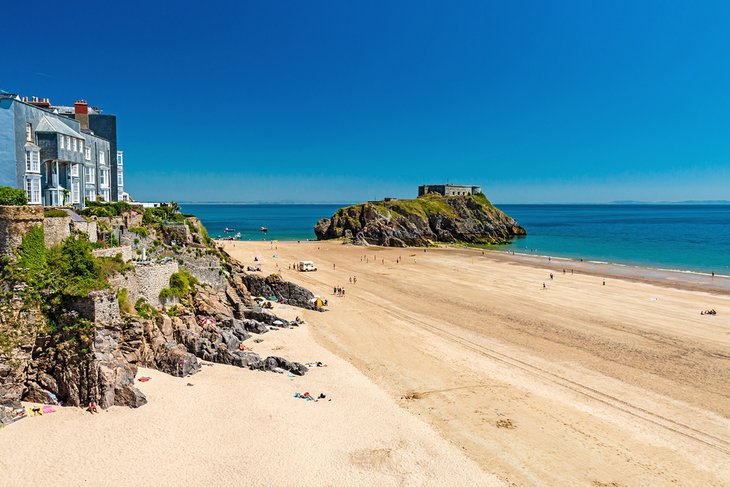 The three beaches in Tenby are each unique. They are all worth visiting, as they are family-friendly and great for swimming. You could hit Castle Beach for the morning sunrise, North Beach for sunset, and South Beach to spend the better part of a day.
Castle Beach is the small, charming cove situated between Castle Hill and Saint Catherine's Island. This perfect small crescent beach is where you will find an occasional fisherman in the morning or a kayaker heading out into the calm water. The soft, sandy beach is a designated Blue Flag beach and is a calmer spot for children to swim. Keep an eye on the tide times, as the beach often disappears during high tide.
North Beach gets nods for its open space and its views of Tenby on the cliffside. This is a beach popular for activities like sailing, bodyboarding, and kayaking. The sand is soft, so you will have no problem popping up an umbrella and taking a snooze to the sounds of the ocean, much like vacationers did in the Victorian era.
South Beach is the grandest of Tenby's beaches and will likely be the busiest given its easy proximity to the steps down from the town streets. There's a lot of space to play on South Beach, so pack the frisbees and kites. There's perfect water for swimming, and ice-cream stands are always close by.
2. Interact with the Animals at Manor Wildlife Park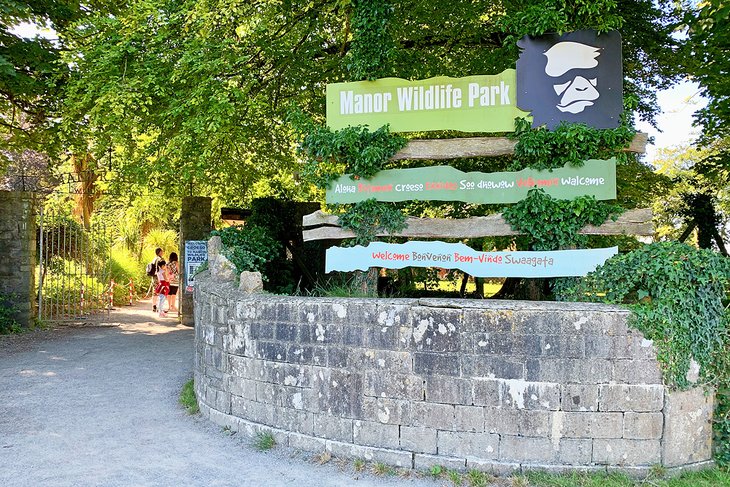 When is the last time you touched a giant rabbit or a shaggy black-nosed sheep? One of the best family experiences near Tenby is the Manor Wildlife Park, where children can enjoy up-close encounters with everything from giant rabbits to wallabies.
This is not a zoo but an animal encounter experience, so you will enjoy exhibits like a Lemur Walkthrough, Valley of the Apes, and Red Panda Woods.
See the animals in their replicated natural environments. For an added fee, you can work with one of the keepers to get even closer to the rhinos, red pandas, or the siamang gibbons.
The Manor Wildlife Park is designed to be as educational as it is fun. There are experiences like the Digiwall climbing experience, a large dome indoor play space, and a Hay Barn with a café so parents can enjoy a coffee while the kids play.
Address: St. Florence, Tenby, Pembrokeshire SA70 8RJ
Official site: https://www.manorwildlifepark.co.uk
3. Walk the Ruins of Tenby Castle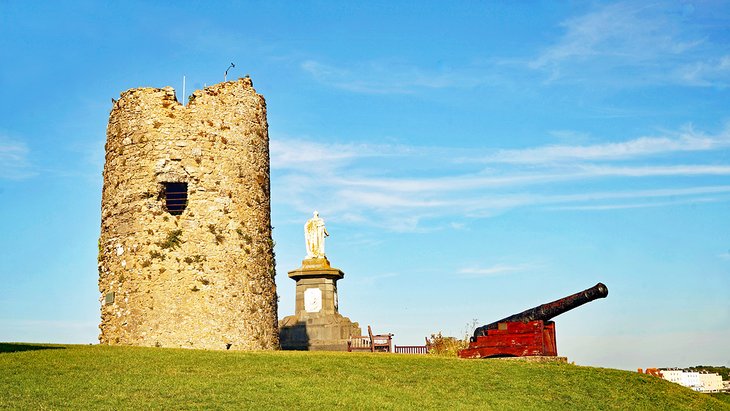 There's not much left of Tenby Castle and frankly, that is part of its charm. What remains of the castle tells enough of the story of why it was one of the most important fortifications on the country's coast, with its 13th-century masonry constructed high on Castle Hill.
The Tenby Museum (more information below) is now housed in what was once part of the castle.
Take a leisurely walk around the winding pathways on Castle Hill to see part of the watchtower that remains, along with monuments, cannons, walking paths, and benches that look out over the ocean from the highest point.
4. Tenby Lifeboat Station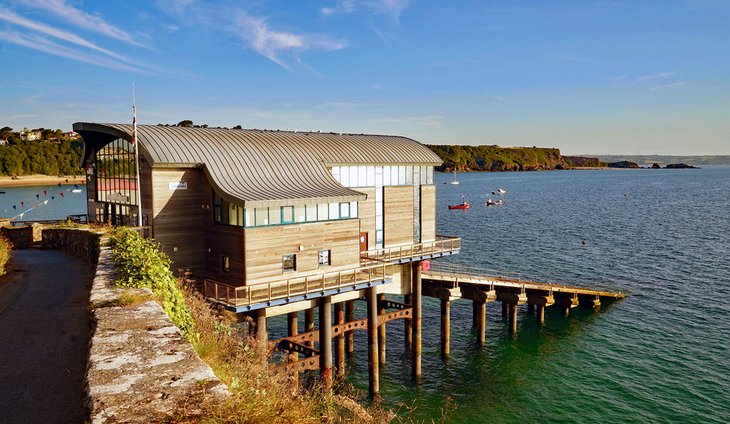 The Tenby Lifeboat Station is one of the most educational things to do in town, giving you fantastic insight into those who head out to sea for lifesaving efforts. This is an easy stop to include while strolling around the harbor and Castle Hill.
Stop in during the day to look at the all-weather Tenby lifeboat up close on the slipway, and learn about its important role in Tenby's history. One of the best times to stop by is during a planned launch (usually indicated at the entrance), when you can see it in action.
This is not the first lifeboat station in Tenby. It sits next to the retired one that served Tenby from 1904 until 2005. Today, it is used for residential housing, but it's available to see from the outside.
Address: Castle Square, Tenby, Pembrokeshire, SA70 7BS
Official site: https://rnli.org/find-my-nearest/lifeboat-stations/tenby-lifeboat-station
5. Enjoy Family Fun at Heatherton World of Activities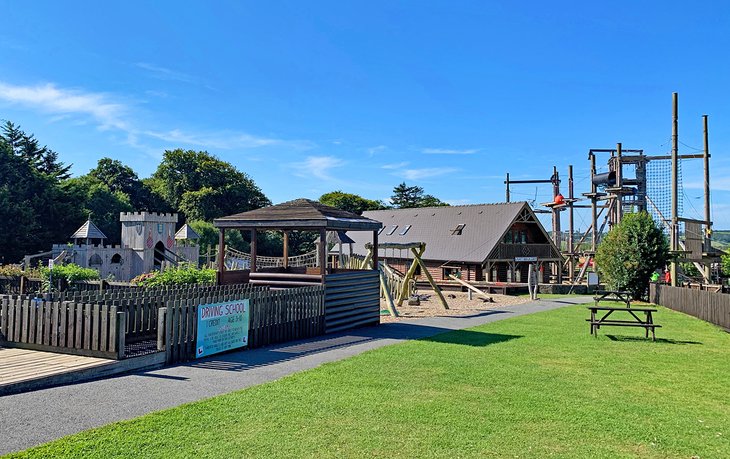 For families looking for more traditional fun and games, the Heatherton World of Activities can fill an entire day. The best part is that it is a free attraction, and you only pay for the activities you want to do.
The facility is set up with multiple activity zones, so you can choose from adventures like navigating hedge mazes, a tree tops trail, paintball, golf, and a children's Land Rover experience.
The complex and activities cater to families with children of all ages. The park is dog friendly, so you can take the family pet and even let them tackle a dog agility course.
This is a nice option to keep in the bag for rainy days, as there are many indoor activity options available.
Address: St. Florence, Tenby, Pembrokeshire, SA70 8RU
Official site: https://www.heatherton.co.uk
6. Get Up Close to Prehistoric Creatures at The Dinosaur Park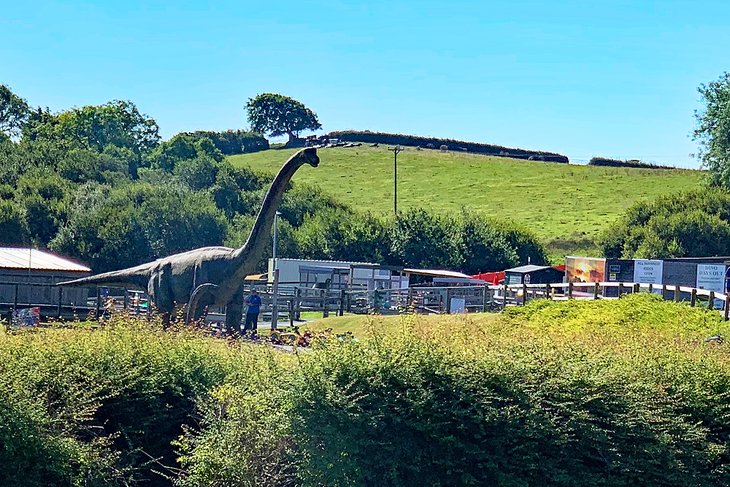 Another popular family venue near Tenby is The Dinosaur Park, which keeps children entertained for several hours. Wander through the woodlands along the Dinosaur Trail to look for the 30 life-sized dinosaurs among the trees and shrubs.
This is a fun and educational place for children who need a break from the beach and history excursions in the city center.
Kids can test their knowledge to identify a T-rex, velociraptor, stegosaurus, and other dinosaurs. You can explore on your own, or take a short, guided safari walk, which is great for smaller children.
Plan for about 30 to 60 minutes to get through the Dinosaur Trail, and more time if you want to stay to enjoy the park's other tourist attractions, like miniature golf and rides.
There are picnic areas and snack stands available within the park.
Address: Gumfreston, Tenby, Pembrokeshire, Wales
Official site: https://www.thedinosaurpark.co.uk
7. See How the 16th-Century Wealthy Lived at the Tudor Merchant's House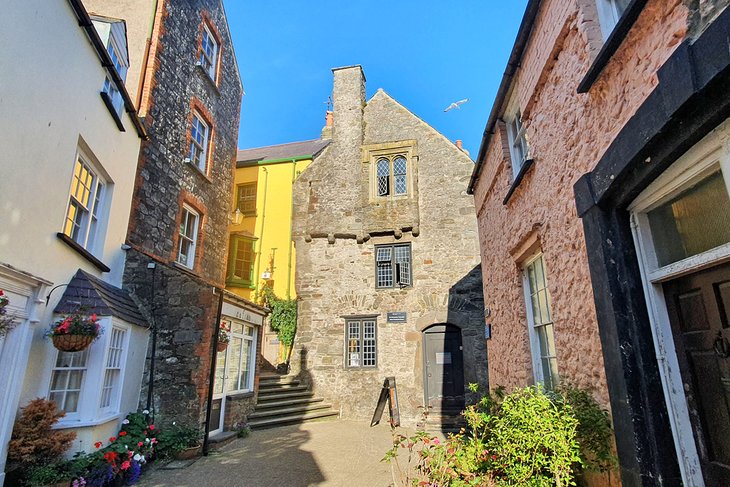 Tenby is an exciting place to visit for history buffs, and while the Tenby Castle is the crown jewel here, the Tudor Merchant's House is worth visiting to see how the wealthy in the town lived in the 1500s. The home and museum give you an intimate look inside a wealthy merchant's house.
The three-story home, which is somewhat hidden on Quay Hill, showcases a 16th-century working kitchen and décor featuring traditional Tudor furniture. Look inside the merchant's shop, which would have operated out of the front of the house opening to the street to sell goods.
The house also features the kinds of items that were commonly sold by merchants in that time, like vinegar, wool cloth, spices, and sea coal. Art collections and painted cloths are on display that were often used instead of tapestries in the 1500s.
Address: Quay Hill, Tenby SA70 7BX
Official site: https://www.nationaltrust.org.uk/tudor-merchants-house
8. Learn about Tenby's Important History at the Tenby Museum and Art Gallery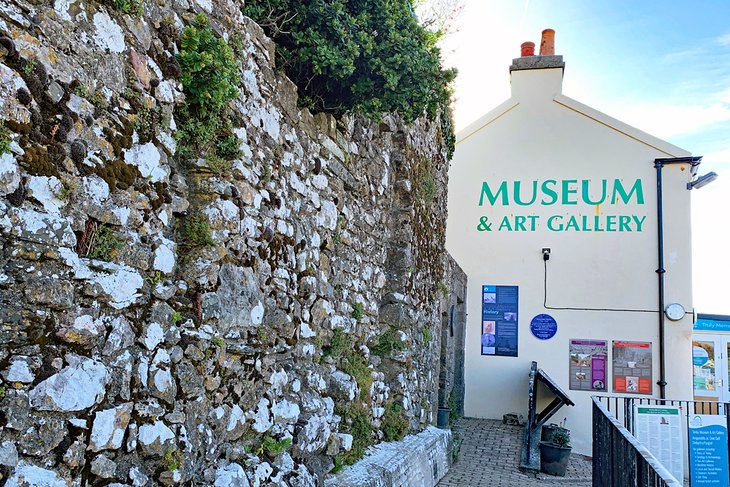 The Tenby Museum and Art Gallery is so much more than a typical museum and gallery. The building is located a short way up Castle Hill and is housed in part of the remains of the Tenby Castle. Look closely at the stone walls leading to the front door, as they are part of the original castle walls.
The Tenby Museum and Art Gallery opened in 1878 and still stands as the oldest independent museum in Wales. There are six galleries to explore, including the history and story of Tenby, an area for geology and archaeology, maritime history, local and social history, two art galleries, areas with children's activities, and a gift shop with a nice second-hand book section.
Be sure to walk around outside to the back of the museum to see the Castle Hill mural, designed by artist Jonah Jones with a dedication to the sea.
Address: Castle Hl, Tenby SA70 7BP
Official site: https://tenbymuseum.org.uk
9. Fishing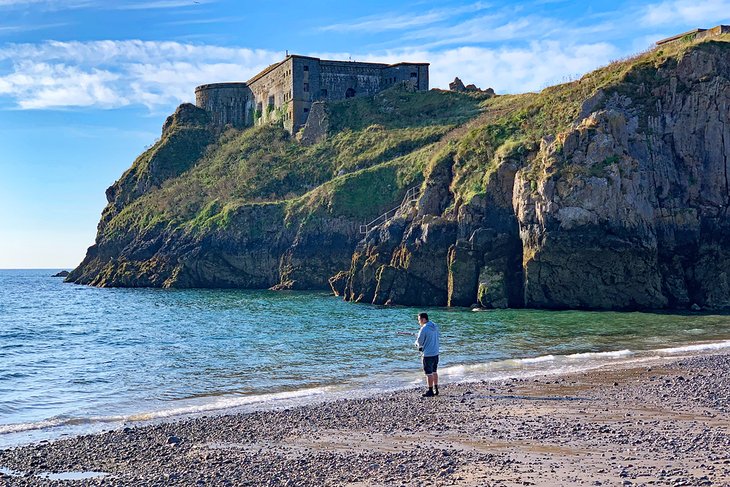 Fishing is a popular activity in Tenby, especially for mackerel and sea bass, with its beaches that offer plenty of places for surf fishing. Fishing is part of the seaside town's origins. In fact, the Welsh name of Tenby, Dinbych-y-Pysgod, translated means "little fortress of fish."
Anglers like to cast a line from shore from the Harbour Wall for flounder, mackerel, dogfish, sea bass, bream, and triggerfish. Other nice spots are along Castle Beach, North or South Beaches, and the Bandstand Rocks.
There are many charter boats available for hire if you do not have your own equipment and want to take a fun trip just off the coast for some mackerel.
10. Walk on Water to St. Catherine's Island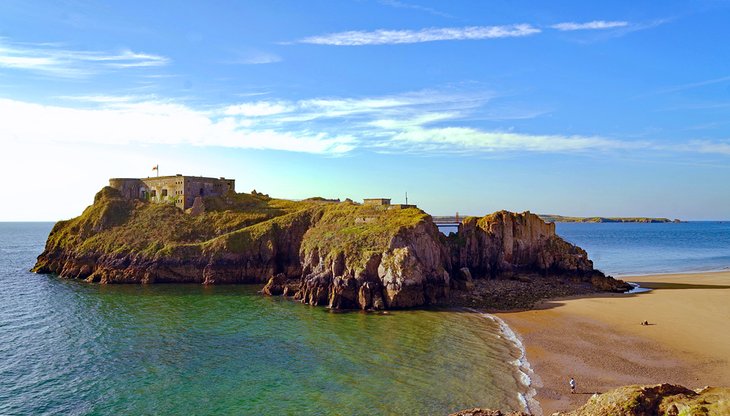 If you time things right, you can walk on water to St. Catherine's Island, which once served as one of Tenby's most important fortifications.
When the tide is high near Castle Beach, St. Catherine's Island is inaccessible. During the low tide, you can walk across the shallow tide pools to the island, and get close-up views of the steps leading up to the Victorian fort that was built in 1868.
If you want to go onto the island to see the fort, look for the public opening times from late March through December. These are dependent on the tide and weather conditions.
During the building of the fort, some discoveries were made, including a human skeleton, Roman coins, and an Egyptian effigy.
After its original use, the fort was sold to a private owner in 1907 until it was auctioned in 1940 when it evolved into various uses, including being the grounds for a zoo. Today, it is preserved for visitors to see and enjoy.
Official site: https://saintcatherinesisland.co.uk
11. Walk Part of the Pembrokeshire Coast Path National Trail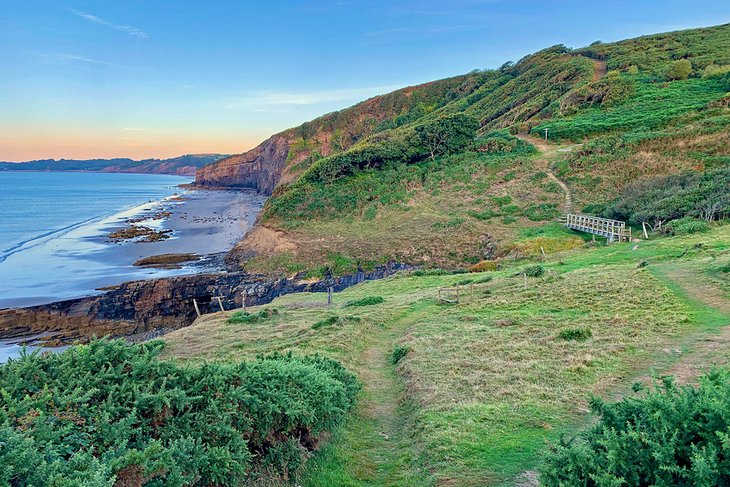 Put on your walking shoes and trek part of the Pembrokeshire Coast Path National Trail, where you are guaranteed to see some of the most breathtaking coastal scenery in Wales. The 229-kilometer (186-mile) trail is significant because it is the first long distance route in Wales.
Most of the path runs through the Pembrokeshire Coast National Park, one of the top attractions on the Pembrokeshire Coast, and other designated conservation areas, so the scenery is untouched, carefully preserved, and pristine.
Besides the natural beauty and coastal views, you are likely to encounter Neolithic cromlechs, ancient churches, and relics and forts from the Iron Age, when a different kind of civilization inhabited these open spaces.
While most people will not set out to cover the entire path, you can certainly plan to hike a section during your visit to Tenby.
Official site: https://www.pembrokeshirecoast.wales/coast-path/
12. Take a Guided Walking Tour around Tenby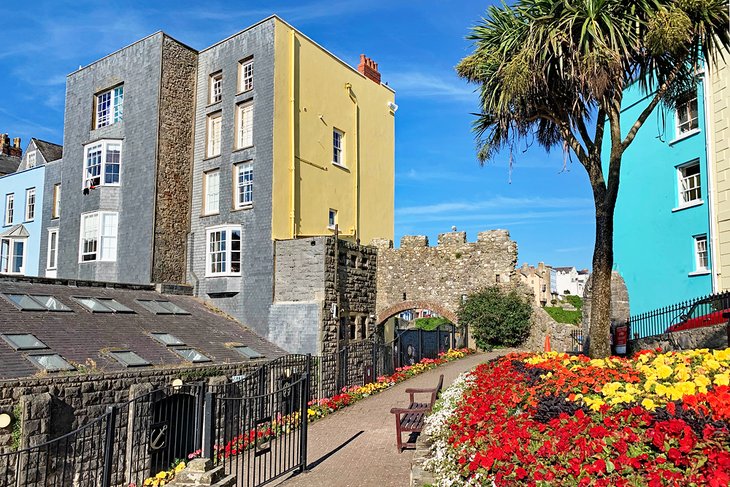 Tenby is such a walkable town, so it is no wonder that guided walking tours are a hit and a great way to get a lay of the land when you arrive. You can certainly explore on your own, but guided sightseeing tours will provide deeper stories and history that you may not get from the town's otherwise fantastic signage.
There are several types of walking tours in the city to fit most interests. Take a Story of Tenby Tour for a historical lens of the town, where you will hit the highlights and see key historical landmarks.
There is a Ghost Walk Tour to liven your visit up a bit, with stories of local folklore that include pirates and other characters said to have a history in Tenby.
Official site: https://guidedtourswales.co.uk
13. Take a Detour to Carew Castle and the Only Tidal Mill in Wales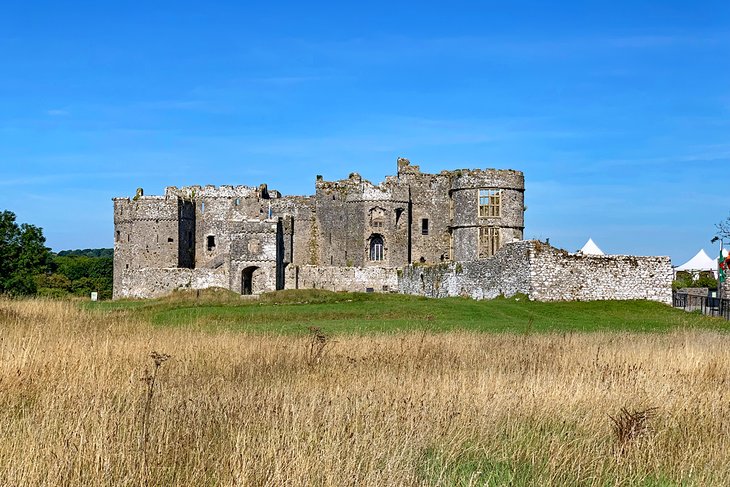 Just a few minutes' drive outside the heart of Tenby is Carew Castle and Tidal Mill, which has a more than 2,000-year-old history. It houses the only tidal mill in Wales.
Start your visit by walking the one-mile circular path around the castle grounds to explore the many hidden places, like the walled garden.
The castle is recognized as one of the most architecturally diverse in the country, featuring an Elizabethan mansion on one end and a Norman fortress on the other. The front of the castle grounds is a place of special biodiversity. You will learn about the bats and owls that make their homes here and the preservation efforts underway to protect them.
You will also want to visit the tidal mill. Although it is no longer in operation, you can take part in some of the interactive displays to learn how the mill water was an energy resource in the early 19th century, long before sustainability was an important social issue.
After your visit, stop into the tearoom for some homemade baked goods.
Official site: www.carewcastle.com
14. Try Your Hand at Coastal Foraging & Rock Pool Safaris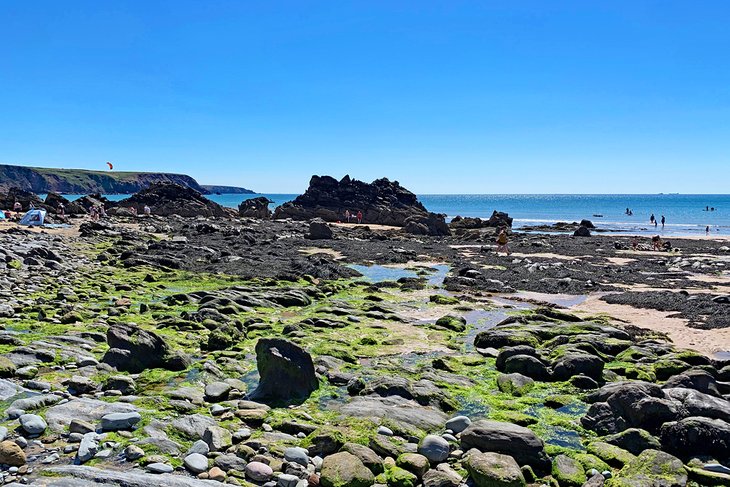 If you have some spare time to fill, you might want to try coastal foraging or take a planned rock pool safari. Essentially, you get to crawl around the coastal rocks at low tides and explore what nature has left behind in the tidal pools. This is a fun activity that will keep kids busy for hours.
To do it on your own, pick up a small net and bucket at a local shop and scoop the sand to see what small creatures and discarded shells have washed ashore. This is an active and educational way to learn about local sea life and the natural environment.
For a more structured experience, you can book a guided rock pool safari out of Tenby and see the Welsh coastline in a whole new way.
Map of Things to Do in Tenby