9 Top-Rated Tourist Attractions in Swansea
The second largest city in Wales, Swansea is also a county. This coastal town is known as "Abertawe" in Welsh, and its suburbs extend as far as the scenic Gower Peninsula. A port at the mouth of the River Tawe, Swansea grew in size thanks to the export of iron, coal, and copper (the latter once so important that it leant Swansea its nickname of "Copperopolis"). Swansea is now an important trading center, university town, and industrial base. It's also a big draw for tourists thanks to its vibrant cultural life. Find the best things to see and do with our list of the top tourist attractions in Swansea.
1. The Gower Peninsula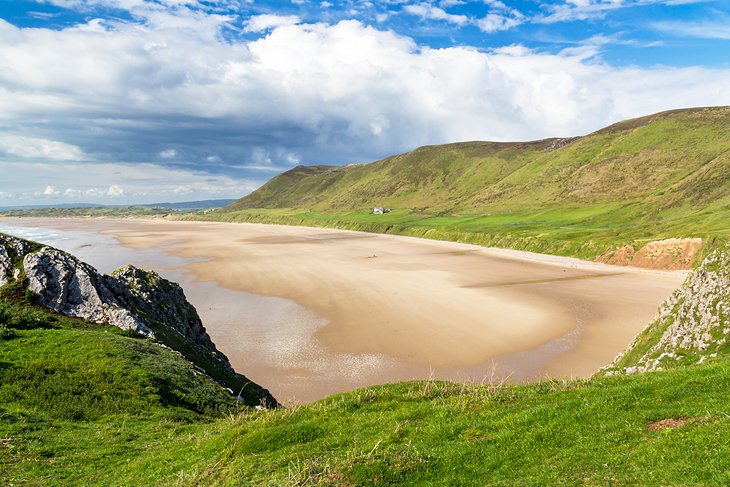 The Mumbles form the gateway to the Gower Peninsula, a limestone massif of great scenic beauty. The charming Welsh south coast has been classified as an Area of Outstanding Natural Beauty and is a nature reserve that, apart from the towns and villages, is only accessible on foot. There are a number of beaches, including sandy stretches at Langland and Caswell Bay, which are particularly popular among surfers.
The Gower Peninsula is the place to be for tourists who like adventure. Whether you like to walk, waterski, abseil, sail, wakeboard, or play golf, you're sure to find something fun to keep you occupied. If there's time, try to visit a Norman castle (Pennard and Oystermouth are worth a trip). You can also stop to see Arthur's Stone, a famous monument along the ridge at Cefn Bryn.
The peninsula boasts a mild oceanic climate and good soil on its chalky clay deposits, making it ideal for agriculture, a fact reflected by the wide variety of crops grown in the market gardens around Bishopston and Killay. Also of interest is Weobley Castle, on the opposite side of the Gower Peninsula from Swansea, a 13th-century house combining domestic comfort with security.
2. Three Cliffs Bay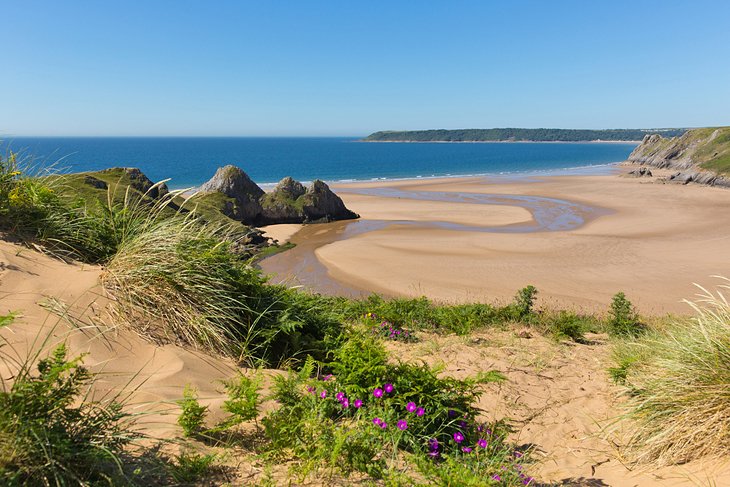 This breathtakingly beautiful bay is situated on the south coast of the Gower Peninsula. So named for the three cliffs that jut into the bay, it's a perfect place for a walk or picnic. While getting down to the beach can be a bit steep and cumbersome, the view is worth every step. Many tourists enjoy the spot so much, they park caravans nearby to enjoy a camping holiday. Others bring their dogs along to frolic in the water.
3. Dylan Thomas Birth Place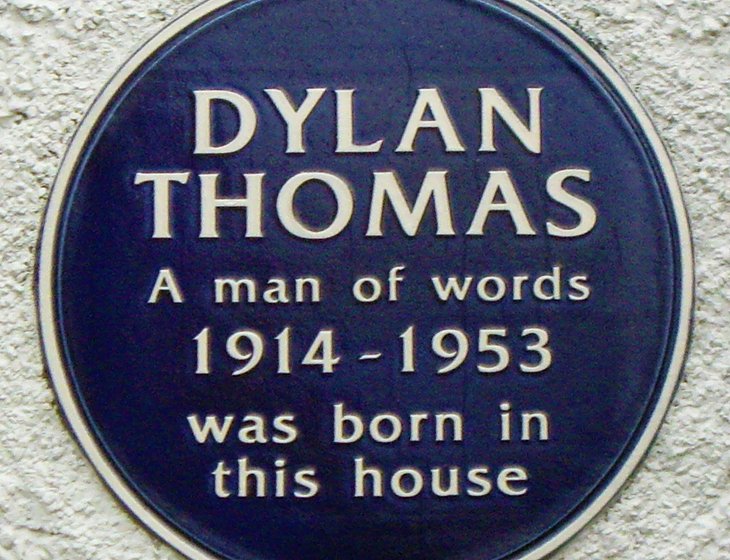 This restored home of famed Welsh poet and writer Dylan Thomas allows tourists to step back in time. Guests can enjoy an Edwardian afternoon tea party, lunch, or dinner in Thomas's old abode. They can eat in Thomas's parlor and snoop through his study while soaking up stories of the poet's life on a guided tour. If walking through the house isn't enough, guests may choose to spend the night. Tourists are more than welcome to snuggle up in one of the house's cozy, perfectly restored bedrooms, which feel as if they are still in 1914.
Another plus: the owners of the house offer guided tours of Thomas's old haunts. A well-trained guide takes tourists through Swansea, the Uplands, Mumbles and Gower and makes them feel as if they're seeing these places through Thomas's eyes. Those who really want to impress their friends can hire actors to perform Thomas's works at the house. Call before visiting as the house may be booked for an event.
Address: 5 Cwmdonkin Drive, Swansea
Official Site: http://dylanthomasbirthplace.com/
4. Clyne Gardens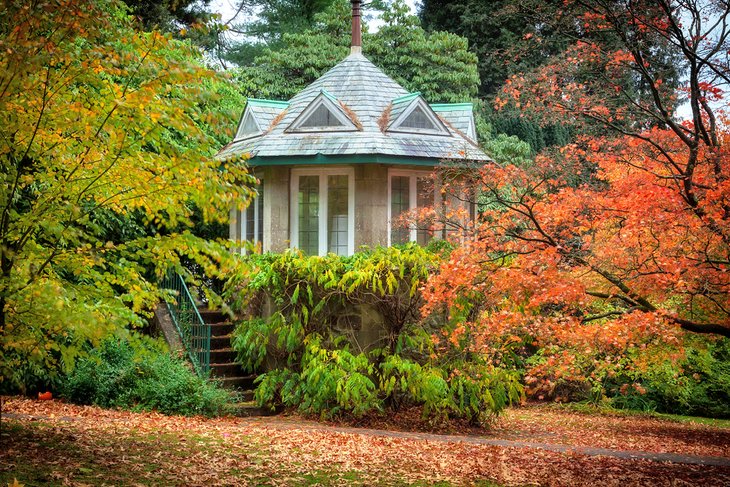 Swansea boasts many magnificent parks, but its Clyne Gardens are famed for colorful displays of rhododendrons and azaleas. This superb botanical garden - once part of the old Swansea Castle - consists of 47 acres of parkland and gardens. The grounds feature more than 2,000 species of plants (including over 800 varieties of the aforementioned rhododendrons). A lovely gazebo is a park highlight and was built by an old admiral in order to keep an eye on ships entering Swansea Bay. Other features to check out are the bamboo-filled Japanese garden, an artificial lake and waterfall, the bog garden and bluebell wood, as well as the 1908 Clyne Chapel.
5. Shopping in Swansea Market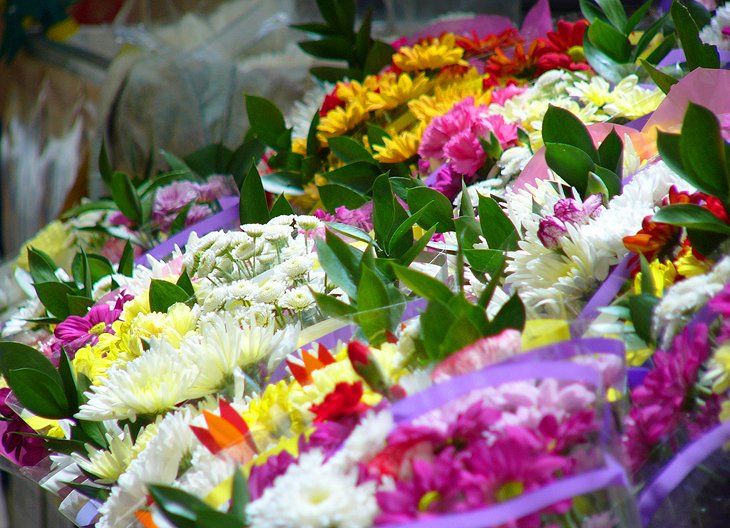 Swansea's mostly indoor market offers a perfect escape from the rain, not to mention a good excuse to treat oneself to something tasty (or shiny). Although markets have been held in the streets of Swansea since the Middle Ages, much of today's market is held inside (and has been since the 1700s). Today, this shopping mecca is home to more than 100 stalls selling everything from jewelry to tomatoes. Delicacies include varieties of strong Welsh cheese, mussels from nearby Burry Bay, and laver bread made from seaweed and served with oatmeal. With so much to choose from (shoes, ornaments, clothing, books, and greeting cards) anyone can find something here.
Once you have finished browsing, enjoy wandering through the wide Kingsway at the heart of the town center. Those who are still fighting the shopping bug, can visit the city's main shopping areas along Union Street, Oxford Street, High Street, Princess Way, and Portland Street.
Location: Oxford Street, Swansea
Official site: www.swanseaindoormarket.co.uk
Accommodation:
Where to Stay in Swansea
6. Swansea Festival of Music and the Arts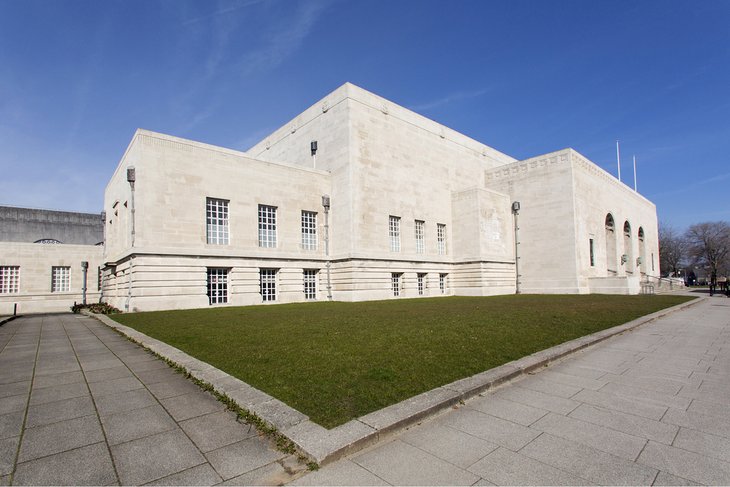 The cultural life of Swansea, which counts the eloquent poet Dylan Thomas (1914-1953) among its sons, is always lively, with the theater and the arts well supported. The Swansea Festival of Music and the Arts, the high-point of the town's social calendar, takes place every October (and sometimes during late September) at a variety of venues around town. These include Brangwyn Hall, All Saints Church, Great Hall, Taliesin Arts Centre, the National Waterfront Museum, and Volcano Theatre. This popular annual festival includes various large-scale concerts by world-famous orchestras, as well as local musical talent, theatrical productions, opera performances, and art exhibits. Another popular Swansea event is the Gower Festival, a two-week festival offering nightly performances of choral and chamber music.
7. The Mumbles and Swansea Bay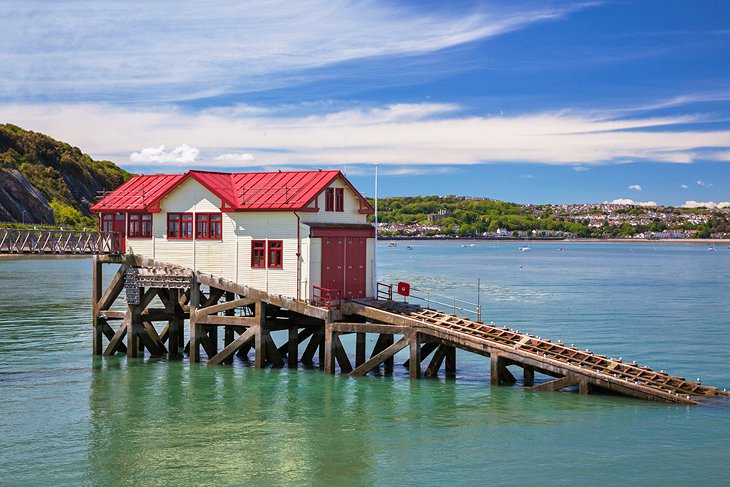 The Mumbles, a headland that is part of wide Swansea Bay, is a wonderful place to walk and explore. Called "Mwmbwls" in Welsh, this fishing village sits at the western edge of the bay. Thanks to its long promenade, piers, cafés, restaurants, and numerous entertainment facilities, it's a popular destination for locals and tourists alike. The Mumbles is a great place to cycle, rest, or wander while soaking up the refreshing atmosphere. With a bevy of play areas throughout, kids love coming here, too. On a hill above the Mumbles lie the ruins of 13th-century Oystermouth Castle with its gatehouse, great hall, and chapel. A prominent lighthouse stands on Mumbles Head, the two cliffs from which the area gained its name.
Editor's Pick

8. National Waterfront Museum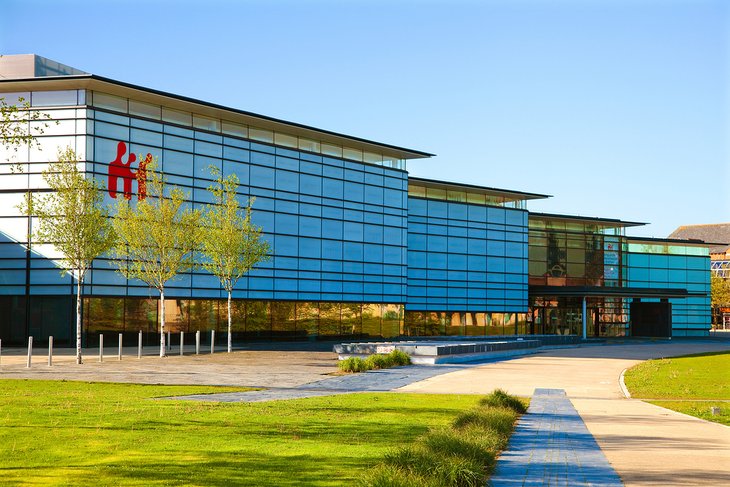 A mere 10-minute walk from the Glynn Vivian Art Gallery, the architecturally stunning National Waterfront Museum is a must-see when in Swansea. Highlighting over 300 years of industry and innovation in Wales, this fun museum uses hi-tech displays and exhibits to show just how important the region was to the development of Britain. Highlights of the museum's 15 themed galleries are old steam-powered machines and engines, as well as maritime-related artifacts. Once you've had your fill of innovation, walk by the Swansea Docks to the Swansea Marina, where you can gawk at sailing vessels and inhale the deep-sea air.
Address: Oystermouth Road, Maritime Quarter, SwanseaOfficial site: https://museum.wales/swansea/
9. Glynn Vivian Art Gallery
The Glynn Vivian Art Gallery was founded in 1911 to display the artistic works donated by Richard Glynn Vivian, a well-travelled art collector from a wealthy copper family. The gallery received a multi-million-dollar renovation in 2016, which turned it into a more modern place to store art collected over the past century.
Today, the Glynn Vivian Art Gallery is supported by a grant from the Arts Council of Wales and the Heritage Lottery Fund. It boasts a varied collection of a range of visual arts, including works from masters such as Monet and contemporary Welsh artists like Bedwyr Williams, Gwen John, Ceri Richards, and Augustus John. It's also affiliated with the much-celebrated Tate galleries in London.
The gallery also features a vast collection of Swansea China and porcelain, as well as European and Oriental ceramics and glass paperweights. Those who are feeling peckish can grab a quick bite in the café before taking in a lecture or performance event.
Address: Civic Centre, Oystermouth Road, Swansea
More Related Articles on PlanetWare.com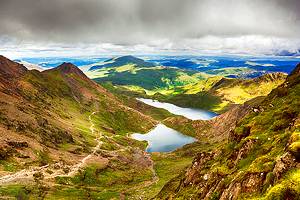 Places to Visit near Swansea: Cardiff is a must-stop for those with time to spare. About an hour's drive from Swansea, the nation's capital offers plenty of things to do and see. From castles to museums to the Doctor Who Experience, there's something for everyone. Cardiff is a great jumping-off point for other fun day trips, including Brecon Beacons National Park and Pembrokeshire Coast National Park. For more ideas on what to see and do in Wales, have a look at our list of the top-rated tourist attractions in Wales.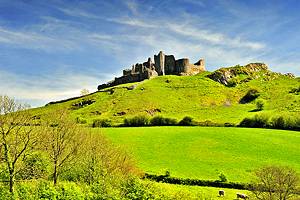 Exciting Places to Explore: Wales offers endless amounts of activities for those who love adventure. Hike 3,560 feet to the top of Mount Snowdon or ride the Snowdon Mountain Railway in Snowdonia National Park. Swim in a pool at the base of the 90-foot-high Henryd Falls in Coelbren or get up close and personal with stalagmites and stalactites in Dan yr Ogof, both of which top our list of top tourist attractions in South Wales.
Fans of myths and legends will love Carmarthen, Wales's oldest town and the supposed birthplace of the Celtic magician Merlin (of Arthurian legend fame). Read our list of the top-rated tourist attractions on the Pembrokeshire Coastline to learn more.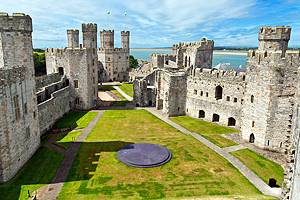 Castles Galore: Who doesn't love a good castle? Wales is filled with these relics, many of which offer spectacular views, as well as a glimpse into the life of the royals of yesteryear. A few of our favorites include Beaumaris, Conwy, and Caernarfon castles. All three made our list of top-rated tourist attractions in North Wales. Another of our most loved? Pembroke Castle, a Norman coastal fortress, which sits on the Pembrokeshire Coastline.
More on Wales