12 Best Beaches in Pembrokeshire
The beaches in Pembrokeshire in South West Wales are some of the most stunning you will ever visit. No wonder many of the coastal villages that surround them got their notoriety as Victorian vacation destinations that are still popular today.
Much of the Pembrokeshire coast is exposed to the wild Atlantic, where deep blue waters and dramatic cliffsides make the scenery seem like a painting.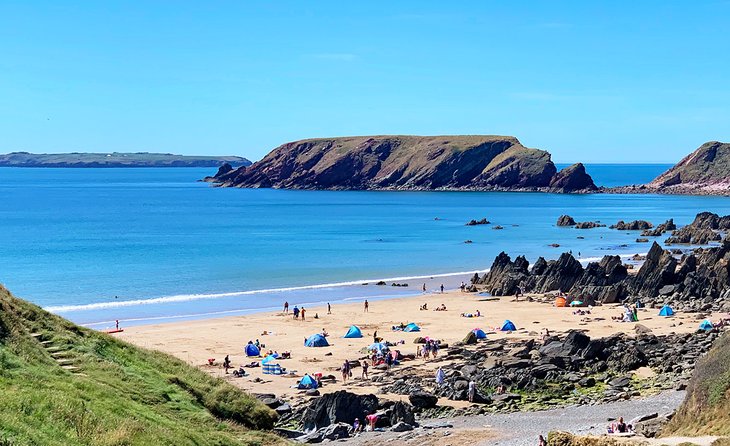 The hot temperatures, especially during the summer season, are tempered by the constant breeze coming in from the ocean. With 58 beaches in Pembrokeshire, and each one unique, you can make a whole vacation just experiencing a new one each day.
Access to many of these beaches requires walking on public footpaths through farmland, past castle ruins or trekking over cliffs through national reserves.
The journey is worth every bit of effort when you lay out your towel to relax on the sand. Plan your day with our list of the best beaches in Pembrokeshire.
1. Barafundle Bay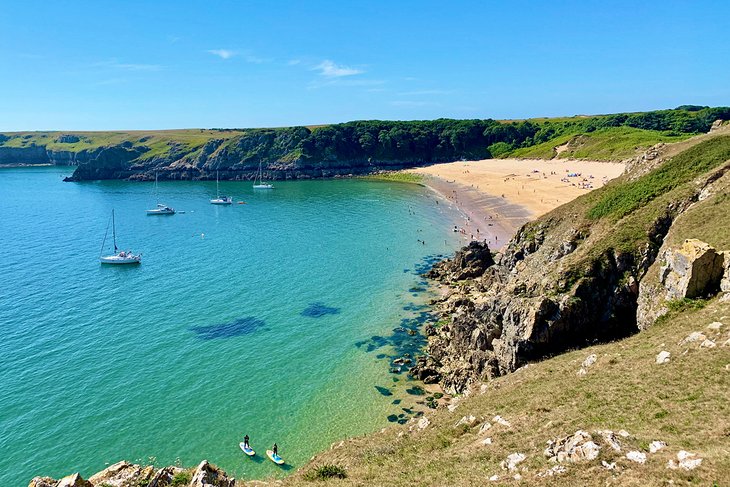 The spectacular beach at Barafundle Bay is in Stackpole, a 2,000-acre landscape owned by the National Trust. What makes this beach the top beach in Pembrokeshire beyond its deep blue water is that there are so many things to do besides going to the beach. Getting here requires about a 20-minute walk from the car park over the cliffs.
The stunning coastal views and delicate wildflowers lining the footpaths along the way add a nice element to the journey. The calm water in the cove is ideal for swimming and stand up paddleboarding.
While the soft sand at Barafundle Bay is hard to resist, you might just find yourself spending an equal amount of time sitting on the cliffs above the beach for the continuously changing views.
You should plan on spending a full day at Stackpole to enjoy the water and the cliffside views of the coast. Pack some walking shoes to trek the hiking trails around Stackpole, and keep an eye out for unique wildlife that frequents the area, especially birds.
You should pack plenty of snacks and water before you go, or pick up last-minute items at the café by the entrance. If you need a good read on the way to the beach, you can pick up a book from the stand at the boathouse next to the beach path.
Another nearby beach that is worth of visiting on its own, but one that you can work in on the same day, is Broad Haven South Beach. It is also located at Stackpole and is a little bit farther walk on the cliffs from Barafundle Bay.
2. Tenby Castle Beach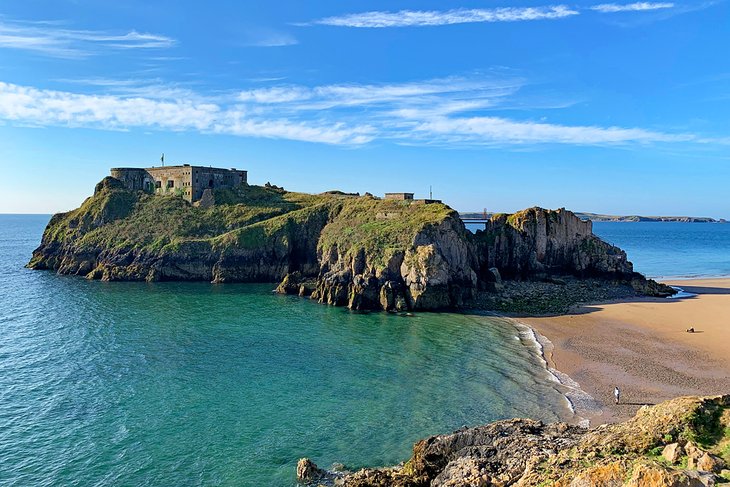 The charming Tenby Castle Beach in Tenby is probably more popular for the novelty than for the beach experience. In fact, to experience this beach, you need to wait for low tide. High tide submerges it altogether.
Tenby Castle Beach is a small crescent-shaped section of sand between the ruins of Tenby Castle on Castle Hill and St. Catherine's Island.
The beach is a Blue Flag Beach, with calm water because it is protected from wind, so it is a great place for children to swim, and it's popular for paddlers.
Since the best time to visit Tenby Castle Beach is during the low tide, you will need to do a bit of research before you go to make sure your timing is right. Low tide is also when there is access to St. Catherine's Island and the old fort that remains on it.
This beach is a popular spot in the mornings, with fishermen catching sea bass, and for those who enjoy exploring tidal pools, this beach has plenty around the rocky edges of St. Catherine's Island. Like any great beach, you can generally find a mobile ice-cream stand nearby, especially during the summer season.
Read More: Top-Rated Things to Do in Tenby
3. Whitesands Beach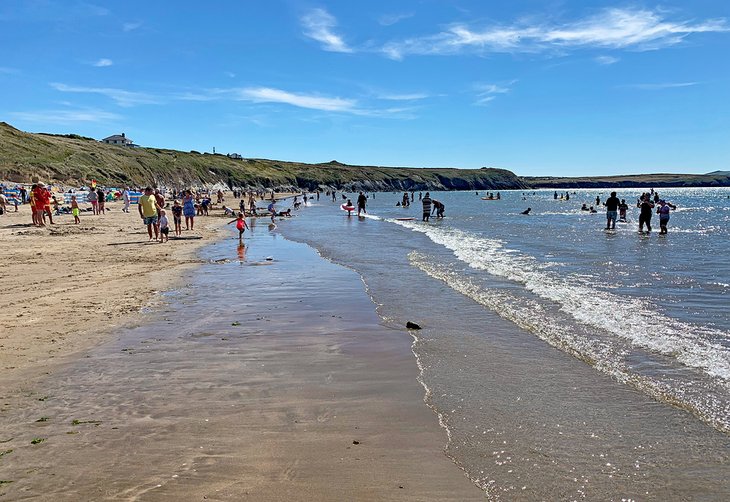 There is a reason that Whitesands Beach is one of the most popular in Pembrokeshire: it's a fantastic recreational beach, with lots of space, and it's convenient to access. It is also called Porth Mawr.
With over 700 meters (nearly 2,300 feet) of sandy beach, it is great for families who want to set up for the day, and for visitors who want the extra space to enjoy long walks and flying kites.
The soft and wide stretch of sand on this beach makes it perfect for digging holes and building sandcastles, especially with the added stream water coming from the nearby farmland.
This beach is also popular with surfers and for water sports. You can find water sports rentals and even take surfing lessons from a nearby outfitter. Swimming, kitesurfing, and kayaking are other popular water activities at this beach.
The conveniences of Whitesands Beach make it an easy place to visit for the day. You will find a designated car park, café, restrooms, umbrella rentals, and a facility to buy sundries all located right next to the beach.
4. Newgale Beach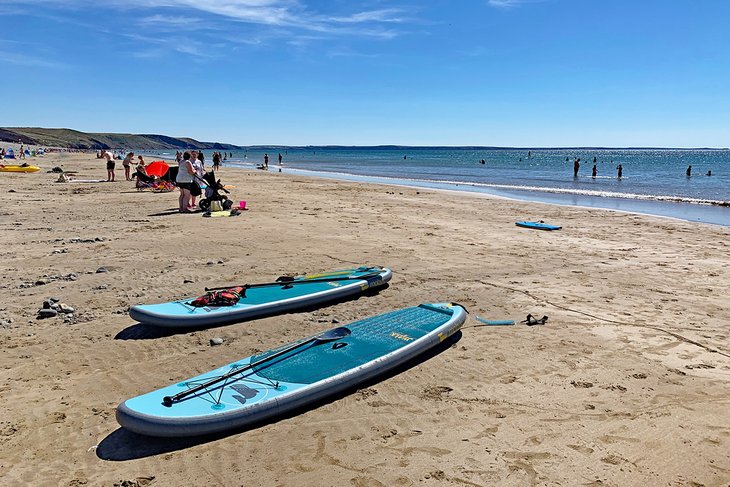 The nearly two-mile-long Newgale Beach in Newgale is a popular beach to visit and a comfortable place to spend a day on the Welsh coast. The sandy Blue Flag beach is set back from the roadway, sheltered by a long hill and rocks.
This is a great beach for families and for those looking for a spot to try kitesurfing and surfing the waves. There is even a surf shop, where you can buy and rent equipment like boogie boards or sign up for a surf lesson.
Parking, shops, and eateries are located right across the street from the beach. For longer stays, you can rent space at the nearby caravan and camping park.
5. Freshwater East Beach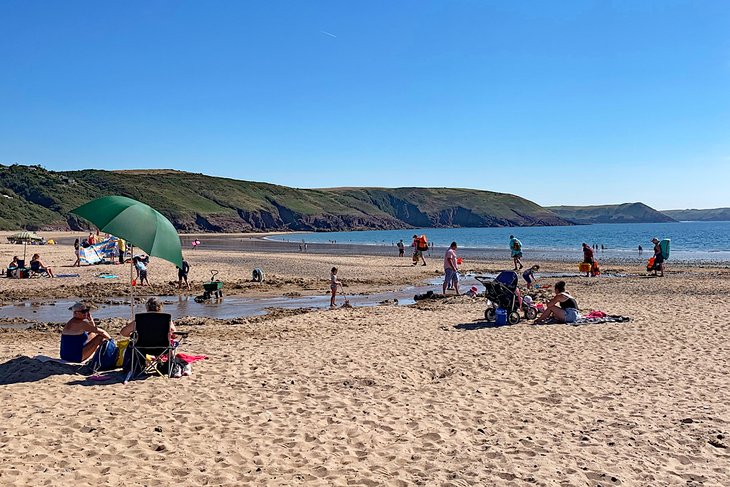 One of the most unique features of Freshwater East Beach near Pembroke is the extra wide tidal pools that weave in and out of the sandy areas. These are the spots where children enjoying this beach often gravitate to with their nets and buckets. It is a nice change of scenery from other beaches.
The water is great for swimming, kayaking, and trying out the boogie boards in the surf. Whether you want to play in the water or just soak in the scenery around it, Freshwater East Beach caters to both moods. The beach is bordered on each side by colorful green coastal cliffs and pathways through the dunes.
You can find designated parking and a flat pedestrian path close to the beach along with sitting benches.
6. Marloes Sands Beach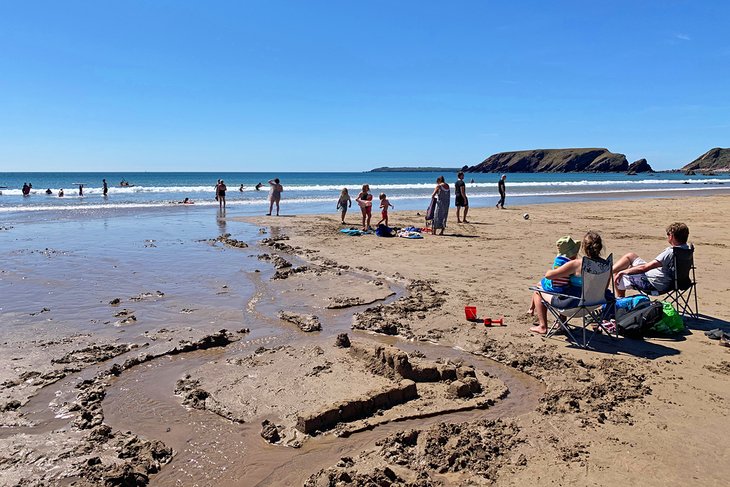 Located on a peninsula in Pembrokeshire, Marloes Sands Beach is popular for people who come here for the natural landscape as well as the water. The mile-long beach has soft sand, gentle turquoise water, and dramatic cliffs. The stunning scenery at this beach is why it's been the backdrop in several Hollywood productions.
This is a comfortable beach for families because of the intimate feel and calm water for swimming. Stand up paddleboarding and exploring rock pools are also other common beach activities here.
There is a bit of a walk required to get to the beach, as it is located about a half-mile from the car park. There are no facilities like restrooms or food on this beach, so you will want to plan accordingly and stop in the village of Milford Haven for those items.
7. Tenby South Beach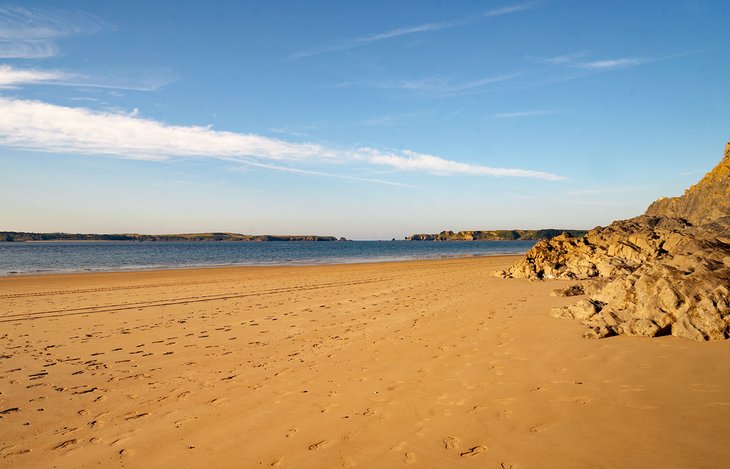 The Tenby South Beach is where you will find a lot of waterfront activity in the vacation resort town of Tenby. The mile-and-a-half-long stretch of sand has plenty of space for spreading out and playing by the water. The beach is easily accessible by stairs from the main section of town, with shops and cafés available just above the beach.
While many people come here to play and swim in the water, Tenby South Beach is great for long walks, especially in the early mornings or at sunset, with unobstructed views of the coastline. Other activities that are popular are surfing, windsurfing, canoeing, and fishing.
From the beachfront, you are surrounded by scenic sand dunes, colorful old buildings in Tenby, a castle, and coastal islands in the distance. Amenities like restrooms and food are accessible on the beach, but you can also walk up to town for options, as well as plenty of parking and lodging.
8. Amroth Beach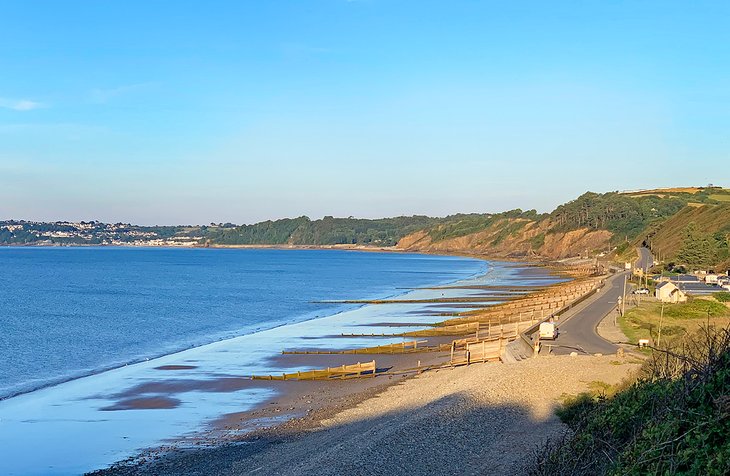 If you like your beach day to be filled with games on the sand, then Amroth Beach fits the bill. It is in the village of Amroth with a half mile of Blue-Flag-designated beachfront and beautiful scenery. It is a great beach to spend a day on, with free parking available and food nearby
There is a half-mile of flat, sandy beach to enjoy. This is a perfect swimming beach, popular with wild swimmers who often enjoy the brisk morning water. Mornings here are also busy with anglers and people looking in the tide pools to see what the ocean has washed up overnight.
The area is surrounded by rocky cliffs and has a rich industrial history. The land around the beach used to be mined for coal and iron ore, so you might see remnants of its past in the landscape.
Amroth is significant to the outdoors scene in Wales, as it is the start of the Pembrokeshire Coastal Path. For an active day outdoors, you can start with a hike then relax on the beach.
9. Saundersfoot Beach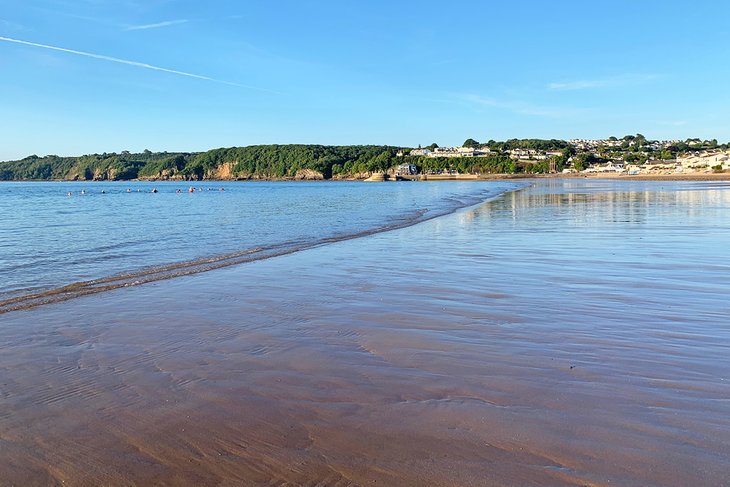 Saundersfoot is a great first beach to visit in Pembrokeshire if you are not sure where to start. This long stretch of soft sandy beach is preferred by wild swimmers (and casual swimmers) and ideal for stand up paddleboarding, kayaking, and walking dogs.
This beach is easily accessible, with several access points and several car parks in different locations.
This beach is in the heart of Saundersfoot, which is a major seaside resort town in Pembrokeshire, so it is generally quite busy, especially in the summer during the high tourist season. There is plenty of room at the beach, even during the busy times.
Given its popularity, you will find plenty of lodging if you want to make a vacation out of it, as well as cafés and shopping in the town. For great views of the ocean and harbor, take a stroll to the top of the hill above the beach.
10. Newport Sands Beach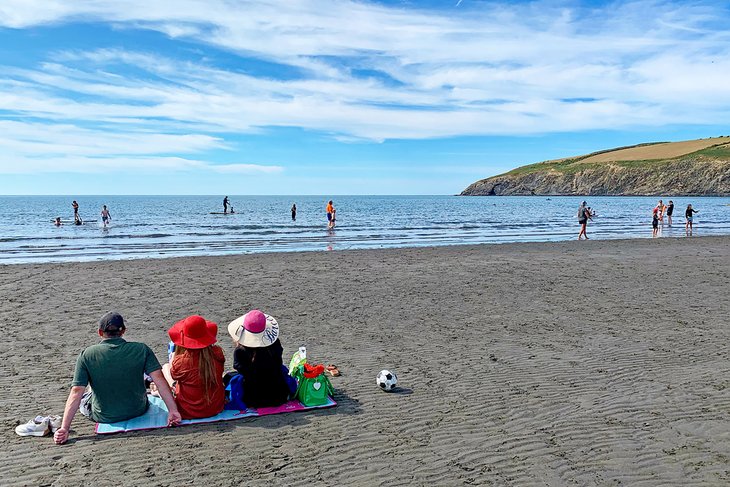 The beach scene at Newport Sands Beach is social and active. You can drive cars right onto the sand here, which is unusual for beaches in Wales, but a popular option for people who want to waste no time getting to the blue ocean water.
This is a soft sand beach that is dog friendly and welcoming to almost any beach activity you want to enjoy, from swimming and surfing to sailing, windsurfing, fishing, and boogie boarding.
Families enjoy the convenience of Newport Sands Beach because they can set up once for the day and have everything available, from restrooms to a café with snacks and ice cream.
You are close to the historic town of Newport if you want to carve out some time to enjoy the shops and buildings in the coastal village.
11. Tenby North Beach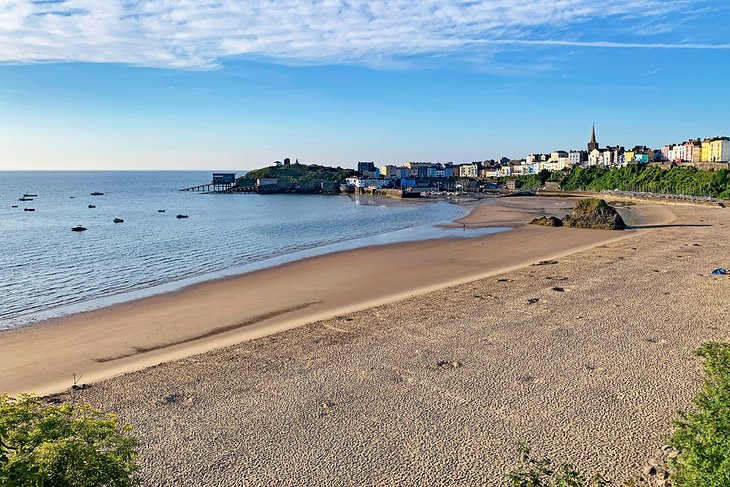 It is hard not to be drawn to Tenby North Beach with its picturesque placement between the colorful town of Tenby and the cliffs. You can access the beach from several paved paths, and it is as comfortable is it is beautiful.
The beach is most popular for swimming and sunbathing, as there is always generally sunshine and a breeze given its positioning surrounded by the harbor, town, and cliffs.
The sand is soft here, and you can easily find chair rentals on-site during the summer season. This is a Blue Flag Beach and a popular spot for vacationers in Tenby, so it can get crowded during the high tourist season.
Tenby North Beach is close to the town streets, where you can take a break to enjoy the local restaurants and shops, and explore this popular resort town.
12. Telpyn Beach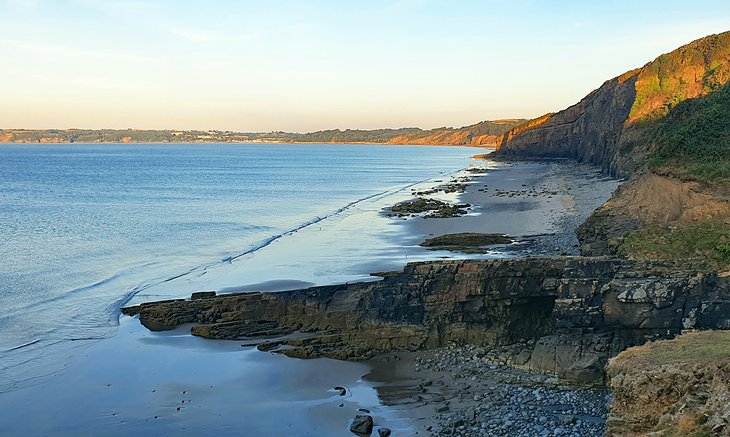 The quiet and beautiful Telpyn Beach is slightly off the beaten path in Pembrokeshire, but it is an ideal beach for morning walks and a peaceful day by the water. This beach has unique and rugged coastal scenery with shrubs, shapely driftwood, and large rocks that are often positioned in meditative stacks.
The makeup of the beach transitions from large pebbles into sand with a cliffside backdrop. It is a nice beach for swimming or a romantic spot to spend the day. The cascading rocks create fantastic tidal pools, where you can look for items that have washed in from the ocean.
There is not a designated car park for Telpyn Beach, but if you are looking for a little bit more seclusion, away from the other busy public beaches, this is a great option. The walk to the beach is about a quarter mile back from the road along a public footpath.
There are additional walking footpaths that branch off if you want to plan time for a longer hike. You will want to plan ahead to visit this beach, as there are no public toilets, and you will need to bring any food or drink with you.