Wales in Pictures: 22 Beautiful Places to Photograph
There's nothing to dislike about Wales. The locals are friendly, it's steeped in history, the mountains are high, and the beaches are vast. If you're hoping to get truly shutter happy on holiday, you won't be disappointed by this United Kingdom gem.
Hoping to snap a few photos of bustling city life? You can do that aplenty in Cardiff. Want to capture images of beautiful serenity? Head to Snowdonia National Park. Hoping to eternalize a medieval castle? There are plenty to choose from in this small, yet captivating country.
This list will help you choose a few picturesque spots to add to your itinerary.
1. The Gower Peninsula, South Wales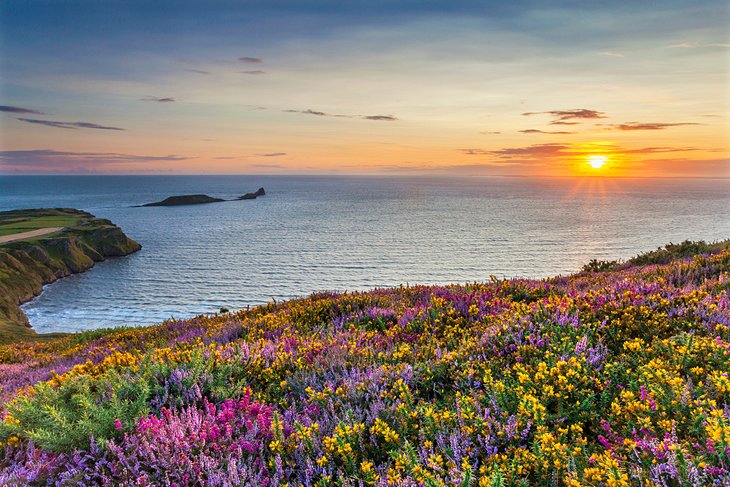 Ringed by golden sandy beaches, turquoise water, ragged cliffs, and lush forests, the 180-square-kilometer Gower Peninsula is a sight worth seeing (and photographing, obviously). Named the first Area of Outstanding Natural Beauty in Britain, this sliver of paradise is a popular place to enjoy the best the area has to offer – from hiking to swimming to surfing to bird-watching to sandcastle-building. Don't miss the spectacular Rhossili beach, Three Cliffs Bay, and Worm's Head, a few of the area's best attractions.
2. Snowdonia National Park, Counties Gwynedd and Conwy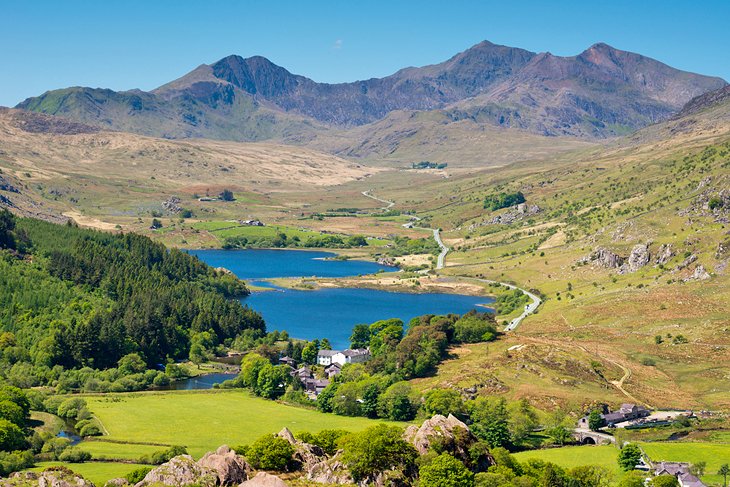 There are few better places to spend a day than the captivatingly gorgeous Snowdonia National Park. The crowning glory of the Welsh countryside and one of the top sights in North Wales, Snowdonia is a haven for the outdoorsy. Known as Eryri in Welsh (a.k.a. "the place of the eagles"), this natural wonderland is home to rushing rivers, majestic mountains, verdant forests, and a multitude of sweet towns and villages, including Betws y Coed, Bala, and Harlech.
3. Menai Suspension Bridge, Holyhead to Anglesey Island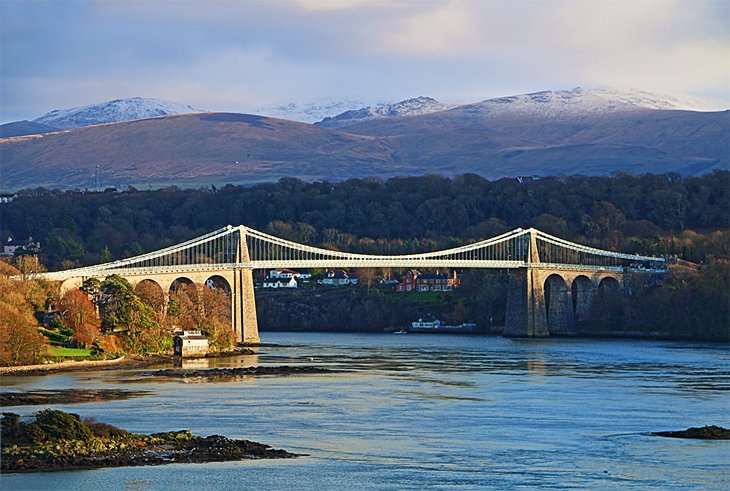 This impressive feat of engineering transports the A5 across the Menai Straight, connecting the mainland's Holyhead to Anglesey Island. Created by a civil engineer named, Thomas Telford, the 304.8-meter-long Menai bridge was opened in 1826. At the time, it was the world's biggest suspension bridge and helped reduce the danger faced by those crossing the treacherous straight upon ferries on their way to (and from) London.
4. Brecon Beacons National Park, South Wales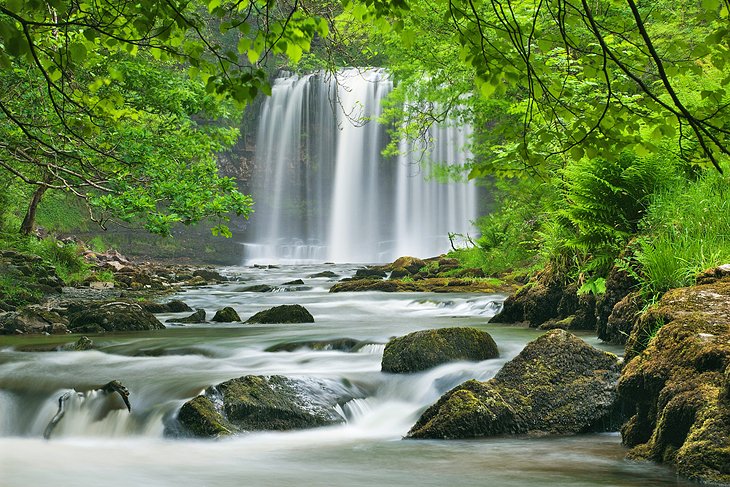 It's not hard to feel Mother Nature's presence in the stunning Brecon Beacons National Park. Unique limestone caves, tall mountains, and cascading waterfalls pepper this wonderland, enticing visitors to grab a snapshot (or five). If you're looking for tranquility, you'll find it here. So, too, will you score the perfect place for a morning hike or an afternoon wander through endless green fields. A mere 30 miles from Cardiff and one of the top attractions in South Wales, this spot shouldn't be missed.
5. Devil's Bridge Falls, Ceredigion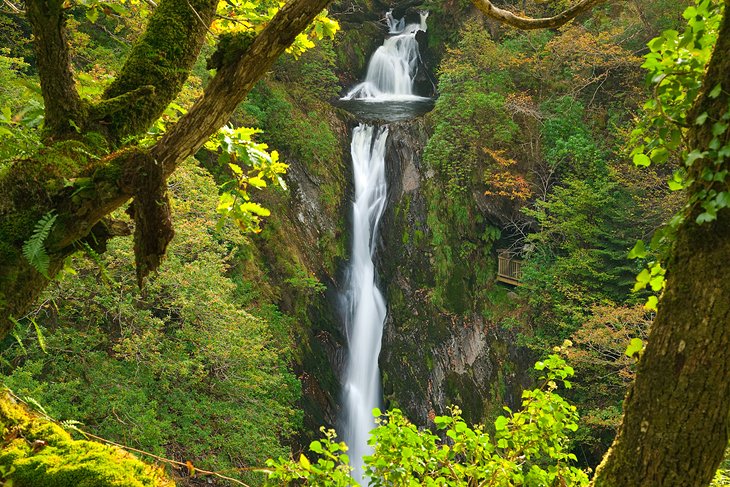 Waterfall fans unite. Devil's Bridge Falls is home to three gorgeous stone bridges and breathtaking falls set deep in the Rheidol Gorge (in the heart of the Cambrian Mountains). Located only 12 miles from the coastal town of Aberystwyth, the oldest bridge dates back to the 11th century, while the newest was built in 1901. The Falls Nature Trail leads walkers directly to the best vistas, but beware: it's slippery and steep.
6. Caernarfon Castle, Gwynedd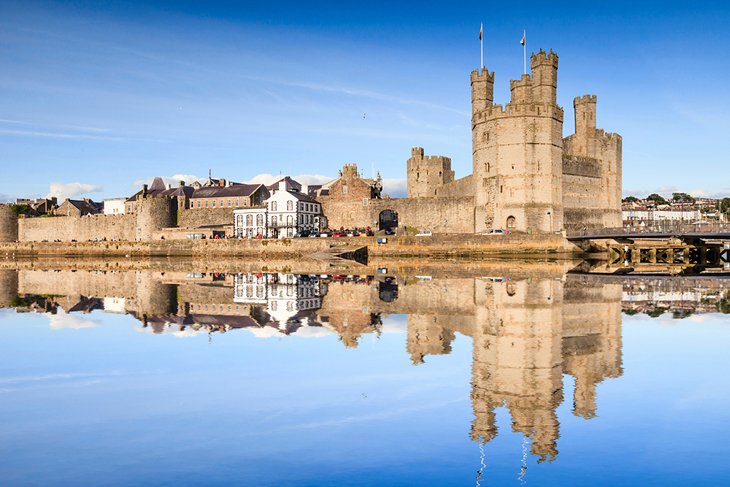 This stoic medieval fortress has everything a good castle should: stone turrets, easy water access, and iron cannons. In addition to these essential assets, Caernarfon Castle boasts ancient walls and a beautiful quay. Also used as a palace, this spectacular (and huge) structure once belonged to King Edward I and took a whopping 47 years to build.
7. Pembrokeshire Coast National Park, Pembrokeshire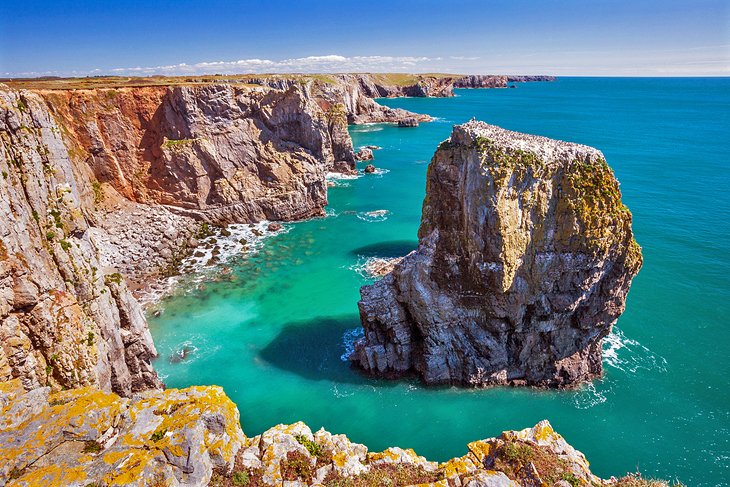 Those looking for dramatic views will find them in spades at Pembrokeshire Coast National Park. Covering 612 square kilometers, this area of spectacular natural beauty spans from St. Dogmaels (in the north) to Amroth (in the south). It boasts incredible walking paths, sandy beaches, and incredible vistas.
8. Tenby, South Wales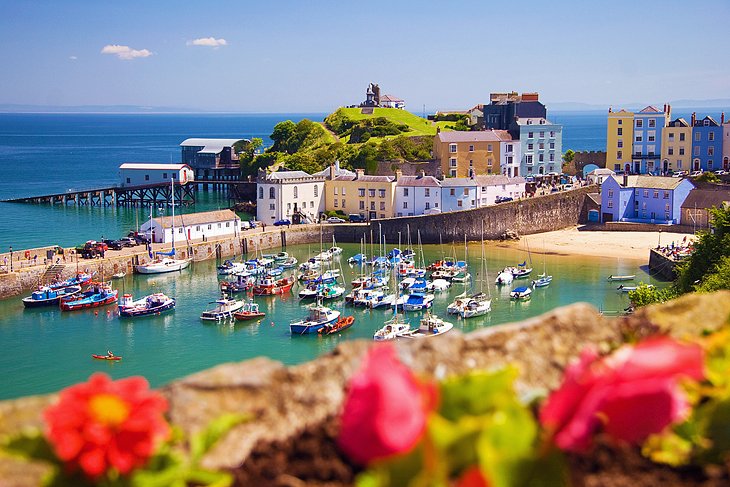 An uber charming medieval fishing village, this walled seaside town sits alongside Carmarthen Bay. It's home to three Blue Flag beaches, all of which are clean and welcoming. There's a lot of old meets new in this quaint place, with fun and colorful shops mixed with a castle dating back to the Norman Conquest and town walls built in the 1200s.
9. Cardiff Bay, Cardiff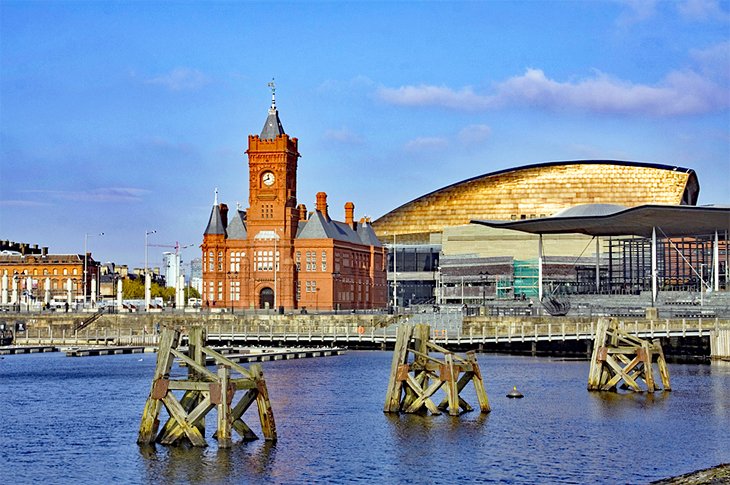 The capital of Wales, Cardiff is not to be missed. Looking for nightlife? It's here. Great restaurants? It's got those, too. Fantastic shopping? Yep. Cardiff Bay, however, is the crowning glory of this bustling metropolis. Sparkling blue water invites guests to swim, sail, or paddle against the city's remarkable skyline.
10. Pontcysyllte Aqueduct, Trevor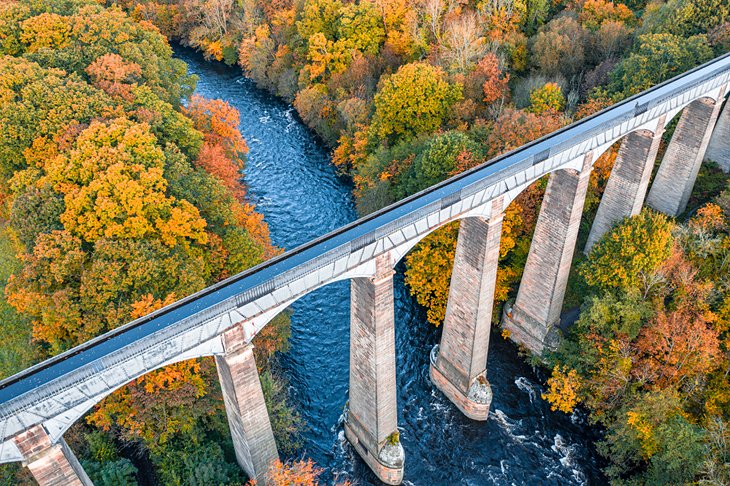 One of the coolest things to do in Wales is take a canal boat trip along the 18-kilometer-long Pontcysyllte Aqueduct. Made of cast and wrought iron in the early 19th century, this amazing World Heritage Site stands on 19 pillars 100-feet above the River Dee. You'll need your camera for this visit; the views are phenomenal.
11. Llanddwyn Island, off Anglesey Island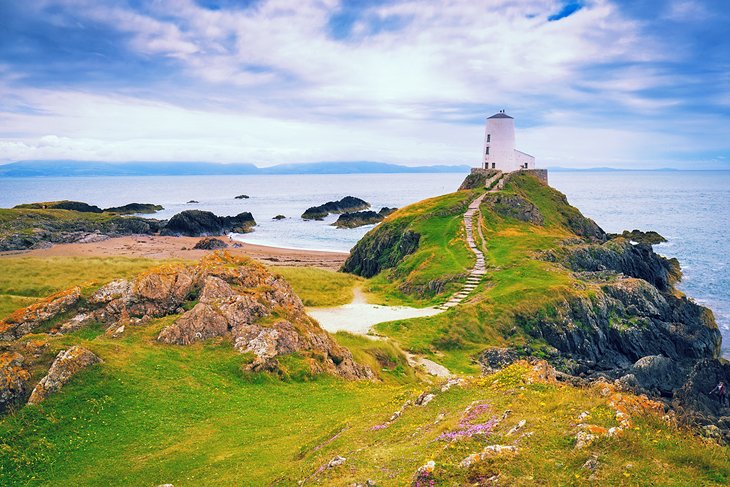 Hit this headland during high tide, and it lives up to its name - by technically becoming an island. During low tide, this small beauty is easy to reach by walking from nearby Newborough Beach on Anglesey Island. The white-washed lighthouse is certainly snap-worthy, as are the craggy rocks and secluded coves.
12. Conwy Castle, Conwy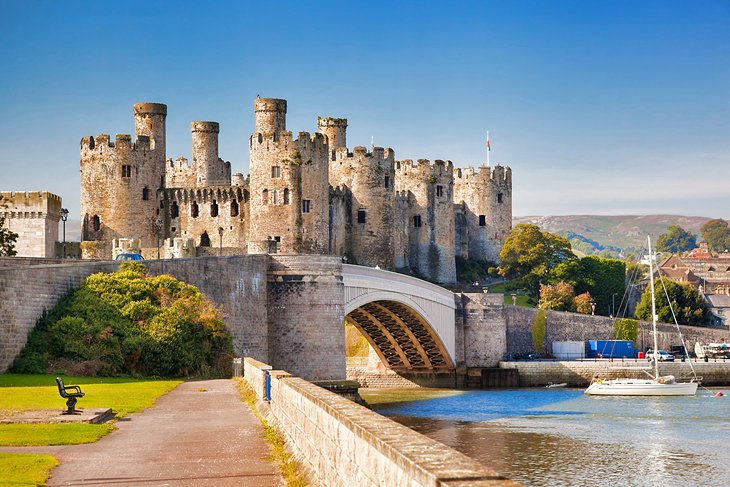 Yet another castle joins our list of the most beautiful places to photograph in Wales. Its stunning location, perfectly arched bridge, and immaculate stonework add to its breathtaking charm. Built in the town of Conwy in Northern Wales, this striking fortress was another of King Edward I's masterpieces. Inside, you can walk a complete loop around its battlements. With Snowdonia's gorgeous peaks looming in the distance, you won't want to rush!
13. Pen Y Fan, South Wales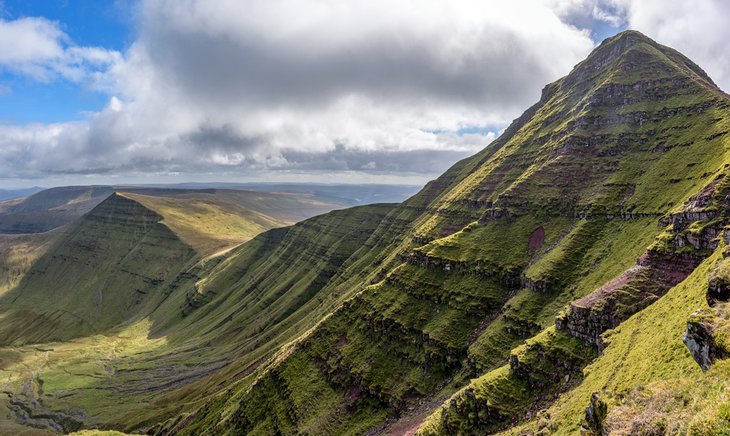 The majestic Pen Y Fan is impossible to miss and even harder to dislike. The highest peak in Brecon Beacons National Park and South Wales, this phenomenal mountain will leave you breathless. Over 350,000 visitors make the climb to summit Pen Y Fan each year. Once you catch sight of the magical view, you'll understand why it's worth the steep trek.
14. Llangollen, Denbighshire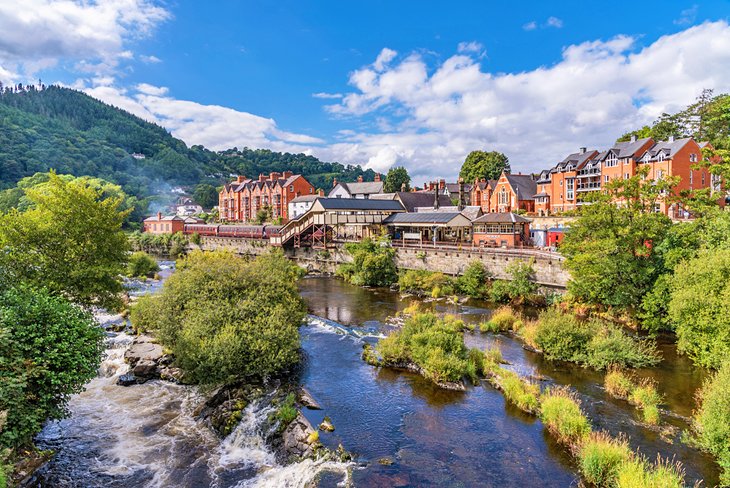 Talk about a storybook town. This beautiful village lies in the Dee Valley, hugged by the fast-flowing River Dee and surrounded by lush mountains, one of which is topped by a ruined castle. There's a lot for your camera to love here, which is why it's packed with visitors during the country's warmest months (i.e. spring and summer).
15. Llyn Ogwen, Snowdonia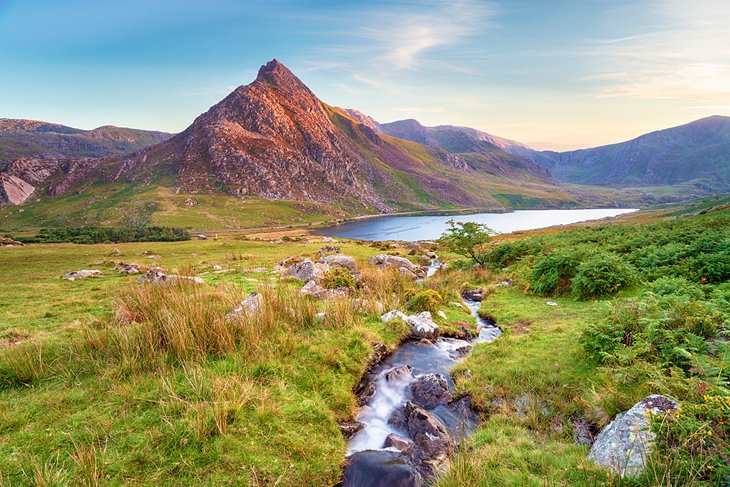 One of the most notable lakes in Wales, Llyn Ogwen is a wonderful place to relax, take a dip, or traipse along the National Trust's circular walking trail. It's an easy walk with no hills to climb. Surrounded by some of Snowdonia's most inspiring peaks (we're looking at you, pointed Tryfan, and Pen yr Ole Wen); you'll be hard-pressed to find a more peaceful lakeside walking path.
16. Penarth Pier, Penarth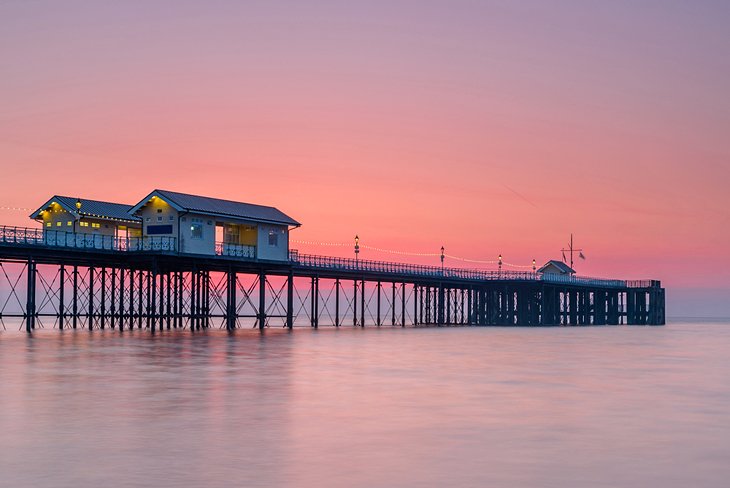 This Victorian Pier is one of the top attractions in the sweet seaside town of Penarth. Its picturesque walkway juts into the Bristol Channel, flanked by shops and food vendors. The boardwalk is a beautiful place to watch the sunset. Just over 20 minutes south of Cardiff, you won't want to skip this nostalgic spot.
17. Upper Neuadd Reservoir, Merthyr Tydfil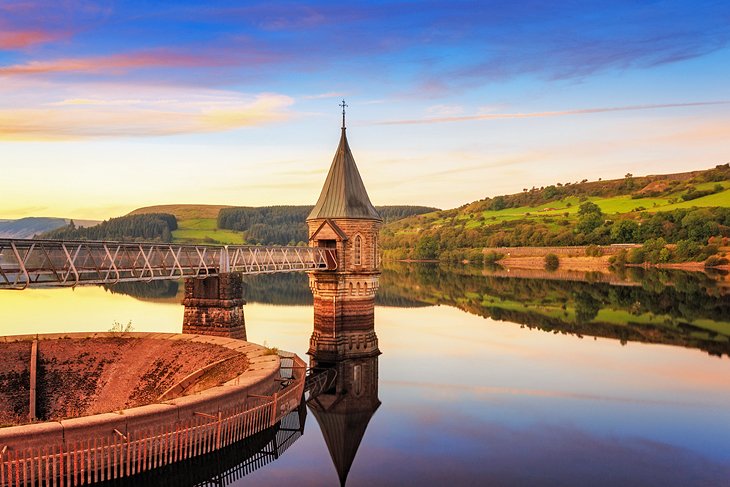 If you catch the Upper Neuadd Reservoir at the right time, you'll be blown away by its insurmountable beauty. Hugged by steep cliffs, the calm water at times turns into a natural mirror, effortlessly reflecting the beautiful surroundings. Located in the beautiful Brecon Beacons, the reservoir has been drained in recent years for ongoing work. Hopefully it will be restored to its regular water level soon.
18. Swallow Falls, Conwy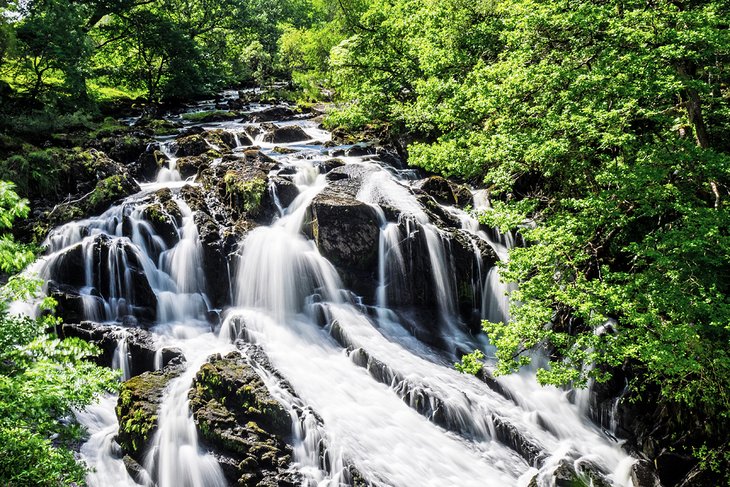 Swallow Falls or Rhaeadr Ewynnol, as it's called in Welsh, is a captivating cascade worthy of at least a dozen pictures. It is formed as the river Llugwy rushes through a narrow chasm in Betws-y-Coed in the northern county Conwy. Visit during fall, when the surrounding forest of birch, beech, and conifer trees have burst into color.
19. Kidwelly Castle, Carmarthenshire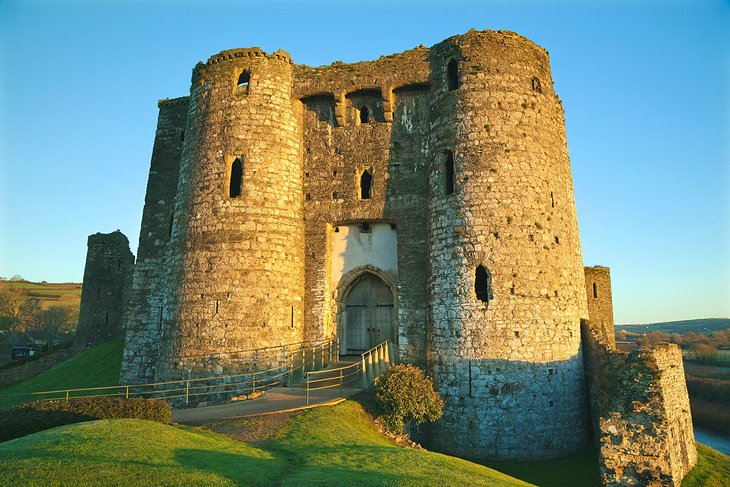 Visitors may recognize this impressive Norman fortress from the opening scene of the cult classic, Monty Python and the Holy Grail. Set on the river Gwendraeth, this well-preserved site features exquisite ruins perfect for an artsy backdrop. Don't miss the rooftop terrace (well, it's more of a platform), but be sure not to fall off.
20. Mumbles, Swansea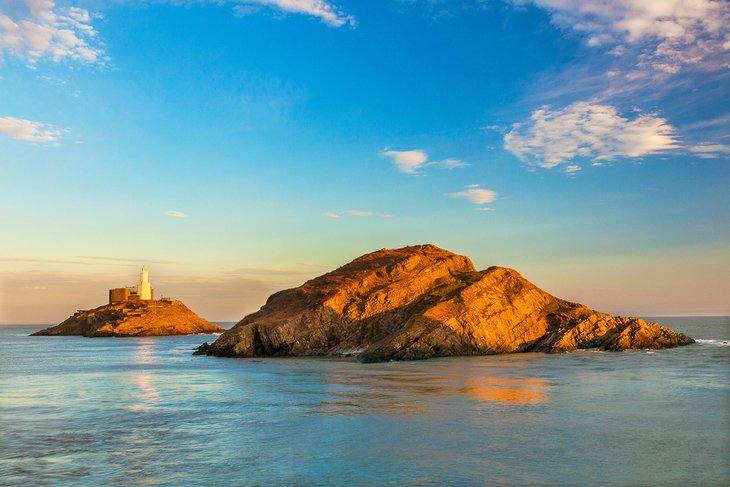 Famed as one of Dylan Thomas's beloved haunts, the quaint town of Mumbles (or Mwmbwls in Welsh) is one you'll be happy you visited. Located in Swansea, at the start of the Gower Peninsula, this picturesque village features a Victorian pier, medieval castle, and a lighthouse dating back to the late 18th century. What's not to love?
21. Bryn Cadner Faner, Gwynedd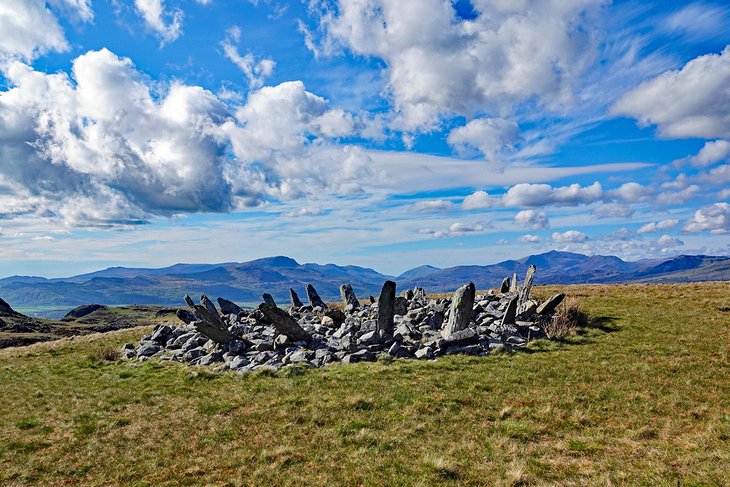 An ancient, sacred stone circle (a.k.a. a cairn) stands serenely in the countryside near Talsarnau in county Gwynedd. In the distance, you'll spy the captivating peaks of Snowdonia's mountains. To reach this otherworldly spot, which was used as a burial ground centuries ago, visitors can walk along a 3.2-mile trail located just outside Talsarnau.
22. Nash Point, South Wales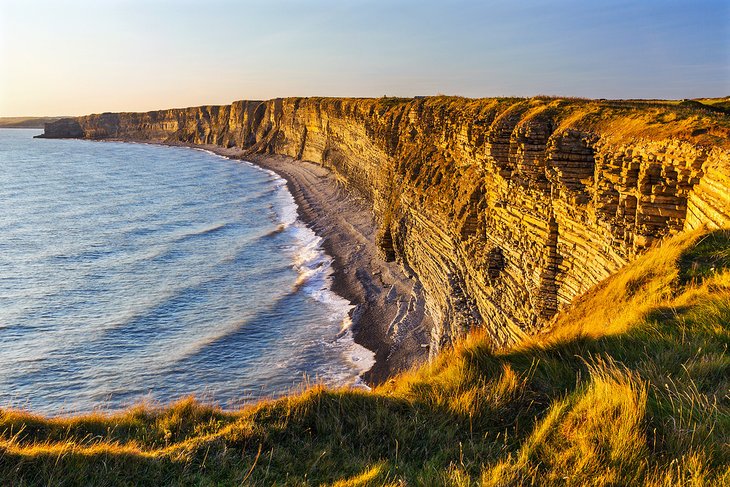 Nash Point is found in the heart of the stunning Glamorgan Heritage Coast in South Wales. Home to a picturesque white lighthouse, fossil-filled beaches, rock pools, and rugged cliffs, this natural marvel is one you won't want to miss. Hike the Wales Coast Path, scramble along the rocks, or hunt for treasures in the rock pools.