14 Top-Rated Tourist Attractions in South Wales, UK
South Wales incorporates the Welsh capital of Cardiff, along with some of the country's loveliest scenery. Little surprise, then, that this beautiful region consistently ranks as one of the top places to visit in the UK.
Easily accessible from England – the city of Bristol is just a short drive away – the region is also a popular holiday destination thanks to the spectacular Brecon Beacons, home to Pen y Fan, the highest mountain south of Snowdonia. This beautiful region also consists of the magnificent South Wales Valleys, an area once famous for its coal, as well as the Wye Valley, the Vale of Usk, and the beautiful Glamorgan Heritage Coast.
If you only have a day or two in your UK travel itinerary to see Wales, you couldn't do much better than spending it exploring the many picturesque valleys and small old mining communities found here. You'll discover extremely friendly people and attractive towns and villages bursting with traditional Welsh culture, many of them home to unique hotels and inns, museums, and shops.
See the best of this region with our list of the top tourist attractions in South Wales, UK.
1. The Welsh Capital of Cardiff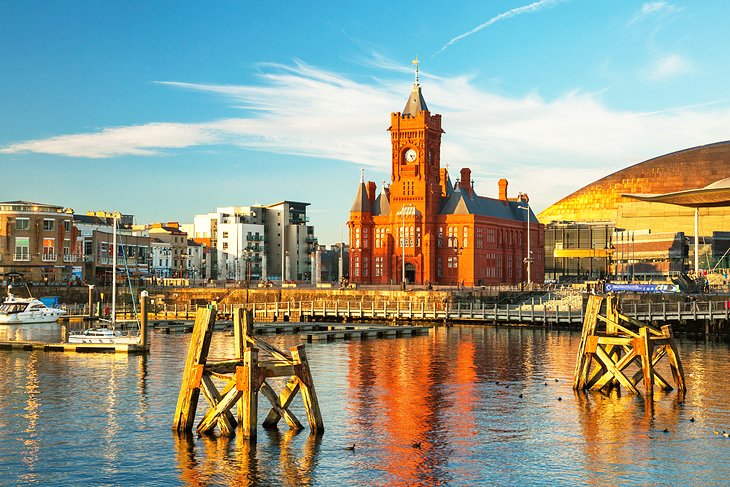 The capital of Wales is undoubtedly one of the most attractive cities in the UK. Which is why Cardiff (Caerdydd) is a must-visit destination when exploring South Wales, and makes a great base from which to venture forth on exciting day trips and adventures.
In addition to the famous (and well-preserved) Cardiff Castle, the city is also well-known for its large harbor area, now home to numerous fine cultural opportunities. Once one of the busiest ports in the UK, much of Cardiff Bay has been extensively redeveloped and now comprises close to 2,700 acres of luxury housing and commercial buildings, including a rich mix of offices, restaurants, and shops.
There are also numerous entertainment and cultural facilities, too, including a theater and science center (Techniquest). Topping this list are state-of-the-art sports amenities, including a man-made white water rafting center, and numerous parks, along with a nature preserve.
Cardiff is also a very popular shopping destination, with tourists flocking here to explore its many well-preserved Victorian-era shopping arcades.
2. Experience "Wild Wales" in the Brecon Beacons National Park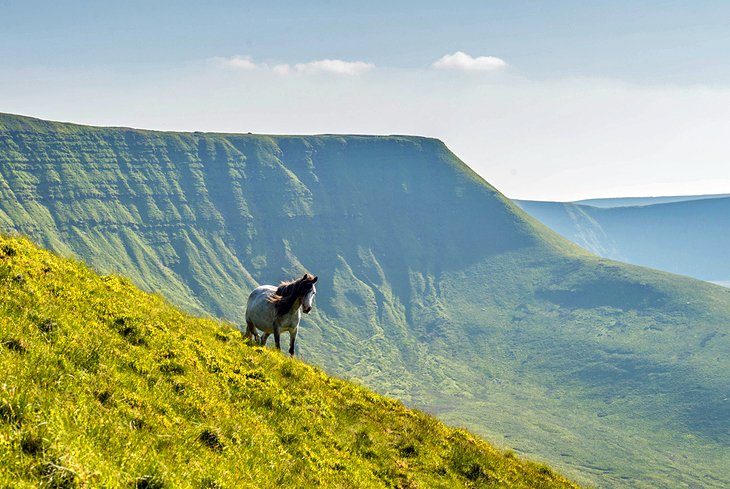 The Brecon Beacons, less than an hour's drive north of Cardiff, is widely considered one of the most beautiful parts of Wales, if not Britain. This stunning region boasts an extremely diverse landscape, which features native deciduous trees along with North American conifers and broad swaths of moorland.
The best way to sample this naturally beautiful region is to plan a visit to Brecon Beacons National Park. Founded in 1957 and famous for its wild ponies, this 519-square-miles borders the Black Mountains to the west, and to the east, another mountain range, also called the Black Mountains.
Most of the park's peaks are more than 1,000 feet high, while many reach in excess of 2,000 feet. Formed from red sandstone, it's said they look like beacons, hence their name. However, the name may also derive from the fires lit on the peaks as warning signals during the Middle Ages.
One of the most popular things to do here is hiking, with many of the best trails also doubling as biking routes. You'll also find an array of accommodation options, from quaint bed-and-breakfasts and hotels to camping and even "glamping."
For a truly memorable experience, combine a stay here with a look at the night sky. Brecon Beacons has been designated an International Dark Sky Reserve since 2013.
Address: Plas y Ffynnon, Cambrian Way, Brecon, Wales
Official site: www.beacons-npa.gov.uk
3. Explore Brecon's Spectacular Waterfalls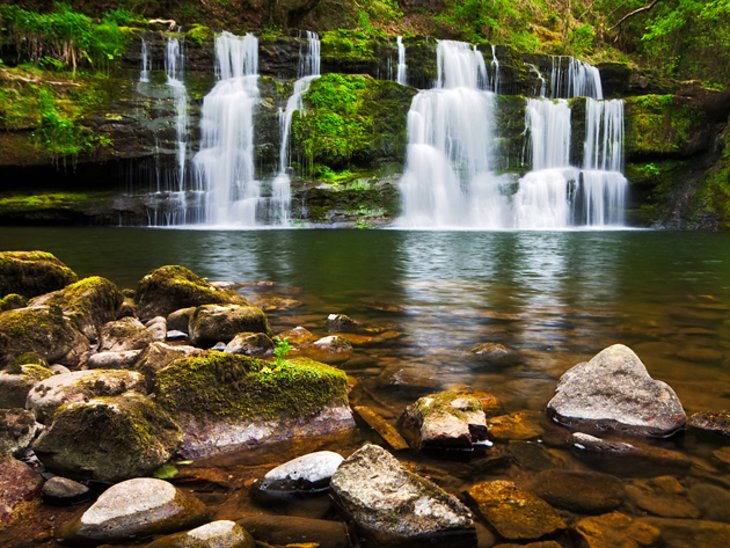 Brecon Beacons National Park also contains a number of lovely waterfalls, and a day could easily be spent simply wandering the park to visit them. The most famous of the park's four largest waterfalls is the 90-foot-high Henryd Falls at Coelbren, the highest in Wales. An easy walking trail spans the stream leading to the pool at the bottom of the falls and makes for a fun hike.
Another waterfall worth visiting in "Waterfall Country" is Blaen-y-Glyn. Fed by the River Caerfanell and Nant Bwrefwr, it's accessible by a number of hiking trails. Finally, be sure to also visit Sgwd yr Eira. This picturesque falls is popular for the narrow pathway that actually takes you behind the cascade of water as it plummets into the pool at its base.
A popular hike if you can spare a few hours is the fun Four Falls walk. This scenic adventure can take three to four hours, depending on your pace - and picnic stops. It starts at Cwm Porth and loops around the park, taking in such sights as the beautiful Blue Pool, as well as the Sgwd Clun-Gwyn, Sgwd y Pannwr, and the Sgwd yr Eira falls.
4. St. Fagans National Museum of History, Cardiff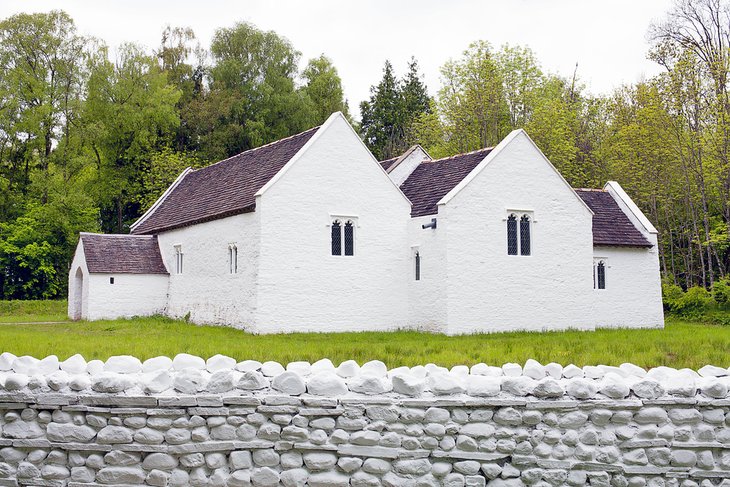 Fresh from a multi-million-pound makeover, St. Fagans National Museum of History ("Sain Ffagan" in Welsh) is one of the best places to visit in Wales for those wanting to learn more about the history of this tiny but influential country.
Located a few miles west of Cardiff's city center and easy to get to via public transport, St. Fagan's was established on 100 acres on an Elizabethan-era country estate in the 1940s to celebrate and preserve Welsh culture. Much changed over the years and now boasting more than 40 re-erected original structures representing Welsh buildings over the centuries, it's widely regarded as one of the best open-air museums in the UK.
Highlights include the reproduction of stone age homes and farms from the Iron Ages, as well as buildings known to have been around in medieval times and used by Welsh royalty. Representing more "modern" times are a schoolhouse, workshops and forges, two working watermills, and even a church.
A restaurant is located on-site, and guided tours, workshops, and seasonal events are available. You can also explore the gardens and interior of the historic St. Fagans manor house.
Location: West Cardiff, Wales
Official site: https://museum.wales/stfagans/
5. Dan yr Ogof and the National Showcaves Centre for Wales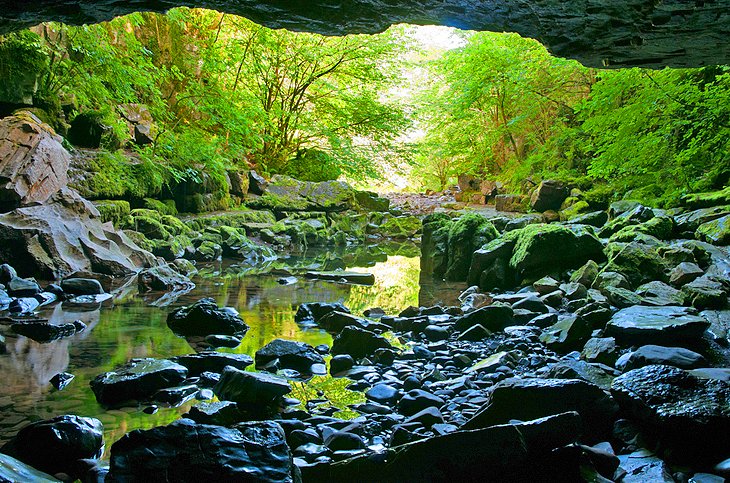 Another must-see natural attraction in South Wales is Dan yr Ogof. Located in the upper part of the Tawe Valley, Dan yr Ogof is full of stalagmites and stalactites, as well as many magnificent passages and chambers. All told, this spectacular network of caves stretches over 10 miles, with some of the most accessible areas floodlit.
Part of a major tourist attraction called the National Showcaves Centre for Wales, the site also includes the Bone Cave and Cathedral Cave, as well as a replica Iron Age village. Also worth seeing are the ancient stone circles.
For those traveling with kids, there's also a fun dinosaur park, which is home to an impressive collection of over 200 life-size replica dinosaurs. Camping and self-catering accommodations are also available for those wanting to prolong their visit.
Also worth checking out is the Cotebrook Shire Horse Centre. Set on 50 acres, this authentic Victorian farm features both local and exotic species, an indoor playground, a campground, and many examples of the famous Shire horses that once worked the country's many farms.
Location: Abercraf, Swansea, Wales
Official site: www.showcaves.co.uk
6. Explore Glamorgan's Heritage Coast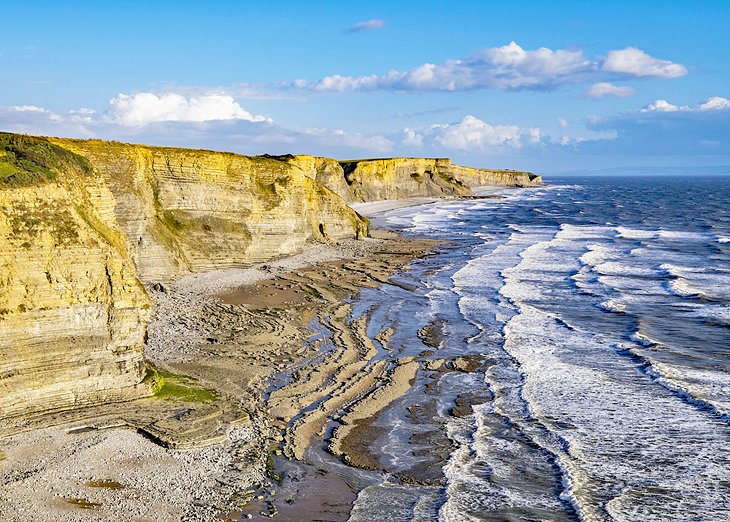 Extending from Porthcawl to Aberthaw, the Glamorgan Heritage Coast is a 14-mile-long stretch of spectacular scenery. It's easy to get to from Cardiff and has become increasingly popular among hikers and cyclists.
A good place to start exploring is at the Glamorgan Heritage Coast Centre in Dunraven Park located at the western most point of the coastline. In addition to its interesting displays relating to the area's history, flora, and fauna, including interactive educational games for kids, you're just steps away from the spectacular cliffs and limestone formations of Dunraven Bay.
Other attractions include Nash Point, notable for its beautiful views, ancient Iron Age fortification, and lighthouse, plus easy-to-spot fossils, as well as the rocky beaches of Aberthaw, a popular spot for wildlife viewing, fishing, and surfing. Also worth a visit, the beach at Cwm Col-huw is a picture-perfect spot for a picnic or birdwatching in the nearby nature reserve.
Address: 2 Beach Road, Southerndown, Bridgend, Wales
7. Carreg Cennen Castle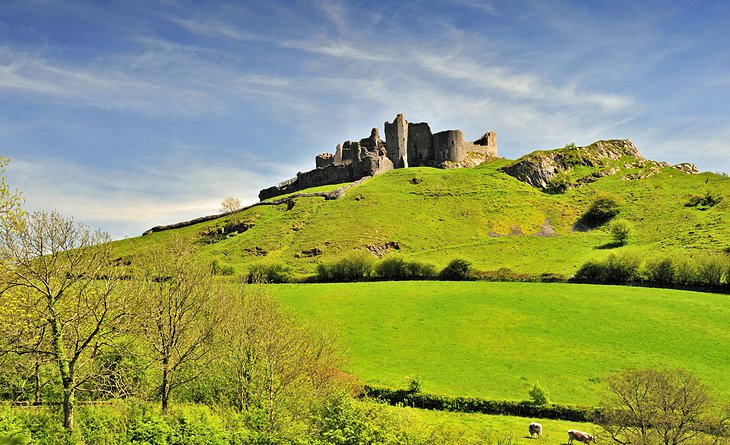 After visiting spectacular Carreg Cennen Castle, it's easy to see why the site was chosen for a fortress. Towering over a great crag almost 300 feet above the River Cennen, the castle offers outstanding sightseeing views over Brecon Beacons National Park and the surrounding countryside.
Famously painted by Turner, one of Britain's most well-known landscape artists, it's one of only a handful of privately owned castles in Wales. Indeed, a fascinating story tells how the current owners mistakenly paid the paltry sum of only £100 for it as part of the farmland they purchased.
Today, the ruins of Carreg Cennen are fun to explore. So, too, are the property's cave and hiking trails. Afterwards, explore the authentic Welsh hill farm, enjoy refreshments in the tearoom, and pick up some souvenirs in the gift shop.
Address: Trapp, Llandeilo, Carmarthenshire, Wales
Official site: www.carregcennencastle.com
8. Visit the Vale of Neath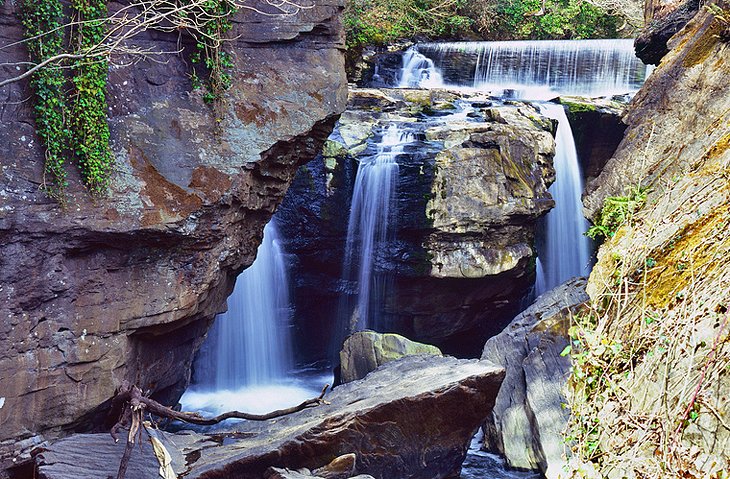 The River Neath, which enters the Bristol Channel at Swansea, has carved itself into the exposed carbon layers at a depth of about 1,313 feet. In doing so, it cut off the coal seams that in the 18th and 19th century lead to the development of heavy industry here.
These days, it's all about tourism in this picturesque area, which boasts a number of pleasant walking trails. Highlights include Aberdulais Falls, an impressive example of how water can provide the energy needed for industrial purposes and which allows visitors a close-up look at Europe's largest electricity generating waterwheel.
Also nearby is Neath Abbey. This Cistercian abbey was founded by Richard de Granville in 1130 and later converted into an Elizabethan mansion. The market town of Neath is also worth a visit, and is home to the ruins of Neath Castle, an impressive Norman structure built in the 12th century.
9. Welsh Mining Experience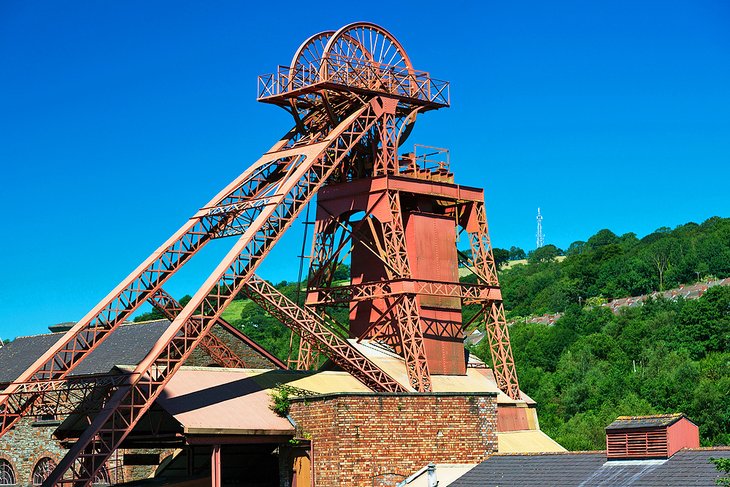 Rhondda's surviving colliery buildings have been converted into a fascinating heritage center, Rhondda Heritage Park. Billed as the Welsh Mining Experience, here visitors can travel through time in an elevator to "Pit Bottom" down one of the original mine shafts.
There's also a recreation of the working Lewis Merthyr Colliery of the 1950s and a multi-media exhibit about the history of coal mining in the area. Exciting Black Gold Experience Underground Tours are led by former colliery workers; the mine closed in 1983, as did most of the more than 53 working collieries in the area.
Above ground, a replica village street showcases the lifestyles of area residents who depended upon coal extraction for their livelihoods. For those wanting to stay on-site, the Heritage Park Hotel offers reasonably priced accommodations and is a particularly fun option during special events and occasions, such as Halloween and Christmas. Also worth a visit is Caffe Bracchi, an on-site restaurant offering a variety of food and beverage options.
Address: Rhondda Heritage Park, Coedcae Road, South Wales
Official site: www.rctcbc.gov.uk/EN/Tourism/RhonddaHeritagePark/Home.aspx
10. The Wye Valley and Tintern Abbey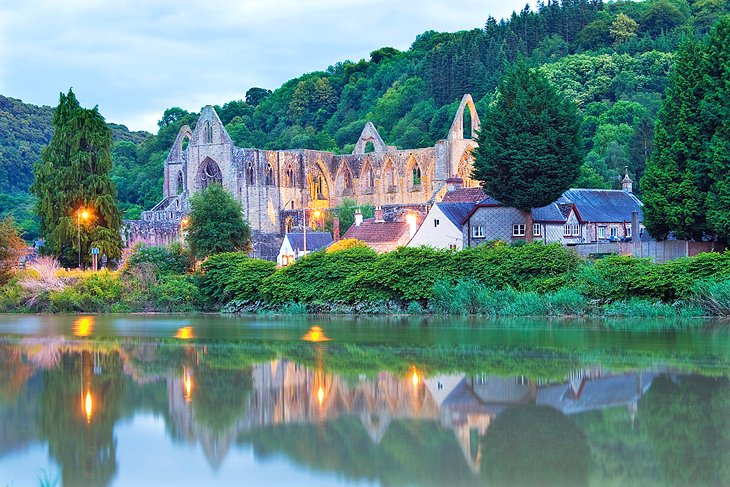 While not solely a Welsh area, as it extends northwards from Monmouthshire into neighboring England, the Wye Valley is an area of outstanding natural beauty and a worthwhile stop for visitors to South Wales. Here, you'll be rewarded with a chance to explore some of the prettiest, and certainly most striking, landscapes in the UK.
Stretching some 45 miles along a lower section of the River Wye, the most scenic parts of the valley are a mix of spectacular limestone gorges and thick forests. Here, you'll find a rich bounty of wildlife, including falcons and hawks, making it a popular area for bird-watching.
The human element is important here, too. Notable man-made additions to this beautiful rural setting include Tintern Abbey, a 12th-century abbey located in the quaint village of Tintern. This well-preserved religious site has been the subject of many poems, perhaps most famously William Wordsworth's Tintern Abbey, widely regarded as some of the Romantic poet's best writing.
For those wanting to learn more about the abbey's strong connection to the arts, as well as its long, rich history, the on-site visitor center is worth a stop.
Official site: https://cadw.gov.wales/visit/places-to-visit/tintern-abbey
11. Merthyr Tydfil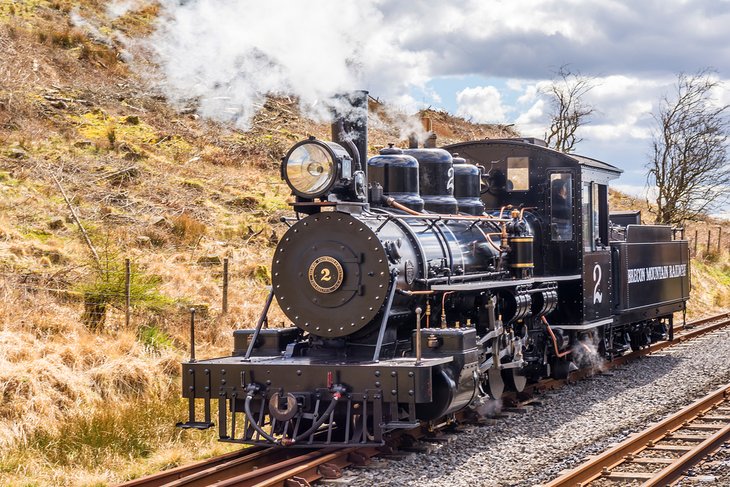 Just 23 miles north of Cardiff, the town of Merthyr Tydfil is a great place from which to begin exploring the Brecon Beacons National Park. Not only is it on the National Cycle Route, it's also where you'll find the Brecon Mountain Railway.
This wonderful narrow-gauge heritage railway travels five miles into the Brecon Beacons. Due to its ability to reach remote corners of the region that are inaccessible to cars, it's as popular with hikers as it is with steam enthusiasts.
Another area attraction worth visiting is Cyfarthfa Castle Museum and Art Gallery located in an impressive Industrial Age mansion built for William Crawshay II, the local iron magnate. The castle itself hosts numerous cultural and musical events throughout the year, too, while the historic Old Town Hall has been converted into the Red House arts center.
12. The Big Pit National Coal Museum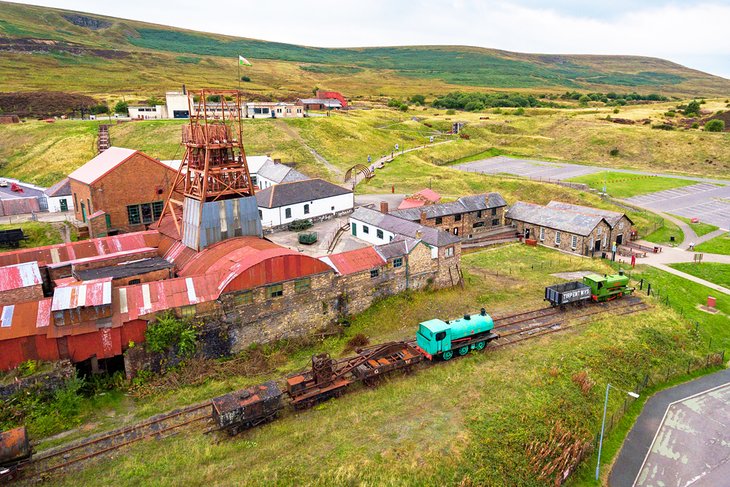 Blaenavon is one of the best-preserved examples of a traditional South Wales iron and coal town. Although part of the town dates from the late 1780s, most of its buildings are representative of an early to mid-Victorian Welsh industrial community, with much of it built before 1870.
The town is famous for the Blaenavon's ironworks, also known as "Big Pit" (Pwll Mawr), the old blast furnaces and foundries of which are now part of the fascinating Big Pit National Coal Museum. Even the tower of the hydraulic lift, used to raise the ore-laden iron wagons, has survived.
Things to do here include touring the workshops, winding engines, and workers' residential areas (admission to these is free). Entry to the 328-foot-deep shaft as part of the Real Underground Experience gives visitors a first-hand impression of the tough life of a miner. Tours below ground, sometimes led by former miners, require warm clothing.
Address: Blaenavon, Torfaen, Wales
Official site: www.museumwales.ac.uk/bigpit/
13. Llancaiach Fawr Manor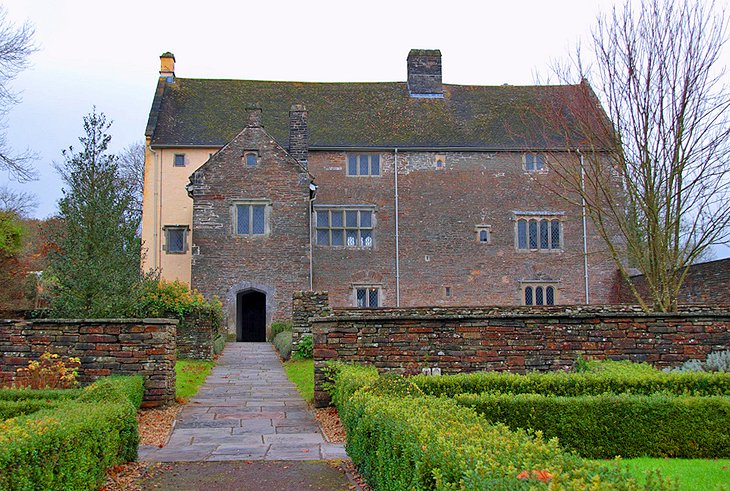 North of Cardiff is the award-winning Llancaiach Fawr living history museum. Colorfully costumed guides show visitors around this fully restored 16th-century manor house overlooking the Glamorgan Uplands.
If available, be sure to join one of the fun evening ghost tours, or time your visit to coincide with seasonal events at Christmas. A variety of fun educational workshops are also regularly hosted.
Also worth a visit are the home's historic gardens, which contain many of the original plant species grown here in the 1550s and serve as a popular backdrop for weddings. A tea room and gift shop are also located on-site.
Address: Trelewis, Nelson, Treharris, Wales
Official site: www.llancaiachfawr.co.uk/en/
14. The Town of Books: Hay-on-Wye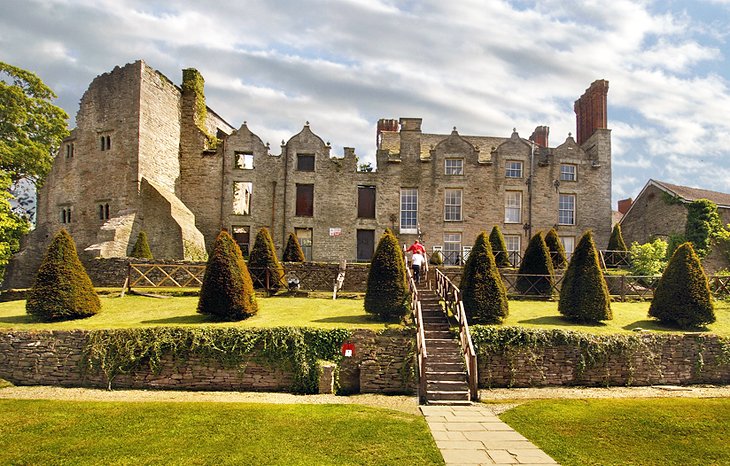 Another must-visit in South Wales is the small market town of Hay-on-Wye. Best known as the site of Britain's top book festival, Hay, as it is most often referred to, boasts some 20 or so bookstores.
Started in 1988 as a means of generating tourism, the 10-day Hay Festival of Literature & Arts - usually simply known as the Hay Festival - is held in late May to early June and attracts visitors from far and wide, along with some of the world's leading writers. In more recent years, a combined music and philosophy festival called "How the Light Gets In" has also sprung up and draws a large audience each May.
Be sure to include Hay Castle on your itinerary, too. Built originally as a medieval fortress, you'll see that a spectacular 17th-century manor home now dominates the site, incorporating into its design many elements of the earlier structure.
Address: The Drill Hall, 25 Lion Street, Hay-on-Wye, Wales
Official site: http://hayfestival.com/home
Map of Tourist Attractions in South Wales, UK
More Related Articles on PlanetWare.com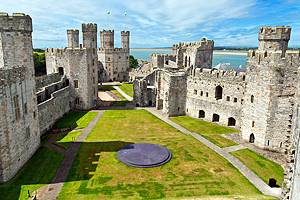 Other Areas to Explore: If you have time for an extended trip through the country, be sure to use our Top Attractions in Wales article to help you plan. For more details on regional attractions and things to do, turn to our pieces on the Top Attractions of North Wales and the Pembrokeshire Coastline.