11 Top-Rated Attractions & Things to Do in Snowdonia
Snowdonia, one of the most popular attractions in Wales, is a stunning area of outstanding natural beauty that boasts no less than 14 peaks over 3,000 feet in height. These include Snowdon itself (3,560 feet), along with other lofty peaks including Crib Goch (3,023 feet); Crib-y-Ddysgl, or Garnedd Ugain (3,493 feet); Lliwedd (2,947 feet); and Yr Aran (2,451 feet).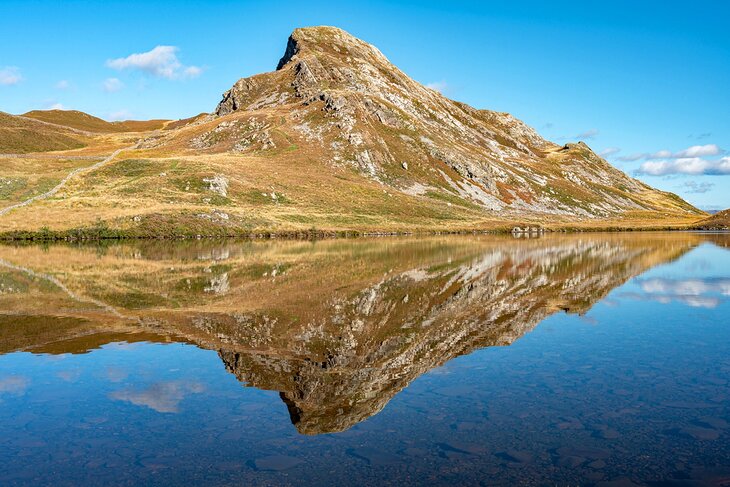 Little surprise, then, that visitors to the region, many of them here to explore the extensive network of hiking trails, have plenty of magnificent scenery to enjoy. While the best view of the whole group is from the village of Capel Curig, all of the peaks within beautiful Snowdonia National Park can in fact be seen from as far away as Porthmadog and the Nantlle Valley.
In addition to its many natural attractions, Snowdonia also boasts a plethora of man-made points of interest that are worth seeing. Of these, one of the most notable is the exciting Snowdon Mountain Railway. This charming railway is, in fact, a great way to ascend Snowdon, and drops you off at the spectacular Hafod Eryri visitor center at the top of the mountain. Other sightseeing opportunities can be enjoyed at the beautiful villages of Llanberis and Beddgelert, as well as at the fascinating National Slate Museum.
There are also plenty of opportunities to get in a little outdoor action, too, with fun activities including ziplining, white water rafting, kayaking, rock climbing, and paragliding, to name but a few. The region is also home to a wide variety of accommodation options, from quaint bed-and-breakfasts and family-run inns to hostels and campgrounds.
Plan your adventures with our list of the best places to visit and top things to do in beautiful Snowdonia in North Wales.
1. Explore Snowdonia National Park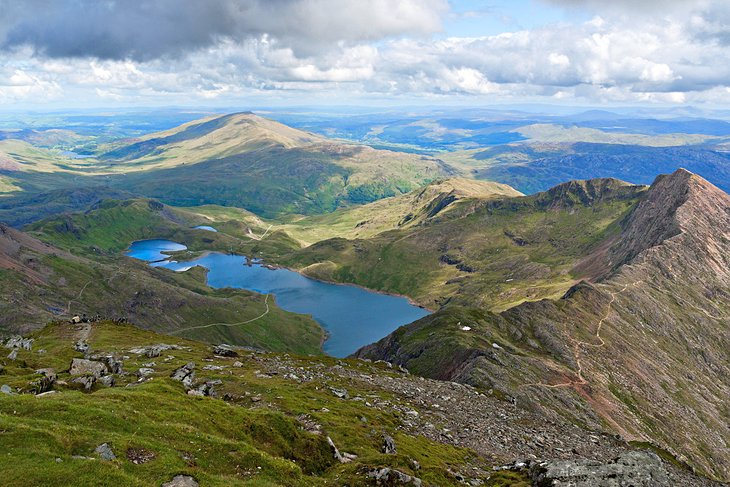 Snowdonia National Park covers some 823 square miles and extends inland from the North Wales coast between Penmaenmawr and Caernarfon, by way of Bethesda to Bala Lake and Llanfairfechan.
Access to the most popular part of this area, including Snowdon itself, is made easier by the Snowdon Mountain Railway. This scenic railway starts at Llanberis and makes the journey up one of the world's steepest and most popular railway inclines.
The train stops at the "Eryri," the end of the line and the name of the attractive new visitor center on Snowdon. Named after the Welsh phrase for Snowdonia, which literally translates to "Land of the Eagle," the route to the top is also one of the most popular hiking and rock climbing places in Britain due to its spectacularly rugged mountain scenery. Snowdonia's beautiful beaches and sand dunes, and picturesque valleys, are equally popular hiking destinations.
Along with 50-plus lakes, the park features a rich cultural heritage. Here, you'll find everything from Roman ruins to ancient prehistoric circles, traditional stonewalls, and authentic Welsh hill farms. While it's a three-hour car ride away from the Welsh capital, it's an extremely scenic drive, making a visit to Snowdonia a doable, fun day trip from Cardiff.
Location: National Park Offices, Penrhyndeudraeth, Gwynedd
2. Visit Hafod Eryri: Britain's Highest Visitor Center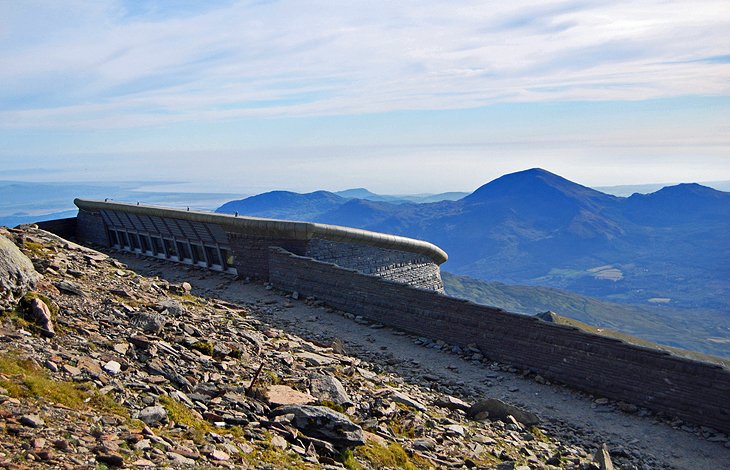 From Llanberis at the base of Mount Snowdon, a variety of well-marked trails branch out and enable visitors to become acquainted with the scenery, flora and fauna, and geology of the region.
There are also a number of relatively safe and easy routes to the summit from here, while those seeking a more challenging ascent usually start from Beddgelert and return to Pen-y-Pass, or vice-versa.
One of the best ways to tackle the climb is by joining a Snowdon guided hike from Llanberis. These fun small-group tours make the climb easy as your professional guide handles navigating your route up the mountain, meaning you can spend your time enjoying the stunning scenery along the way without worrying about getting lost. Hikes start and finish at the Snowdon Mountain Railway station in Llanberis, and usually take less-traveled routes to avoid the crowds.
In addition to the magnificent views over North Wales and the Irish Channel, a highlight of the climb is Hafod Eryri, the spectacular visitor center at the summit. The uniquely designed granite building with huge windows offers sheltered views of the area.
In addition to being the terminus of the Snowdon Mountain Railway, it also has a café and gift shop, and provides information about the mountain. It can be busy at times due to the more than 500,000 visitors who tackle the summit each year, so a mid-week ascent is always a good idea. A popular and less strenuous option is taking the train up, and hiking back down.
Location: Snowdon Mountain Railway Snowdon summit, Caernarfon
3. Take the Scenic Route: Snowdon Mountain Railway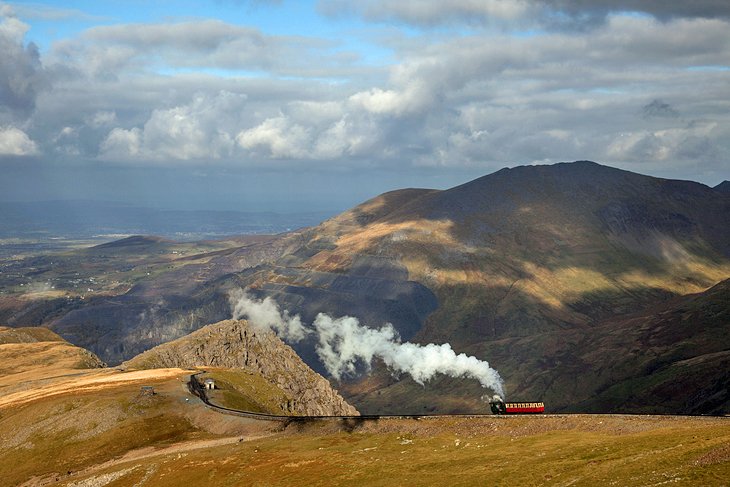 By far, the easiest method of getting up Snowdon is via the 100-year-old Snowdon Mountain Railway. This amazing narrow-gauge railway opened in 1896 and trundles along the nearly five-mile route up to the summit of Snowdon at a top speed of little more than five miles per hour, passing through Hebron, Halfway, and Clogwyn stations along the way.
The views along this very steep route are wonderful, and many people use the train to carry them up the mountain just so they can walk back down. Afterward, be sure to spend a little time in the main station in Llanberis, where you can enjoy refreshments, as well as a movie about the journey up Snowdon; kids' movies are also shown.
Discounted fares are available online, and be sure to check the railway's website prior to arrival for cancellations due to inclement weather. Advanced bookings are always recommended due to the attraction's popularity, and if steam's your thing, as opposed to diesel, pay the extra fee to travel aboard one of the railway's Heritage Steam trains.
Location: SMR Station, Llanberis, Caernarfon, Gwynedd
Read More: Top-Rated Things to Do in Wales
4. See the Stunning Views of Llanberis Pass & Village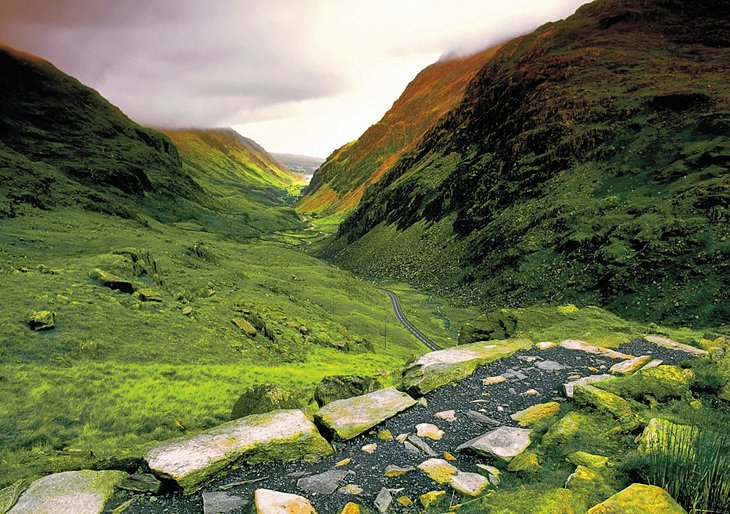 Little Llanberis lies in a magnificent setting at the beginning of the stunning Llanberis Pass. This village is a popular starting point for hikers wanting to scale Snowdon along the Llanberis Path, and is also where the annual 10-mile Snowdon Race to the mountain's summit begins.
Nearby, you'll find the twin lakes of Padarn and Peris along with the underground Dinorwig Power Station, one of the largest pumping stations in Europe.
Between the two lakes is Dolbadarn Castle, with an early 13th-century round tower, while two miles away is lovely Bryn Bras Castle. And if you're looking for the perfect selfie, check out the 20-foot-tall "Blade of the Giants" (Llafn y Cewri), a steel sword sculpture on the shore of lake Padarn, created to celebrate the region's rich heritage.
The fun Llanberis Lake Railway is a historic narrow-gauge steam train that once served the slate quarries and will take you on a 40-minute trip alongside the lake for spectacular views of Snowdonia's mountains. Today, tourists travel in comfort and luxury along railway lines once used to transport the area's slate.
Llanberis is also a popular place to bed down for a night or two. Here, you'll find a variety of accommodation options, from classic Victorian boutique hotels to cozy B&Bs, as well as hostels frequented by backpackers.
Address: Gilfach Ddu, Padarn Park, Llanberis, Caernarfon
5. Learn about Mining at the National Slate Museum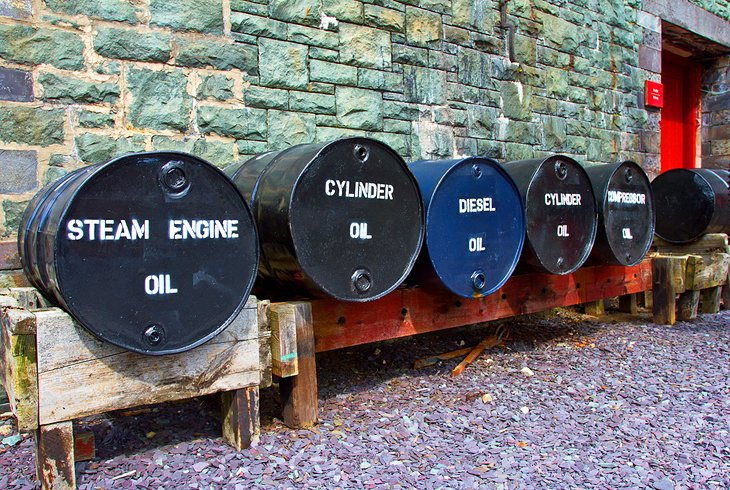 Llanberis is also home to the fascinating National Slate Museum. Along with its restored 19th-century workshops and machinery, the museum also operates Britain's largest working waterwheel. Built in the mid-1800s, this vast wheel spans an impressive 50 feet in diameter.
Located at the much-mined Dinorwig quarry on spectacular Elidir Mountain, this museum offers a fascinating insight into an industry that did much to shape Wales and its people. The old Victorian workshops are still in place, while talks and demonstrations illuminate how slate was quarried and split before being shipped around the world. It also features displays relating to the often harsh conditions faced by workers.
Admission is free, and the museum also has a good café.
Location: Llanberis, Gwynedd, Caernarfon
6. Stop and Stay in Pretty Beddgelert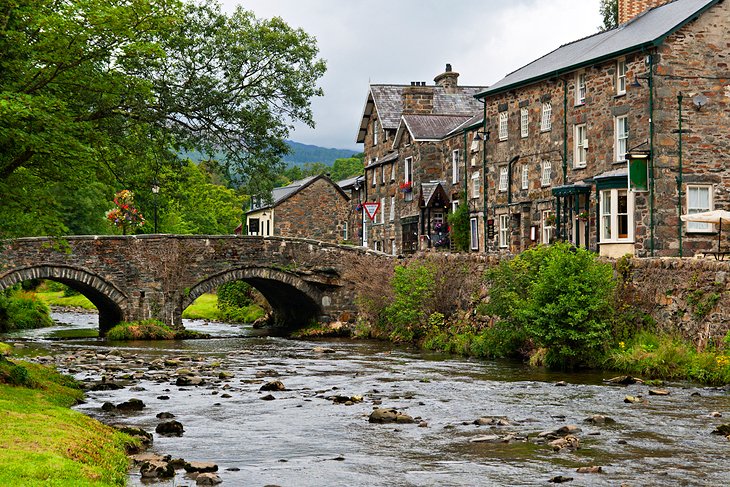 Quaint Beddgelert, one of the prettiest small towns in Wales, is located at the confluence of the rivers Colwan and Glaslyn. A favorite starting point for walks and climbs, this village is named after a legendary faithful dog called Gelert ("Bedd" means grave in Welsh) and is situated at the junction of three main roads.
From Moel Hebog, a two hours' climb from here, there's a splendid panoramic view extending across to Cardigan Bay. One road from here descends to Caernarfon, while another runs northeast through Nant Gwynant, the valley of the Glaslyn, one of the most beautiful in Wales.
The village is also on the route of the restored Welsh Highland Railway, with regular connections directly to Porthmadog and Caernarfon. Those seeking an authentic Welsh experience would do well to book a stay here at one of the quaint hotels, guesthouses, or B&Bs found in Beddgelert.
7. Enjoy Afternoon Tea in The Ugly House and Explore Betws-y-Coed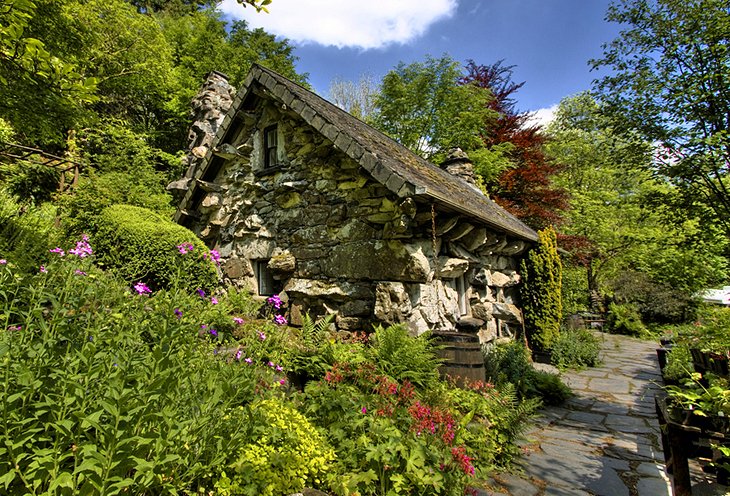 The road running through the Glaslyn valley leads to the delightful little town of Betws-y-Coed, or translated from the Welsh as "the temple in the wood". Situated in Gwydyr Forest at the junction of the Conwy, Lledr, and Llugwy valleys, this popular holiday spot is crowded with visitors in summer, drawn here to enjoy the ruins of Pany Mill and the 15th-century Pont-y-Pair bridge.
The immediate surroundings are very beautiful, with the Fairy Glen (Ffos Anoddun), Swallow Falls, and Conwy waterfalls being particularly popular places to visit for a stroll.
Nearby, you'll find famous Ty Hyll, aka the Ugly House. Anything but ugly, this picturesque stone cottage is believed to date from the 15th century and may well have served as a hideaway for robbers, or so legend would have us believe. It now serves as an excellent and quaint tearoom known as Pot Mêl.
A variety of charming Victorian-era hotels, along with other accommodation options, such as B&Bs and old inns, are also available in the village. Here, you'll also find some great restaurants, as well as boutique shops and galleries selling original Welsh craft goods, artwork, and souvenirs.
Address: Tu Hwnt I'r Bont, Nr Inigo Jones Bridge, Llanrwst, Conwy
Read More: Top-Rated Waterfalls in North Wales
8. Hit the Rapids at the National White Water Centre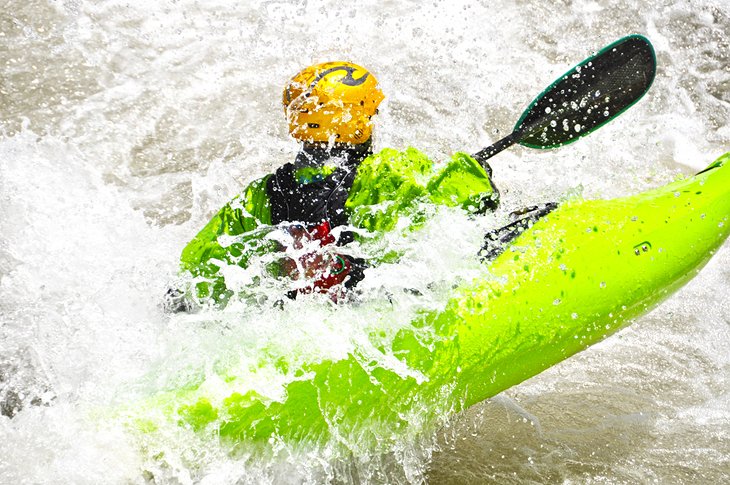 Located near the town of Bala, the National White Water Centre offers a variety of exciting paddle-sport adventures suitable for young and old alike. While it's notable as a training center for kayakers, it's the rafting that is the big draw for tourists and visitors.
Options range from two-hour sessions that whisk you along a steep section of the Upper Tryweryn river, with a number of challenging obstacles and rapids, to more modest introductory sessions lasting an hour on the same stretch of water; both are suitable for youngsters aged 12 and up.
Sessions are also available for families with younger kids on the lower Tryweryn River, including a fun four-mile adventure, which features some rapids and challenging obstacles. A two-person raft experience is also available for those with some experience (ages 16 and up).
For those with the time, why not consider one of the center's weekend adventure packages, which include four-wheeler ATVs and off-roading, canyoning, clay pigeon shooting, ziplining, as well as accommodations. Wetsuits must be worn when on the river, and can be rented for a modest fee.
Address: Canolfan Tryweryn, Fron-goch, Bala
9. See the Ruins of Dolwyddelan Castle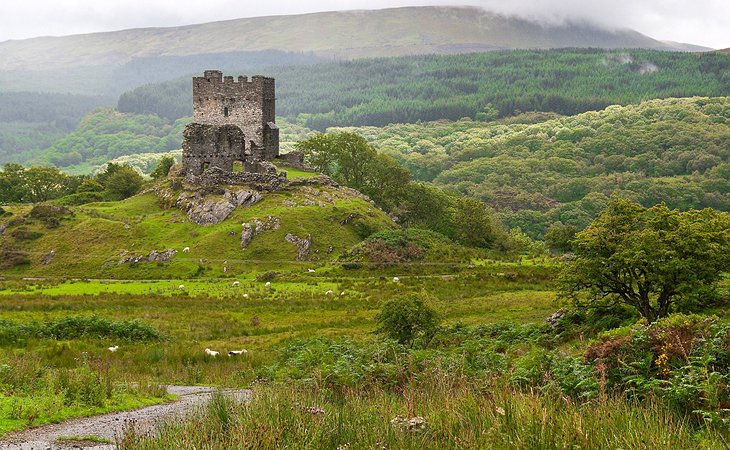 Dolwyddelan Castle is located in Snowdonia on a ridge set against Moel Siabod. Built between 1210 and 1240 by Llwelyn the Great, the most powerful medieval prince in Welsh history, it saw active service during the wars between the Welsh and Edward I before falling to English forces in 1283.
A visit to this superb old fortress is worthwhile for the views alone, as well as the walks around the surrounding countryside. The small village of Dolwyddelan is also worth wandering around, too, especially for the attractive 500-year-old St. Gwyddelan Church. The village is home to a small number of hotels and B&Bs, as well as a hostel that's handy for hikers.
Address: A470, Dolwyddelan
10. Go for a Paddle on Bala Lake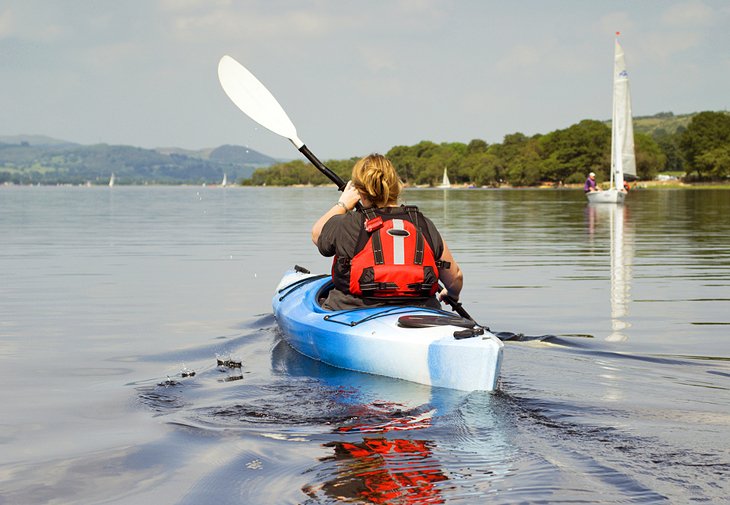 On the eastern edge of Snowdonia is lovely Bala Lake. Often credited as the most scenic of the many lakes in Wales, it's on its shoreline you'll find the pretty little market town of Bala, a lively holiday place at the foot of the Aran and Berwyn Mountains.
Its main attraction is the four-mile lake itself, the longest in Wales, which offers ideal conditions for adventures such as sailing, fishing, kayaking, and canoeing. And like most such deep bodies of inland water, Bala Lake even has its own monster, Teggie, so called for the Welsh name of the lake (Llyn Tegid).
The lake also has a number of dedicated swimming areas suitable for families, as well as gentle walks and trails popular for those traveling with kids. Also a tourist draw is the Bala Lake Railway, a narrow-gauge railroad running along the shore of the lake and through a very picturesque part of Snowdonia National Park.
Lake Padarn is another good spot for a paddle, and can be easily and safely explored by joining a Snowdon kayak adventure tour. In addition to supplying your kayak and lifejackets, your professional guide will provide tips for memorable photos with the magnificent Snowdon mountains as a backdrop.
Address: Station Road, Llanuwchllyn, Bala
11. Visit Sygun Copper Mine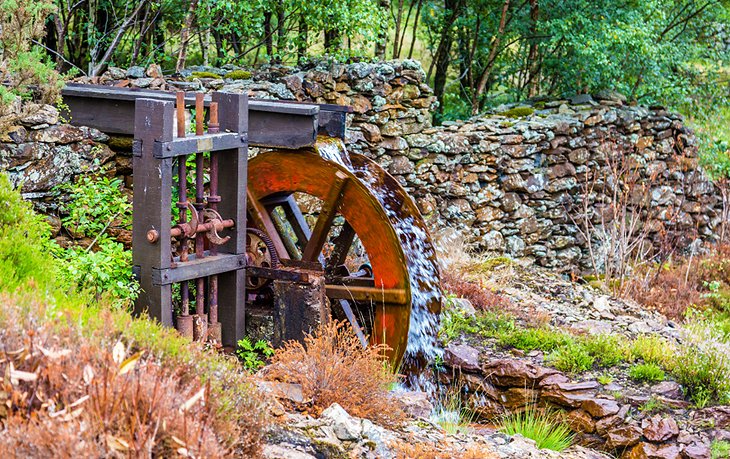 Another popular attraction in Beddgelertis is the award-winning Sygun Copper Mine. This fun underground adventure includes a chance to explore a variety of winding tunnels under the very heart of Snowdonia, where you'll discover magnificent stalactite and stalagmite formations and numerous colorful (and well-lit) caverns.
Disused since 1903, the site provides a riveting insight into the conditions faced by miners at the time through the informative displays in the visitor center and museum, as well as in the caverns and the abandoned mines themselves. Tours are self-guided, with audio and visual presentations included. There's plenty of walking involved, so wear comfortable shoes.
Other fun things to do for kids are the play area and the chance to pan for gold.
Address: Beddgelert, Caernarfon