14 Top-Rated Day Trips from Cardiff
Located on the southern coast of Wales, the country's capital city of Cardiff makes an excellent base from which to explore the magnificent Welsh countryside.
From here, you can access the country's two most important national parks: Snowdonia and the Brecon Beacons. The latter is less than an hour's drive through some of the country's most stunning scenery, and while Snowdonia takes a little longer to access, it's also a must-visit.
Other great day trips from Cardiff include exploring the beautiful Pembrokeshire coast and its many pleasant towns. Highlights along this popular coastal route include Carmarthen, the legendary birthplace of the Arthurian wizard, Merlin, along with Swansea, one of the busiest cultural centers in the country.
Also worth checking out are the many museums dedicated to Wales' industrial past. Two of the best known are the massive Rhondda coal works, home to the Welsh Coal Mining Experience, and the Museum of the Welsh Woolen Industry in Cardigan (and yes, Wales does have a lot of sheep!). Wales also boasts an abundance of pretty small towns that are well worth visiting.
Best of all, Wales is such a small country, it's easy to double up on your day trips, hitting more than one great attraction each time you venture out.
Learn more about the best places to visit in Wales with our list of the top day trips from Cardiff.
1. Brecon Beacons National Park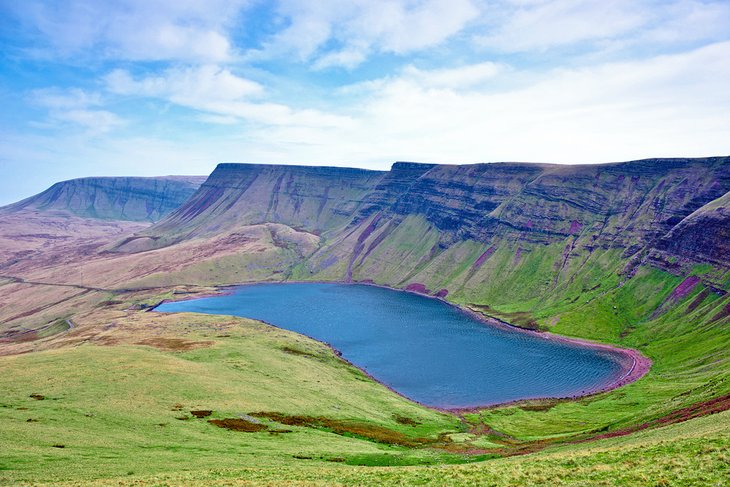 One of the most visited national parks in Wales, and at an hour's drive away one of the easiest to get to from Cardiff, is Brecon Beacons National Park. It's located just 37 kilometers north of the Welsh capital. The best place to begin exploring this area of outstanding natural beauty is the town of Merthyr Tydfil.
Part of the National Cycle Route, Merthyr Tydfil is a good place to either pick up a bike rental or lace up the old hiking boots and head off along one of the many trails leading into the surrounding hills and mountains. Alternatively, you could take the Brecon Mountain Railway eight kilometers into the park and either cycle or walk back.
Whatever you choose to do when you get here, you'll be rewarded with superb mountain views, numerous waterfalls, along with an abundance of flora and fauna to enjoy, including the park's famous wild horses. A highlight is seeing the spectacular Henrhyd Falls. At 27 meters in height, it's the tallest waterfalls in Wales.
For stargazers, Brecon Beacons has the distinction of being one of a few Dark Sky Reserves worldwide. This designation was granted for the region's unique nocturnal environment and the high number of starry nights that can be enjoyed without light pollution.
There are also a good number of top accommodation options available within the park. These range from lovely lodges and boutique hotels to campsites and budget hostels.
Official site: www.beacons-npa.gov.uk/
2. Snowdonia National Park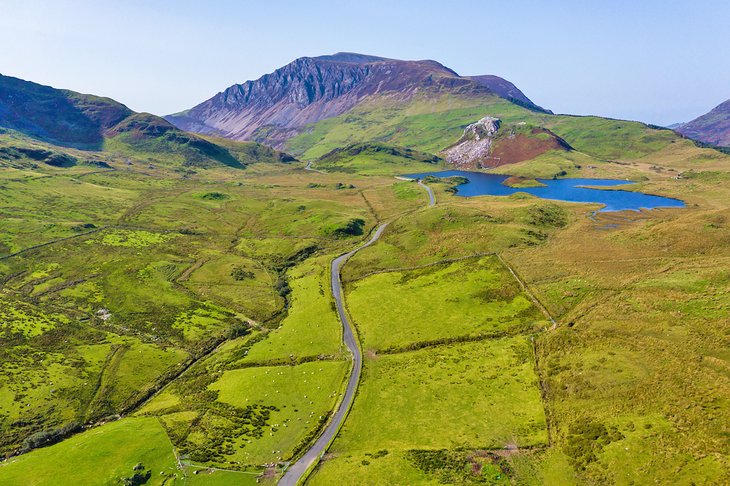 Although it's a 2.5-hour drive north of Cardiff, Snowdonia National Park is well worth the journey. Encompassing a total of 14 peaks more than 914 meters high, Snowdonia can be easily accessed from the pretty town of Llanberis at the base of the park's tallest mountain, the 1,085-meter-high Mount Snowdon.
From here, a variety of trails wind up Snowdon. Be warned, though, that it's a long climb, so unless you're prepared to spend a full day making the trek you might want to consider taking the Snowdon Mountain Railway.
Chugging slowly but steadily all the way to the stunning Hafod Eryrie visitor center at the top of Snowdon, this superb narrow-gauge railway does all the work; all you have to do is sit back and enjoy the view.
Be sure to check the railway's website for weather-related cancellations, and try to book your tickets in advance to avoid disappointment. Also, try to visit mid-week if you can in order to avoid the crowds. Note, too, that the Hafod Eryri Snowdon Summit Visitor Centre is closed until 2023 while repairs to the upper mountain track take place.
Other park highlights include its rich flora and fauna, its more than 50 lakes, and a rich history that dates as far back as Roman times. The spectacular views and scenery are also a highlight.
3. Pembroke Castle & Pembrokeshire Coast National Park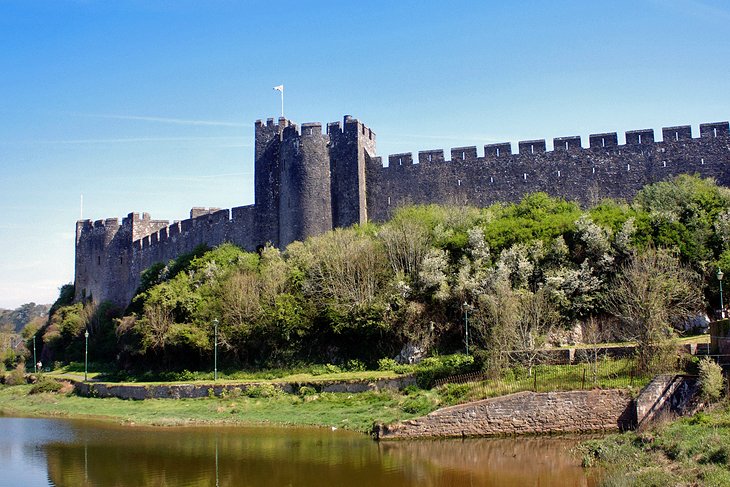 Another beautiful driving tour from Cardiff is the two-hour journey westward along the coast to Pembroke. Although it takes a little longer, it's also a pleasant scenic train ride.
However you get there, the Pembrokeshire coast is considered one of the most beautiful in Britain. So beautiful, in fact, that much of it has been placed under the protection of the Pembrokeshire Coastal National Park. Covering some 362 square kilometers, the park is a delight to explore on foot thanks to its many remote beaches and steep cliffs.
No visit to this area of outstanding natural beauty would be complete without checking out Pembroke's relatively intact Norman castle. Built in 1090 and the birthplace in 1457 of English King Henry VII, Pembroke Castle starred in the hit romantic movie, Me Before You and offers stunning views over the old town and coast from its main keep.
Highlights of a guided tour include the Norman and North Halls, along with the huge natural cavern known as the Wogan. Be sure to also check out the displays focusing on life during medieval times.
While the picturesque town of Pembroke is itself well worth exploring, you'll also want to travel the three miles from here to the delightful town of Pembroke Dock. This fascinating seaside community grew from a tiny fishing village into an important Royal Navy dockyard in the early 19th century, and many of the original fortifications and buildings constructed at the time can be explored.
Official site: www.pembrokeshirecoast.wales
4. Carmarthen: Merlin's Birthplace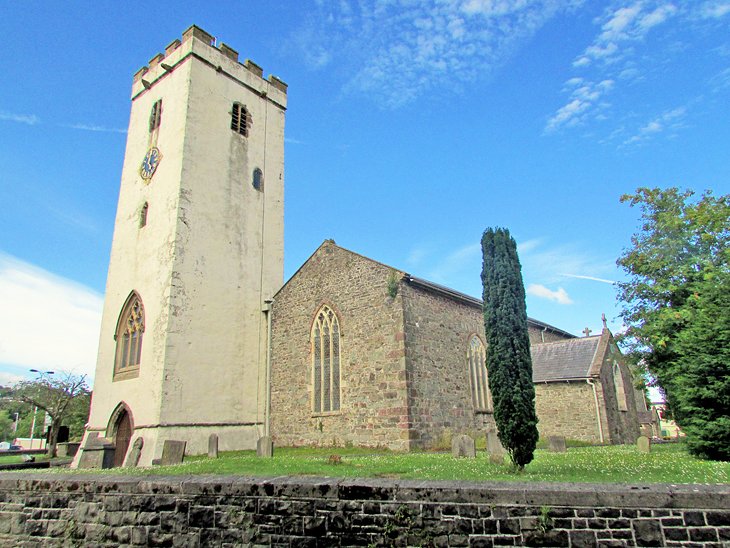 Along with King Arthur, the Welsh have long considered Merlin one of their own. References to this mythical heritage are seen everywhere, from the lakes of Snowdonia to Carmarthen, the country's oldest town.
It was here, just an hour west of Cardiff, that the famous Celtic magician was supposedly born. The town has embraced the legend wholeheartedly, from a fragment of Merlin's Oak residing in the Carmarthenshire County Museum to Bryn Myrddin, a nearby hill that supposedly hides a cave used by the sorcerer as a refuge.
A great outing here is to hop aboard the Gwili Railway. This fun heritage railway offers excursions aboard vintage steam engines and rail cars from Carmarthen to Llanpumpsaint, a distance of nearly five miles. Some of the best experiences can include a lovely roast dinner or delicious cream tea.
Be sure to also visit the 14th-century St. Peter's Church, Carmarthenshire County Museum, and the old town wall and its gatehouse, also dating back to the 14th century. Also worth seeing are the old ruins of Carmarthen Castle.
Address: Bronwydd Arms Railway Station, Bronwydd Arms, Carmarthen, Wales
Official site: https://gwili-railway.co.uk
5. Dylan Thomas' Laugharne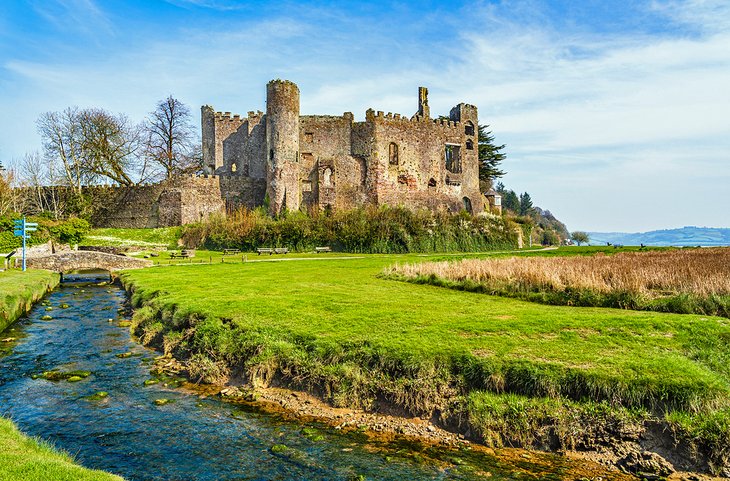 Located just a few miles west of Carmarthen is the lovely seaside town of Laugharne. As well as being famous for its seafood, it was here that acclaimed Welsh poet Dylan Thomas made his home from 1938 until he died in 1953.
So important is the poet's legacy to the town that the slate-roofed boathouse above the bay, where he once lived and wrote, is now a museum. Known as the Dylan Thomas Boathouse, it's now dedicated to his life and work.
The museum also houses an excellent tea room, which offers traditional high teas with superb views over the Taf estuary. You can also visit Thomas' very modest gravesite in the town's cemetery.
Another area attraction is Laugharne Castle. This impressive old fortress dates back to medieval times and saw active service during the Civil War. It has since fallen into ruin, although its quaint garden gazebo remains. Also of interest is the Delacorse Uchaf Standing Stone, a Bronze Age relic that was once part of a prehistoric circle.
Address: Dylan's Walk, Laugharne, Wales
Official site: www.dylanthomasboathouse.com
6. Rhondda and Blaenavon: Celebrating Wales' Industrial Heritage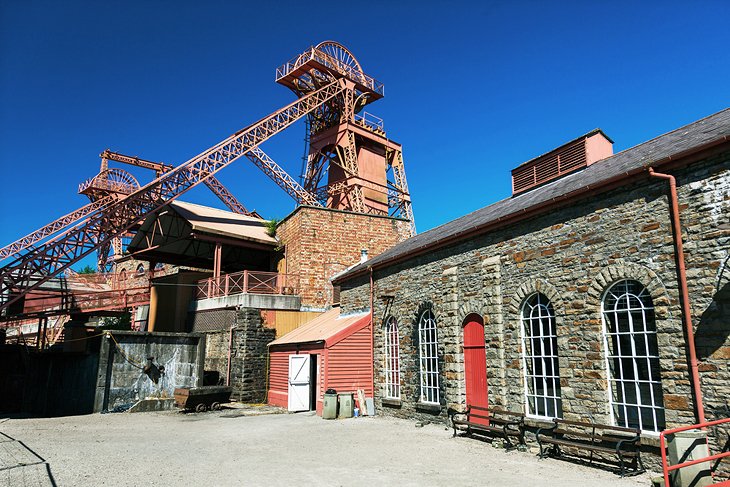 Just 30 minutes drive northwest of Cardiff is the former coal mining town of Rhondda. Once one of Britain's largest collieries, the town's now redundant mine has been turned into Rhondda Heritage Park, an excellent attraction showcasing the tough life of the workers who toiled here right up to the 1980s.
Highlights of a visit to the park's Welsh Mining Experience include a re-creation of the 1950s Lewis Merthyr Colliery. Part of the fun is having the chance to visit "pit bottom" as part of a fascinating underground tour led by former colliery workers. There's also a replica village street showcasing the everyday lives of those who depended on coal for their livelihoods.
Another former industrial site to visit is Blaenavon. This perfectly preserved traditional Welsh ironworks is where you'll find the "Big Pit," now part of the National Coal Museum, along with its old blast furnaces and foundries.
After touring the workshops and old machinery, be sure to spend some time wandering the town. Here, you'll see many well-preserved homes that once housed those who worked in the mines.
Address: Rhondda Heritage Park, Coedcae Road, South Wales
Official site: www.rctcbc.gov.uk/EN/Tourism/RhonddaHeritagePark/Home.aspx
7. Carew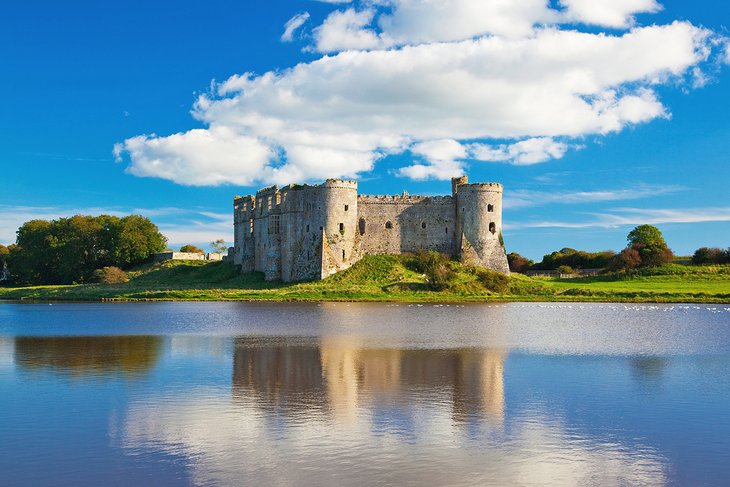 Although more than 90 minutes' drive west of Cardiff, the small town of Carew is well worth a visit if you're hankering for a glimpse of pre-industrial Wales. Located in the same direction as Pembroke, it's easy to combine Carew and its attractions as part of a "go west from Cardiff" day trip tour.
Highlights of a visit include the chance to explore the pretty ruins of 13th-century Carew Castle. The castle's also a haunt not just for ghosts, including those of a princess and a monkey, it also serves as a nesting spot for birds and a colony of bats.
For a great photo op, head for the benches across the other side of the huge 23-acre millpond. You can also tour the nearby tidal mill, the only example of its kind still in use.
Address: Castle Lane, Carew, Tenby, Pembrokeshire, Wales
Official site: www.pembrokeshirecoast.wales/carew-castle/
8. Tenby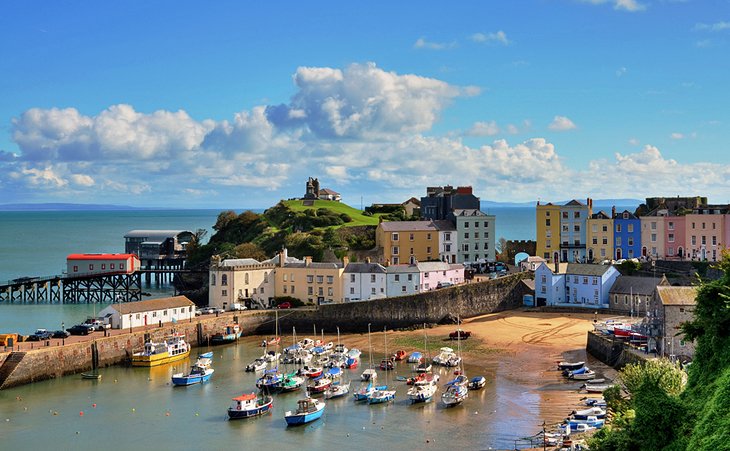 Just nine kilometers east of Carew is the delightful town of Tenby, one of the most picture-perfect coastal towns in Britain. Here, you'll not only have a chance to explore the town's historic old walls, but also the many attractive pastel-colored houses that overlook Carmarthen Bay.
For those into water sports, Tenby's beautiful sandy beach is the perfect place to spend an afternoon swimming or simply kicking back and relaxing. For those wanting to get out onto the water, Jet Ski and kayak rentals and tours are also available here.
And thanks to its popularity as a major Welsh tourism destination, there are no shortages of top-rated hotels, small inns, and quaint bed-and-breakfasts available for those wanting to extend their stay in this coastal paradise. If you do linger, be sure to take the short drive over to the neighboring seaside village of Saundersfoot with its excellent beaches.
9. Swansea and the Gower Peninsula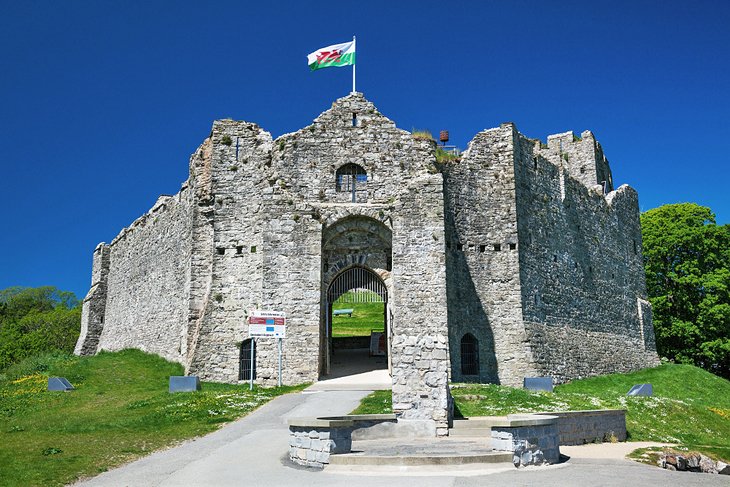 Just an hour west of Cardiff by car or rail is Swansea, Wales' second oldest, and one of its largest, towns. Located on the Gower Peninsula, Swansea boasts one of the country's most vibrant cultural scenes, thanks in part to its university and the fact it was the birthplace of Welsh poet Dylan Thomas.
Cultural highlights include a lively theatrical and artistic community, which is responsible for hosting excellent events such as the popular Swansea Festival of Music and the Arts. Held each October, this fun event features concerts by international orchestras and operas, along with folk music, theater shows, and art exhibits. Also popular is the two-week-long Gower Festival, an extravaganza of choral and chamber music.
It's also a fun city to walk around and explore, particularly the attractions of the Swansea Bay Area. It also boasts many splendid parks and gardens. Among the best are Clyne Gardens, a botanical garden spread across some 47 acres and home to more than 2,000 species of plants; and Singleton Park, which covers 250 acres and includes an ornamental and botanic garden.
Other things to do include visiting the National Waterfront Museum, dedicated to the country's rich industrial heritage, and the Swansea Museum, the country's oldest museum. Be sure to spend a little time exploring the surrounding area, too, in particular the famous Mumbles.
Part of the spectacular Gower Peninsula, the Mumbles consists of a limestone massif, which is easy to traverse thanks to a great trail network, and many of the trails lead to quiet, secluded beaches. You'll also find the well-preserved ruins of the 12th-century Oystermouth Castle here, too.
10. Into England: Bristol and the Cotswolds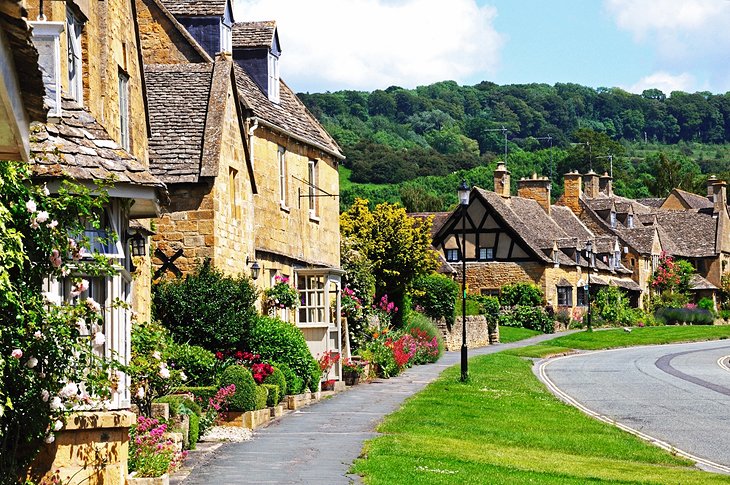 An easy train ride east of Cardiff alongside the Bristol Channel, and you'll find yourself in England and just a stone's throw from that country's beautiful Cotswolds.
Widely considered the prettiest corner of England, the idyllic Cotswolds stretches some 1,266 square kilometers across the counties of Gloucestershire, Oxfordshire, Wiltshire, Somerset, Worcestershire, and Warwickshire. As pretty as the countryside are the countless small towns and villages dotted among its hills and old forests, some of the most popular being Castle Combe and Chipping Norton.
Another easy-to-access place in England is Bristol. One of the country's oldest ports, Bristol is famous as the gateway to the New World after explorer John Cabot departed here in 1497.
Other highlights include the Cabot Tower in Brandon Hill Park, the Bristol City Museum and Art Gallery, and the majestic SS Great Britain. Built in 1838, this spectacular vessel is famous as the first steamship to make regular Atlantic crossings.
11. Dyffryn Gardens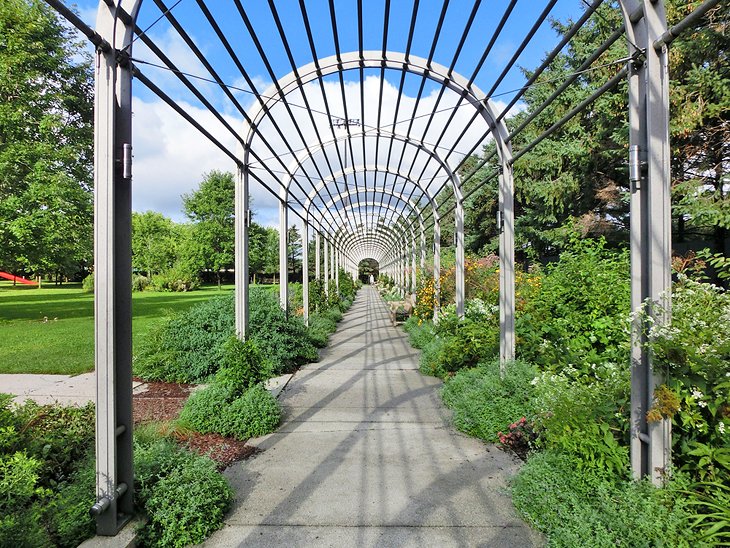 Situated near the picturesque village after which it's named, Dyffrn Gardens is well worth visiting. Even if gardens and gardening aren't your thing, there's little doubt that this beautiful National Trust gardens will appeal.
The star attractions here is its unique collection of outdoor "garden rooms," a feature that was once quite common on the country estates of wealthy aristocrats. Now fully restored to their former glory, these attractive 100-year-old buildings are a delight to explore and provide an idyllic backdrop to the 55-acre estate's formal gardens and lawns, which were laid out by the famous designer Thomas Mawson in 1906.
Other features of note include a large arboretum, a rockery, and a lovely arched walkway notable for its various species of vines. There's also a small canal and a Chinese-inspired fountain. Also on the grounds are numerous interesting statues, along with exotic and foreign species of trees and plants, a pleasant tearoom, an outdoor adventure play area for kids, and a gift shop.
Be sure to allow a little time to explore Dyffryn House. Unique in its own right, visitors are encouraged to interact with the displays, whether it be to browse the books in the library or play a tune on the piano in the music room. Numerous seasonal events are also held here, including Christmas celebrations and Easter egg hunts.
Address: Dyffryn Cl, St. Nicholas, Cardiff, Wales
Official site: www.nationaltrust.org.uk/dyffryn-garden
12. Barry Island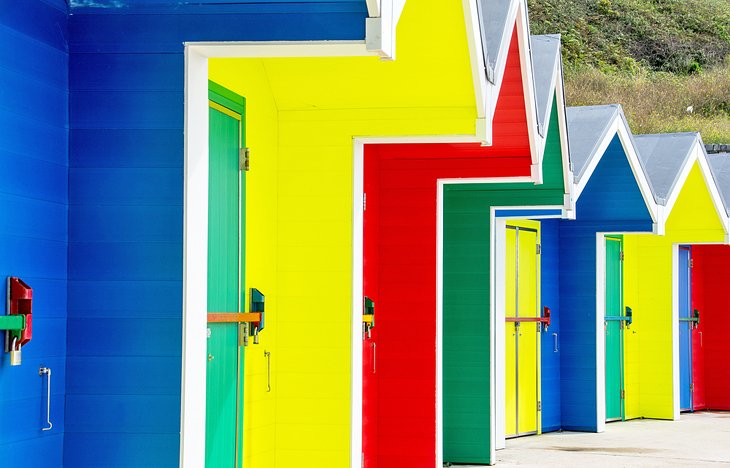 Though no longer completely separated by water from the rest of Wales after it was forever joined to the mainland by the construction of a causeway and docks in the late 1800s, Barry Island has been a popular seaside destination for day-trippers since Victorian times.
Today, as back then, the big draw to this pleasant seaside destination are the three long sandy beaches, notable for seeing the second highest tides in the world. Two of the beaches have been designated as dog-friendly.
Families flock here from far and wide for fun times splashing and swimming in the water, with some of the more savvy bathers renting one of the beach huts that line the promenade. In addition to providing a little privacy, these cozy, colorful buildings also serve as a sanctuary from the sun.
In addition to its pleasant waterfront walks, visitors can enjoy a variety of other attractions, too. These include video and game arcades and climbing walls for the kids, as well as the interesting Barry War Museum with its authentic simulation of life in the trenches of WWI and the blitz of WWII.
Also fun is the Barry Tourist Railway. This fun heritage railway whisks travelers from the island to the mainland in vintage carriages pulled by steam locomotives. There are also plenty of dining options, too, and to work off the pounds, the island is directly connected to the superb Wales Coast Path.
13. Flat Holm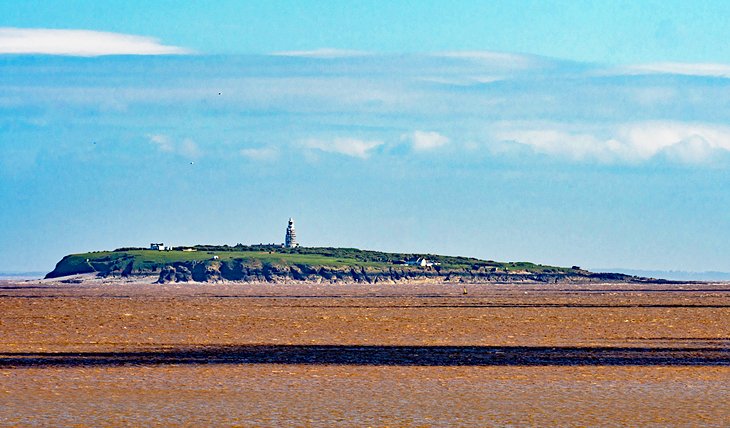 For a rather different day trip experience that involves boat travel rather than a car, consider venturing out to Flat Holm. A tiny island with just one regular inhabitant, it's located just five miles from Cardiff in the middle of the Bristol Channel.
Despite covering an area of less than a quarter of a square mile, the island has been home to humans for centuries, from Vikings and early Anglo Saxons to smugglers and silver miners.
Most recently, a group of monks have operated a sanctuary here. It was also where Marconi received the world's first ever radio message. The island is accessible to curious travelers via fun boat rides provided by a number of operators out of Cardiff Bay, which allows a window of up to six hours to explore.
Surprisingly for such a small island, there's plenty to see, including Victorian-era and WWII fortifications, and a well-preserved lighthouse complete with a still-working foghorn. The island also boasts spectacular views towards England and Wales.
Perhaps the biggest draw, however, is the wide array of wildlife that lives on the island. It's a particularly popular spot for naturalists and bird-watchers, the latter drawn for the many species of gulls that nest here.
And if you want to linger longer to enjoy the views, stays can be arranged at the island's restored farmhouse. This overnight adventure is something that's becoming increasingly popular among kayakers who make their own way to the island.
Official site: http://flatholmsociety.org.uk
14. Cosmeston Lakes Country Park & Medieval Village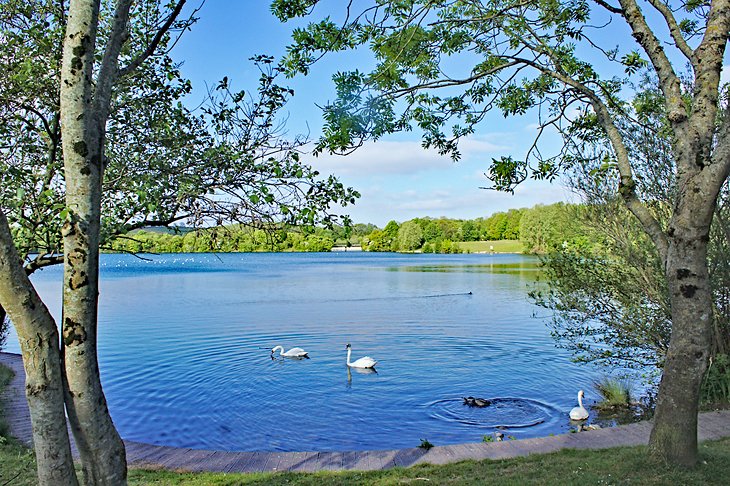 Although this is one of the easiest outings to make from Cardiff, it's easy to end up spending the best part of a day at Cosmeston Lakes Country Park & Medieval Village. Just seven miles away from downtown Cardiff and close to the towns of Sully and Penarth, this nature reserve has plenty of appeal.
Start your exploration of this vast 247-acre site at the visitor center to get your bearings and a map, plus a drink and snack from the café, before venturing out. Depending on the season, you're likely to spot numerous species of wildlife and, in spring and summer, a wide variety of plant life. Highlights include circling and crossing the two lakes on the property, and enjoying a mix of wetland and woodland areas.
Be sure to also check out the Cosmeston Medieval Village. This fascinating attraction is a faithful replica of the 14th-century settlement that was only discovered during construction of the park. Other notable features include a small museum, an adventure playground for kids, a picnic area, and barbecue facilities.
Address: Lavernock Road, Penarth, Vale of Glamorgan, Wales
Official site: www.valeofglamorgan.gov.uk/en/enjoying/Coast-and-Countryside/cosmeston-lakes-country-park/Cosmeston-Lakes-Country-Park.aspx
Map of Day Trips from Cardiff