14 Top-Rated Beaches near Cardiff
Author Anietra Hamper and photographer Ian Herderson explored the beaches around Cardiff in the summer of 2022 while on assignment for PlanetWare.
Cardiff is the capital of Wales and the place to be for the urban scene, activities, shopping, and sporting events, and fortunately it is close to several beaches. There are some beaches near Cardiff that you can get to from the city center within a half hour, or you can make a full day of it by going to the Gower Peninsula, just over an hour's drive away.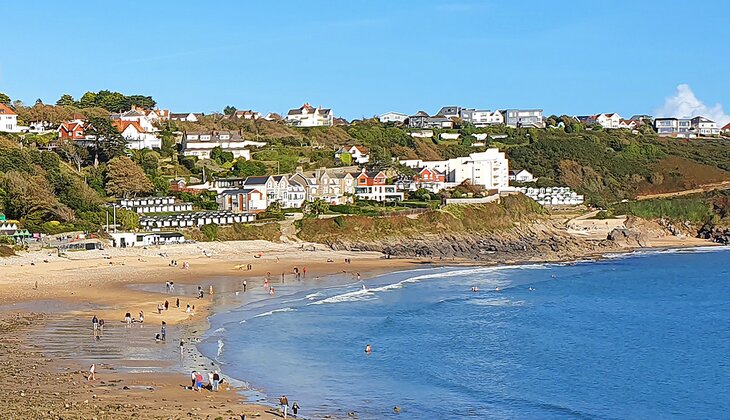 While the beast beaches near Cardiff will require a short drive, you can plan a nice vacation, having the best of both worlds by basing yourself in the city and taking day excursions to enjoy some of the natural beauty of the stunning coastline in southern Wales.
To help you plan your trip, be sure to review our list of the best beaches near Cardiff.
1. Penarth Beach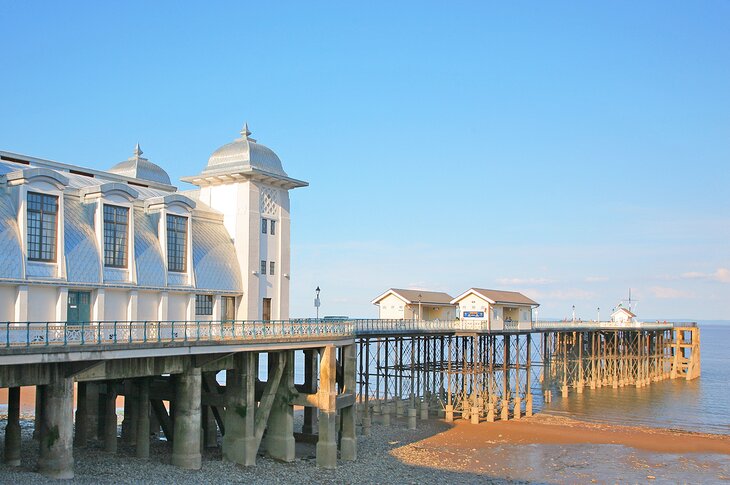 One of the closest beaches to Cardiff is only five miles away at Penarth Beach. The long stretch of beach is great for walking and while it is dominated by pebbles, the best time to enjoy the sandy sections is during low tide.
This is a popular swimming beach, and you will often find regulars who hit the surf in the early mornings.
The appeal of Penarth Beach is for more than just the water, as the area surrounding it is enjoyable, especially for a day visit. Walk along the elevated seaside promenade to appreciate the water from a different view, or sit for a while on the benches beneath the old street lamps surrounded by intricate village landscaping.
Spend some time on the beautifully restored 19th-century Penarth Pier Pavilion, which has been a symbol at this beach for over a century.
What's Nearby? There are many restaurants and cafés along the beach to enjoy a bite to eat, and easy public parking on the street.
2. Whitmore Bay Beach at Barry Island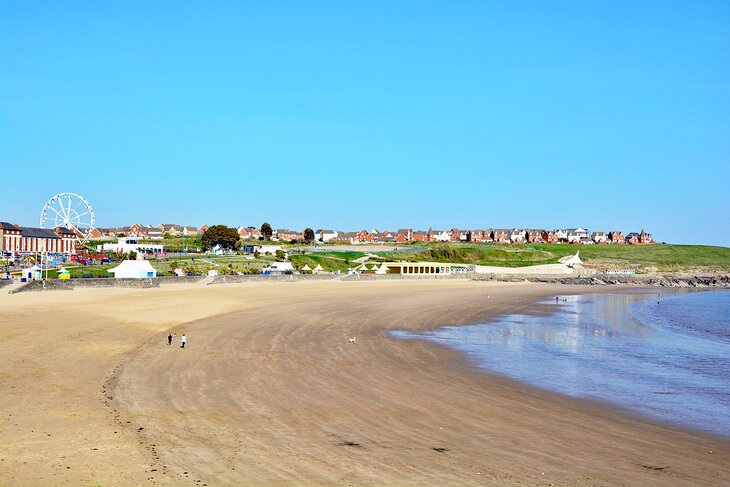 Whitmore Bay Beach at Barry Island is just 10 miles and less than a half-hour drive from Cardiff and a great option for families. While Whitmore Bay is the name of the water at the beach, the destination itself is more commonly referred to locally as Barry Island Beach.
This is one of the most popular seaside spots in South Wales, but the wide crescent beach has plenty of room, even during the busy summer season.
This is a fabulous beach for a day visit because everything you need is accessible. The beach is ideal for swimming and water sports and the Barry Island Pleasure Park located beachside has amusements, food vendors, games, and entertainment.
Bring your beach chairs and umbrellas, or rent one of the beach huts on-site for the day. You can take a long walk along the coastline or the promenade and soak in the vibe of Barry Island Beach, which has attracted vacationers since the late 1800s.
3. Cold Knap Beach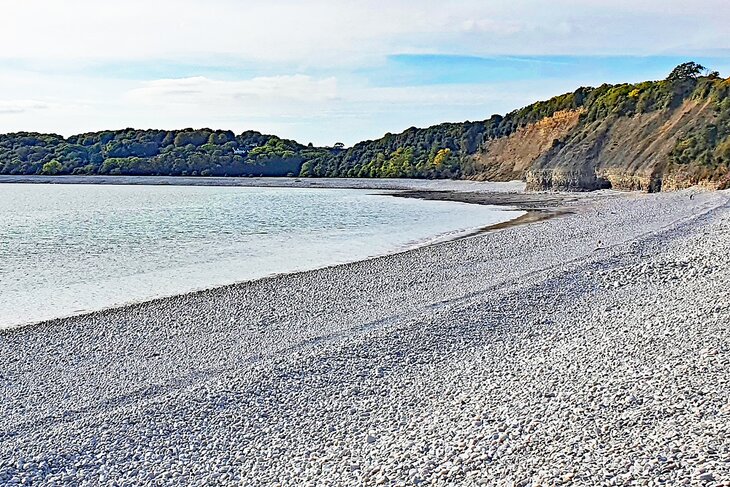 Cold Knap Beach, also known as Pebble Beach, on Barry Island is only 11 miles from Cardiff and within a half hour's drive, making for a great scenic day by the water. As its name suggests, this is a beach of mostly pebbles, except when the tide is out exposing some sand.
This is a great beach for walking, fishing, and windsurfing. The rocky landscape also makes this a great beach for tidal pools. If you plan a day visit, pack your hiking shoes and take advantage of one of the coastal trails near the beach.
It is generally quieter than other beaches near Cardiff, but it can get busy during the summer season. After some beach time, drive into the town of Barry to enjoy the seaside shops and cafés.
4. Llantwit Major Beach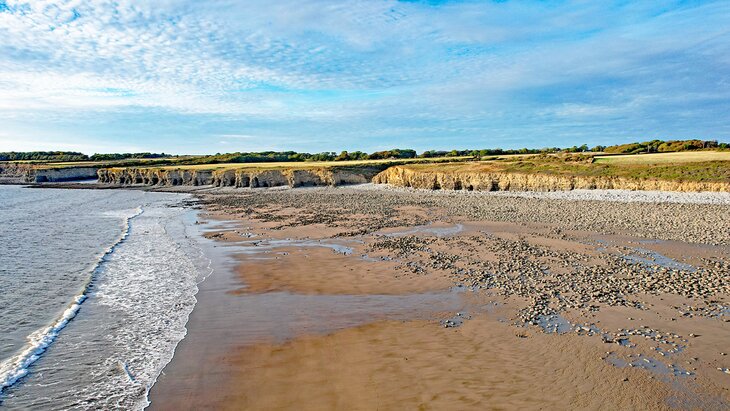 Heading west along the South Wales coastline from Cardiff is Llantwit Major Beach, located about 23 miles away. This is one of the closest beaches to Cardiff from which to experience the Glamorgan Heritage Coast.
The beach feels a bit remote, but once you are here, it has some wild elements that are characteristic of this section of coastline, with rocky backdrops and dramatic cliffs.
While people come to Llantwit Major Beach for swimming, it is most popular with families and beachcombers looking for crabs and other marine remnants in the tide pools. This is a great beach for surfing and surf fishing, too.
To extend the beach day, you can take one of the nearby walking paths or tackle part of the Glamorgan Heritage Coast, which you can access from steep concrete steps leading to the cliffside walks.
Amenities: There is free public parking, restrooms, and a café near the beach.
5. Monknash Beach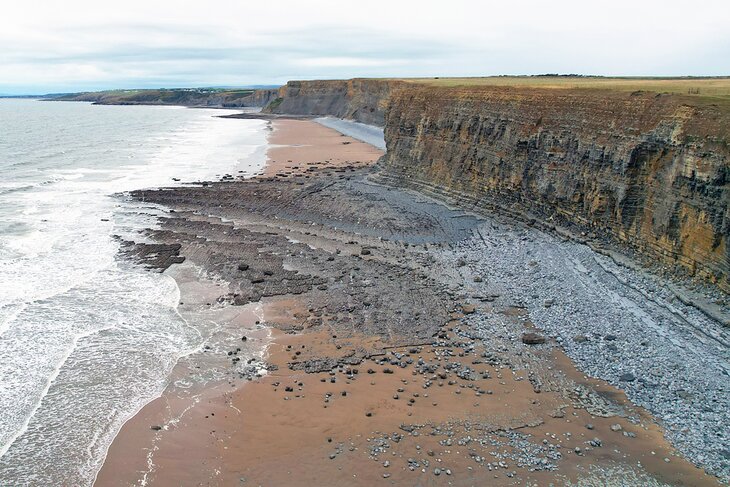 The rocky and sandy combination of Monknash Beach is located about 24 miles from Cardiff, which you can get to in about 45 minutes. This beach is great if you are looking for a beach experience that showcases the wild Atlantic.
Monknash Beach is accessed by a single-track lane and is approximately a half-mile walk along a tree-lined path to the water. There is limited parking, with an honesty box available for a requested fee, so it is best to take change with you.
The exposed beach is good for swimming, but many people choose this beach for the dramatic cliffside scenery and opportunity to see falcons.
One of the best times to visit is during low tide when more of the beaches' golden sand is exposed making for great waking on what feels like a secluded beach.
What's Nearby? Before or after your beach visit, you can enjoy a bite to eat at the restaurant at the top of the lane and stroll around the area to see things like old ruins and fantastic rock pools.
6. Dunraven Bay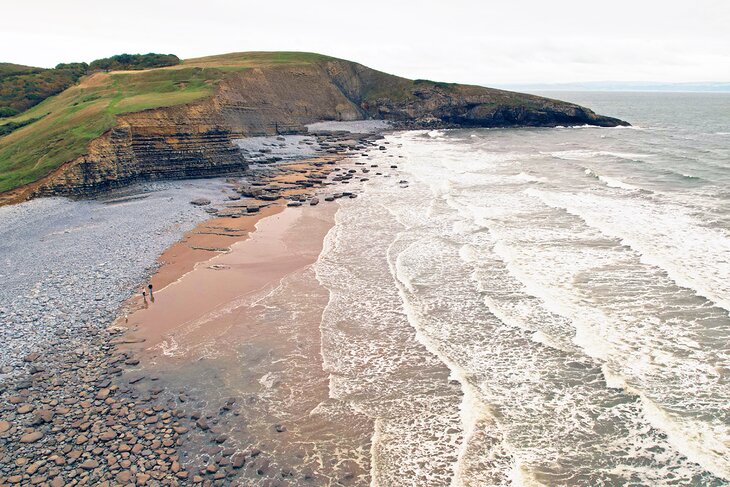 A visit to Dunraven Bay makes for a great beach day away from the city. It's located just 27 miles from Cardiff. The beach is tucked into the coastal village of Southerndown in the Vale of Glamorgan.
The beach has a nice combination of both sand and rocks and coastline defined by steep cliffs, making it a popular spot for beachcombing. You never know what you can find in the rock pools that collect water and ocean treasures during high tide. It is not uncommon to find fossils.
Besides exploring the natural surroundings, Dunraven Bay has nice swimming conditions and a long stretch of sand for walking the coastline or setting up a comfortable spot to relax for the day.
There is a public car park nearby along with bathrooms, food, shops, and picnic areas.
What's Nearby? While visiting Dunraven Bay, it is worth planning some time for a stop at the Heritage Coast Centre, which has information and exhibits about the area and Welsh heritage. Other close attractions are the ruins of Dunraven Castle and Dunraven Gardens, so there are plenty of things to do to make it a full day out from Cardiff.
7. Ogmore By Sea Beach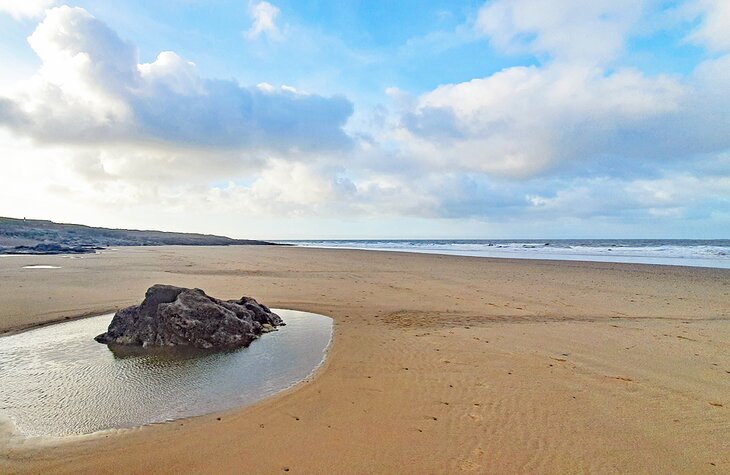 The picturesque beach of Ogmore By Sea is only 27 miles from Cardiff. This is a beach that has a wide sandy landscape, so it is a great option for dog walkers and families given the calmer water.
There is plenty of space to build sandcastles or replicate the nearby Ogmore Castle that you can use for inspiration.
Ogmore By Sea is nice for swimming and calm-water activities, like kayaking, stand up paddleboarding, and fishing. This beach is located on the western edge of the Glamorgan Heritage Coast near Bridgend, with surrounding cliffs that represent the span of three geological periods.
This is an area with great scenery but also significant geology and history, so it is an ideal beach for those who like to explore a bit.
What's Nearby? Ogmore By Sea is a nice beach option if you are looking for some time at the beach along with other activities like golf, walking the sand dunes, or visiting castles, as all are located nearby. Finish your visit in the village of Bridgend with a bite to eat at a local café.
8. Newton Beach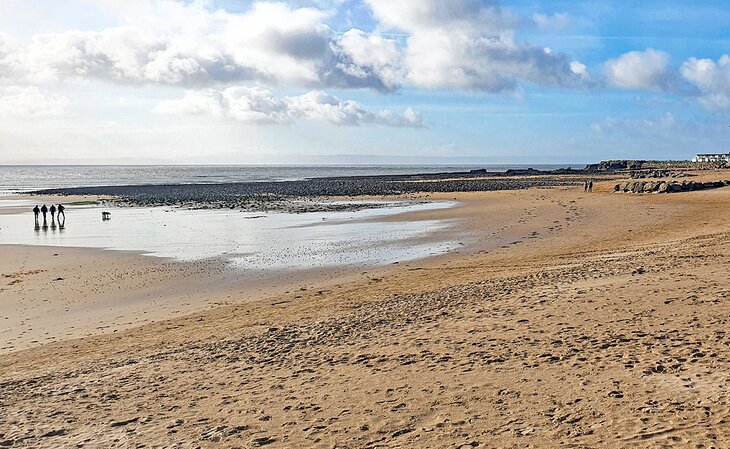 If you are looking for a rugged beach day enjoying the waves with water activities, then Newton Beach, located about 34 miles from Cardiff is a good choice.
Newton Beach at Porthcawl is close to the village of Newton and has a mixture of rock and sand, along with a fabulous Atlantic wind, which is why it is popular for things like windsurfing. For those who have boats or Jet Skis, there is an accessible slip available.
This is an exposed beach, which is part of its appeal, so it is popular with walkers and beachcombers. When the tide is low you can walk from Ogmore to Newton.
Amenities: Parking and facilities are limited, so you will want to plan accordingly and maybe visit for a few hours, then head into Newton to enjoy some of the seaside village atmosphere and local food.
9. Rest Bay Beach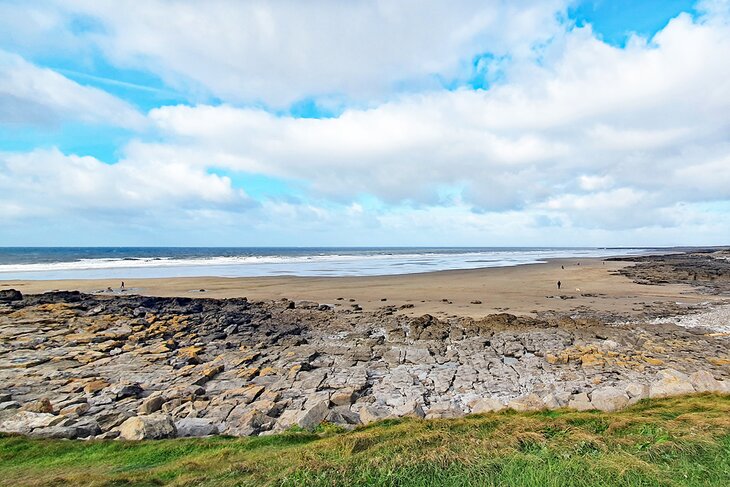 A nice beach on the southern coast of Wales near Porthcawl is Rest Bay Beach, just 33 miles from Cardiff.
This is a great beach for water sports. There are zoned sections on the beach with designated areas for swimmers, surfers, and watercraft. There is even a section on the west end of the beach for those who just need the space to fly kites.
Rest Bay Beach is a great multi-purpose beach and a good option for almost anyone heading out from Cardiff. There is plenty of space to stretch out with beach umbrellas. The water is perfect for swimming, kitesurfing, stand up paddleboarding, kayaking, and fishing. There is a water sports rental facility on the beach at the Porthcawl Surf School, and surf lessons are available.
Amenities: This is an easy beach for a day visit since it is close to Porthcawl, with access to food, bathrooms, parking, picnic areas, and a surf shop to buy things like sun lotion.
10. Pink Bay Beach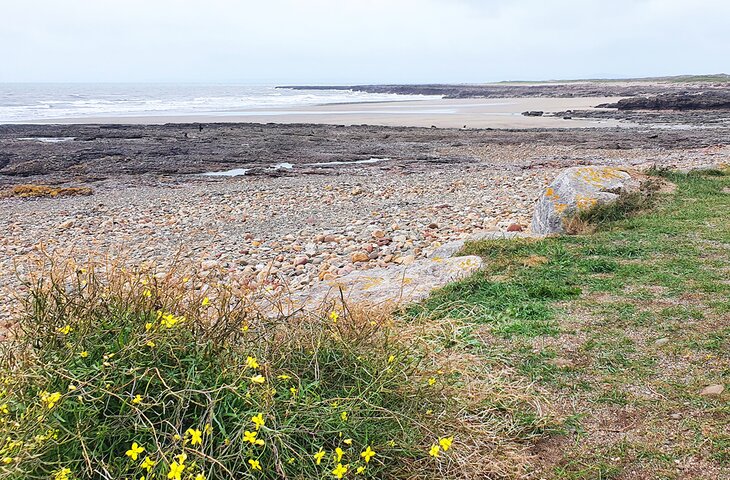 The more secluded, but enjoyable, Pink Bay Beach near Porthcawl is located about 31 miles from Cardiff. This is a perfect day away from the city if you are looking for a quieter beach experience. The beach is defined by pebble and sand landscapes that in certain light reflects a pink hue, giving it the name of Pink Bay Beach.
This beach is best for walkers and those who want to enjoy scenic views and wildlife. It is a more remote beach accessed by a 15-minute walk from Rest Bay. Keep an eye out for low-flying golf balls from the adjacent Royal Porthcawl Golf Club.
Amenities: There are no facilities or food options, so you will want to bring everything you need with you for the day.
11. Aberavon Beach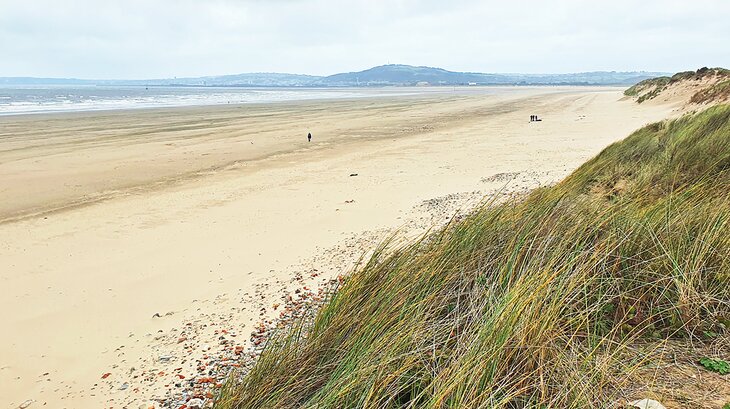 If you have a little more time to drive from Cardiff, you can head to Aberavon Beach, which is about 40 miles away.
As one of the longest beaches in Wales, with a three-mile coastline, it is a fun beach for swimming and other water activities. The beach is also popular for fishing, kayaking, and kitesurfing.
It is a great option for families who are visiting Cardiff and want a day by the water with easy beach access, nearby facilities, food, and kid-friendly options. Besides the beach, families can access an aqua splash playground, park space, and additional children's playgrounds.
There is plenty of space on the beach even during busy times of the year.
Aberavon Beach is a popular spot for surfers who tackle the impressive waves that come ashore here. It is just as popular with spectators who want to be close to the iconic beach activities and nearby promenade.
12. Swansea Bay Beach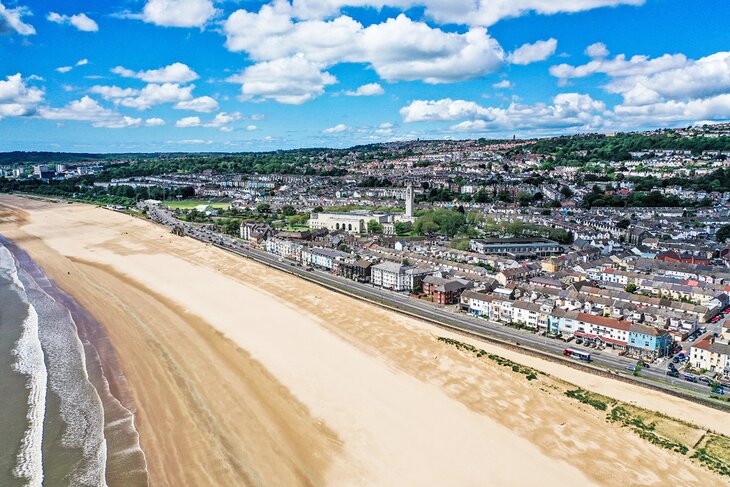 A fun beach option about 46 miles from Cardiff in South Wales is Swansea Bay Beach. It is a great recreational beach located close to the city activities in Swansea, one of the largest cities in Wales.
This is a nice option from Cardiff if you want to enjoy the beach, experience the coastal charm of the Gower Peninsula, and spend some time in the town of Swansea, which has attractions and other tourist options.
The Swansea Bay Beach stretches for five miles, so there are plenty of spots to stretch out on the sand or to walk to when you need to stretch your legs during the day. The sand is golden, accented by picturesque dunes with a pedestrian promenade that parallels the beach for walking and biking.
The bay has nice water for swimming, kayaking, and windsurfing. Local outfitters offer sailing and boat excursions near the beach.
Beach access is easy since this is a popular spot, and you will have no problem finding food and facilities.
13. Langland Bay Beach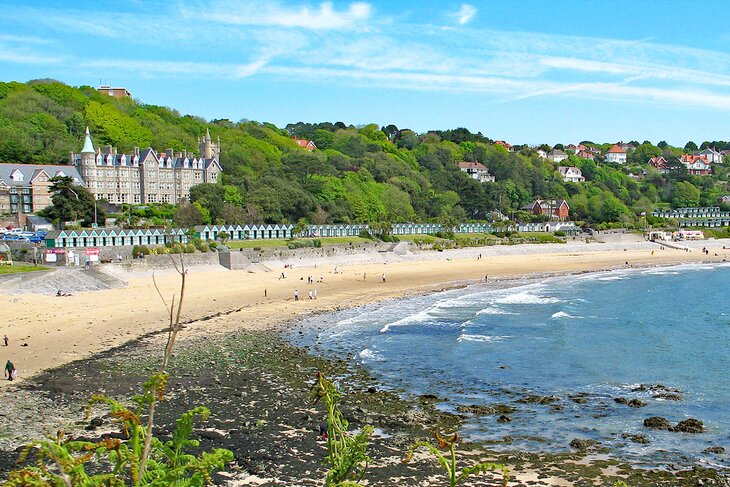 If you have time for a longer drive from Cardiff, Langland Bay Beach, about 50 miles away, is one of the best family-friendly beaches in the Gower Peninsula.
This is a popular beach for coastal vacations in South Wales. The water is fantastic for swimming and water recreation like kayaking and surfing, and lifeguards are on duty from May to September.
Langland Bay Beach is a Blue Flag Beach, meaning it meets strict quality standards. It is a crescent-shaped beach with soft sand and runs for a long stretch of coastline.
Water activities are why most people come to this beach, and the landscape also lends itself to exploring the many rock pools that form after high tide.
Amenities: Since this is a big coastal vacation destination there is easy beach access, public car parking, bathrooms, and showers that are all close to the beach. The public promenade behind the beach is where you can retreat to find food.
14. Caswell Bay Beach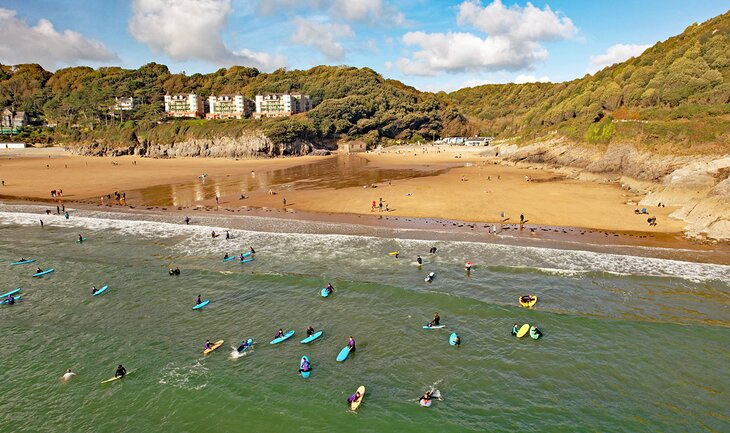 Another great Gower Peninsula beach if time allows is Caswell Bay Beach, located about 50 miles from Cardiff near the village of Newton. While it is a small beach compared to some of the other options from Cardiff, this one ranks high for water recreation and is worth the drive for a day trip.
Caswell Bay Beach is a surfer's paradise, and it's entertaining to watch the pros hit the waves. If you want to learn, it is easy to take surfing lessons from the surf school located right on the beach. If surfing is not in the cards for your beach day, you will still enjoy swimming, boogie boarding, and walking along the coastline.
The clean, soft sand and beautiful Atlantic waters are part of the reason this is a Blue Flag Beach and popular with both residents and tourists. To break up the day, you might want to hit one of the walking trails near the beach that take you to coastal paths with scenic views below.
Beach access is easy with a public car park, bathrooms, food, and showers all located nearby.
Cardiff - Climate Chart
Average minimum and maximum temperatures for Cardiff, United Kingdom in °C
J
F
M
A
M
J
J
A
S
O
N
D

7

2

7

2

9

3

12

4

15

7

18

10

20

12

20

12

18

11

14

8

10

5

8

3

PlanetWare.com
Average monthly precipitation totals for Cardiff, United Kingdom in mm.

91

66

76

56

64

66

74

81

91

97

99

99