12 Best Beaches in Anglesey
Located on the Menai Strait in North West Wales, the wild and rugged coastline of Anglesey offers some of the most spectacular beaches and natural scenery in the country. With more than 125 miles of coastline around Anglesey, you have a lot of choices when it comes to a day at the beach, with options ranging from long, sandy stretches of wide beaches to quieter bays that are more secluded.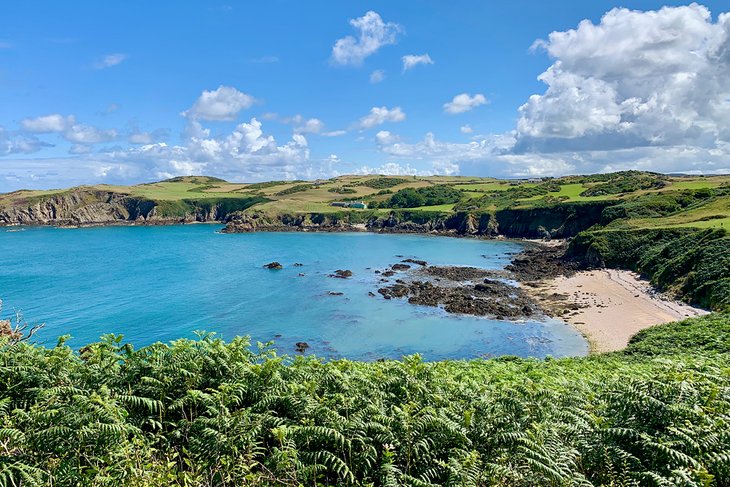 All the beaches in Anglesey have characteristics that make them unique. From the Blue Flag Beach designation of Benllach Beach, the dramatic tidal pools of Traeth Crigyll, the climbing rocks surrounding Porth Swtan, and the mountains and cliffsides that you get to experience on a hike to Porth Wen Beach, each promises a memorable experience beyond just great swimming in the Atlantic waters.
Prepare for breathtaking scenery as you pack you bag to explore our list of the top beaches in Anglesey.
1. Llanddwyn Beach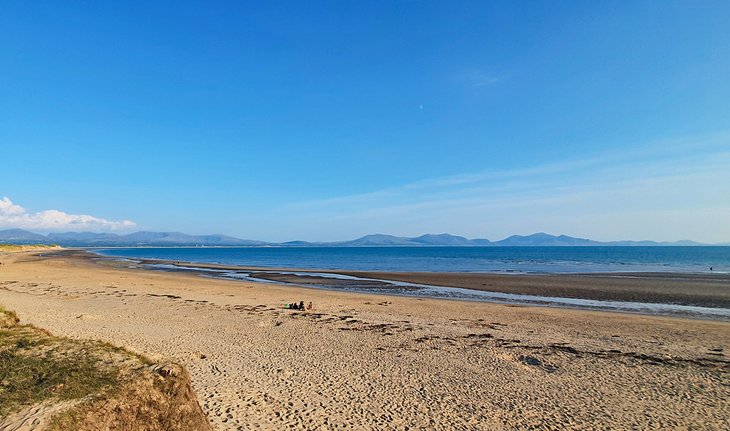 A visit to Llanddwyn Beach near Newborough on Anglesey Isle is like none other you will visit in Wales. Located on the southern end of Anglesey, the Blue Flag Beach is couched in the Newborough National Nature Reserve, so you not only have stunning natural scenery but a place to spend an entire day enjoying some of Wales' natural attractions.
The mile-long beach is wide, so it is nice for families to go swimming, fly kites, and set up a comfortable spot in the sand. Given the Atlantic winds that sweep through the coast at Llanddwyn Beach, it is a popular place in Anglesey for kitesurfing. If you have ever wanted to learn the sport, you can take lessons from a local outfitter and practice on this beach.
The sandy and dog-friendly beachfront is surrounded by tall sand dunes, a forest landscape on one side, and a view of the Snowdonia mountains on the other. If you want to enjoy some of the other recreation at the reserve, take a hike on one of the many trails that go through the forest pines.
Take some food to cook out and take advantage of the barbecues that are available for use in the public picnic areas.
2. Benllech Beach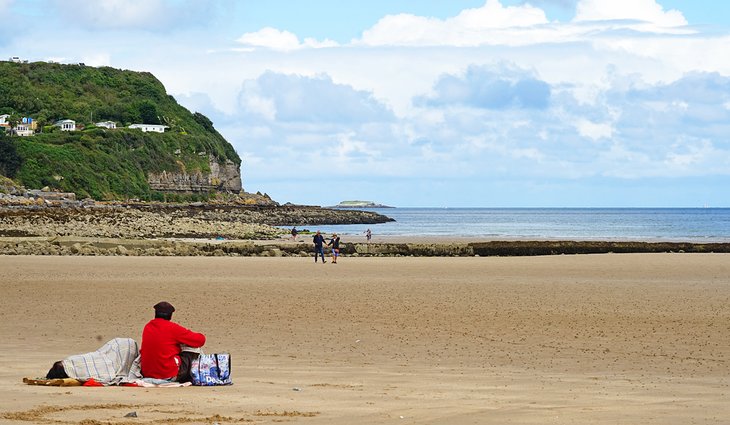 A great family beach in Anglesey is Benllech Beach because of its wide space, calm water, and organized beach activities that are often available during the summer season. This is one of the most popular beaches in Anglesey, surrounded by tree-covered mountains and cliffs.
The water here is perfect for swimming, windsurfing, stand up paddleboarding, and kayaking. The C-shaped coastline and soft sand makes it a great beach for walking to take in the panoramic views.
This is a Blue Flag Beach and a pristine spot to set up for the day. There are plenty of amenities close to the beach, like bathrooms and restaurants to grab a bite to eat.
During low tide, you can find lots of treasures and tiny sea life collected in the tide pools along the rocky edges of the coastline.
If you want to add in a bit of activity during the day, take a walk on the Anglesey Coastal Path located just above the beach.
3. Traeth Crigyll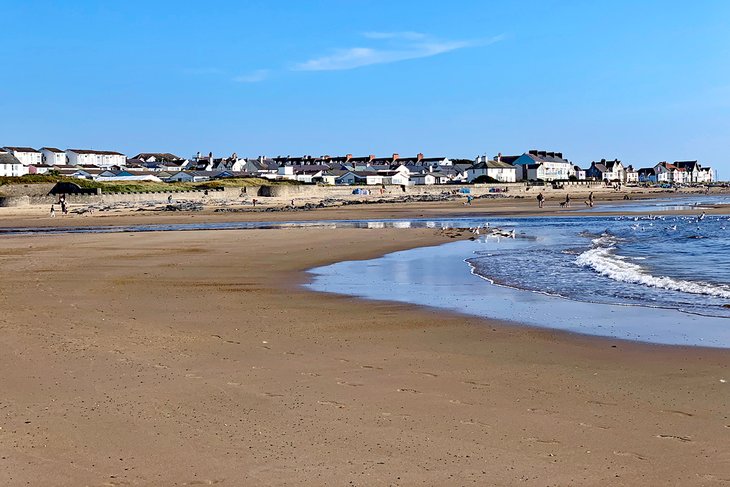 Just beyond steep sand dunes is the sprawling sand of Traeth Crigyll Beach. It is a great spot for those who like to be active at the beach with activities kitesurfing, swimming in the waves, or kayaking around the waters close to shore. You will want to park in the village of Rhosneigr, where you can stop to pick up food for the cooler, and walk to the beach from here.
Traeth Crigyll Beach generally has calm water and is perfect for long walks. Keep in mind that there are no facilities on the beach, so you will want to bring everything with you that you need for the day.
This is a popular place to visit for beach vacations in Anglesey. There are many vacation homes and caravan parks nearby. If you just want to spend the day, there is lots of sandy space, even during the high tourist season.
4. Traeth Lligwy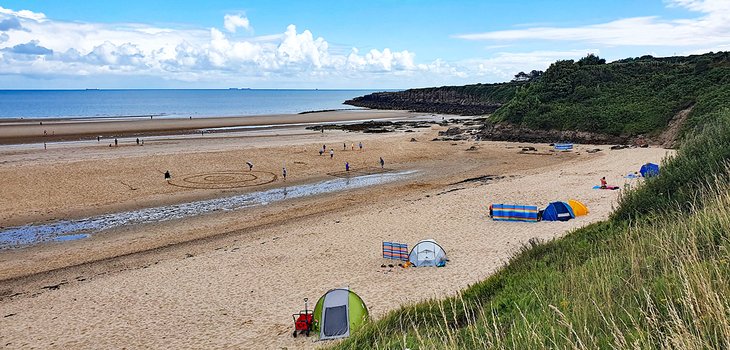 If you are looking for a beach day to soak up some of the natural scenery in addition to swimming, then Traeth Lligwy near Moelfre is a great option.
This is a popular beach because of the large amount of space and sand that is great for making castles. The water is calm for swimming and kayaking. During low tide, kids like to play in the tide pools with nets to see what has washed ashore.
There is a lot of geology and history in this area, including a preserved ancient settlement located not far from the beach that you can walk to during your visit, and there are more than 100 shipwrecks located in the waters just beyond the beach.
When you need a bite to eat, you can walk up to the village cafés from the beach on the backcountry lanes.
5. Porth Swtan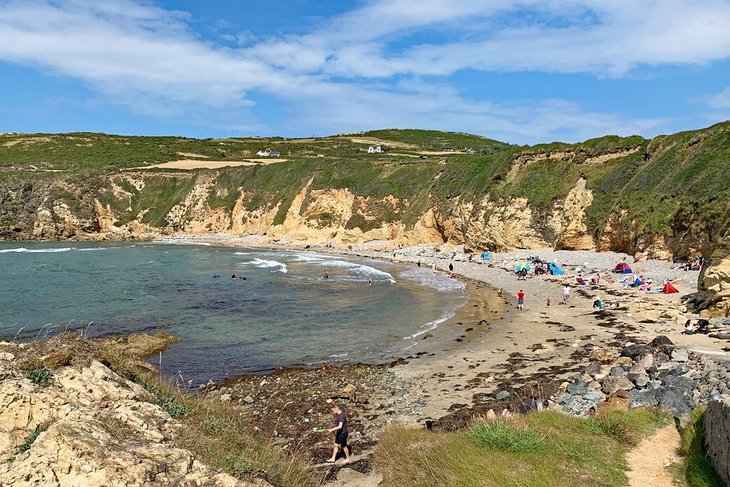 The uniqueness of Porth Swtan is why it has such appeal for visitors. Yes, the beach is fantastic for swimming, boogie boarding, building sandcastles, and climbing on the surrounding rocks, but you can explore beyond the beach, too.
Porth Swtan is also called Church Bay Beach because it is located near the village of Church Bay.
This is a Blue Flag Beach designated for its pristine conditions that support environmental awareness. Just a short walk from the sandy lane where you park is the beach, but along the way, you will pass several small cafés and food spots, which are great stops for lunch or a post-swim ice cream and homemade sweet.
This is a perfect beach for setting up a cabana and spending the day. The rocky landscape surrounding the beach is fun for exploring, especially in the tidal pools. You can find many cottage homes and campsites available nearby if you want to spend more than a day in the area.
6. Cemaes Bay Beach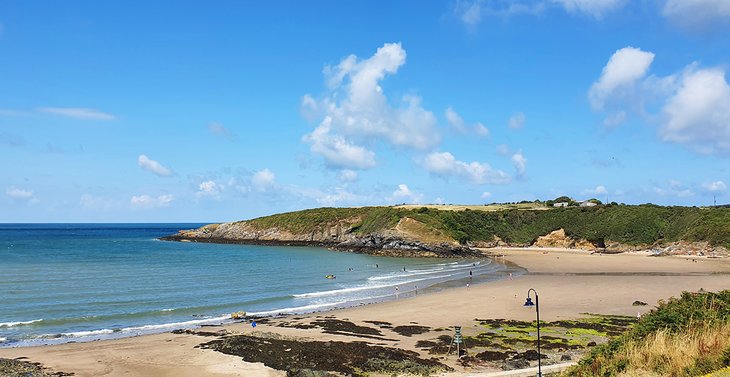 Cemaes Bay Beach is a comfortable place to spend a full day by the water. There are two beaches here separated by a harbor, and both are popular with families. The beaches are made up of both rocks and sand offering plenty of activities.
These beaches have sloping sand and calm swimming water, which is ideal for children. There is also plenty of sandy space for building sandcastles and playing. Since the beaches are surrounded by cliffs and rocks that collect water, there are fantastic tide pools where you can look for seashells.
There are plenty of nearby amenities, like restrooms, picnic tables, and a small café for quick food, as well as convenient parking and a promenade.
7. Trearddur Bay Beach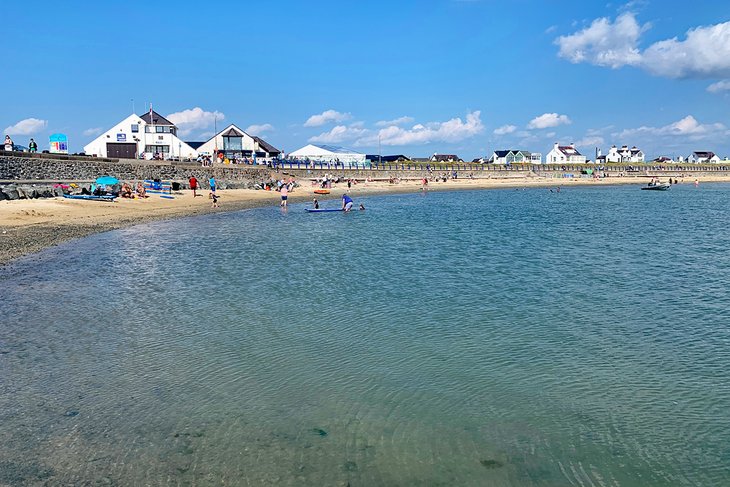 While there are several great family beaches in Anglesey, Trearddur Bay Beach is one of the best, especially if you have small children and do not want the worry of open ocean water. Trearddur Bay Beach sits in a cozy bay with calm, shallow water that is nice for any age.
The large rock formations in the bay are fun exploration spots – especially for kids, where they can climb and enjoy great views of Trearddur village in the distance. The large and wide crescent sand beach bumps up against a rock wall and promenade where you can walk to take in the sights if you need a break from swimming.
This beach is popular for other activities like wading, motoring around on dinghies, stand up paddleboarding, flying kites, and playing catch with the dog.
There is a designated parking lot along with a café and outdoor eating spaces, so it is one-stop shopping for a beach day.
8. Porth Wen Beach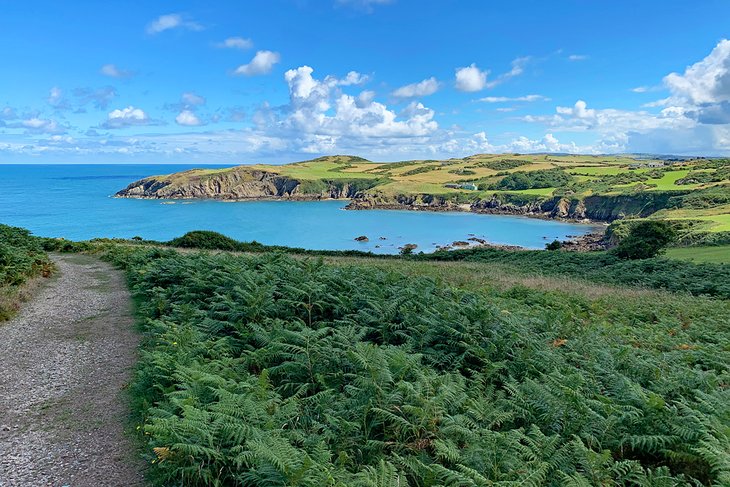 One of the most outstanding beaches in Anglesey that you should go to more for the scenery than the swimming is the small beach of Perth Wen. You will have to park off a small lane and hike about a half mile back on public footpaths to the water, but you will be rewarded with spectacular scenery.
This is an ideal spot for those who are outdoor enthusiasts and like the additional exploration along with a day at the beach.
The cove and beach are created by the natural curve of the northern Wales mountains and cliffsides, making for a tranquil afternoon by quiet water. As well as brisk ocean air, there is a stretch of small sandy beach and interesting visuals, like an old brickworks factory and farmland with sheep.
For an additional activity you can take the marked Wales Coastal path above the beach to explore further and even look around the abandoned brickworks buildings. This is a secluded beach but ideal for a scenic or romantic picnic lunch by the water.
9. Porth Diana Beach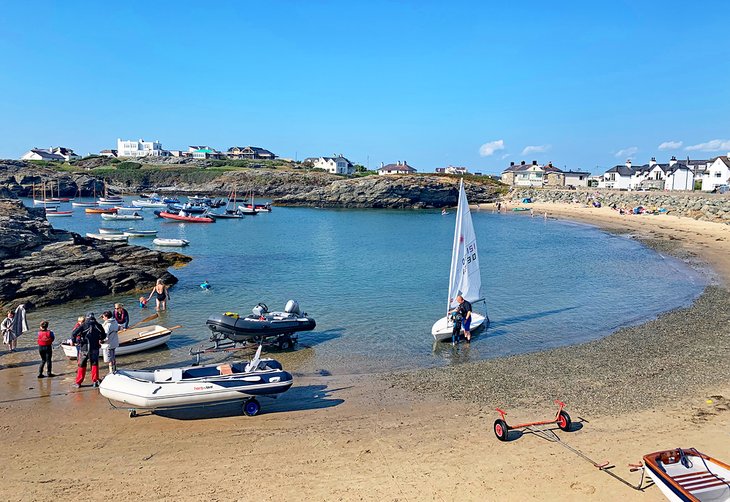 The charming Porth Diana Beach near Trearddur is made up of two small, secluded bays that are tucked away between rocky edges but still conveniently located next to the roadway. This is a beach with calm water protected from the wind that is a great place for swimming.
This is a nice beach for snorkeling and a departure point for scuba diving given its clear water. The cove and beach are used by a local sailing club, so it is also a nice spot to launch a stand up paddleboard or kayak.
The two bays also have opportunities for climbing on the rocks, and a promenade above where you can walk or ride a bike. The beaches are easily accessible but there is no designated parking, so you will have to find a spot along the side of the road.
10. Porth Dafarch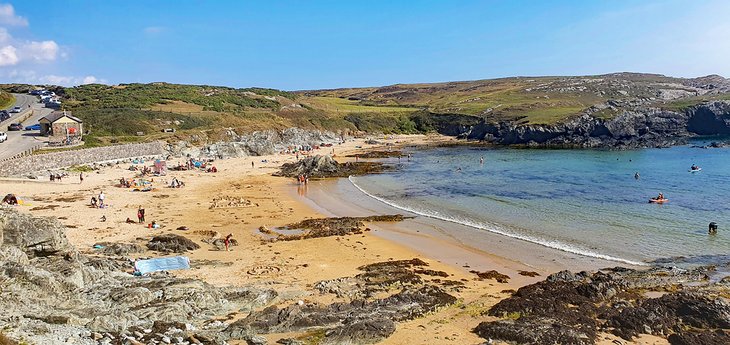 The small and lovely Darfach Beach is an inlet that strikes the perfect balance of being both secluded and accessible, as it has characteristics of both. The sandy beach is comfortable and located just off the roadway. The soft crescent-shaped beach is surrounded by interesting rock formations that are decoratively positioned for you to enjoy the ambience.
This is a nice beach for stand up paddleboarding, kayaking, swimming in the gentle waves, and sitting in the shade for an afternoon. This is a Blue Flag Beach, with plenty of areas to walk on the sand, rock formations, and the headlands surrounding it.
To make a full day out of it, head down the road before or after your beach visit to the South Stack Lighthouse and take photos of some of the natural scenery and wildlife in the area.
11. Porth Trecastell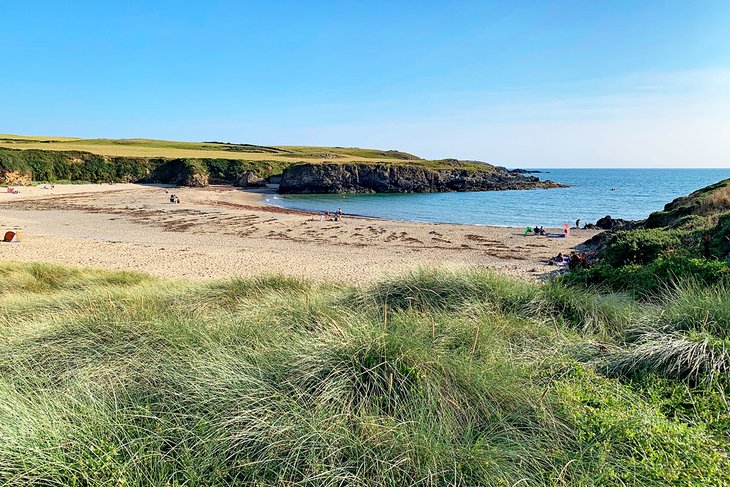 The public beach of Porth Trecastell is in a small bay. This quiet beach has deep blue water and is surrounded by farmland and cliffs. This beach is a nice option if you are looking for calmer water for swimming, kayaking, and stand up paddleboarding.
Due to the rocky landscape around the beach, you can enjoy exploring the rock pools left behind by the tides. For some more exploring, take a walk on the hillside beside the beach to see if you can spot the ancient burial chamber that remains at the top of the hill.
Porth Trecastell is also referred to locally as Cable Bay. In the early 1900s, a telegraph cable was installed beneath the bay that extended to Ireland. Though the cable no longer exists, its nickname remains.
The beach is located close to the village of Rhosneigr, where you can stop for a bite to eat after your day by the water.
12. Porth Trwyn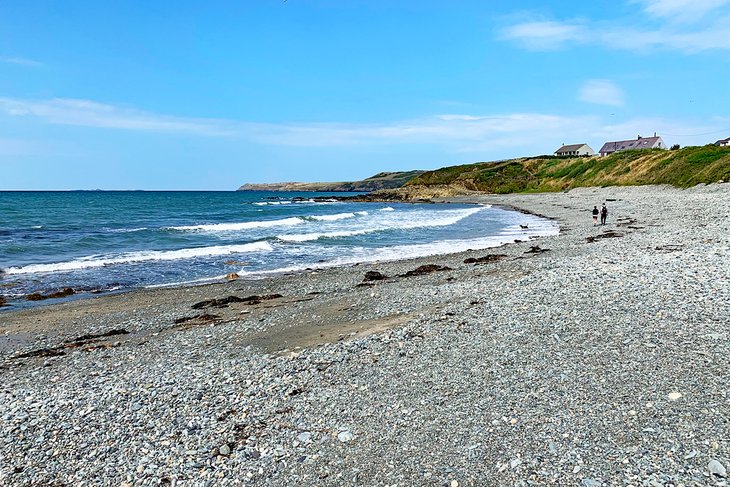 A recreational beach on Anglesey's west coast is Porth Trwyn. It is located near Holyhead. This beach has a mixture of rocks and sand and is located a bit off the beaten path, but it is a great recreational beach with respectable waves for boogie boarding.
The water is clear, so you can see below the surface. Bring your snorkel and mask and see what tiny creatures and rocks you can find.
The stretch of coastline on this beach is ideal for taking walks and playing with the dog by the water. Porth Trwyn is not as popular as other Anglesey beaches, so it is generally not crowded, even during the high tourist season. This is a great beach to consider if you want to enjoy a larger beach without all the people.