9 Best Beaches in Lyme Regis, Dorset
Boasting some of the most stunning coastal scenery in England, the small seaside town of Lyme Regis is undoubtedly one of the best places to visit in Dorset for those looking to spend time on the beach.
Set in the heart of England's Jurassic Coast, a UNESCO World Heritage Site that encompasses some 155 miles of coastline in Dorset and Devon, the town's many beaches are extremely attractive. In addition to featuring incredible views over the English Channel, you'll enjoy pleasing vistas of the surrounding rolling countryside, steep cliffs, and wide Lyme Bay.
There's a beach for everyone in Lyme Regis, with a mix of sand and shingle shores. Families are drawn to Front Beach, the town's main beach, for its soft sand and shallow waters. Adventure seekers tend to head a little further afield, taking their kayaks or paddleboards to the usually quieter Monmouth and East Cliff beaches to the west and east of the town, respectively.
Whatever your preferences, you'll find the perfect seaside escape on our list of the top beaches in Lyme Regis, Dorset.
1. Front Beach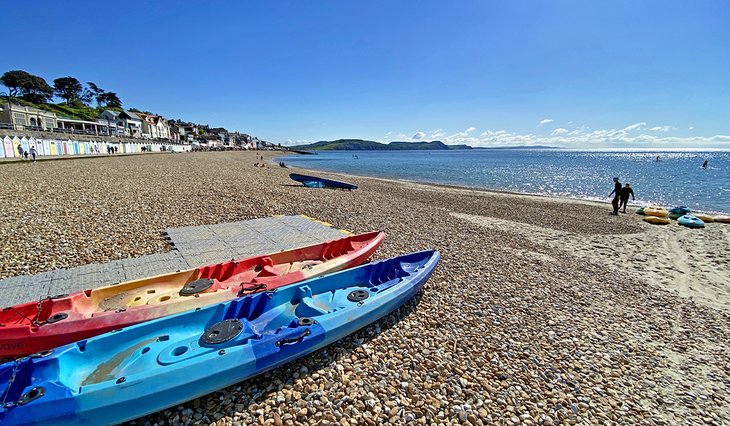 Front Beach is the first Lyme Regis beach you'll see if you stroll along Marine Parade from the town center. A mix of pebbles and sand sections that are exposed at low tide, this popular attraction is the largest of the town's main beaches and stretches from the easternmost seawall to one that protects the beach nearer the famous Cobb and the town's historic harbor.
These seawalls make the beach perfect for families, ensuring it's safe for swimming and paddling. The presence of lifeguards and a nearby lifeboat facility add another level of security for bathers, especially those traveling with kids.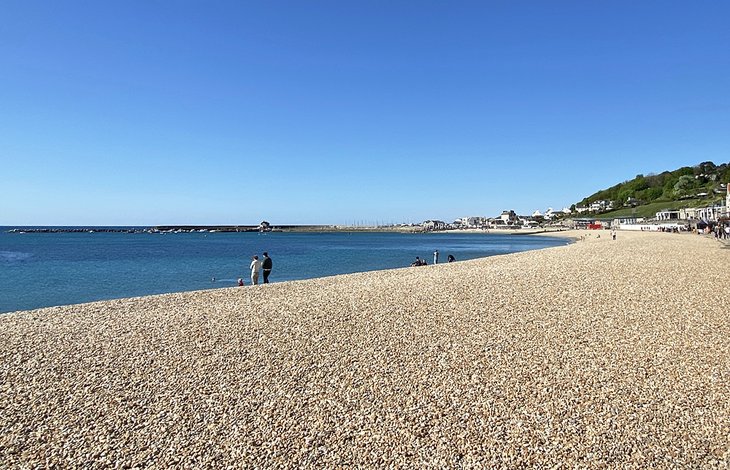 In addition to beach showers and restrooms, amenities include snack and refreshment vendors, as well as beach matting, allowing water access for those with mobility concerns. Beach wheelchairs, as well as one that floats, are also available. The town also rents out the colorful beach huts lining the promenade by the day or week.
Numerous water-based activities can also be enjoyed here. Popular things to do include sea kayaking and canoeing, snorkeling and diving, surfing, waterskiing, windsurfing, and fishing. Dogs are not permitted during the spring and summer months.
Address: Marine Parade, Lyme Regis, Dorset
2. Sandy Beach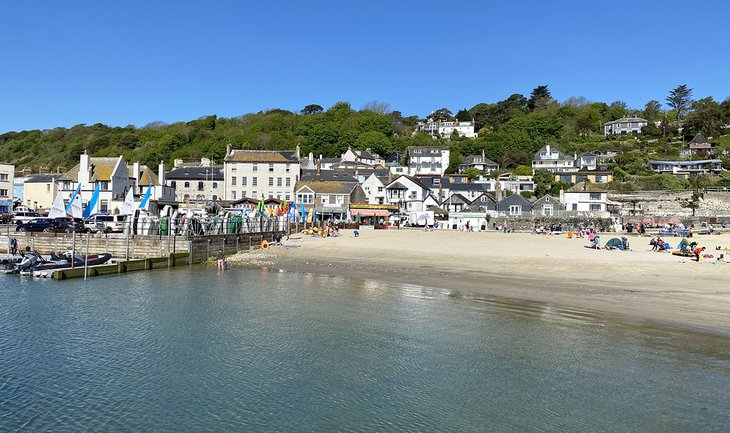 Sandwiched between a seawall on one side and The Cobb's easternmost breakwater, Sandy Beach is a sheltered spot that's a favorite for families with toddlers. It's also a very clean beach, with its abundant soft sand raked regularly by the township to keep it litter free.
In addition to sunbathing and swimming, it's also popular for its lovely views over The Cobb and Lyme Regis Harbour, home to a fleet of fishing vessels. Amenities include washrooms, changerooms, and showers, as well as lifeguard supervision. On-water activities include sailing, kayaking, and paddleboarding.
When it's time to take a break from the beach, there are plenty of fun things to do nearby. Take a stroll along the promenade to the shops along the sheltered old laneways off Marine Parade; grab an ice cream or fresh seafood to go; or take a stroll along the historic Cobb, the town's 800-year-old seawall made famous in the movie The French Lieutenant's Woman.
Address: Marine Parade, Lyme Regis, Dorset
Official site: https://lovelymeregis.co.uk/beaches/sandybeach
3. Monmouth Beach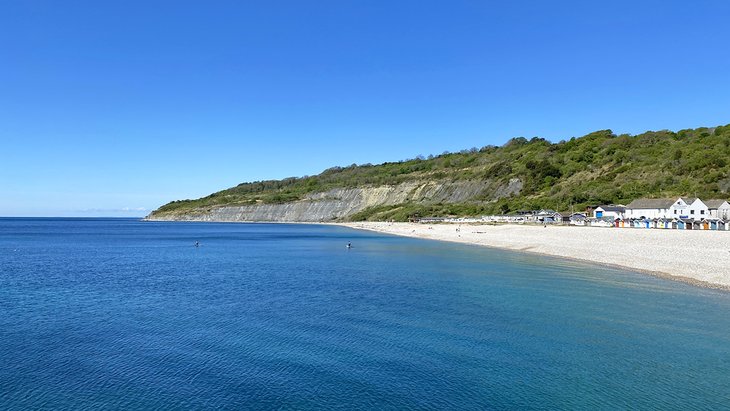 Stretching a mile from The Cobb to the cliffs west of Lyme Regis, the fact that Monmouth Beach is made up largely of pebbles and rocks shouldn't put you off spending time here. Named after the Duke of Monmouth who disembarked here in a failed attempt to claim the throne in 1685, this lovely beach is usually a lot quieter than the other Lyme Regis beaches.
In addition to water sports enthusiasts, however, it's very popular among fossil hunters. Lyme Regis is, in fact, famous for its abundance of fossils, and you won't have to look too hard to find examples of ammonites and belemnites exposed by the elements.
Wait for the tide to go out and, if you walk to the far end of the beach, you'll witness the famous ammonite pavement, a layer of limestone featuring numerous large fossils. Tours and walks of the beach and its amazing fossils can be arranged through Lyme Regis Museum.
Lifeguards are present on Monmouth Beach during the summer months, and beach huts can be rented by the day or week from the township. Dogs are permitted here year-round. Parking for up to 500 cars is also available.
4. East Cliff Beach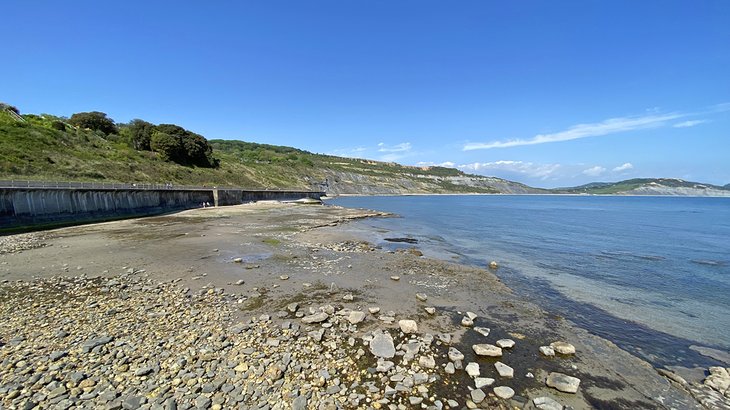 Follow Lyme Regis' impressive promenade and seawall all the way to its eastern end, and you'll find yourself staring down at East Cliff Beach or, as it's known to locals, Back Beach.
Lyme Regis' most easterly beach can also be reached by a 114-step walkway from the large Charmouth Road car park for those wanting to avoid the traffic of the usually bustling downtown core. You can also reach it via a pleasant pathway with plenty of benches that leads down to the promenade from St. Michael the Archangel Church.
The quietest of the town's many beaches, it's a popular spot for adults wanting to catch the sun and swim without having to deal with the crowds. A lack of amenities generally keeps families away, unless they're here to do some fossil hunting.
Fossils, in particular ammonites, are regularly exposed by sea erosion, and are generally easy to pick up and carry home. A word of caution, though: you're only permitted to collect fossils exposed on the beach – do not attempt to dig them out of the brittle cliff face.
It's also a dog-friendly beach, with our canine friends welcome here year-round. And keep an eye out for the tides, as the beach is inaccessible at high tide.
5. Church Cliff Beach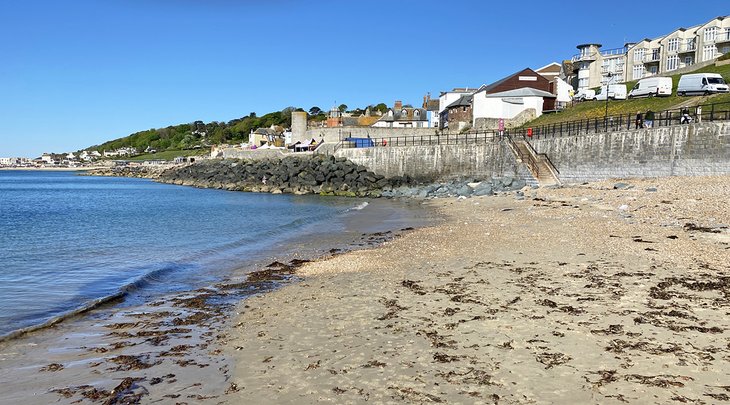 Located between Front and East Cliff beaches, Church Cliff Beach should definitely be on your list of Lyme Regis beaches to explore.
While you can easily access the beach from Lyme Promenade, it's certainly worth paying a visit to the charming church after which the beach is named: St. Michael the Archangel Church, perched high above the promenade. Here, you'll find numerous park benches just waiting to be sat on while you admire the exquisite views eastward toward Charmouth.
Church Cliff Beach is one of the smaller beaches in Lyme Regis, but what it lacks in size, it makes up for in charm. Accessible from the promenade via an easy-to-navigate set of steps, it's a mix of sand and pebble, with a rocky portion that's exposed at low tide. At high tide, the beach is entirely submerged.
A seawall on its eastern edge provides protection from erosion as well as wind, and offers a little shade. Dogs are permitted on the beach year-round.
Address: Church Street, Lyme Regis, Dorset
6. The Cobb Lower Walkway Beach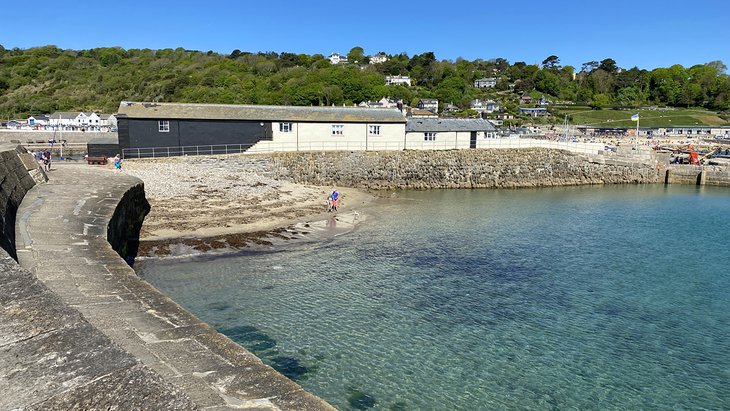 If you do walk to the end of The Cobb, Lyme Regis' historic harbor arm – and you certainly should – you'll walk right past a delightful little beach called The Cobb Lower Walkway Beach. Built in the 1800s on the site of a harbor wall that dated back to the early 14th century, this charming beach is built up from sand deposited here over time from the mainland.
If you can find a spot to sit, you'll be rewarded with a view of pleasure craft and fishing boats coming and going from Lyme Regis Harbour, as well as spectacular views of The Cobb and over Lyme Bay toward the English Channel.
Made famous from the Meryl Streep movie The French Lieutenant's Woman, The Cobb offers many other fun things to do, too. These include the Lyme Regis Marine Aquarium, as well as fishing charters and boat cruises. Washrooms are located on the mainland, and dogs are permitted on the beach at all times.
Address: The Cobb, Lyme Regis, Dorset
7. The Spittles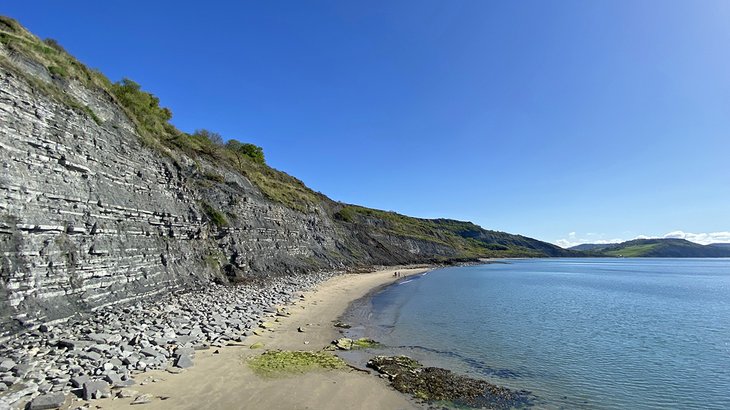 Accessible only at low tide from East Cliff Beach, the beach at the base of the Spittles cliffs is fun to explore. It's located at the midway point between Lyme Regis and the village of Charmouth to the east. You do need to familiarize yourself with tide times for the Spittles to ensure you can get there and back safely.
With its mix of pebble and sandy sections, be warned that this is less a beach for sunbathing and swimming, but more for exploring its unique geology. It's part of the Jurassic Coast UNESCO World Heritage Site, and you're likely to spot numerous fossils along the way. That said, you'll also need to be aware that the cliff face is known to be unstable, and subsidence does occur.
Charmouth itself is a charming destination and features two beaches worth visiting: West and East beaches. But if you do intend on walking there along the shoreline, be prepared to take the longer inland South West Coast Path back to Lyme Regis. It is, however, a particularly lovely walk in springtime when the Spittles is festooned with colorful bluebells.
8. Charmouth West Beach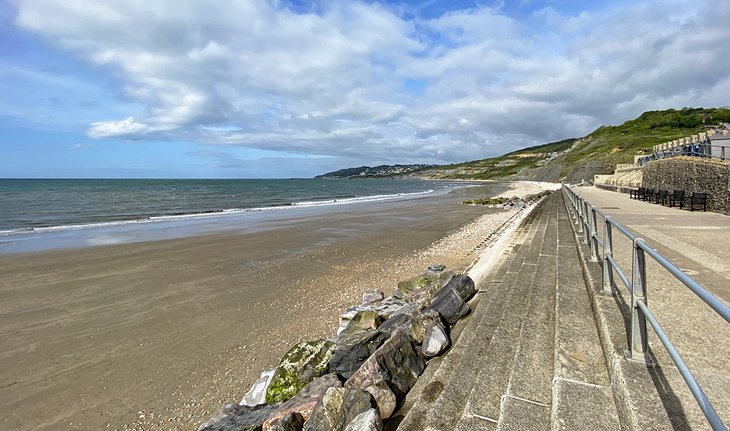 However you choose to get to Charmouth (it's an hour on foot or a 10-minute drive), you'll be rewarded with the chance to enjoy two of the best beaches in Dorset. Charmouth West Beach is the closest to Lyme Regis and extends over 1.5. miles from the River Char toward Lyme Regis.
It's also one of the most picturesque beach settings in England. Rising high above the beach is Black Ven, one of England's biggest and most active landslide zones. Featuring larger pebbles than most other beaches, it's a great place to get in some fossil hunting when you want a break from all that swimming and sunbathing. The beach itself is level, with a wide sandy section revealed at low tide.
The beach also features a variety of excellent amenities. These include the seafront Charmouth Heritage Coast Centre. As well as a large fossil collection, the center offers tips and tactics regarding safe fossil identification and extraction. In addition to ample car parking, there's also a café and a handful of shops, and public washrooms. Beach hut rentals are also available.
Address: Lower Sea Lane, Charmouth, Bridport, Dorset
9. Charmouth East Beach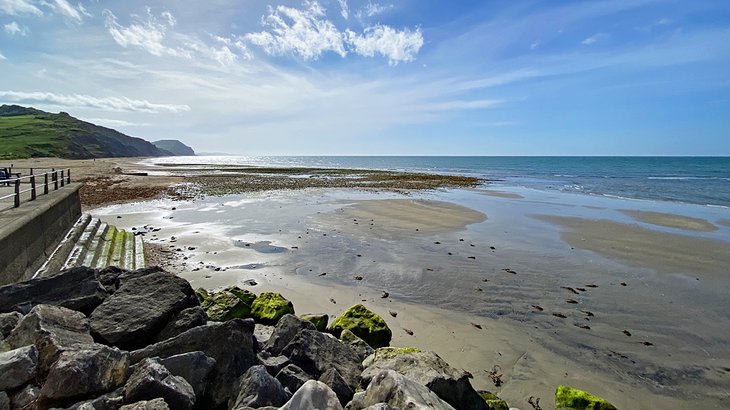 Located on the opposite side of the River Char, Charmouth East Beach shares the same facilities as the village's west beach. This great family beach boasts a large swath of sand that gets even bigger at low tide, and which boasts a shallow-water entry, so it's good for younger kids to paddle in. And the rocks here are generally smaller than those on the other side of the river.
When not splashing about or building sandcastles, take the kids on a fossil hunt. Charmouth's beaches are well known for their copious, easy-to-find fossils, so there's a good chance you'll be taking some of these old rocks home with you. When the tide's out, it's also a good spot to get in some rock pooling and searching for shellfish, crabs, and other marine life.
A short footbridge links Charmouth East Beach to the car park and facilities.
Address: Lower Sea Lane, Charmouth, Bridport, Dorset
Map of Beaches in Lyme Regis, Dorset