12 Best Things to Do in Devon
Sandwiched between the counties of Cornwall, Somerset, and Dorset in South West England, Devon is home to some of the best things to do in the UK.
Stretching from the rugged coastline of the Bristol Channel in the north to the rolling chalk downs facing the English Channel in the south, Devon's storybook-perfect scenery is an ideal backdrop for all kinds of experiences. While sun worshippers, swimmers, and water sports enthusiasts can indulge their passions on Devon's superb beaches, hikers and bikers can enjoy no end of adventures exploring the county's Jurassic Coast, famous for its ancient fossil-rich cliffs and stunning scenery.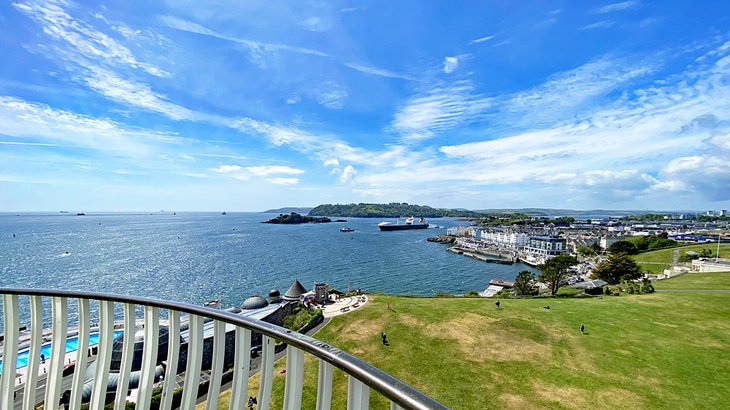 Devon is also popular for its countless quaint country villages and bustling old market towns. Many of these remain unchanged since their cobbled streets and narrow laneways were built many hundreds of years ago.
Those seeking cultural activities and big-city adventures are also spoiled for choice. The county town of Exeter offers plenty of sightseeing opportunities, with its world-class museums and many fine examples of medieval, Georgian, and Victorian architecture.
To learn more about these and the many other great reasons to visit South West England, be sure to read through our list of the top things to do in Devon.
1. Take a Tour of Exeter Cathedral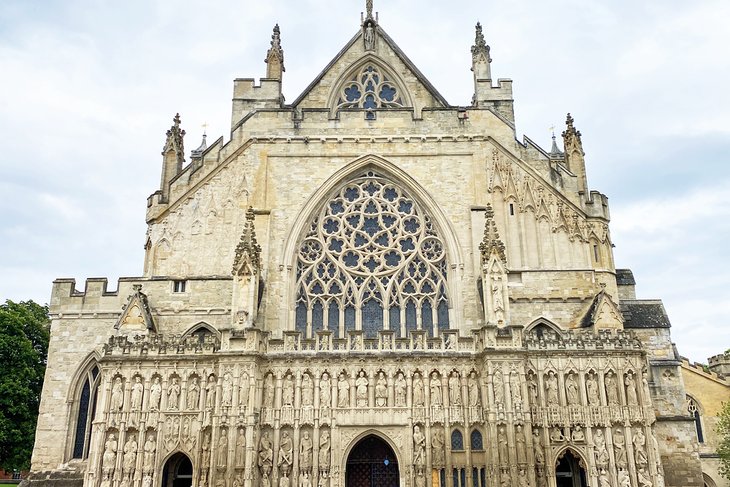 Built in 1133 and featuring a design that's unique among England's many such churches, Exeter Cathedral (the Cathedral Church of Saint Peter in Exeter) has been much transformed over the centuries.
Its present ornate façade on its west entrance was added in the 1300s, while features like its magnificent astronomical clock were added during a period of renovation and expansion in the 1400s.
One of the top places to visit in Exeter, the cathedral is best viewed as part of a guided tour. Highlights include learning about the cathedral's huge stone vaulted ceiling, the largest such medieval structure in Europe; the magnificent library, complete with manuscripts predating the cathedral; and enjoying stunning city views from the roof. Those who prefer to go it alone can pick up a handy audio tour from the ticket office.
Even if you don't opt for a visit to the cathedral's exquisites interior, allocate a little time to explore the area around it. Highlights include the Cathedral Green, a lovely park-like setting popular with students, locals, and visitors to relax on; the historic shops and townhomes along Cathedral Close; and the intricate archway leading into Exeter Cathedral Courtyard.
Address: 1 The Cloisters, Exeter, Devon
Official site: www.exeter-cathedral.org.uk
2. It's a Small World at Babbacombe Model Village, Torquay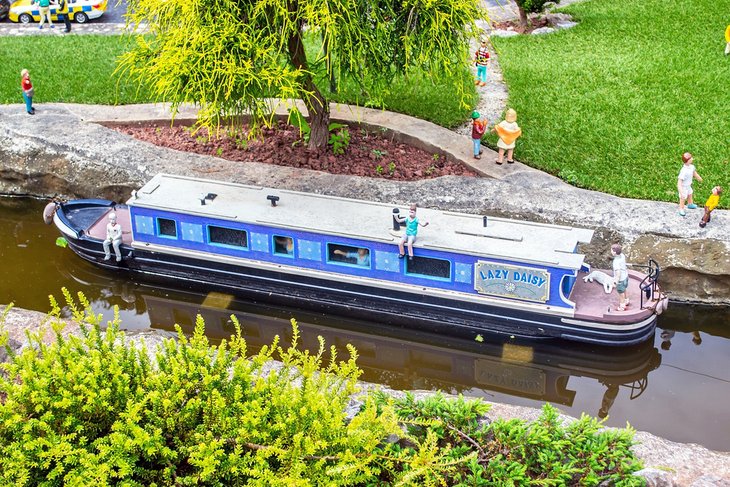 Located in the coastal resort town of Torquay, Babbacombe Model Village is as much fun to visit for adults as it is for kids. In a charming four-acre park-like setting, this must-see attraction has been welcoming visitors since 1963 with its large collection of scale model buildings and extensive model railway layout.
Part of the fun here is seeing how many of the attraction's mini-buildings you recognize, with notable examples being replicas of Stonehenge and London landmarks like The Shard. Also fun is spending time investigating the village's population of tiny model people going about their business.
In addition to special late night illumination openings, visitors can also pop in for a coffee and snack, a round of mini golf, or a little souvenir shopping.
Be sure to spend time exploring the other top things to do in Torquay, too, including its many beaches and attractive harbor area.
Address: Hampton Avenue, Babbacombe, Torquay, Devon
Official site: www.model-village.co.uk
3. Hike and Bike the Tarka Trail, Barnstable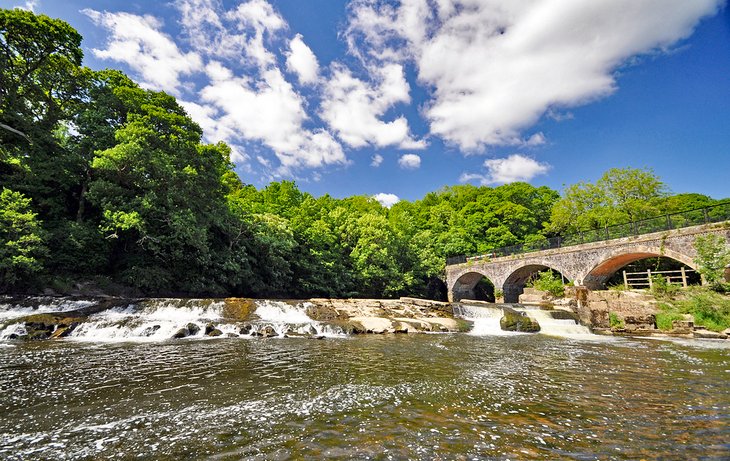 Based on the route taken by the fictional otter made famous by a bestselling 1920s novel, Devon's Tarka Trail is one of the county's most popular scenic trails.
Extending for 180 miles across North Devon, this figure-of-eight route begins and ends in the river port town of Barnstaple and can either be tackled in its entirety over a few days or broken down into hike-size sections based upon your interests.
In addition to a lovely section that covers the coast between Barnstaple and Lynton, taking in Woolacombe and Ilfracombe along the way, part of the trail crosses into some of the county's most dramatic landscapes in Exmoor and Dartmoor. Both are well worth exploring.
Cyclists can also take advantage of the Tarka Trail with an extended section in Braunton that follows a disused railway line.
Speaking of railways, you can also enjoy some of the same wonderful scenery aboard the popular Tarka Line train with frequent departures from Barnstaple.
4. Explore Devon's Jurassic Coast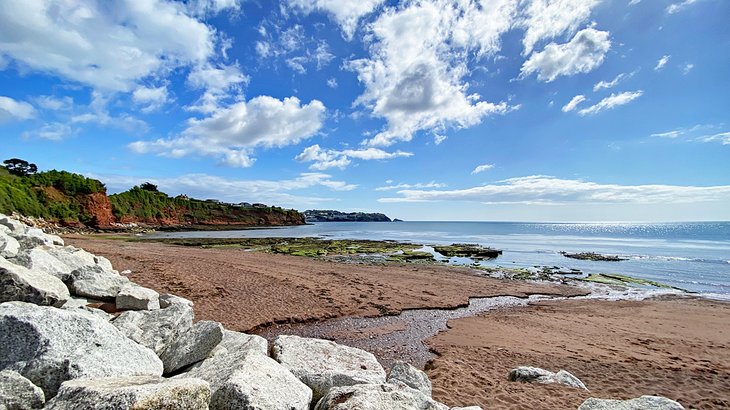 The section of the South Devon coast between the town of Exmouth and Seaton, part of the popular Jurassic Coast UNESCO World heritage Site, is well worth exploring. This unique section of England's southern coast features a unique diversity of features that were formed millions of years ago when dinosaurs still roamed the area.
The area is well-known for its many fossil deposits, with fun things to do for all ages, including fossil hunting on its beaches and cliffside walks.
Much of the coast is accessible through well-marked hiking trails, including an easy section, the Exmouth and Orcombe Point Walk, that connects with the much longer South West Coast Path for those wanting to explore even more of this spectacular area of outstanding natural beauty.
Official site: https://jurassiccoast.org
Read More: Best Things to Do in Exmouth, Devon
5. Visit Historic Exeter Quayside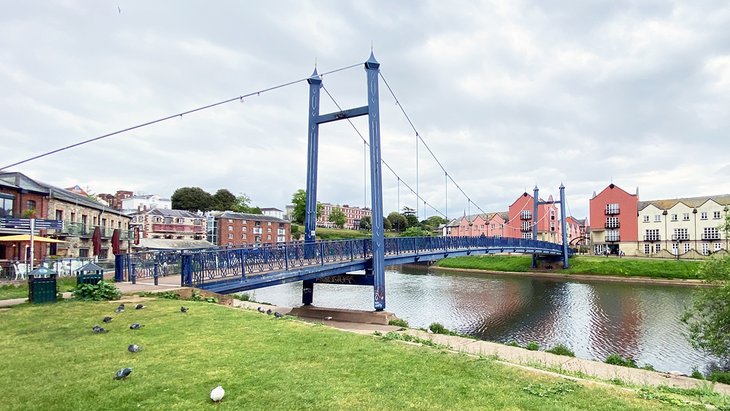 A short walk from the city's cathedral, Exeter Quayside is something of a surprise for many first-time visitors. Located some distance inland from the sea, the area was built up around the River Exe in the 16th century after the opening of a canal that connected the city to the Exe Estuary and, ultimately, the sea.
The quays flourished for centuries until the development of larger vessels too big to navigate the canal saw it decline in importance. Fortunately, many of the original warehouses and storage buildings survived, the oldest being the 17th-century Custom House, which now houses the city's visitor center.
After exploring the dining cafés and shops, follow the water through the riverside park to the Medieval Exe Bridge. Constructed in the early 13th century, this remarkable structure stretches over 590 feet in length with eight of its original arches still intact.
Address: The Quay, Exeter, Devon
Official site: www.exeterquayside.co.uk
6. The English Riviera: Torquay Harbour and Marina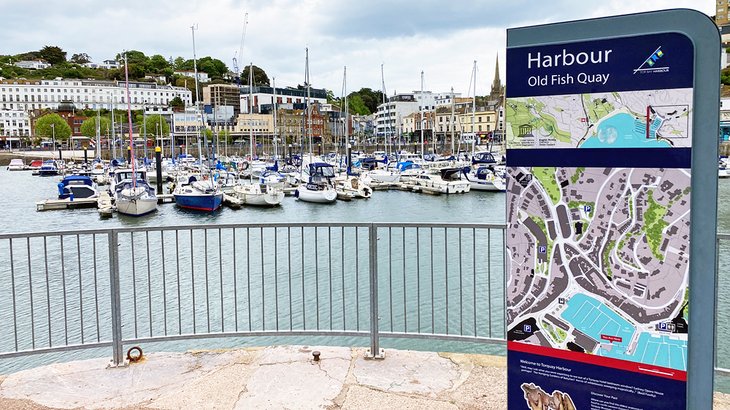 Dubbed the "English Riviera" by famed crime writer Agatha Christie, who compared the area to the popular region of Southern France, Torquay remains one of the best places to visit in Devon for those seeking a fun seaside vacation. While part of the author's enthusiasm was the result of the town's comparatively mild climate, it's also rooted in the attractiveness of its charming harbor area.
Torquay Harbour and Marina are fun to explore at any time of year, and pretty much any time of day. During the daylight hours, tourists wander the shops and attractions lining the harbor, many of them pulling up chairs at a harborside café while watching the fishing boats and pleasure craft come and go.
Come night time, Torquay Harbour is lit up to great effect, with the same restaurants now catering to an evening crowd here to dine alfresco on the fresh catch of the day.
Address: Beacon Quay, Torquay, Devon
Official site: www.tor-bay-harbour.co.uk/our-harbours/torquay/
7. Visit Plymouth Hoe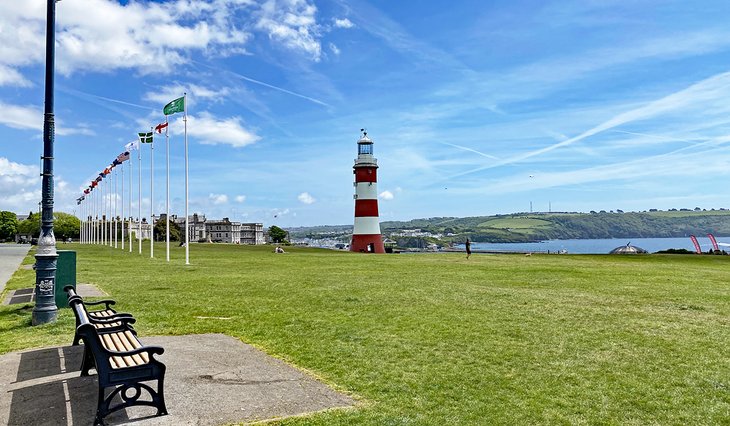 One of Britain's oldest and most important naval ports, Plymouth is well worth including on your Devon travel itinerary.
Start your exploration at Plymouth Hoe, the focal point for many of Plymouth's cultural activities and attractions. Established as a public park in the early 1800s, this large green space can take some time to explore in its entirety, so allow plenty of time to do so – and wear comfortable walking shoes.
While the views from the top of Plymouth Hoe looking out over the city and Plymouth Sound are pleasant enough from the benches lining the hilltop, save a little energy to climb the 93 steps to the top of the 72-foot-tall Smeaton's Tower. The views from this old lighthouse are simply breathtaking, as is the climb. Fortunately, interesting exhibits and displays relating to the history of the tower and Plymouth Hoe provide an excellent excuse for a rest.
Location: Hoe Park, Plymouth, Devon
8. Royal Albert Memorial Museum, Exeter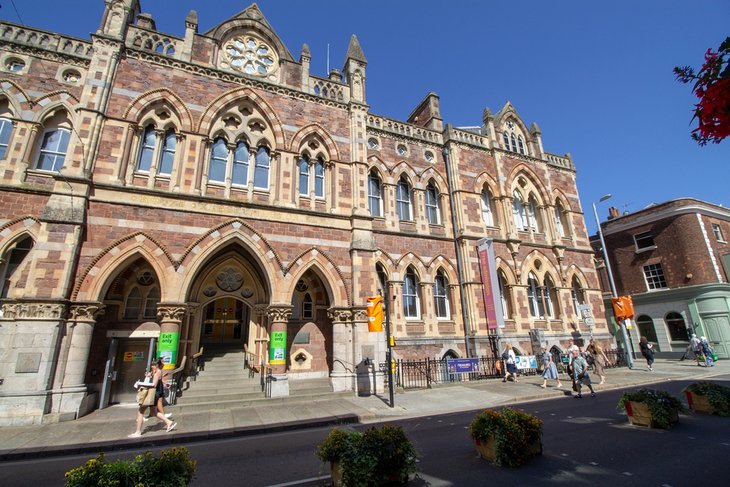 If you're planning on spending a day (preferably more) exploring Exeter, you'll want to include the Royal Albert Memorial Museum & Art Gallery (RAMM) on your list of attractions to visit.
Highlights of a visit to this world-class museum, founded in 1868, and its over one million artifacts include numerous paintings from local and internationally renowned artists, with examples from its permanent collection and temporary exhibits always on display.
Of special mention are its displays relating to Devon's unique geology, along with a large display of fossils found along the Jurassic Coast. A great little café and a souvenir shop are located on-site.
Address: Queen Street, Exeter, Devon
Official site: https://rammuseum.org.uk
9. Take the Kids to Paignton Zoo Environmental Park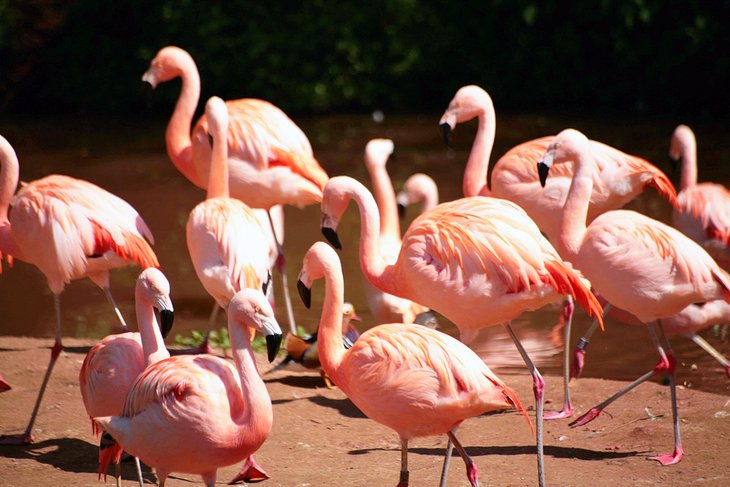 A short drive from Torquay, Paignton Zoo Environmental Park offers a great day out for families. Highlights include touring the animal enclosures of the zoo's over 2,000 creatures (or as many as you can see in a few hours), as well as exploring the lovely grounds of this 80-acre attraction.
Among the stars at the zoo are a group of bachelor lowland gorillas, giraffes, Sumatran tigers, and zebras. On-site facilities include snack and beverage kiosks, along with a full-service restaurant, as well as a souvenir shop.
Address: Totnes Road, Paignton, Devon
Official site: www.paigntonzoo.org.uk
10. Soak Up the Sun on the Best Devon Beaches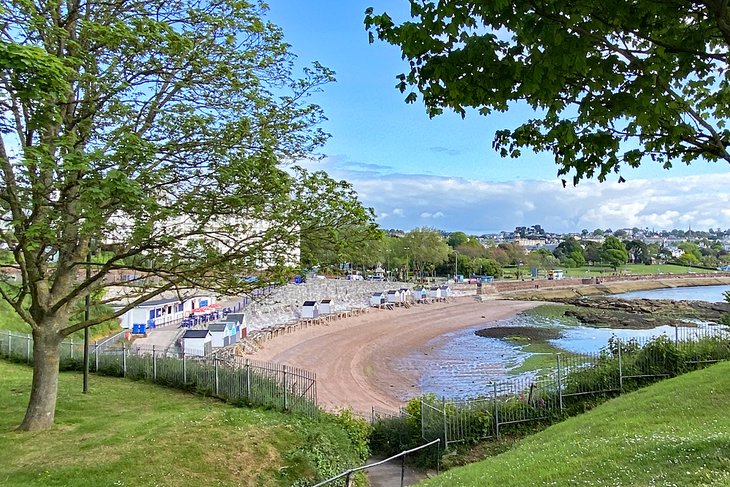 Boasting not just one but two lovely coastlines, it's little wonder that Devon is home to some of the best beaches in England.
Among the most popular in North Devon are Tunnel Beach, a unique privately owned beach experience that's been a must-do since Victorian times. Highlights include a large tidal pool that hangs onto fresh seawater long after the tide has gone out.
Woolacombe Beach is another popular spot for sunbathers and swimmers on the North Devon coast.
The beaches of the English Riviera, better known as the Torbay area, are definitely worth visiting. Among the best beaches in Torquay are Torre Abbey Sands, the town's Blue-Flag-awarded main beach known for its unique red sand.
A little farther east, the beaches of Exmouth also should be included on your list of Devon beaches to explore. The beach at Bigbury-on-Sea, the largest stretch of sand in Devon, is also worthy of a visit.
11. Spend the Day in Sidmouth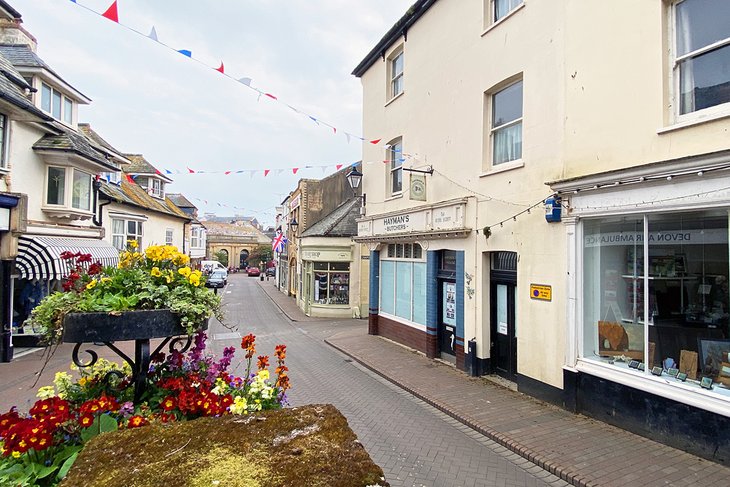 Seeking a truly authentic, small seaside town vacation experience? Then the attractive and unspoiled coastal town of Sidmouth could be just the ticket. A short drive east of Exmouth, Sidmouth has been a popular seaside resort since the advent of the railroad and offers a distinct taste of coastal living as it once was.
Sidmouth Beach is the big draw. Set between the attractive Connaught Gardens and the mouth of the River Sid, this part-sand, part-pebble beach feels safe and secluded thanks to the red cliffs that provide shelter from wind and waves. Popular activities, besides swimming and sunbathing, include water sports such as kayaking, paddleboarding, and windsurfing.
As well as the must-explore Connaught Gardens, the extensive promenade is fun to stroll.
12. Get Cultured at The Box-Plymouth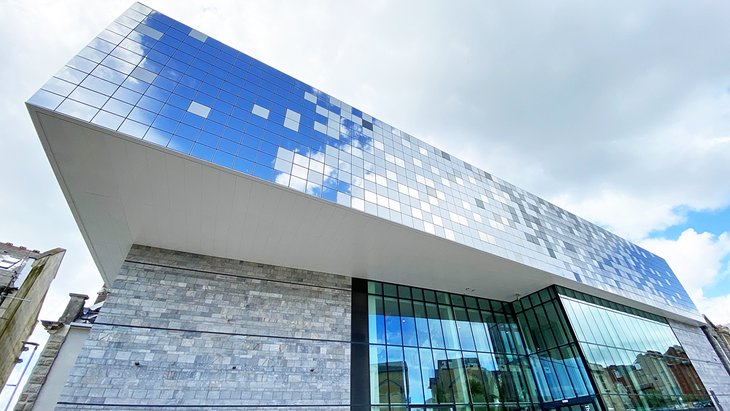 Devon's newest attraction, The Box, is also one of the most interesting. Set in the naval city of Plymouth, The Box – so named for its stunning modern architecture – is a hip mix of historical archive, museum, and art gallery that takes museum design and appeal to a whole other level.
Highlights include displays of specimens from The Box's natural history collection, including a replica woolly mammoth, numerous artworks, as well as displays showing key moments from Plymouth's rich social history. A gift shop and a restaurant are located on the premisses
Address: Tavistock Place, Plymouth, Devon
Official site: www.theboxplymouth.com
Map of Things to Do in Devon