11 Best Things to Do in Torquay, Devon
Ever since it gained the attention of Victorian holidaymakers way back in the mid 1800s, the Devonshire town of Torquay has consistently ranked as one of England's top places to visit by the sea. Fast forward to today, and Torquay's popularity has only increased as new attractions are added and existing fun things to do are expanded and updated.
Nicknamed the "English Riviera" by those first vacationers for its warm, at times almost Mediterranean, climate; its pristine sandy beaches; and its clear, clean waters, Torquay continues to appeal to travelers looking for all the trappings of an authentic English seaside vacation. Explore the town of Torquay and its surrounds, and you'll discover everything from well-preserved Victorian-era piers and promenades to bustling amusement arcades where traditional penny machines rub shoulders with the latest hi-tech video games and experiences.
Situated a little too far west of London to make for an easy day trip — it's four hours by car when the traffic is flowing, and about five hours by train — Torquay is probably best tackled as part of a longer, multi-day trip. In fact, using Torquay as a base from which to see other parts of Devon is a great idea.
Whether you choose to use this beautiful seaside town as a springboard to explore England's beautiful South West region or prefer to simply stay put and spend time sightseeing locally, be sure to refer often to our handy guide to the top things to do in Torquay, Devon.
1. Stroll around Torquay Harbour & Marina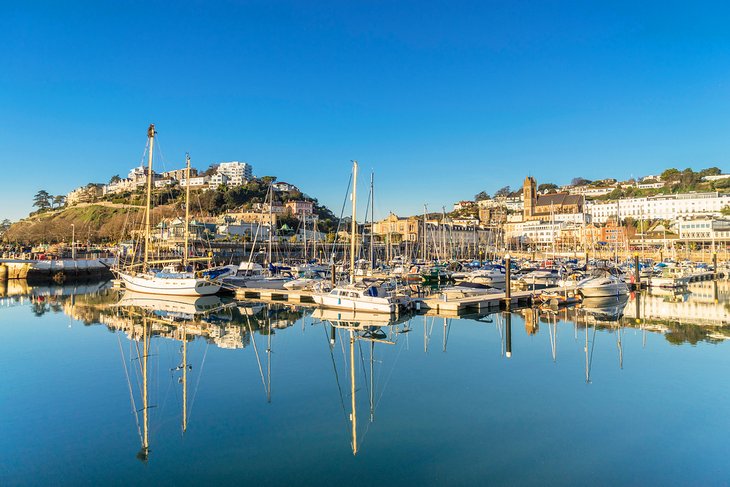 The best place to begin your exploration of Torquay is undoubtedly the town's harbor area. Torquay Harbour, also known as the Inner Dock, is a delight to explore on foot, and thanks to the inclusion of two pedestrian bridges, can be entirely circumnavigated on foot.
Starting at the English Riviera Visitor Information Center opposite the Inner Dock's boat ramp, follow the tree- and bench-lined promenade with its great views over pleasure craft and fishing boats to the east side of the harbor. Known as Victoria Parade, this stretch of Georgian- and Victorian-era townhomes now house boutique shops; great eateries; and numerous attractions, including the Crime Museum and Dinosaur World.
After exploring the many fun things to do in Torquay Harbour, you're left with a few choices of where to explore next. Here, you can either pick up the 630-mile-long South West Coast Path and explore further afield, hop aboard the Land Train for a fun ride to other top Torquay attractions, or carry on walking around Torquay Marina. With its two long seawalls, the marina services the town's outer harbor and a large fleet of yachts and commercial vessels too big for the Inner Dock.
Address: Beacon Quay, Torquay, Devon
Official site: www.tor-bay-harbour.co.uk/our-harbours/torquay/
2. Spend Time at a Torquay Beach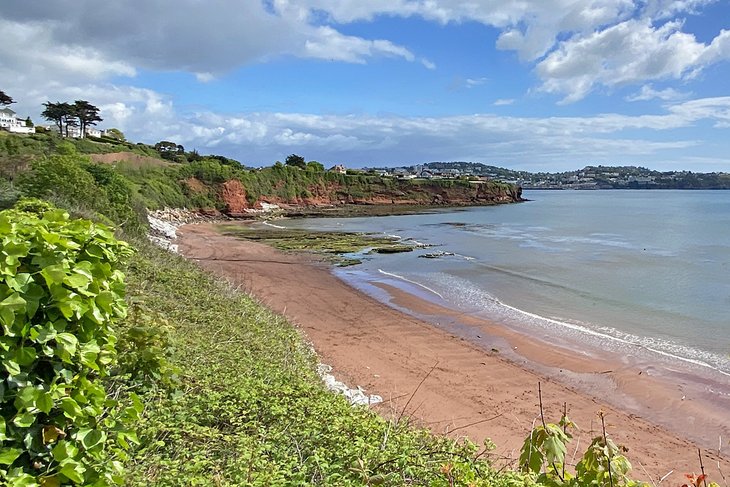 Spread across no less than 22 miles of magnificent coastline, Torquay's 20-plus beaches are considered among the best in England. If you've only got time to tackle one, Torre Abbey Beach is an obvious choice, and features everything you'll need for a first-rate Torquay beach experience.
Considered to be Torquay's main beach for both its size and central location, this safe, clean Blue Flag beach is easily accessible from the harbor area and town parking. Notable for its soft red sand, it's especially popular for families thanks to its shallow entry and calm waters, as well as for the many rock pools exposed at low tide.
Those interested in more adventurous water-based activities will also enjoy a visit to Torre Abbey Beach. As well as being a designated windsurfing spot, it's popular for kayaking and paddleboarding, both of which are supported by equipment rental businesses located directly on the beach.
Other excellent Torquay beaches worth exploring include Paignton and Preston Sands, both great spots for families, while those seeking a quieter, more secluded experience should head for Babbacombe Beach, Meadfoot Beach, or Hollicombe Beach.
Address: Torbay Road, Torquay, Devon
3. See the World in Miniature at Babbacombe Model Village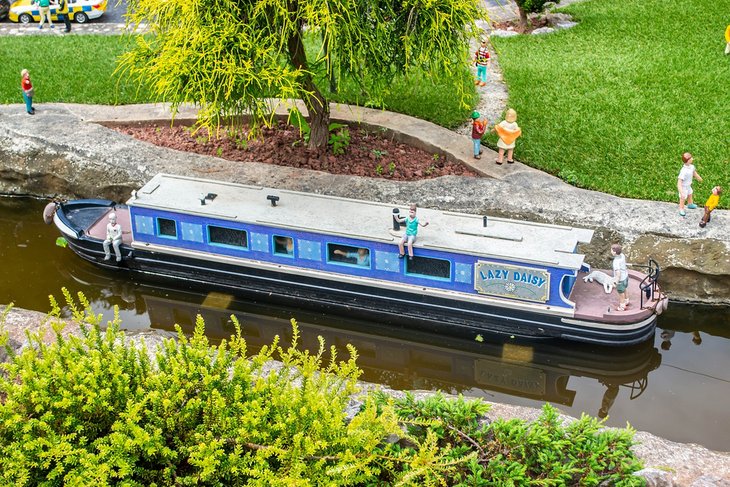 Located across the peninsula on which Torquay sits, Babbacombe Model Village is a fun attraction for all ages to visit. Part miniature village and part model railroad, it was established in 1963 on a four-acre site in the Torquay district of Babbacombe, and instantly became a hit with tourists.
It now boasts a collection of well over 400 scale structures and some 1,000 feet of model train track. While the "village" isn't meant to represent any specific place in the UK, it does feature many instantly recognizable landmarks. Most notable among them are top London attractions such as The Shard and Piccadilly Circus, as well as others from across the country, including famous Stonehenge.
Also part of the fun here is checking out the tiny model humans that populate the village, many of them modeled in humorous situations. For a special treat, consider visiting during one of the summer night openings, when the village is lit up to great effect.
In addition to a new crazy golf course, visitors can also stop in for a snack in the on-site coffee shop. A gift shop is also located on the premises.
Address: Hampton Avenue, Babbacombe, Torquay, Devon
Official site: www.model-village.co.uk
4. Explore Kents Cavern Prehistoric Caves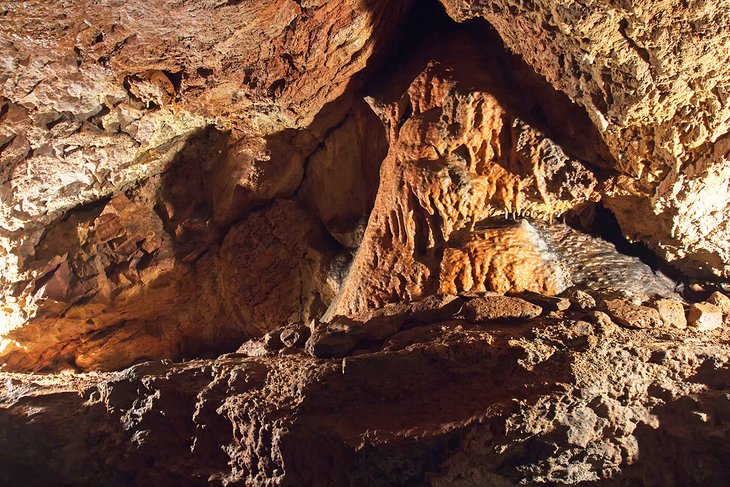 Located in the middle of Torquay, Kents Cavern Prehistoric Caves have been a huge tourist draw for the town since they were first opened to the public in 1952. With a variety of unique geological and archaeological features, the attraction has been a Scheduled Ancient Monument since the late 1950s.
Known to have first been occupied in the Stone Age, a visit leads you through a labyrinth of ancient passageways and caverns, many of them formed over two million years ago. Admission includes a tour guide, as well as access to a woodland trail featuring life-size replicas of Ice Age creatures such as a woolly mammoth.
Address: 91 Ilsham Rd, Torquay, Devon
Official site: www.kents-cavern.co.uk
5. Take a Spin on the English Riviera Wheel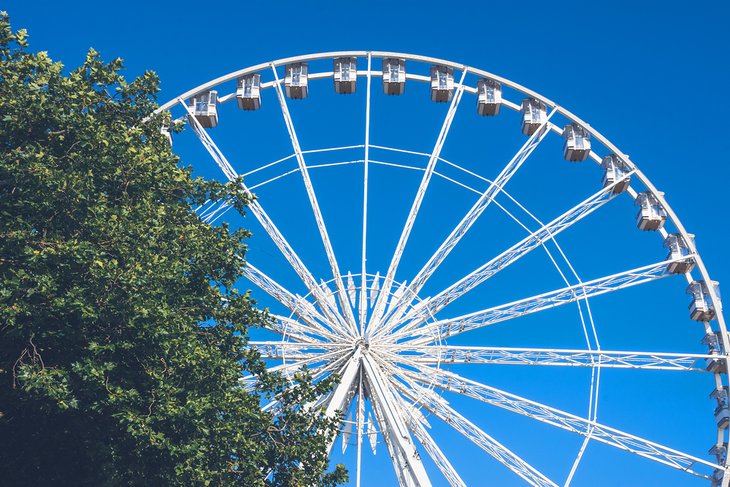 Located just steps away from the harbor and dominating the waterfront skyline, the English Riviera Wheel has been offering bird's-eye views over Torquay since 2012. Located in Pavilion Gardens, this state-of-the-art Ferris Wheel takes around 12 minutes to complete a revolution, allowing plenty of times for riders to soak up the great views.
And at 100 feet in height, the 360-degree views from your gondola are definitely the most dramatic you'll experience in Torquay. For a unique experience, consider also riding the wheel at night, when the illuminated seafront creates an otherworldly charm. A refreshment area is also available for visitors to enjoy.
Address: Princess Gardens, Torquay, Devon
Official site: https://englishrivierawheel.co.uk
6. All Aboard the Dartmouth Steam Railway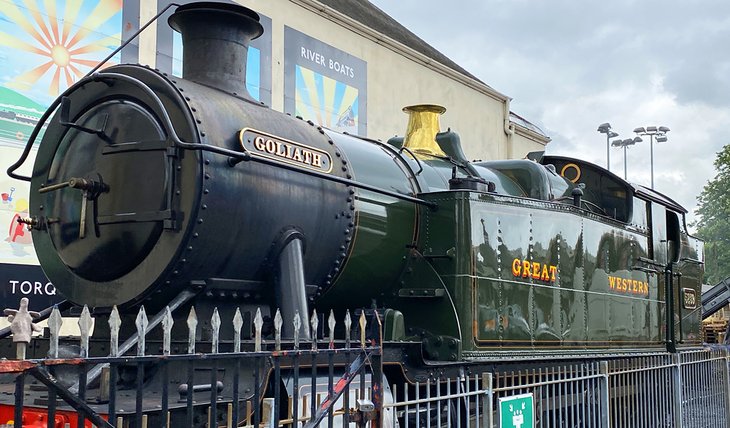 With its most northerly station located in the nearby town of Paignton, just three miles south of downtown Torquay, a trip aboard the Dartmouth Steam Railway makes for an excellent outing for all ages. Boasting one of the most scenic coastal rail routes in England, this heritage railway follows the Devon coast for a good portion of its six miles of track.
Along the way, you'll have many opportunities to take photos of the stunning coastal scenery lining the route between Paignton and the southernmost station in Kingswear. For an added treat, you can hop aboard the company's ferry in Kingswear for a cruise to historic Dartmouth. Also, be sure to check for availability in the 100-year-old Devon Belle Observation Carriage.
Address: Queen's Park Station, Paignton, Devon
Official site: www.dartmouthrailriver.co.uk
7. See the Sights on the Torquay Land Train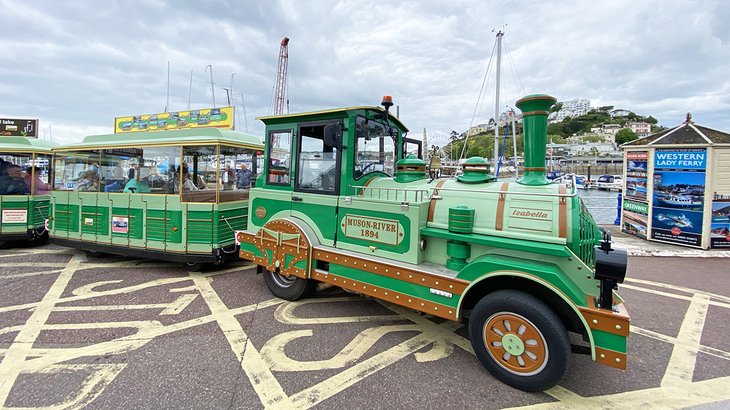 There's simply so much to see in Torquay that you could be forgiven for wanting to have a little help getting you from attraction to attraction. One of the best tools available for tourists to get around quickly and in style is the fun Torquay Land Train.
The Land Train runs every day from 9:30am to 4pm. You can pick it up at numerous locations along Torquay's seafront, as well as close to a number of the town's major hotels (just ask when checking into your room where the nearest stop is, and they'll give you a handy map to guide you).
The round trip takes about 40 minutes and can drop you off at many major attractions, including Torquay Harbour & Marina, historic Torre Abbey, the Fleet Street shopping area, and the historic Torquay Train Station.
Address: Beach Way, Belgrave Road, Torquay, Devon
8. Stroll along Paignton Pier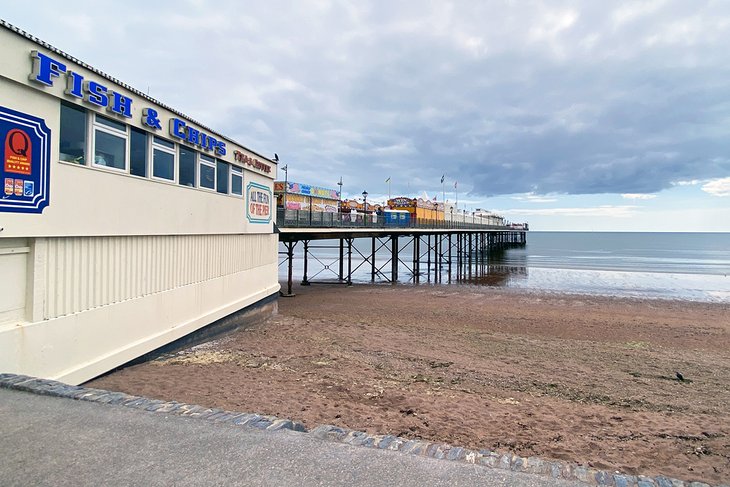 Opened in 1879 and one of Torquay's top attractions ever since, Paignton Pier offers as close to a traditional seaside pier experience as you'll find in South West England. Stretching 780 feet end to end, this classic Victorian-era pier has been completely renovated in recent years and offers plenty of fun things to do.
While youngsters will enjoy fun rides like bumper cars, a carousel, and a mega-slide, teens will love the video games in the amusement arcade. There are also plenty of dining options, too, including everything from classic fish and chips to sweet treats such as ice cream and doughnuts.
Address: South Sands, Paignton, Devon
Official site: www.paigntonpier.co.uk
9. Take the Kids to Torquay's Dinosaur World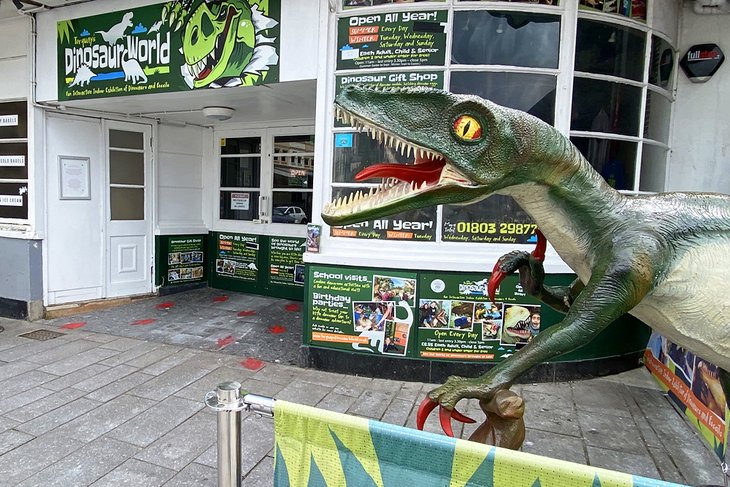 Located within the Torquay Harbour district and an easy walk from Torre Abbey Beach, Dinosaur World is an excellent attraction to take the kids to when they need a break from all that splashing about. With fascinating exhibits, scale model replicas, and realistic scenes depicting these creatures roaming Earth, it's easy to find even the most easily distracted kids spending hour upon hour exploring here.
In addition to a sizable fossil collection, there's plenty of information on hand to describe the lives of these creatures, their habitat, as well as their excavation. There are even opportunities for interactive learning and play, with some dinosaur models being designated for handling and climbing on. A gift shop selling dinosaur related souvenirs is located on the premises.
Address: 3 Victoria Parade, Torquay, Devon
Official site: https://www.torquaysdinosaurworld.co.uk
10. See a Show at the Princess Theatre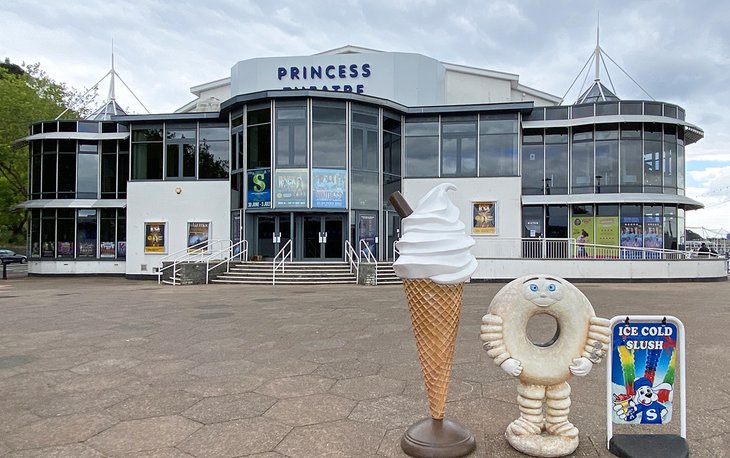 Located next to the English Riviera Wheel, the Princess Theatre in Torquay opened to great fanfare in 1961 and has been hosting the country's top entertainment talent ever since.
Boasting seating for audiences of up to 1,500, this state-of-the-art venue regularly features everything from pop and rock concerts to comedians, opera and ballet, as well as West End musicals and pantomimes. It's particularly well respected for its summer season programming, designed specifically to entertainment the many thousands of tourists who descend upon Torquay in summertime on the lookout for fun things to do.
Located in a former church just a few minutes from the seafront, Little Theatre is also worth checking out. Home to TOADS Theatre Company and The Gilbert and Sullivan Society, it offers an eclectic mix of classic musicals, operettas, and comedies well suited to the holiday crowd.
Address: Torbay Road, Torquay, Devon
Official site: https://www.atgtickets.com/venues/princess-theatre-torquay/
11. Visit Torre Abbey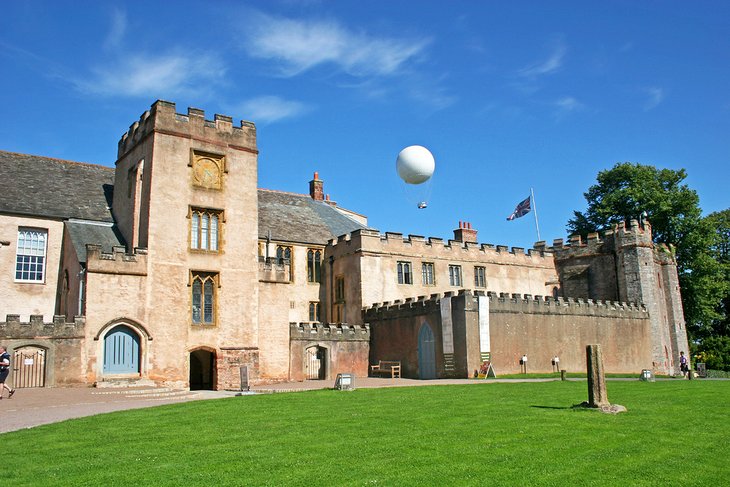 Reputedly the oldest building in Torquay, Torre Abbey was built around 1196 by monks who'd been commissioned the task by a wealthy local landowner. Built entirely from local stone, the site now hosts a fascinating collection of antiquities and over 600 artworks, some as old as the building itself.
Exhibits and displays reveal a rich history. Along the way, you'll learn about illustrious guests who visited, including the legendary English hero Horatio Nelson. A visit to the dining room reveals a scene that would not have been unfamiliar to Nelson, later the hero of the Battle of Trafalgar. Famed crime novelist Agatha Christie was also known to have resided here for a period of time.
Regular workshops and events are held here, too, and the abbey's grounds have become a popular picnic spot for locals and visitors alike. Be sure to also spend time exploring the abbey gardens. Here, you'll find a wide variety of plant life native to the English Riviera, as well as tropical and exotic species in the Cactus and Palm houses.
Address: The King's Drive, Torquay, Devon
Official site: www.torre-abbey.org.uk
Map of Things to Do in Torquay, Devon