9 Best Beaches in Exmouth, Devon
Located on the eastern banks of the River Exe where it flows into the English Channel, the seaside town of Exmouth has been welcoming visitors to its many excellent beaches ever since the first railway line was established here in 1861. Today, while as many tourists arrive by car as they do by rail, they're all here for the same reason: to experience some of the best beaches in Devon.
Considered the gateway to the South West's spectacular Jurassic Coast UNESCO World Heritage Site, Exmouth's beaches offer fun experiences for everyone. While families tend to focus their attention on Exmouth Beach, the town's main beach, or the aptly named Sandy Bay, those seeking water-based adventures will want to add destinations such as Orcombe point to their beach itinerary.
Whatever your personal preferences, and whether you're here for a day trip or a longer seaside vacation, be sure to refer to our list of the best beaches in Exmouth.
1. Exmouth Beach (Blenny Bay)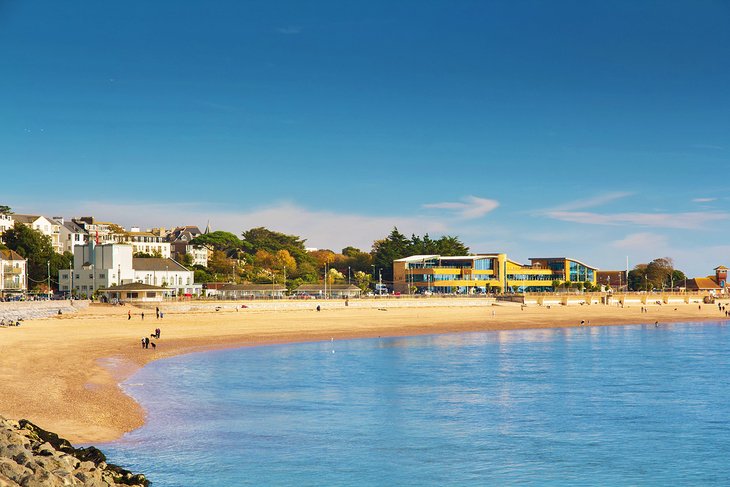 Recently rebranded as Blenny Bay, Exmouth Beach is a two-mile stretch of sand that's easily accessible from the town's ample parking facilities and its mainline railway station. Southward facing with spectacular views over the English Channel, the beach is as popular among sunbathers and swimmers as it is serious water sports enthusiasts.
In addition to superlative swimming off its gently sloping sandy shores, water-based activities to be enjoyed here include everything from stand up paddleboarding, canoeing, and kayaking, as well as surfing, windsurfing, and kitesurfing. It's also a good spot for fishing and jet skiing.
Equipment rentals for these and other water sports are available for rent at a variety of locations, including Edge Watersports, Second Wave, and Exmouth Water Sports Center, all of which are located on the beach. Exmouth Beach is also popular for its abundant rock pools revealed at low tide.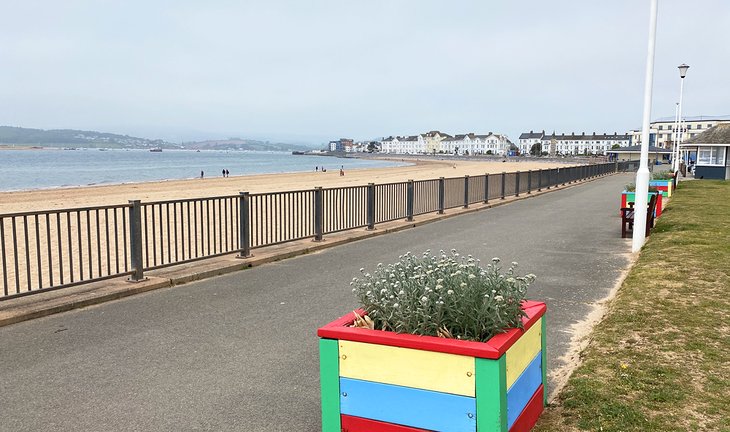 If you're looking for fun things to do on land, you'll not be disappointed. The beach is backed by a long esplanade that's part of the South West Coast Path, and you can literally walk the whole coast of Devon from here. The esplanade is also well-suited for cycling, and provides easy access to Exmouth's first-rate dining, shopping, and entertainment opportunities.
Other amenities include public washrooms, water taps, a boat launch, as well as beach hut rentals. Lifeguard services are provided in the peak months. Dogs are only permitted at each end of the beach during the busy summer months.
2. Sandy Bay Beach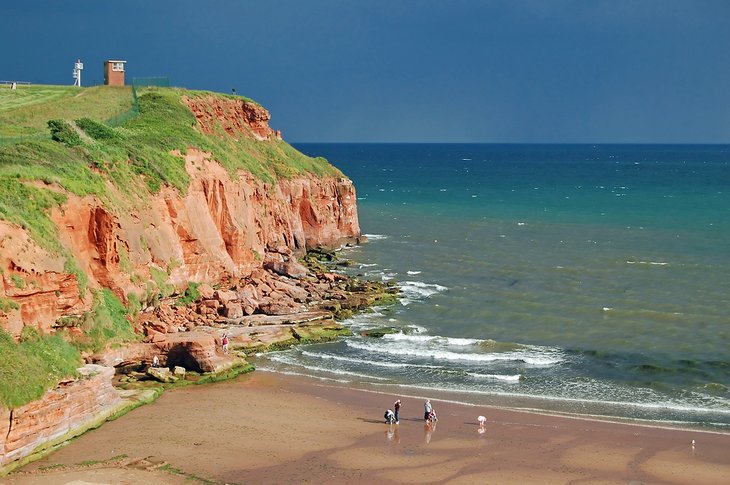 While only a 10-minute drive east of Exmouth Beach, Sandy Bay Beach can be reached in foot if you've got an hour to spare. However you choose to get here, the sand is so plentiful that you'll be left in no doubt as to how this nearly mile-long private beach got its name.
Owned by the sprawling Haven Devon Cliffs Holiday Park, who also provide ample parking within easy reach of the beach, Sandy Bay is especially popular for families. In addition to its soft sand, the beach's location in a sheltered bay ensures safe swimming and paddling for kids of all ages.
It's also extremely scenic, featuring tall cliffs that face the English Channel. Low tide brings with it the chance to explore the marine life trapped in revealed rock pools. It also reveals even more sand, with Sandy Bay Beach actually connecting with neighboring Orcombe Point Beach, a popular spot for fossil hunting.
Lifeguards are on duty in the busy summer months, and access to the beach is provided for those using wheelchairs. A café and restaurant are located nearby, along with washroom facilities. Dogs are not permitted during peak summer months.
3. Shelly Beach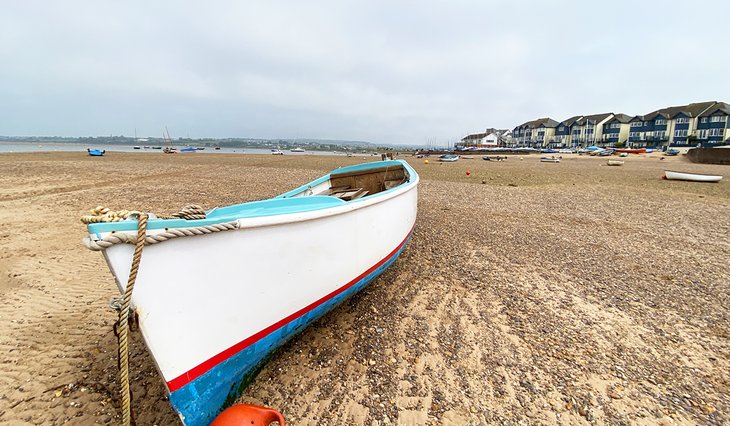 Shelly Beach offers a quite different experience for beachgoers visiting Exmouth. Located at the point where the River Exe spills into the Exe Estuary before eventually ending up in the English Channel, this attractive estuary beach is easy to get to from Exmouth Marina and the town's train station, each just a few minutes' walk away.
With large swaths of wet sand revealed at low tide, there's plenty of nature to explore here, from an abundance of marine life in the exposed rock pools and mudflats to bird-watching. And while it's certainly possible to explore a little further afield from the beach, you may want to keep an eye out for the tide when it returns, as pretty much the whole beach area will be covered by water.
A highlight of a visit to Shelly Beach are the incredible views. In addition to seeing countless small pleasure craft and fishing boats left high and dry when the tide's out, you'll enjoy stunning views over the estuary to Dawlish Warren on the opposite shore. Amenities are scant but do include a boat ramp and barbecues.
Address: Shelly Road, Exmouth, Devon
4. Orcombe Point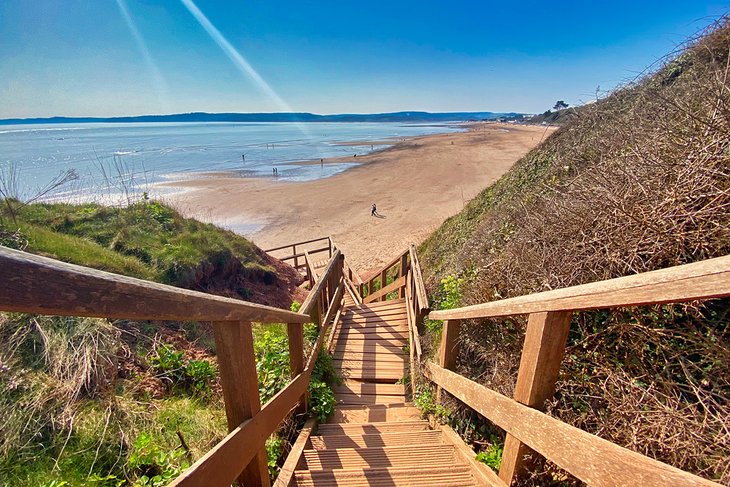 Located 1.5 miles east of Exmouth's town center, Orcombe Point is well worth a visit not just for its excellent beach, but for its stunning views. Look westward, and you'll be rewarded with superb views over Exmouth Beach, while eastward you'll see the Orcombe Cliffs receding in the distance toward Sandy Bay.
Managed by the National Trust, this coastal feature consists of a unique sculpture known as the Geoneedle, made from a variety of stone types common to the Jurassic Coast. The popular South West Coast Path also passes through Orcombe Point, connecting it to other destinations on the Devonshire coast and ensuring its popularity with hikers.
The beach itself is accessible via a set of stairs located on the west side of the point, or by walking along the shoreline from Sandy Bay Beach. In fact, at low tide, these two beaches connect with Exmouth Beach. If you're planning to walk along the beach this entire distance, be sure to familiarize yourself with local high tide times.
Address: Queen's Drive, Exmouth, Devon
Official site: www.nationaltrust.org.uk/exmouth/features/orcombe-point
5. Pirate Cove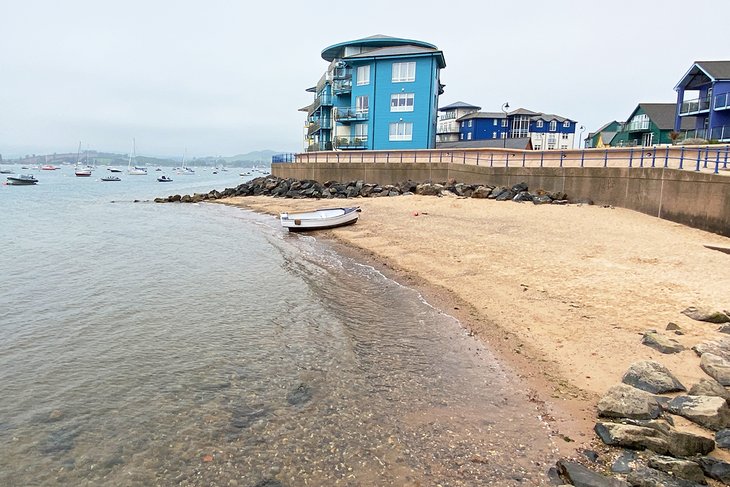 Tucked away to the south of Regatta Court, a luxury housing complex adjacent to Exmouth Marina, Pirate Cove is something of a hidden gem. It's small compared to most other beaches in Exmouth, but what it lacks in size and amenities it certainly makes up for in charm. It also boasts incredible views over the Exe Estuary.
Boasting plenty of sunshine due to its south-facing exposure, Pirate Cove is easily accessible for those with mobility issues thanks to a concrete ramp that winds its way down to the beach. A large section of this entirely sand beach also remains above water at high tide, ensuring you'll not need to vacate if you've claimed a spot at the top of the beach near the sea wall.
While there's no dedicated parking, you can either leave your car on the Esplanade or at the Imperial Road short stay parking facility 10 minutes' walk away. The only amenities are free-to-use BBQs.
Address: 31 Shelly Road, Exmouth, Devon
6. Budleigh Salterton Beach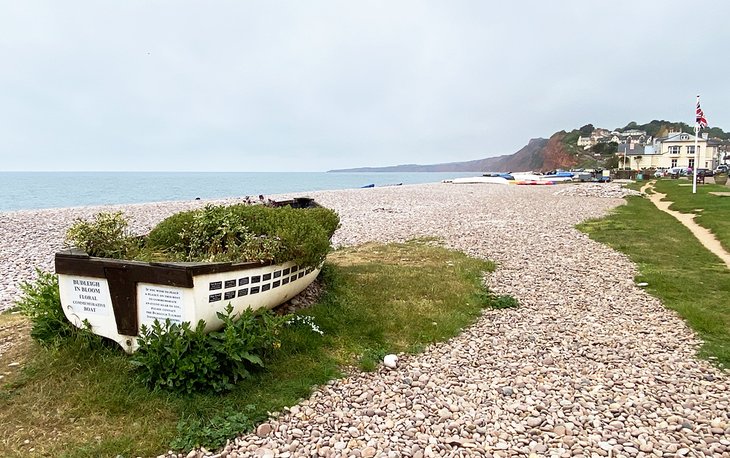 Take a 15-minute drive due east of Exmouth, and you'll find yourself in the quaint seaside town of Budleigh Salterton. It's here you'll find Budleigh Salterton Beach, a nearly three-mile-long stretch of pebble beach just waiting to be explored.
Known as the "Red Coast" for its vibrant red sandstone cliffs, Budleigh Salterton is considered the starting point for the South West's Jurassic Coast, an area renowned for its abundance of fossils dating back many millions of years.
Popular for its clean waters and beach area, it's a safe area in which to swim; so don't let the fact there's no active lifeguard service deter you. The waters offshore are generally calm and shallow, making the beach as popular a place to visit for families as it is couples and groups of adult friends. Beach huts are available to rent by the day or by the week.
Budleigh beach's calm waters also make it a popular spot for water sports enthusiasts. In addition to swimming, you'll find activities like windsurfing, paddleboarding, kitesurfing, and kayaking being undertaken here. Its calm, shallow bay also makes it popular for cruising, and a reef located near the shoreline has proven popular with snorkeling and dive enthusiasts.
In addition to plenty of parking, there's a slew of other amenities here. Highlights include the pleasant promenade, refreshment kiosks, and washroom facilities, as well as a playground and skate park.
An abundance of mackerel and bass also make it a popular spot for fishing. If you're interested in wildlife spotting, head to the River Otter Estuary at the beach's east end. Here, you'll find a 57-acre nature reserve that's home to an abundance of wildlife, including waterfowl, beavers, and, of course, otters.
Official site: www.lovebudleigh.co.uk/budleigh-beach.html
7. Sidmouth Town Beach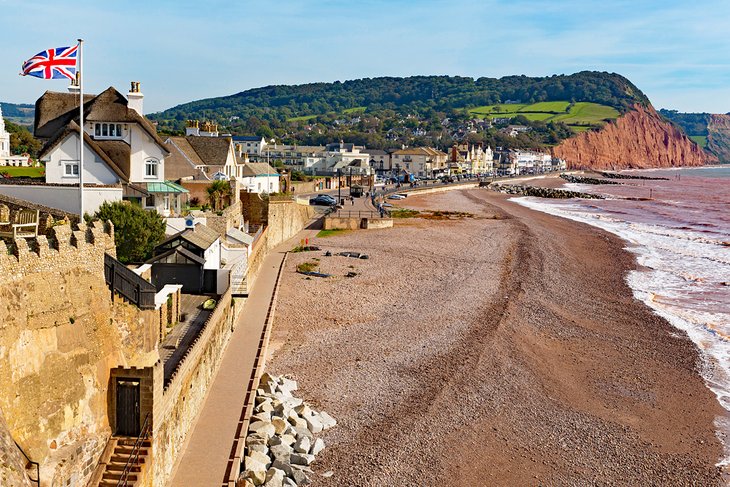 An easy and scenic 25-minute drive east of Exmouth, the charming coastal town of Sidmouth regularly features in lists of the most attractive seaside destinations in England. It also boasts one of the best beaches in Devon.
Stretching from the mouth of the River Sid in the east all the way to beautiful Connaught Gardens in the west, Sidmouth Beach is a mix of sand and shingle that manages to feel quite secluded thanks to the surrounding cliffs. It's also a very clean beach and is well-known for its water quality. This and its gently sloping shoreline make it as popular for families as it is for water sports enthusiasts, the latter drawn here for activities such as windsurfing and kayaking. Kayaks and canoes can also be rented on the beach.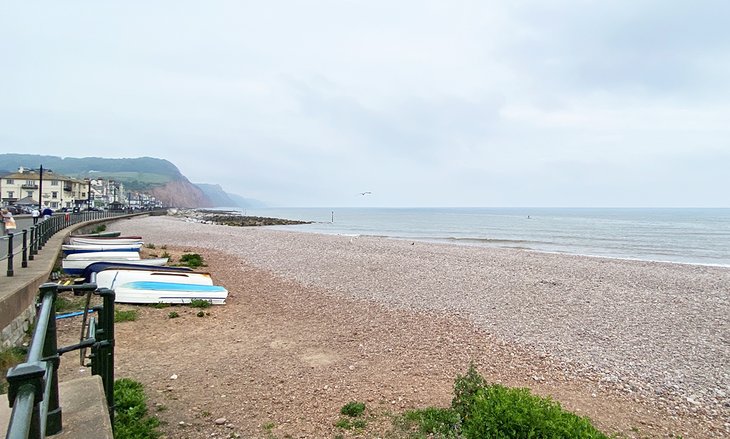 At low tide, interesting rock pools reveal themselves and provide plenty of opportunities to observe a variety of marine life. Ample parking is available, and seafront hotels and restaurants are easy to get to from the promenade and offer up great lunches and afternoon teas. Deckchairs and beach huts are available for rent.
The beach is also well known for the red coloring of its pebbles, a unique phenomenon not found in many other locations in the world.
8. Jacob's Ladder Beach, Sidmouth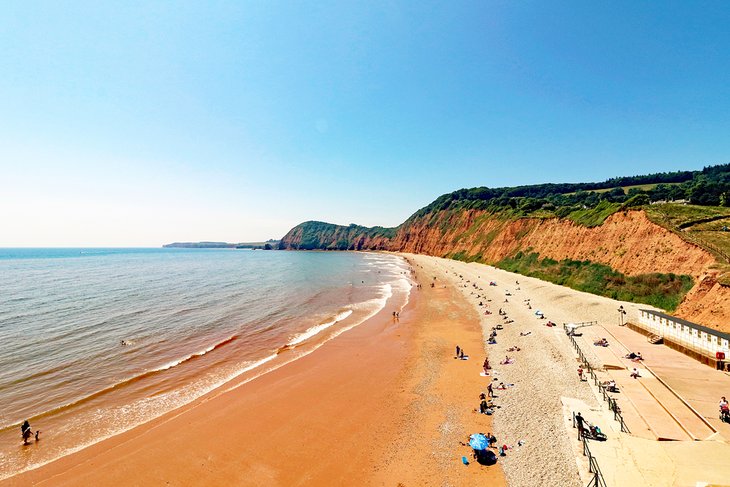 Jacob's Ladder Beach in Sidmouth is also worth including on your list of Exmouth beaches to visit. Accessible from the seafront via a walkway that was literally cut through the cliff face, or from the wooden steps leading down from Connaught Garden to the shore, this large beach consists of both sand and shingle sections.
Its cliffside setting certainly makes for some dramatic scenery, and whichever way you choose to arrive, make sure you exit by the alternative route just to ensure you maximize the views. The beach boasts the same colorful pebbles as found on Sidmouth Beach, but you'll not want to collect any, as they're protected, making it an offense to remove any.
Jacob's Ladder Beach is also popular for its rock-pooling potential, a fun activity for kids of all ages. It's also sheltered, thanks to the cliffs, so it's perfect for sunbathing and swimming.
Address: Clifton Lodge, Peak Hill Road, Sidmouth, Devon
9. Exe Estuary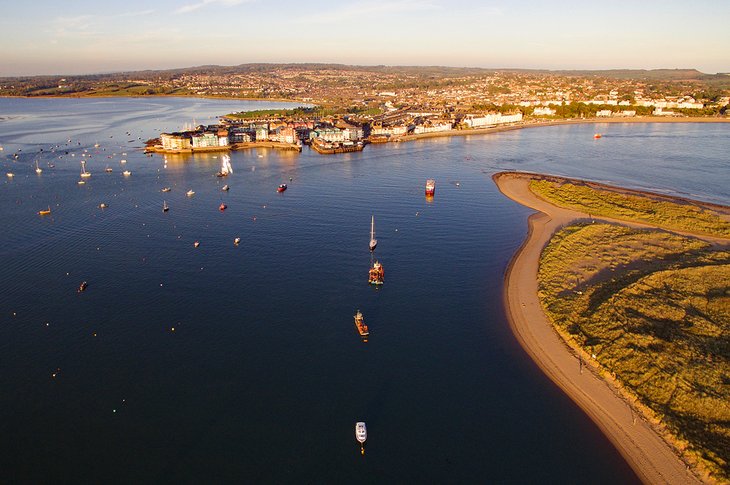 While not strictly speaking a beach, the Exe Estuary does offer plenty of opportunities for those wanting to get outdoors and enjoy a lovely coastal environment. And while some sandy sections do reveal themselves at low tide, such as around Shelly Beach, and can be explored, it's at high tide that the estuary sees most action.
For a period of around three hours either side of high tide (for a total of approximately six hours), water levels are high enough to allow outdoor enthusiasts to participate in a slew of water-based activities. Popular choices are boating and sailing; hopping aboard a scenic river cruise, including bird-watching cruises; diving and snorkeling; and fishing, including chartered fishing expeditions.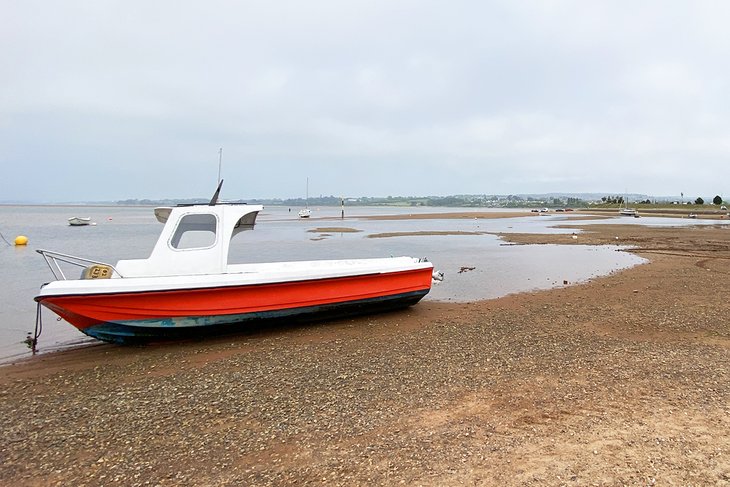 The estuary is also popular among kayakers and canoeists. In fact, you can paddle all the way from the mouth of the River Exe up to Exeter a few miles upstream, making use of the city's lock system to explore the Exeter canals. Other water-based activities popular on the Exmouth Estuary include kiteboarding, a unique hybrid combining surfing and kite flying. Paddleboarding is also popular given the generally calm waters in the estuary.
And for hikers and bikers, the Exe Estuary Trail follows the course of the estuary and river all the way to Exeter's historic quayside district and is a fun-filled and extremely scenic cycling route.
Official site: www.exe-estuary.org
Map of Beaches in Exmouth, Devon