15 Top-Rated Attractions & Places to Visit in Plymouth, England
Plymouth, in the beautiful English county of Devon, is one of Britain's largest seaports and naval bases. As such, it ranks as the country's most historically significant ports. It was here, just off the coast of Plymouth, that the English navy defeated the Spanish Armada, marking the beginning of the country's rise as a world power.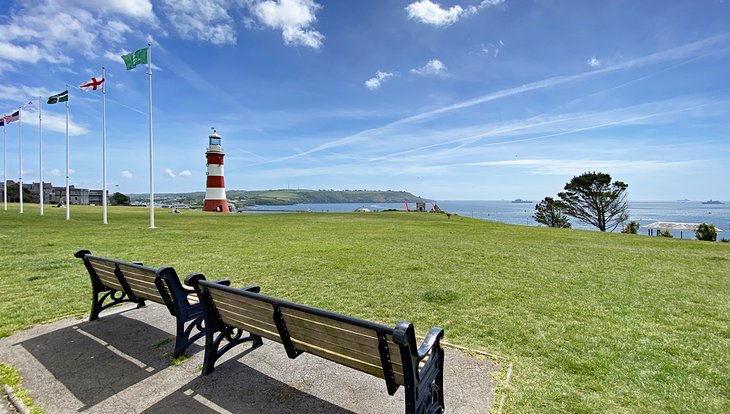 Situated at the mouth of the River Tamar, the boundary between Devon and Cornwall, Plymouth is now a sizeable city that includes Stonehouse and Devonport. For visitors, this means there are many great attractions to visit and fun things to do nearby.
Bordered by a rocky and sometimes steep shoreline interspersed with sheltered beach areas suitable for swimming, this attractive coastal city is nestled between hills that reach down to the adjoining bays. Surrounding woodlands and meadows combine with extensive parks and gardens to give the city an open, attractive look.
Famous names connected with British maritime history, such as Sir Francis Drake and the Mayflower, are closely associated with this historic port. With the many cobbled streets and narrow alleyways of the Barbican waterfront area, as well as its wide seafront promenade, these and other major points of interest are easy to explore on foot.
As you put together your England travel itinerary, be sure to refer often to our list of the top attractions and things to do in Plymouth, England.
1. Take in the Views at Plymouth Hoe & Smeaton's Tower
Some of the finest views over the town and Plymouth Sound are to be had from Plymouth Hoe, often referred to as simply the Hoe. Spacious Hoe Park opened in 1817 and is traversed by the Promenade, and extends past Drake's Island as far as the lighthouse on Eddystone Rock, 14 miles away.
It's also where you'll find the Armada Monument, erected in 1888 and decorated with the coats of arms of the towns that helped in the struggle against the Spanish. The nearby massive Naval War Memorial is worth a look, as is the Sir Francis Drake Statue. Other memorials along the wide, paved Hoe Promenade include the Plymouth Naval Memorial, commemorating the lives of sailors from Britain and the Commonwealth who died in two world wars, and the Royal Air Force and Allied Air Forces monument.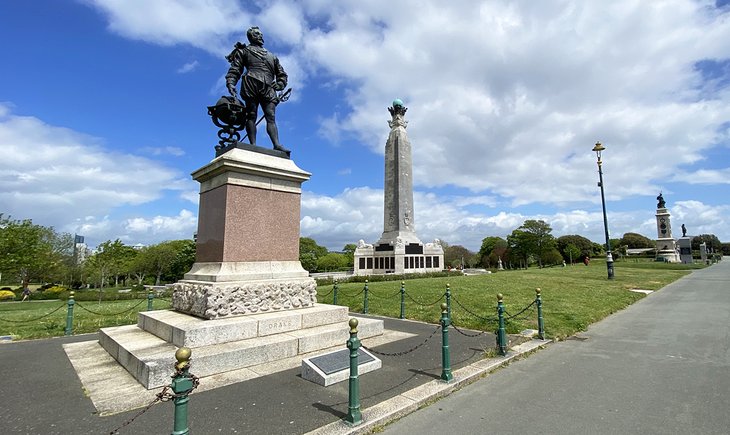 Also in the Hoe, the upper part of Smeaton's Tower-parts of which were taken from the original 18th-century lighthouse once located offshore-is open as a viewing platform. Be prepared to tackle the 93 steps of the tower, including steep ladders, to the lantern room for the lovely views. If you're here in August, try to coincide a visit with the annual British Fireworks Championship, an event that draws huge crowds from across the country.
Be sure to also spend a little time wandering West Hoe Park, on the westernmost tip of the Hoe. It's popular with families for its kid-friendly rides and miniature railway.
Address: 4 Osborne Place, Plymouth, Devon, England
2. Visit Historic Saltram House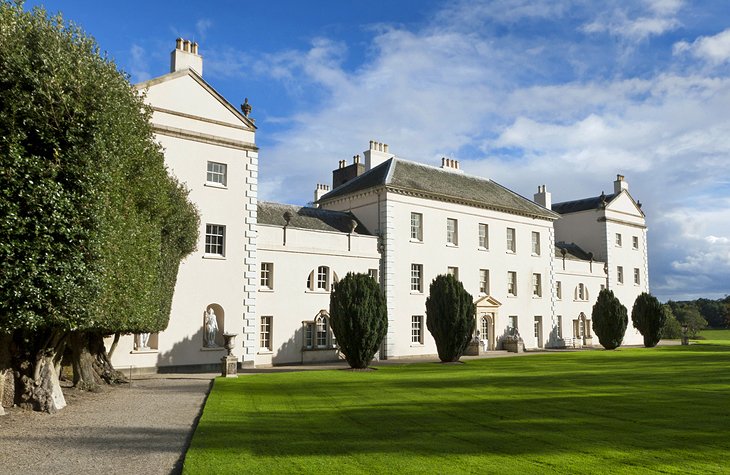 Saltram House, just three miles east of Plymouth, was begun by John Parker in 1750 and has seen little change since its construction. It is notable for its 14 paintings by Joshua Reynolds, who lived in nearby Plympton.
The artist liked staying at Saltram and painted portraits of the lord of the house and his family. The portrait of the artist himself dates from 1767 and hangs on the stairway, and is the work of Angelika Kaufmann. Also of interest are works by Rubens, Stubbs, American presidential painter Gilbert Stuart, and superb collections of porcelain.
After visiting the home's beautiful interior, be sure to spend time exploring its magnificent grounds, including the unspoiled woodlands and tranquil gardens. The views over Plymouth Sound are also worth checking out. Self-guided tours of the expansive grounds-crisscrossed by a network of hiking and biking trails-can be picked up when purchasing tickets.
Tours of the manor house are also available, and a café and tearoom are available for those wanting to linger longer.
Address: Saltram, Plympton, Plymouth, Devon, England
Official site: www.nationaltrust.org.uk/saltram
3. Have Fun at the Barbican Waterfront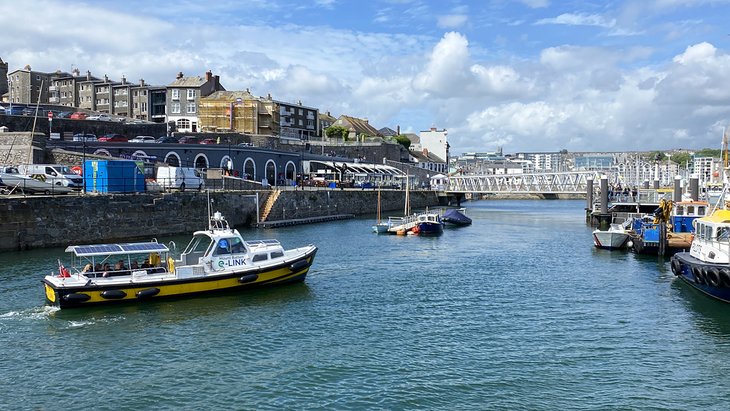 Known as the Barbican, Plymouth's historic harbor area is fun to explore on foot. Consisting of cobbled streets and scenic views over fishing boats and pleasure craft, it's also one of the city's most popular dining districts, with casual seafood kiosks rubbing shoulder with restaurants and eateries offering outdoor al fesco dining.
At Sutton Harbour, formerly known as Sutton Pool, pleasure ships offer fun excursions around the harbor and Plymouth Sound, and regular ferry services can whisk you away to other destinations across the city.
Of particular interest to American tourists is the Mayflower Museum covering the fascinating history of this famous vessel's voyage to the New World. You can also visit the nearby Mayflower Steps Memorial, the spot from which the Pilgrims are said to have embarked on their epic voyage.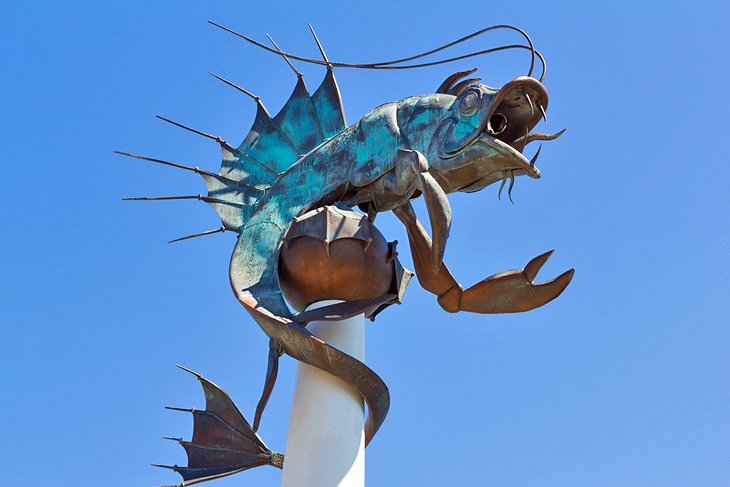 A short distance away is a memorial commemorating the arrival of British aviators Alcock and Brown who, in 1919, became the first people to cross the Atlantic in a seaplane.
Other Barbican highlights include the National Marine Aquarium, the Barbican Theatre, the Plymouth Arts Centre, and countless shopping opportunities and restaurants. The Barbican is also the scene of numerous events, including concerts and food festivals.
Official site: www.barbicanwaterfront.com
4. Explore the Royal Citadel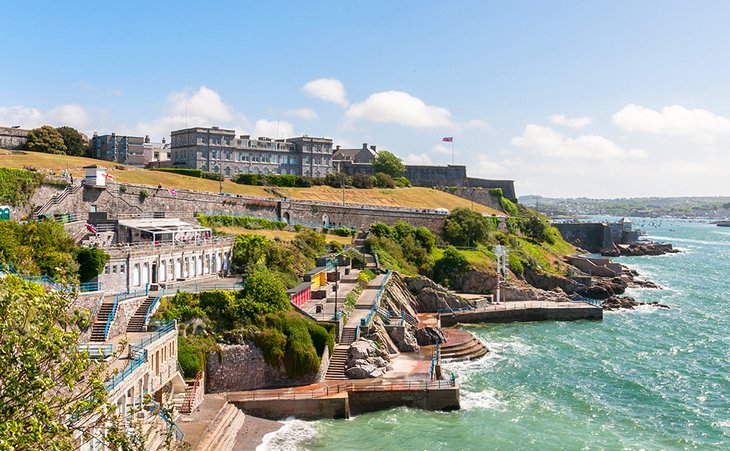 The Royal Citadel was built on the site of an earlier fortification in the 17th century and remained the most important coastal defense in England for more than 100 years. The structure encompasses the site of an earlier fort built in the time of Sir Francis Drake.
It's still used by the military, so be sure to check tour availability for the attraction. Entry is via guided tours only, which must be booked in advance of your visit.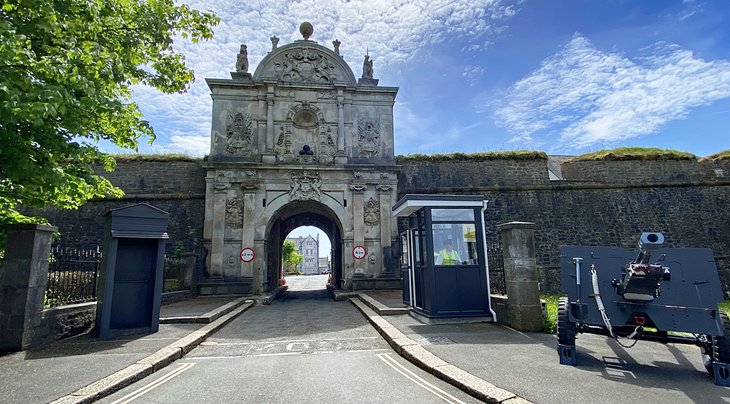 A highlight of a visit is the Royal Chapel of St. Katherine-upon-the-Hoe. Originally licensed for services in 1371, it was rebuilt over the centuries. A road runs around the citadel, affording excellent views, and a pleasant footpath can also be strolled.
Address: Lambhay Hill, Plymouth, Devon, England
Official site: www.english-heritage.org.uk/visit/places/royal-citadel-plymouth/
5. Take the Kids to the National Marine Aquarium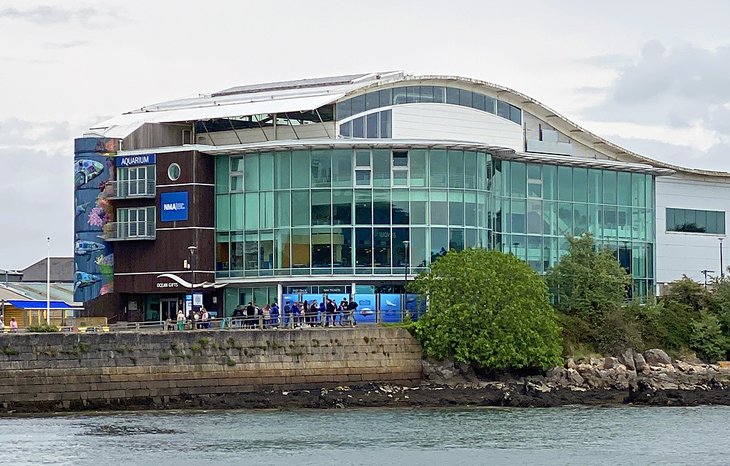 Located adjacent to the Barbican waterfront area, the National Marine Aquarium is the UK's largest aquarium and offers superb educational programs and displays. Exhibits cover the world's oceans, from the shores of England to Pacific coral reefs.
More than 70 sharks from 10 different species are housed here, along with small dogfish and large sand tiger sharks, all of them featuring in an excellent interactive dive show. An on-site restaurant offers views of exhibits or across Plymouth Sound, and there's a good-sized gift shop selling a variety of souvenirs.
Fun behind-the-scenes tours are available, as are a variety of daily talks about the facility's residents and other marine related matters. Other fun things to do include joining a "shark sleepover," including snacks and a unique chance to see these amazing creatures at night.
Also fun for the kids, the nearby Plym Valley Railway consists of preserved steam engines and rolling stock running on a 1.5-mile line.
Address: Rope Walk, Coxside, Plymouth, Devon, England
Official site: www.national-aquarium.co.uk
6. The Mayflower Museum and Mayflower Steps Memorial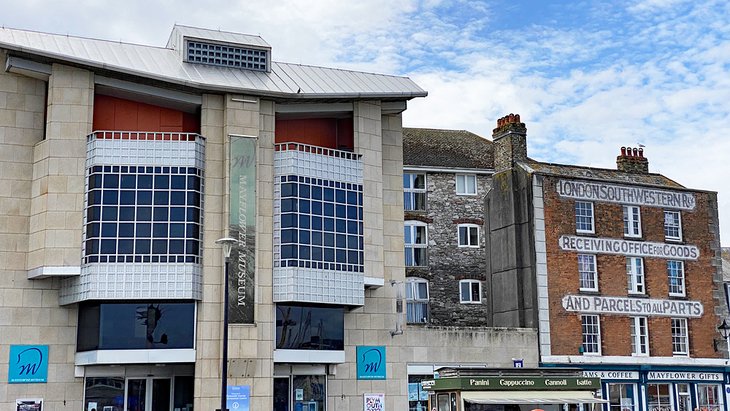 While a big draw for tourists from the United States, the Mayflower Museum is also well worth a visit for those with an interest in Britain's rich naval history.
Located in the Barbican area and focusing on the remarkable journey made by America's founding fathers aboard the Mayflower, this first-rate museum commemorates Plymouth's important part in the epic journey undertaken by the Pilgrims to the New World. Highlights include the chance to try out period costumes, numerous fun interactive games, along with a scale model of the famous ship.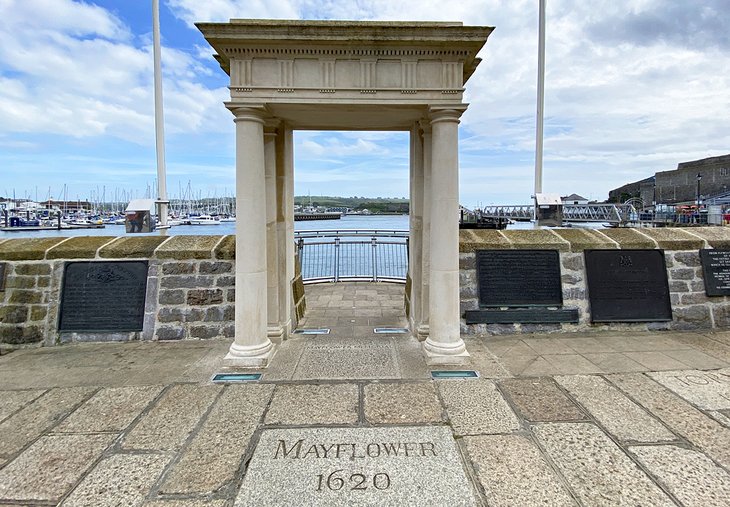 Afterwards, be sure to snap a photo of the Mayflower Steps Memorial, a historic gateway built in memory of the Pilgrim Fathers. These, and the museum, can be included in a number of fun walking tours of the Barbican and old town area.
Address: 3-5 The Barbican, Plymouth, Devon, England
7. Plymouth City Center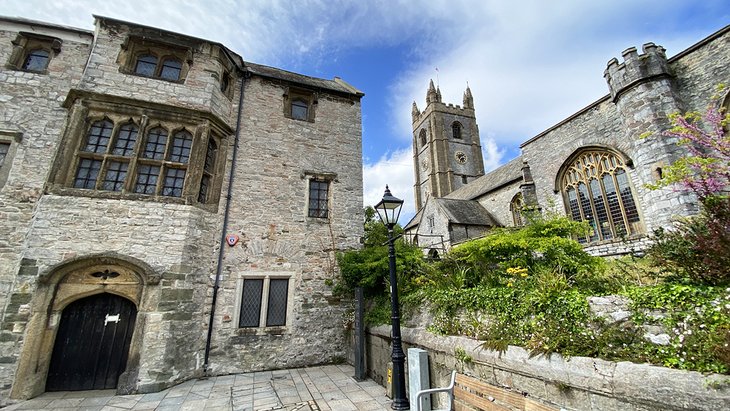 Plymouth's bustling city center occupies the area around two broad avenues, Armada Way and Royal Parade, which adjoin Hoe Park to the north. Near St. Andrew's Church are the 15th-century Prysten House, the city's oldest home; the 16th-century Merchant's House, a Tudor building housing a museum of social history; and the beautiful Guildhall with its pretty little towers.
Opposite St. Andrew's is the Civic Centre, worth visiting for the viewing platform on the 14th floor, with its breathtaking views of the city, which on a clear day enables you to see as far as distant Dartmoor. On Derry's Cross is the famous Theatre Royal, with the Athenaeum Theatre next door.
You can find many things to do at the Plymouth Pavilions, a conference and leisure center with a swimming pool, wave-machine, and ice rink.
Finally, a little northwest of the city center is the Drake Circus Centre, a pedestrian zone with passageways of shops and restaurants. In addition to its great shopping and dining experiences, it's here you'll find the stunning "The Box." Home to the Plymouth City Museum and Art Gallery, this architectural gem is well worth seeing if not just for its design, but its exhibits relating to local art and history.
Address: St. Andrews Street, Plymouth, Devon, England
8. Tour the Historic Elizabethan House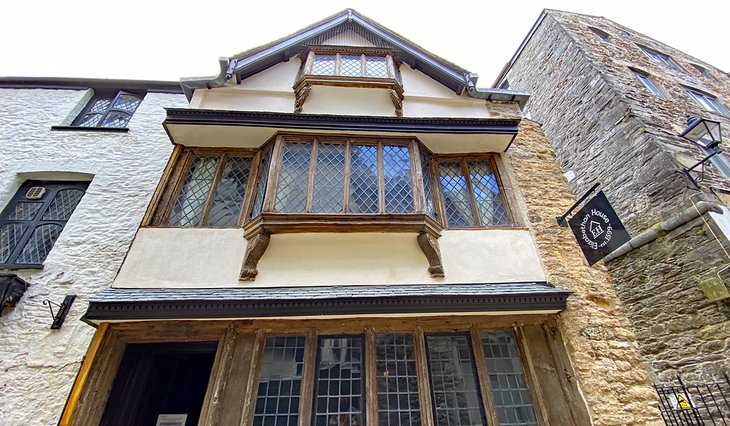 In the narrow cobbled streets of The Barbican, Plymouth's historic quarter centered around Sutton Harbour, you can see an excellent example of 16th-century architecture in the Elizabethan House on New Street.
Fitted out exactly as it would have been in Tudor times, it's a delight to explore. Fascinating displays lead you through the building's rich history as a boarding house over the centuries, from its construction right through to the humble lodgings of its last tenants in the 1920s.
Also worth visiting are the neighboring Elizabethan Gardens and the 100-plus other listed historic attractions here. You should also visit nearby Southside Street, where you can see the remains of a 14th-century Dominican monastery.
Address: 17-19 New Street, Plymouth, Devon, England
Official site: www.theboxplymouth.com/outside-the-box/elizabethan-house/restoration
9. Follow the Heritage Trail through Historic Devonport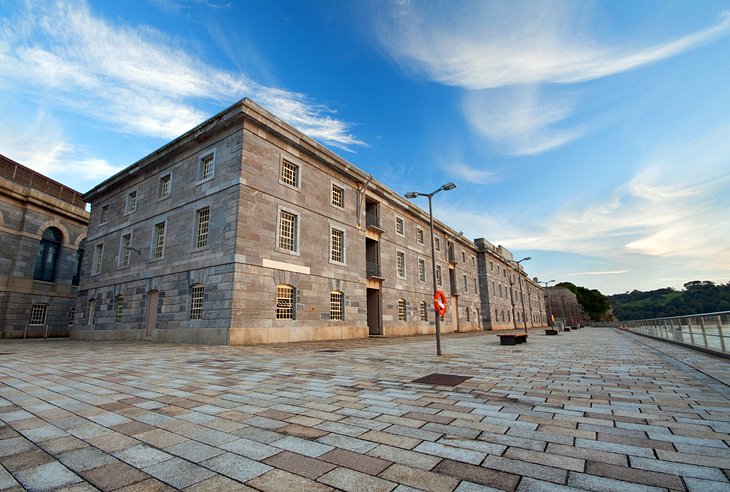 To the west of Plymouth city center, Devonport has many fine old Georgian and Regency houses. The Royal Dockyard, established in 1691 by William III, contains a memorial to polar explorer Robert Falcon Scott.
Born in Devonport in 1868, Scott died in 1912 on an expedition to the South Pole with his ship Discovery, now on display in Dundee. Gun Wharf, built in 1718, is also architecturally interesting.
The Devonport Heritage Trail is a great way to explore the area (particularly for hikers), while the more sedate Waterfront Walkway offers good sightseeing for all ages and abilities. Be sure to also visit the excellent Devonport Naval Heritage Centre, with its displays and exhibits relating to the city's historic dockyards.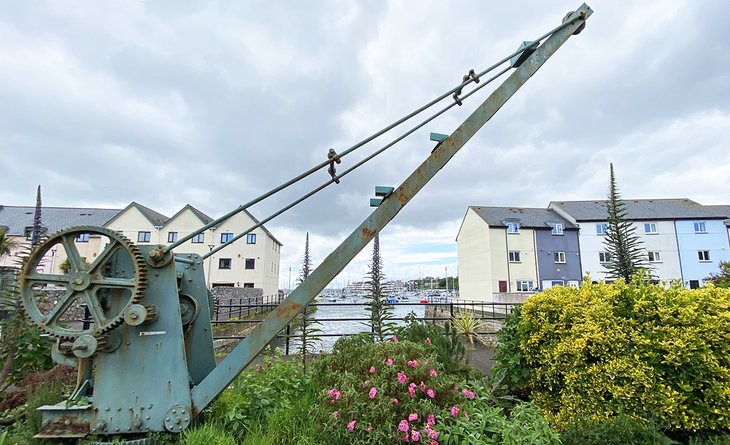 Highlights include a former Royal Navy submarine, as well as the opportunity to tour the still operational naval base (tours need to be booked in advance).
Address: Vivid Approach, Off Granby Wy., Devonport, Plymouth, Devon, England
10. Spend a Night at Crownhill Fort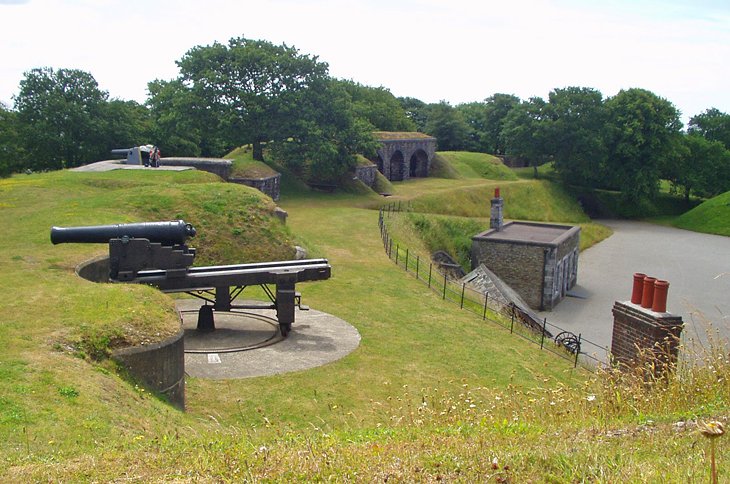 Crownhill Fort, built in the 1860s, is the largest and best preserved of Plymouth's ring of Victorian Forts. There are cannons and tunnels to explore, as well as ramparts and a massive dry moat, and you can take in numerous historic reenactments throughout the year. Guided tours are available.
For an unforgettable experience, look into booking one of the Fort's unique overnight stays. Offered in the former Officers' Quarters, these fully-furnished luxury suites contain separate bedrooms and full kitchens.
Address: Crownhill Fort Road, Plymouth, Devon, England
Official site: www.landmarktrust.org.uk/crownhill-fort
11. Take the Ferry to Mount Edgcumbe Country Park in Cornwall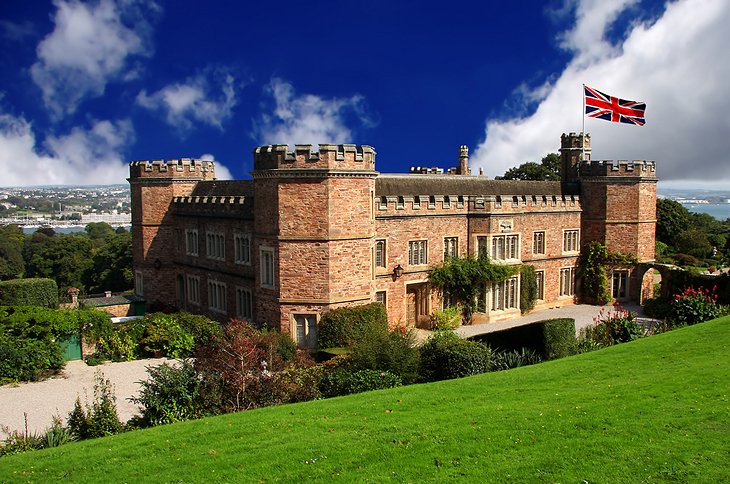 From Plymouth, there's a ferry service to Cremyll in Cornwall and the sprawling Mount Edgcumbe Country Park. Overlooking this huge parcel of land-the park in fact includes two villages, Kingsand and Cawsand-is Mount Edgcumbe House, a fine example of English 18th-century interior design.
Featured in the Oscar award-winning film, Sense and Sensibility, the house includes a large collection of period furniture and numerous fine paintings, including examples by Joshua Reynolds. Rare Chinese and English porcelain, as well as a unique collection of Bronze Age horns originating from Ireland, can also be viewed.
Be sure to spend time in the colorfully landscaped park, noted for its many European and exotic plant varieties. Other notable features include a number of follies, fortifications, and temples, most of which can be explored.
There are plenty of trails to explore, too, including a nine-mile section of the popular South West Coast Path and a long stretch of coastline. For those wanting to bed down for a night or two, a number of quaint cottages, along with a glamping site, can be booked.
Location: Cremyll, Torpoint, Cornwall, Devon, England
Official site: www.mountedgcumbe.gov.uk
12. Take a Drive to Cotehele House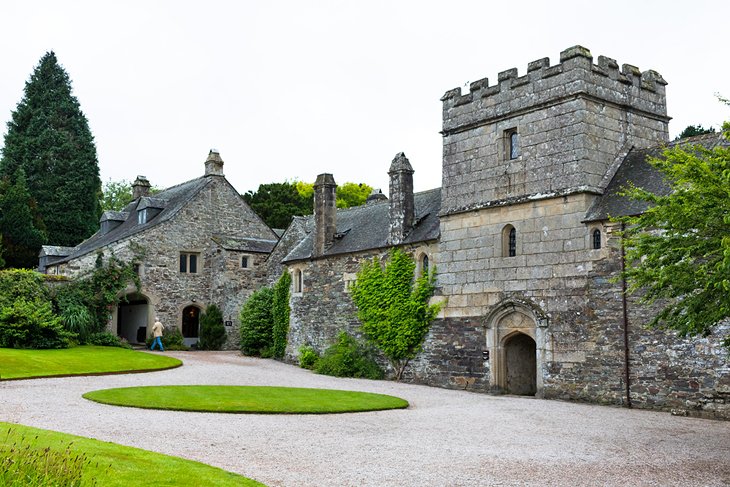 Located a pleasant 30-minute drive inland from Plymouth, Cotehele House is a National Trust property that should be added to your local travel itinerary. While records indicate a manor home existed on the site in the early 1300s, much of the splendid medieval building on display today was built in the late 15th century by the Edgcumbe family, who were also responsible for the already-mentioned Mount Edgcumbe House.
Notable among its many interesting features are the well-preserved outbuildings, its three charming chapels, plus a large collection of old furniture and tapestries. The picturesque 14-acre grounds are well worth exploring and back onto the River Tamar.
Highlights include a marine exhibit at the Cotehele Quay, along with a lovely tearoom, formal gardens, a tower, and a Victorian-era summerhouse.
Address: St. Dominick, Saltash, Devon, England
Official site: www.nationaltrust.org.uk/cotehele
13. Cotehele Mill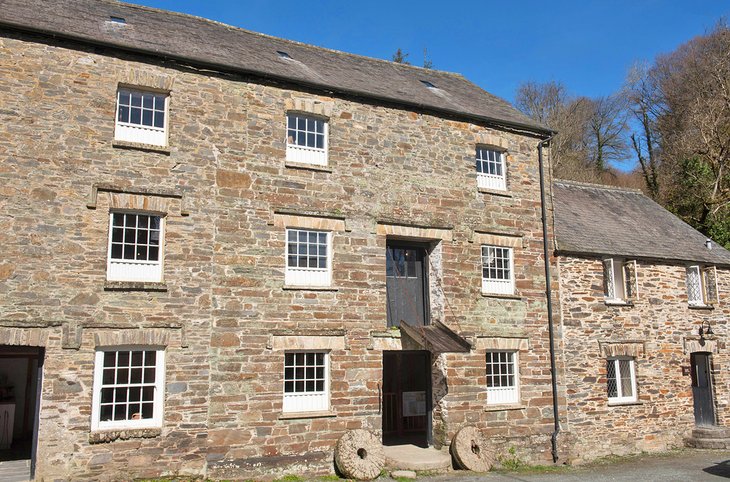 When visiting Cotehele House, be sure to also check out the neighboring Cotehele Mill. This remarkably well-preserved water-powered mill demonstrates traditional milling methods that were once common before the arrival of steam power and electricity.
While the exact date it was built remains a bit of a mystery, it's believed to have been here in medieval times, and the current water wheel itself is known to have been added in the 1800s.
In addition to its working blacksmith shop and fascinating displays of old tools, you can still see local grain being ground just as it would have been centuries ago. Cotehele flour is also used in the wonderful baked goods you can sample here.
This attraction can get busy, so try to allow plenty of time in your schedule to wait a short period of time before getting in, but hey, it's an idyllic stream-side setting in which to spend some time.
Address: St. Dominick, Callington, Devon, England
Official site: www.nationaltrust.org.uk/cotehele-mill/features/explore-cotehele-mill
14. Bridging the Tamar Visitor and Learning Centre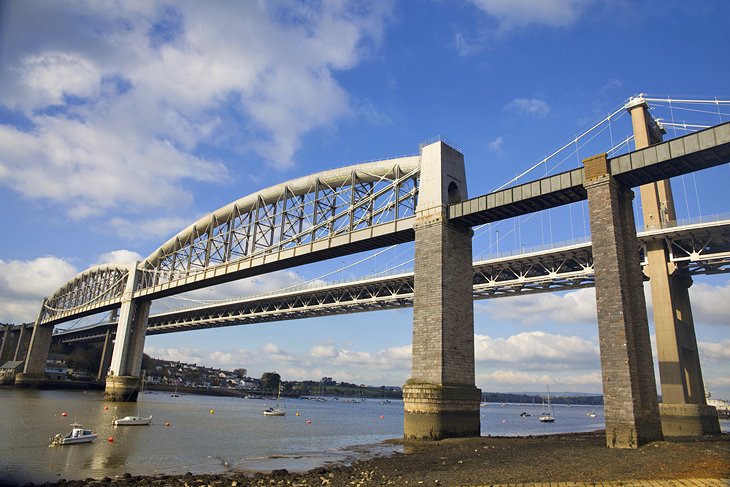 Devon's newest tourist attraction, and one of the top free things to do in Plymouth, the informative Bridging the Tamar Visitor and Learning Centre opened in 2019 and provides a fascinating look at the two major bridges crossing the River Tamar: the Tamar Bridge and the Royal Albert Bridge.
Built in the 1960s and the 1850s respectively, these two impressive structures stand side by side over the river, connecting Devon and Cornwall. Plymouth, on the east bank, is where the informative visitor center is located, while the Cornish town of Saltash is located on the west bank. Each bridge had a huge impact on the area when it opened.
Through informative, interactive displays and exhibits, the visitor center showcases the construction of both bridges, offering a fascinating glimpse into their history, as well as their operation. Workshops and guided behind-the-scenes tours are available.
Address: Pemros Road, St. Budeaux, Plymouth, Devon, England
Official site: https://bridgingtamar.wpengine.com
15. Visit the Cornish Town of Saltash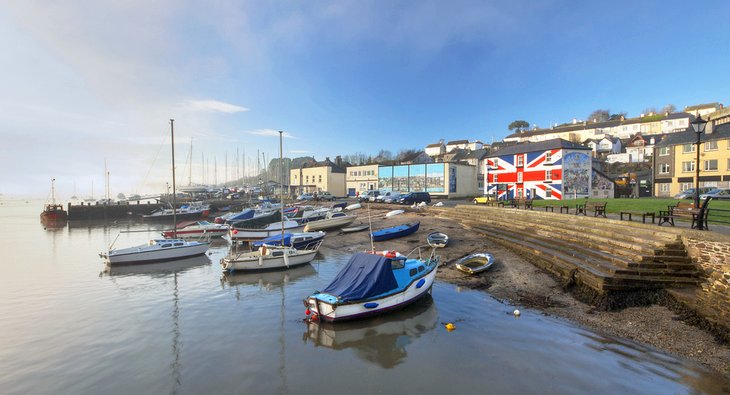 Often referred to as the "Gateway to Cornwall," the town of Saltash sits directly across from Plymouth on the west bank of the River Tamar. It's well worth taking the time to explore and is accessible via a short train ride-worth it for the chance to cross Isambard Kingdom Brunel's magnificent Royal Albert Bridge, built in 1859-or on the pedestrian and bike path that utilizes the modern Tamar Bridge.
Popular things to do once here include exploring the Saltash Waterside, the historic part of the town once known for its boat building workshops and trades that supported local fishermen. From here, you're able to access the historic Mary Newmans Cottage, built in 1480 and furnished with period furniture.
You'll also want to visit the fascinating Elliott's Shop, a grocery store that has remained unchanged since the 1970s. Many of its displays date even further back, as the store was established in 1903.
If time allows, hop aboard a pleasure boat ride along the Tamar. These fun excursions operate off the Saltash Pier.
Map of Attractions & Things to Do in Plymouth, England
Plymouth - Climate Chart
Average minimum and maximum temperatures for Plymouth, United Kingdom in °C
J
F
M
A
M
J
J
A
S
O
N
D

9

3

8

3

10

4

12

6

15

8

18

11

20

13

19

13

18

11

15

9

11

6

10

4

PlanetWare.com
Average monthly precipitation totals for Plymouth, United Kingdom in mm.

114

91

86

58

61

56

56

69

76

94

102

117
More Related Articles on PlanetWare.com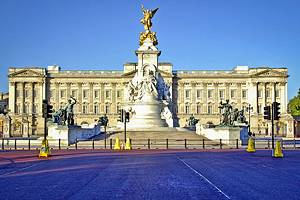 City Slickers: The UK capital of London offers no end of fun things to do, from spectacular Buckingham Palace to the wonderful Covent Garden market area. Other destinations to include on your England travel itinerary include the university towns of Cambridge, home to gorgeous medieval architecture, and Oxford, famous for its old colleges and attractive old town center.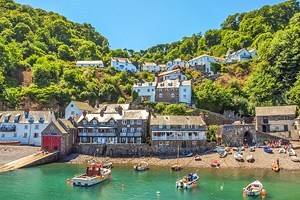 Country Folk: England also boasts no end of quaint smaller towns and charming countryside to explore. It's also home to excellent beaches, including the coast of Brighton, as well as the spectacular scenery in Cumbria's Lake District. There's even a little of the countryside to be enjoyed in London, especially in places like Hyde Park and Kew Gardens.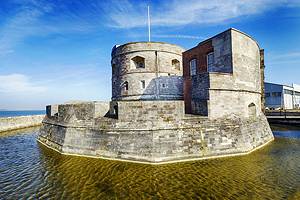 England Vacation Ideas: Popular vacation destinations in England include Bath, famous for its incredibly well-preserved old Romana Baths and splendid Georgian architecture. Nearby Bristol is another great place to visit, especially around its historic harbor area. Another important port is Southampton, which, like Plymouth, boasts many sea-faring and maritime-related attractions.