9 Best Beaches in Torquay, Devon
It's for very good reason that the attractive seaside town of Torquay in Devon was dubbed the "English Riviera" by visitors in Victorian times. These first holidaymakers arrived by train in the mid 1800s and found many similarities between Torquay and its much more distant Mediterranean counterpart.
Most notable among these similarities were its warm climate; its lush vegetation, including plant species, such as palm trees normally only found in southern Europe; and its beautiful coastal setting. Thanks to its clear blue waters and abundance of beautiful sandy beaches, it's certainly a nickname that is still relevant today some 170 years later.
The big draw for most visitors remains those wonderful Torquay beaches. Spread out along 22 miles of beautiful Devonshire coastline and encompassing the neighboring communities of Paignton and Babbacombe, the 20 beaches in Torquay and the surrounding area are certainly among the best in England. Boasting copious quantities of soft and often red sand, they offer families traveling with kids safe swimming and paddling in generally calm waters.
Not that Torquay's beaches don't have a wilder side. From sea kayaking to surfing, paddleboarding to kitesurfing, adventure seekers will find plenty of fun things to do both on the water and off. Torquay beaches are also increasingly accessible from London by a rapidly growing rail network.
Find out more and plan a memorable seaside vacation with our list of the best beaches in Torquay, Devon.
1. Torre Abbey Sands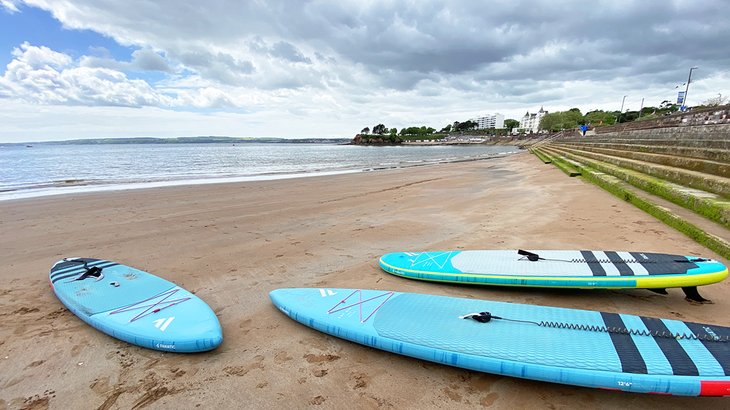 As Torquay's main beach, Torre Abbey Sands offers everything needed for a perfect seaside getaway. Consistently awarded Blue Flag status for the quality and cleanliness of its waters, Torre Abbey Sands is ideally situated to the west of Torquay Harbour and runs parallel with Torbay Road all the way to Corbyn Beach. A unique spiral walkway that crosses over the busy road provides direct access to the beach and the promenade, as well as some great sea views.
The beach's most striking feature is its color. Consisting of a long swath of red sand, it's certainly as pleasurable to look at as it is to walk on. And when the tide's out, you can walk quite a ways out into the bay, stopping to explore the rock pools for marine life as you go.
In addition to its popularity among families for its excellent, safe swimming, Torre Abbey Sands is also a great place to enjoy on-water activities, too. Not only is it designated one of the top windsurfing locations in Torquay, it has also earned a reputation among paddleboarders and kayakers for its usually calm waters. A number of water sports equipment rental companies operate directly on the beach, too, including The Activity Box and WeSUP.
Other amenities include ample parking, both on-street and in the dedicated promenade parking lot, as well as numerous nearby dining and entertainment opportunities. For a quick coffee and a snack, Solskinn Coffee Box is located directly on the beach adjacent to the equipment rental offices and does great espresso-based coffees.
Other facilities include deckchair rentals, and a beachside shop and public washrooms are located on the east end of the beach on the promenade.
Address: Torbay Road, Torquay Devon
2. Babbacombe Beach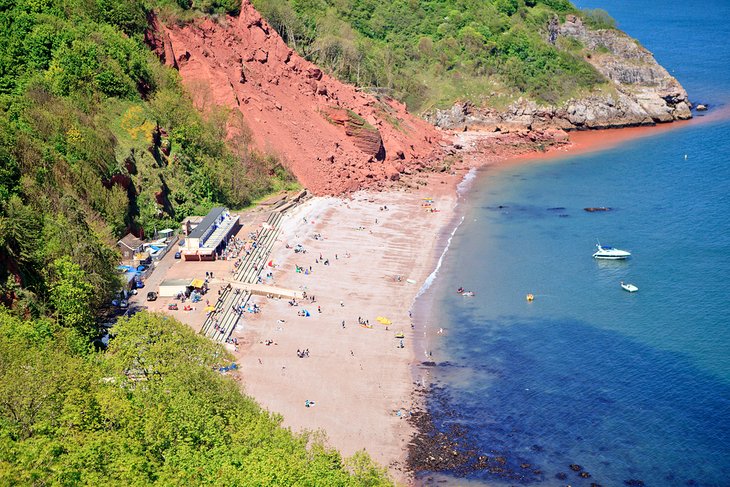 Located across town from Torre Abbey Sands, Babbacombe Beach offers visitors a first-rate English seaside experience. This shingle beach stretches from a cliffside breakwater on its eastern corner to a rocky outcrop to the west, where it's possible to visit neighboring Oddicombe Beach via the South West Coast Path.
While it's not the most accessible of Torquay's beaches due to its hilly topography, it's certainly one of the prettiest beaches, surrounded by hills on one side and clear blue waters on the other. Cars can only get here via Beach Road, which ends at the beach. Parking is limited, so you may want to consider leaving the car in town and riding the Babbacombe Cliff Railway down to the seafront.
Babbacombe's clean, calm waters certainly make it a good spot for those traveling with kids, who can also enjoy rock pooling when the tide's out. Other fun activities include fishing from the breakwater, sailing, windsurfing, and scuba diving. Public washrooms are available, and a beachside café offers a variety of food and drink options.
Address: Beach Road, Babbacombe, Torquay, Devon
3. Meadfoot Beach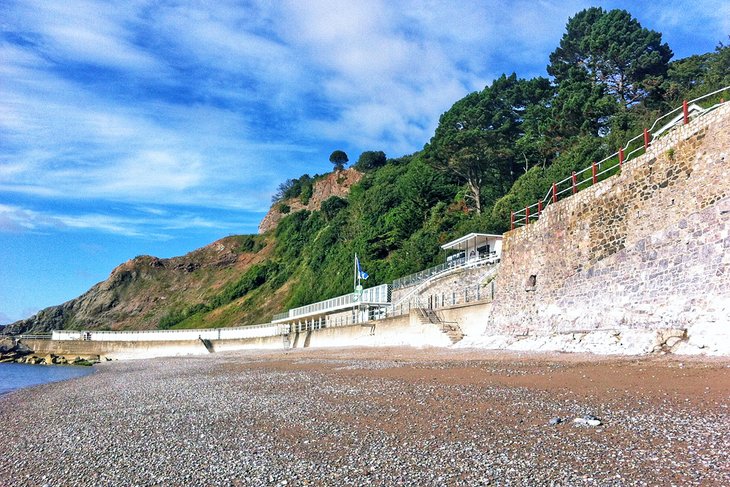 A 30-minute walk east of Torre Abbey Beach, or just 10 minutes by car, Meadfoot Beach is another great place to visit if you're planning on soaking up some of that English Riviera sunshine. Also a Blue Flag winner, the beach is generally not as popular amongst tourists, with most beachgoers you'll see here being locals.
In addition to its pretty setting overlooking the gently curving coastline, cliffs, and Thatcher Island, the mostly shingle beach offers safe swimming under lifeguard supervision. While a shallow entry makes swimming suitable for youngsters, those wanting to test themselves with some serious sea swimming will find plenty to rave about, too, if they follow the shoreline westward to the beach's westside peninsula.
In addition to the abundant marine life revealed in rock pools at low tide, Meadfoot Beach is also a popular destination for fishing. Cast a line, and it's possible you'll catch yourself some mackerel or garfish. Other water-based activities include sea kayaking, paddleboarding, and diving, with a number of outlets on hand to rent equipment if needed.
In addition to the seasonal lifeguard stations, other amenities include a first aid post, a lost child center, and public washrooms. There's also a dedicated access point for those using a wheelchair. Recently upgraded, the Meadfoot Beach Café is a great spot for a snack or meal.
A beach chalet rental program is also available, with some of the larger multi-level units featuring their own private balconies. Deckchairs are also available for rent.
Address: Meadfoot Sea Road, Torquay, Devon
4. Paignton Sands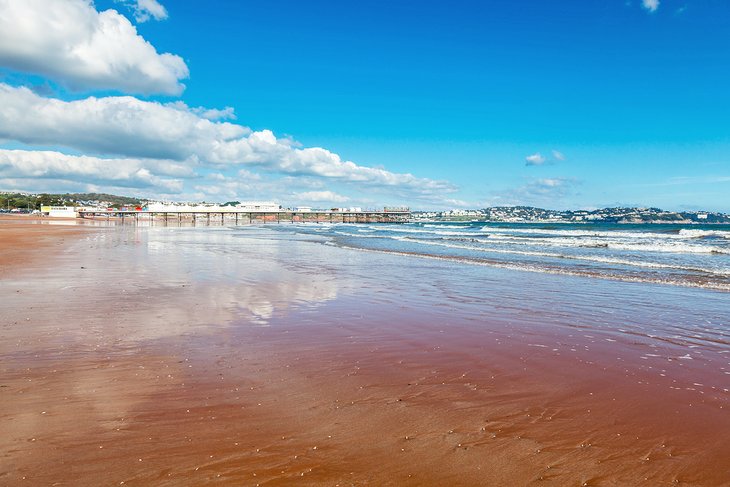 Located just three miles west of Torquay, the seaside town of Paignton is as close to a classic English beach destination as it gets. Boasting a long and wide stretch of sand that's perfect for kids to play on, Paignton Sands is also lined with all the seaside attractions you'll ever need to keep everyone in the family entertained.
A stroll along the wide promenade will take you past amusement arcades and seaside staples such as crazy golf and donkey rides. A must-visit is Paignton Pier. Built in 1879, this 780-foot-long structure features everything from fun dining experiences to arcades and theme-park-style attractions, including slides and bumper cars suitable for young kids.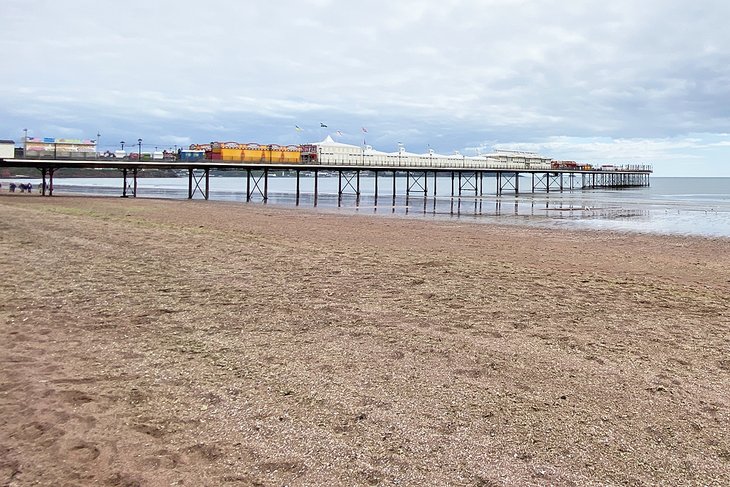 There are also plenty of food and drink vendors, too. Paignton Sands is where you'll find the Victorian-era Taylor's Seafront Kiosk, which has been serving up sweet treats for well over 120 years.
Not that you'll ever want to vacate your spot on the sand. In addition to swimming and paddling in the clean, shallow waters at this safe beach, two-, or more, person pedalo boats are available for rent and make for a fun means to explore the shoreline. Beach huts and deckchairs are also available for rent by the day or week. Public washrooms, picnic facilities, and playgrounds are also located here.
Address: Eastern Esplanade, Paignton, Devon
5. Corbyn Beach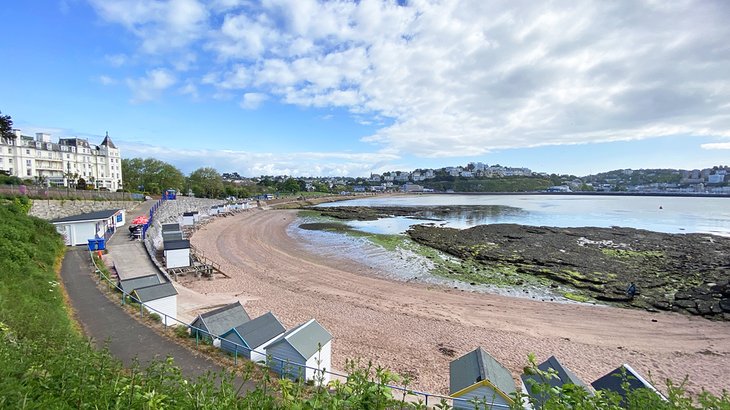 Tucked away between the south end of Torre Abbey Sands and Corbyn Head, Corbyn Beach is a great alternative if you don't mind being located a little further away from the traditional seaside trappings of fast-food restaurants and arcades. As a result, this gently curving stretch of sand and shingle beach is perfect for those who enjoy a quieter beach experience.
Available amenities include beach hut and deckchair rentals, public washrooms, and a beachside shower to get that sand off your feet. Those bringing their own windsurfing boards or kayaks have access to a slipway, which is also used to provide access to the beach for visitors with mobility issues.
For those wanting to spend a night or two as close to the beach as possible, consider booking a stay at the Victorian-era The Grand Hotel located literally right across the road.
Address: Corbyn Head, Torbay Road, Torquay, Devon
6. Hollicombe Beach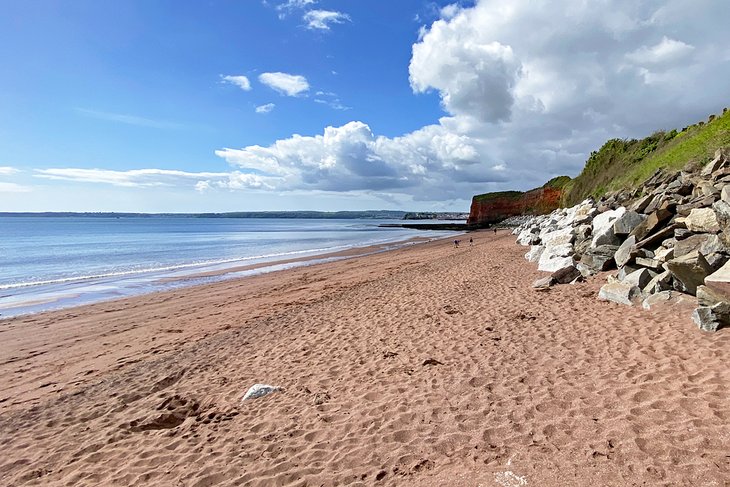 Situated roughly halfway between Torre Abbey Sands and Paignton, secluded Hollicombe Beach is something of a hidden gem and is definitely worth visiting if you want to avoid the crowds.
Accessible only from Hollicombe Park via a pedestrian tunnel under the coastal railway line, its seclusion makes it an excellent spot for adults wanting to get in some sunbathing while in Torquay. Backed by tall sandstone cliffs, this sheltered bay is known as something of a suntrap, with its clean, calm, and cool waters providing a welcome respite when needed.
The red sand you'll find here is exquisite and adds to the experience and the beach's photo-worthiness. Other fun things to do here include exploring the exposed rock pools at low tide, swimming, and kayaking.
While there aren't any amenities as such, public washrooms and other facilities are available at Preston Sands Beach, a 15-minute walk to the south. Limited roadside parking is available next to Hollicombe Park.
Address: Torbay Road, Paignton, Devon
7. Preston Sands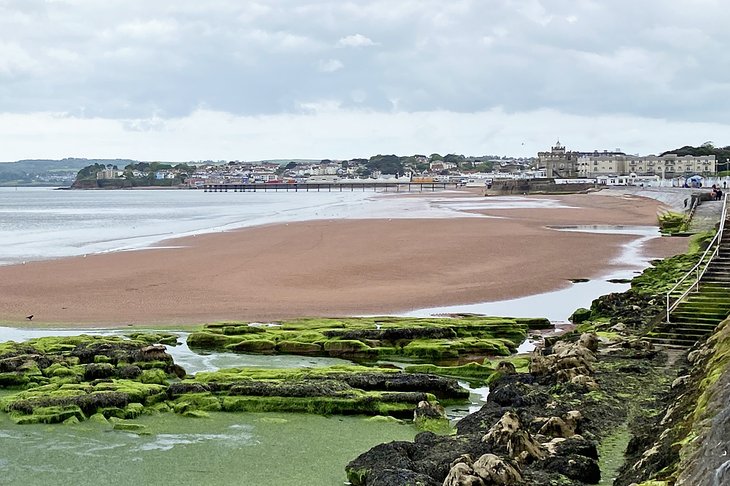 Just a short walk north of Paignton Pier, Preston Sands offers a similar beach experience and is extremely well suited for families looking to enjoy a beachside vacation or day trip. With its Blue-Flag-awarded water quality and clean, red sand shoreline, you just know the kids are going to be safe and have fun here.
Fun things to do include sunbathing, swimming in the shallow waters offshore, and exploring the rock pools for crabs when the tide's out. It's also a popular fishing spot. Those wanting to make a full day of it should consider looking into a beach hut rental.
There are also plentiful off-beach activities and attractions worth mentioning. The kids will want to explore Preston Green, a large park area running parallel with the beach that features a kid's playground, basketball court, plenty of room to run about, and even a fitness area for mom and dad. There are also plenty of food opportunities, with popular spots like Sara's on the Beach serving everything from quick snacks to full meals and ice creams.
Available amenities include public washrooms, including disabled facilities; wheelchair access to the beach; and handicapped parking.
Address: Marine Drive, Paignton, Devon
8. Livermead Sands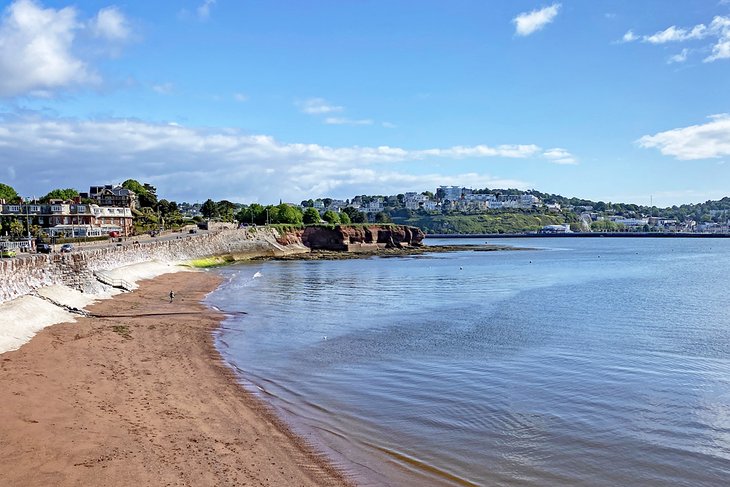 Although located along the same stretch of coast that gives Torquay its distinctive red sand, Livermead Sands does benefit from being somewhat more accessible than some of the more secluded beaches. Running parallel with Torbay Road, which connects Paignton and Preston to Torquay proper, it can easily be accessed via steps leading down from the promenade.
While completely covered at high tide, at low tide it's a delightful experience to hang out here. The sand dries quickly once exposed, and numerous rock pools add a further dimension to the beach experience.
Livermead Sands has also been designated as an official waterskiing area, so bear that in mind when visiting, especially during the high-boat-traffic summer season.
Address: Torbay Road, Torquay, Devon
9. Institute Beach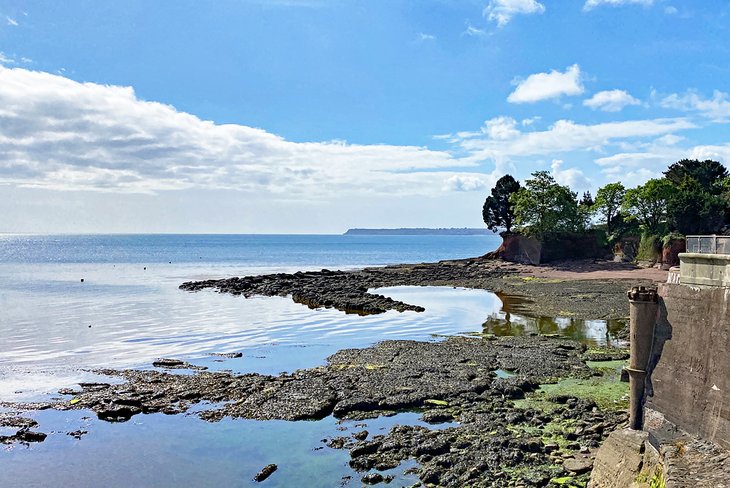 Like Hollicombe Beach to the south, Institute Beach is another hidden gem that's perfect for couples and those preferring a quieter beach experience. Set in a quiet north-facing cove that's all but hidden from view, this comparatively small beach is also backed by those attractive red sandstone cliffs that give its mix of sand and shingle sections of beach their unique qualities.
Given that it's accessible only via a steep set of steps situated behind the 4-star Livermead Cliff Hotel, as well as the fact there are no dedicated amenities such a washrooms, Institute Beach is not suitable for those with mobility issues or families with toddlers.
Address: Cliff Road, Torquay, Devon
Map of Beaches in Torquay, Devon