10 Best Things to Do in Exmouth, Devon
Located on the east bank of the River Exe, where its wide estuary meets the English Channel, the pretty town of Exmouth is among the top tourist destinations in the county of Devon.
An easy and extremely scenic 30-minute train ride from the cathedral city of Exeter, Exmouth offers no end of attractions and memorable things to do.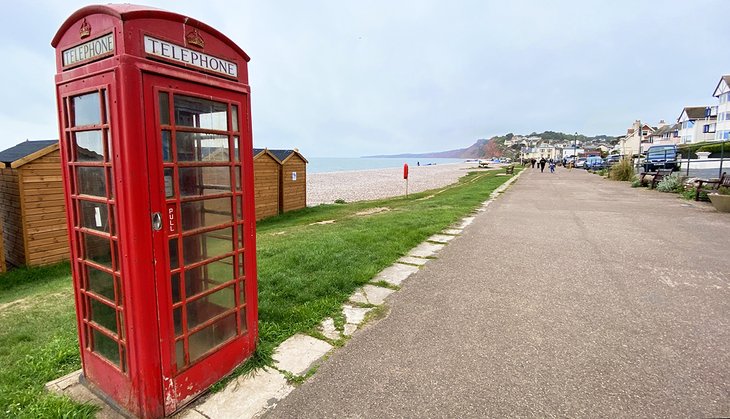 While many people are drawn here to sunbathe and relax on Exmouth's excellent beaches, which include a mix of remote stretches of sand and others bustling with vacationers, many visitors make the journey to participate in a wide variety of water-based adventures.
Easy access to boat launches, moorings, and endless miles of water has resulted in Exmouth becoming one of the best places to visit in England for water sports enthusiasts.
Add to this endless walking and hiking trails; the stunning scenic beauty of the Jurassic Coast World Heritage Site, which begins here; plus numerous cultural and entertainment attractions; and you'll definitely want to extend your stay in Exmouth.
To learn more about why you should include this lovely seaside town on your England travel itinerary, read through our list of the top things to do in Exmouth, Devon.
1. Enjoy the Waterfront and Exmouth Beach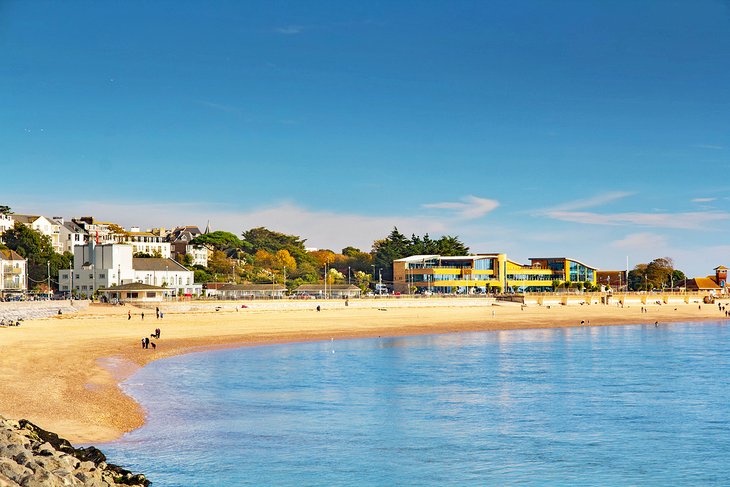 Exmouth Beach, or Blenny Bay as it's now officially known, is without doubt one of the best beaches in Devon.
Stretching for two miles between the town center and Orcombe Point, this family-friendly beach is predominantly sand with clean water. Lifeguards are on duty in peak season, and with its shallow entry, this makes for a perfect spot to take younger kids.
The beach has also become a major hub for water sports such as sailing, kayaking, and paddleboarding, as well as fishing. It has also become popular among the surfing and kitesurfing set, with rentals and lessons in both disciplines available.
Using Blenny Bay as a base, you'll actually have relatively easy access to a variety of other great Exmouth beaches worth exploring.
Those looking for a less-crowded beach experience should consider Orcombe Point, just a mile and a half away. You can get here in a few minutes by car or by hiking along the scenic South West Coast Path.
A little farther east, and you'll find yourself in the picturesque small town of Budleigh Salterton, popular for its unique red sandstone cliffs.
Address: Esplanade, Exmouth, Devon
2. Explore the River Exe and the Exe Estuary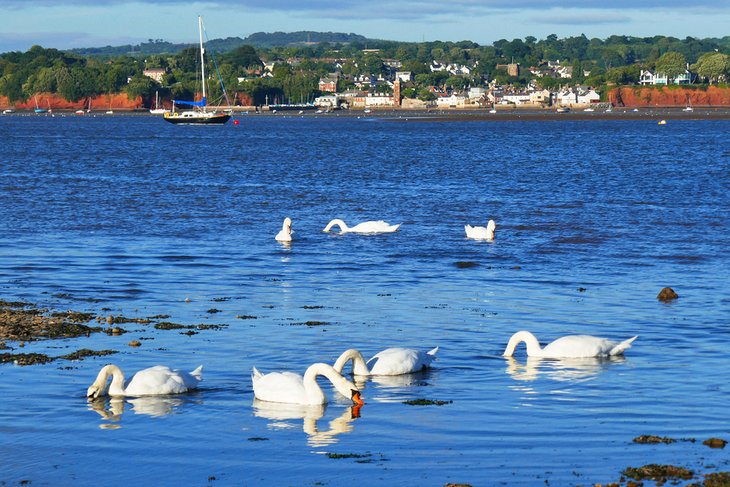 Extending from Exmouth to Exeter, the River Exe and its estuary offer plenty of opportunities for outdoor enthusiasts to indulge their passion. This 10-mile stretch of water not only offers superb scenery, it's also well known as an important natural habitat that's home to numerous species of birds and other wildlife.
Starting in Exmouth, you can join a network of trails that follow the estuary northwards, taking in some of its most attractive and remote sections along the way.
Many of these paths are also well-suited for biking, with paved sections also being wheelchair and stroller friendly.
The most popular, the Exe Estuary Trail, is a 26-mile trail that extends along both sides of the estuary. Flat and easy to navigate, it offers serious bikers an excellent excuse to explore the area.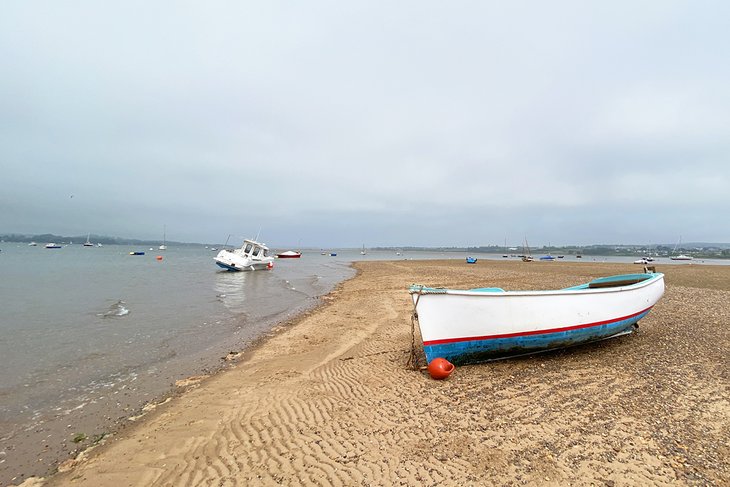 A number of sightseeing cruise options are also available, with some private charters tackling the whole River Exe journey, including a section of the historic Exeter Ship Canal, England's oldest man-made waterway.
Also fun is taking the ferry across the Exe Estuary to Dawlish Warren. This pretty seaside village at the mouth of the estuary boasts a great beach and a nature reserve, along with traditional seaside attractions such as amusement arcades and a wide promenade.
Location: Exmouth, Devon
Official site: www.exe-estuary.org
3. Take the Kids to World of Country Life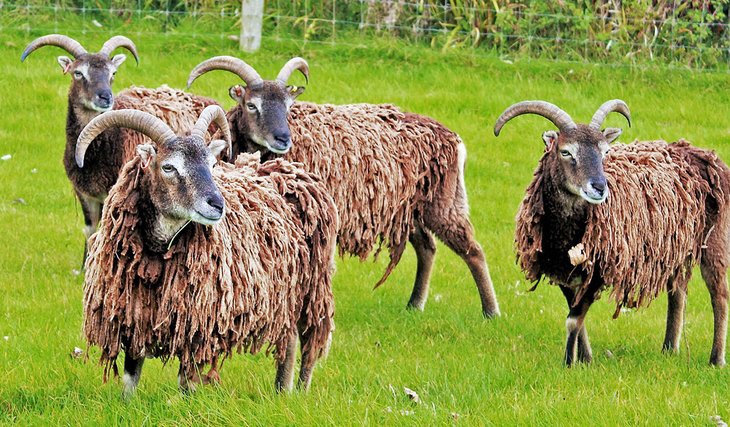 A short 10-minute drive east of Exmouth will take you to the World of Country Life in Sandy Bay. One of the top family attractions in Devon, the stars here are the many animals the kids can interact with.
Friendly critters large and small can be seen, and, in many cases, petted in the property's many paddocks and barns. In addition to native species such as deer and sheep, which you can feed, kids can get up close to more exotic animals such as llamas and alpacas and even take a goat for a walk.
Other creatures the kids can meet include pygmy goats, donkeys, ferrets, and calves, along with feathered friends including, ducks, geese, and chickens.
There's also a museum component to the attraction. The park's replica Victorian-era street with its shops and homes is educational and fun to explore, as is the Hall of Transport with its impressive collection of antique cars, motorbikes, and vintage steam tractors.
Snacks are available on-site, too, and there's a large play area complete with life size diggers and even a pirate ship.
Address: West Down Lane, Sandy Bay, Exmouth, Devon
Official site: www.worldofcountrylife.co.uk
4. See 16-Sided A La Ronde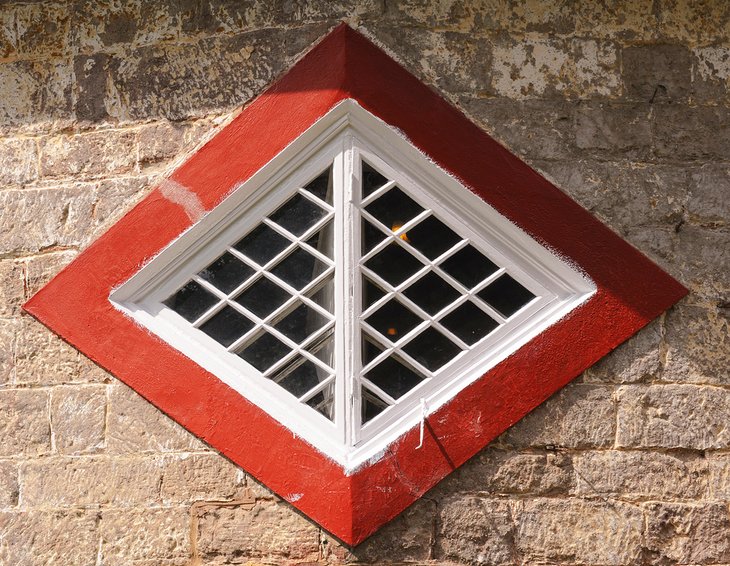 If you can pull yourself away from Exmouth's lovely, revitalized waterfront area long enough, allocate a little time to explore A La Ronde. This unique 16-sided house was constructed in 1796 by two "ladies of means" who loved the countryside so much they wanted to spend their summers here.
The home is certainly unique, and extremely attractive. Built from local stone with a tall roof crowning the structure, it's as charming on the inside as it is on the outside.
Interior highlights include the central hall, a large octagonal space from which the other main living spaces are accessed. Glance upward and you'll see the unique shell gallery, decorated with glass, stones, pottery, and yes, plenty of seashells.
For a special treat, book an afternoon tea experience. Afterwards, explore the grounds and you'll find the delightful Point-In-View chapel. Set in the midst of a three-acre meadow, this picture-perfect church was built especially for the original owners of A La Ronde and still hosts regular services.
Address: Summer Lane, Lympstone, Exmouth, Devon
Official site: www.nationaltrust.org.uk/a-la-ronde
5. Take a Hike along the Exmouth and Orcombe Point Walk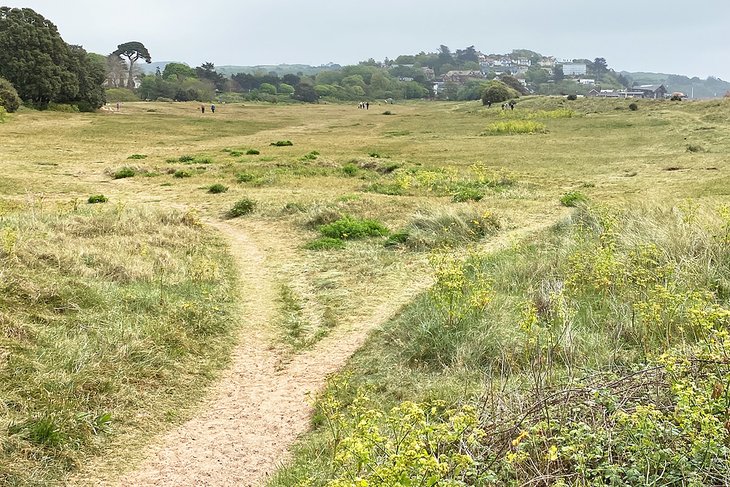 Taking a leisurely hike along the five-mile-long Exmouth and Orcombe Point Walk is an excellent way to get to see the best bits of both the town and its surrounding countryside.
Starting at the train station in downtown Exmouth, this circular route also takes in some of Exmouth's most popular parks and green spaces, including Manor Gardens and The Maer, an important nature reserve that's popular with bird-watchers.
Once past The Maer, you'll pick up the coastal portion of your walk at Exmouth's lifeboat station; if you've got time, stop in for a free tour and a visit to the gift shop.
Following the South West Coast Path eastwards, you'll get great views over Exeter Beach and your ultimate destination, Orcombe Point.
You'll know you've arrived at Orcombe Point when you reach the Geoneedle. Standing nearly 17 feet tall, this impressive sculpture was erected to represent the 180-million-year history of the spectacular Jurassic Coast UNESCO World Heritage Site, which stretches from Exmouth all the way to Lyme Regis in Dorset.
The walk is an especially pleasant place to visit in spring and summer due to the bountiful wildflowers you'll see along the way.
Address: Foxhole Hill Road, Exmouth, Devon
Official site: www.nationaltrust.org.uk/exmouth/trails/orcombe-point-circular-walk
6. See the Birds in Flight at Hawkridge Bird of Prey Centre

The Hawkridge Bird of Prey Centre is another great Exmouth attraction that offers animal experiences. Located next door to World of Country Life, this first-rate attraction focuses as much on the educational aspect of the birds in its care as it does on offering unique hands-on experiences for its guests.
In addition to scheduled "flights" of birds of prey, including hawks, eagles, and owls, the center offers a variety of fun-filled experiences.
These include everything from a modest one-hour personalized session involving some bird handling, a half-day family experience, all the way to an intensive five-day course that immerses guests in all aspects of the care and well-being of these fascinating creatures.
Address: West Down Lane, Sandy Bay, Exmouth, Devon
Official site: www.hawkridgebirdsofprey.com
7. Swim at Sandy Bay Beach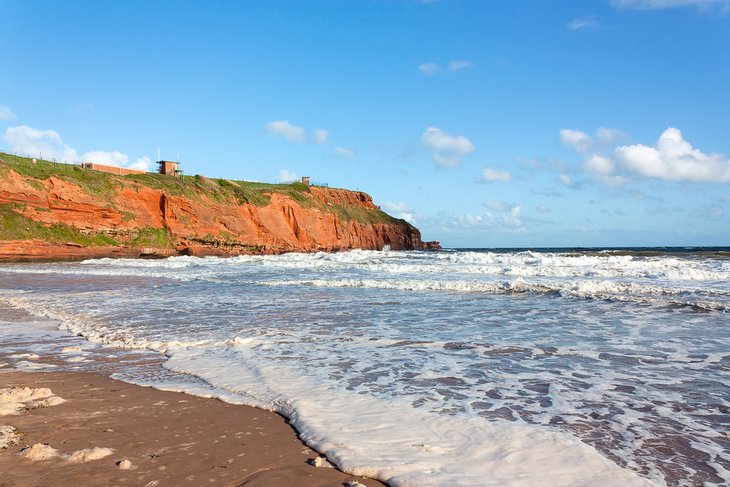 Located just a 20-minute walk farther along the coast, east of Orcombe Point, Sandy Bay Beach is another highly rated Devonshire beach you should visit.
Stretching for nearly a mile, this long, sandy, Blue Flag awarded beach is perfect for families looking for somewhere safe to take the kids swimming.
Sheltered by Straight Point, a cliff-lined premonitory that's also worth a visit for its spectacular views, Sandy Bay Beach slopes gently down to the clear, clean water and offers a shallow, safe area for the kids to splash about and play.
At low tide, a world of marine life is available to explore in the many rockpools revealed. Lifeguard service is provided in peak season; amenities include ample parking, public washrooms and change facilities, as well as a café and restaurant.
Location: Sandy Bay, Devon
8. See the Flowers Bloom in Manor Gardens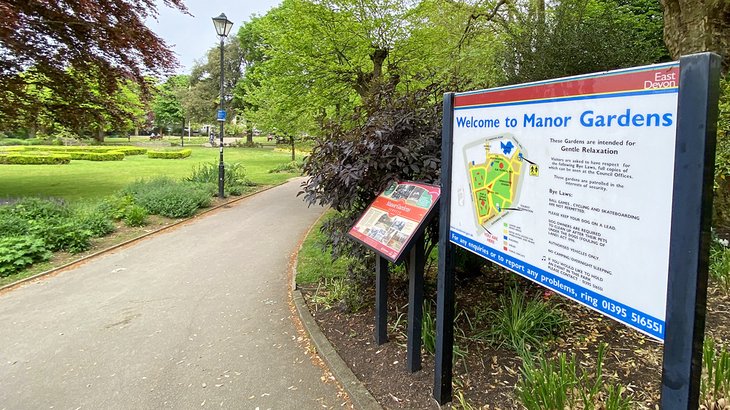 Once part of a large country estate, Manor Gardens is easy to get to from both the beach and the town center.
Established for public use around in the early 1900s, this attractive green space is among the best places to visit in springtime and summer, when its many flowerbeds are a riot of color.
Wander the pathways dissecting the gardens, and you'll see numerous native and exotic flower specimens, as well as a number of tree species that thrive in the relatively mild climate here. Another highlight is the rose garden, which blooms in June.
During the warmer months, a number of fun events are hosted in the park. In addition to theatrical performances, a program of free live music runs throughout the summer.
Address: Alexandra Terrace, Exmouth, Devon
9. Get Back to Nature at The Maer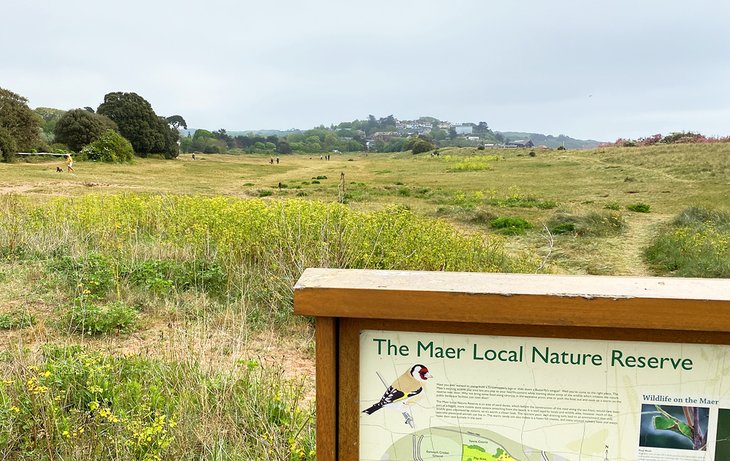 The Maer is sandwiched between the homes and businesses of the eastern section of Exmouth and the beach. Now a nature reserve (though a corner is set aside for a cricket pitch), this large green space was once part of a network of large sand dunes.
Today, its sandy soil and many native plant species make it a perfect environment for a variety of ecologically important insects, including many bees. This abundance of insects has led to the Maer being an important breeding and feeding ground for countless birds.
Bird-watchers in particular are drawn here to catch rare skylarks in flight as they feed. The Maer is also popular to visit in early summer when its blossoming evening primrose adds a dash of color.
Plenty of parking is available, and there are washroom facilities, amusement arcades, and beach huts located nearby.
Address: Queen's Drive, Exmouth, Devon
10. Take a Drive to Budleigh Salterton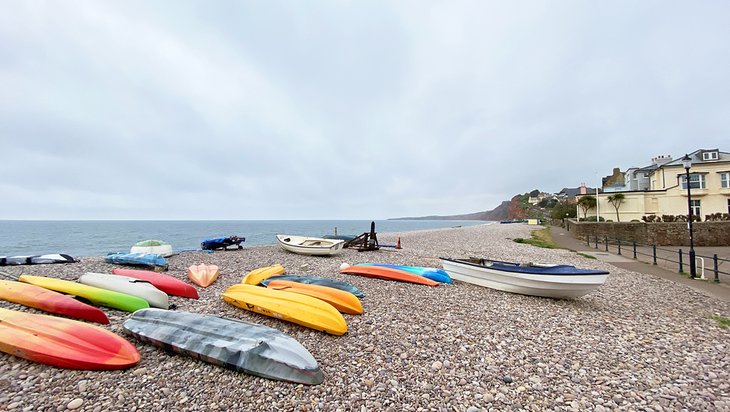 Take a pretty drive 15 miles east of Exmouth, and you'll find yourself in the idyllic coastal village of Budleigh Salterton.
This pretty small town is largely unspoiled by commercial development and offers the kind of traditional seaside experience every tourist should include on their England travel itineraries.
In addition to a wide shingle beach with its unique, red-tinted pebbles, there's a lovely promenade to explore. Stretching from the Otter River to the west end of town, here you'll find many photo-worthy scenes to capture, including a fleet of small fishing craft hauled onto the beach.
The Otter River is especially nice, and if you time it right, you may be lucky enough to see flocks of seabirds cleaning themselves in its fresh, gently burbling waters.
Location: Marine Parade, Budleigh Salterton
Map of Things to Do in Exmouth, Devon