10 Best Things to Do in Exeter, Devon
The historic cathedral city of Exeter boasts no end of things to do for visitors looking to experience an authentic small city vacation in England. The county town of Devon, Exeter was established by the Romans some 2000 years ago as a gateway to the southwest, a role it was perfectly suited for given its location on the wide River Exe, which is navigable and flows southward from here to the English Channel.
Spend a day or two in this charming city today and you'll find countless interesting places to visit. Historic sites are everywhere, from Medieval bridges to landmarks added later as the city's industrial and economic importance increased in Victorian times. Some of these, such as Exeter Quayside, have been revitalized and repurposed as major tourist and entertainment attractions, further enhancing the city's reputation as a must-visit travel destination in the UK.
To learn more about this exciting university city in England, be sure to read through our list of the best things to do in Exeter, Devon.
1. Take a Guided Tour of Exeter Cathedral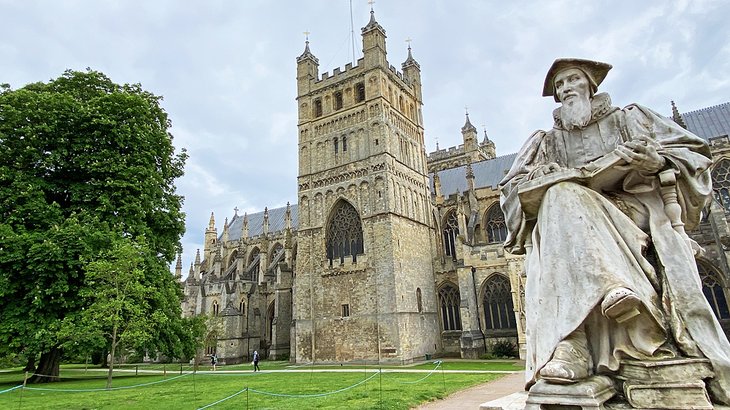 Officially known as the Cathedral Church of Saint Peter in Exeter, Exeter Cathedral was established in 1133 but has been much altered over the years. Its squat, almost square appearance looks quite unlike most other English cathedrals. Boasting Gothic flourishes, its ornate western-facing façade was added some 300 years later in the 14th century, when the construction was finally completed.
The seat of the Bishop of Exeter, the cathedral's interior is equally interesting and contains many well-preserved flourishes from different time periods. Its most notable interior features include a unique 15th-century astronomical clock, a collection of 50 medieval-era misericords that once served as a form of prayer stool, and an ornately carved minstrels' gallery dating from the mid-1300s.
Exeter Cathedral also boasts the world's longest medieval-era stone-vaulted ceiling, as well as one of the oldest cathedral libraries in England. Established in the 11th century, it still contains one of the original books that formed the basis of the library around 1050. A more recent addition to the cathedral includes a Boer War memorial, added during renovations in the 19th century.
A great way to get the most out of your visit to this must-see cathedral is as part of a guided tour. A variety of tour options are available, including one that features a climb up to the cathedral's roof. Fun nighttime tours up to the tower area also available. Audio tours are available for those who prefer to go it alone. A gift shop and café are also available for guests to enjoy.
Address: 1 The Cloisters, Exeter, Devon
Official site: www.exeter-cathedral.org.uk
2. Shop, Dine, and Be Entertained at Exeter Quayside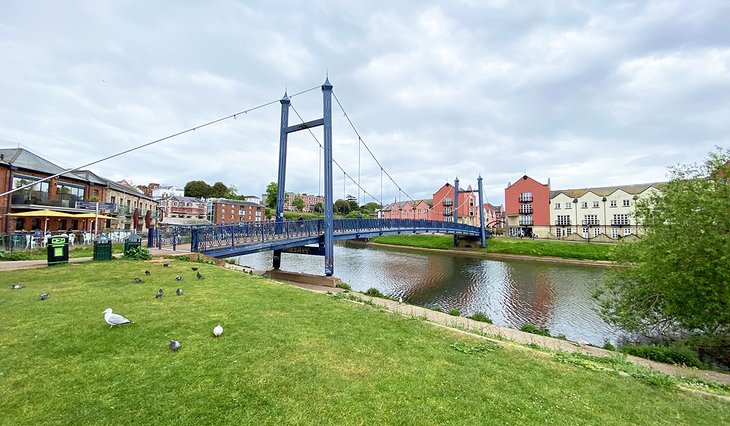 Visitors are often surprised to learn that Exeter, although some miles from the sea, has a long history as an important port. It's situated on the River Exe, and evidence exists that the Romans in fact settled here nearly 2,000 years ago for its convenient river access to the English Channel.
Though lost for a period of time, this connection was re-opened in 1563 with the development of a ship canal leading to Exe Estuary and, eventually, the open sea. Exeter Quayside was also developed around this time, with some of the original buildings dating from this period of rapid development. The oldest surviving building, the Custom House, was built in 1680 and now serves as a useful tourist information center and gift shop.
Redeveloped and rejuvenated, Exeter Quayside is today a vibrant district that's within an easy walk of the cathedral and is a delight to explore. Highlights include a lovely riverside park with plenty of benches from which to gaze at the water and watch the world go by, as well as numerous eateries and shopping outlets.
For other fun things to do, you can rent bicycles to explore the pleasant quayside trails, or even rent a kayak or canoe and hit the water.
Address: The Quay, Exeter, Devon
Official site: www.exeterquayside.co.uk
3. Royal Albert Memorial Museum and Art Gallery (RAMM)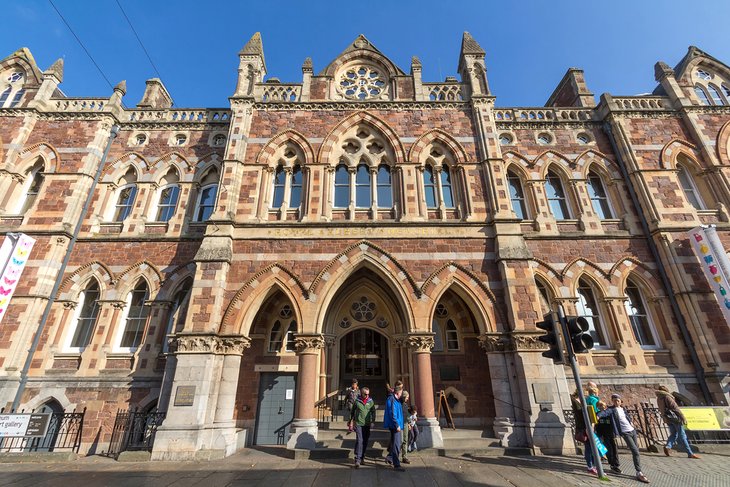 Known affectionately by locals simply as "the RAMM," the Royal Albert Memorial Museum & Art Gallery is Exeter's largest and most important cultural attraction. Established in 1868 and set in a historic 18th-century building just a few minutes' walk away from Exeter Train Station, the museum underwent a major renovation in 2011 and is well worth visiting for all ages.
Highlights of a visit include exploring the museum's large collection of nearly a million artifacts related to zoology, anthropology, geology, and archeology. While only a fraction of this huge collection is on display at any one time in its 16 galleries, exhibits and information is laid out in an easy-to-follow and compelling manner using state-of-the-art technology.
The RAMM has also built up a solid reputation for its impressive collection of artworks. It's also a popular stop for traveling exhibits from other galleries across the globe, with temporary exhibits changing frequently in addition to regular educational programs and workshops for both kids and adults. A café and gift shop are located on the premises.
Address: Queen Street, Exeter, Devon
Official site: https://rammuseum.org.uk
4. Visit Exeter's Underground Passages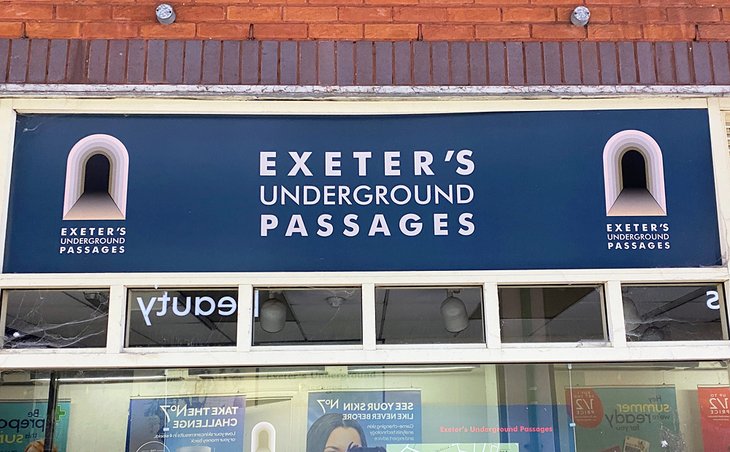 Exeter's unique Underground Passages offer a fascinating look at the city's early infrastructure. Dating back to medieval times, the city's unique network of underground passageways and tunnels were originally built to provide clean drinking water from a series of springs located outside the city walls.
The only such water system in Britain, it initially consisted of a series of lead pipes, with the tunnels we see today added later to allow repairs and upgrades to be carried out underground without causing disruption for the city folk moving about on the streets above.
Exeter's Underground Passages are accessible today via a 30-minute-long guided tour, which includes entry to a visitor center with fascinating interactive displays showing how the system was built and operated. Other highlights include film and video presentations, artifacts discovered during archaeological digs, and a gift shop.
Address: 2 Paris Street, Exeter, Devon
Official site: https://exeter.gov.uk/leisure-and-culture/our-attractions/underground-passages/
5. Enjoy a Private Tour & Afternoon Tea at Exeter Historic Guildhall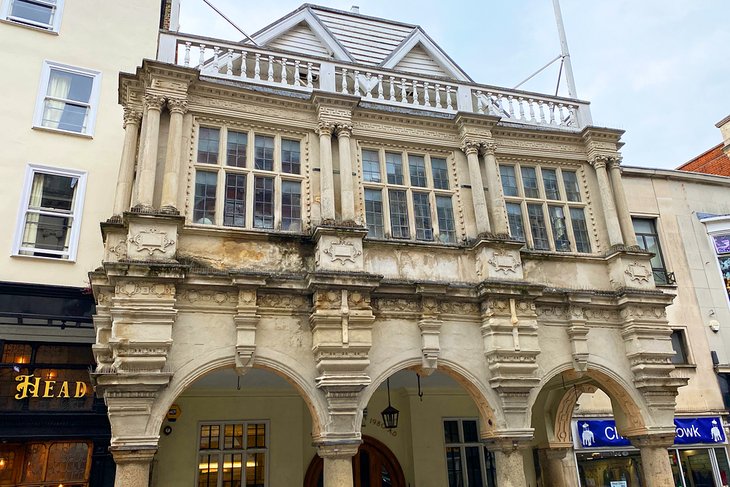 Dating all the way back to the 1100s, Exeter's historic Guildhall stands as a testament to the city's importance as a place of trade and governance. It's located on the High Street near the cathedral. While the building's façade is a more recent addition (it was added around 1590), much of the rest of the structure remains little changed.
In fact, with records indicating the building was in use in the latter half of the 12th century, Exeter Guildhall is thought to be the oldest municipal building still being used for the purpose for which it was designed. Other notable features include the oak door dating from the 1590s, the original roof, and an impressive 18th-century chandelier.
Still often used for city functions and banquets, the public can visit this remarkably well-preserved historic building as part of a private guided one-hour tour which can be tailored to your specific interests. For a real treat, ask to have a cream tea added to your tour.
Address: 203 High Street, Exeter, Devon
Official site: https://exeter.gov.uk/leisure-and-culture/our-attractions/exeter-guildhall/
6. Visit Northernhay Gardens, England's Oldest Public Park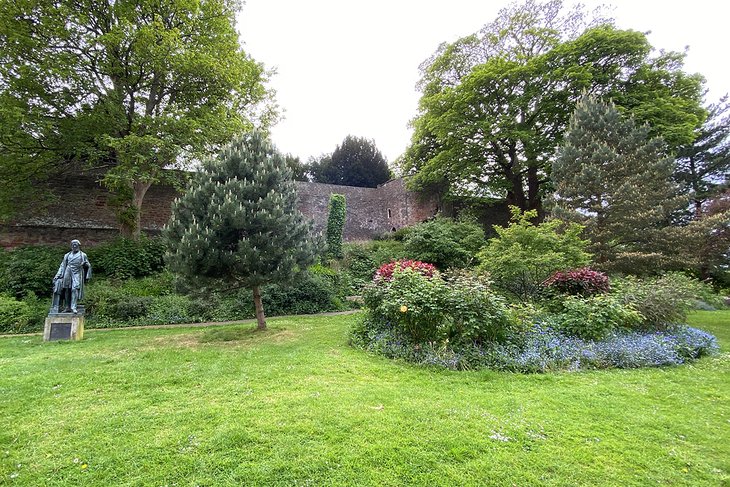 Located just behind always bustling Exeter High Street, lovely Northernhay Gardens has the distinction of being England's oldest public open space. Established in 1612 for city citizens, the site was known to have been used by the Romans as a quarry. In addition to a section of Roman wall, the park is also where you'll find a section of England's only surviving Saxon town wall, too.
It also has the distinction of being one of the city's largest parks. Consisting of 1,200 acres of lawns and gardens, there's plenty of room to wander. The park is also home to a number of important Exeter memorials and Victorian-era statues, including Athelstan's Tower war memorial, as well as a bandstand.
In addition to enjoying superb views over the city, visitors will enjoy setting up for a picnic on the grass or catching one of the seasonal events or concerts regularly held here.
Address: Northernhay Gate, Exeter, Devon
7. See Exeter's Oldest Building: St. Nicholas Priory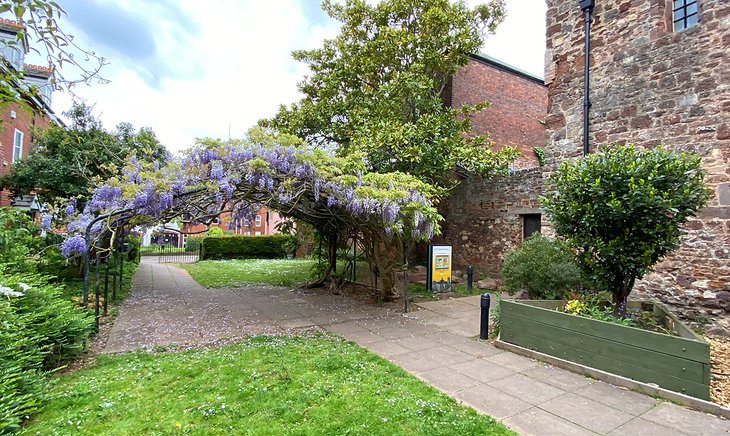 Tucked away in an area of impressive old homes and set on a narrow laneway known as The Mint stands Exeter's oldest building: St. Nicholas Priory. Established by William the Conqueror in 1087 and over 935 years old, this remarkably well-preserved timber-framed building was turned into a merchant's home under Henry VIII's rule and offers a fascinating insight into life during the Tudor period.
Located on the Exeter Woollen Trail and well-known for its important role in the city's most famous trade, the building was eventually taken over by the city and turned into a fascinating living museum. Highlights of a visit include a working medieval kitchen, Tudor-period furnishings in the parlor and bed chamber, as well as the impressive Great Hall.
While now only open on Sundays for guided tours, it also serves as a unique function space and venue. Check the attraction's website for details, including news of upcoming plays and performances.
Address: The Mint, Exeter, Devon
Official site: www.nicholaspriory.com
8. Visit the Medieval Exe Bridge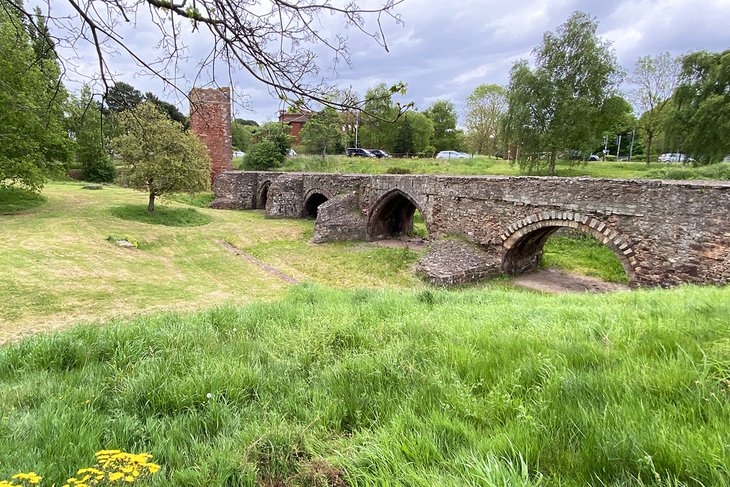 Located just a short walk along the river from Exeter Quayside, the medieval Exe Bridge is another reminder of the city's former importance as a place of trade and commerce. Built in 1214, nearly half of this once 590-foot-long bridge survives to this day and has the distinction of being the oldest and largest of its kind to have survived.
In addition to once having up to 18 arches (8.5 have survived), the bridge's chapel has also survived. Known as St. Edmund's Church, it's a reminder that almost all such bridges were built with chapels on them as a place to give thanks for a safe crossing. In its heyday, the bridge would also have supported numerous other buildings. Once a marsh, the surrounding area is now a park.
9. Cross the Iron Bridge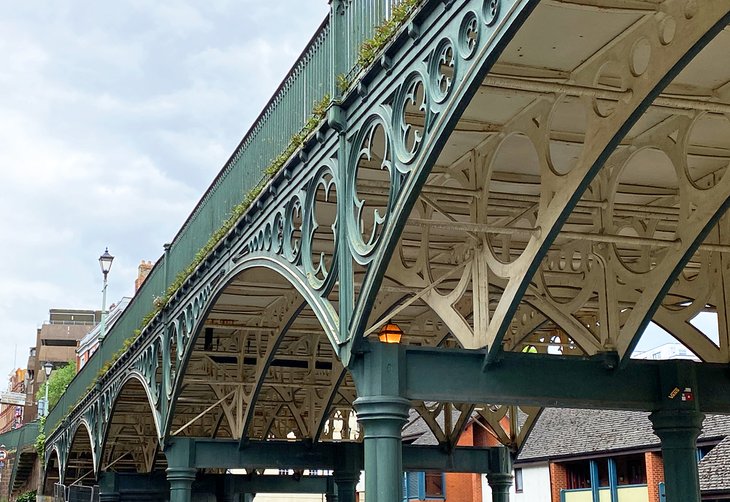 Another historic feat of engineering worth visiting is the Iron Bridge. Built over Longbrook Valley in the 1830s, this elegant structure allowed traffic and trade to enter the city near the former North Gate without having to make the difficult climb through the valley.
The bridge is made from cast iron pieces that were shipped into Exeter and assembled, and the end result is an 800-foot-long bridge with 40 arches that looks like a piece of artwork.
After crossing over the bridge, be sure to take the steps leading down to its base in order to fully appreciate its scale.
Location: St. David's Hill Exeter, Devon
10. Exeter Castle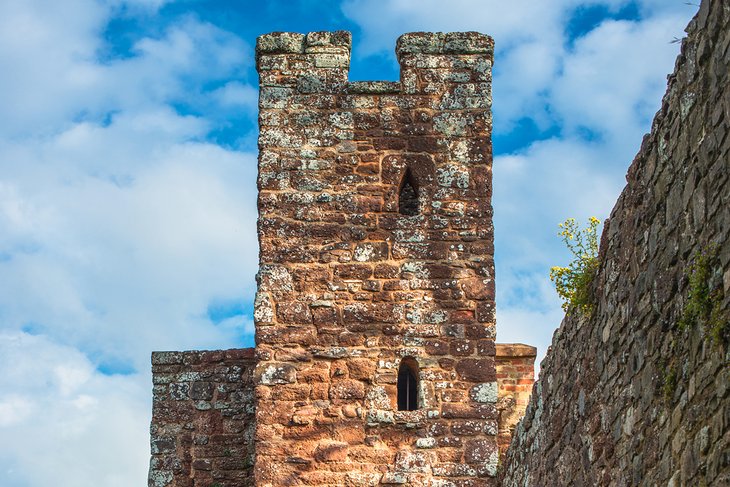 Also known as Rougemont Castle, Exeter Castle was built on the site of the old Roman walls in 1068. While little now remains other than a set of picturesque ruins, the castle was once an important part of the city's defenses, and is even included in William Shakespeare's epic play, Richard III.
The castle was named after the red stone used in its construction, which can still be observed in the surviving Norman gatehouse. You can access the old castle through either Northernhay or Rougemont Gardens.
Address: Castle Street, Exeter, Devon
Official site: www.exetercastle.uk/history/
Map of Things to Do in Exeter, Devon
Exeter - Climate Chart
Average minimum and maximum temperatures for Exeter, United Kingdom in °C
J
F
M
A
M
J
J
A
S
O
N
D

8

3

8

3

10

3

12

4

16

7

19

11

21

12

21

12

18

10

14

8

11

5

9

4

PlanetWare.com
Average minimum and maximum temperatures for Exeter, United Kingdom in °F
J
F
M
A
M
J
J
A
S
O
N
D

47

37

46

37

50

38

54

40

60

45

66

51

70

54

69

53

64

50

58

46

52

41

48

39

PlanetWare.com