12 Best Beaches in Devon, England
Unique for having two distinct coastlines, the county of Devon in southwest England unsurprisingly boasts some of the very best beaches in England.
Devon's southern shoreline boasts its fair share of beach action. Here, you'll find many sandy beaches in the resort towns of Torquay and Exmouth, each offering an experience guaranteed to satisfy your particular beach preferences.
While most of Devon's north coast consists of rugged headlands and bays, there are also some great beaches here, most notably Woolacombe and Westward Ho!.
In fact, whether you're at the beach to partake in water activities such as surfing or kayaking, or here with the kids to enjoy a traditional seaside vacation, Devon delivers.
To learn more about the best places to enjoy a beach vacation in this beautiful county, read through our list of the best beaches in Devon, England.
1. Exmouth Beach, South Devon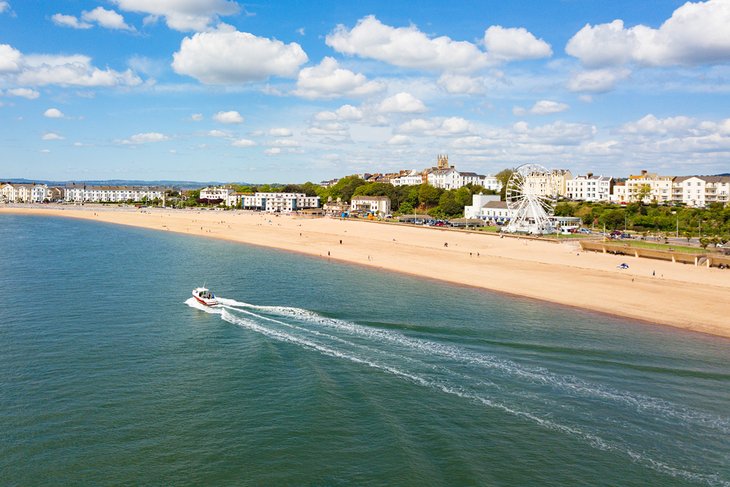 The popular seaside resort town of Exmouth offers a number of fun beach experiences.
Exmouth Beach, also known as Blenny Beach, is the town's main beach and features a wide two-mile stretch of south-facing sand that's popular with families for its shallow, clean waters. And at low tide, exposed rockpools offer a whole new world to explore.
Water sports enthusiasts looking for adventure are also keen on Exmouth Beach. For them, there's plenty of fun things to do on the water, from the adrenaline rush of kitesurfing to bodyboarding and traditional surfing.
Those seeking a gentler on-water pace can enjoy activities including kayaking and canoeing expeditions along the famous Jurassic Coast, which starts in Exmouth, as well as paddleboarding. Whatever your preference, a number of outfitters line the beach and offer lessons and equipment rentals.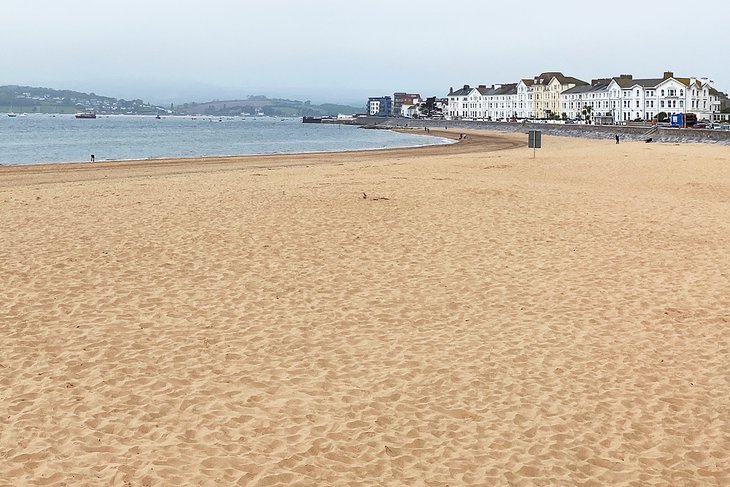 What's Nearby?
Off-beach fun includes strolling the promenade or even taking a hike along a portion of the South West Coast Path, a 630-mile-long trail that extends along both Devonshire coastlines.
There are plenty of things to do in Exmouth, with shopping, dining, and entertainment opportunities along the seafront and downtown.
Address: The Esplanade, Exmouth, Devon
2. Tunnels Beaches, Ilfracombe, North Devon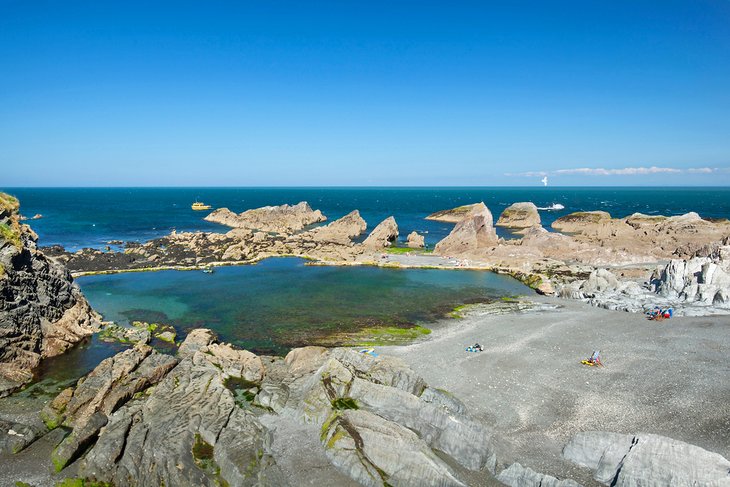 Situated in the town of Ilfracombe on Devon's north coast, Tunnels Beaches offers a seaside experience unlike any other.
Privately owned and operated, access to both the "Ladies' Beach" and the "Gentlemen's Beach" does require a small entrance fee, but it's certainly money well spent.
The beach is named after the four cliff-face tunnels that were carved out during the late Georgian era, and what it lacks in sand (it's predominantly shingle) it makes up for in its fun quotient, and scenery.
While much of the beach is hidden at high tide, low tide reveals rugged rocky outcrops and rockpools just begging to be explored.
A low tide highlight is the revealing of a large tidal pool. Built at the same time as the tunnels, it holds plenty of water so visitors can continue to enjoy fresh, clean sea water without having to venture too far from their spot on the beach.
Popular for weddings and other functions, this relatively small beach can get busy, so arrive early if you intend on enjoying this top Devon attraction for more than a few hours.
A gift shop and café are located close by.
Address: Bath Place, Ilfracombe, Devon
Official site: www.tunnelsbeaches.co.uk
3. Paignton Sands, Paignton, South Devon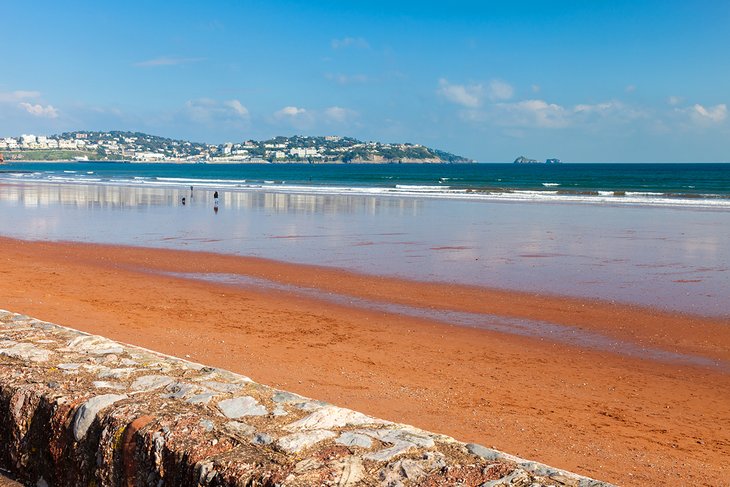 Ranked one of the top beaches in Torquay, Preston Sands offers a seaside experience equal to its English Riviera neighbor to the north.
This popular seaside resort of Paignton offers plenty of fun things to do for all ages, including its popular 780-foot-long pier attraction with its classic arcades and kids' rides, one of the top attractions in Torquay.
There's plenty of room to spread out and enjoy on Paignton Sands. In fact, when you include the adjacent Preston Sands, you've actually got over a mile of beautiful beach under your toes, and the beach is also within walking distance of Torquay's attractive harbor.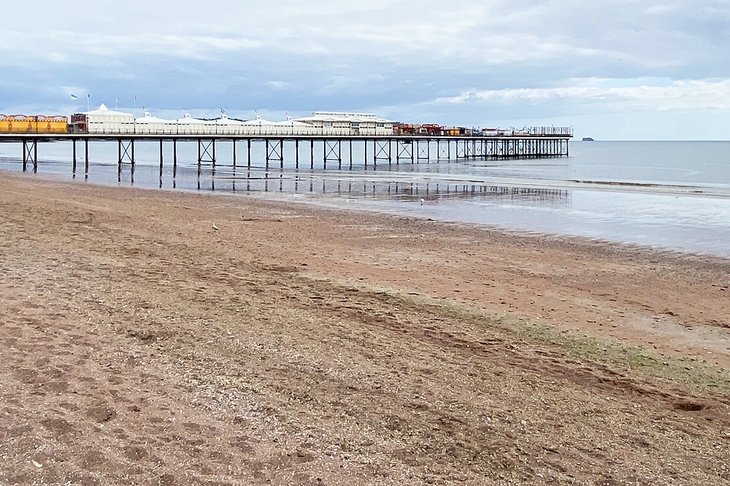 As well as being a great place for swimming and sunbathing, Paignton Sands is also fun for those who enjoy activities such as windsurfing and kayaking.
In addition to beach hut and deck chair rentals, other facilities include playgrounds, changerooms, and washrooms.
Address: Eastern Esplanade, Paignton, Devon
4. Bigbury-on-Sea Beach, Kingsbridge, South Devon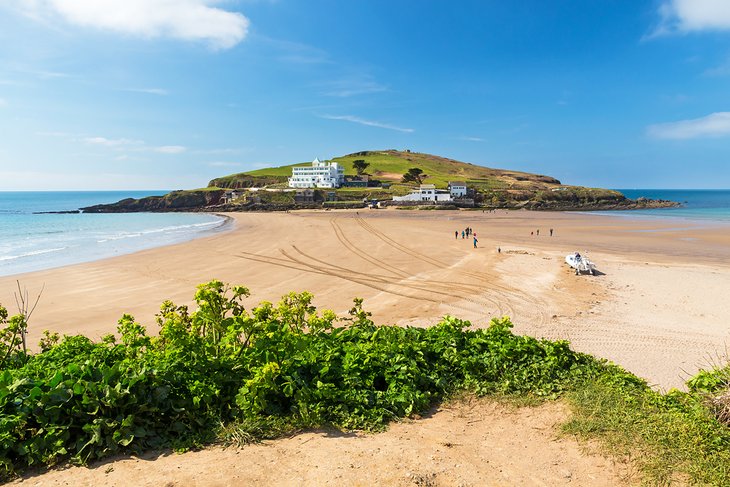 One of the top beaches in England, Bigbury-on-Sea Beach is located in one of the most picture-perfect spots in Devon.
Set in an officially designated Area of Outstanding Natural Beauty, this attractive seaside village is 23 miles away from the English naval city of Plymouth. While a little secluded and requiring a car to get you there, it's well worth the effort.
The largest sand beach on Devon's south coast, it's popular for families wanting a less-busy beach experience. Although, when the kids do get tired of playing in the sand, there's plenty of fun things to do in the village, too, from playing at the arcades to getting ice cream.
The beach's remote setting and strong breezes also make it especially popular with surfers and windsurfers.
What's Nearby?
Nearby Burgh Island, just 270 yards way, is also fun to explore. It's accessible at low tide via a rocky causeway or at high tide by a specially adapted sea tractor. You can even opt to spend a night or two at the unique Burgh Island Hotel.
5. Woolacombe Beach, Woolacombe, North Devon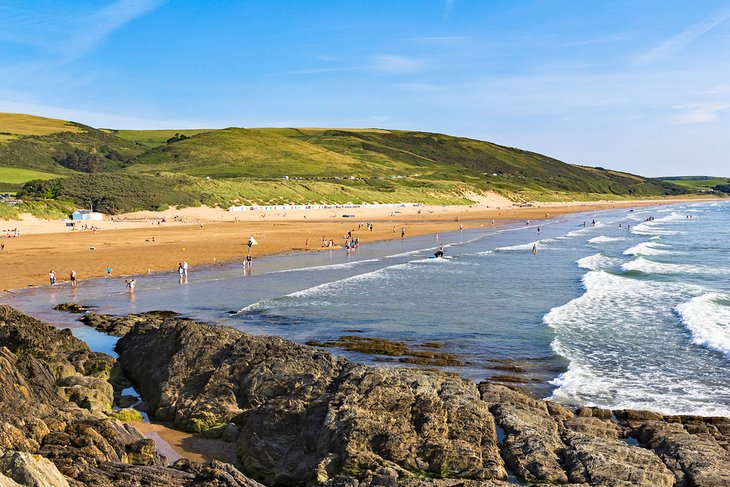 What's not to like about a long, wide beach that seems to simply go on forever?
Stretching for three miles along Devon's spectacular north coast, Woolacombe Beach is as popular with families looking for a safe and relatively roomy beach to take the kids to as it is hardcore surfers looking for the next big wave.
The water here is clean, clear, and usually not as cold as in other parts of the country, thanks in part to a relatively shallow shoreline.
Unlike many popular beaches in Devon, Woolacombe Beach allows dogs all year-round.
What's Nearby?
Facilities include a lifeguard station, washrooms, and plenty of places to grab a snack or meal in Woolacombe itself.
Address: Marine Drive, Woolacombe, Devon
6. Torre Abbey Sands, Torquay, South Devon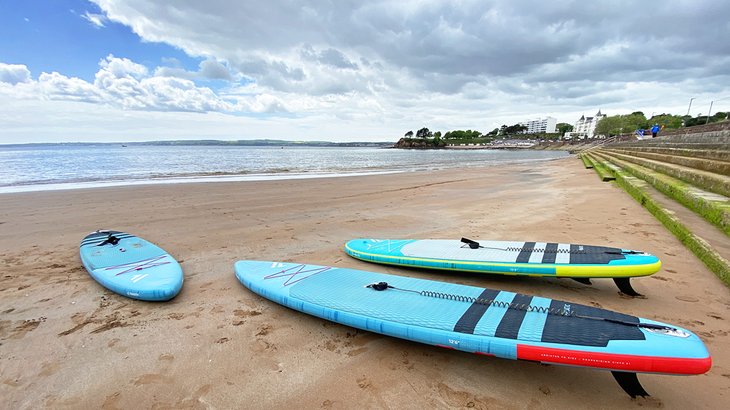 While there's no single stretch of sand on the English Riviera that's officially been named "Torquay Beach," it is in fact a term that's commonly used by visitors when referring to this lovely seaside town's main beach: Torre Abbey Sands.
The closest of Torquay's many beaches to the seafront attractions, arcades, entertainment, and other things to do near Torquay Harbour, the Blue-Flag-awarded Torre Abbey Sands boasts soft red sand that's regularly groomed and fun to play in.
The water here is clean, clear, and shallow, with safe lifeguard-supervised swimming, making it a great place for young and old alike to enjoy a swim.
What's Nearby?
In addition to a wide promenade and a circular bridge carrying pedestrians over the busy main road, there are easily-accessed public washrooms and changerooms. Deckchair rentals are available for those wanting to linger and enjoy the views or have a beachside snooze.
Address: Torbay Road, Torquay, Devon
7. Sidmouth Beach, Sidmouth, South Devon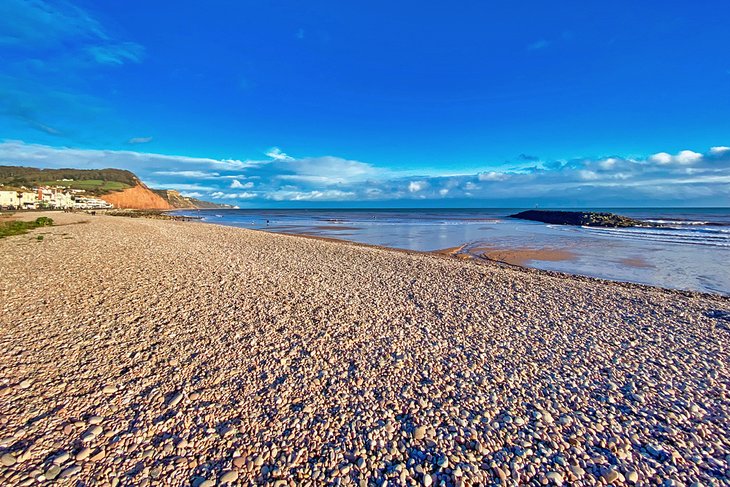 One of the most picturesque small seaside towns in England, Sidmouth is a scenic 15-mile drive from the cathedral city of Exeter and is home to one of the finest beaches in Devon.
Sidmouth Beach stretches almost 1.5 miles from Pennington Point to the magnificent Connaught Gardens. Hemmed in by red cliffs on either end, it's a very photogenic setting.
A mix of shingle and sand, it's close to the town's dining, shopping, and entertainment options when you need a break from all that sunbathing and swimming.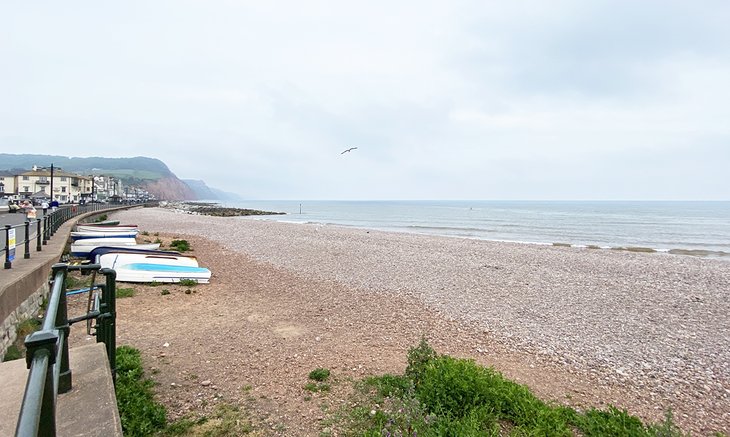 Fun things to do on Sidmouth Beach include rockpooling for marine life, kayaking, canoeing, and windsurfing. There's usually plenty of roadside parking, and public washrooms are available.
8. Jacob's Ladder Beach, Sidmouth, South Devon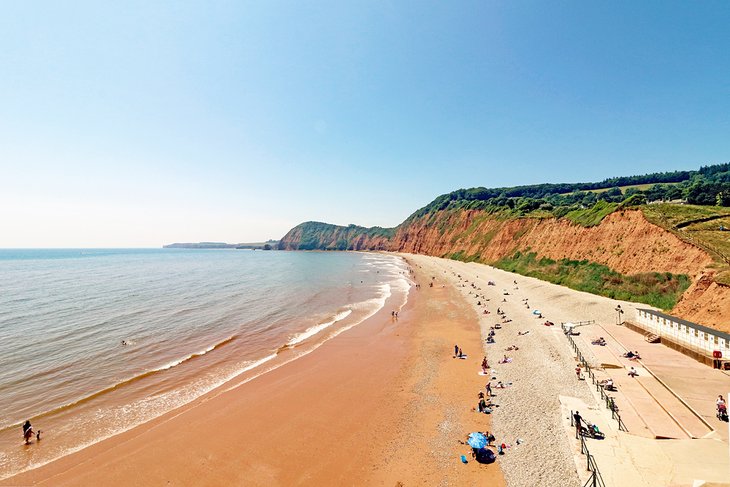 While you're in the area, venture to the far westernmost corner of Sidmouth Beach, and you'll find the lovely Jacob's Ladder Beach.
There are actually three ways to access this beach, all of them quite unique: take the South West Coast Path along (and, in some places, through) the cliff face, descend from the tall spiral staircase from beautiful Connaught Gardens, or take the steep paved pathway down from the street parking area on Peak Hill Road.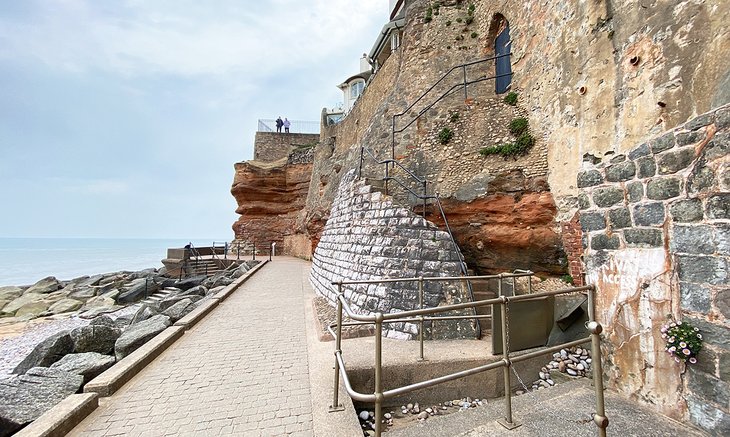 However you get to the beach (and you should certainly check out all three options for their incredible views), you'll want to linger on this lovely beach when you get there.
Made up largely of red- and pink-hued stones and pebbles, it's usually much quieter here than on many other Devon beaches, with its relative remoteness making it especially popular for couples and seclusion-seekers looking for a sheltered spot to sunbathe, swim, and relax.
Address: Peak Hill Road, Sidmouth, Devon
9. Budleigh Salterton Beach, South Devon
Located just five miles east of Exmouth, Budleigh Salterton is another attractive seaside small town offering a great beach experience.
Nestled between cliffs on either side, it's a sheltered spot that's well-suited to those who enjoy a less hurried pace. Featuring a pristine three-mile stretch of mostly pebble beach and calm, clean water, visiting Budleigh Salterton Beach is a little like stepping back in time.
Its unspoiled seafront is backed by a wide promenade and is lined with large old homes rather than the touristy eateries and souvenir shops usually seen in larger coastal towns.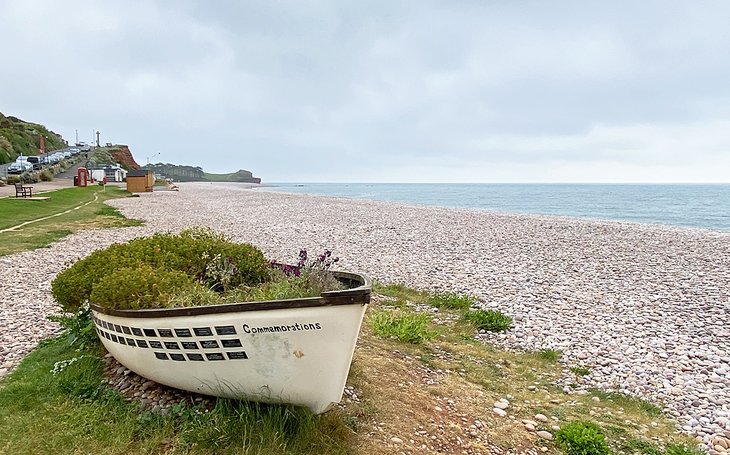 While beach amenities are relatively limited, public washrooms are located beachside, and beach huts are available for rent.
Into water sports? Budleigh Salterton Beach is popular with windsurfers, while the increasingly popular sport of kitesurfing is enjoyable here, too.
Address: Marine Parade, Budleigh Salterton Beach, Devon
10. Saunton Sands, Saunton, North Devon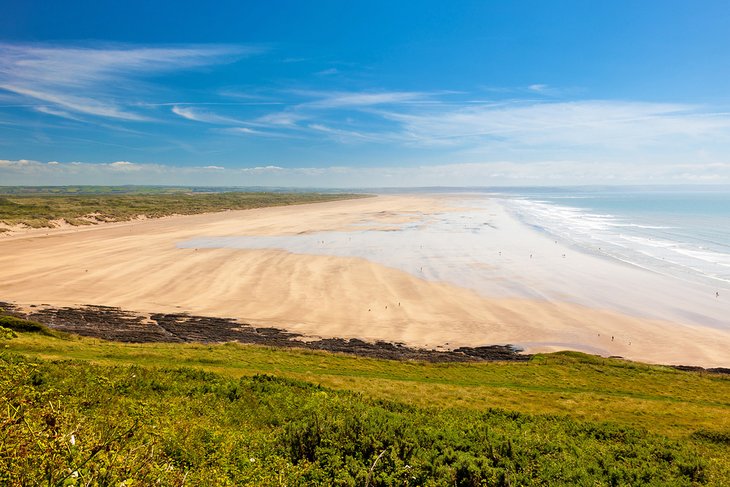 Located on Devon's north coast at the mouth of the River Tew, Saunton Sands features three miles of beautiful sandy shoreline and a relaxing, uncrowded beach experience.
It's popular with families not only for its wide, clean stretches of sand that slope gently towards the shallow waters, but also for the many sand dunes it backs onto. These tall dunes are not only fun for kids to play on, they're also a great place to teach youngsters about the vegetation and wildlife that live and grow on them.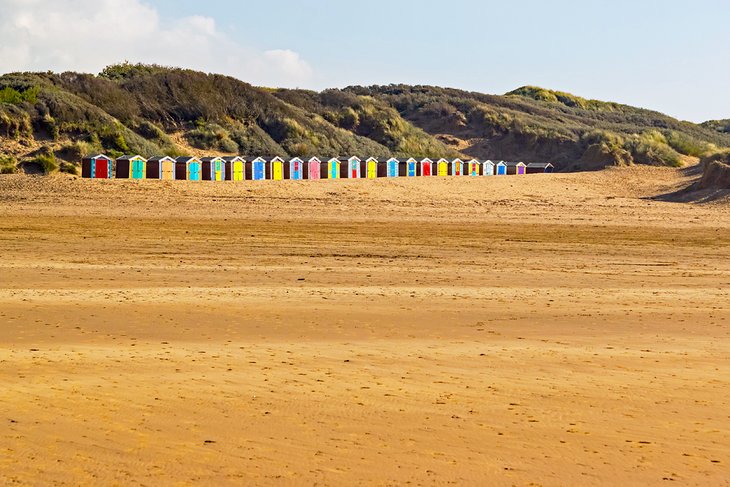 Other popular activities on this pet-friendly beach include swimming and surfing.
What's Nearby?
Nearby amenities include public washrooms, as well as beach hut and beach chair rentals. There's also a restaurant and a shop, along with a surf shop offering lessons, sales, and rentals.
Address: Saunton Road, Saunton, Devon
11. Westward Ho! Beach, North Devon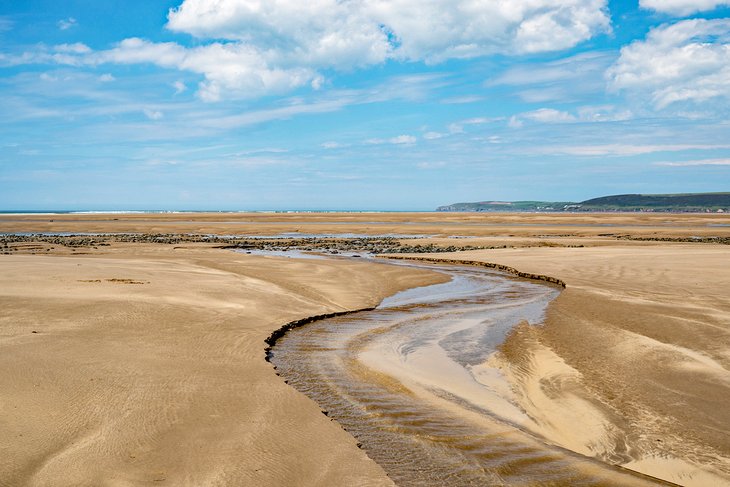 Westward Ho! Beach is located just across the mouth of the River Tew from Saunton Sands and offers an equally tranquil beach experience.
Families like the beach here as it's wide and sandy, gently sloping down to the shallow, clear water. Lifeguard services add an additional sense of safety and security during the peak months of the year.
Fun things to do on Westward Ho! Beach include rock-pooling at low tide, as well as exploring the nearby nature reserve, Northam Burrows Country Park, which is a popular spot for bird-watchers. Fun water sports enjoyed here include surfing, windsurfing, paddleboarding, and kayaking.
In addition to nearby eateries, a variety of shops sell beachwear and related souvenirs. Parking, including handicapped parking, is located close to the beach.
Address: Northam Burrows Road, Westward Ho, Bideford, Devon
12. Sea Swimming in Plymouth, South Devon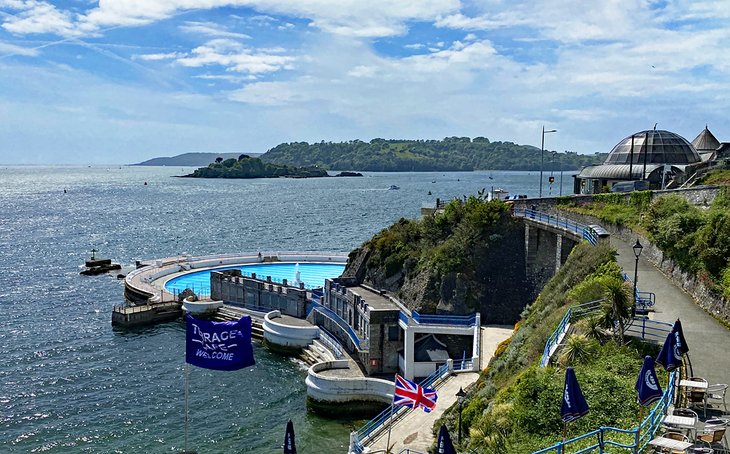 While the historic port city of Plymouth doesn't have much in the way of beaches due to its rugged, rocky coastline, it does pride itself on being a great place to swim.
Popular among sea swimmers, there are a number of locations in Plymouth offering safe entrance to the deep waters around the city.
One of the most popular is East Tinside Beach. Less a beach and more a dedicated "swim zone," it's located near the famous Tinside Lido and can be accessed via a steep set of steps. From here, swimmers can swim between the dedicated markers highlighting the swim zone and make use of an offshore dive platform. Given the rocky seabed, swim shoes are a must.
Another great spot for sea swimming in Plymouth is Devils' Point at Royal William Yard. Here, too, a dedicated swim zone is well marked with yellow buoys.
Address: Hoe Road, Plymouth, Devon