12 Top-Rated Tourist Attractions in Portsmouth
We may earn a commission from affiliate links ()
Portsmouth owes its importance to the magnificent natural harbor, which, since the days of the Spanish Armada, has served as the principal base of the Royal Navy. Today, Her Majesty's Naval Base, Portsmouth (HMNB Portsmouth) remains the most important naval station in Great Britain.
As a result, many of the city's most popular tourist attractions are related to naval history, particularly around the spectacular harbor area. Here, in Portsmouth Historic Dockyard, you'll find three of the country's most famous historic ships, each providing evidence of its past naval might: Lord Nelson's HMS Victory; Henry VIII's Mary Rose; and HMS Warrior, the Royal Navy's first ironclad warship.
Recognizing Portsmouth's strategic importance, the Romans built a fort here, a position later strengthened by Henry II. Richard II had the site extended by building a fortified palace adjoining the keep. In 1415, Henry V assembled his troops at Portsmouth before setting sail for France. But the city came under attack during WWII, when large parts of the town were bombed due to its strategic importance.
To learn more about why this city is one of the best places to visit in England for those interested in naval history, be sure to read our list of the top tourist attractions in Portsmouth.
Note: Some businesses may be temporarily closed due to recent global health and safety issues.
1. HMS Victory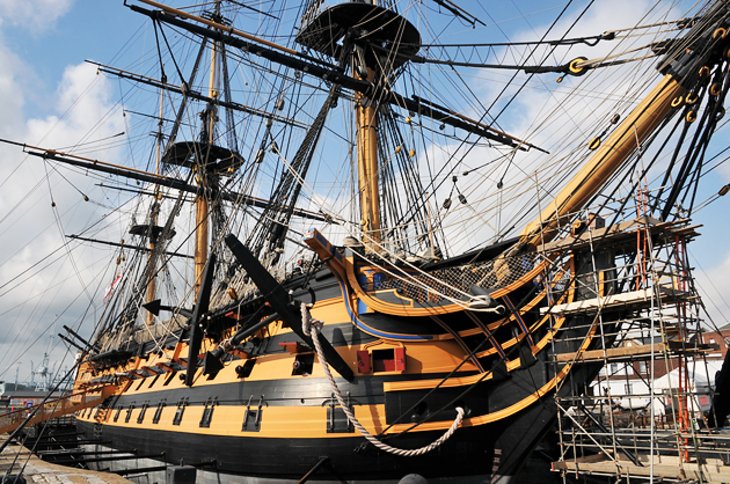 A short distance north of the landing stage for ferries to the Isle of Wight, in Portsmouth Historic Dockyard, visitors can find the gateway to the old docks and the site of Lord Nelson's famous flagship. Built in 1765, the magnificent 197-foot-long HMS Victory - along with its five decks and 104 cannons - has been beautifully restored to its former glory.
In his hour of victory at the Battle of Trafalgar in 1805, barely 20 minutes after he'd penetrated the French lines, Nelson was fatally wounded and died aboard his legendary ship.
Afterwards, visit the nearby National Museum of the Royal Navy. Here, you'll find numerous mementos relating to Nelson and seafaring in the 18th century, including a splendid 46-foot panoramic painting by William Lionel Wyllie recording the course of the battle.
Location: Main Road, HM Naval Base, Portsmouth
Official site: www.hms-victory.com
2. Mary Rose Museum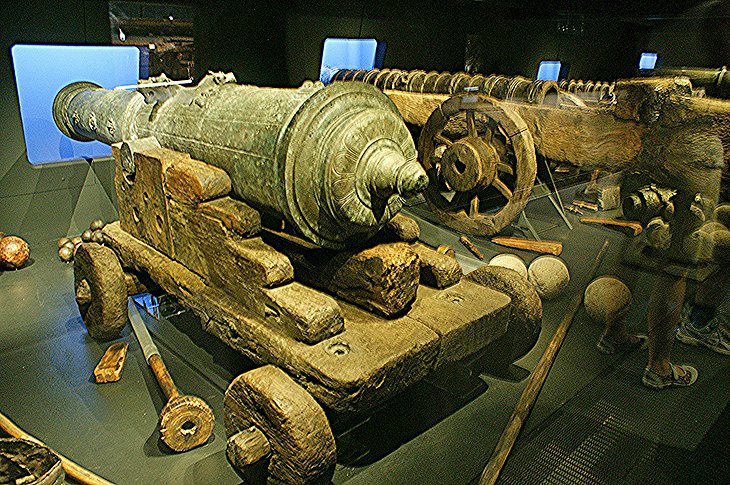 The famed Mary Rose, part of Henry VIII's fleet, is a ship of great historical interest. This four-deck vessel with its 91 bronze cannons was built in 1509 and enlarged to 700 tons in 1536. In 1545, during a sea battle against the French, it sank just a mile and a quarter from its homeport in the Solent.
Lifted from the bottom of the Solent in 1982, the remains of the vessel, consisting largely of sections of her hull, are now on display at the Mary Rose Museum.
In addition to seeing the formidable hull (now dry and preserved) up close, visitors can spend time exploring displays of some of the more than 26,000 rare artifacts discovered in the wreck, including personal items belonging to the crew, along with musical instruments and tools.
Address: No 3 Dock, Main Road, HM Naval Base, Portsmouth
Official site: www.maryrose.org
3. HMS Warrior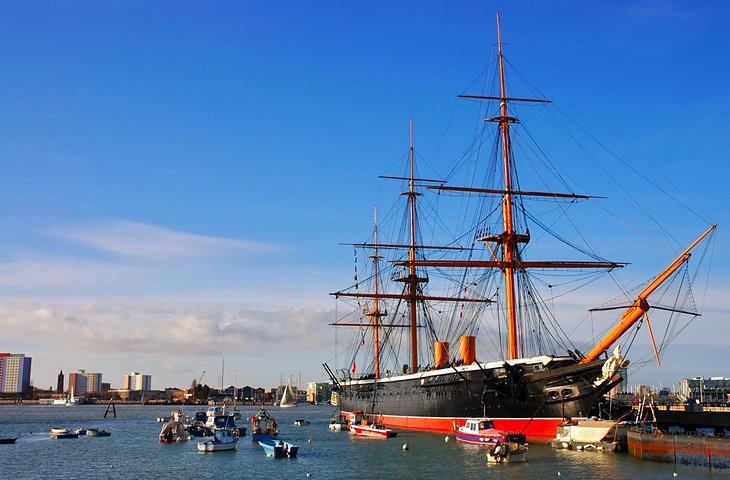 In June 1987, after eight years of restoration work in Hartlepool, HMS Warrior finally returned to its home port of Portsmouth. Launched in 1860 and one of the world's first iron-hulled warships, this 418-foot-long, 9,700-ton vessel ranked as one of the biggest and best-equipped vessels of its type.
Now a floating museum, HMS Warrior is a treat to explore. Highlights of a visit include seeing the restored crew quarters, including the Captain and officers' areas, along with displays portraying the often tough life at sea. For a truly memorable visit, you can even book a fun dinner experience aboard this historic vessel (it can even be booked for weddings!).
Also worth seeing is HMS M33. Built in 1915 and one of only three surviving WWI-era Royal Navy warships, this recently restored vessel can be viewed alongside HMS Warrior and HMS Victory at Portsmouth's Historic Dockyard.
Location: Victory Gate, HM Naval Base, Portsmouth
Official site: www.hmswarrior.org
4. Emirates Spinnaker Tower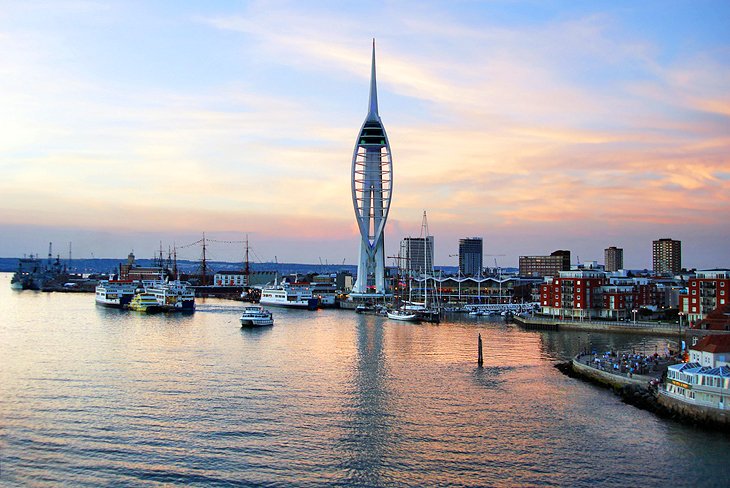 Soaring nearly 560 feet (170 meters) above the Solent, the Emirates Spinnaker Tower is a highlight of any visit to Portsmouth. Located on the waterfront at Gunwharf Quays, this popular tourist attraction offers wonderful panoramic views of the city and its spectacular harbor, as well as the south coast and the Isle of Wight.
On a clear day, views extend for up to 23 miles from the tower's three observation decks, as well as from its café, aptly named the Café in the Clouds (try the high tea!).
Once you've braved the glass-floored Sky Walk, spend time learning about the area using the interactive touchscreen system. Thrill seekers will want to try the breathtaking abseiling experience, which allows you to descend the exterior of the tower via ropes.
Location: Gunwharf Quays, Portsmouth
Official site: www.spinnakertower.co.uk
5. Royal Navy Submarine Museum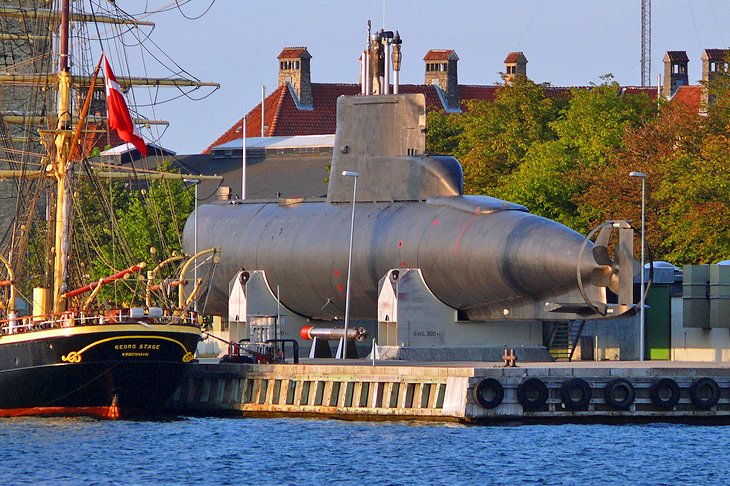 Just across the water from Portsmouth in Gosport is the Royal Navy Submarine Museum. Highlights include Britain's first submarine, Holland I, launched in 1901, along with HMS Alliance, launched just after the close of WWII.
Other notable displays include a German WWII-era mini submarine, an Italian human torpedo, along with weaponry and many other fascinating interactive exhibits dealing with life underwater in a submarine.
Address: Haslar Jetty Road, Gosport
Official site: www.nmrn.org.uk/submarine-museum
6. Round and Square Towers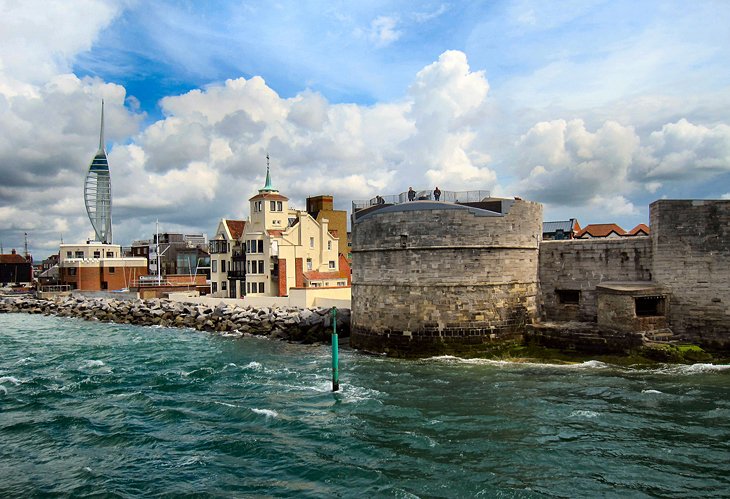 The Round Tower (1418) and the Square Tower (1494) have, for centuries, guarded the entrance to Portsmouth harbor. The Square Tower was originally the residence of the military governor, and is today used for functions, weddings, indoor markets, and concerts.
The interior of the Round Tower has been converted for use as an exhibition gallery, while its rooftop is open year-round and affords wonderful views over the city and harbor. It's also home to a new café that offers excellent views over the Solent.
Official site: www.squaretower.co.uk
7. Portsmouth Cathedral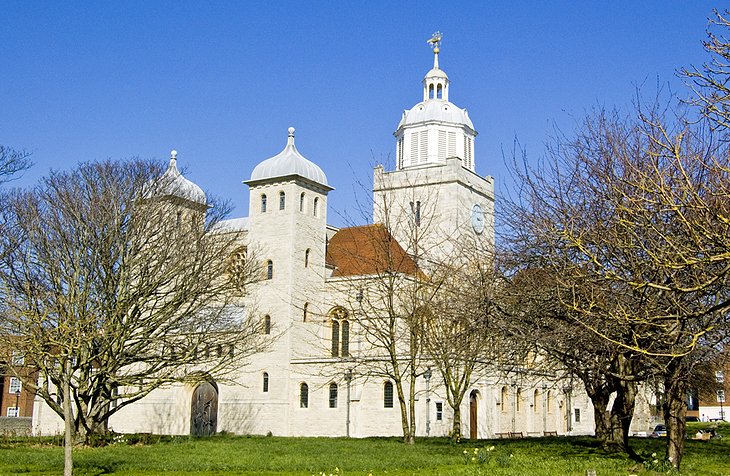 The foundation stone of Portsmouth Cathedral, formally known as the Cathedral Church of St. Thomas of Canterbury, was laid in 1185. The chancel and transepts date from Norman times, while the choir is in the late style of Sir Christopher Wren. A highlight is the south side aisle of the choir, dedicated to the Royal Navy and including mementos of the Mary Rose and Nelson's HMS Victory.
Other religious landmarks to include on your Portsmouth travel itinerary are the Roman Catholic Cathedral Church of St. John the Evangelist, built in 1882, and the Royal Garrison Church. Also referred to as Domus Dei, it was built in 1212 as a hospice and almshouse.
Also worth checking out is the nearby historic 10 High Street, Buckingham House, where the Duke of Buckingham was murdered in 1628.
Address: St. Thomas's Street, Old Portsmouth
Official site: http://portsmouthcathedral.org.uk/
8. Charles Dickens' Birthplace Museum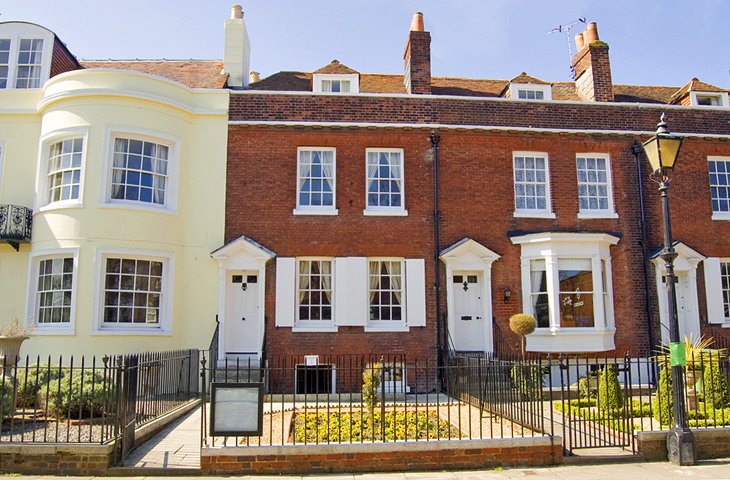 The Charles Dickens' Birthplace Museum consists of the house where the great novelist was born in 1812, as well as many fine examples of Regency furniture that once belonged to his family. Among the memorabilia are manuscripts, copies of his novels, and his deathbed, brought here from his home in Gad's Hill Place, Kent.
Guided walking tours of Dickens' favorite Portsmouth haunts are available, as are readings of his work and other Dickens'-themed events. There's also a great little shop selling related books and souvenirs.
Address: 393 Old Commercial Road, Portsmouth
Official site: www.charlesdickensbirthplace.co.uk
9. Portsmouth City Museum and Art Gallery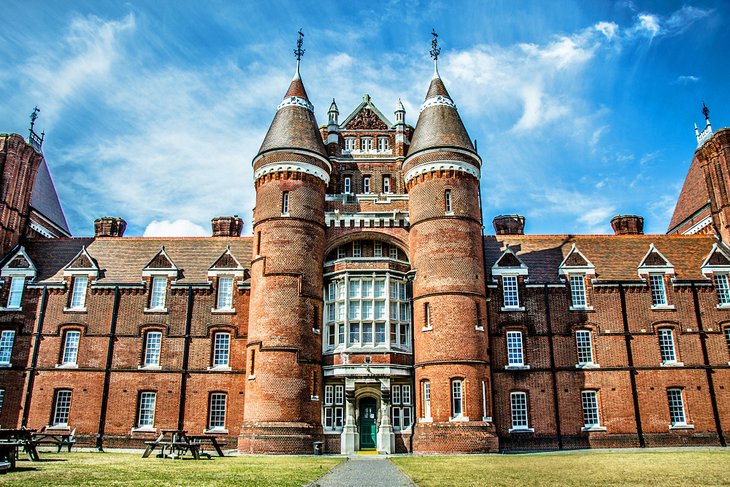 The twin-turreted and strangely attractive Victorian-era Portsmouth City Museum and Art Gallery is worth visiting for its extensive collections of art and craftwork.
Another big draw is the museum's large collection of material related to Arthur Conan Doyle, the creator of the hugely popular Sherlock Holmes character.
Highlights include details of the author's early life as a doctor in Portsmouth, along with exhibits pertaining to the many incarnations of Sherlock in film and theater.
Also of interest is a permanent exhibition dealing with the story of the city, portraying daily life from the 17th century onwards through models, regalia, photos, and videos.
In summer, spend some time in the charming gardens as you indulge in a snack from the museum's café. There's also a well-stocked shop on the premises.
Address: Museum Road, Portsmouth
Official site: www.portsmouthcitymuseums.co.uk
10. The D-Day Story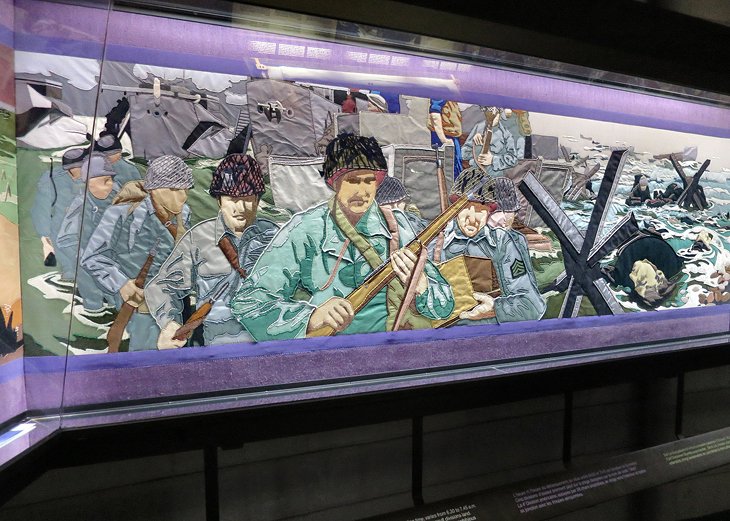 The excellent D-Day Story in Southsea houses numerous fascinating displays relating to the allied invasion of France's Normandy coastline in 1944.
Highlights include weaponry and vehicles used during the invasion, along with immersive displays that include the sights and sounds of the battle and the long preparation leading up to it.
The museum also houses the Overlord Embroidery, a 27-foot-long tapestry (the world's largest) that encapsulates the key moments of this turning point of WWII. A café and shop are located on-site.
The nearby Blue Reef Aquarium presents displays of the mysteries of the underwater world.
Address: Clarence Esplanade, Southsea
Official site: https://theddaystory.com
11. Stansted Park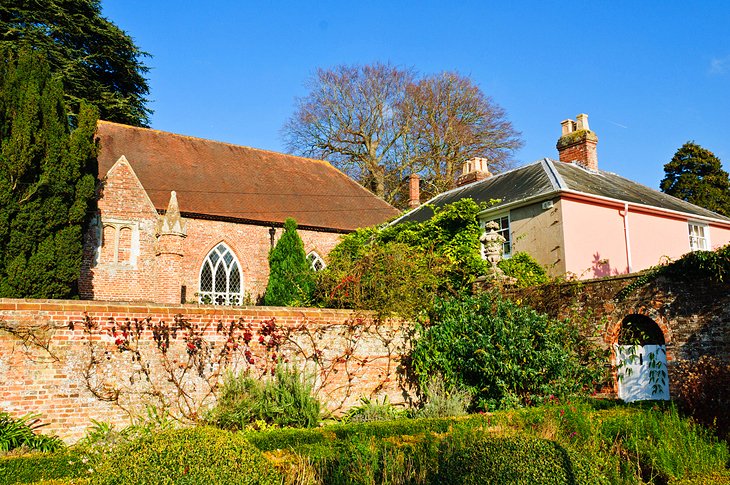 Just a few miles northeast of Portsmouth is Stansted Park. This spectacular 1,800-acre parkland area features an arboretum, walled gardens, and an ancient chapel, and is well worth adding to your travel itinerary. A variety of easy-to-follow walks are available for visitors to explore.
The Christopher Wren-style Stansted House dates to the 17th century and contains the Bessborough collection of paintings and family furnishings, including early 18th-century paintings. There's also a café serving a great afternoon tea in an old restored glasshouse.
Location: Stansted Park, Rowland's Castle
Official site: www.stanstedpark.co.uk
12. Southsea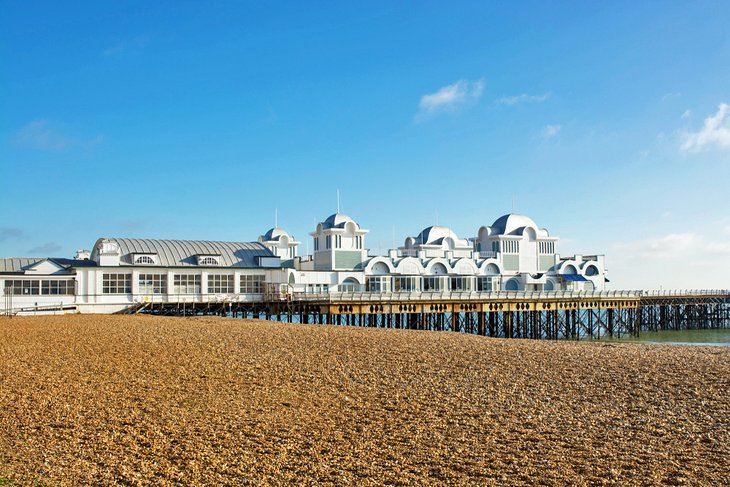 Southsea is a popular suburb of Portsmouth and boasts a lovely three-mile-long promenade offering excellent views across to the Isle of Wight. It was in fact here that Sir Arthur Conan Doyle practiced as a doctor when he wrote his first Sherlock Holmes novel, A Study in Scarlet.
Southsea Beach is a popular spot for families and sunbathers to spend time.
Southsea Castle, built by Henry VIII in the 16th century, contains a number of exhibits connected with the city's history from Tudor times to the Victorian era. From the castle walls, there's a superb view across the Solent to Spitbank Fort.
Other things to do in Southsea include visiting Cumberland House Natural History Museum, with exhibits devoted to the flora and fauna of the sea, and exploring the Eastney Beam Engine House. This impressive Victorian building contains a pair of restored 1887 Boulton Watt beam engines and pumps.
Also check out Fort Cumberland, a pentagonal-shaped stronghold constructed in 1746.
Address: Cumberland House, Eastern Parade, Southsea
Official site: http://portsmouthnaturalhistory.co.uk/
Where to Stay in Portsmouth for Sightseeing
Luxury Hotels:
Located right on the oceanfront by the South Parade Pier, the Seacrest

Hotel

is a family-owned hotel with real character. The rooms and suites have charming vintage style and comfy beds. Book the rooms on the third floor for ocean views. The hotel is pet friendly, if you're traveling with a dog. It also has free parking.
Florence Suites Boutique

Hotel

is part of The Mercer Collection, which has other properties in town. The rooms are spacious with modern country decor and comfortable beds. A complimentary breakfast is served in the restaurant each morning. There is a sun terrace with outdoor furnishing for nice days. Spa services including massages can be arranged.
The 4-star Portsmouth Marriott

Hotel

has lots of amenities including a swimming pool, hot tub restaurant, workout room, and a spa. It isn't the world's most luxe hotel, but the rooms and suites are clean and comfortable with large windows and bold pops of color. It is also dog friendly.
Mid-Range Hotels:
The Somerset House Boutique

Hotel

is walking distance from Southsea Beach and a nice mid-range choice. The hotel features Edwardian-style decor in its spacious rooms and suites. The beds are comfy and draped with Egyptian cotton sheets. Breakfast is included, the property is dog-friendly, and spa services are available.
For an eclectic sleep, try the G! Boutique

Hotel

, which has quirky, art-focused rooms and suites – one features a round bed and a Jacuzzi tub set on raised red tiles beneath a cherry red lip sculpture. Rates include a full breakfast.
The Queens

Hotel

is a landmark property done up in Edwardian Baroque style. Rooms are spacious with period decor including four-poster beds, upholstered chairs, and heavy drapes. There is an on-site restaurant, and room service is offered.
Budget Hotels:
Premier Inn

Southsea

is a top budget pick. The clean and comfortable rooms have a purple and white color scheme, and some feature ocean views. There are family room options if you are traveling with kids. Amenities include a restaurant and access to the beach.
In the Southsea area, the Hotel ibis Budget

Portsmouth

is a 10-minute walk from Fratton Station. They offer tidy rooms with triple, double, or twin beds that work well for families or groups of travelers. Kids stay free.
For a pet-friendly budget hotel the Travelodge

Portsmouth

works. It has cheerful rooms with white linen-clad beds and desks. There is a vending machine but no restaurant. Parking is free.