14 Best Things to Do in Hampshire, England
Only an hour's train ride from London, the county of Hampshire is one of the best places to visit in England for those seeking fun things to do within easy reach of the nation's capital. Still often referred to as "Hants," an abbreviation of its Old English name of Hantum plus scir, it's here you'll find the cities of Winchester, Southampton, and Portsmouth, each of them worth exploring.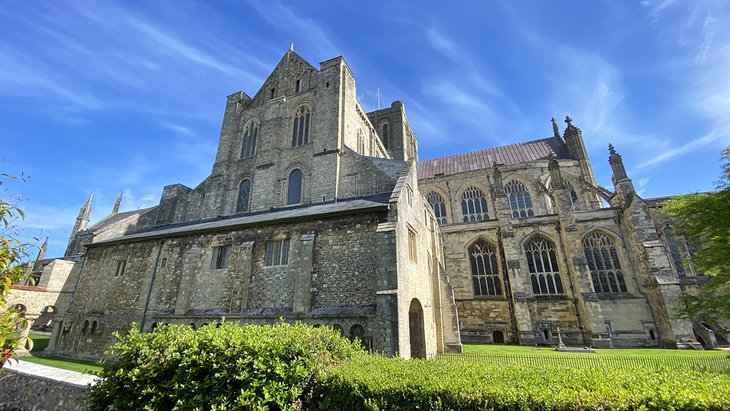 Those interested in England's rich maritime history could easily spend a few days exploring the county's coast. Popular tourist attractions, such as the historic dockyards in Portsmouth, now home to some of the country's most legendary naval vessels, are must-visits. And neighboring Southampton, a bustling cruise port for vessels crossing the Atlantic that once berthed the ill-fated Titanic, can easily gobble up your time.
To help you make the most of your time in "Hants," be sure to read through our list of the top things to do in Hampshire, England.
1. Explore the Past at Portsmouth Historic Dockyard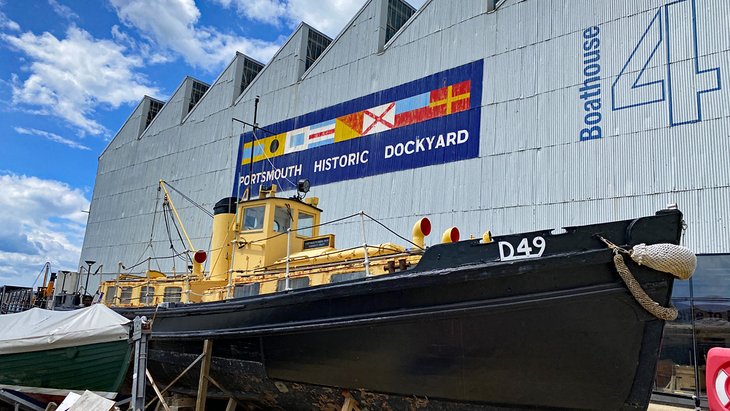 Not only is Portsmouth still the UK's most important naval base, it's also home to some of the country's most iconic historic vessels. It's here in Portsmouth Historic Dockyard you'll find the centuries-old Mary Rose, the Tudor-era flagship of Henry VIII's fleet that was raised from the seabed and is now one of Portsmouth's star attractions.
Other vessels include Lord Nelson's warship, HMS Victory, Queen Victoria's HMS Warrior, as well as warships from WWI, many of which can be photographed against the backdrop of the country's modern 21st-century fleet.
While separate admission is required for each of these historic ships, entrance to the dockyards and some of the buildings and exhibits is free.
Address: Victory Gate, HM Naval Base, Portsmouth, Hampshire
2. See Henry VIII's Mary Rose, Portsmouth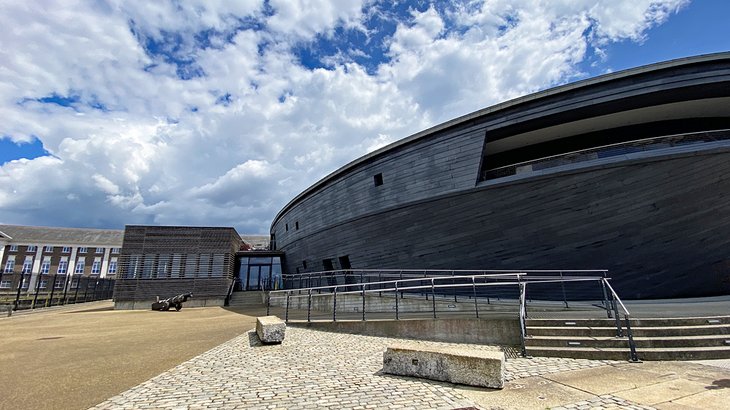 The star attraction in Portsmouth Historic Dockyard, the Mary Rose was built in 1509 as Henry VIII's flagship. After sinking only a mile from its home port of Portsmouth during a battle with the French navy in 1545, it was lost to history until it was rediscovered and eventually raised from the seabed in 1982.
Visitors to the Mary Rose Museum today are still impressed with the scale of this vessel, now preserved in a specially built facility that offers plenty of great views of its hull.
Other highlights include fascinating displays of weaponry, including many of the ship's original cannons, along with items that once belonged to crew members, most of whom went down with the ship.
Address: No. 3 Dock, Main Road, HM Naval Base, Portsmouth, Hampshire
Official site: https://maryrose.org
3. Take a Tour of Winchester Cathedral, Winchester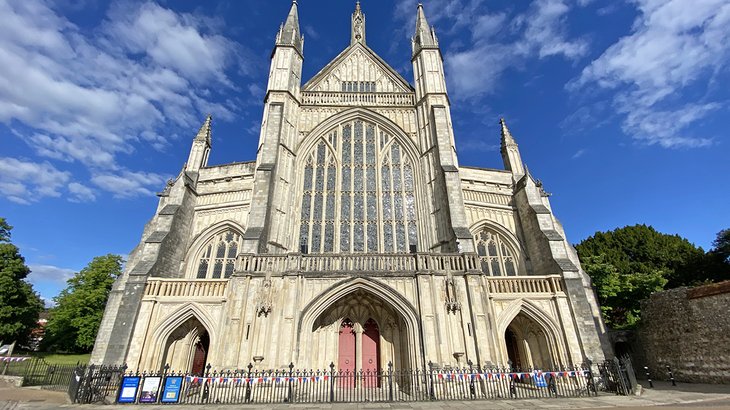 The county town of Winchester should feature high up on your list of top things to do in Hampshire. This beautiful historic city is perfectly suited to explore on foot, with each of its main attractions located just a short distance from the pedestrian-friendly Winchester High Street, with its many timber-framed old homes and shops, ornate monuments, and narrow laneways.
Located just steps from the historic town center, Winchester Cathedral was built in the 11th century on the foundations of an even older 7th-century church. Less busy than cathedrals in cities like Canterbury and York, it's every bit as attractive, and well worth seeing as part of a sightseeing tour.
Other things to do in Winchester to feature on your itinerary include the spectacular Great Hall, home to what's reputed to be King Arthur's Round Table; historic Winchester College; and the spectacular grounds of Winchester's Military Museums.
Those wanting to make a weekend of it should look into a stay at the excellent Winchester Royal Hotel. This luxurious 4-star hotel dates back to the 1500s and is a pleasant stroll away from the cathedral and High Street.
Address: 9 The Close, Winchester, Hampshire
4. Climb aboard HMS Victory, Portsmouth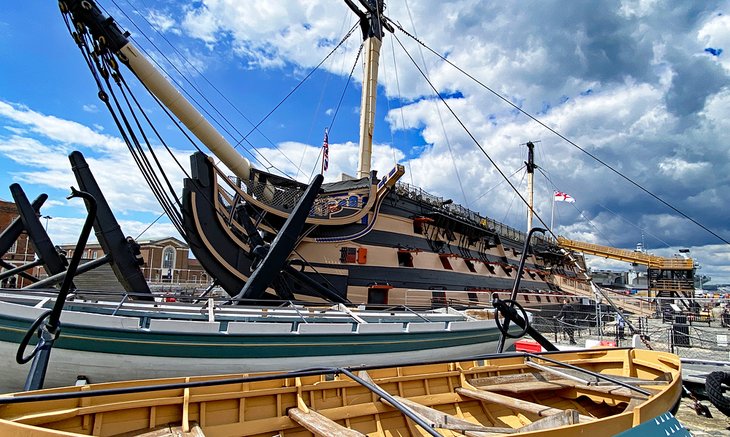 Another of the top attractions in Portsmouth's historic dockyard that makes our list of fun things to do in Hampshire is the HMS Victory. Its scale certainly impresses. Constructed in 1765 and famous as the flagship of Lord Nelson, it was aboard this many-masted warship that Nelson won the Battle of Trafalgar, but lost his life.
Stretching 197 feet from stern to bow, this huge five-decked ship and its 104 cannons have been remarkably well preserved. You can also see items that once belonged to Nelson, along with a superb panoramic painting of the epic battle, in the nearby National Museum of the Royal Navy.
Location: Main Road, HM Naval Base, Portsmouth
Official site: www.hms-victory.com
5. Soar with Solent Sky, Southampton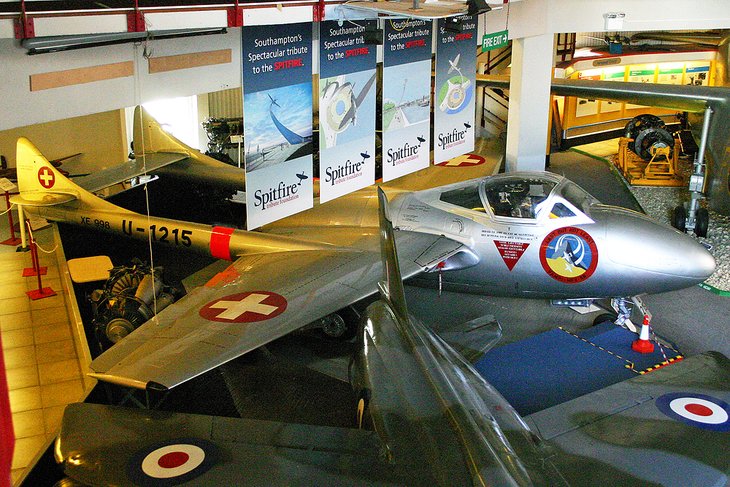 From Britain's rule of the ocean waves to its leading role in conquering the skies, Hampshire's many attractions have something for every interest. After visiting the naval dockyards in Portsmouth, head to Southampton to visit Solent Sky, a superb attraction that focuses on the county's important legacy in the aircraft industry.
Highlights of a visit include displays and exhibits relating to the country's legendary Spitfire fighter plane, which started off as a racing seaplane here in the 1930s before evolving into the star of the Battle of Britain in 1940. Large collections of models, photos, and artifacts are also on display to tell the story of flight.
Address: Albert Rd. South, Royal Crescent, Southampton, Hampshire
Official site: www.solentsky.org
6. See the Real Downton Abbey: Highclere Castle, Newbury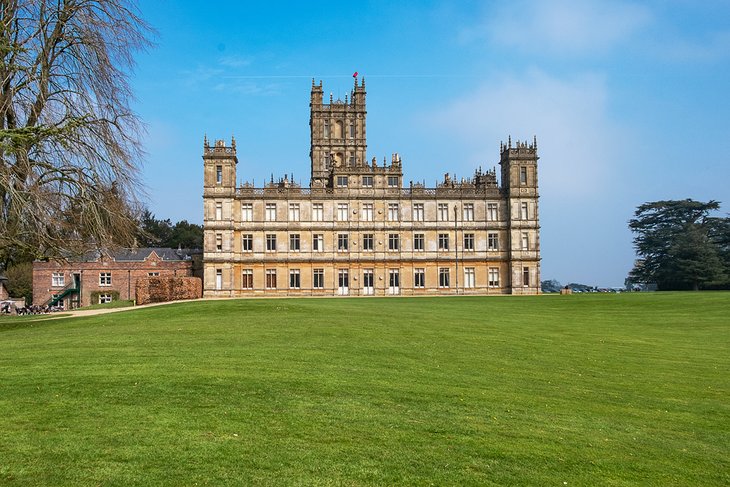 Situated a pleasant 30-minute drive north of Winchester, Highclere Castle is well known the world over by its fictional name of Downton Abbey. Undoubtedly one of the most attractive castles in England, it was built in the 17th century and has been in the same family ever since.
This exquisite manor home and its grounds can be visited as part of an organized tour or at your own pace.
Highlights include seeing many of the rooms featured in the hit TV show, including the sumptuous formal dining room, the library, the drawing room, and the elegantly decorated Saloon.
In addition to private tours, visitors can also enjoy a private dinner or reception in one or more of these rooms. Afterwards, spend time exploring the 1000-acre grounds.
Location: Highclere Park, Highclere, Newbury, Hampshire
Official site: www.highclerecastle.co.uk
7. Take a Ferry to the Isle of Wight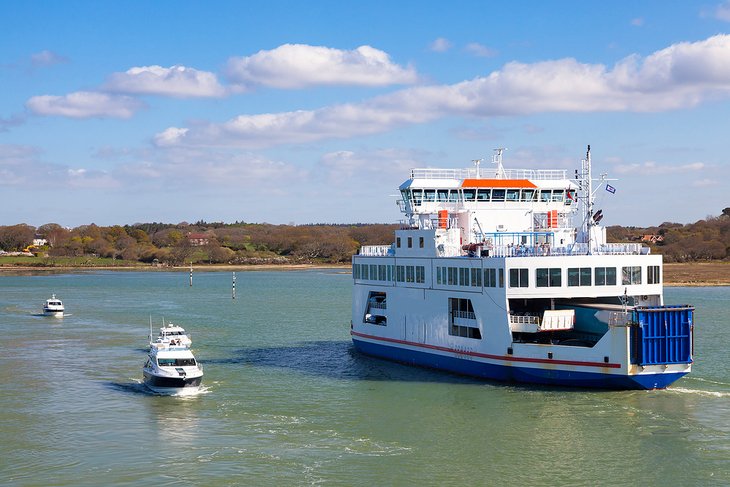 With numerous departure points across the Hampshire coastline, including Portsmouth, Southampton, and Lymington, a ferry ride to the Isle of Wight makes for an excellent Hampshire day trip. Lasting around 45 minutes, the crossing itself is a lot of fun and offers up some great views of the coastline on both legs of the journey.
At 23 miles across and 13 miles in depth, it's a big island with plenty of fun things to see and do. While you can take a car with you on the ferry, the island also operates a variety of bus services and a rail service to help get you around. Biking and hiking are also popular ways to get about.
Must-sees include Nunwell House, the Wildheart Animal Sanctuary, and exploring pretty seaside towns such as Ryde.
8. Take the Family to Paultons Park, Romsey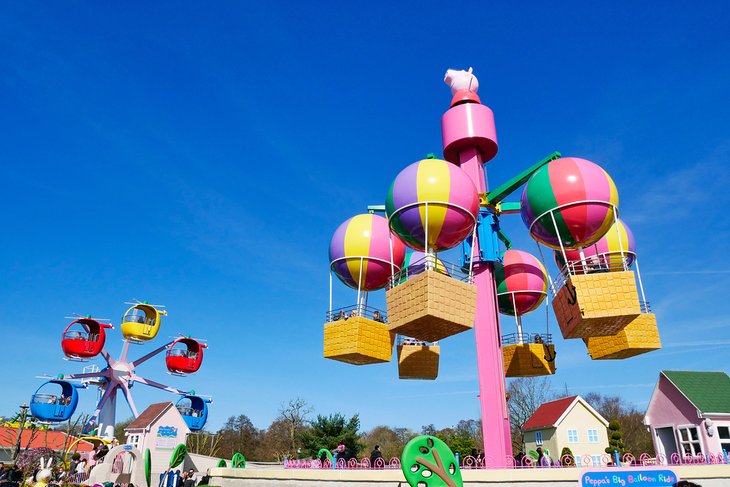 A visit to Paultons Park is a great outing for families visiting Hampshire. Located in the village of Ower near Romsey, just a few miles northwest of Southampton, it's here that Britain's most popular kids' TV character, Peppa Pig, lives. Of this fun theme park's more than 70 rides, many are geared towards toddler fans of the show in the Peppa Pig World area.
Kids also love the Lost Kingdom, an area dedicated to dinosaurs that features replicas of these creatures that actually move, while Tornado Springs features rides and roller coasters guaranteed to please older kids and teens.
In addition to adventure playgrounds, there's a fun wet zone for the kids to cool off called Water Kingdom, which features super soakers, fountains, and plenty of spraying water.
After the kids have dried off, spend time exploring some of the former estate's 170 acres of well-manicured grounds – and pack a picnic! If there's time, be sure to look into the fun penguin-feeding experience.
Address: Ower, Romsey, Hampshire
Official site: https://paultonspark.co.uk
9. Explore Southampton's Past at the SeaCity Museum, Southampton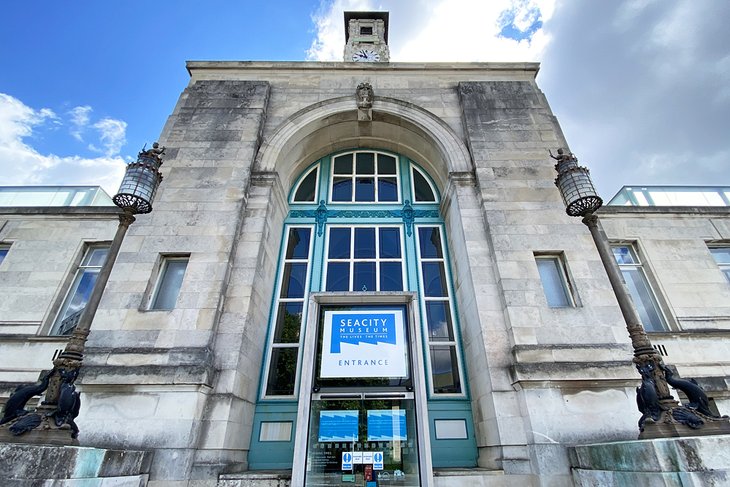 Located just a few minutes' walk away from Southampton's train station, SeaCity Museum offers a fascinating look into the city's social, cultural, and maritime history.
Topping the list of things to see here for many is The Titanic Story. This immersive exhibit not only delves into the history of the tragic voyage of the ill-fated ship in 1912, but also shares the stories of some of the passengers who survived the voyage, as well as some who didn't.
Other notable Southampton attractions in the same Art Deco building include the City Art Gallery, home to more than 3,500 important works of art, including a number of masterpieces by some of England's most revered artists.
Address: Havelock Road, Southampton, Hampshire
Official site: https://seacitymuseum.co.uk
10. Enjoy the Views from the Spinnaker Tower, Portsmouth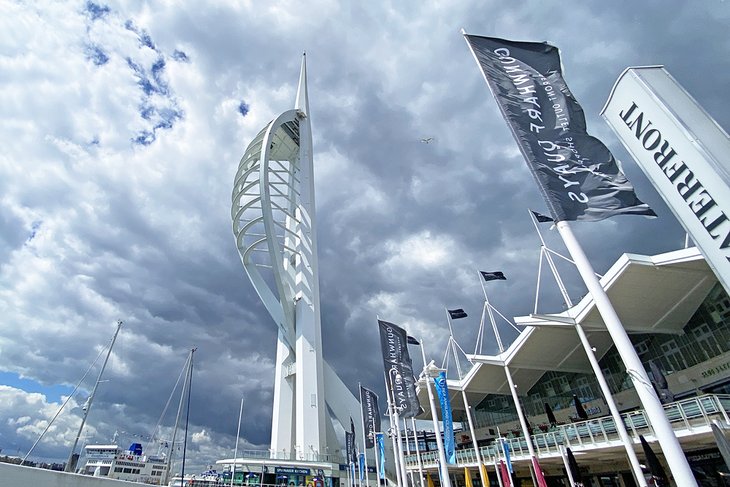 It's hard to miss the soaring Spinnaker Tower. Located in the heart of the city's harbor area, this attractive 560-foot-tall structure towers over the Solent and the fun-to-explore Gunwharf Quays.
As nice as it is to look at from below, buy yourself an admission ticket and take the scenic elevator ride to its observation decks. You'll be rewarded with some of the best views anywhere of England's south coast as you look out toward the English Channel and the Isle of Wight.
If you have time, be sure to book one of the high-in-the-sky afternoon tea experiences at the on-site café.
Location: Gunwharf Quays, Portsmouth, Hampshire
Official site: www.spinnakertower.co.uk
11. Queen Victoria's HMS Warrior, Portsmouth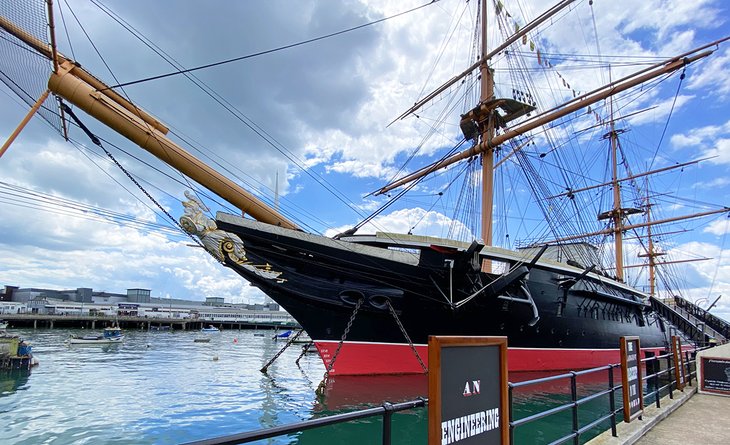 HMS Warrior is another of the top attractions to enjoy when exploring Portsmouth Historic Dockyard. Famous as the world's first iron-clad warship, this large vessel was built in 1860 and measures 418 feet long. It still impresses with its dimensions and firepower.
You can wander the well-preserved ship's many decks while exploring the old crew quarters, including those once occupied by the ship's captain. A variety of unique experiences can also be booked, including dining and receptions. Guided tours are also available.
Location: Victory Gate, HM Naval Base, Portsmouth, Hampshire
12. The D-Day Story, Southsea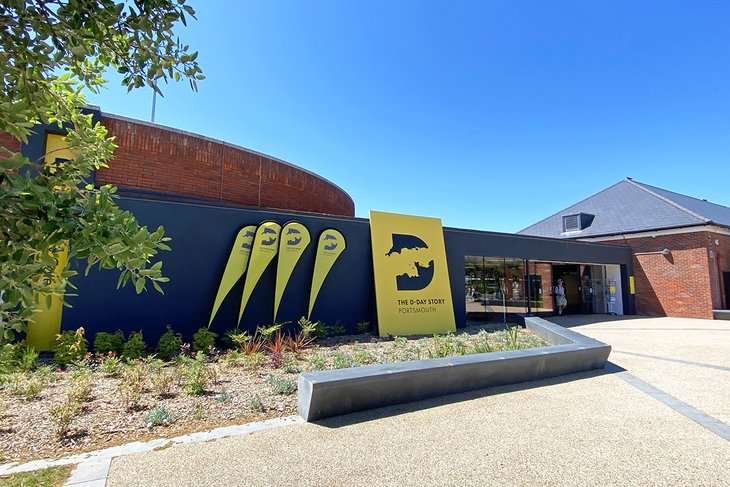 The D-Day Story in Southsea tells the incredible story of the Normandy invasion of 1944 and the ensuing liberation of Europe. In addition to getting up close with some of the actual equipment used in the invasion, including a landing craft, tanks, and other weapons, interesting displays tell the story of this defining moment in history, from the perspective of the planners, as well as the individual soldiers and officers involved.
In addition to hands-on interactive displays, you'll want to check out the many intricate details included in the 27-foot-long Overlord Embroidery. It was made to commemorate this pivotal point in world history.
Address: Clarence Esplanade, Southsea, Hampshire
Official site: https://theddaystory.com
13. Relive the Past at Milestones Museum, Basingstoke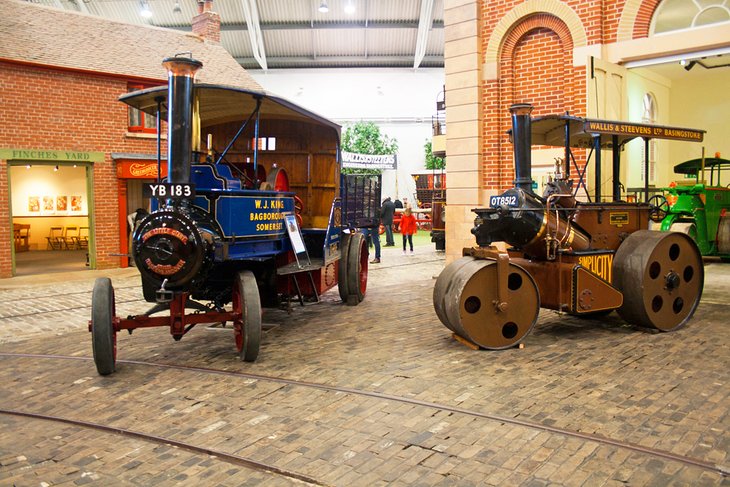 Situated just an hour's train ride from Central London, Milestones Museum of Living History in Basingstoke paints an authentic portrayal of life in Hampshire in Victorian times right up to the 1930s. Opened in 2000, this fun-to-explore museum is set up like a small town with streets, laneways, shops, and homes recreated as they would have looked in the past.
The county's top living history museum features numerous artifacts from this period, many of them made here, including everything from vintage cars and motorbikes. Highlights include an authentic sweet shop, a working inn and café, as well as playgrounds for younger kids.
Address: Basingstoke Leisure Park, Churchill Way West, Basingstoke, Hampshire
Official site: www.milestonesmuseum.org.uk
14. See the Wild Ponies in New Forest National Park, Lymington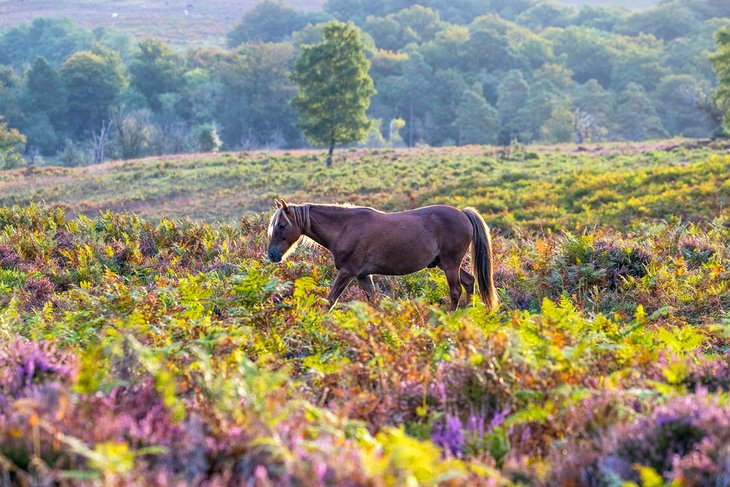 Famous for its wild ponies, New Forest National Park offers a fun excursion for all ages. One of the oldest preserved areas of countryside in England, it is in fact a unique mix of forests, meadows, moors, and heathland that's easy and fun to explore by car, on foot, or even by bike.
In addition to spotting those cute wild New Forest ponies, you'll also likely see plenty of deer. And when you're done exploring, venture over to the quaint community of Beaulieu. Here, you'll find the excellent National Motor Museum, as well as the stately Palace House and Gardens.
Address: New Forest National Park Authority, Lymington Town Hall, Avenue Road, Lymington, Hampshire
Official site: www.newforestnpa.gov.uk
Map of Things to Do in Hampshire, England