24 Top-Rated Attractions & Things to Do in Amsterdam
We may earn a commission from affiliate links ()
Amsterdam, the capital of the Netherlands, is one of the most popular tourist destinations in Europe. With its universities, academies, and research institutes, along with more than 40 museums, numerous theaters, and entertainment venues, Amsterdam is also the country's leading cultural center.
In addition, the city is famous for its many well-preserved historic homes. Laid out in a pattern of concentric segments in the shape of a fan, these well-preserved heritage buildings are built on piles driven through an upper layer of mud into the firm, sandy bottom up to 18 meters below.
All told, some 6,750 buildings dating from the 16th to 18th centuries are crowded into an area of 2,000 acres that's dissected by 160 canals (grachten), themselves home to numerous houseboats. Little wonder then that Amsterdam is an awesome city to explore on foot, with many picturesque bridges linking the city's 90 islands. Eight of these are in fact old wooden bascule bridges, including the Magere Brug (Mager Bridge), one of the city's most frequently photographed.
Discover the best places to visit in this dynamic city with our list of the top attractions and fun things to do in Amsterdam.
See also: Where to Stay in Amsterdam
1. See the Art Collections at the Rijksmuseum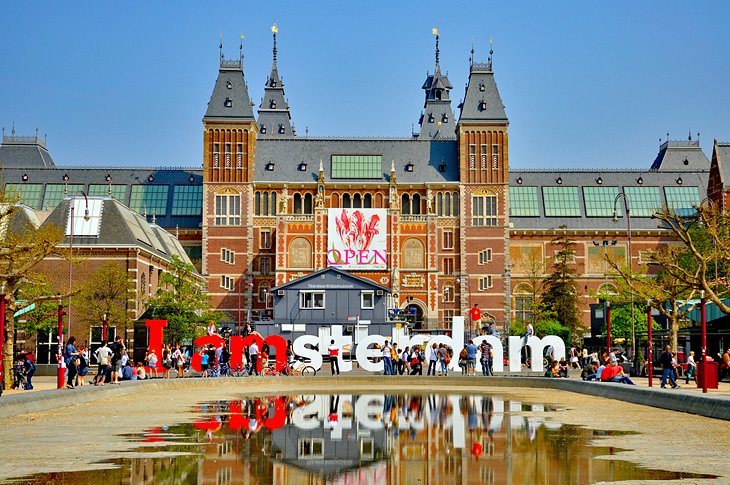 One of Amsterdam's most popular attractions – and certainly its most important art repository – the Rijksmuseum (National Museum) was founded in 1798 to house the country's huge collection of rare art and antiquities. The museum's impressive collection includes a million cultural artifacts dating from the 13th century to the modern day, among them more than 8,000 important paintings spread across 250 rooms of this sprawling building.
In addition to its paintings, the Rijksmuseum boasts a well-stocked library of more than 35,000 books and manuscripts, as well as numerous fascinating displays dealing with the development of art and culture in the Netherlands. Of special note are its collections of traditional handicrafts, medieval sculpture, and modern art styles.
A variety of themed English language guided tours are available. For a special experience, try the fun art history canal cruise taking in many of the sites represented in the Rijksmuseum's collections, or book a table at the museum's Michelin-starred restaurant.
2. Visit Anne Frank House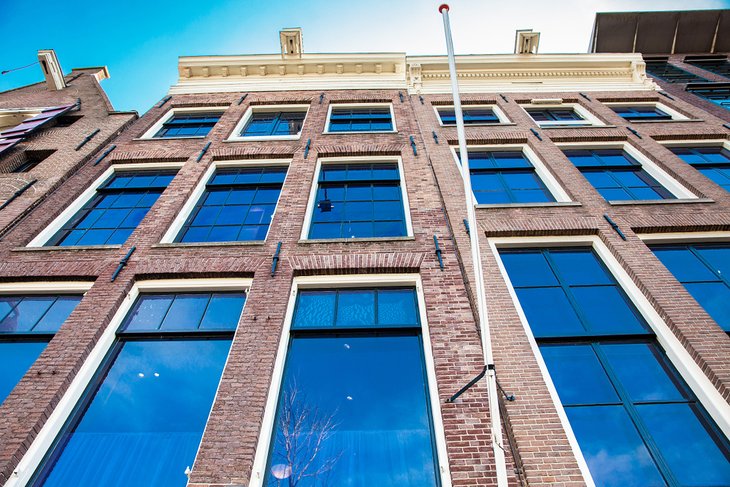 On the Prinsengracht stands Anne Frank House (Anne Frank Huis). Dedicated to the all-too-short life of one of the world's best-known Holocaust victims, this is the actual home in which Anne's family hid for much of WWII.
The Frank's were Jewish refugees from the German city of Frankfurt, and it was here that Anne wrote the diary that became an international bestseller after the war. It was published just a few years after her death at age 15, just two months before the war ended.
3. Experience Great Art at the Van Gogh Museum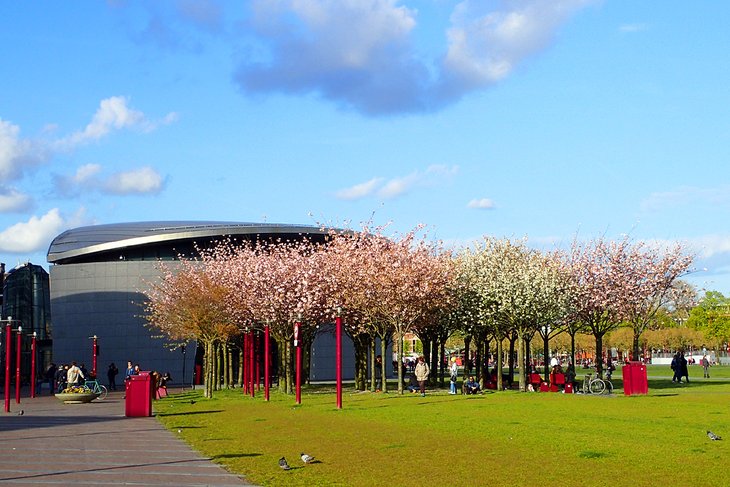 A must-visit for art fans and historians, the spectacular Van Gogh Museum has been one of Amsterdam's top attractions since it opened in 1972. Dedicated to the often troubled life and extraordinary artistry of one of the country's most-revered painters, this modern Gerrit Rietveld-designed structure is home to the world's largest collection of Van Gogh paintings and artifacts, much of it donated by his brother, Theo, and other family members.
Boasting an impressive 200 paintings, 500 etchings and drawings, as well as 700 letters written to (and by) friends and family, the collection is split into key periods of the artist's life: his realistic works (1880 to 1887), including the famous The Potato Eaters, and his Impressionist period from 1887 to 1890, which saw the creation of perhaps his best-known work, Vase with Sunflowers.
A highlight of a visit is the amazing "Meet Vincent Van Gogh Experience," a fascinating multimedia presentation of the painter's life and times through vivid digital reproductions of his work.
4. Explore the Jordaan Neighborhood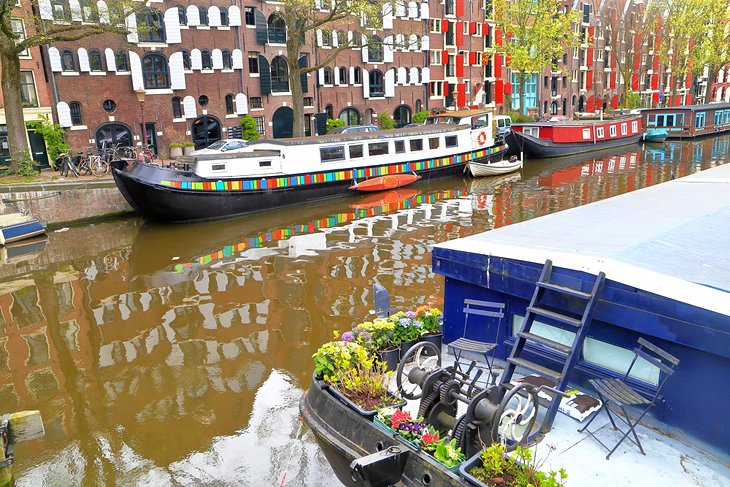 Jordaan is the most popular of Amsterdam's neighborhoods and is well-known for its mix of residential areas with garden courtyards, lively markets, and upscale boutiques and eateries. The area is also home to plenty of fun things to do, from taking a pleasant stroll along the many picturesque streets to spending time visiting the many top-rated tourist attractions located here.
Although best known as the location of Anne Frank House, the area is also home to lesser-known treasures like the Woonboots Museum, a floating museum dedicated to houseboats, and the interesting (honestly!) Amsterdam Cheese Museum.
On Saturday mornings, Lindengracht turns into a huge open-air market, where you can find local crafts, produce, flowers, and goodies perfect for filling a picnic basket. Monday mornings, it is Westerstraat that fills with 200 vendors' stalls, this time selling a wide range of goods in a flea-market-style bazaar. Jordaan's restaurants and cafés have become the trendy place to sit and people-watch while enjoying traditional Dutch folk music.
5. Family Fun and Flowers at Vondelpark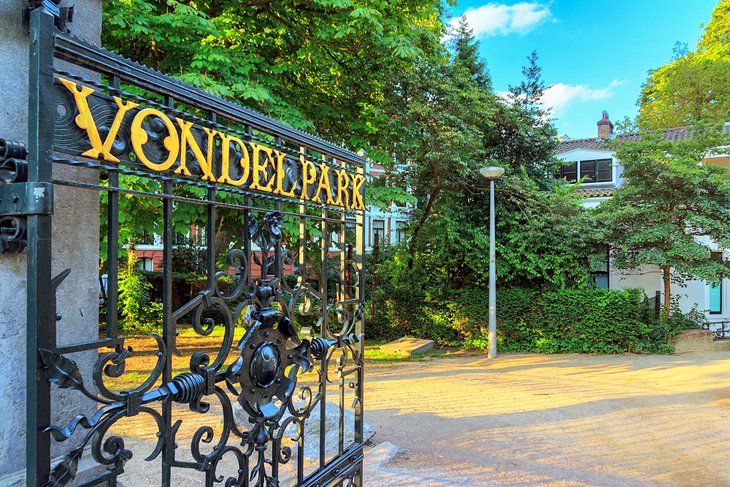 The largest and most visited park in Amsterdam, Vondelpark occupies 120 acres and contains no end of fun things to do. In addition to expanses of green space dotted by peaceful ponds and traversed by ample paths, the park is home to a lovely rose garden featuring more than 70 different types of the flower.
It also has a variety of sculptures and statues, playgrounds, and other recreational facilities, including rollerblade rental and the Vondelpark Open Air Theater, which serves as a venue for musical and stage productions from May through September.
If you haven't packed a picnic, don't worry: the park is also full of cafés where you can enjoy a snack or a full meal.
6. People Watch at Dam Square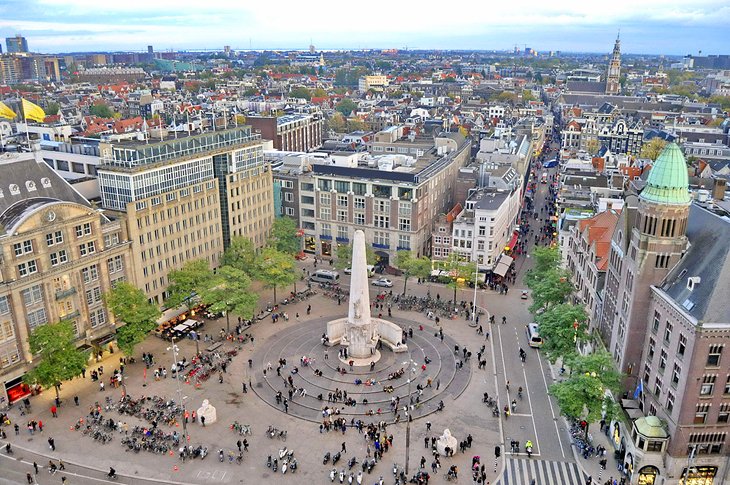 Dam Square is one of the most tourist-packed areas of Amsterdam, and for good reason. Its most prominent feature is the 17th-century Royal Palace (Koninklijk Palace), former home of the Dutch royal family and present-day venue for royal functions.
Dam Square is also home to top tourist attractions such as the New Church (Nieuwe Kerk); Madame Tussauds wax museum; and the National Memorial Statue, which is dedicated to Dutch soldiers who lost their lives in World War II.
This huge public square is, naturally, lined with numerous cafés, restaurants, and shops, and is usually full of vendors selling food and souvenirs. Tourists will also find a Ferris wheel, perfect for getting a different perspective, as well as plenty of entertainment, ranging from street performers and buskers to first-rate music festivals.
7. Tour the Royal Palace of Amsterdam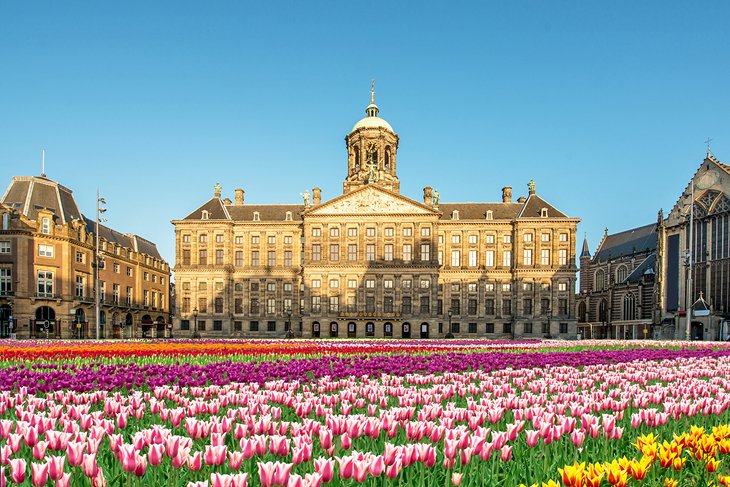 Formerly the Town Hall, the Royal Palace of Amsterdam (Koninklijk Paleis van Amsterdam) serves as the King's residence when he's in the city. Its construction was a monumental task when started in 1648 and required the sinking of 13,659 piles to support the mammoth structure.
Based upon the architecture of ancient Rome, the exterior is strictly classical, while the interior is magnificently furnished, its apartments decorated with a wealth of reliefs, ornamentation, marble sculptures, and friezes. Check out the spectacular ceiling paintings by Ferdinand Bol and Govert Flinck, pupils of Rembrandt.
Other highlights include one of the finest furniture collections in the world, and the City Treasurer's room with its marble fireplace and ceiling paintings by Cornelis Holsteyn. You'll also see the Hall of the Aldermen, also containing paintings by Bol and Flinck.
The largest and most important room is the Council Hall, sumptuously decorated and one of the most beautiful staterooms in Europe. English language guided tours are available, and useful audioguides are included with admission.
8. West Church (Westerkerk)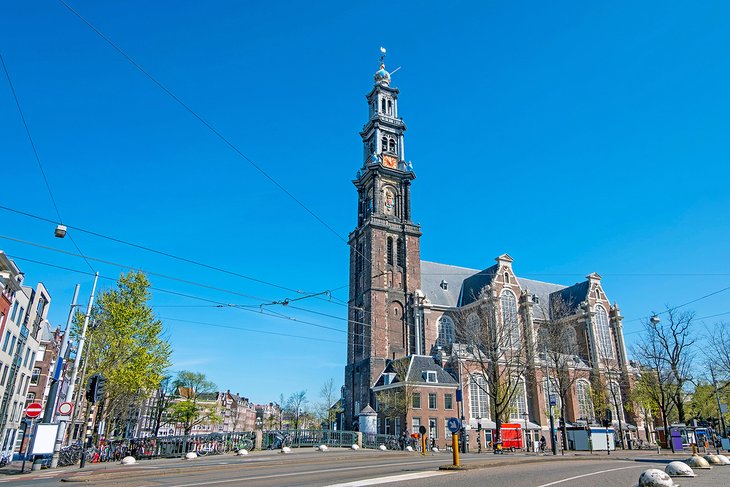 Located next door to the Anne Frank Museum, Amsterdam's West Church (Westerkerk) is one of the most popular churches to visit in the city. It's certainly one of the most picturesque.
Completed in 1630, this attractive Renaissance church is unusual due to its many internal and external Gothic features. Its 85-meter tower, popularly known as "Langer Jan" (tall John), is the highest in the city. On the tip of its spire is a large replica of the emperor's crown, placed there in memory of Emperor Maximilian of Austria. Inside the tower, a carillon proclaims the hours.
9. Rembrandt House Museum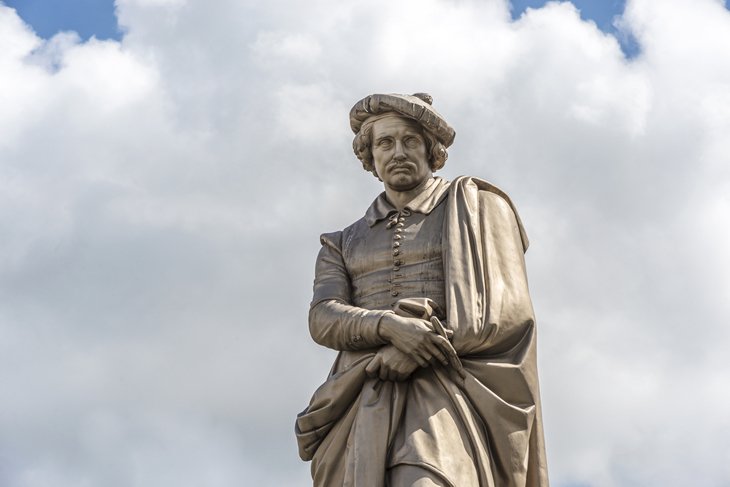 Rembrandt, along with his wife Saskia, spent the happiest (and most successful) years of his life in the house on the Jodenbreestraat, now home to the Rembrandt House Museum (Museum Het Rembrandthuis). It was here, in the Jewish Quarter, that he found models for his Biblical themes, and where he painted the sights from his many outings along the canals.
Rembrandt lived here for 20 years, and the house has been furnished in 17th-century style with numerous etchings and personal objects. English language guided tours are available.
Just a two-minute walk away is Zuiderkerk (South Church), where three of Rembrandt's children are buried, as well as one of his pupils. Constructed between 1603 and 1611, it was the first Protestant church to be built in Amsterdam after the Reformation and was designed by architect Hendrick de Keyser, who is also buried here.
10. Visit One of the World's Oldest Botanical Gardens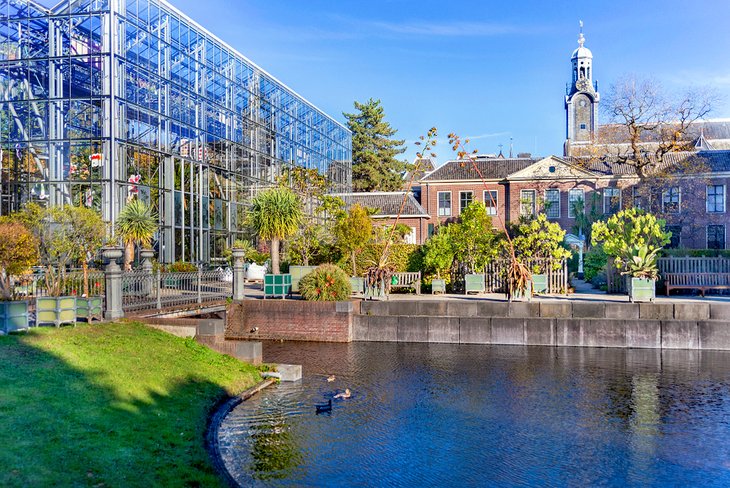 Amsterdam offers a surprising dose of nature in the very heart of the city. Hortus Botanicus Amsterdam, the city's botanical garden, is one of the world's oldest and should definitely be included in your sightseeing itinerary.
Founded in 1638, this much-visited attraction began life as a humble herb garden for doctors and apothecaries. Today, it features rare plants and trees, exotic flowers, and a large hothouse encompassing different tropical zones.
Highlights of a visit include exploring the lovely old pavilion, a hexagonal structure that dates back to the late 17th century, plus the 1870s Orangery. The Palm House is also notable, in particular for its architectural style (it was designed in the Amsterdam School style).
11. Go Wild at Artis: Amsterdam Royal Zoo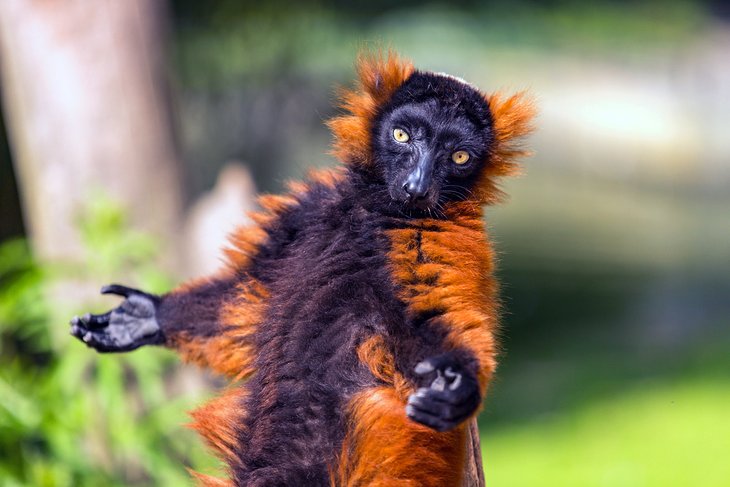 Less than a five-minute stroll away from the botanical gardens is Artis, Amsterdam's excellent "royal zoo." This world-class attraction was established in 1838 and is one of the oldest zoos in Europe.
It spotlights a variety of creatures from around the globe in a shady garden setting dotted with numerous historical buildings. The aquarium, for example, was constructed in 1882 and features exhibits including a coral reef system and a fascinating peek under an Amsterdam canal.
Other highlights include the nocturnal animal house, zoological museum, Insectarium, Butterfly Pavilion, and Planetarium. There's also a library that features an extensive collection of historic books, prints, and artworks.
12. See the Views from Oude Kerk's Tower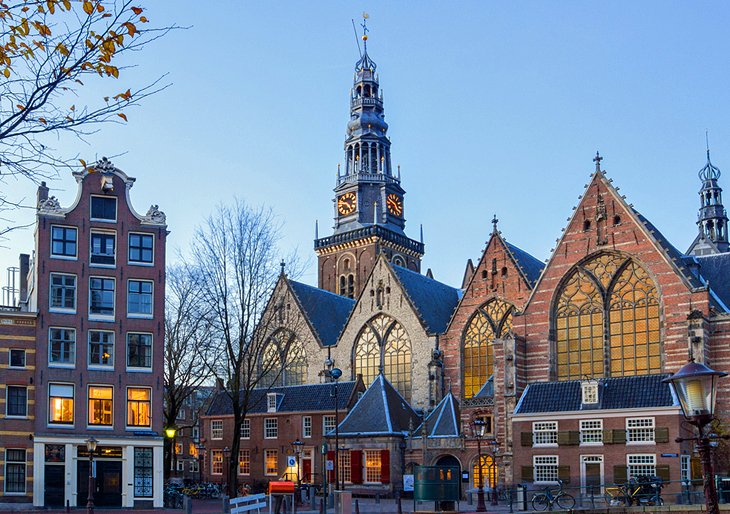 The Oude Kerk (Old Church) – built in 1306 and the city's oldest structure – remains unchanged since Rembrandt's time. The first hall church in North Holland, this splendid piece of architecture became the model for many other churches in the region.
Numerous additions were added over the centuries, such as the large side chapels from the early 1500s. Also dating from this period is a portal leading to the Iron Chapel, where documents showing the city's privileges, including the freedom from tolls granted in 1275, were kept locked behind an iron door. The tower was added in the 16th century and has a carillon from 1658 that's considered one of the finest in the country. It also offers great views over the city.
The interior of the church has features dating from before the Reformation, including three magnificent windows from 1555 from the Dutch High Renaissance, and finely-carved wooden choir stalls. These days, the building is well-known as a venue for contemporary art exhibits.
13. Learn about Dutch Art at Stedelijk Museum Amsterdam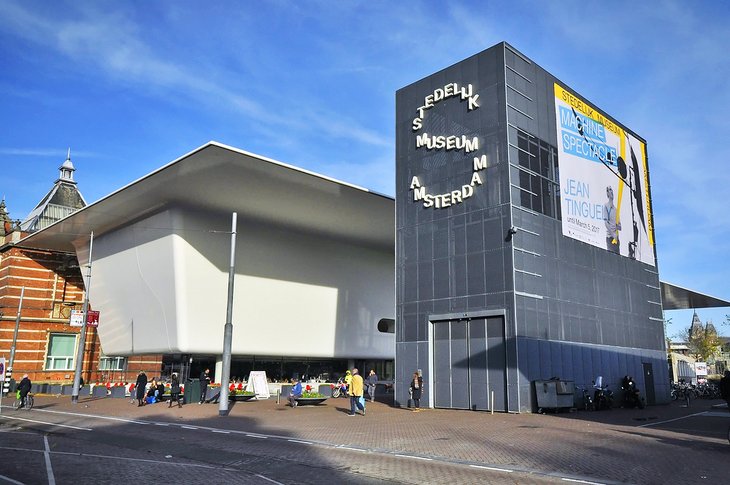 Founded in 1895, the Stedelijk Museum Amsterdam – in English, the Municipal Museum Amsterdam – houses one of Europe's most impressive modern art collections. With a focus on 19th- and 20th-century Dutch and French painting, the museum features works by a number of renowned art movements, including De Stijl.
Other important works include examples from Van Doesburg, Mondrian, and Rietveld; Pop Art, with works by Rosenquist and Warhol; and painters such as Chagall, Dubuffet, De Kooning, and Matisse. The sculpture garden also contains examples by Rodin, Moore, Renoir, and Visser.
14. Take a Tranquil Stroll through The Begijnhof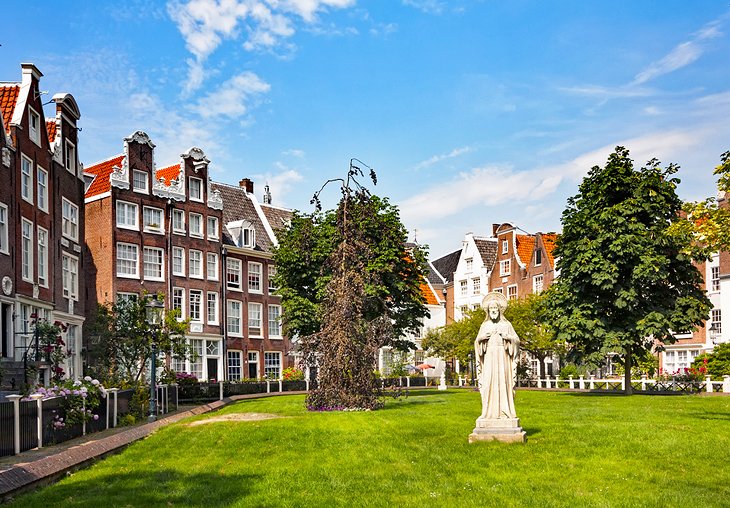 The Begijnhof is one of those rare tranquil inner-city spots that many tourists simply don't notice as they hustle from attraction to attraction. And that's a shame, as this stunning old corner of Amsterdam simply begs to be explored.
Although most of the old homes are occupied, the tiny lanes and pathways around them provide public access, so don't be shy to wander freely. You'll be rewarded with views of well-kept green lawns – the courtyards – surrounded by some of the oldest houses in Amsterdam, including its only remaining wooden house from the 14th century.
15. Jewish Historical Museum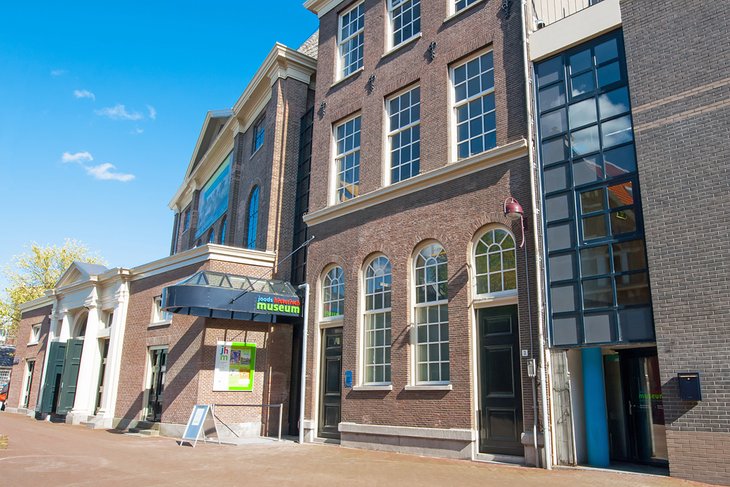 The Jewish Historical Museum (Joods Historisch Museum) is housed in four redundant synagogues, one of which, the Grote Synagogue, dates back to 1670. Highlights include a large collection of religious artifacts, such as silver Torah containers, Torah robes, and decorated Torah headdresses, as well as hangings and ceremonial canopies (of particular interest is the white marble Holy Shrine).
The museum also has a large library, while in the Upper Synagogue, the Obbene Sjoel, there's a kosher restaurant. Be sure to check the museum's website for details of its concert program, which includes candlelight performances by renowned local and international artists.
Of note outside the museum is the Docker Monument, erected to commemorate a strike in 1941, when workers refused to co-operate with the deportation of their Jewish fellow citizens.
16. Nieuwe Kerk (New Church)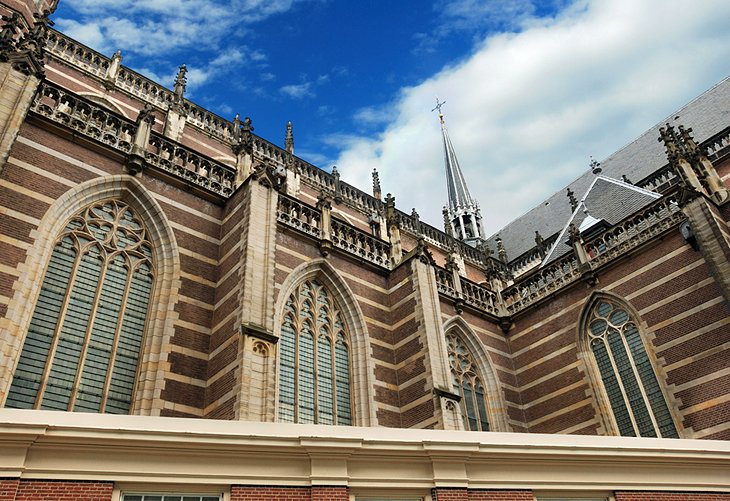 Nieuwe Kerk (New Church), used as the coronation church of Dutch monarchs since 1814, lies in the heart of Amsterdam next to the Royal Palace in Dam Square ("The Dam"). This historic square was built around 1270 to separate the Amstel from the IJ and gave the city its name.
Today, the square and the church are used for public functions such as antique fairs and art exhibitions. Regular organ concerts also take place in this 15th-century church. A striking feature is its magnificent pulpit from 1649, a marvel of Baroque wood carving decorated with the four evangelists and figures symbolizing Faith, Hope, Charity, Justice, and Prudence. The church also has an organ from 1670, an exceptionally beautiful choir screen cast in bronze, and fine choir stalls.
17. Pay Your Respects at the National Monument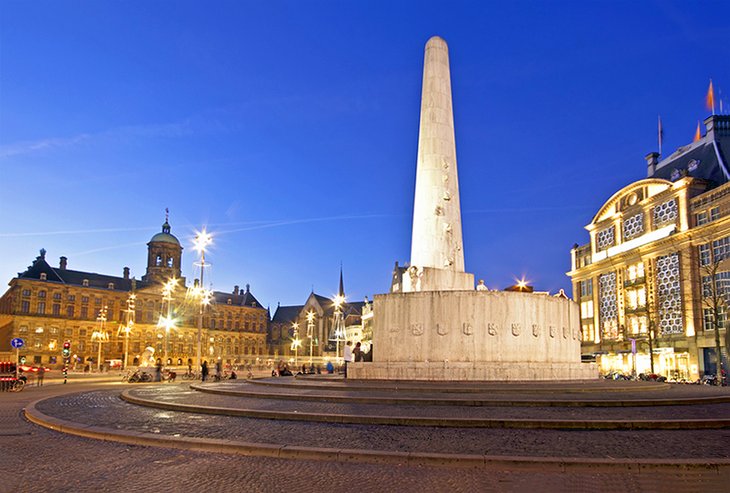 On the opposite side of The Dam, the National Monument (Nationaal Monument op de Dam), a spectacular 22-meter-high obelisk, was erected here after the Second World War as a memorial for its victims and a symbol of Liberation.
It was designed by J. J. P. Oud and decorated with sculptures by J. W. Rädeler symbolizing, among other things, War (four male figures), Peace (a woman and child), and Resistance (two men with howling dogs). Embedded in the obelisk are urns containing earth from the 11 provinces, and a 12th urn contains earth from the cemetery of honor in Indonesia.
The monument was dedicated by Queen Juliana on 4 May, 1956, the national day of remembrance. Every year on this date, wreaths are laid here and a two-minute silence is observed throughout the Netherlands.
18. Go Shopping in Kalverstraat and Vlooienmarkt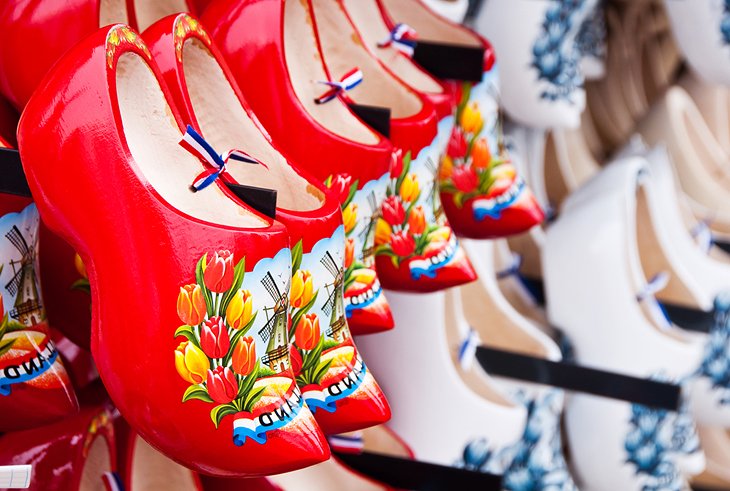 There comes a point in every vacation when a little shopping therapy is needed. Amsterdam boasts many great places to shop, whether for high-end luxury goods, local crafts, or fun souvenirs. The best known – and usually the busiest – is the Kalverstraat with its many smart boutiques, galleries, perfumeries, cafés, and restaurants. While the crush of humanity can be a little intimidating (especially on a Saturday), it's an outing you won't soon forget.
For a completely different shopping experience, head over to the Vlooienmarkt, Amsterdam's famous flea market, held here since 1886. It's a veritable smorgasbord of wares, with everything from antiques and food to clothes, both new and used.
Most of the best shopping streets in Amsterdam fan out from the Muntplein, a city square that was once home to a sheep market in the 15th century. Rising above the square is the Munttoren (Mint Tower), which dates from 1672 when Amsterdam was the site of the mint for two years while the French occupied Utrecht.
Another unique shopping experience awaits at the Flower Market (Bloemenmarkt), a historic floating market that once sold every type of plant imaginable (while a few flower stalls remain, many of the remaining businesses are souvenir shops).
19. Explore the City's History at the Amsterdam Museum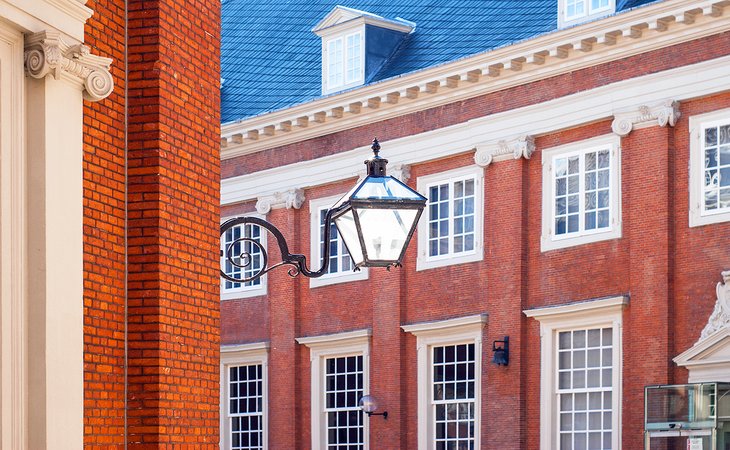 Housed in the former municipal orphanage built in 1414, the Amsterdam Museum consists of a number of spacious courtyards where visitors can learn about the constantly changing role of Amsterdam in the country and in the world. Highlights range from prehistoric finds and the town's original charter to items from the present day, as well as displays describing how the land was reclaimed from the sea.
The inner courtyards are also fun to explore and house other highlights such as the old shooting gallery. There's also an on-site café. The library possesses a rich collection of literature on the history of the city, and graphics and drawings can be viewed by prior arrangement.
20. Get Smart at NEMO Science Museum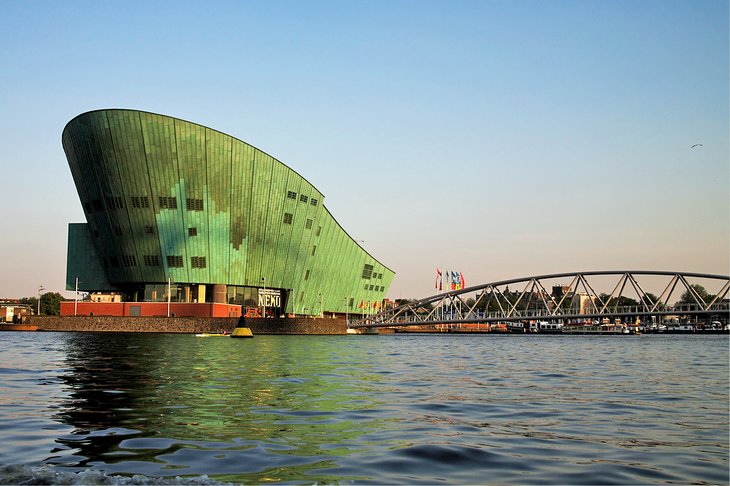 Rising high above the water like the hull of a mighty warship, this ultra-modern structure has housed the NEMO Science Museum since 1997, and more than 20 years later is no less impressive than the day it opened.
Located in the city's old eastern docks, this world-class science center is spread across five floors, each chock-a-block full of fun (and informative) interactive exhibits that appeal to families with kids of any age.
21. EYE Film Institute Netherlands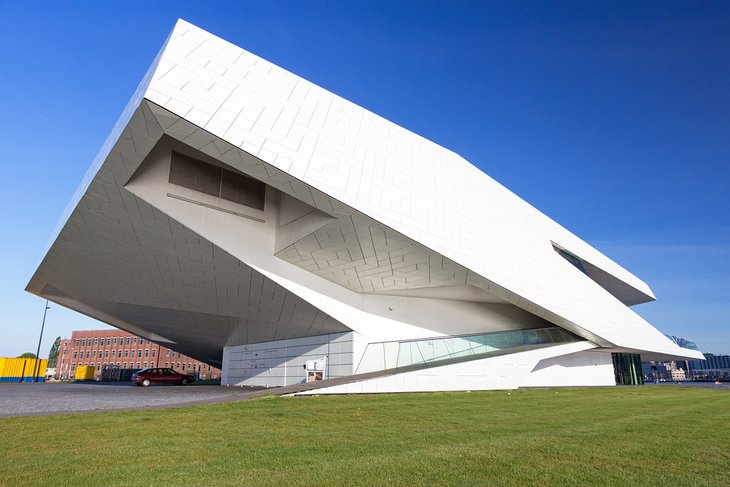 Another ultra-modern building worth taking a look at, even if it's just from the outside, is the EYE Film Institute Netherlands. With its sharp angles and ultra modern design, it almost resembles an alien spacecraft, and certainly grabs the attention.
Opened in 2012, the EYE houses the country's national film collection, along with copies of pretty much every foreign movie ever shown in the Netherlands, and it looks quite different from every angle. If you do get inside, in addition to catching one of the frequent movie screenings, you'll enjoy viewing the excellent film-related exhibits.
22. See the Tall Ships at the National Maritime Museum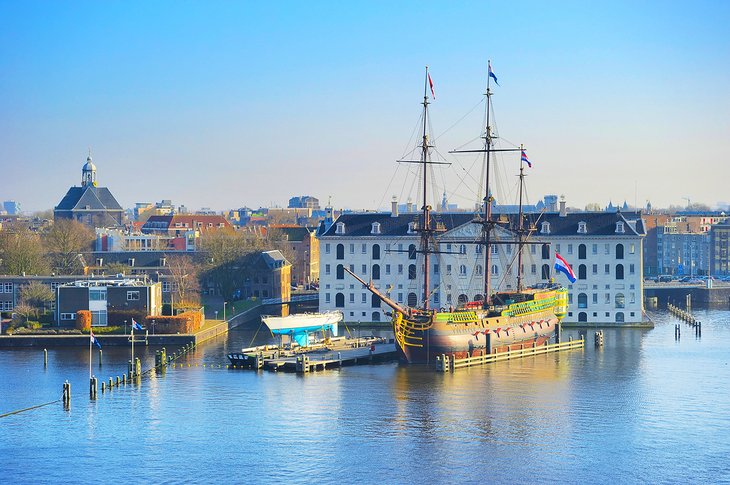 A must for those interested in ships and the long rich history of Dutch military and merchant fleets, the National Maritime Museum (Het Scheepvaartmuseum) is a must-visit. The museum provides a fascinating insight into the impact this small nation of seafarers had upon the world over the centuries, using its many displays to showcase its impressive collection of maritime-related artifacts.
In addition to exhibits focusing on sailing and shipping, the museum houses a vast area of model ships, historic weaponry, maps, and artwork, including many depicting some of the important sea battles involving the Netherlands.
23. Museum of the Tropics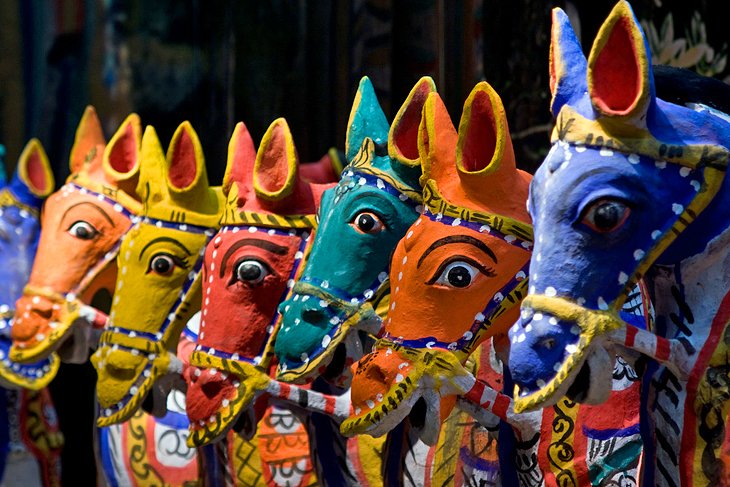 The Museum of the Tropics (Tropenmuseum), established in 1864, is a fascinating excursion for those with an interest in the history of the Netherlands' former colonies.
Set in a cavernous hall built especially for it, the museum contains numerous displays of art and everyday objects from tropical and subtropical areas.
24. Hermitage Amsterdam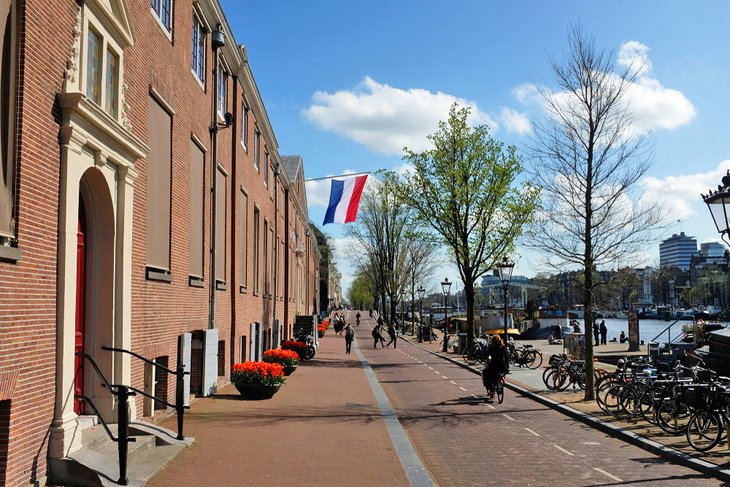 Another great museum collection can be enjoyed at Hermitage Amsterdam, an outpost of the famous location in Saint Petersburg.
Where to Stay in Amsterdam for Sightseeing
If you're traveling to Amsterdam for the first time, the best area to stay is in the World Heritage-listed city center, also known as the "Canal Ring." Amsterdam Central Railway Station borders this area to the north; the Leidseplein and the Museumplein (home to the Van Gogh Museum, Rijksmuseum, and Stedelijk Museum) lie to the south; and the Jordaan neighborhood, with its art galleries and trendy cafés, occupies its western edge. Most of the city's top tourist attractions lie within this compact and easily walkable area. Here are some highly rated hotels in these charming neighborhoods:
Tips and Tours: How to Make the Most of Your Visit to Amsterdam
More Related Articles on PlanetWare.com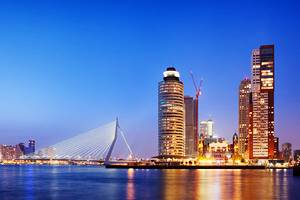 Great City Getaways: The massive port city of Rotterdam offers plenty of great things to do, from exploring the superb collection of historic vessels in the Maritime Museum and Harbor Museum, to wandering its streets and enjoying its mix of both old and new architecture. The country's capital of The Hague should also be included on your Netherlands travel itinerary and is home to no end of museums, galleries, and historic buildings. Utrecht is the fourth largest city in the country and is especially popular for the romanticism of its cathedral and cathedral square.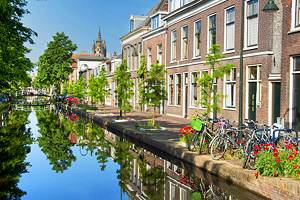 Small Town Attractions: The historic city of Breda is extremely popular for its well-preserved mix of historic architecture, ranging from medieval fortifications to the charming merchant's homes of its old town square. Another stop for the Allies, Eindhoven is well-known for its world-class museums and the nearby traditional villages, including one that remains largely unchanged since Van Gogh famously included it one of his paintings. Lovely Delft is another must-visit, as much for its charming public squares as it is for its famous Royal Dutch Delftware porcelain, a tradition that can still be enjoyed centuries later via factory tours.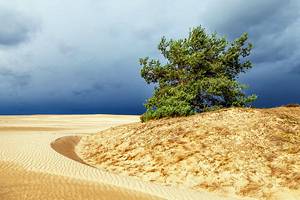 Netherlands Vacation Ideas: The bustling city of Arnhem will forever be remembered for its roll in WWII, when it featured as the "bridge too far" for Allied troops, whose bravery is remembered in. numerous museums and monuments here. Medieval Maastricht is perfect for those wanting a smaller city experience, and is especially popular for its remarkably intact 6th-century church and treasury. Finally, the Netherlands is not without stunning scenery, some of the best of which can be enjoyed in Hoge Veluwe National Park, the country's largest nature preserve and home to everything from thick woodlands to sand dunes.