11 Top-Rated Tourist Attractions in Eindhoven
The largest town in the southern Netherlands (and the fifth largest in the country), Eindhoven isn't a destination that tourists usually think of. That's a pity, as Eindhoven offers a number of attractions and rewarding things to do.
Because of its connections with electronics giant Philips (a monument near the train station is dedicated to the company's founder's son), Eindhoven is known as "Lichtstad" - the City of Light - and is one of the country's industrial powerhouses.
Located on the River Dommel, the city began to grow rapidly with the establishment of the Philips works in 1891, and its industrial prominence was cemented with the founding of the car and truck manufacturer, DAF.
Two of Eindhoven's most popular attractions are museums devoted to the works and technology of these two powerhouses. There's a lot more for tourists to do here, from art museums to historic churches and lovely parks. The city is also notable for its connection to Vincent Van Gogh, who lived and painted in the nearby village of Nuenen.
To learn more about these and other great places to visit in the city, along with some of the best sightseeing opportunities in the Netherlands, be sure to review our list of the top attractions in Eindhoven.
See also: Where to Stay in Eindhoven
1. The Van Abbemuseum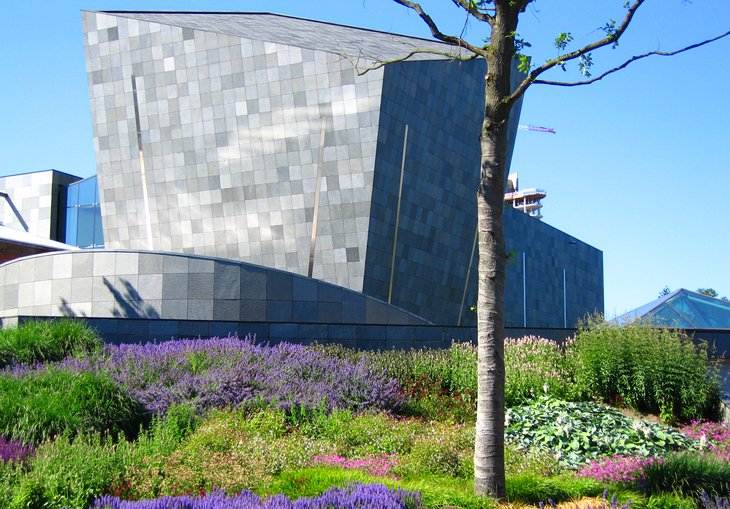 Housed in one of the city's most interesting modern buildings, the Van Abbemuseum is one of the most important galleries of modern art in the Netherlands. Highlights of its more than 2,700 artworks include pieces by modern painters such as Marc Chagall and Pablo Picasso. It's also home to the world's largest collection of material by El Lissitzky.
Other notable collections include numerous sculptures and art installations, video works, and posters, including a large Paris collection from Jacqueline de Jong, as well as examples from the USA, Germany, and Eastern Europe. A gift shop and café are located on-site.
Address: Bilderdijklaan 10, 5611 NH Eindhoven
Official site: http://vanabbemuseum.nl/en/
2. The DAF Museum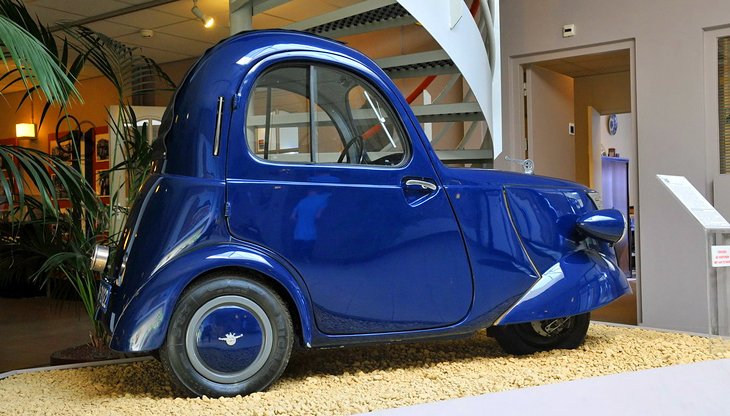 Eindhoven has been home to DAF, one of Europe's largest truck manufacturers (and, at one time, cars), since the company's founding in 1928. Started by brothers Hub and Wim Van Doorne in a small blacksmith's shop, the company - short for Van Doorne's Aanhangwagen Fabriek - started off making simple engineering products, gradually progressing from trailers to cars and trucks.
One of the most popular museums in the southern Netherlands, the DAF Museum is a testament to the company's success and includes a replica of the original workshops and offices, along with samples of its vehicles throughout the decades, including a number of prototypes. A shop and restaurant are located on the premises.
Address: Tongelresestraat 27, 5613 DA Eindhoven
Oficial site: www.dafmuseum.nl/en
3. The PSV Eindhoven Museum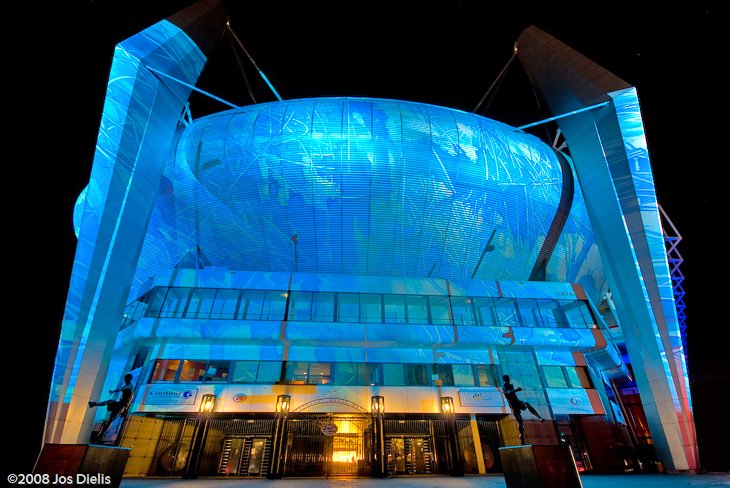 Calling Eindhoven football-obsessed is an understatement. But such claims seem reasonable when you're home to Philips Sport Vereniging (PSV), one of the most successful football (soccer) franchises in Europe. And with the club having celebrated its 100th anniversary in 2014, there's plenty of history on display at the PSV Eindhoven Museum (PSV Musée).
Highlights include historic outfits to photos and film footage of career highlights. English language guided tours of the team's Philips Stadium are also available and include packages that take in team practices, so you can see the players in action.
Address: Stadionplein 4, 5616 RX Eindhoven
4. St. Catherine's Church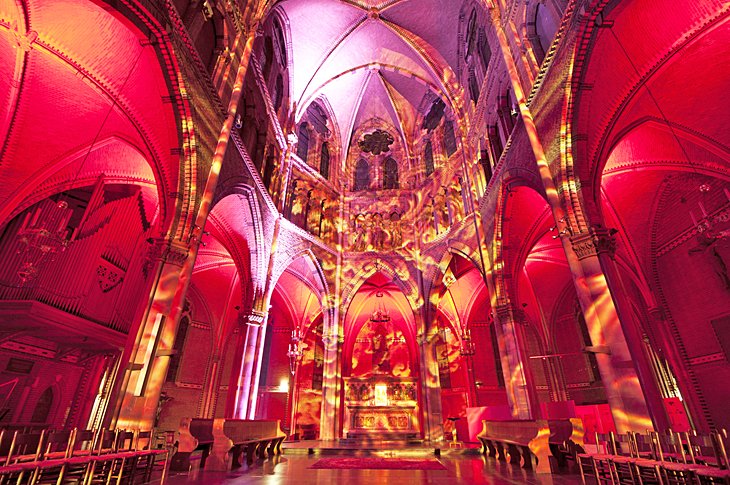 Attractive St. Catherine's Church (St. Catharinakerk) was built in Neo-Gothic style in 1867. The original building - dedicated to St. Catherine of Alexandria - was consecrated in the 13th century and was many times severely damaged by war and fire, even spending part of the 18th-century as a stables and weapons store.
Now fully restored, the current structure incorporates a number of symbolic references to the work of Joseph Thijm, one of the country's best-known writers. Highlights include its twin French Gothic towers, each 73 meters tall and known respectively as David and Maria.
Interior highlights include its stained-glass windows and its two organs, one of them with 5,723 pipes.
Address: Catharinaplein 1, 5611 DE Eindhoven
5. The Philips Museum & Collection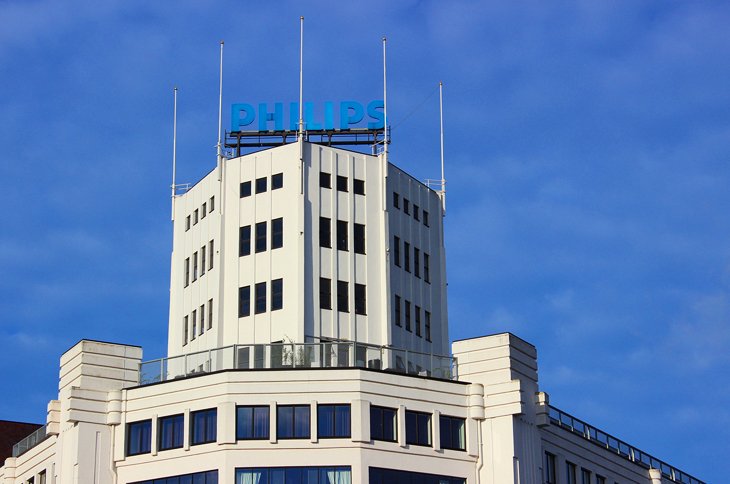 Housed near the factory where Gerard Philips made his first incandescent light bulbs in the 1890s, the Philips Museum shows how this once small enterprise has grown to become one of the world's largest electronics companies.
A visit to the ultra-modern Philips Museum gives visitors an excellent overview of the company's success, as well as the workings of its most memorable products.
One of the museum's most popular features is Mission Eureka, an interactive game involving digital quizzes and puzzles. There are also many other fun interactive exhibits that children enjoy. English language guided tours of the museum and Philips-related city landmarks are available.
Art fans will also want to include the top-notch Phillips Collection on their list of must-visits in Eindhoven. Established in 1921, the museum houses a large contemporary art collection of some 3,000 works from around the world. A café and shop are located on-site.
Address: Emmasingel 31, 5611 AZ Eindhoven
Official site: www.philips-museum.com/uk/
6. Van Gogh Village, Nuenen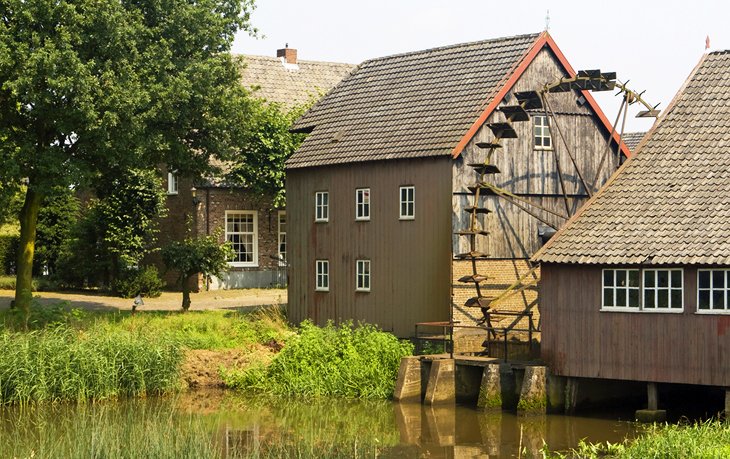 Just eight kilometers northeast of Eindhoven is the picture-perfect village of Nuenen, famous the world over for its inclusion in the art of Vincent Van Gogh, who lived here from 1883 to 1885. His temporary home was in the pastor's house, which has been completely restored to its original style.
A highlight of a visit is the Vincentre, an excellent new attraction dedicated to the artist and his time in Nuenen, and the focal point of many great walks following in Van Gogh's footsteps. These self-guided tours through what's referred to as The Outdoor Museum lead you to more than 20 different locations spread around the village that relate to the artist (some with audio commentary).
Address: 5671 CA Nuenen
Official site: www.vangoghbrabant.com/en/home/nuenen
7. PreHistorisch Dorp (Prehistoric Village)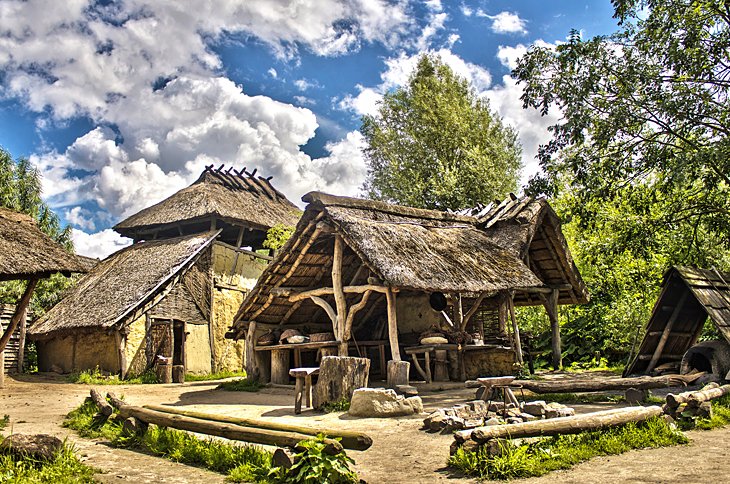 One of the most unusual attractions in Eindhoven, PreHistorisch Dorp is a replica of a prehistoric village, complete with dwellings and demonstrations of skills used by prehistoric people. The open-air museum recreates life from this and later eras, including Roman and early medieval times.
In North Brabant (Noord Brabant), the second largest of the Dutch provinces, agriculture was once the main livelihood before the textile, electrical, and metalworking industries blossomed after 1900. As a result, most of the settlements in the province were small hamlets and villages with farms growing crops such as rye, potatoes, oats, and fodder plants for dairy cattle.
At PreHistorisch Dorp, costumed interpreters bring the history of this province to life, going about everyday tasks and interacting with visitors in programs and workshops. These might include learning to make a fire as prehistoric people did, baking bread on a stick, or learning how to make a Roman fibula (garment pin).
Prehistoric farming methods, hand weaving and spinning, metalwork, and other skills are demonstrated and discussed here. Although very engaging for children, this is an experience for all ages. Signs are in English, as well as Dutch.
Address: Boutenslaan 161B, 5644 TV Eindhoven
Official site: https://prehistorischdorp.nl/en
8. GLOW and other Festivals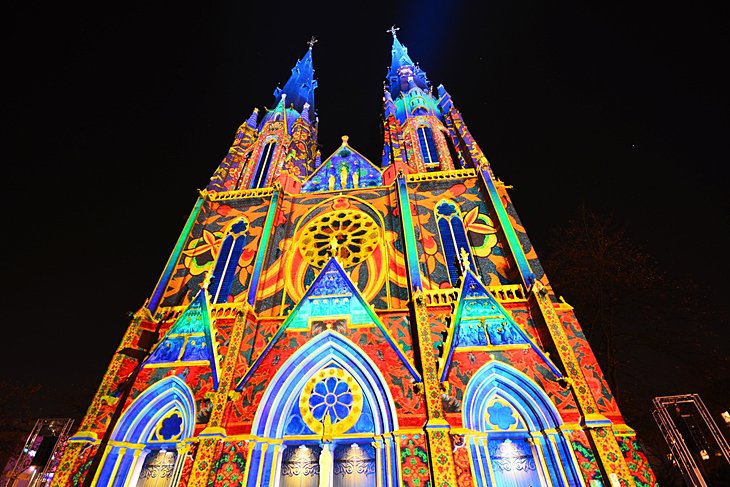 In mid-November each year, Eindhoven hosts an international light art festival, with light artists from all over the world transforming the city into a wonderland of colored lights.
More than 30 illuminations transform streets and buildings each night. Perhaps the most breathtaking of all these is the illumination of the façade of Saint Catherine's Church, picking out its architectural details in different colors.
Another important annual festival is Lichtjesroute, held each autumn to mark the city's liberation from German occupation in 1944. Eindhoven is home to a number of first-rate concert venues and theaters, including the spaceship-like Evoluon, former home of the Philips Science Center and now a conference center and music venue known for hosting major European groups.
Official site: www.gloweindhoven.nl/en
9. Genneper Parken and Stadswandelpark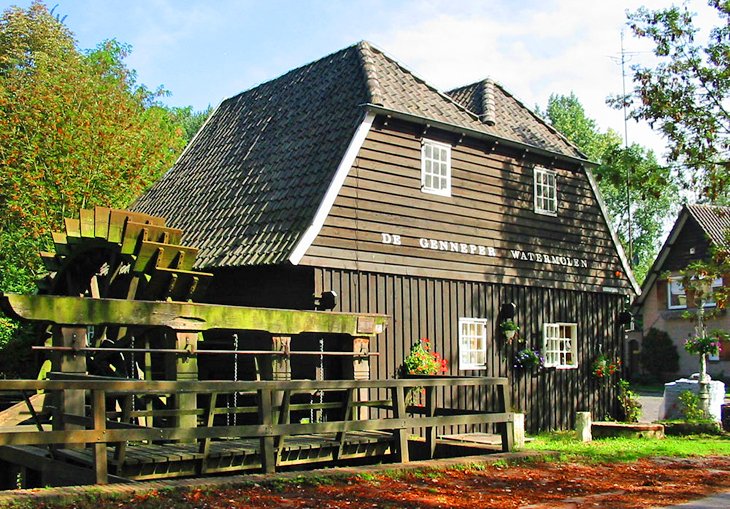 Eindhoven is blessed with a number of excellent green spaces providing locals and visitors with ample room to relax. One of the most popular is Genneper Parken, set in a pretty location on the Tongelreep and Dommel rivers in a valley conservation area.
Explore its well-marked, meandering trails to discover such landmarks as the Genneper Watermill and the neighboring Environmental Education Center, with its exhibits relating to the area's flora and fauna.
Also noteworthy is City Park (Stadswandelpark), a popular place for a stroll thanks to its 30 unique sculptures, as well as monuments such as the Radio Monument celebrating the first radio communications with the Dutch East Indies in 1927.
Address: Antoon Coolenlaan 1, Eindhoven
10. Dierenrijk Zoo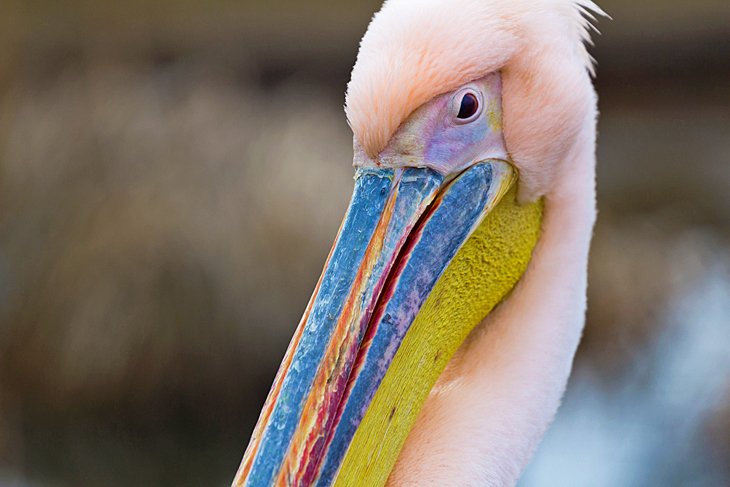 If you are looking for things to do with the family, Dierenrijk is a great place, where the emphasis is on up-close encounters and interacting with the wildlife. Children can get close to such appealing animals as the red panda, and can feed many of them.
Elephants and seals perform, and glass walls allow close encounters even with large animals like bears and tigers. Visitors can walk through the bird enclosure. There are playgrounds and exhibits indoors and outside, so this is an all-weather attraction.
Address: Baroniehei 1, 5731 RG Mierlo
Official site: www.dierenrijk.nl/en
11. Inkijkmuseum and Ton Smits Huis
One of Eindhoven's most interesting museums - and certainly the city's smallest - is the Inkijkmuseum, literally translated as a "look-in" museum. Housed in what was the washhouse of a former linen factory, the ground floor of this fascinating little museum is viewed by peeking through its windows at the often-changing artworks inside.
Another art-related home to visit is the Ton Smits Huis, a museum in the former studio of one of the Netherland's most famous cartoonists.
Address: Jacob Reviuslaan 25, Eindhoven
Where to Stay in Eindhoven for Sightseeing
If you're visiting Eindhoven for the first time, the best place to stay is in the city center. Most of the top attractions in Eindhoven cluster in this compact area within a short stroll or drive from each other, including the Van Abbemuseum, St. Catherine's Church, and the Eindhoven Museum. Here are some highly rated hotels in convenient locations:
Luxury Hotels: A short stroll from the Van Abbemuseum, the artsy Pullman Eindhoven

Cocagne

resides in a contemporary glass and steel building. The luxury De Heuvel mall is just across the street.

Also sleek and contemporary in style, the Park Plaza

Eindhoven

, in a quiet, central location steps away from the Van Abbemuseum, has a heated indoor swimming pool, two Finnish saunas, and a small gym.

You can walk across the street to Eindhoven Central Station from the Holiday Inn

Eindhoven

, which offers simply-styled modern rooms and a swimming pool. The hotel is only a short walk to the city center and 500 meters from PSV Stadium.
Mid-Range Hotels: Right in the center of the action, an eight-minute walk from Eindhoven Central Station, the trendy Inntel Hotels Art

Eindhoven

occupies a 1909 factory building with plenty of glass and brooding black accents. Breakfast is included.

Even closer to the train station, near restaurants and shops, the Crown Hotel Eindhoven

Centre

offers clean, compact rooms a five-minute walk from the Philips Museum and PSV stadium.

On the market square in the town center, Queen Hotel Cafe

Restaurant

is also only a five-minute walk from the Philips Museum.
Budget Hotels: The pet-friendly Sandton Hotel Eindhoven City

Centre

, with clean, crisp rooms, is at the top end of the budget category, while the Hotel

Benno

, also in the heart of the city, is cheap and cheerful.

About a seven-minute walk to the Philips Stadium, in a part of the old Philips factory, Blue Collar

Hotel

has an edgy industrial vibe and an on-site theater and restaurant.