12 Top-Rated Tourist Attractions in Aachen
Aachen is Germany's most westerly city and, historically, one of Europe's most important due to its position near the Dutch and Belgian borders. Situated in a forest-ringed basin in the foothills of the Eifel and the Ardennes, Aachen has long been famous for its curative hot springs and spas. The hottest in Europe, these hot springs have frequently been visited by royalty over the centuries.
Paying a visit to these wonderfully relaxing spas is still one of the top things to do in Aachen. Numerous package options available for couples seeking a romantic getaway.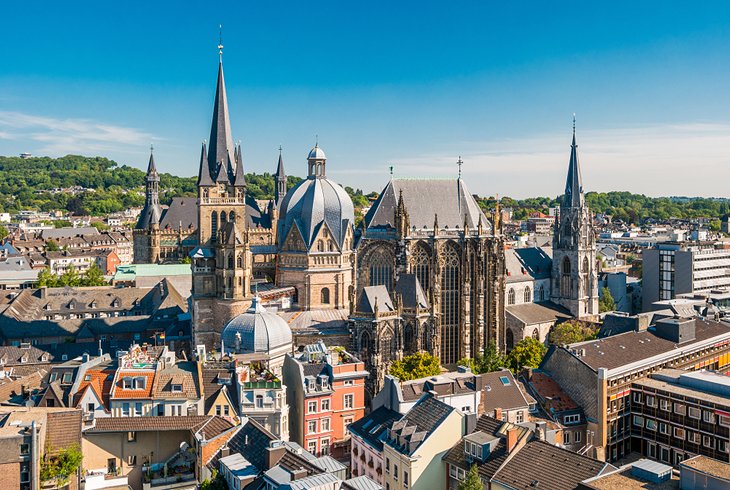 The city's royal roots run deep. Indeed, in the Middle Ages, Aachen was famous as a residence of the Frankish kings and a stronghold much favored by Charlemagne.
Today, references to this popular historic ruler are seen everywhere in Aachen. You'll find them in numerous historic sites, such as the Statue de Charlemagne in Marktplatz, as well as in the fascinating collections of period artifacts and displays in the city's museums.
The city has even established Route Charlemagne. This popular tourist trail takes in the many important landmarks in Aachen that are associated with the great ruler. Other highlights along the way cover the time of Otto I in AD 936 to Ferdinand I in 1531, when Aachen was the place of coronation for 32 German kings.
Learn more about the best places to visit and sightseeing opportunities with our list of the top attractions in Aachen.
1. Aachen Cathedral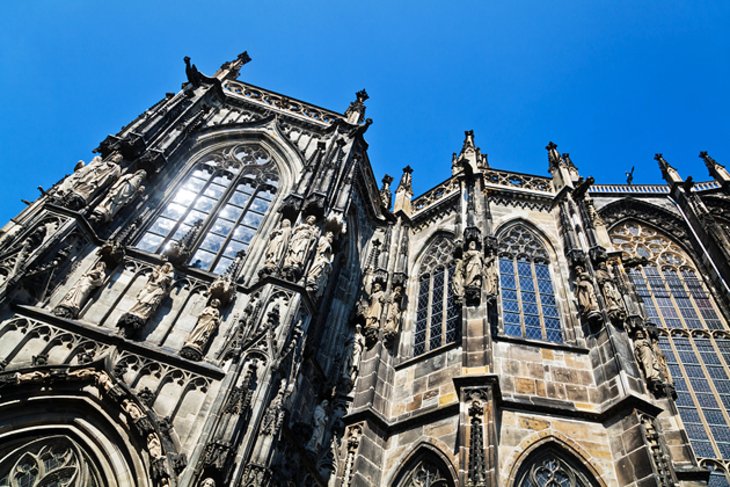 Sometimes referred to as the Imperial Cathedral (Kaiserdom) or by its English name, the Cathedral of Aix-la-Chapelle, Aachen Cathedral (Aachener Dom) has the distinction of not only being one of Europe's first UNESCO World Heritage Sites, but also one of its oldest such buildings.
Consisting of a central octagon built in AD 796 as Charlemagne's palace church (the Palatine Chapel) and the Gothic choir completed in 1414, this splendid Roman Catholic cathedral is home to many unique historic artifacts. Highlights include a candelabrum presented by Frederick I Barbarossa, Charlemagne's marble throne, and a golden reliquary containing his remains.
The cathedral is also famous as the final resting place of Charlemagne. Though the exact whereabouts of his remains are not known, he's believed to have been interred in the Proserpina sarcophagus. This elaborate marble coffin can be viewed in the excellent Aachen Cathedral Treasury (see #2 below).
The cathedral is also well known for its many unique bronze sculptures, most of which date back to its founding and were forged in a socially constructed foundry commissioned by Charlemagne. Also of note are the windows in the cloister, considered excellent examples of post-war German design.
English language guided tours are available on weekends. In advance of your visit, be sure to check out the attraction's neat virtual tour on their official website.
Address: Domhof 1, 52062 Aachen
Official site: www.aachenerdom.de/en/
2. Aachen Cathedral Treasury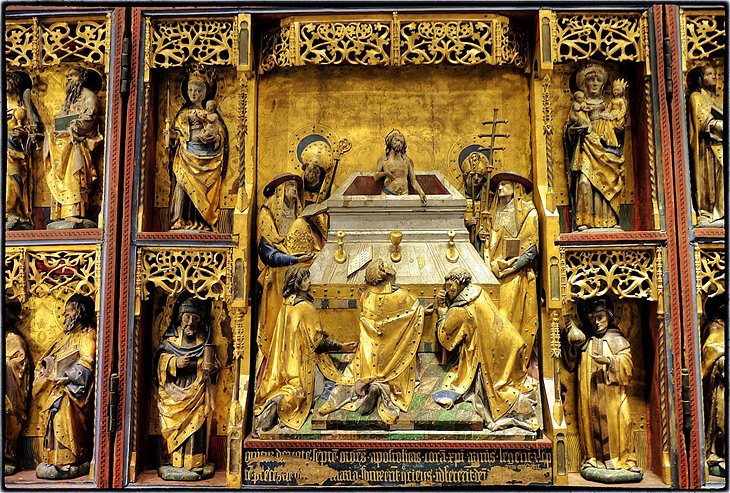 The Aachen Cathedral Treasury (Aachener Domschatzkammer) is a must-see attraction and is located on the cathedral grounds. Connected to the cathedral's cloisters, it houses one of Europe's richest and most important collections of religious artworks from medieval times.
Of its many precious relics, notable highlights include numerous sacred religious artifacts and treasures from the Middle Ages. The most famous of these are the Cross of Lothair and the Bust of Charlemagne, which are only put on show once every seven years during times of pilgrimage.
Other notable exhibits include the Persephone sarcophagus in which Charlemagne was interred, as well as a stunningly beautiful bust made of silver that reportedly contains the king's skull cap. A variety of English language tour options are available.
Address: Johannes-Paul-II-Strasse, 52062 Aachen
Official site: www.aachener-domschatz.de
3. Aachen Marketplace (Marktplatz)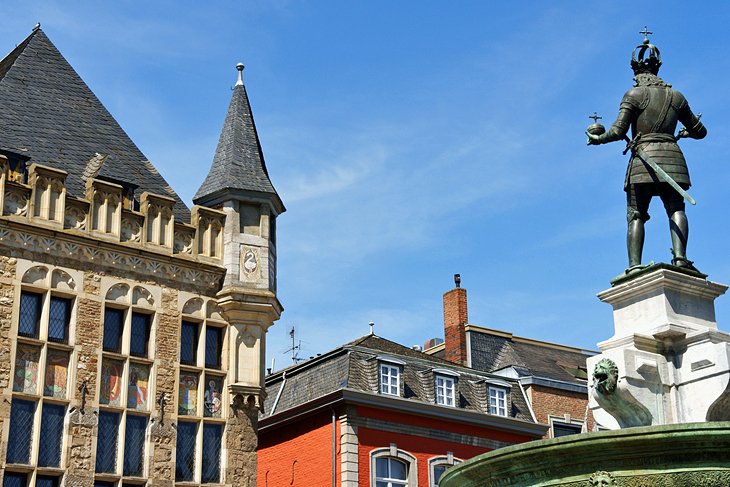 Aachen Marketplace (Marktplatz, or sometimes simply "Markt") contains a number of notable tourist attractions. One of the best is the spectacular old Town Hall (Rathaus). Built in 1350 on the foundations of the former Carolingian imperial stronghold, this stunningly attractive building boasts a number of fine frescoes in the Coronation Hall depicting the life of Charlemagne.
Other highlights include the Katschhof, marking the site of the Carolingian palace courtyard, as well as a number of important statues, including one of Charlemagne. A good time to visit this bustling public square is during market days (Tuesdays and Thursdays), when vendors set up their stalls selling fresh food and local produce.
The Markt is also a great place to simply sit and people watch. This is especially satisfying when done from the patios of its many cafés and restaurants. In fact, spending time in this historic and lively marketplace is one of the best things to do in Aachen at night.
Address: Markt, 52062 Aachen
4. Aachen Town Hall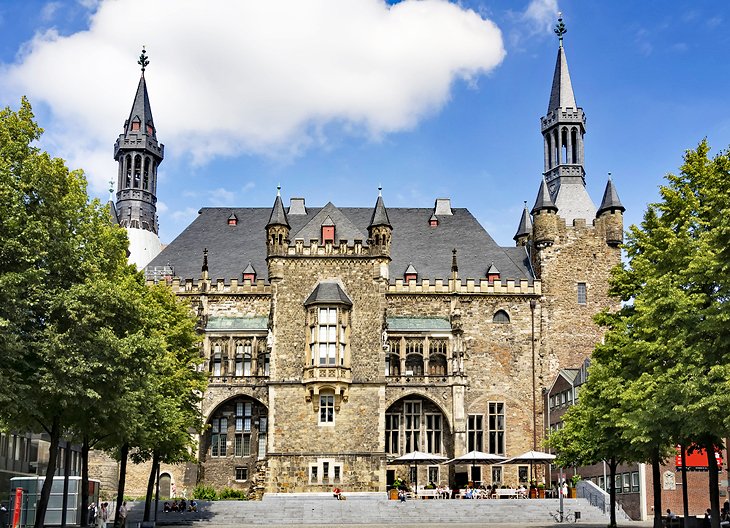 Elegant Aachen Town Hall - the "Rathaus" - is located directly opposite the city's cathedral and is equally important in terms of its architecture and history. It was built on the site of Charlemagne's original palace and incorporates other old structures that were part of the Marktplatz, including the old Grashaus, parts of which can still be seen.
This castle-like structure officially became the town's administrative center around the mid 1300s. Further Baroque additions were made in the 17th and 18th centuries. Interesting highlights include a series of statues on the north façade of the German kings crowned in Aachen.
It's also the site of the magnificent Coronation Hall, with its famous 19th-century Rethel frescoes. Also on display are replicas of the Imperial Crown Jewels and a fine collection of Gothic and Baroque furniture, as well as many historic portraits, including one of Napoleon.
English language guided tours are available and take in important features such as the Council Hall, the kitchen, and the spectacular Coronation Hall.
Address: Markt, 52062 Aachen
Official site: http://rathaus-aachen.de/en/
5. Ludwig Forum for International Art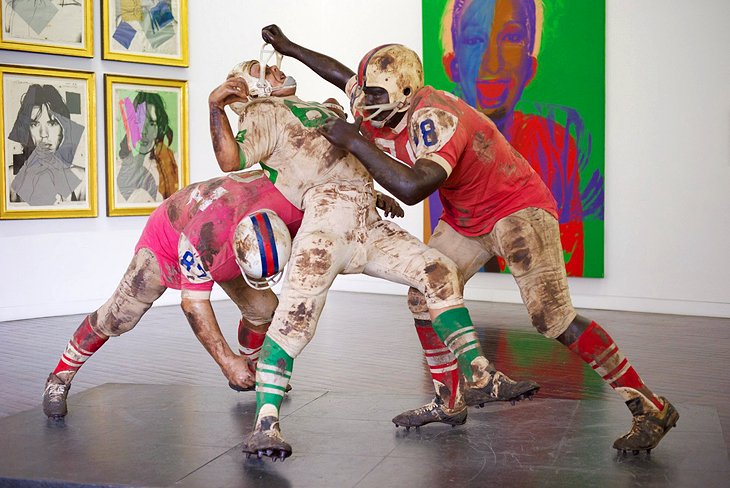 Many magnificent modern art pieces from around the world are displayed at the Ludwig Forum for International Art (Ludwig Forum für Internationale Kunst). Built in the Bauhaus style in 1928 to resemble a train station, this former umbrella factory became the home of a fascinating collection of American pop art and photo-realism in 1970.
Along with exhibits outlining the evolution of European art since the sixties, its permanent exhibits include fine collections of Cuban and contemporary artists, plus works from local artists. English language guided tours are available, as are fun educational programs and workshops, including activities for children.
Address: Jülicherstrasse 97-109, 52070 Aachen
Official site: http://ludwigforum.de/en/
6. Couven-Museum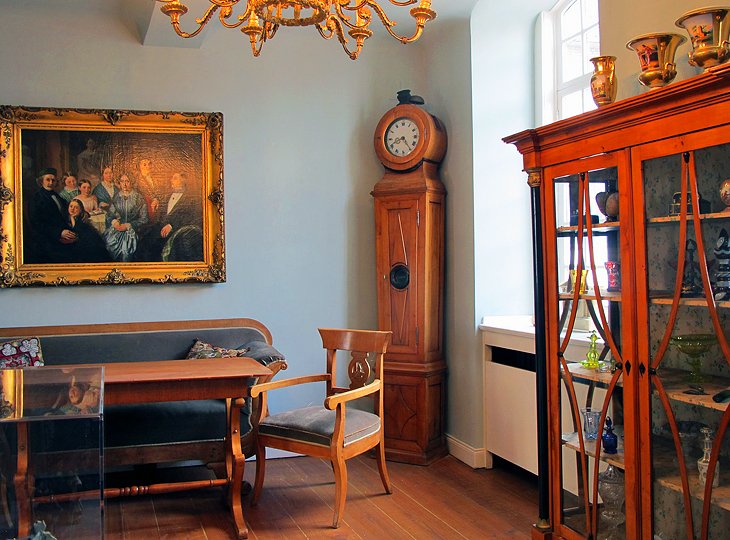 The Couven-Museum, housed in an old burgher's home known as Haus Monheim, was established in 1958 and boasts many fine domestic interiors dating from 1740 to 1840. The collection focuses on décor and artifacts that would have been found in upper middle class homes from this period, including Rococo, early Classicism, and Napoleonic styles.
Highlights include displays of 18th-century silverware, along with kitchenware and the country's first chocolate-bar-making equipment. A well-stocked shop is located on-site, where you can pick up an inexpensive English guide to the museum's many exhibits and displays. English language guided tours are available on weekends and can be tailored to your specific interests.
Address: Hühnermarkt 17, 52062 Aachen
7. Elisenbrunnen & Ancient Hot Springs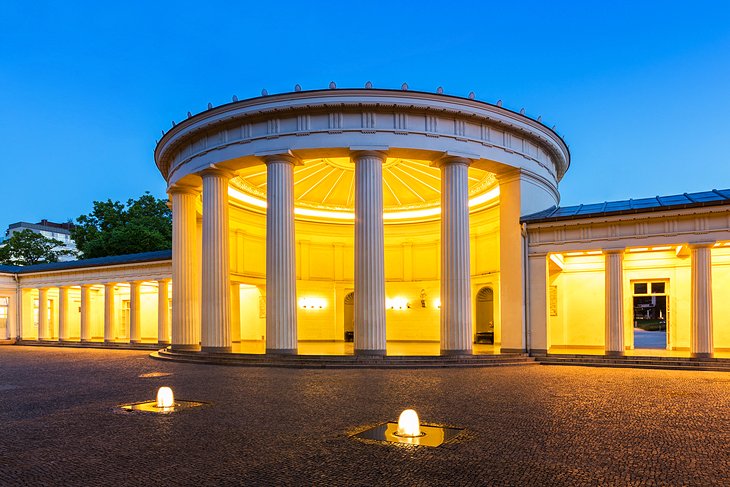 Aachen has a long tradition of spas and baths. In fact, records indicate the Romans recognized the health benefits of bathing in its waters, something that also influenced Charlemagne's decision to move here.
To commemorate this history, in 1827 the town erected the gorgeous Elisenbrunnen. Located in Friedrich-Wilhelm-Platz, this elaborate Neoclassical structure has two drinking fountains and a colonnade.
The building includes an interesting series of marble plaques that highlight the names of some of the many famous historic figures who traveled here to sample its curative waters. These include Peter the Great of Russia and composer Georg Friedrich Handel. The building is now used for community events and exhibits, and is also well worth visiting for its fine restaurant.
A variety of spa-related resorts and bathing facilities continue the city's tradition of welcoming guests to partake in therapeutic treatments. These include the luxurious Carolus Thermen resort.
Address: Friedrich-Wilhelm-Platz, 52062 Aachen
8. Centre Charlemagne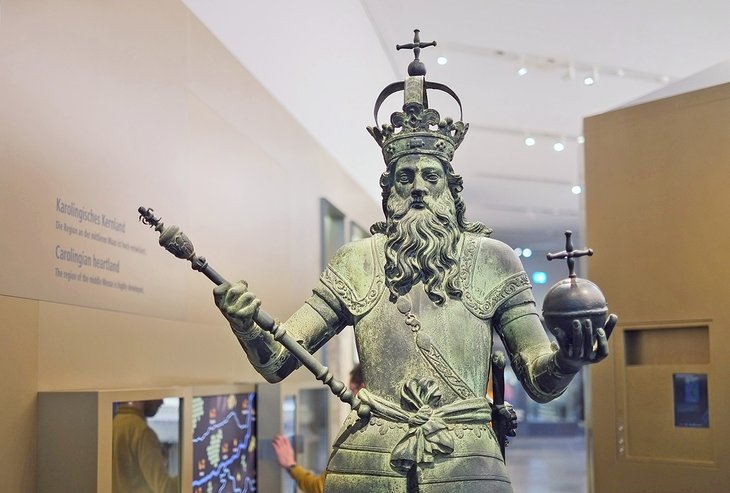 Located in one of the newer buildings in Aachen's Old Town (Altstadt), Centre Charlemagne - also known as the New City Museum Aachen (Neues Stadtmuseum Aachen) - offers a fascinating look at the city's rich history since the beginning of mankind's presence in the region. And it's no surprise, given his influence on the city, that a great deal of emphasis is placed on Charlemagne himself, and the city's role as a place of royal coronations.
Using state-of-the-art audio and visual displays (English-language presentations provided), the museum is a great starting point for those following the Route Charlemagne tourist trail. Also on-site is a café and shop, and regular educational programs for kids and adults are hosted throughout the year.
Address: Katschhof 1, 52062 Aachen
Official site: www.centre-charlemagne.eu/?lang=en
9. Suermondt-Ludwig-Museum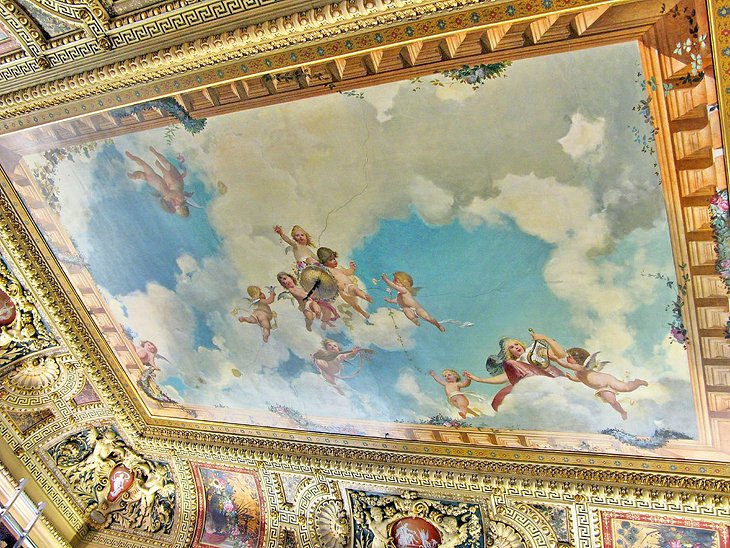 The Suermondt-Ludwig-Museum is of special interest to art lovers and historians. Founded originally in 1877 (it adopted its current name in the 1970s) and set in an impressive former palace, this large gallery is home to fine collections of medieval sculptures and early Dutch and German art, including works by Rembrandt van Dyck.
There's also a good collection of modern art by German painters, unique glass paintings, creations by leading goldsmiths, and tapestries. There's also a large collection of graphic art. English language guided tours are available upon request.
Address: Wilhelmstraße 18, 52070 Aachen
Official site: http://suermondt-ludwig-museum.de/english/
10. Aachener Tierpark Euregiozoo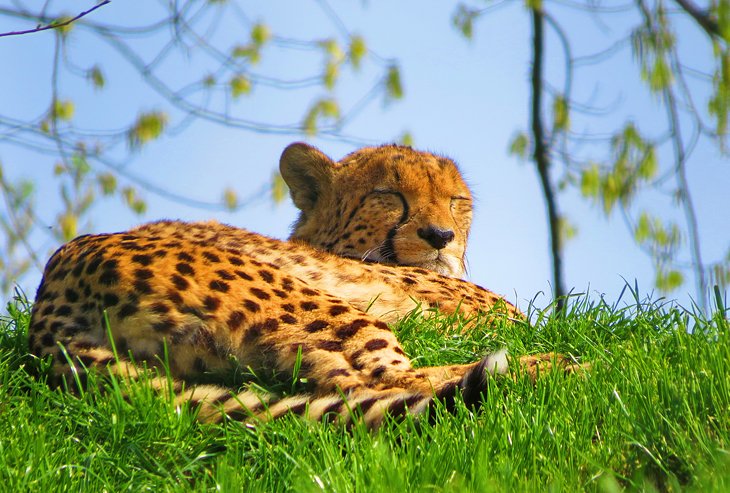 On the way to the Aachen suburb of Kornelimünster from the town center (an easy 20-minute drive) is Aachener Tierpark Euregiozoo. It is located in the Drimborner Wäldchen conservation area and is a fun outing for young and old alike.
Now home to some 1,700 animals from more than 250 different species, the park opened in 1966 and has remained one of the city's top family attractions ever since. Among the many creatures you'll meet are camels, leopards, and tropical birds, as well as a large number of native European species. For kids, there's a fun children's zoo, where petting and other hands-on experiences are available, including pony rides and an adventure playground.
Other related attractions in and around Aachen include Alsdorfer Weiher Zoo (Tierpark Alsdorfer Weiher), a small collection of mostly local creatures set in a large park-like setting that's fun to explore. So, too, is the neighboring Broichbachtal recreational park. Picnic facilities and a restaurant are available nearby (admission is free).
Address: Obere Drimbornstrasse 44, 52066 Aachen
Official site: www.euregiozoo.de/site_en/
11. International Newspaper Museum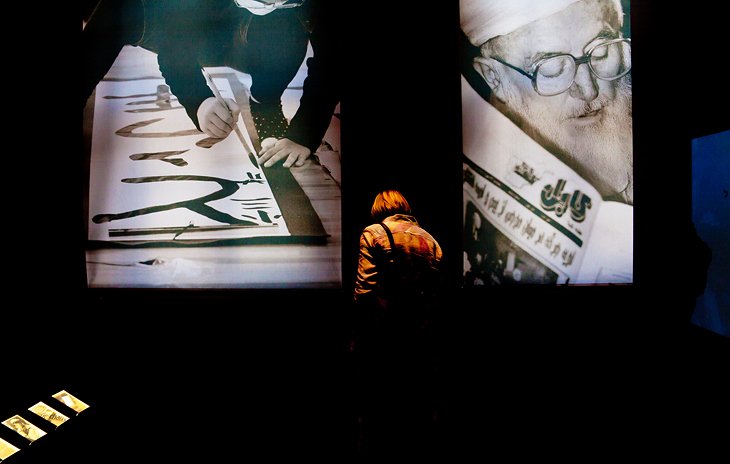 Aachen's Marketplace is also where you'll find the International Newspaper Museum (Internationales Zeitungsmuseum). The museum's vast collection of more than 200,000 newspapers from around the world includes many first editions.
And don't be fooled by the museum's old façade. Although housed in the 15th-century Haus von Aachen, its state-of-the-art displays and multi-media presentations offer a fascinating glimpse not only at how newspapers are made and circulated, but also how they have shaped and handled news over the centuries. There are also displays related to newer media such as radio and TV, as well as a fascinating exhibit that deals with the history of reading and writing.
An on-site theater hosts regular lectures, screenings, and educational events, while media-related workshops are also frequently held here. Also available is a café and a library.
Address: Pontstraße 13, 52062 Aachen
Official Site: http://izm.de/en/exhibitions/media-museum/
12. Ponttor & Marschiertor: The Old City Gates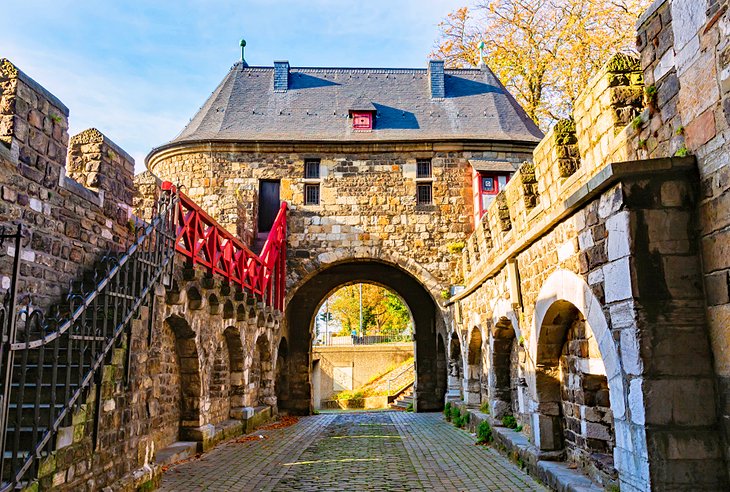 Constructed in the 14th century and one of Aachen's two remaining city gates (there were four originally), the Ponttor is certainly worth a visit. Manned by soldiers for centuries, this impressive castle-like structure's portcullis can still be seen, as can the machicolation, the openings used to cast stones and other projectiles at invaders.
The other old city gate, the Marschiertor ("marching gate") was believed to have been completed slightly earlier than the Ponttor and was ready for action by around 1300. Quite different in appearance from its counterpart, its two towers once housed guard rooms, a weapons store room, and dungeons. While it's not possible to enter these fine old buildings, they certainly make stunning backdrops for a selfie.
Address: Pontwall 18, 52062 Aachen
Map of Tourist Attractions in Aachen
Aachen, Germany - Climate Chart
Average minimum and maximum temperatures for Aachen, Germany in °C
J
F
M
A
M
J
J
A
S
O
N
D

11

-9

12

-7

17

-4

21

-2

25

2

29

6

31

8

30

8

26

5

22

0

16

-4

12

-8

PlanetWare.com
Average monthly precipitation totals for Aachen, Germany in mm.

58

53

64

53

64

74

71

66

56

61

69

74
More Related Articles on PlanetWare.com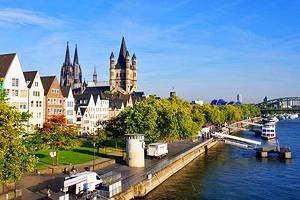 Easy German Day Trips: An easy 30-minute train ride east of Aachen are the many attractions of Cologne. In particular, it's famous for its spectacular cathedral and numerous well-preserved historic churches.
The university city of Düsseldorf also makes an easy day trip (it's an hour northwest by train) and is popular among tourists for its broad Königsallee, an elegant avenue known for its fine boutique shops, galleries, and restaurants.
An hour due east, Bonn, too, is worth considering as a day trip destination. Here, you'll enjoy a stunning Rhine setting that's famous as the birthplace of one of the world's most famous composers: Ludwig van Beethoven.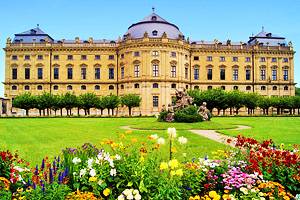 Going for Baroque: Germany is known the world over for its stunning Baroque buildings, nowhere more so than in beautiful Dresden. Here, you'll find one of the best examples of architecture from this period anywhere in Europe: the spectacular Frauenkirche.
In Potsdam, too, you'll find fine examples of Baroque architecture, most notably in the magnificent New Palace at Sanssouci and its breathtaking gardens.
And in the university town of Würzburg stands the majestic former home of the Prince-Bishops, the Residenz, said to be the most spectacular example of secular Baroque architecture in Germany.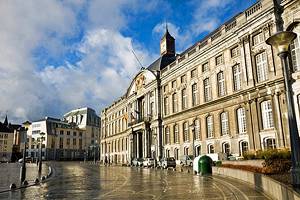 The Netherlands and Belgium: Given its location in the extreme west of Germany, Aachen is an easy jumping-off point to a number of great vacation destinations in other European countries. Just a half hour farther west is the delightful Dutch city of Maastricht, famous for its historic architecture and for being the setting for the signing of the Maastricht Treaty, which cemented the founding of the European Union.
A half hour beyond Maastricht are the attractions of Eindhoven, including the country's important Van Abbemuseum modern art museum, as well as the PSV Eindhoven Museum, which pays homage to one of Europe's top football teams.