8 Top-Rated Tourist Attractions in Aachen
Aachen - once known by its French name of Aix-la-Chapelle - is Germany's most westerly city and, historically, one of Europe's most important, due to its position near the Dutch and Belgian borders. In a forest-ringed basin in the foothills of the Eifel and the Ardennes, Aachen has long been famous for its curative hot springs, the hottest in Europe, which have been frequently visited by royalty. In the Middle Ages, Aachen was a residence of the Frankish kings and a stronghold much favored by Charlemagne, and from the time of Otto I in 936 AD to Ferdinand I in 1531, it was the place of coronation for 32 German kings. In addition to its rich cultural heritage, the city is also famous for its equestrian sports.
1 Aachen Cathedral
Also known as the Imperial Cathedral (Kaiserdom), Aachen Cathedral - one of the first UNESCO World Heritage Sites - consists of a central octagon built in 796 AD as Charlemagne's palace church (the Paladin) and the Gothic choir completed in 1414. It's home to many unique historic artifacts, including a candelabrum presented by Frederick I Barbarossa, Charlemagne's marble throne, and a golden reliquary containing his remains. Also of note are the windows in the cloister, considered excellent examples of post-war German design. Guided tours are available.
Address: Domhof 1, 52062 Aachen
2 The Cathedral Treasury
The Cathedral's Treasury - one of the richest and most important in Europe -contains many precious relics. Highlights include numerous sacred religious artifacts and treasures from the Middle Ages, the most famous of which are the Cross of Lothair and the Bust of Charlemagne - only put on show once every seven years during times of pilgrimage - and the Persephone sarcophagus. A variety of English language tour options are available.
Address: Johannes-Paul-II-Strasse, 52062 Aachen
3 The Marketplace (Marktplatz)
The Marketplace (Marktplatz) in Aachen contains a number of notable tourist attractions. One of the highlights is the spectacular old Town Hall, built in 1350 on the foundations of the former Carolingian imperial stronghold and boasting fine Coronation Hall frescoes depicting the life of Charlemagne. Another highlight is the Katschhof, marking the site of the Carolingian palace courtyard. The Marketplace is also home to the International Newspaper Museum with its collection of more than 200,000 newspapers from around the world, including many first editions.
Address: Hühnermarkt 17, 52062 Aachen
4 Ludwig Forum for International Art
Many magnificent modern art pieces from around the world are displayed at the Ludwig Forum for International Art (Ludwig Forum für Internationale Kunst). Built in the Bauhaus style in 1928 to resemble a train station, this former umbrella factory is home to a fascinating collection of American pop art and photo-realism, along with exhibits outlining the evolution of European art since the sixties. Also included are collections of Cuban and contemporary artists, plus many local artists. Guided tours are available.
Address: Jülicherstrasse 97-109, 52070 Aachen
5 The Old Town Hall
Aachen's lovely Old Town Hall, the Grashaus, has older sections dating as far back as 1267 that were once part of Charlemagne's former palace. It officially became the town's administrative center in the 14th-century and further Baroque additions were made in the 17th and 18th centuries. Highlights include statues of the German kings crowned in Aachen on the north façade, as well as the magnificent Coronation Hall with its famous 19th-century Rethel frescoes. Also on display are replicas of the Imperial Crown Jewels and a fine collection of gothic and baroque furniture. Guided tours are available.
Address: Markt 52062 Aachen
6 Couven Museum
The Couven Museum, in an old burgher's house known as Haus Monheim, was established in 1958 and boasts many fine domestic interiors dating from 1740 to 1840. The collection focuses on décor and artifacts that would have been found in upper middle class homes from this period, including Rococo, early Classicism, and Napoleonic styles. Highlights include displays of 18th-century silverware, along with kitchenware and the country's first chocolate bar making equipment. Also of interest is the Suermondt-Ludwig-Museum with its collections of medieval sculpture and early Dutch and German art, including works by Rembrandt van Dyck.
Address: Hühnermarkt 17, 52062 Aachen
7 Spas and Baths
To commemorate Aachen's long tradition of spas and baths, in 1827 the town erected the Elisenbrunnen, an elaborate Neoclassical structure with a drinking fountain and a colonnade in Friedrich-Wilhelm-Platz. A series of plaques highlight the names of some of the many famous people who traveled here to sample its curative waters. The building is currently used for community events and exhibits, and is well worth a visit. A variety of spa-related resorts and bathing facilities continue the city's tradition of welcoming guests to partake in therapeutic treatments, including the luxurious Carolus Thermen resort.
8 Art from North Rhine Westphalia
Art lovers will want to visit the palatial former Imperial Abbey, the Kornelimünster, a lovely Baroque building that houses a permanent contemporary art collection, Art from North Rhine Westphalia. The gallery includes the work of many local artists, as well as works from other areas of Germany. Guided tours are available. On the way to the Kornelimünster from the town center, the Aachen Zoo delights young and old alike with some 1700 animals from more than 250 different species.
Address: Abteigarten 6, 52076 Aachen
Where to Stay in Aachen for Sightseeing
We recommend these centrally-located hotels in Aachen near top attractions like the cathedral and Marktplatz: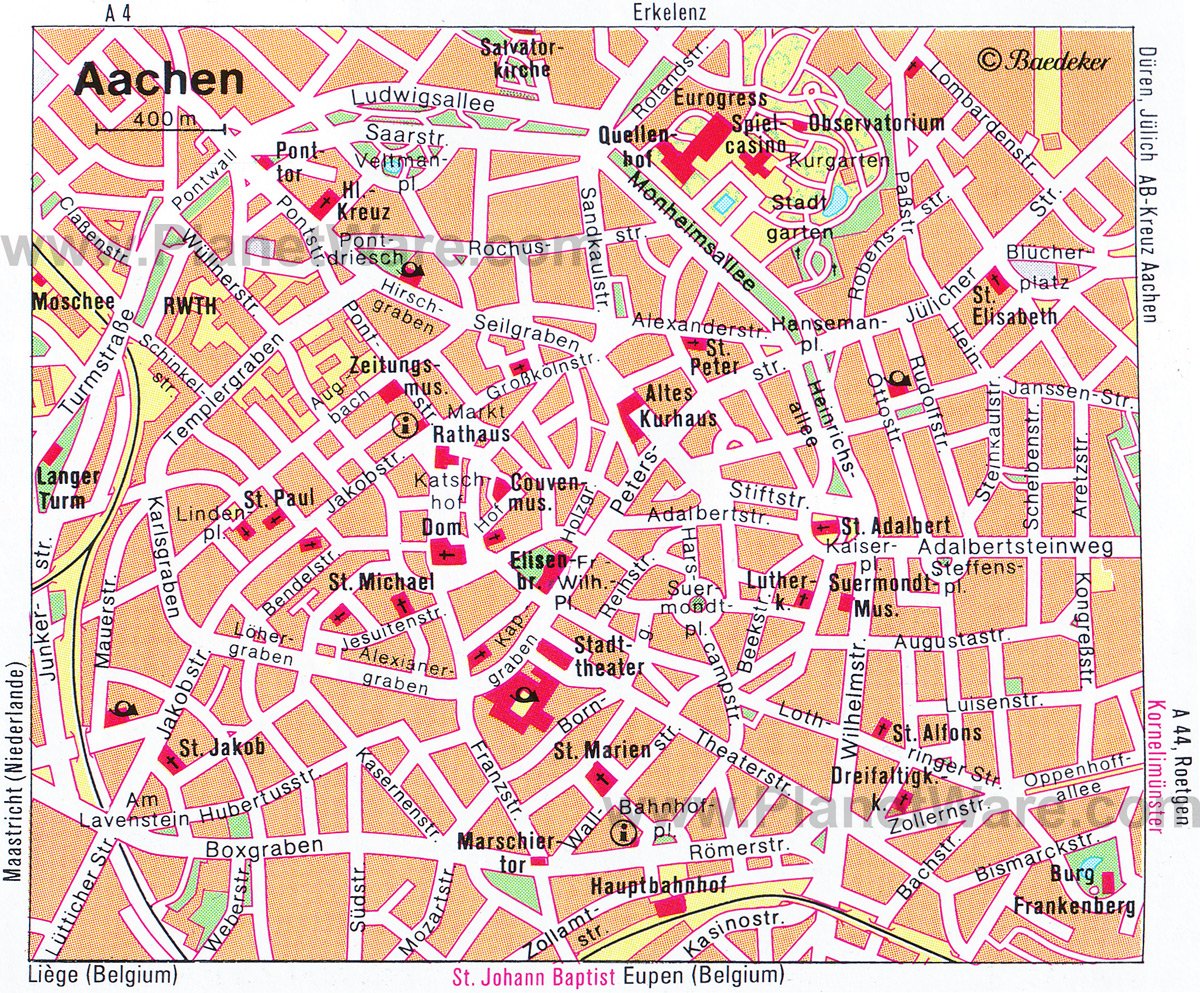 Aachen Map - Attractions
Want to use this map on your web site?
Copy and Paste the code below:
More on Germany