20 Top-Rated Tourist Attractions in Luxembourg
Although a small country of just 600,000 people that only covers around 1,650 square kilometers, the Grand Duchy of Luxembourg delivers a considerable diversity of attractions and fun things to do.
While many of the country's top sightseeing opportunities and points of interest lie in vibrant Luxembourg City (Stad Lëtzebuerg in Luxembourgish), the old quarter of which has been designated a UNESCO World Heritage Site, Luxembourg's many small towns are equally lovely and are well worth exploring.
It's also an extremely easy country to travel around. Whether you're exploring on foot in the capital city, are planning on taking a driving tour through the picturesque countryside, or are doing some town-hopping by train, you'll never have to travel too far before finding something worth seeing.
Old fortresses and castles complement the country's beautiful scenery, making it a popular tourist destination that is frequently visited in combination with surrounding countries such as Belgium and the Netherlands.
You'll find the best places to visit in this charming West European country with our list of the top attractions in Luxembourg.
1. The Old Quarter of Luxembourg City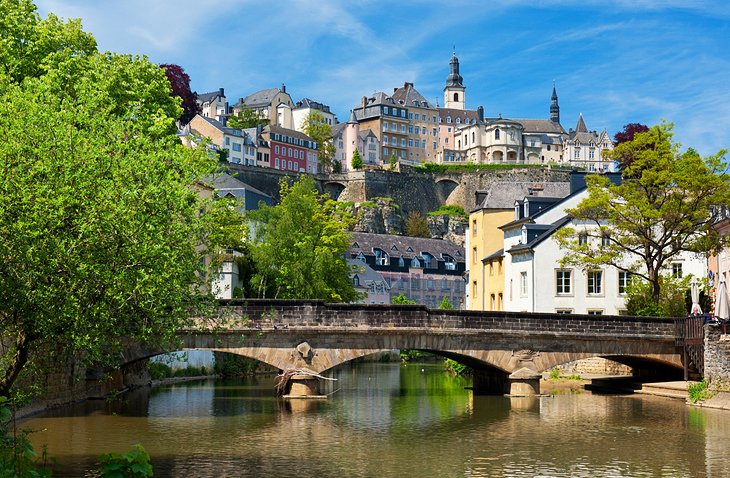 There's no better place to begin exploring beautiful Luxembourg City than in its historic Old Quarter. Often referred to locally as simply "d'Stad," this wonderfully preserved old city center was designated a UNESCO World Heritage Site in 1994.
The city's impressive ancient fortifications also ensured its place as one of the most strategically important of Europe's major cities. The fortress was so impregnable, in fact, it was dubbed the "Gibraltar of the North." Although the original fortress was dismantled between 1867 and 1883, its impact upon the Old Quarter is evident everywhere.
Today, the old fortifications have given way to beautifully laid out parks and gardens, while its cobbled streets are lined with charming old homes and buildings. It's a great place to spend a few hours exploring as you cross its many bridges, including the spectacular Adolphe Bridge, considered a city landmark. You'll also traverse many interesting alleyways. For an added dose of fun, don't make use of a map; instead just follow your nose and see where you end up!
While there's ample public parking, if you're arriving by car, consider using one of the city's excellent park-and-ride facilities. Better still, arrive by train and book a stay in an Old Quarter hotel.
2. National Museum of History and Art, Luxembourg City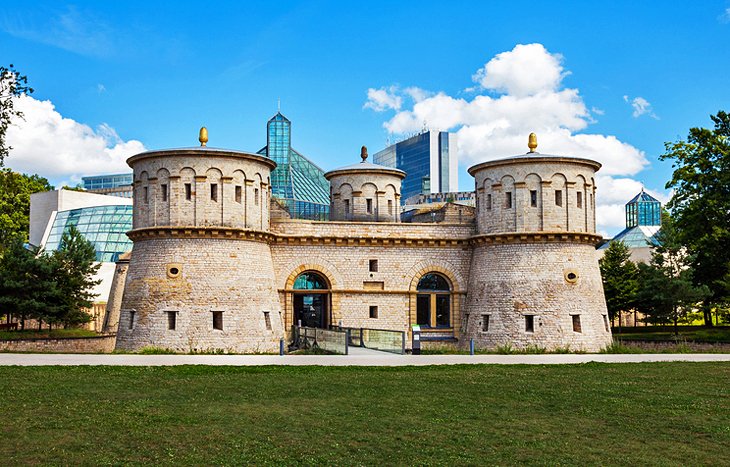 If you were to judge Luxembourg City on the quality of its museums, never mind its status as one of Europe's most historically important cities, it would still rank extremely high on the list of the continent's must-see cities. Topping the list is the National Museum of History and Art (Nationalmusée fir Geschicht a Konscht, or (MNHA).
It's located in the historic Fish Market area, once the original town center. The MNHA's collections include art objects, archeological finds, furniture, tools, coins, arms, and documents dealing with the history of the country, all of them housed in a stunning new building.
There's a particular emphasis on the Gallo-Roman period, with numerous fine displays illustrating the artistic, social, religious, and intellectual life of Luxembourgers from the 16th to the early 20th centuries. The contemporary art section is also a must-see, and is furnished with works by many of the most important artists of the 20th century. Guided tours in English are also available, and a research library and shop are also located on-site..
The unique Am Tunnel, or Galerie d'Art Contemporain Am Tunnel, is also worthy of a visit for art lovers. Located, as the name suggests, in an old tunnel, this contemporary art gallery with its first-rate collection of visual arts offers a pleasant respite from the many larger, busier museums and galleries in the city.
Address: Marché-Aux-Poissons, 2345 Luxembourg City
Official site: www.mnha.lu/en/
3. The Bock Casements, Luxembourg City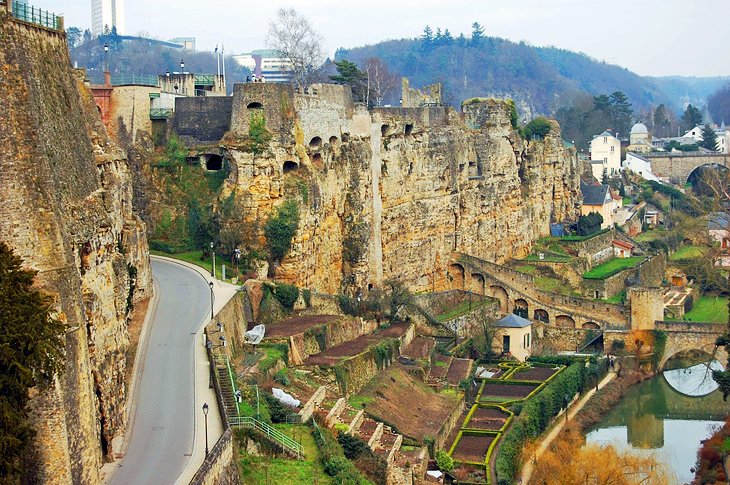 Luxembourg's Bock cliff, or Bockfiels, with its fortifications and cannon-loopholes, is where you'll find the entrance to the famous Casemates (Casements du Bock), a 21-kilometer network of underground passages hewn from solid rock. Capable of sheltering thousands of defenders, as well as equipment and horses, it also housed workshops, kitchens, and slaughterhouses.
All told, the Casements, some of which date back to Spanish rule in 1644, cover an impressive 40,000 square meters. Today, much of these remarkable fortifications can be explored on foot, while organized guided tours are available for those wanting to learn more about the tunnels' fascinating history.
On the Bock plateau itself are the remains of the old castle, discovered in 1963. There are beautiful views of the suburb of Grund and the Rham Plateau, the old 19th-century barracks, and the big towers and remains of the Wenceslas wall dating from 1390.
Address: 10 Montée de Clausen, 1343 Luxembourg City
4. Grand Ducal Palace, Luxembourg City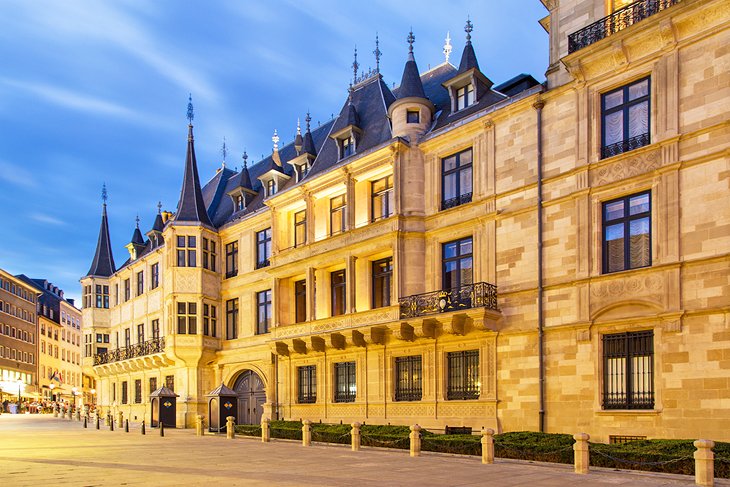 The Grand Ducal Palace (Groussherzogleche Palais) is a must-see landmark in Luxembourg City. This gorgeous Renaissance building dates from 1572 and serves as the official residence of the country's reigning monarch, Grand Duke Henri. It was built as the city's original city hall in 1572, a role it served until 1795 before switching eventually to its present use as the Grand-Ducal Place in 1890.
While it's still the full-time home of the Duke, the public are permitted an opportunity for a peek inside during special organized tours made available from mid-July to the first week of September, when it becomes one of the city's most visited attractions.
Nine tour options are available daily, and are conducted in a variety of different languages, including English. Tickets are made available through the Luxembourg City Tourist Office from their office in Place Guillaume II.
Highlights of the tour include a chance to see the plush, elegantly furnished interior, including the ceremonial rooms used on significant occasions, such as visits by foreign dignitaries.
Address: 17 Rue du marché-aux-Herbes, 1728 Luxembourg City
Official site: https://monarchie.lu/en/visit-grand-ducal-palace
5. The Walls of the Corniche, Luxembourg City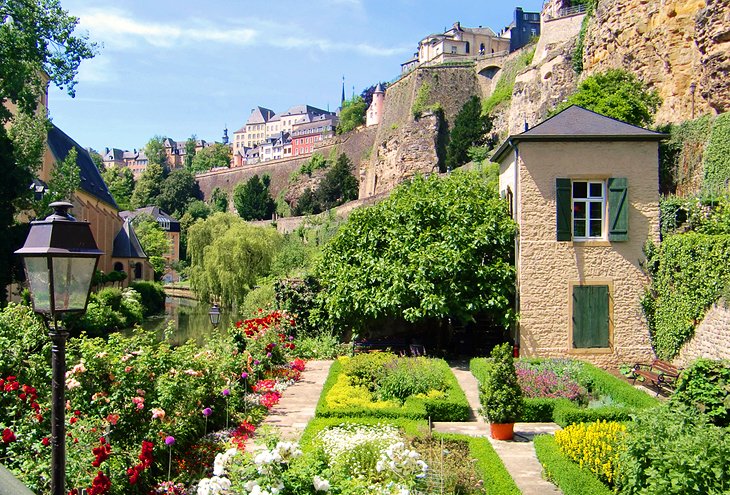 The spectacular Walls of the Corniche (le Chemin de la Corniche) in Luxembourg City have been called "the most beautiful balcony in Europe." Towering over the old city in the river valley below, it's here you'll find the big Gate of the Grund dating from 1632. Its ramparts reveal several aristocratic houses and refuges, as well as the ancient convent of the Dominicans and St. Michael's church (987 CE).
In the suburb of Grund itself is a large cluster of buildings with the church and ancient Abbey of Neumünster. It's notable for its 17th-century cloister of Limoges, an organ dating from 1720, and a 14th-century "black virgin." The adjacent buildings are part of the ancient Hospice St.-Jean, founded by Emperor Henri VII, Count of Luxembourg, in 1309.
Address: Chemin de la Corniche, 1945 Luxembourg City
6. William Square (Place Guillaume II), Luxembourg City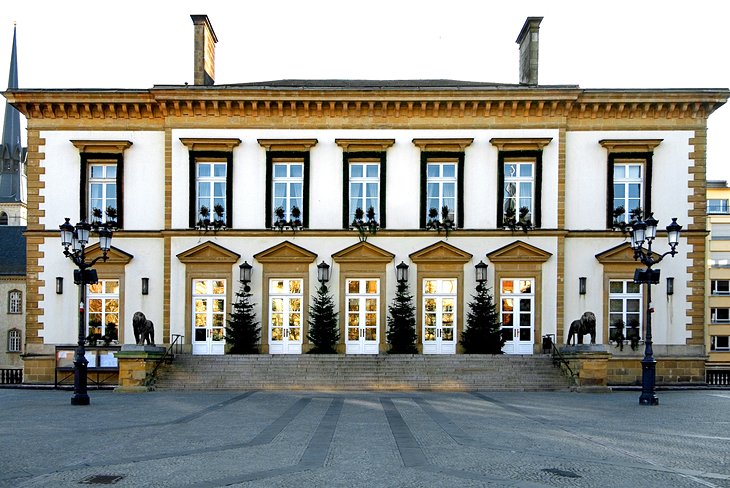 Luxembourg's William Square (Place Guillaume II) is one of the city's largest open spaces. The former site of a Franciscan convent, it has since been converted into a pedestrian zone. In the center is the equestrian statue of William II, King of Holland and Grand Duke of Luxembourg.
William Square is also where you'll find the lovely Town Hall and the famous Trémont's lions. Here, too, the city's popular weekly market is held, and is famous for its flowers and plants, as well as local produce.
Nearby is the 16th-century House of Raville with its beautiful façade, well-restored balcony, and spiral staircase. Other notable landmarks are the Spanish Turret with its superb views of the Pfaffenthal suburb, and the old cavalry-barracks of Vauban. Dominated by Fort Thüngen, it's also known as the "Three Acorns" for the three acorns that adorn each of its three towers.
And be sure to take your time exploring this beautiful area. It's a delightful spot to stop for a meal or beverage at any one of the many fine cafés and restaurants located here.
Address: 23 Rue du Fossé, 1536 Luxembourg City
7. Grand Duke Jean Museum of Modern Art (MUDAM), Luxembourg City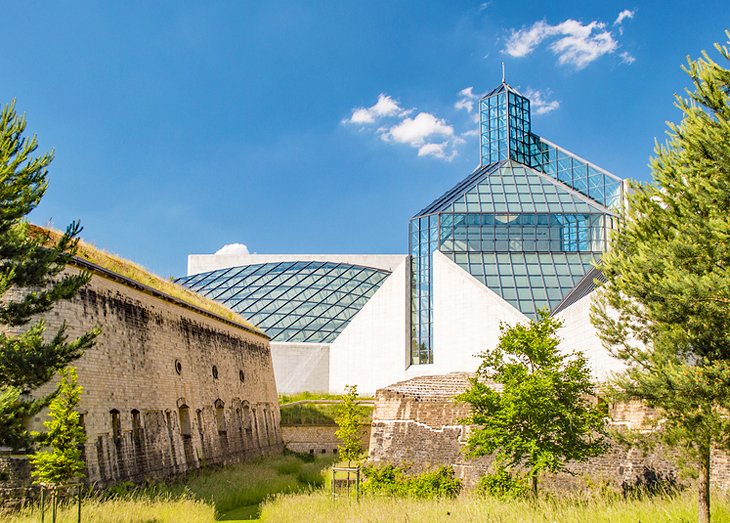 Fans of modern art and ultra-modern architecture must visit the superb Grand Duke Jean Museum of Modern Art (Musée d'art moderne Grand-Duc Jean). It's also referred to simply as MUDAM, and its contemporary art collections from world-renowned artists make it one of Europe's most important art galleries.
Since its opening in 2006, MUDAM has drawn consistent rave reviews for its large contemporary collection. Highlights include works from such well-known artists as Bruce Nauman, Andy Warhol, and Julian Schnabel, to name but a few.
In addition to its fine permanent artworks on exhibit, the museum features many visiting and temporary displays. Also available to the public are a variety of first-rate educational programs and workshops, including some geared specifically to kids.
A large shop selling related gifts and souvenirs is located on-site, as is a great café. Guided tours are also available in English.
Address: 3 Park Drai Eechelen, 1499 Luxembourg City
Official site: www.mudam.lu/en/home/
8. Echternach and its Benedictine Abbey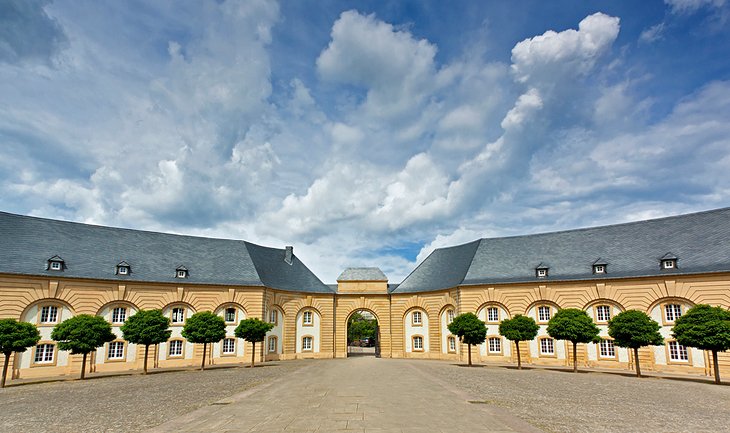 The beautiful town of Echternach lies on the bank of the River Sûre, which forms the border with neighboring Germany. The Mëllerdall and Germano-Luxembourg Nature Parks are located nearby, and the surrounding woods are crisscrossed with hundreds of footpaths leading to spectacular rock formations, waterfalls, a lake, and numerous lovely viewpoints.
The town itself is well known for its centuries-old dancing procession, which takes place on Whit Tuesday and attracts visitors from around the world. The old aristocratic houses, narrow streets, and ancient ramparts have helped Echternach maintain its medieval appearance.
A must-see is the seventh-century Abbey of Echternach. This former Benedictine monastery is popular for its superb museum and is notable for its four long wings built around a large square courtyard. The basilica, considered the most important religious building in the country, is home to a crypt with a magnificent white marble sarcophagus containing the remains of St. Willibrord, the founder of the abbey, and its vaults are painted with frescoes dating back to the 10th century.
Echternach is also famous for its international music festival, which runs from late May to late June. The town also offers great dining at its many restaurants, as well as numerous boutique shops and galleries, a variety of top-rated hotels, and camping.
9. The Luxembourg Ardennes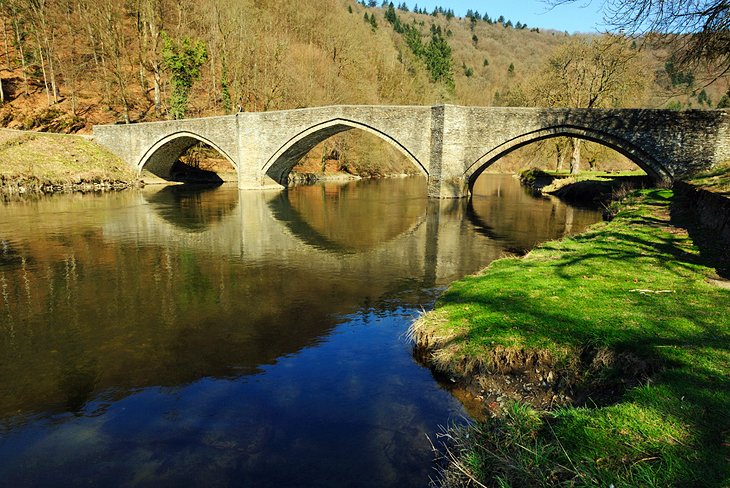 Standing in stark contrast to the rather flat landscape around Luxembourg City, the Ardennes is where you'll find high forested plateaus, sheer cliffs, wooded hills, and hidden valleys, as well as countless impressive views. This picturesque region, famous as the place where Hitler staged his last major campaign of WWII, boasts numerous castles, fortresses, and fortified farms rising out of the hilltops.
One of the prettiest towns, Wiltz, consists of an upper and lower town and is famous for its open-air theater and music festival. There's also a Battle of the Bulge Museum in Wiltz Castle. Another WWII-themed museum of note in the Ardennes is the General Patton Museum and monument in Ettelbruck.
The quaint village of Clervaux is also worth checking out. While the village lies amid a deep and narrow valley beside the river Clerve, its Benedictine Abbey of St. Maurice and St. Maur. Also known as Clervaux Abbey, it was built in 1910 in Romanesque-Burgundian style and dominates the valley. Visitors here can enjoy exhibits relating to the monastic life, as well as Gregorian masses.
10. Luxembourg City History Museum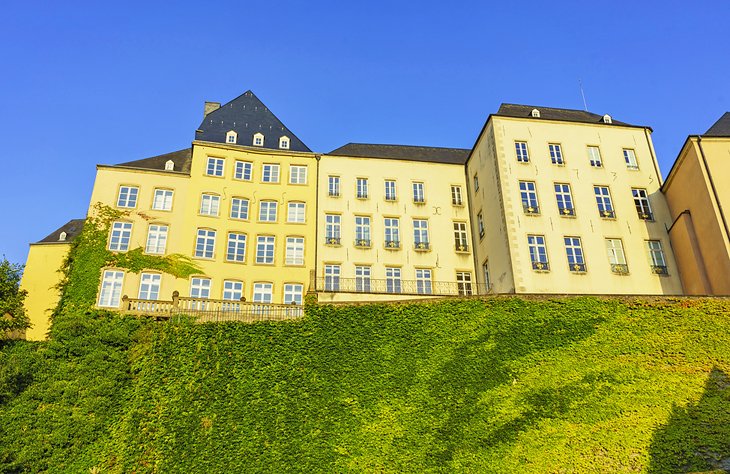 One of the newer attractions in Luxembourg, the Luxembourg City History Museum (Musée d'histoire de la Ville de Luxembourg) was opened in 1996 and provides a fascinating insight into the rich 1,000-plus-year history of the city.
The building itself is a stunning mix of the old and new, combining a number of old homes dating from the 17th and 19th centuries, some with even older medieval sections, such as recently discovered vaulted cellars. These contrast impressively with the museum's striking modern extensions.
Exhibits deal with the early settlement's first inhabitants and its growth and development through the centuries right up to the present day. In addition to its many fine exhibits and displays, the museum is home to a huge elevator and viewing area, which offers wonderful views over the city's historic Grund district. English language guided tours and workshops are also available.
If you're planning on doing some museum-hopping during your stay, be sure to also visit the National Museum of Natural History (Nationalmusée fir Naturgeschicht). This popular Luxembourg City attraction features exhibits dealing with the natural world, both locally and globally.
Address: 14 Rue du St Esprit, 2090 Luxembourg City
Official site: http://citymuseum.lu/en/
11. Bourscheid Castle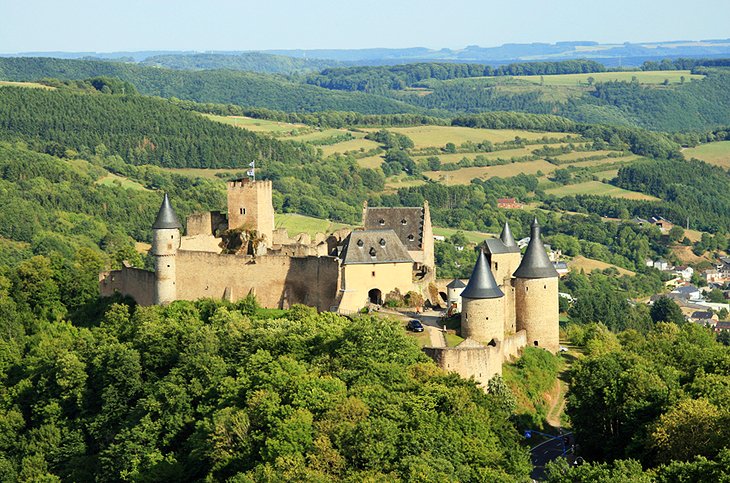 The village of Bourscheid stands high on a plateau and is bordered by the rivers Sûre and Wark. Here, you'll find excellent views and many pleasant hikes to other quaint villages, including Michelau in the Sûre Valley, Welscheid in the Wark Valley, and Kehmen on the plateau. For sun bathers, there are two river beaches at Bourscheid-Plage and Dirbach.
This region of the Ardennes is very much dominated by the ruins of the Bourscheid Castle. This fairy-tale-like fortress dominates the surrounding countryside, and looks down from a rocky peak 137 meters above the Sûre. Dating from the 10th century, the castle has been largely restored and is accessible to visitors. Self-guided audio tours are available, and English language guided tours are also available upon request.
If you are looking for something interesting to do at night, view the castle in the evening when it's lit up. One of the top free things to do in Luxembourg, it's a truly memorable experience, particularly when viewed from the village.
Address: 1 Schlasswee, L-9140 Bourscheid, Luxembourg
Official site: www.castle-bourscheid.lu/wp5/en/
12. Mondorf-les-Bains and the Moselle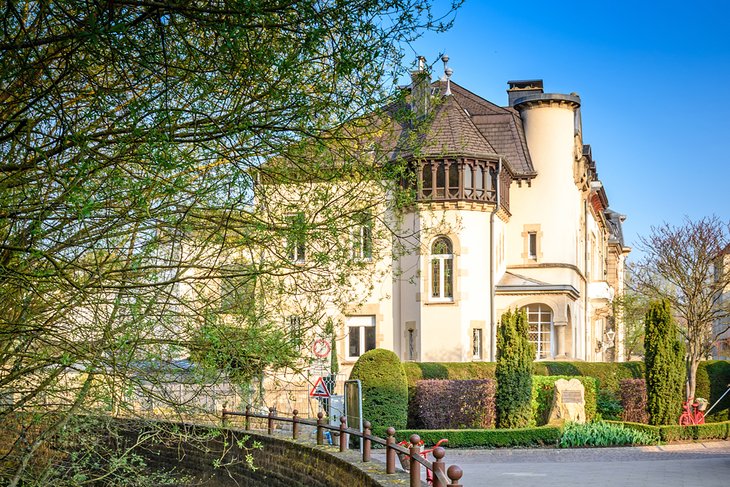 The Moselle region of Luxembourg occupies much of the eastern part of the country and features slopes flanking the majestic Moselle River. The many picturesque villages tucked along the banks of the Moselle recall an ancient charm and are fun to explore and renowned for their varied cuisine produced from locally grown products.
It was also an area much favored by the Romans. As a result, many Roman archaeological remains can be found dispersed throughout the region.
One must-visit in the region is Mondorf-les-Bains, a small town famous for its thermal springs. One of the top tourist attractions here is Mondorf le Domaine Thermal, a large spa complex that houses a health center, sports and leisure club, and hotel. The complex's thermal installations are fed by springs supplying a mineral water of 24 degrees Celsius that is well known for its medicinal qualities.
Afterwards, stroll through Mondorf Park with its large collection of trees, shrubs, and flowerbeds. Other highlights include 18th-century St. Michael's Church, with its furniture and frescoes; the Castel, a little Roman fortress transformed into a hermitage during the Middle Ages; and the Art Nouveau houses.
Address: Avenue des Bains L-5601 Mondorf-les-Bains, Luxembourg
Official site: www.mondorf.lu/?___store=en
13. Upper Sûre Natural Park and Esch-sur-Sûre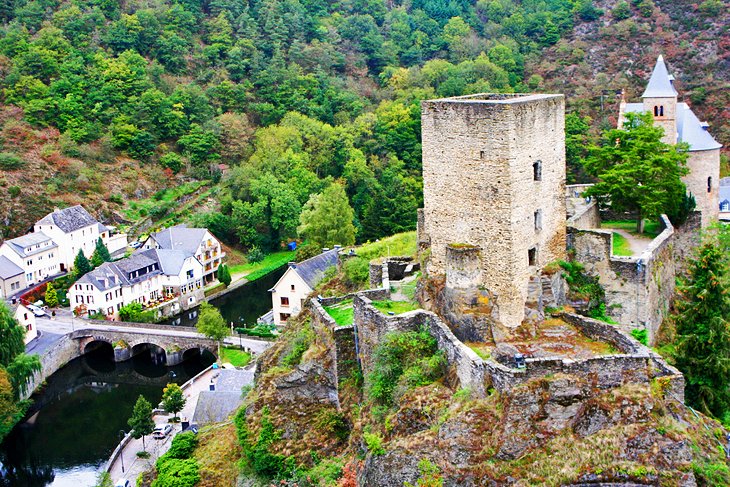 Beautiful Upper Sûre Natural Park (Naturpark Öewersauer) consists of plateaus, narrow valleys with wooded slopes, and the lake of the Upper Sûre dam. It's a popular destination for its leisure activities and water sports, as well as for its wildlife and ecotourism.
Numerous walking tours, including guided and self-guided options, include everything from pleasant circular tours to more arduous treks around the lake. A fun sculpture trail has also been added, as have excellent solar-powered boat tours across the large reservoir. Other fun things to do in Upper Sûre Natural Park include fishing, swimming, sailing, and diving.
The area also possesses a rich cultural heritage. The Nature Park Centre, located in an old cloth mill, includes a museum with interesting artifacts and exhibits relating to both the park and the local area. A number of regular events also take place here, the largest being the biennial Water Art Festival, which attracts more than 200 musicians under a theme of "Rock meets Classic."
A must-visit nearby is Esch-sur-Sûre. This spectacular small village set in the mountains and skirted by the river Sûre and widely regarded as one of the most outstanding sites in the country. The village is dominated by its ruined manor house, built in AD 927 and by the cliffs looking down to the river. The mansion is open year-round with free admission.
Address: Nature Park Centre, 15, Rue de Lultzhausen L-9650 Esch-sur-Sûre, Luxembourg
Official site: www.naturpark-sure.lu/en/
14. Walferdange and its Castle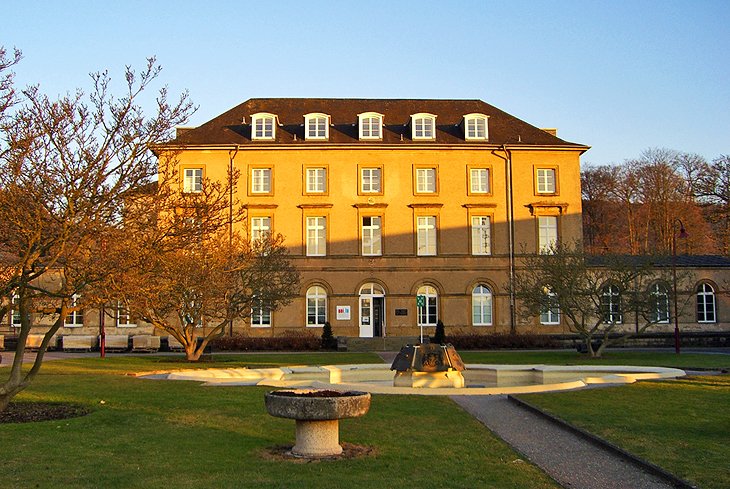 Walferdange Castle (Château de Walferdange), the Grand Ducal residence until the end of the 19th century, lies at the entrance to the Grunewald Wood. Located on one of Luxembourg's principal tourist routes and now a part of the University of Luxembourg, it makes for a great day trip as it's just a short distance from Luxembourg City .
The village of Walferdange itself boasts picturesque scenery due to its location at the junction of the Alzette Valley with its lovely wooded heights. In addition to its great views, the village is well known for its rose gardens. There's also a large archeological site worth visiting that includes a Roman villa and an underground aqueduct.
Walferdange is also become a popular shopping destination, too, since the opening of the Walfer Shopping Center.
Address: 28 Route de Diekirch, 7220 Helmsange, Luxembourg
15. Notre-Dame Cathedral, Luxembourg City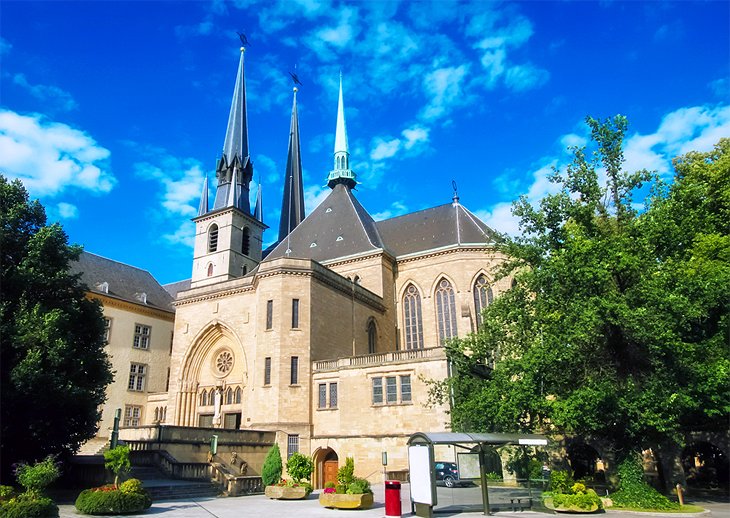 The Roman Catholic Notre-Dame Cathedral (Kathedral Notre-Dame) in Luxembourg City was built in the early 17th century in late Gothic style, with a number of attractive Renaissance features added later. Notable features of what is the country's only cathedral include the two original choir bays, dating from 1621, along with its three distinctive towers, one of which, the west tower, dates from the same period.
Also of interest are the intricate sculpted Baroque angels around the organ tribune, also dating back to the early 1600s. There's also a sobering monument dedicated to the country's WW2 resistance movement and victims of deportation located in the cathedral cemetery.
Visiting Catholics will want to consider attending the cathedral's Sunday evening mass. This regular service usually includes the involvement of the Archbishop of Paris.
Address: Rue Notre Dame, 2240 Luxembourg City
16. Larochette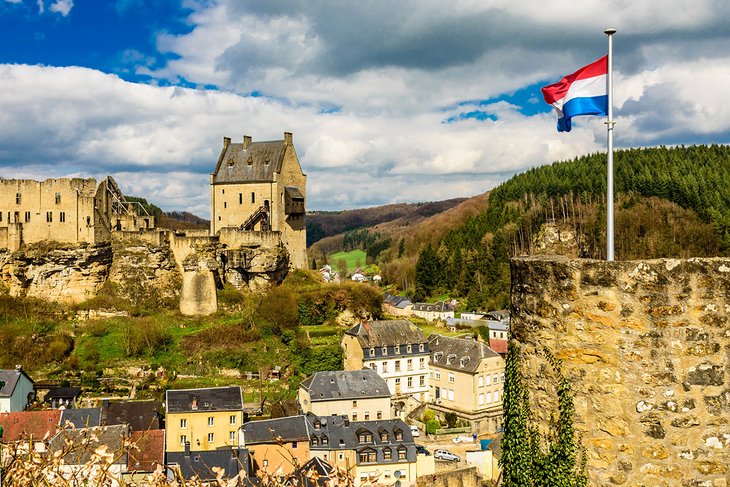 Larochette is a quaint old market town that lies in a narrow, rocky valley surrounded by woods. The town is dominated by two old and partially rebuilt castles that stand on a crag high above the valley of the White Ernz.
The town boasts a superb medieval square as well as a free museum of industry that offers a fascinating look at the area's past as an important textile base and which is open year-round. There are also a number of historical monuments dotted along its many old streets. Be sure to pop into the Neo-Roman church for its Art Nouveau frescoes.
The village is a hiker's haven, with walks for all abilities heading through the woods and countryside. Most lead to notable viewpoints such as the castles of Meysembourg and Nommerlayen, with the remains of a Roman camp at Aalburg. In addition to its fine old hotels and inns, there are also numerous campsites that are welcoming to backpackers.
17. Berdorf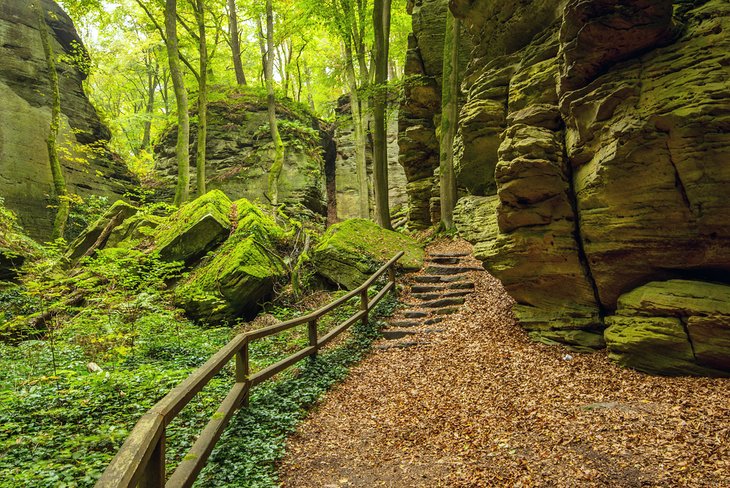 Berdorf is one of the main tourist areas in the Grand Duchy of Luxembourg and lies on a vast tableland overlooking the valleys of the Black Ernz, the Sûre, and the Aesbach rivers.
Numerous well-kept footpaths and hiking trails crisscross the valleys and chasms, where you'll find tall rocky hills with fine views and more than 300 acres of forest. One of the most popular is the 112-kilometer-long Mullerthal Trail, which connects the Berdorf to the picturesque village of Echternach.
Berdorf is also a tremendously popular area for rock climbers, hiking enthusiasts, and campers.
18. Beaufort Castle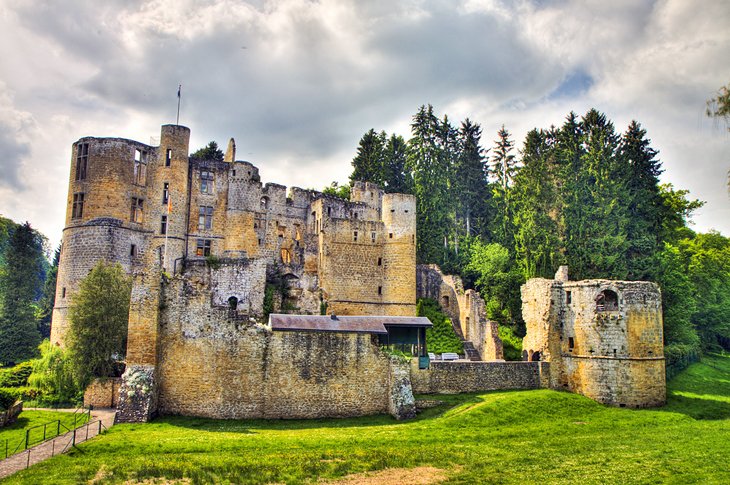 Beaufort lies on a plateau in the Mullerthal region and is well known for its near perfectly dimensioned 12th-century castle, as well as a Neo-Gothic church. Although much of Beaufort Castle (Buerg Beaufort) is now in ruins, it is still wonderful to explore.
Be sure to bring your walking shoes with you. There are a number of footpaths leading through the wooded hills to great views of the surrounding countryside, through spectacular rock formations and the gorges of the Hallerbach and the Saueracht towards Grundhof and Dillingen in the Sûre valley.
Address: 24 Rue du Château, 6310 Beaufort, Luxembourg
Official site: https://beaufortcastles.com
19. Vianden Castle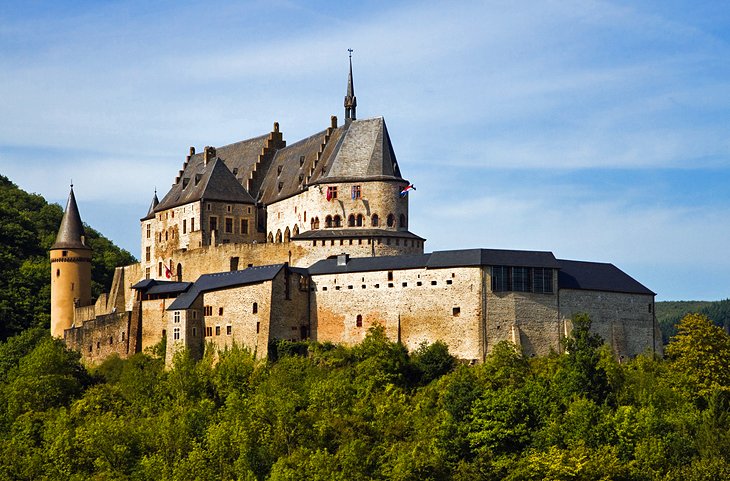 Vianden is an extremely picturesque town straddling both banks of the River Our. Its fine feudal manor, Vianden Castle (Buerg Veianen), dates back to the ninth century and is unrivaled in the Ardennes and Eifel for its architectural significance. Also of note is the medieval outer wall encircling the town with many impressive guard towers.
If you can, try to time your visit to coincide with the annual Vianden Medieval Festival. Held the first weekend of August, this popular family-friendly event is well-known for its jousting and sword fighting tournaments, its market, and knights' camp.
Also worth seeing is the parish church with its two naves. Built in Gothic style in 1248, it has since been completely restored. The former Trinitarian cloister, dating from 1250, houses a lapidary museum that traces the history of the region's once important stone- and gem trades. There's also a small art museum in a former mansion has a number of notable works from 18th- and 19th-century painters.
The house where author Victor Hugo lived during his exile in 1871 now houses a collection of souvenirs of his various visits to Vianden. A large network of walking paths, well maintained and signposted, offers access to the beautiful countryside of the Our Valley, and a chairlift climbs to a height of 440 meters where visitors can enjoy splendid views.
Address: Montée du Château, 9408 Vianden, Luxembourg
Official site: https://castle-vianden.lu/gb/
20. Parc Merveilleux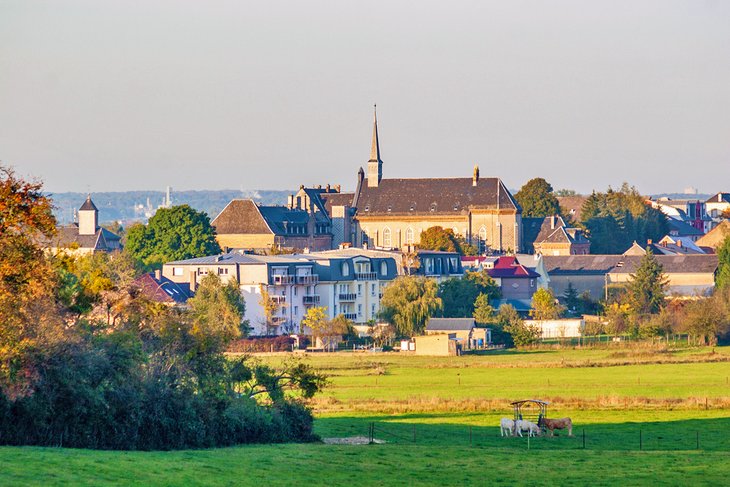 Located in the picturesque town of Bettembourg, just six miles from the capital city and three miles from the French border, Parc Merveilleux attracts thousands of visitors each year.
This amusement center, with its fairy-tale themed attractions and rides, features a game enclosure, playground, mini-train, pony express, mini-golf, restaurants, and concerts, all of them fun for all ages (but especially the kids).
There's also an interesting zoo component that houses a large collection of exotic birds, reptiles, and numerous cute and cuddly mammals.
Address: Rte de Mondorf, 3260 Bettembourg, Luxembourg