13 Top-Rated Attractions & Things to Do in Trier
Trier, Germany's oldest town, can trace its roots back some 16,000 years. Tucked in a basin in the beautiful Mosel Valley, it has for centuries been an important place of trade and commerce. Standing testament to this fact are the many impressive Roman remains found here, most notably the spectacular Porta Nigra, a fortified gate in the Roman town walls dating from the 2nd century.
The municipality has designated much of its historic Old Town as the "Center of Antiquity," while the entire catalogue of rare Roman monuments in Trier, along with the cathedral (Trierer Dom) and the Church of Our Lady, has been protected by UNESCO World Heritage status since 1986.
One of Germany's westernmost cities - it's close to the border with neighboring Luxembourg - Trier is also a great location from which to explore the rest of the Mosel area. One of the top things to do for tourists visiting this remarkable historic city is to join one of the many excursion vessels offering tours along the river as far as the Saarland region.
You can learn more about these and other places to visit with our list of the top attractions and things to do in Trier.
See also: Where to Stay in Trier
1. See Trier's Old Roman Gate: Porta Nigra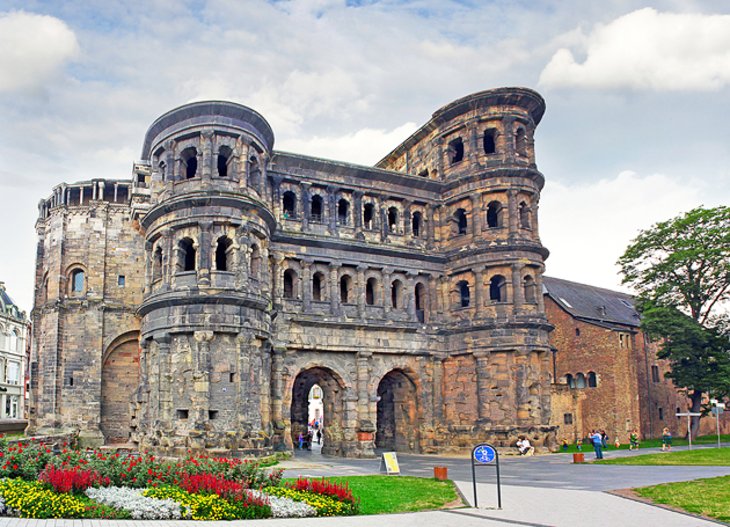 Dominating the north entrance to the old town of Trier stands the massive Porta Nigra. Translated from the original Latin as "Black Gate," this impressive structure was added to the old Roman town walls as a fortified gate.
Now a UNESCO World Heritage Site and the largest such structure in Northern Europe, it's most commonly referred to by locals simply as "Porta." Built at the end of the 2nd century, it was later turned into a church, only to be converted back to its Roman appearance by Napoleon.
Today, its centuries-old, age-blackened stones are a must-see. If possible, plan to see the structure as part of an informative one-hour guided tour (usually led by a costumed centurion). Tours sell out quickly, so try to book in advance online.
One of the best ways to explore this and other sights of the city is on a Trier hop-on hop-off sightseeing tour. This convenient pass allows users to see the best of the city's tourist attractions at their own pace, and includes stops at the city's important Roman heritage sites.
Address: Porta-Nigra-Platz, 54290, Trier
Official site: www.trier-info.de/en/places-of-interest/porta-nigra
Accommodation: Where to Stay in Trier
2. Tour the Historic Cathedral of Trier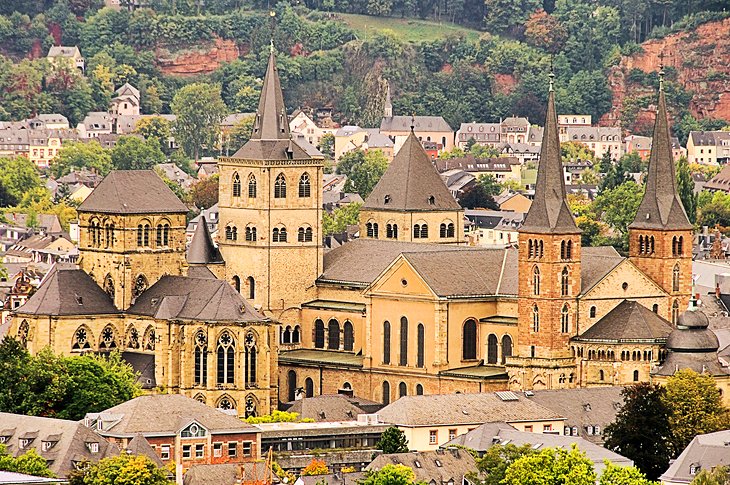 The huge High Cathedral of Saint Peter, more commonly referred to simply as the Cathedral of Trier (Trierer Dom), can trace its foundations all the way back to the 4th century, making it one of the oldest churches in Germany. Much of what is seen today was constructed in the 11th and 12th centuries and fully restored in 1974.
Highlights of a visit to this impressive cathedral include its magnificent monuments from the 16th to the 18th centuries. Other must-sees here include a robe reputedly worn by Jesus (the "Holy Tunic"), and the skull of Emperor Constantine's mother, St. Helena. A variety of fascinating tour options are available, including one that takes you into the bowels of the cathedral to catch a glimpse of an even older church structure. Time your visit right, and you might also be rewarded with a chance to hear the cathedral's organ in action.
Make sure you include the Trier Cathedral Treasury (Schatzkammer) in your itinerary, located on the south side of the cathedral's choir. Highlights include the 10th-century portable St. Andrew's Altar, or Egbert Shrine, one of the great masterpieces of Ottonian art. Also kept here is the "Holy Nail," said to have been one of those used during Christ's crucifixion, and the 3rd century amethyst cup of St. Helena.
A related attraction, Museum am Dom Trier, is worth checking out for its large collection of religious artifacts and art. Also of interest is the nearby Church of Our Lady (Liebfrauenkirche) dating from 1270, along with St. Paulinus' Church, built in 1754 with notable ceiling paintings by Thomas.
Address: Liebfrauenstrasse 12, 54290 Trier
Official site: www.en.dominformation.de
3. Enjoy a Concert in the Roman-era Aula Palatina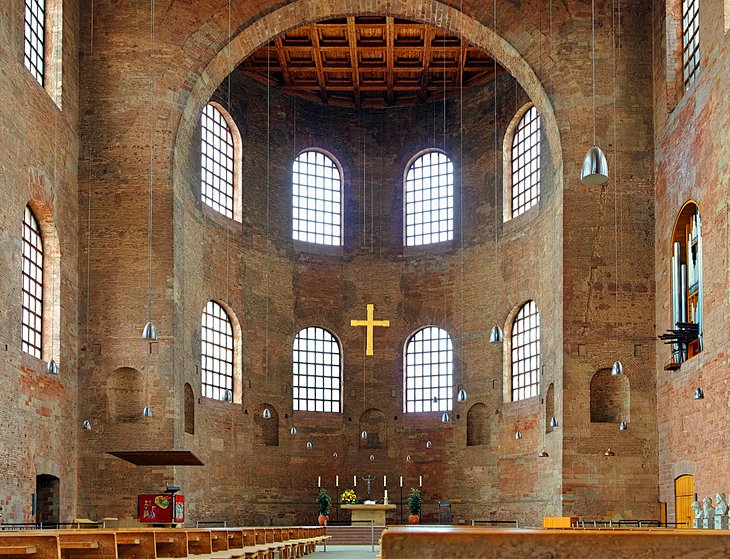 The Aula Palatina, also known as the Basilica of Constantine (Konstantin-Basilika), is a Roman basilica built in the time of Emperor Constantine, who resided in Trier from AD 306 to 312. A rival to the cathedral for dominance of the city's attractive skyline, this amazing structure has been fully restored and now serves as the Protestant Church of the Redeemer.
It's also where you'll find the world's largest ancient hall, Constantine's Throne Room. This impressive hall measures 67 meters long, 27 meters wide, and 33 meters high. For a truly memorable experience, try to time your visit to coincide with one of the classical or choral concerts that are frequently held in this ancient venue.
Address: Konstantinplatz 10, D-54290 Trier
4. Take a Break in Trier Market Square (Hauptmarkt)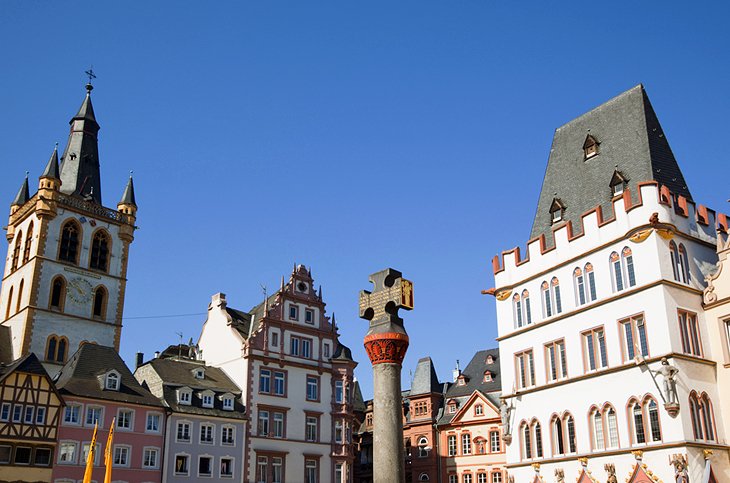 Once you've had your fill of Trier's many magnificent Roman sites, make a beeline for the town's historic Market Square, or Hauptmarkt. Just a short walk from the Porta Nigra, it's a great place to break up your sightseeing with a stop at a café or restaurant.
In addition to its numerous lovely half-timbered buildings, Trier's beautiful old Market Square is where you'll find many fine historic medieval attractions. These include the 15th-century Steipe, home to the city's banqueting house.
Other highlights include the Late Gothic St. Gangolf's Church, as well as the spectacular Market Fountain (Marktbrunnen), built in 1595 and depicting St. Peter surrounded by the four virtues of Justice, Strength, Temperance, and Wisdom - along with a number of mocking monsters.
Other notable points of interest located in (or close to) the Hauptmarkt include the Frankenturm, an impressive 11th-century residential fortress built to house city dignitaries. Also worth seeing are the attractive 13th-century House of the Three Kings (Dreikonigenhaus), and the Judenpforte, the gateway that once led into the city's Jewish quarter, the Judengasse.
The fascinating Toy Museum (Spielzeugmuseum) is also of interest here. It's home to more than 5,000 antique toys, including dolls houses, model trains, and a 130-year-old French dancing bear. Market Square is also where you'll find regular markets selling goods and produce, as well as the city's popular Easter and Christmas markets.
5. Explore the Electoral Palace & the Palace Garden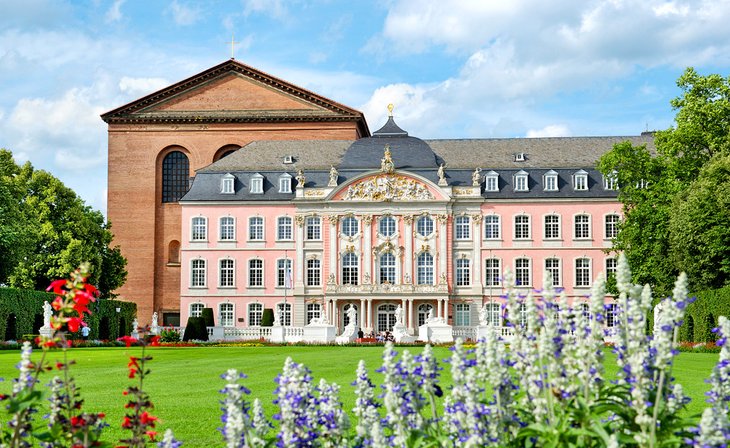 Trier's old Electoral Palace (Kurfürstliches Palais) is also worth seeing. Built in the 17th century and now used by local government offices, its courtyard, staircase, and Baroque room are open to the public during business hours. In the grounds are the charming Baroque Palace Garden (Palastgarten), framed by the palace and the massive basilica on one side.
Highlights include a number of attractive ponds and fountains and neat flower beds surrounded by beech hedges of various heights. A miniature garden is also open to the public.
An easy walk away are the Imperial Baths, as well as a café at the neighboring Archeological Museum, which offers great views over this large green space. Other public spaces worth visiting are Nell's Park, on the northern outskirts of the city, and the Mosel Embankment adjacent to the river, home to pleasant walkways, excursion boat docks, and an enclave of old fishermen's homes, many of them now restaurants, galleries, and shops.
Address: Willy-Brandt-Platz 3, 54290 Trier
6. Visit Karl Marx House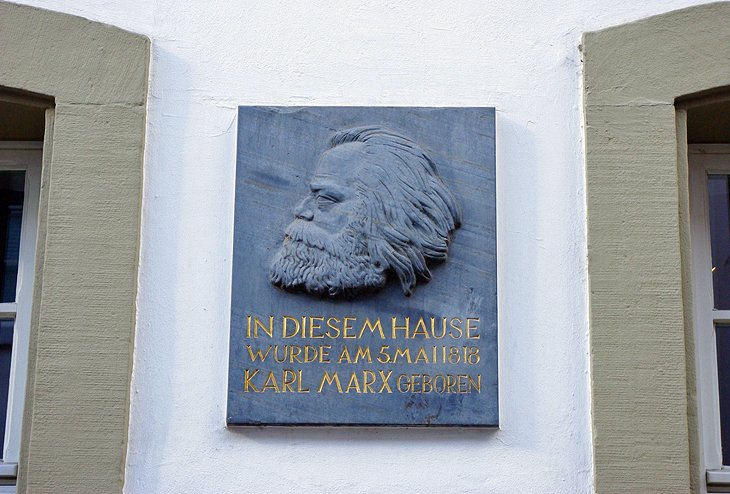 The birthplace of Karl Marx (Karl-Marx-Haus) - he was born in Trier in 1818 - has been a museum outlining the history of Communism and the famous German's life and writings since 1947. Highlights include exhibits detailing the rise of Communism and its social impact in the former Soviet Union, Eastern Europe, and Asia (the museum is particularly popular among Chinese tourists).
Artifacts of interest include original letters written by Marx, as well as the old arm chair in which he reputedly did much of his reading. Audio-guides are available upon request, as are interesting tours of the museum and Trier landmarks known to have been visited by Marx. Also worth a visit are this old Baroque property's lovely gardens.
Address: Brückenstraße 10, D-54290 Trier
Official site: www.fes.de/en/museum-karl-marx-haus
7. Learn about Trier's History at the Rhineland Museum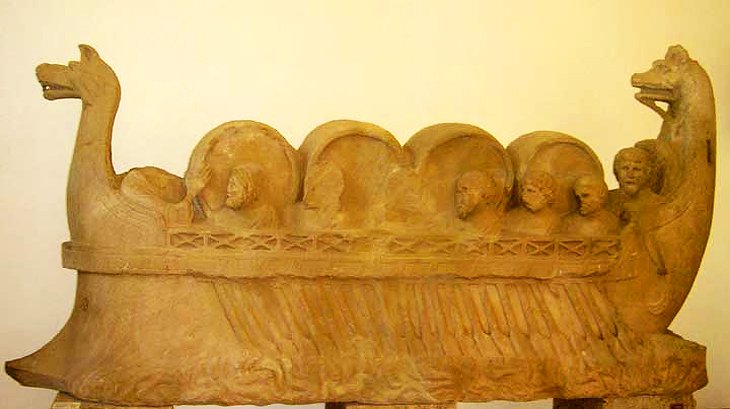 Widely regarded as Germany's most important archeology museum, the Rhineland Museum (Rheinisches Landesmuseum Trier) was established in 1877 to document some 200,000 years of the region's history. It covers the period from prehistoric times to the beginning of the 19th century.
Among its collection of more than 4,500 archaeological artifacts - many of them excavated by museum staff - are a large number of Roman mosaics, ancient stone burials, and the largest hoard of Roman gold coins ever discovered.
A highlight of a visit is viewing the dazzling twice-daily multi-media show, which describes the history of select exhibits and artifacts, placing them in the context of the period. Also worth spending time exploring is the huge scale model of Roman-era Trier. English-language audio- and guided tours are available, and the on-site shop sells a variety of great books related to the city's history.
Address: Weimarer Allee 1, 54290 Trier
Official site: www.landesmuseum-trier.de/en/home.html
8. Trier Imperial Baths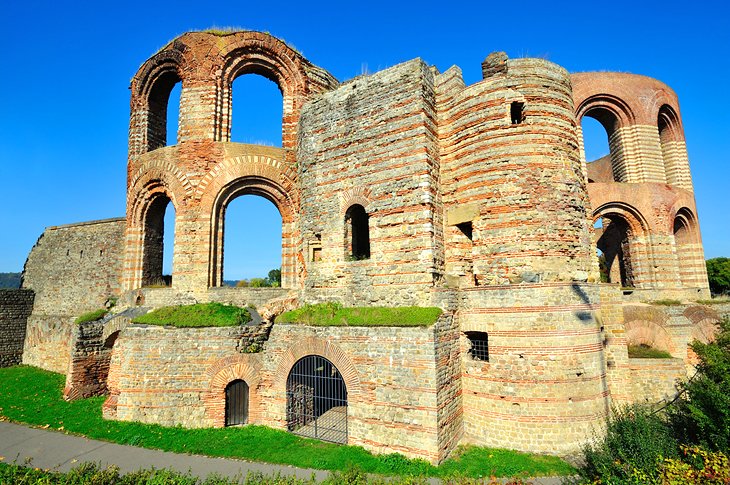 South of Trier Electoral Palace are the ruins of the Roman Imperial Baths, or Kaiserthermen. Dating from the 4th century, the baths were at the time one of the grandest such structures in Europe and were later converted into a fortified castle in medieval times. Despite this, much of the original Roman baths - the largest in Europe from this period - can still be seen.
Highlights of a visit include exploring the extensive complex of underground rooms and passages, as well as a visit to the vast hot-water bath. Once heated by six huge boilers, it was capable of holding over 600 bathers. Fun guided tours led by costumed staff are available.
Also of interest are the Forum Baths (Viehmarktthermen), dating from AD 100 with two hot-water baths, a perfectly preserved cold-water bath, and a museum. Another Roman site worth visiting is the Amphitheater just outside the old city walls and built around AD 100 with seating for 25,000.
Address: Weber Bachstr 41, 54290 Trier
9. Take a Stroll across the Old Roman Bridge (Römerbrücke)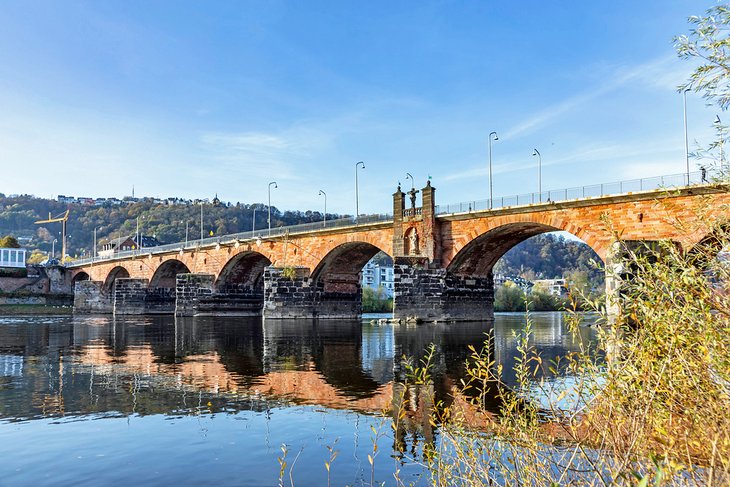 Another important landmark left behind by the Romans that's well worth exploring is the Roman Bridge (Römerbrücke). It's the oldest still standing bridge in Germany, and while still in use by motorized traffic, it makes for a pleasant stroll with superb views over the Mosel.
While the upper portions of the bridge have been rebuilt a few times due to damage by war - most significantly in the 12th and 18th centuries - the nine pillars that still support the structure were built by the Romans more than 1,800 years ago.
Address: Römerbrücke, 54290 Trier, Germany
10. City Museum Simeonstift Trier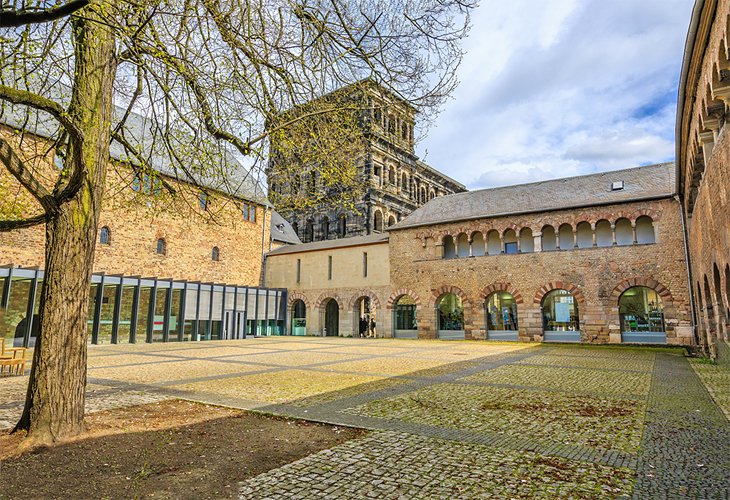 Those wanting to learn more about the rich cultural history of Trier and the surrounding area would do well to visit the City Museum Simeonstift (Stadtmuseum Simeonstift Trier). The building itself - the former monastery of St. Simeon, handily located next to Porta Nigra - is of interest for its two well-preserved cloisters and dates back to the 11th century. Established in 1905, the museum features numerous interesting exhibits of artifacts dating from Roman times right up to the present day.
Highlights include rare artworks, such as sculptures and paintings, local crafts, and textiles, as well as an impressive collection of antique furniture. English language audio-guides are available, including a version geared toward children. Private English-language guided tours for groups are also available (be sure to contact the museum in advance for reservations).
Also worth visiting is the refurbished Treasury of the Trier City Research Library. Among the library's extensive collection of antique and rare manuscripts - regarded as one of the most valuable such collections in Europe - are the Gutenberg Bible, the world's first printed encyclopedia, and a rare almanac dating from the late 15th century. Also of note are numerous medieval texts, rare volumes from the likes of Karl Marx and Goethe, and a collection of exquisite Baroque globes.
Address: Simeonstraße 60, 54290 Trier
Official site: www.museum-trier.de/icc/stadtmuseum_en/
11. St. Matthias' Abbey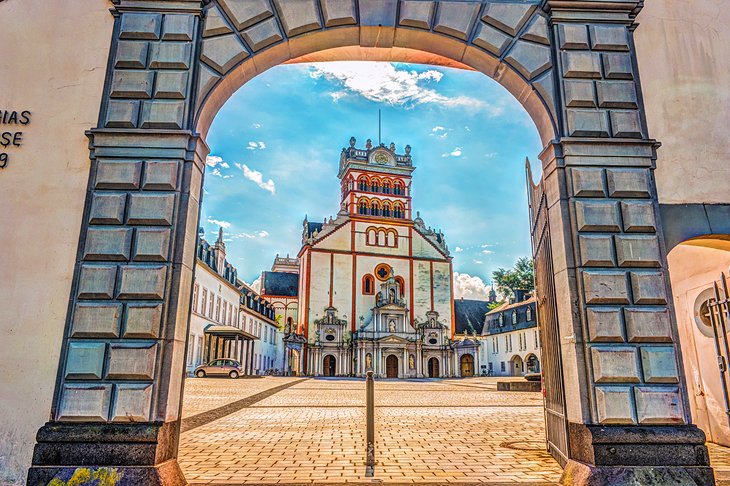 Constructed in 1127 and the site of Germany's first church, St. Matthias' Abbey is another must-visit tourist attraction in Trier. Famous as the supposed home of the remains of the Apostle Matthias, the abbey has for centuries been a place of pilgrimage for its many important Christian relics housed in the Cross Chapel (Kreuzkapelle). The chapel takes its name after a piece of the cross, the Staurotheke, to which Christ was nailed, and which is now part of an elaborate artwork. It's well worth undertaking the guided tour of the chapel in order to view it.
It's an especially attractive church thanks to the many Baroque flourishes added in the mid-17th century, plus later Italian- and French-styled touches added in the early 1700s. Interior highlights include the decorative nave and aisles, and the old crypt.
If you happen to be traveling around the region by car, especially along the Mosel River, you'll also notice the historic "Matthias' Farms" (Mattheiser Hof), once important resources for the abbey in terms of income and produce. You can in fact visit one such farm in Konz-Karthaus, the Roscheider Hof, a fascinating open-air museum, which offers a unique insight into the workings of these traditional farmsteads.
Address: Matthiasstrasse 85, 54290 Trier, Germany
12. Visit Trier's Roman-Influenced Neighbors: Konz, Igel, and Nennig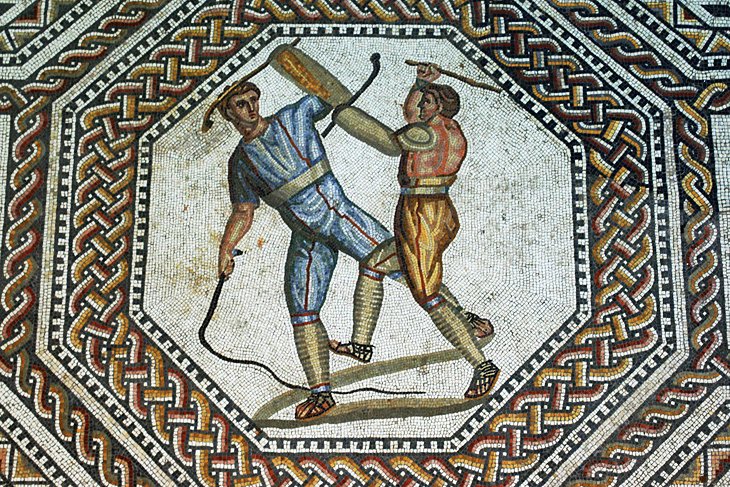 Given its location on the beautiful Mosel River, Trier makes a wonderful springboard for easy road trips into the surrounding countryside. Highlights include a visit to Konz, at the junction of the Saar with the Mosel and just eight kilometers southwest of Trier. Konz is famous for its open-air museum, Roscheider Hof, with its displays of traditional German culture.
Also worthy of a visit is the quaint village of Igel, another kilometer south of Konz. It's famous for the Igel Column, a funerary monument standing 30 meters high with richly-carved decoration built to commemorate an affluent Gallo-Roman family in the 3rd century.
More Roman architecture awaits at Nennig, 40 kilometers southwest of Trier by way of Saarburg and Remich. Here, you'll see the remains of a Roman villa discovered in 1852. Its stunning mosaic pavement, measuring 10 meters by 16 meters, is one of the largest and finest north of the Alps.
13. Take a Drive to Fell Exhibition Slate Mine
A winding yet extremely attractive 30-minute drive east of Trier is the interesting Fell Exhibition Slate Mine (Besucherbergwerk Fell). Now run as a museum, this disused slate mine - also known as the Barbara-Hoffnung Exhibition Mine - in fact consists of two former roof slate mines. The oldest, the Hope mine (Hoffnung), was established in the 1850s, while the newer mine, Barbara, named after the patron saint of miners, opened in 1908.
It's a lot of fun exploring the mines as part of a one-hour guided tour, which includes a chance to scale a unique 100-meter-long stairwell that connects them. Along the way, you'll learn about the hostile conditions faced by miners, who often went for days without seeing sunlight during the winter months.
Be sure to also spend time exploring the slate mining trail, which leads past numerous old relics from the mine. There's also an information center on-site, which houses a variety of related artifacts and tools, as well as informative displays and multi-media presentations.
Address: Auf den Schiefergruben, 54341 Fell
Official site: https://wp.bergwerk-fell.de/en/
Where to Stay in Trier for Sightseeing
Luxury Hotels:
Located just a few minutes' walk from Trier's top tourist attraction, Porta Nigra, the ritzy Park Plaza

Trier

is a delightful luxury hotel located in the heart of the old city, boasting wonderful staff, elegant modern décor, and a superb wellness area.
Other top luxury hotel options include the classy Hotel Villa Hügel

Trier

, popular for its larger suites and apartments (some with kitchenettes), and Romantik Hotel zur

Glocke

, a great choice for couples for its plush, intimate wood-beamed bedrooms and oversized bathtubs.
Mid-Range Hotels:
A good choice in the mid-range category, ibis Styles

Trier

comes with fresh décor with a unique Roman theme and a sumptuous free breakfast.
Mercure Hotel Trier Porta

Nigra

also offers a high level of quality along with its affordable rates and is ideally positioned right across from Porta Nigra; it also features a good restaurant with city views, along with tea and coffee makers in its rooms.
Although a little farther away from the old city center, the FourSide Plaza Hotel

Trier

makes up for it with its riverside location on the Mosel, along with its larger rooms and suites.
Budget Hotels:
Hotel Feilen

Wolff

is a great choice of budget hotel in Trier. It's located directly across the river from the city, with free breakfasts and clean rooms.
Other good budget hotels to consider include Hotel Deutscher Hof

Trier

, popular for its laid-back ambience and pleasant décor, and the ante porta Das

Stadthotel

, a top-rated hotel offering clean rooms within an easy walk of the city's most important historic sites.
More Related Articles on PlanetWare.com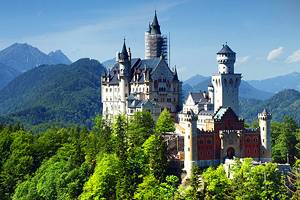 Exploring the Area: Trier's location in the Mosel Valley makes it a great location to explore other top destinations in this beautiful region of western Germany. It's just 1.5 hours west of the highlights of Koblenz, where the Rhine and Mosel rivers meet, making this a perfect jumping-off spot from which to take a riverboat to explore the equally attractive Rhine Valley region.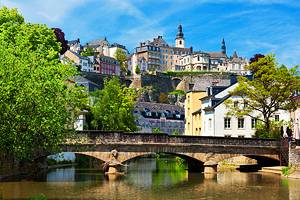 Travel Europe: Thanks to its position on the western-most border of Germany, Trier is also a handy jumping-off point for other interesting European cities. Luxembourg is less than an hour's drive, and a visit to this small country's historic capital city of the same name is well worth the effort.
The city of Metz in France is just an hour south, and is popular for its excellent museums, art galleries, and its cathedral.
And just two hours' drive north, you'll find yourself in Liège, one of the most beautiful old cities in Belgium.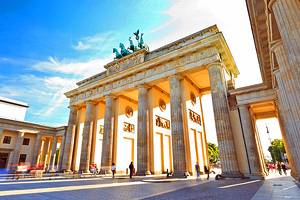 Germany Travel Ideas: Those traveling to Trier will often combine other top German destinations in their travel itineraries. The capital city of Berlin is a must-visit, especially for its historic Museum Island cultural district.
Other parts of this large and diverse country include neighboring Potsdam, the former preferred home to the country's old Prussian rulers, and Dresden, one of Europe's greatest Baroque cities.