11 Best Beaches in Belgium
With only 67 kilometers of coastline along the North Sea, Belgium makes the most of every inch of its stretches of soft, sandy beaches. Many of these are famous as luxury resort towns, while others are more laid-back beach destinations, where local families spend hot summer days.
Most beaches have ample amenities for day visitors, with plentiful beach huts to rent for a shady mid-day retreat, and a diverse assortment of local restaurants and shops line the busy boardwalks. Many of Belgium's best beaches are an easy day trip from Bruges, located within an hour's journey or less.
You can easily visit more than one beach in a day via the Coastal Tram, an impressive rail system that makes 70 stops along the coast. You can also enjoy taking advantage of the extensive bicycle trails that ribbon along the coast through dunes and wetlands, or even the countryside beyond.
In addition to being vacation destinations, Belgium's beaches sit alongside traditional fishing villages and also played an important role in World War II. Steeped in history and culture, this combination makes them one of the most popular places to visit in the country.
Plan your next seaside vacation with our list of the best beaches in Belgium.
1. Ostend Beaches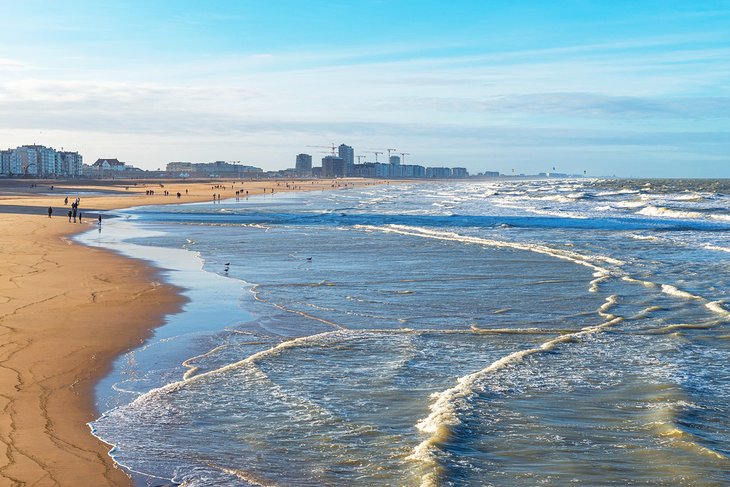 The beaches at Ostend are among the most popular resort destinations in Europe, famous for high-end spas and luxury accommodations. Ostend is also very popular as a day trip from Bruges, only 30 minutes by rail, with trains leaving every half hour. There are six separate beach areas in Ostend, totaling seven kilometers in length and averaging 80 meters wide.
Ostend's beaches are also known for their annual events, like the Sculpture Festival and the Theater aan Zee (TAZ) Festival, which occupies multiple locations in a celebration of culture. As a major port town, Ostend also welcomes many visitors from the United Kingdom.
The Albert I Promenade is four kilometers long, starting along the interior of the Voorhaven harbor canal behind the Klein Strand (Small Beach). From here, it wraps around and extends west behind the city's most populated beaches. There is no swimming allowed at Klein Strand, but it is often used as the setting for events and festivals.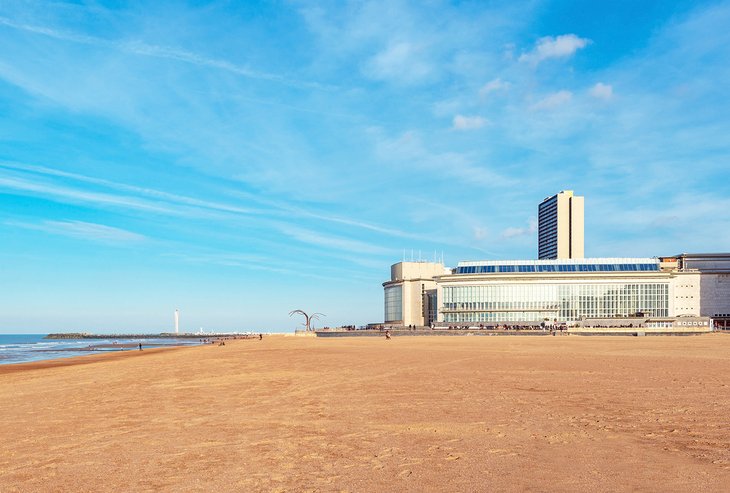 Groot Strand (Large Beach) is, as its name implies, one of the longest Ostend beaches at two kilometers. It is also the most crowded, with shops and restaurants concentrated along its western end. Beach amenities include restrooms, changing areas, and plenty of vendors with beach supplies. The Koninklijke Gaanderijen (Royal Galleries) sits at the western end, a stunning historic structure that is an attraction in its own right.
Sportstrand (Sports Beach) picks up after the Royal Galleries, still flanked by the promenade. This section of beach is full of things to do, designed specifically with the interests of active beachgoers in mind. There are volleyball nets, a climbing wall, picnic tables, and plenty of space to play beach sports. The western end is reserved for surfing and kite flying and also has a convenient drop-off area for those who brought their own equipment.
Next to Sports Beach is Mariakereke Beach, a 2.4-kilometer stretch of sand that is much less crowded than its neighbors. It has fewer amenities, mostly used by residents living nearby.
Raversijde Beach is the westernmost and by far the most peaceful along the main stretch of sand. It is also a stop on the Coastal Tram, making it easily accessible to beach hoppers. Oosterstrand (Eastern Beach) sits at the opposite end near Fort Napoleon, separated from the other beaches by the wide harbor. This 1.2-kilometer stretch of sand is much quieter than the rest, accessible in parts by a paved path through the dunes.
2. Knokke-Heist Beaches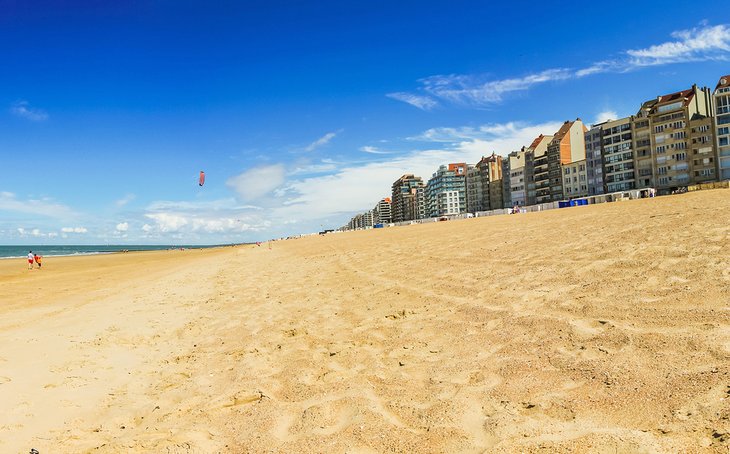 The easternmost of Belgium's beaches, the municipality of Knokke-Heist borders the Netherlands along the edge of Zwin Nature Park. There are actually four beaches here, totaling 12 kilometers of white sand and grassy dunes.
Het Zoute is the easternmost of the beaches, abutting the nature park, and stretches for two kilometers of coastline, reaching 150 meters wide in some places. This is where you will find the most exclusive resorts and private residences, as well as the most expensive art galleries and restaurants.
Neighboring Albertstrand is home to the more boisterous resorts where you will find endless entertainment just steps from the beach. There is a fireworks festival held here each year, and the local yacht club can be found at the western end of the beach.
The more family-friendly Duinbergen Beach picks up at the yacht club and extends about one kilometer to the dunes at Directeur-Generaal Willemspark, the area's last remaining intact dunes. This is Knokke-Heist's least-developed section, most popular with locals.
On the other side of the dunes, Heist Beach is the widest, at an average of 270 meters, and extends 1.6 kilometers until it meets the port at Zeebrugge. This area is more developed, offering a good variety of amenities to beachgoers. Tourists can find sightseeing cruises, charters, and ferries to the United Kingdom at the adjacent port.
3. Blankenberge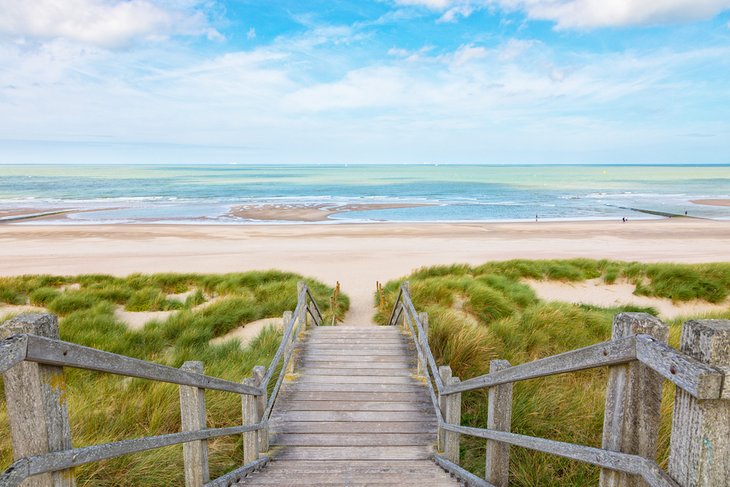 One of Belgium's top resort towns, Blankenberge is one of the top places to visit in Belgium thanks to its activity-filled promenade known as the Zeeddjik.
Just 18 kilometers from Bruges, this beach can be crowded on hot days, adding to the lively atmosphere. Resorts line the waterfront, some of which have gated sections for guests, while many others offer seaside dining for the general public.
The eastern half of the beach is where you will find supply rentals, beach huts, and casual eateries. It's also where you will find things to do for families with kids, including public playgrounds, mini golf, and go-karts.
At the western end of the beach, two long wooden-plank piers stretch out into the North Sea for amazing views. Those who want to enjoy the coast's nature will find 10 bicycle trails and many walking trails that explore the dunes and the more scenic areas near the shore.
If you're looking for a romantic way to spend the evening, hop on a sunset cruise where you can watch for dolphins and enjoy complimentary sodas from the comfort of a luxury yacht. This excursion is wheelchair accessible.
If you want to explore inland, you will find plenty of things to do, including an excellent aquarium at Sea Life Blankenberge. There is also a lovely Gothic church, Sint-Antoniuskerk, which was built in the 1350s.
4. Zeebrugge Beach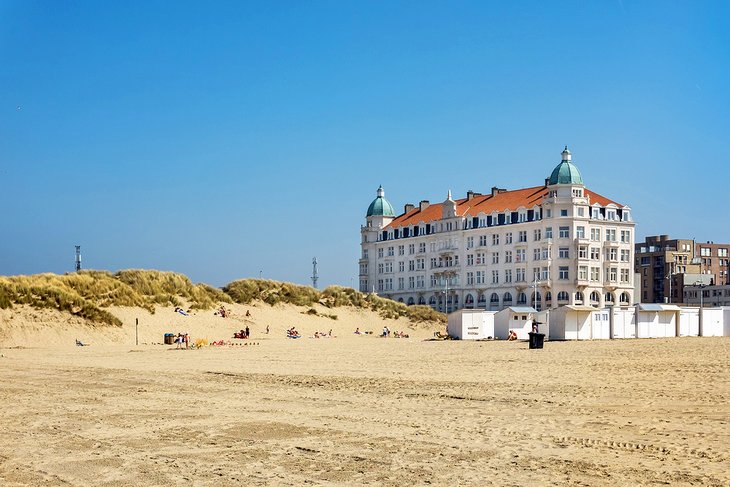 Zebrugge's beach sits west of the port and extends to Oostende, totaling approximately 20 kilometers long and an average of 70 meters wide at high tide.
This beach has a combination of dunes and flat sand, and the more central portions can get very crowded in the summer thanks to its proximity to Bruges. Those driving to Zebrugge on a day trip from Bruges will be relieved to find plenty of free parking near the beach.
Surfing is a popular sport here, as are kiteboarding and windsurfing. There are numerous vendors offering water sports equipment rentals, as well as shade umbrellas and chairs. During the high season, tourists will also find a good variety of street vendors selling everything from ice cream to sunblock.
For a change of pace, you will find many options for sightseeing cruises, and this is also a popular place to catch a ferry to the United Kingdom for a quick visit across the pond.
Zebrugge is not just a beach town—it is also an important harbor for both fishing and trade. One of the joys of visiting Zebrugge is watching the flotilla of fishing boats return to the port each morning. After the colorful boats dock, walk to the auction hall where the fishermen sell the day's catch, which is one of the largest fish markets in Europe.
If you like sweet more than salty, make your way to the local chocolate factory, P&J Chocolates-a Belgian, where you can get a tour and plenty of fine goodies to take home.
What's Nearby? The Seafront Maritime Theme Park also delves into the port's history, as well as its cultural traditions surrounding the fishing industry. "Operation North Sea" is an interactive exhibit for all ages that explores the Battle of the Scheldt in 1955-45, and there are numerous hands-on exhibits for kids. The Marine Park is closed for renovations during early 2023, but is scheduled to re-open in time for the summer beach season.
5. De Panne Beach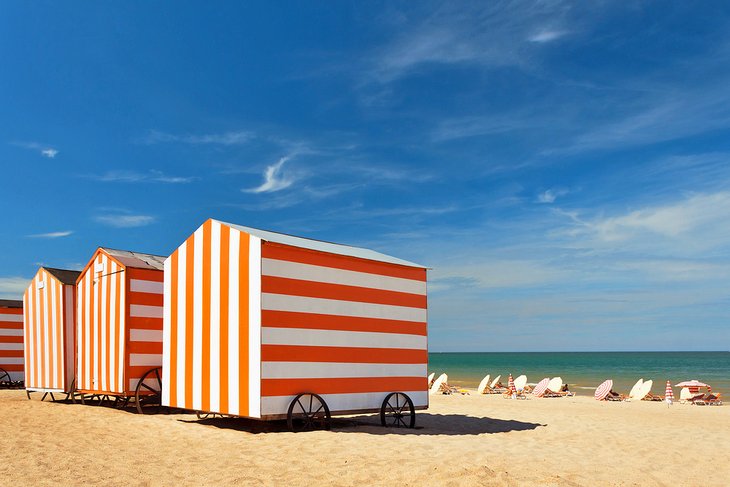 De Panne Beach sits between the towns of Saint-Idesbald and De Panne, close to the border with France and just a short drive from Dunkirk.
Offering a varied landscape, some sections of the beach are backed by tall grassy dunes, while others run straight from the water to the doors of resort hotels. Several areas of the beach host regular organized kids' activities, making this a top choice for families. At the eastern end of the beach, a yacht club provides boat and watercraft rentals.
This town's history is much like its famous neighbor; both were involved in the World War II "Operation Dynamo." In town, visitors will find an excellent museum dedicated to the war and its impact on the area. At the southern end of the beach, there is a monument dedicated to King Leopold I, who first set foot in Belgium on these shores in 1831.
Just south of this is the Nature Reserve of Westhoek, a stunning wetland area that includes kilometers of trails through dunes and grasslands. Here, you will see a great variety of migratory birds, as well as highland cattle.
6. De Haan Beach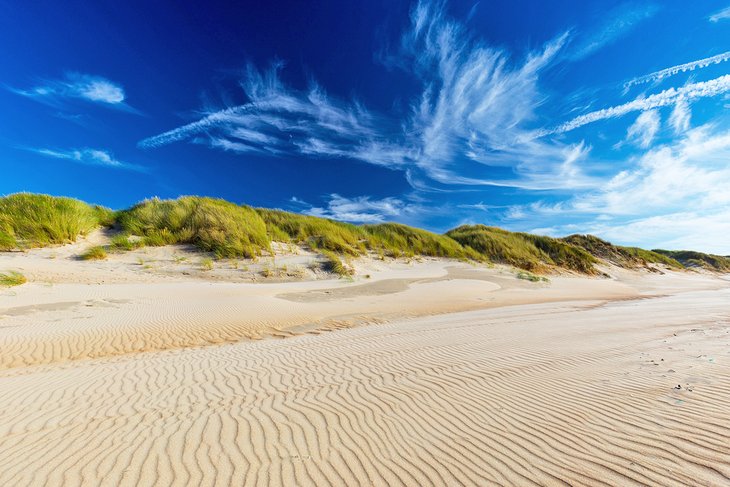 The longest beach in Belgium, De Haan Beach stretches along more than 12 kilometers of shoreline, boasting sections up to 80 meters wide at high tide. The eastern half of the beach is lined with resorts and vendors that cater to every need, from umbrellas and cold drinks to kiteboards and windsurfing gear. Several of the larger resorts offer excursions as well, including sightseeing cruises and even water skiing.
While the main section of the beach has a patterned brick promenade that gives way directly to the sand, the western half of the beach is hidden from view by grassy dunes. Access points are more limited, but the peace and quiet on this part of the beach is unparalleled. Those exploring this section should remember that swimming is not permitted without lifeguards present, so this is a better area for walking and sunbathing.
The area around the beach is also lovely for exploring, and cycling is a popular thing to do along the scenic dunes. There is also a very nice nature park, Duinbossen, which is near the beach and offers horseback riding as a way to explore its paths.
7. Oostduinkerke Beach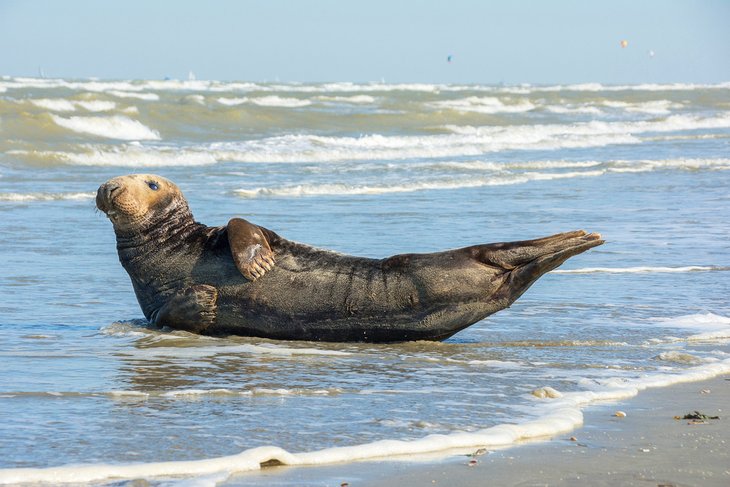 The promenade behind Oostduinkerke Beach is a bustling place, filled with pop-up vendors and restaurants along the pedestrian street, and for most of its length, it is level with the beach, with no dunes in between.
At the far western end, the walkway becomes much narrower as it hides behind tall dunes covered in sand. As with most other Belgian beaches, there is a strong current here, and visitors should pay close attention to the color-coded flags that indicate safety levels.
This is a popular beach for water sports, especially windsurfing, and you will find plenty of places to rent equipment for the day.
Oostduinkerke is also known for its long-standing local fishing traditions, unique because the fishermen do their jobs on horseback. While in town, be sure to sample the fresh catch.
8. Nieuwpoort Beach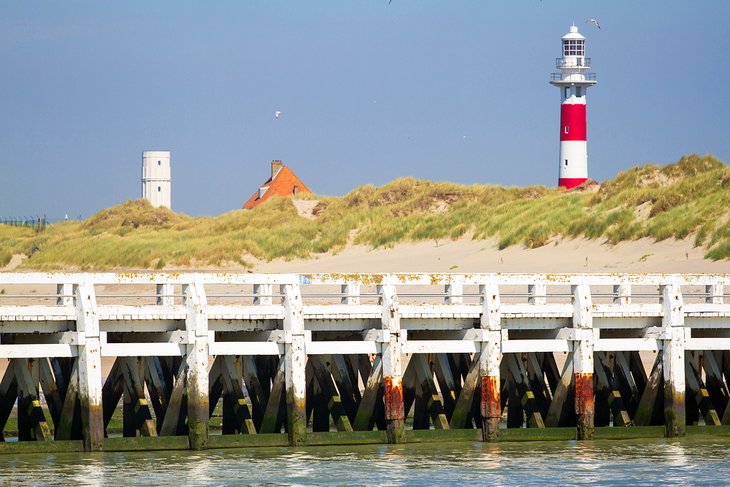 You will find Nieuwpoort Beach to be one of the cleanest beaches in Belgium, both on land and in the water, thanks to local efforts to make it a prime destination.
Grassy dunes line the beach, and a wide pedestrian-only area sits just behind them. At the eastern end of the beach, there is a lighthouse and two long piers, which mark the entrance of the wide canal that welcomes both cargo and yachts into the city center.
Although you will find many modern hotels along the shore, Nieuwpoort also has several older buildings facing the water as well, making a stroll on the promenade a scenic one on both sides. Along here, you will find plenty of ocean-view restaurants, as well as several water sports rental shops and beach gear vendors. The piers are an excellent place for a stroll as well—they are wide and fully accessible.
The small city of Nieuwpoort itself has plenty to offer, including canal tours and the medieval Old Town area, with its picturesque cobblestone streets and centuries-old houses. There are also numerous monuments here, as well as the UNESCO-listed Nieuwpoort Bell Tower.
9. Koksijde Beach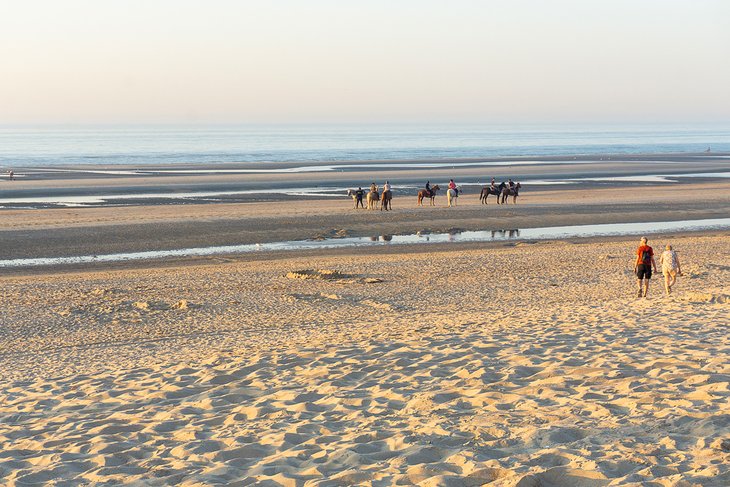 Just south of Oostduinkerke Beach, Koksijde Beach is a much less crowded alternative to its neighbor. If you're visiting with the kids, you'll find plenty of fun things to do right on the sand. Beach Village is a playground that's fenced in for safety, offering younger children diversions like a bouncy house and slides.
Farther down the beach, the whole family can enjoy a ride on the Ferris wheel, which provides great views over the town and water.
This expansive beach extends over 10 kilometers and is an average of 50 meters wide, leaving plenty of space to spread out. Those with mobility issues will appreciate accessible areas of the sand, and there are lifeguards stationed here in the summer season, as well as a first-aid post.
Resort hotels sit behind the wide stone-paved boardwalk that overlooks the beach, and this is also where you will find numerous shops, fast-food eateries, restaurants, and rental shops that offer a range of beach equipment. Boat tours are also available, and nature lovers will want to keep a lookout for the colony of seals that has made the water off Koksijde their home.
What's Nearby? If you're hoping to get some cultural sightseeing in, be sure to visit the Abbey Museum of the Dunes (Abdijmuseum Ten Duinen). This fascinating archaeological site is a former Cistercian monastery that was founded in the 13th century. There are interactive exhibits, and visitors can tour the grounds.
10. Middelkerke Beach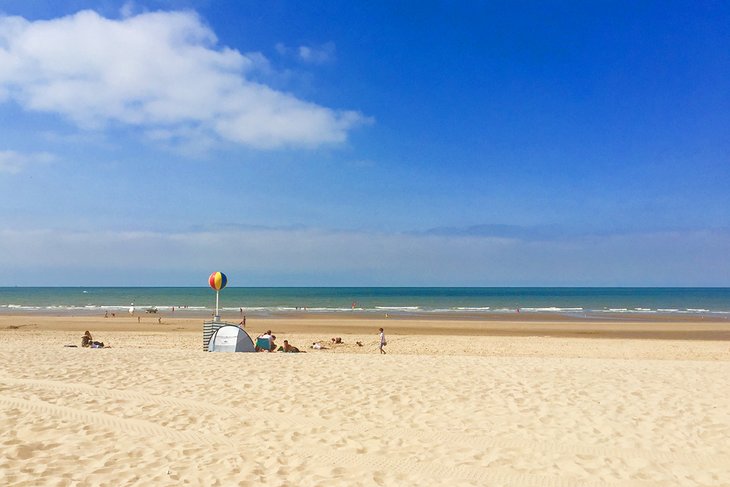 West of Ostend, Middelkerke Beach is popular for its resorts and family attractions, boasting over nine kilometers of wide, sandy beach. Families love this beach thanks to its pristine sand and plentiful water sports outfitters, which rent windsurfing and kitesurfing equipment, surfboards, and more.
Along the shore, you will find plenty of good restaurants and fun shops, as well as many things to do for kids and teens. There are several playgrounds near the beach, a mini-golf park, and even skate ramps.
11. Bredene Beach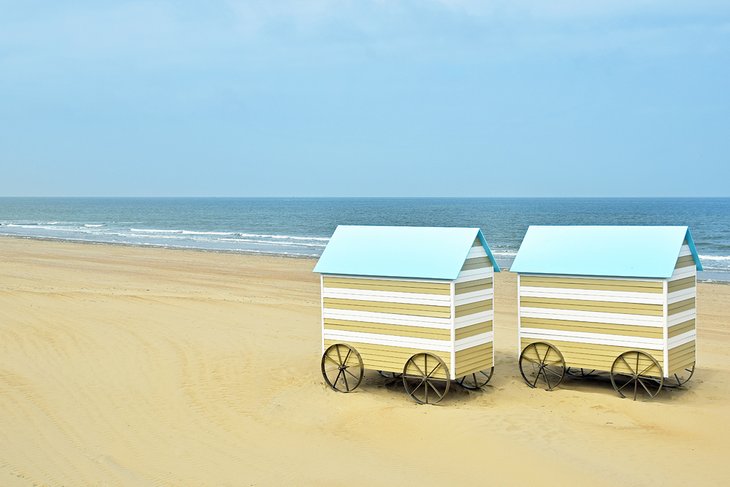 Just east of Ostend, the four-kilometer beach at Bredene is a lovely spot with flat, white sand and picturesque grassy dunes.
Known as a more laid-back spa and resort community, Bredene is popular with families. There are restroom and changing facilities on-site, as well as several outfitters who rent beach chairs, umbrellas, and water sports equipment.
The town keeps the beaches clean and tidy, and there are lifeguards on staff during the summer—swimming is prohibited when they are not present, and in certain areas, and colored flags also indicate off-limits spots and risky conditions.
Be aware that the eastern end of the beach is a designated nudist section, the only one in Belgium, although it is fenced for privacy.
Map of Beaches in Belgium