15 Top-Rated Attractions & Things to Do in Würzburg
The old Franconian episcopal city and university town of Würzburg in the state of Bavaria lies in a beautiful location in a basin in the Main Valley. The city's most noticeable landmark, Fortresses Marienberg, stands high above the River Main dominating the scene. One of Germany's most famous medieval castles, it was built on the site of a former Bronze Age fort and now serves not to keep people out of the city, but to welcome them in as one of Würzburg's top points of interest.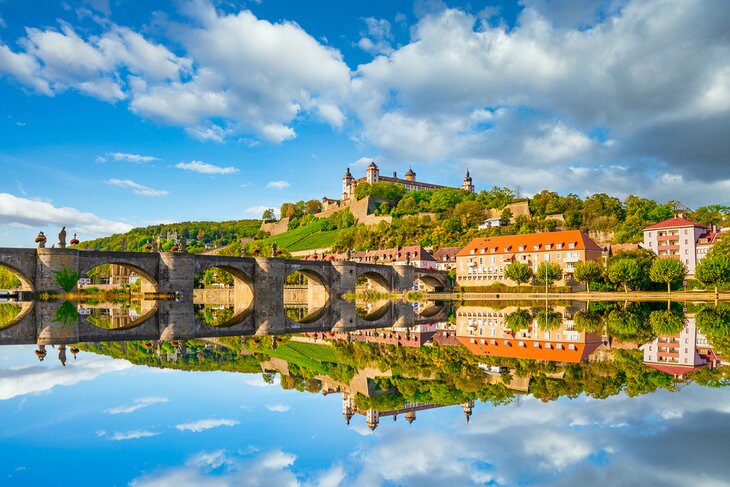 While intense bombing at the end of WWII left more than 90 percent of the Old Town (Altstadt) destroyed, it has since been painstakingly rebuilt. Today, Würzburg's Old Town offers numerous fine examples of medieval architecture, especially around its historic Market Square (Marktplatz).
A fascinating display about the tragic bombing, marked each year by the rising of the city's church bells, can be seen in the Old Town Hall. The Old Town is also a vibrant cultural center and boasts numerous events, festivals, historical tourist attractions, and fine old hotels.
Learn more about the best places to visit in this picturesque old city with our list of the top things to do in Würzburg, Germany.
1. Take a Tour of the Würzburg Residenz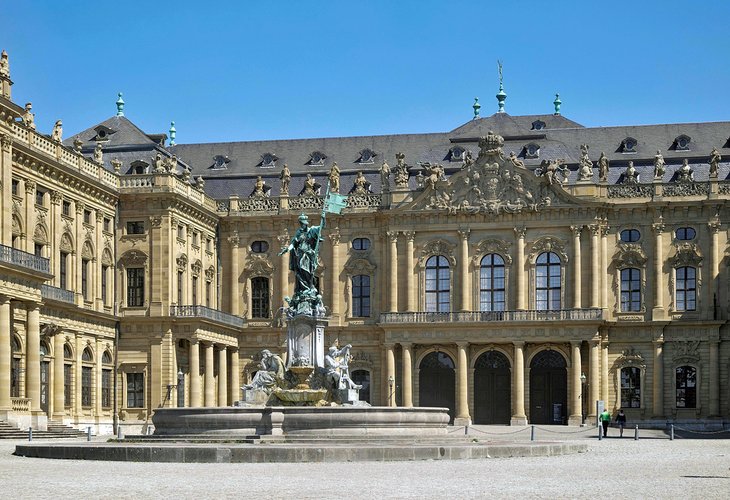 Located in the spacious Residenzplatz in Würzburg is the Residenz, the splendid palace of the Prince-Bishops and one of the finest secular Baroque buildings in Germany. It was built between 1720-44, and the most notable features of this important UNESCO World Heritage Site are its spectacular monumental staircase hall with its huge fresco by Tiepolo.
Although heavily damaged in WWII, much of the building has now been restored to its former glory, a process that took over 42 years to complete. All told, some 40 rooms are open to visitors to tour. These include the exquisite White Hall with its Rococo stucco work, the sumptuously decorated Imperial Hall, and the Hall of Mirrors. You'll also have a chance to view the beautiful Court Church.
Also of interest is a memorial room with exhibits relating to the palace's destruction during the bombing of 1945 and its reconstruction. This includes a fascinating exhibit dedicated to the U.S. Army's "Monuments Men" who helped ensure the preservation of its art treasures as the war ended. Admission includes a guided tour of the main rooms, and guidebooks and other useful resources can be picked up at the on-site shop.
Another must-see here is the Martin von Wagner Museum, located in the South Wing of the Residenz. Highlights include a superb collection of antiquities, a fine picture gallery, and a print cabinet.
Address: Residenzplatz 2, 97070 Würzburg
2. Visit the Martin von Wagner Museum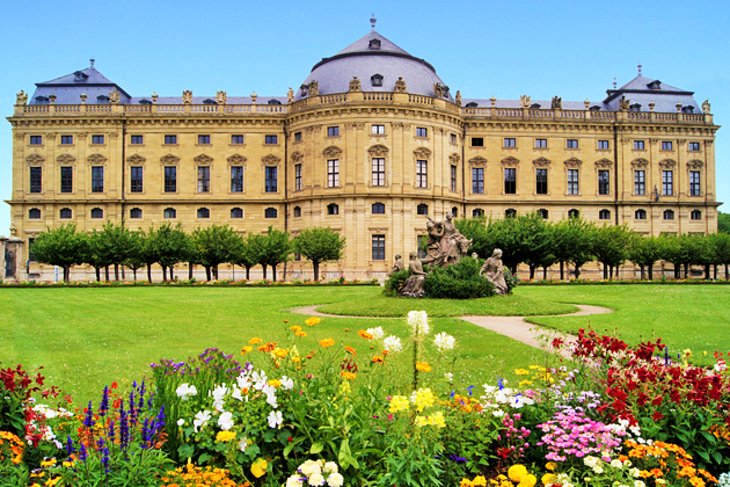 Founded in 1832, the Martin von Wagner Museum, located in the south wing of the Würzburg Residenz, is home to the University of Würzburg's impressive art collection. It's one of the biggest university art galleries in Europe, and highlights of a visit include the chance to view a large number of rare antiquities, an impressive collection of graphic art, as well as numerous important paintings.
Of its antiquities, notable exhibits include items dating back some 2,400 years from ancient Greece, Egypt, and Imperial Rome, including one of Germany's largest collections of ancient vases. Represented in the art gallery section are paintings and sculptures from the 15th to 20th century by leading European artists, while the graphic arts collection features some 25,000 prints and sketches.
As this excellent museum charges no admission, it's one of the top free things to do in Würzburg. Group guided tours are available.
Address: Residenzplatz 2A, 97070 Würzburg
3. Wander the Würzburg Court Gardens (Hofgarten)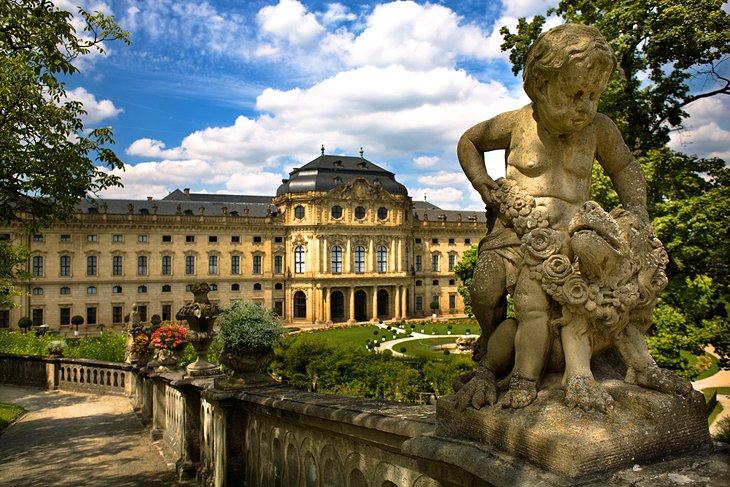 The Hofgarten, or Court Garden, is located in the grounds of the Würzburg Residenz and is a spectacular French-style garden. Laid out between 1703 and 1774, it's widely considered the best-preserved Rococo garden in Germany.
Highlights of a visit include seeing its centerpiece, a large artificial lake with fountains and an elaborate sculpture crowned by Pegasus.
The garden also boasts many other Baroque sculptures, including ornamental vases and allegorical figures. Other interesting features include the large Orangery with its kitchen garden, and many fine examples of Baroque ironwork, particularly in the elaborate garden gates.
Of particular interest is the cultivation of varieties of topiary fruit trees common to the garden in the 18th century. It's an especially pleasant place to visit in spring, especially in May, when the 70,000 flowers and plants grown in the palace's own greenhouses are planted around the property. The gardens are open year-round, and admission to the gardens is free.
Address: Residenzplatz 2, 97070 Würzburg
4. Take the Climb to Marienberg Fortress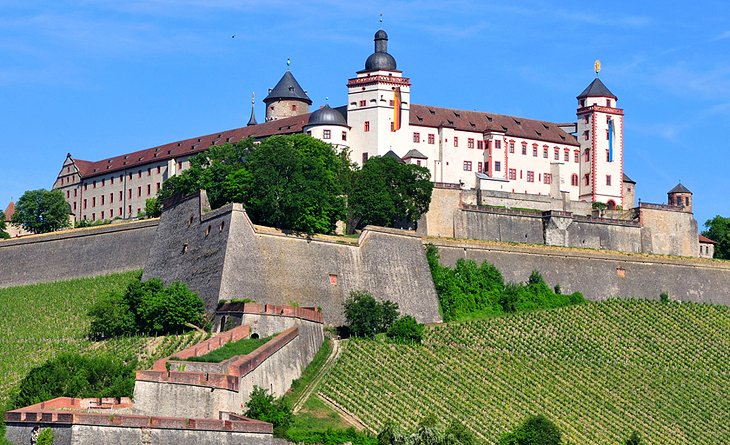 High above the banks of the River Main in Würzburg rises the Marienberg Fortress (Festung Marienberg). Crowned by the massive fort that served as the seat of the Prince-Bishops from the mid-13th century until the construction of the Residenz, the hill was once the location of a Bronze Age hill fort.
Highlights of a visit include seeing the spectacular Bibra Apartment with its collections of fine furniture, tapestries, and artwork, along with the Princes' Hall with its large tapestry. Saint Mary's Church (Marienkirche), which dates back to the early 11th century and was built on the site of an even older church from the 8th century, is also worth seeing, as is the treasury and vestment chamber.
Another fun thing to do here is to explore the massive Maschikuli Tower and Casemate, a four-story tower added in 1729 that was used to house heavy cannons and riflemen. Also of interest is the Baroque Armory dating from 1712. It's now home to the Museum of Franconia (Museum für Franken) with its superb collections of Franconian paintings and sculptures and exhibits relating to both the history of the castle and the town.
Afterward, be sure to visit the large Princes' Garden dating from the early 18th century. You'll be rewarded with spectacular views over the old city and the River Main. An on-site shop sells a variety of souvenirs and guidebooks, and a variety of tour options covering the main museums and sections of the castle are available.
Address: Festung Marienberg, Nr. 240, 97082 Würzburg
5. Explore Würzburg Cathedral & Museum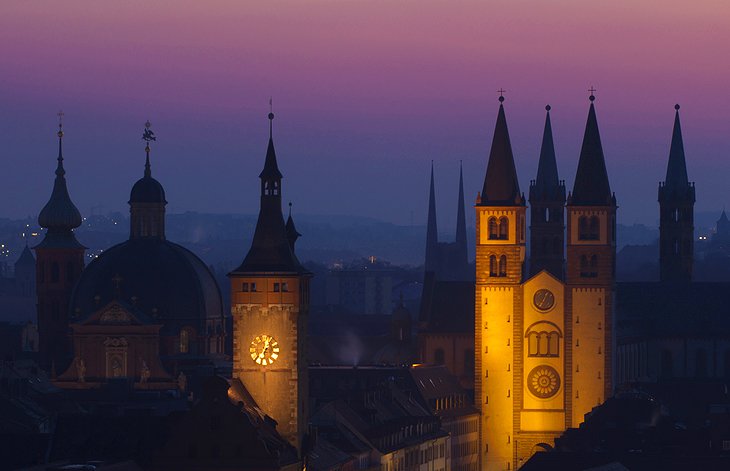 A short stroll to the west of the Residenz is Würzburg Cathedral (Würzburger Dom). This lovely 11th-century edifice, dedicated to St. Kilian, is notable for its beautifully restored interior. Highlights include a number of fine bishops' tombs, including those of Rudolf von Scherenberg and Lorenz von Bibra, and the Schönborn Chapel by Balthasar Neumann dating from 1721-36.
Dedicated to St. Kilian, Würzburg Cathedral is Germany's fourth largest Romanesque church and is home to numerous works of art, including the baptismal font from 1279, a spectacular modern seven-armed candelabra, and a crypt with stained glass. The cathedral is also where you'll find one of the country's oldest bells, the Lobdeburg Bell. Cast in 1257, it's rung at 3pm every Friday in memory of Jesus Christ's death on the cross.
A must-visit here is the Museum at the Cathedral (Museum am Dom). Highlights include fascinating displays of some 770 or so artifacts spanning the cathedral's 1,000 years of history. The special focus of the collection lies in the works of German artists such as Werner Tübke and Wolfgang Mattheuer.
Other important artifacts can be viewed at the Würzburg Cathedral Treasury (Würzburger Domschatz), with its impressive collection of religious objects, robes and textiles, paintings, and elaborate gold pieces. A variety of guided tour options of the cathedral and its museums are available.
Address: Domstraße 40, 97070 Würzburg
6. Spend Time in Market Square (Marktplatz)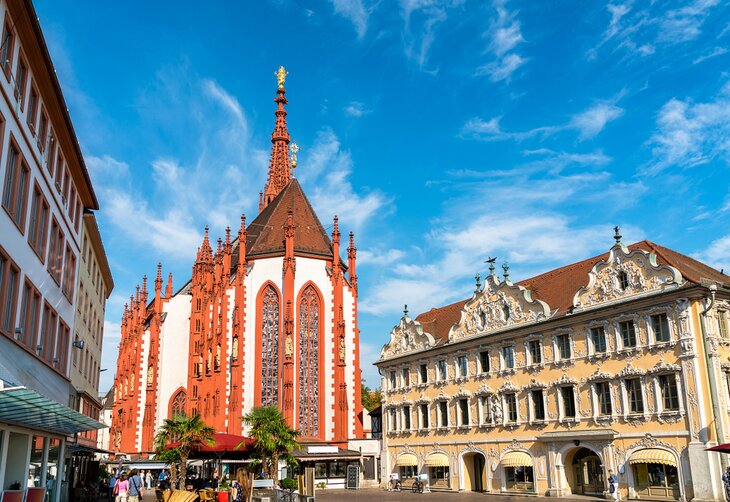 As with so many historic old towns and cities in Germany, much of the cultural and social fabric of Würzburg continues to center around the community's central Market Square (Marktplatz). Würzburg town square is certainly a great place to begin exploring the town and is within easy reach of many of the city's best attractions.
It's here you'll find the attractive Maria Chapel, an extremely photo-worthy church that dominates the square's northeast corner.
Other highlights include the Old Town Hall (Rathaus), occupying its southwest corner. In between, you'll find numerous stalls on market days selling everything from local produce to crafts, as well as numerous great cafés and eateries selling sweet and savory treats.
A great photo to capture your experience can be taken in front of the attractive Market Plaza Water Fountain. Frame your shot with the Maria Chapel in the background.
7. New Munster Collegiate Church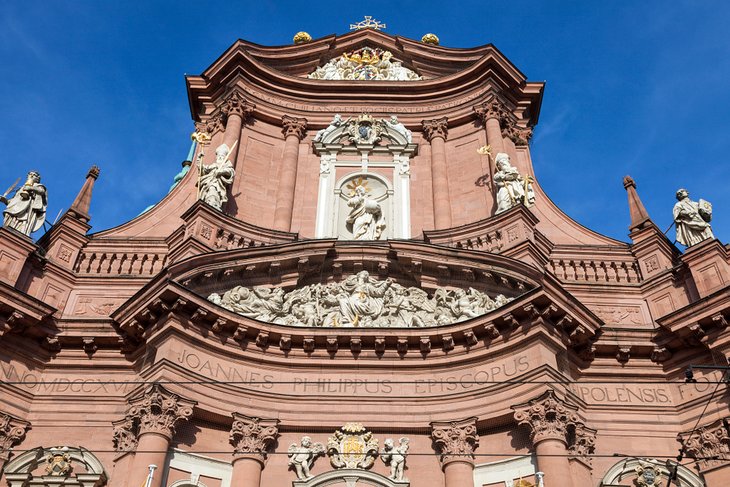 Another iconic church building in Würzburg is the New Munster (Neumünster) Collegiate Church (Kollegiatstift Neumünster). This splendid 11th-century Romanesque structure is best known for its remarkably preserved east end and the Baroque west end, built in 1719.
Under the dome are a figure of the Virgin and a crucifix, both by Riemenschneider, and in the west crypt is the sarcophagus of the Irish monk St. Kilian. The apostle of the Franks, St. Kilian was murdered here in 689 CE along with his companions.
In the former cloister, the Lusamgärtlein is a memorial stone commemorating Walther von der Vogelweide, Germany's greatest medieval poet, who died in Würzburg in 1230.
Address: Domerpfarrgasse 10, 97070 Würzburg
8. Würzburg's Pretty Church: St. Mary's Chapel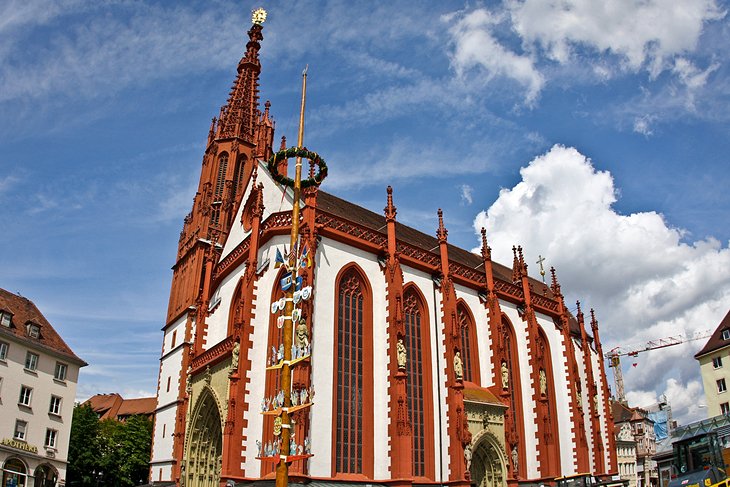 Located in Würzburg's Marktplatz, St. Mary's Chapel, also known as the Maria Chapel or Marienkapelle, was built between 1377-1479 and remains the finest Late Gothic building in the city. This picturesque old building is notable for its magnificent doorways and its richly painted altar panels with images of the Madonna from the early 1500s.
It's also home to the Tomb of Balthasar Neumann and other notable aristocrats and knights, as well as a statue of Konrad von Schaumberg, who died in 1499. Adjoining St. Mary's Chapel is the famous Haus zum Falken (House of the Falcon), which boasts the city's finest Rococo facade.
Address: Marienplatz 7, 97070 Würzburg
9. The Old Main Bridge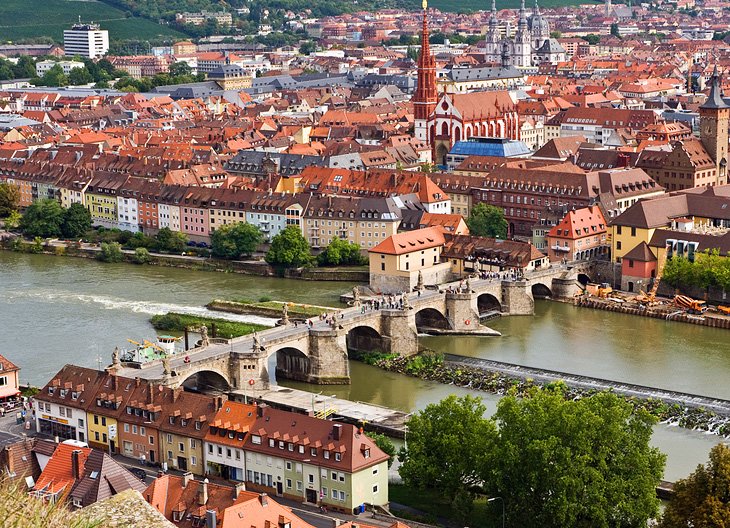 Würzburg's Old Main Bridge, the Alte Mainbrücke, is the city's oldest and most magnificent stone structure. Lined with numerous Baroque statues of saints, it leads from the Old Town to the districts on the left bank of the River Main. From this spectacular pedestrians-only bridge, visitors can see the Alter Krahnen, the original Old Cranes installed here in 1773 to help unload ships.
Taking a stroll along the bridge is an especially fun thing to do at night when the statues are lit up, as are many of the most important landmarks on the city's left bank. Here, below the Marienberg Fortress, you'll see the 11th-century parish church of St. Burkard and the Burkarder Tor. This wonderful old city gate was built in 1680 and marks the entrance to a pedestrian- and bike-only tunnel connecting two old neighborhoods.
Address: Alte Mainbrücke, 97070 Würzburg
10. See the Historic Alter Kranen (Old Cranes)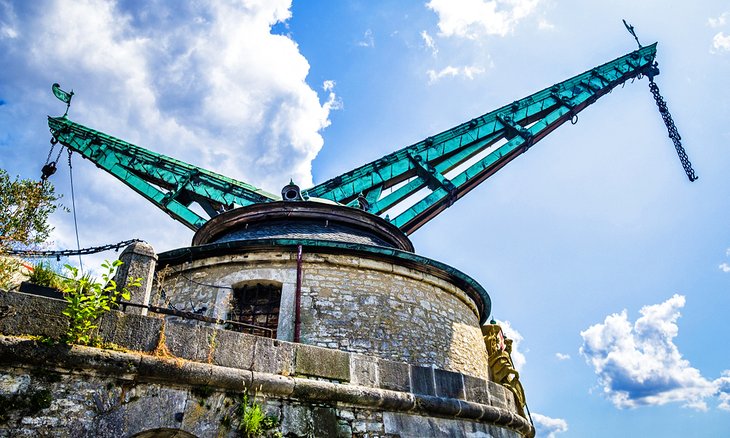 You'll find the historic Alter Kranen located very close to Würzburg's Old Main Bridge (Alte Mainbrücke). Built in 1773, these original Old Cranes were used for hundreds of years to load and unload cargoes from countless vessels that sailed the River Main.
Although it was last used in 1846, it's been remarkably well preserved and is well worth a visit. These impressive old machines also make for an excellent selfie.
Address: Alter Kranen, Mainkai, 97070 Würzburg
11. The Little Chapel: Kappele Würzburg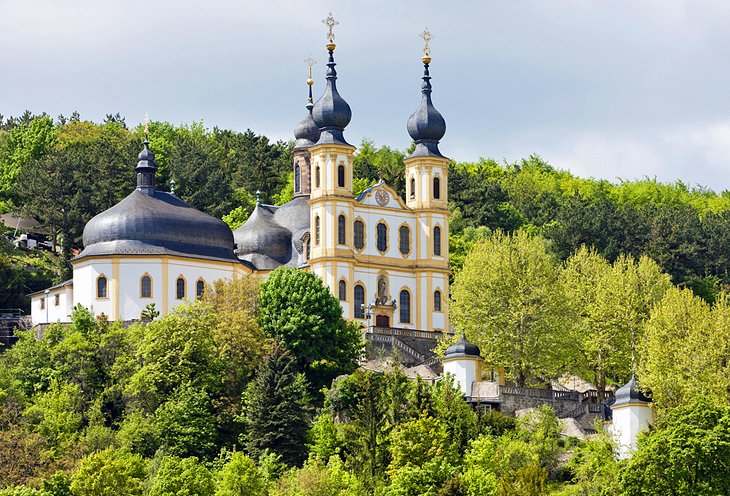 A little farther upstream from Fortress Marienberg is Kappele Würzburg (Wallfahrtskirche Mariä Heimsuchung). Also known as the "Little Chapel" and the "Käppele Sanctuary," this picturesque pilgrimage chapel was built by Balthasar Neumann in a Russian Orthodox style between 1747-50. It's set amid a lovely wooded area high above the River Main.
Notable features of this attractive building are its many frescoes by Matthias Günther, as well as its beautiful views over the Main and the city. These incredible vistas are particularly pleasant in the evening.
From the banks of the Main, you can follow a steep and shady stepped lane with 14 Stations of the Cross. It's a bit of a hike, but you'll pass a number of tiny chapels and groups of statues (some 77 of the latter, all told), leading up to the chapel, which provide the perfect excuse for a stop. The church remains an important pilgrimage site to this day.
Address: Spittelbergweg 21, 97082 Würzburg
12. Veitshöchheim Palace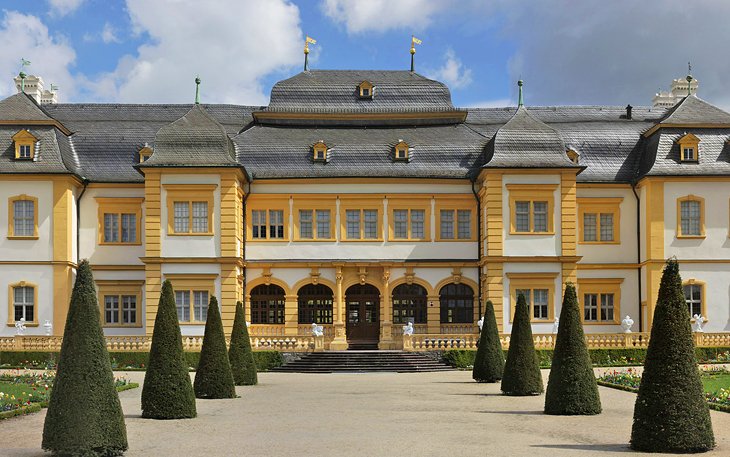 If you're interested in learning about the kinds of things the Bishop-Prince's got up to when not staying at their Würzburg Residenz, take the short journey a few miles north to the town of Veitshöchheim. Here, you'll find Veitshöchheim Palace (Schloss Veitshöchheim), their sumptuous summer palace.
Constructed in 1682 with later 18th-century additions, it's a delightful place to explore, inside and out. Interior highlights can be viewed as part of a guided tour and include exquisite furnishings and décor in a number of rooms renovated in the early 19th century, including extremely rare period wallpaper, which has survived intact.
Equally pleasing is the palace's exquisite Rococo Court Garden. Highlights include a number of ponds, small lakes, and fountains that were added in the mid-1700s, as well as more than 200 sculptures made from sandstone and representing everything from mythical characters to animals and ancient gods.
A small museum on the main floor of the palace features displays and exhibits related to the garden and its historical significance. English-language guided tours and audio guides are available.
Address: Echterstrasse 10, 97209 Veitshöchheim
13. Röntgen Memorial Site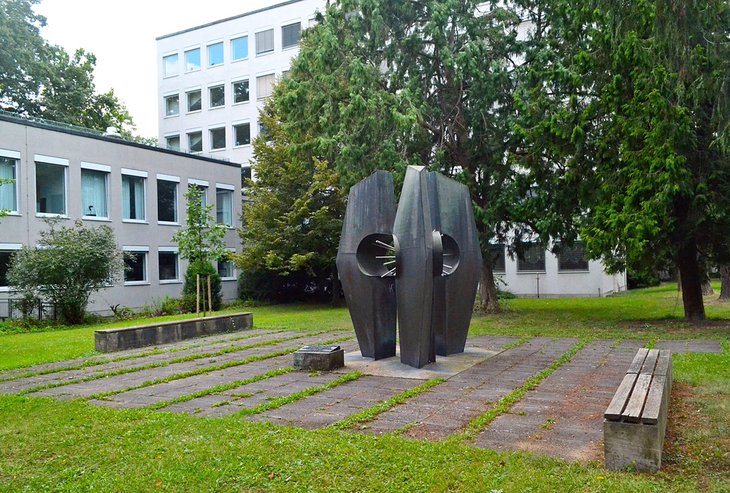 In addition to its many larger attractions, Würzburg boasts a number of interesting smaller museums worth checking out, many of them associated with the city's university. One of the most important is the Röntgen Memorial Site, a museum commemorating the achievements of the discoverer of the X-ray, Wilhelm Conrad Röntgen.
In addition to its impressive collection of the physicist's instruments and documents are useful displays and explanations of the work that led to his Nobel prize win. Displays and exhibits are featured in both English and German. Other highlights are a number of laboratories containing original machines used by Röntgen and those that followed in his footsteps.
Another interesting small museum is the Siebold Museum, dedicated to Philipp Franz von Siebold, a local doctor and researcher who became famous for his studies of Japanese culture. His unique collection of related artifacts, many of which are on display here. Guided tours are available.
Address: Röntgenring 8, 97070 Würzburg
14. Explore Würzburg's Diverse Art Galleries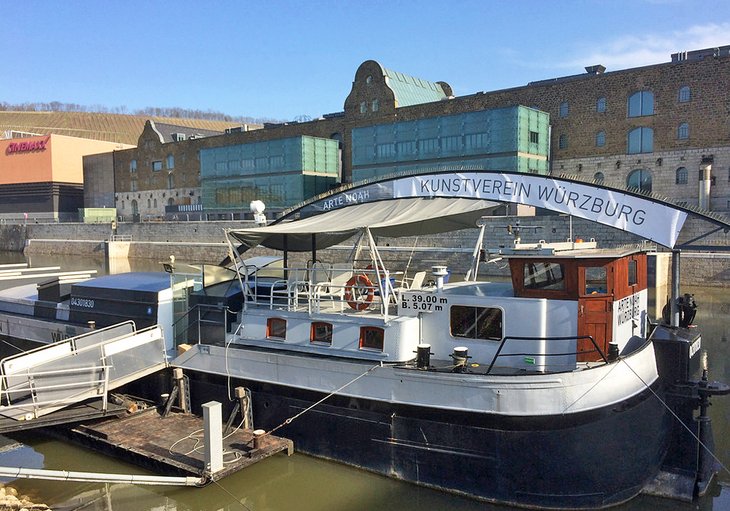 Art lovers should also be sure to include the city's many other unique art galleries on their travel itineraries. A must-visit is Museum im Kulturspeicher Würzburg. Founded in 2002 in a former warehouse overlooking the river, this popular art museum features a variety of different styles, including regional artworks and an important collection of modern concrete art from across Europe.
Notable among its collection of works from German artists are a series of 19th-century landscapes and portraits, impressionist art, as well as important items from leading Bauhaus movement members. Other highlights include a vast graphic art collection of over 30,000 works and six galleries dedicated to concrete art.
While in the mood for art, be sure to check into the VKU-Galerie Spitäle, a nicely renovated 18th-century chapel that hosts displays of contemporary art, and the fascinating Kunstschiff Arte Noah, a former cargo ship turned into an art gallery.
Address: Oskar-Laredo-Platz 1, 97080 Würzburg
15. Botanical Gardens: Botanischer Garten der Universität Würzburg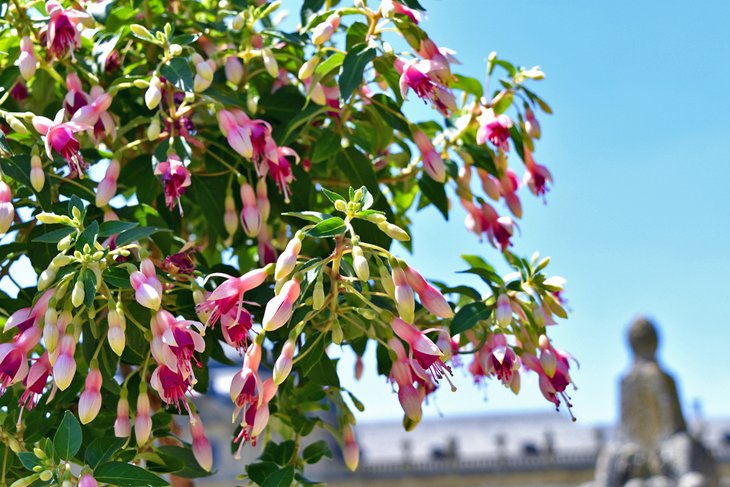 One of the top free things to do in Würzburg is to pay a visit to the city's large botanical gardens (Botanischer Garten der Universität Würzburg). Run by the University of Würzburg, the gardens can trace their roots back to the late 17th century, when it was established as a medical garden.
These days, guests can see examples of some 10,000 species of plants, including many rare regional varieties. Of special interest are collections from Japan attributed to the acclaimed German naturalist Philipp Franz von Siebold. Other highlights include a number of interesting tropical and Mediterranean greenhouses, an alpine house, medicinal plants, and a large herbarium with more than 100,000 specimens.
Also worth visiting is the Mineralogical Museum (Mineralogisches Museum Würzburg). This interesting museum is popular for its large collections of ancient stones and minerals.
Address: Julius-von-Sachs-Platz 4, 97082 Würzburg
Map of Attractions & Things to Do in Würzburg
More Related Articles on PlanetWare.com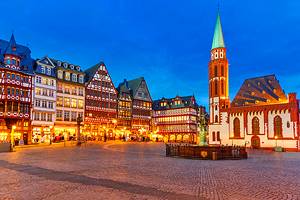 Easy Train Trips: Thanks to its great location smack-bang in the middle of a rail network that connects Stuttgart, Frankfurt, and Nuremberg, Würzburg is a great base from which to explore these historic cities. The attractions of the old Imperial city of Frankfurt, just an hour's train ride to the west are a must-visit for those who enjoy exploring on foot, especially if you start in the Römerberg, one of the most picturesque and largest public squares.
An hour to the east is Nuremberg, famous for its remarkable medieval castle and its well-preserved old town walls.
Although a longer rail journey (it's closer to two hours away), Stuttgart is well worth the effort for its magnificent museums - car lovers won't want to miss the Mercedes-Benz Museum - and art galleries, the most important of which is the State Gallery (Staatsgalerie Stuttgart).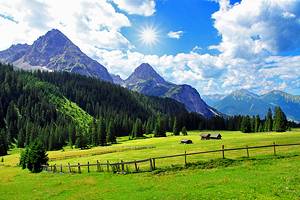 Southern Germany: Southern Germany offers plenty of things to see and do for tourists to this culturally rich country. Munich, the capital of the state of Bavaria and the biggest city in the south, is home to many important historic attractions, from magnificent palaces (Residenz) to old town squares (Marienplatz) and its splendid cathedral, the Frauenkirche.
Though much smaller, Augsburg is no less important in terms of its historic and culturally significant architecture, which includes its splendid 11th-century cathedral and the Fuggerei, an area of old townhomes built in the 1500s that to this day is operated as a social housing scheme.
Smaller still are the towns of Lindau and Konstanz, two of the many lovely towns and villages that line the shores of beautiful Lake Constance, an area of outstanding natural beauty, which attracts countless hikers and cyclists for its many great trails, some of which will take you completely around the lake's 270 kilometers of shoreline.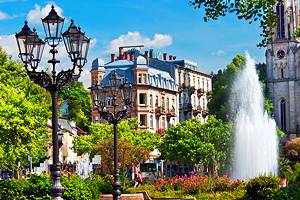 Germany Vacation Ideas: Those looking for a fun urban experience should head to the country's capital of Berlin. Here, you'll be rewarded with a chance to explore some of the most important museums in Europe, many of them located on the culturally significant Museum Island (Museumsinsel), a UNESCO World Heritage Site that should be top of your Berlin itinerary.
For a complete change of pace, visit the famous Black Forest region, home to the delightful spa town of Baden-Baden and the spectacular Black Forest Ridgeway, one of the country's most picturesque tourist routes.