13 Top-Rated Day Trips from Frankfurt
Located almost in the middle of Germany, historic Frankfurt – the country's fifth largest city – makes an excellent jumping-off point to explore such places as the beautiful Rhine Valley and the Black Forest, each just a couple of hours away by car or rail.
Closer to Frankfurt, you'll be rewarded with many wonderful day trip possibilities and exciting things to do, including a cruise up (or down) the River Main, a delight to see via tour boat. There are also numerous old towns and cities to explore, including Hanau and Mainz, along with many well-preserved castles, cathedrals, and ancient fortifications dating back as far as Roman times.
Plan your sightseeing around this diverse German city with our list of the top day trips from Frankfurt.
1. Baden-Baden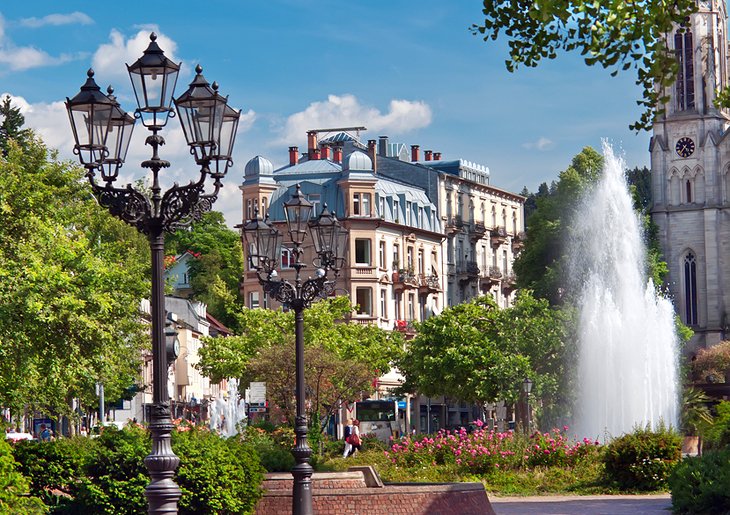 A scenic 90-minute drive south from Frankfurt along the Rhine is the beautiful spa town of Baden-Baden. One of the best places to visit in the Black Forest, Baden-Baden is pedestrian friendly and fun to explore on foot.
It has also been popular among spa goers since Roman times, thanks to its famous therapeutic waters. In fact, it seems everywhere you turn there's somewhere to sample the town's thermal springs, including many reasonably priced public baths. For a little luxury and pampering, head to the elegant Friedrichsbad, with its Roman-style setting.
Suitably refreshed, continue your walking tour in the Kurgarten, with its many fine boutique shops, art galleries, and cafés, as well as the impressive chateau-style, 19th-century Kurhaus. Visit these and other tourist attractions, along with the surrounding countryside, on an 11-hour Black Forest and Baden-Baden Day Trip from Frankfurt, traveling by comfortable coach along the scenic Rhine.
Highlights include a guided walking tour of Baden-Baden plus a chance to visit quaint Black Forest villages and the popular tourist spot of lake Mummelsee.
2. Romantic Heidelberg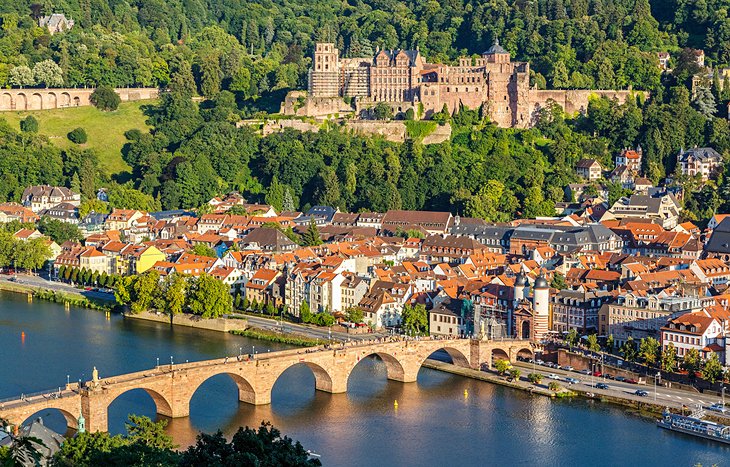 An easy one-hour drive south of Frankfurt, the splendid old city of Heidelberg is a perfect day trip. One of Europe's most romantic cities, the unspoiled medieval and Renaissance architecture of its old city center were spared the bombing that destroyed many other cities in World War II.
Heidelberg is also popular for its warm and pleasant climate, making dining al fresco a distinct possibility almost year-round. It's easy to traverse on foot, thanks to its many pedestrianized downtown streets.
A good place to begin your walking tour is the Hauptstrasse, Heidelberg's narrow main street. From here, numerous even narrower streets lead to some of the best examples of the city's architecture, many of the buildings now serving as shops, galleries, and cafés.
Stop to see one of the best examples of the city's fine churches, the 15th-century Church of the Holy Ghost (Heiliggeistkirche) and take the funicular or climb to Heidelberg Castle. Built in the 16th century and standing nearly 200 meters above the old town, it's one of the most picturesque castle ruins in Germany and offers great views over the surrounding countryside.
You won't miss any of these highlights if you opt for a Heidelberg Half-Day Trip from Frankfurt. Led by a professional guide well-versed in local history and architecture, you'll walk through the old town, visit the university, and tour the castle before the short ride back to Frankfurt.
3. Medieval Rothenburg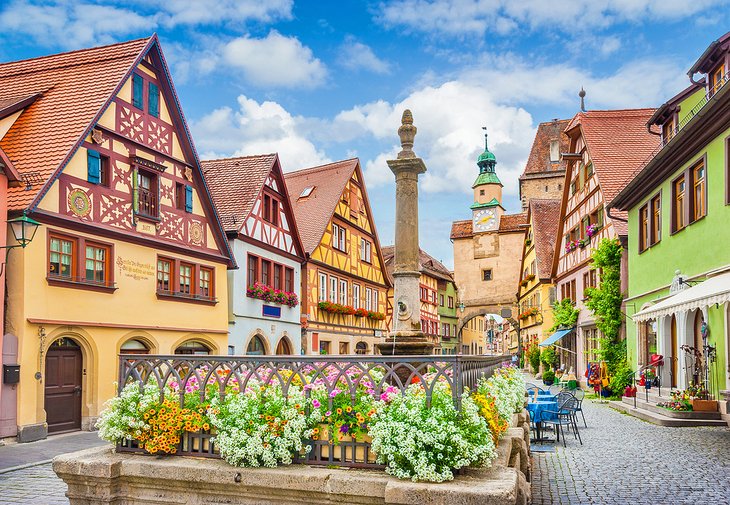 A pleasant two-hour drive southeast of Frankfurt brings you to one of the most visited and photographed towns in all of Germany: Rothenburg ob der Tauber.
Perched high atop the steep banks of the River Tauber, this well-preserved medieval town was once the capital of Bavaria and boasts numerous architecturally important buildings. Some of them, such as the impressive old Town Hall (Rathaus), date as far back as the 13th century.
A highlight of a visit is to walk along the town's old walls and battlements, untouched since 1618, when they withstood assault during the Thirty Years War. Other structures of note include the 15th-century Council Tavern (Ratstrinkstube), the Imperial City Museum, and the early 17th-century St.-Georgs-Brunnen fountain.
Just when you thought this town couldn't get any prettier, head over to Little Square (Plönlein). Like something out of a fairy tale, this tiny square consists of a tall, narrow half-timbered building separating two streets, one leading up to Siebers Tower, the other down to Kobolzeller Tower. Both were built in the early 13th century. English language guided tours are available from the town's visitor center.
You can also combine Rothenburg with another of Germany's most popular attractions on a fun guided Rothenburg Day Trip from Frankfurt. This full-day excursion includes round-trip transportation from Frankfurt accompanied by an expert guide and skip-the-line entry to popular attractions, including St. Jacob's Church.
The route here is part of the fun, as you'll travel along the scenic Castle Road with its stunning old fortresses. If you're traveling in November or December, you'll also have a chance to visit the town's famous Christmas Market, widely regarded as one of the best festive events in the country.
Read More: Top-Rated Tourist Attractions in Rothenburg
4. The Black Forest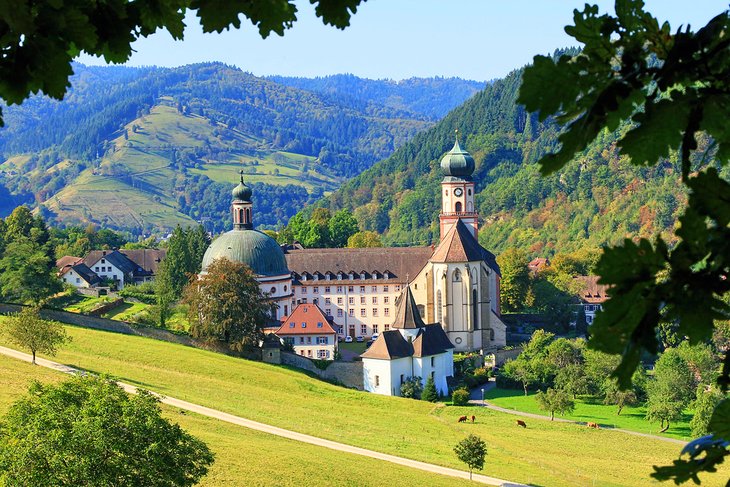 The Black Forest, a beautiful, hilly, and forested area dotted with postcard-perfect towns of half-timbered medieval houses, is easy to get to from Baden-Baden. Considered by most as the gateway to this area of outstanding natural beauty, Baden Baden is worth spending a day or more exploring, especially if spas are of interest; this charming city has in fact been one of the top places to visit in Europe for centuries thanks to its thermal springs.
Other Black Forest cities to visit include Esslingen. Situated not far from Baden-Württemberg's capital of Stuttgart, Esslingen has the largest intact collection of original medieval half-timbered buildings in all of Germany.
Baiersbronn has an impressive collection of its own, but it's better known as the fine-dining capital of Germany, with seven Michelin stars between its three restaurants. Stop in Triberg to climb alongside Germany's highest waterfall or to tour the Black Forest on the Black Forest Railway. The Black Forest is the home of cuckoo clocks and Black Forest cherry cake.
A great way to see the best parts of the Black Forest is to join an organized tour. One of the best options is a Black Forest and Strasbourg Day Trip from Frankfurt. This fun 10-hour tour includes stops in Baden-Baden and a guided tour of the top points of interest, before heading to the French city of Strasbourg.
Here, you'll explore the historic Old Town at your own pace, as well as enjoying a tour of the city's canals (by water, of course). The journey also includes stops at lake Mummelsee, a remnant of the last ice age.
5. Strasbourg, France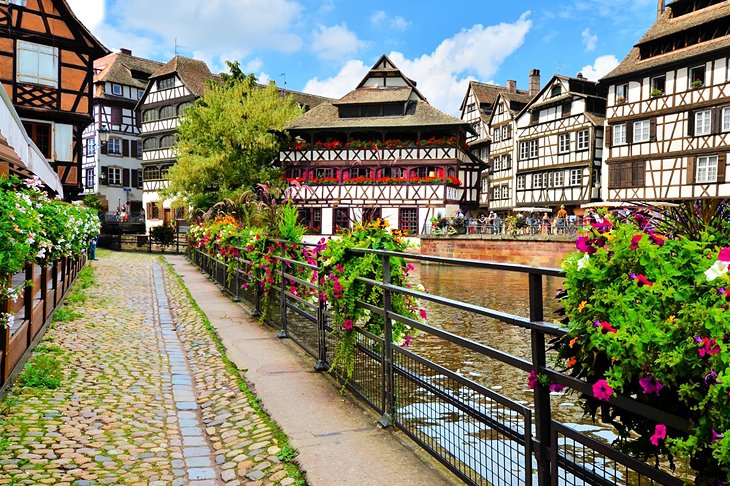 Opposite the Black Forest on the French side of the Rhine River, Strasbourg is an elegant and cosmopolitan city. Capital city of the Alsace region, it is also the headquarters of the European Parliament. Its Gothic cathedral is one of the finest in Europe, surrounded by an old quarter of narrow streets and half-timbered buildings.
Known as La Petite France, Strasbourg's historical town center is a listed UNESCO World Heritage Site. Strasbourg is also known for its outstanding cuisine, and offers plenty of options if you enjoy dining al fresco.
Narrow, flower-draped canals wind through the city, and a boat ride through these is a delightful way to tour. Many of the best day-trip tours from Frankfurt, in fact, include this option in their itineraries. You can also combine a guided tour of Strasbourg with a drive through Germany's beautiful Black Forest region on the 10-hour Black Forest and Strasbourg Day Trip from Frankfurt, which also includes a walking tour of Baden-Baden.
6. Historic Hanau: Not so Grimm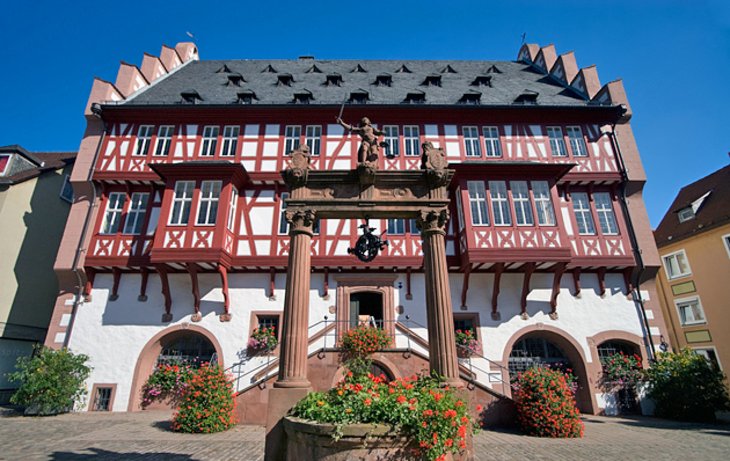 The historic old town of Hanau, situated at the junction of the Kinzig and the Main rivers, is just 20 kilometers east of Frankfurt and makes for an easy and enjoyable day trip.
In the town's old Marktplatz stands the New Town Hall (Neustädtisches Rathaus), built in 1733 and notable for its charming carillon and monument to Jacob and Wilhelm Grimm, the famous Brothers Grimm, who were born here. It's a connection celebrated each year with the popular Brothers Grimm Festival.
Another town highlight is the Goldsmiths' House (Goldschmiedehaus), home to an exhibition of jewelry and a reproduction of a traditional goldsmith's workshop.
Also of note, and just four kilometers northwest of Hanau's old town center, is Schloss Philippsruhe. This fine Baroque palace now houses the Hanau Historical Museum, with its collections of ceramics, silver, and paintings, as well as numerous artifacts relating to the Brothers Grimm, plus a fine sculpture garden.
7. Mainz Cathedral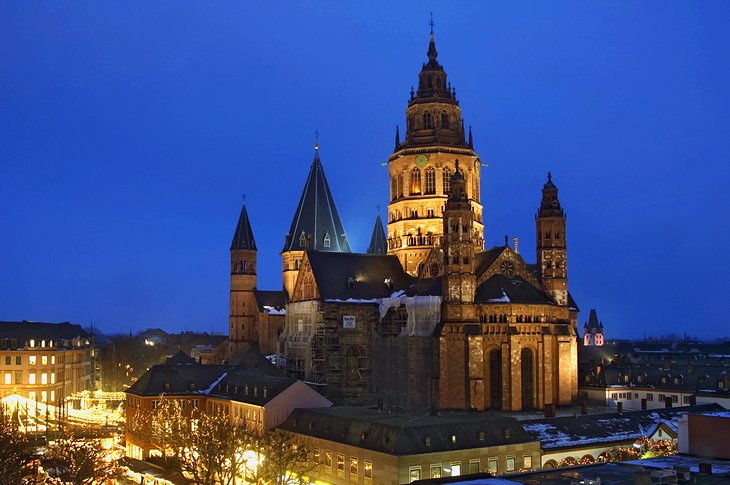 Just 44 kilometers west of Frankfurt on the west bank of the mighty Rhine River, the magnificent old cathedral city of Mainz is home to a number of things to do that together add up to a perfect day trip.
Thanks to its many fine museums, the city's rich history has been well documented and preserved. The best places to visit to learn more about Mainz's history are the Museum of Ancient Navigation (check out its full-scale replicas of Roman vessels) and the Roman-Germanic Central Museum.
Also worth visiting is the Gutenberg Museum, which celebrates the life of Johannes Gutenberg, the creator of the world's first movable type printing technique, who was born here in 1398.
The city's main tourist attraction, however, is the magnificent Mainz Cathedral (Mainzer Dom). Although construction of this lovely, six-towered edifice started in AD 975, much of the present structure dates from the 11th century, when many of its tombs were added. Be sure to also visit the Cathedral Museum with its many displays relating to the building's long history.
Address: Domstraße 3, 55116 Mainz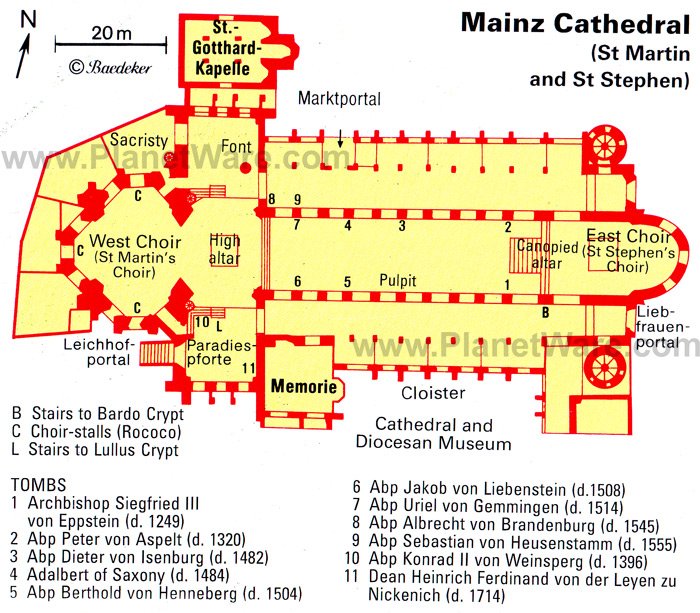 8. The Rhine Valley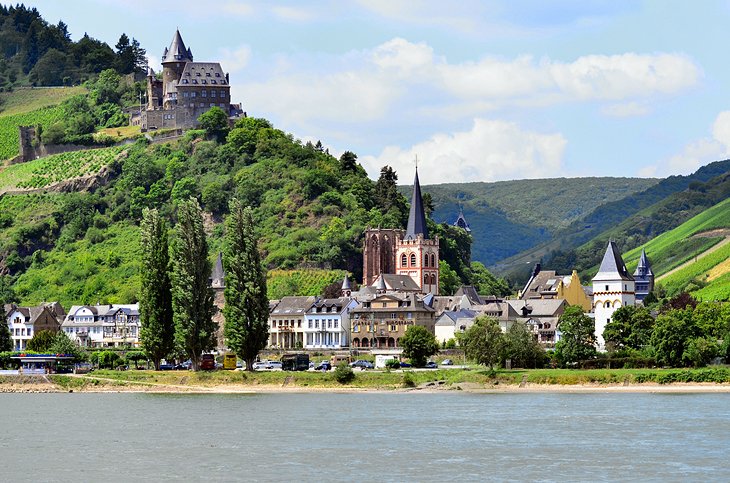 Stretching all the way from Switzerland to the Netherlands – a distance of 1,320 kilometers – the Rhine is one of the most impressive sights in Germany. Nowhere is this truer than in the Rhine Valley, a popular tourist area extending from Koblenz in the north all the way south to Mannheim. Fortunately for those visiting Frankfurt, this magnificent UNESCO World Heritage Site is easily accessible from the city, either by car, public transit, or riverboat.
A variety of cruise options are in fact available, from day trips taking in one or two key settlements and castles to longer overnight stays that allow greater opportunities to explore. One of the top places to visit along the Rhine is Worms, one of the country's oldest cities and famous for its 11th-century cathedral.
Mannheim is perhaps the easiest city to access from Frankfurt and is perfect for those wanting to catch just a glimpse of the Rhine. The best way to explore Mannheim is on foot, starting at the historic Marktplatz, with its Old Town Hall (Altes Rathaus), before heading over to Planken and the Kurpfalzstrasse for some shopping.
9. Büdingen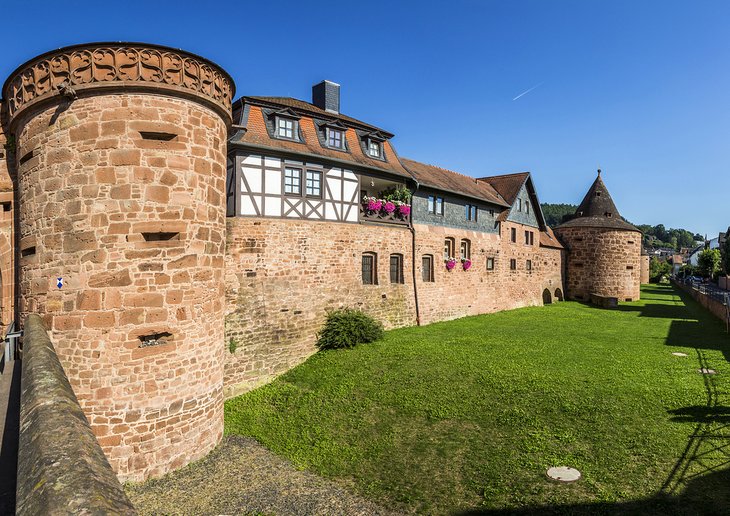 Some 50 kilometers northeast of Frankfurt, on the southern fringe of the Vogelsberg, is the quaint little town of Büdingen. This fun day trip includes pleasant strolls along stretches of the old town's 15th-century walls and their round towers, as well as through the Marktplatz.
Here, you'll find the Late Gothic Old Town Hall, with its museum exhibits outlining the history and folk traditions of the region, its many old half-timbered buildings, and the 15th-century St. Mary's Church (Marienkirche).
Also of interest is the nearby village of Grossendorf, home to the Remigius-Kirche, one of the oldest churches in Germany, and the formidable Büdingen Castle (Schloss Büdingen). Now a charming hotel, this 13th-century fortress also boasts a number of handsome state apartments that have been preserved as a museum and can be visited, along with the castle's attractive Gothic chapel.
10. The Artistic Heritage of Darmstadt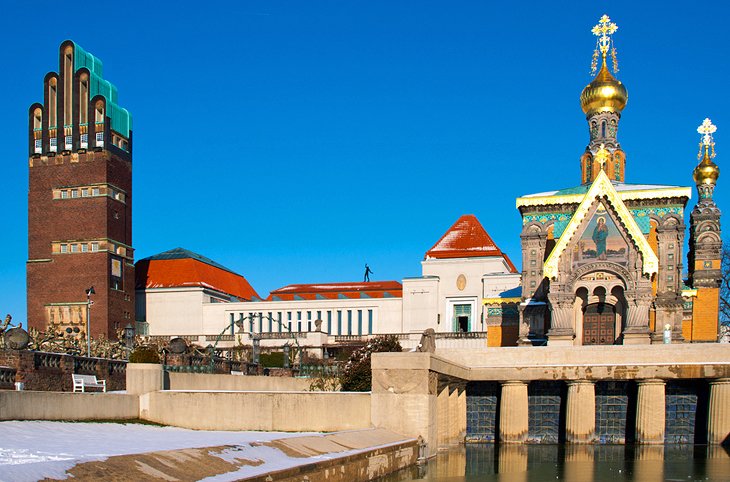 Just 35 kilometers from Frankfurt, Darmstadt lies at the end of the Upper Rhine plain amid the foothills of the Odenwald and is the former capital of the Grand Duchy of Hesse. One of the top things to do here is to visit the Mathildenhöhe, where Grand Duke Ernst Ludwig established an artists' colony in 1899.
During your visit, you can admire the many Art Nouveau houses, browse art exhibitions, or climb the 48-meter-high Hochzeitsturm (Wedding Tower) for views over the town and its many pleasant gardens. Adjoining are the gilded towers of the Russian Chapel and, a short distance away, the Ernst-Ludwig-Haus, home to the German Academy of Language and Literature, as well as the Art Nouveau Museum.
Other Darmstadt highlights include the excellent Palace-Museum Darmstadt (Schlossmuseum Darmstadt) with its fine collections of portraits, period furniture, and handicrafts. For more Darmstadt history, visit the Hessisches Landesmuseum Darmstadt with its artifacts, art galleries, and natural history exhibits.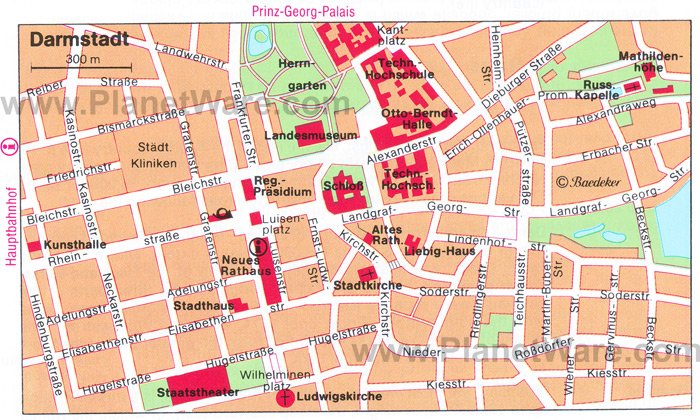 11. Wiesbaden's Spas and Thermal Springs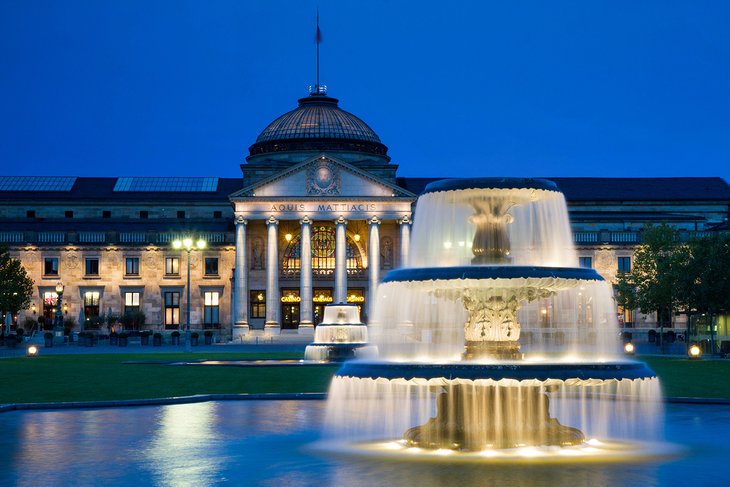 Wiesbaden is another historic city that lies within easy reach. Just 35 minutes' drive due west of Frankfurt, the capital of the Land of Hesse is famous the world over for its excellent thermal springs, a big draw, particularly among Germans, for their curative nature and many health benefits.
A good place to begin exploring this historic city is the wide Marktplatz. From here, you can venture off in search of the many easy-to-find spas. Perhaps the best known is the beautiful Fountain Colonnade in Kurbezirk, near the imposing Kurhaus. Built in 1907, it's famous for its massive portico.
Next up is the Aukammtal spa district. Here, you'll find a number thermal baths and saunas, most open to the public and all worthy of a visit for their relaxing qualities. Also notable is the Kochbrunnen, with its 15 hot springs, and the Kaiser Friedrich Baths dating from 1913. Be sure to also climb up the 245-meter-tall Neroberg hill, notable for its Opel Baths.
And when you're done with all that pampering, head over to the nearby Biebrich Schloss. This superb Baroque palace was built in 1698.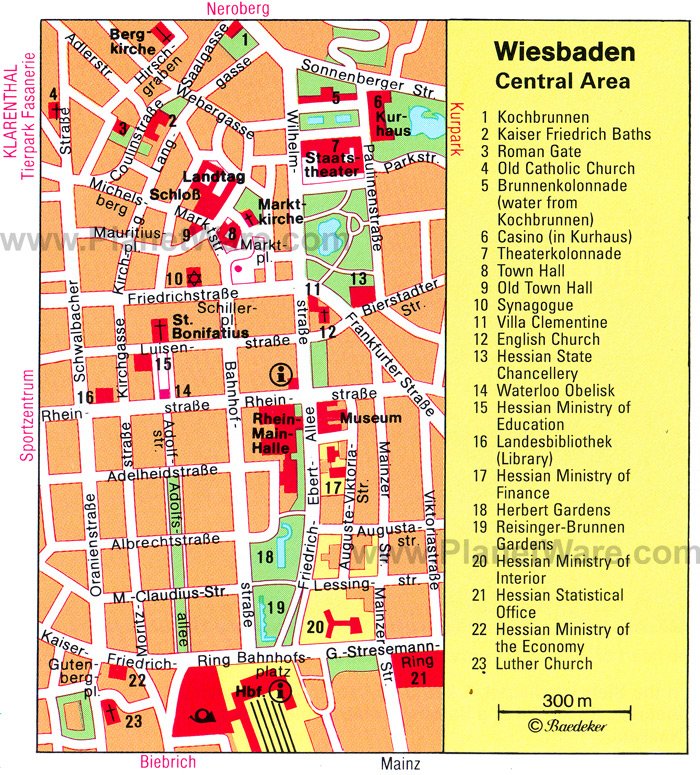 12. Koblenz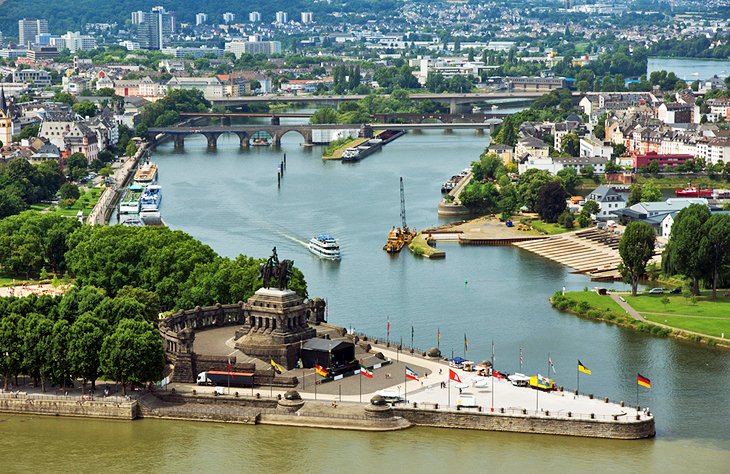 Koblenz, just 90-minutes' drive northwest of Frankfurt, offers much for the day tripper to enjoy. Perhaps its greatest claim to fame is the fact that it lies at the junction of the Rhine and Moselle rivers, a point nicknamed the German Corner, or Deutsches Eck.
Here, you can stand and watch these two mighty rivers converge, and enjoy an up-close view of the 37-meter-tall Monument to Emperor Wilhelm I. The city, in fact, straddles both banks of these two rivers, and a great way to see the area is via a fun river cruise.
Other highlights include the massive Ehrenbreitstein fortress dominating the right bank of the Rhine and accessible by cable car. Be prepared to spend at least a couple of hours exploring the fort's battlements, as well as its museums. Of particular interest here is the State Museum of Koblenz, home to many interesting displays and historic collections. They also offer unique Baroque-style dining package, as well as music and theatrical productions.
13. Take a Shopping Trip to Wertheim Village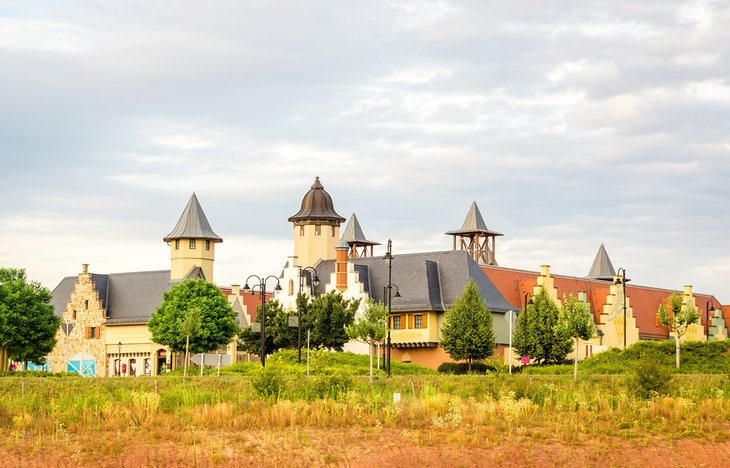 For those wanting to get some exercise while satiating their urge to get in some quality shopping, a visit to Wertheim Village may be just the ticket. An easy hour's drive east of Frankfurt, this popular outdoor outlet mall was designed in the style of a classic German medieval town and features some of the world's leading fashion and retail brands, often at greatly discounted prices.
All told, Wertheim Village features over 110 stores, ensuring even diehard shoppers and bargain hunters will find something worth taking home. You can easily spend a half-day here – longer if you stop for lunch or dinner. In addition to full-service restaurants, there are a number of great coffee shops on-site, including our favorite, the Lindt Café (yes, it's owned by the chocolate makers).
Address: Almosenberg, 97877 Wertheim, Germany
Official site: www.tbvsc.com/wertheim-village/en
More Related Articles on PlanetWare.com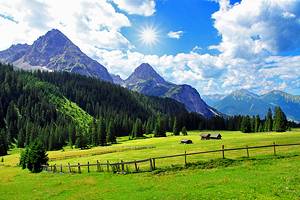 The Best of Bavaria: While planning your Germany travel itinerary, you may want to consider visiting other popular destinations in Bavaria besides Frankfurt. The state capital of Bavaria, Munich should definitely be on your list of top places to visit in Bavaria, and includes popular attractions such as its cathedral; the Frauenkirche; and its old palace, the Residenz. The city of Nuremberg is also worth including, in particular for its old town area with its remarkable medieval-era walls.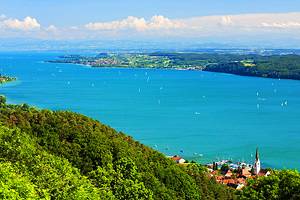 Germany's Great Outdoors: Some of Germany's most dramatic scenery - and it's top outdoor adventures - can be enjoyed in Garmisch-Partenkirchen, a mountainous area of the Bavarian Alps that's popular with skiers and hikers alike. Pretty Lake Constance is another area of outstanding natural beauty and can be circumnavigated on foot thanks to its first-rate trail network. Also worth visiting is the stunning scenery along the Mosel Valley, which in places matches the beauty of the Rhine Valley.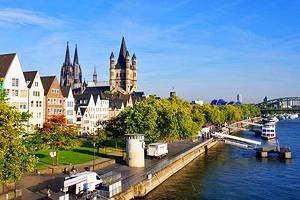 Germany Travel Ideas: Travelers to the German capital of Berlin could easily expect to spend at least a few days exploring its many tourist attractions, including such iconic structures as the Brandenburg Gate and the Berlin Wall. The port of Hamburg is another must-visit, especially if you're traveling with kids; they'll want to spend hours at the fascinating Miniatur Wunderland, the world's largest train set. Cologne (or Köln) is another big city to explore, boasting a spectacular cathedral and a vibrant, pedestrian-friendly market square.