15 Top-Rated Tourist Attractions in Essen
Essen has a population of over half a million souls and is the largest city on the Ruhr River in western Germany. Situated in one of the most industrialized regions in the country, Essen is the headquarters of many large industrial organizations, some of which can be visited as part of a guided tour.
Aerial view of Zollverein industrial complex in Essen, Germany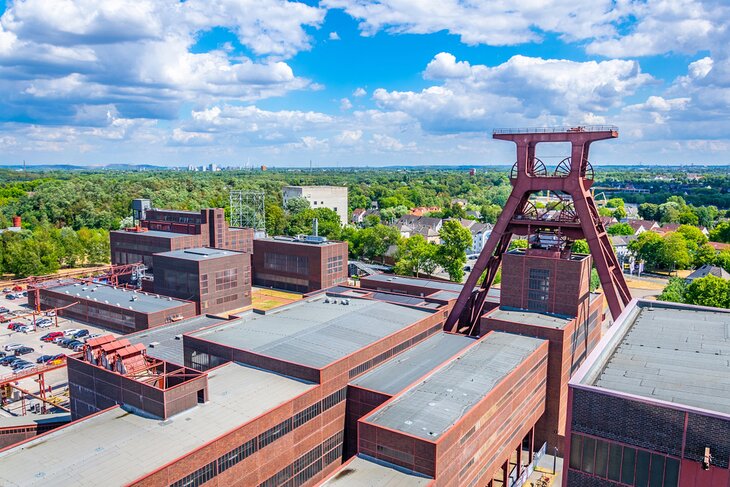 The region is also home to a number of interesting museums and tourist attractions dealing with Essen's centuries-long role as the heart of Germany's major heavy industries. High on your Essen travel itinerary should be paying a visit to the Zollverein Coal Mine Industrial Complex, a vast former industrial site that has been transformed into an entertainment and cultural mega-center.
But there's much more to Essen and the Ruhr than simply its old factories and mines. The city has a long history as an important cultural and religious center. Some of the best places to visit here are its many museums and historic churches, as well as art galleries and entertainment venues. Many of these are centered around the Old Town (Altstadt) area.
Essen also serves as a great jumping-off point for fun day trips, too. Great options include taking trips to nearby locations such as Düsseldorf and Dortmund, easily reached by public transit or car.
To help you make the most of your exploration of this fascinating corner of Germany, read through our list of the best things to do in Essen.
1. Explore the Vast Zollverein Coal Mine Industrial Complex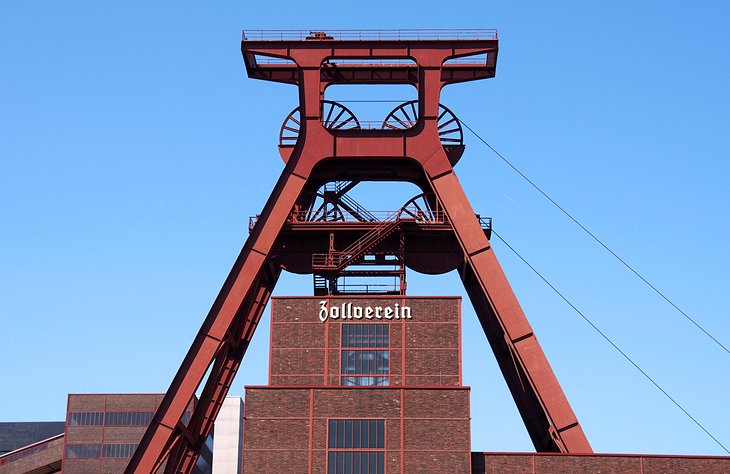 One of Essen's most popular attractions is the Zollverein Coal Mine Industrial Complex, or Zeche Zollverein. Usually referred to simply as "Zollverein," this fascinating sightseeing opportunity occupies part of a sprawling abandoned industrial area that was declared a UNESCO World Heritage Site in 2001.
Home to the area's first coal mine, established here in 1847, Zollverein grew into the largest such facility in Europe. Covering an area of over 247 acres, it's now an important museum complex, with the highlight of a visit being the coal mine's impressive Bauhaus-influenced architecture. Notable examples of this remarkable design can be seen in the iconic Shaft 12, built in 1932.
Fascinating English-language guided tours are held on weekends and provide a unique insight into the mine's history, covering its production facilities and following the process from extraction to coal's transformation into coke. These popular tours do fill up, so be sure to book ahead to avoid disappointment.
Afterward, enjoy a unique dining experience in one of the site's unique restaurants. A number of interesting shopping experiences are located on-site, too, so be prepared to get in a little souvenir hunting in its boutique shops and galleries.
Address: Gelsenkirchener Str. 181, 45309 Essen
2. Learn about the Region's History at the Ruhr Museum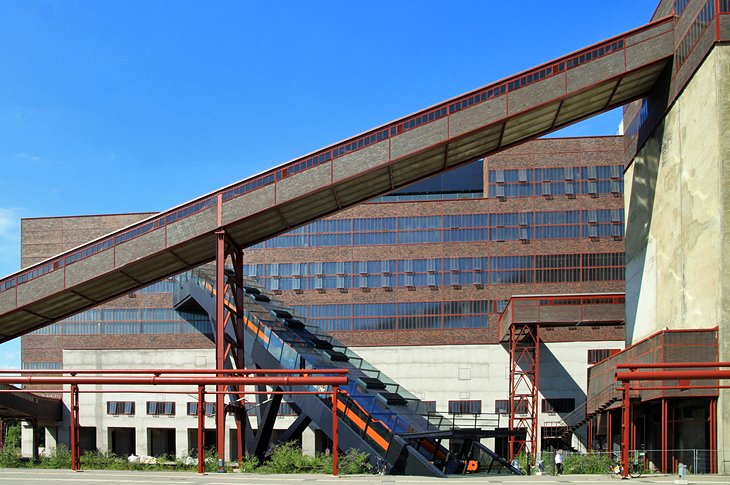 Located on the grounds of the Zollverein Coal Mine site and also well worth a visit is the Ruhr Museum. Set in the former coal-washing building, an equally pleasing design compared to the rest of the former colliery, much of the old machinery is still intact. It houses many impressive collections related to the region's natural and cultural histories. As such, it's one of the most important museums in this field in North Rhine-Westphalia.
In fact, the museum covers many levels that are accessed via the old elevators used to shift coal, and now acting as pedestrian walkways. Displays related to archaeology and culture are particularly worth seeing. A café and museum shop are located on the premises, and guided tours and audioguides are available in English.
Another must-see here is the Portal of Industrial Heritage, an audio-visual attraction, which includes a 360-degree film, as well as hands-on displays showcasing the city's rich industrial heritage.
Address: Gelsenkirchener Str. 181, 45309 Essen
3. Get Your Art Fix at the Red Dot Design Museum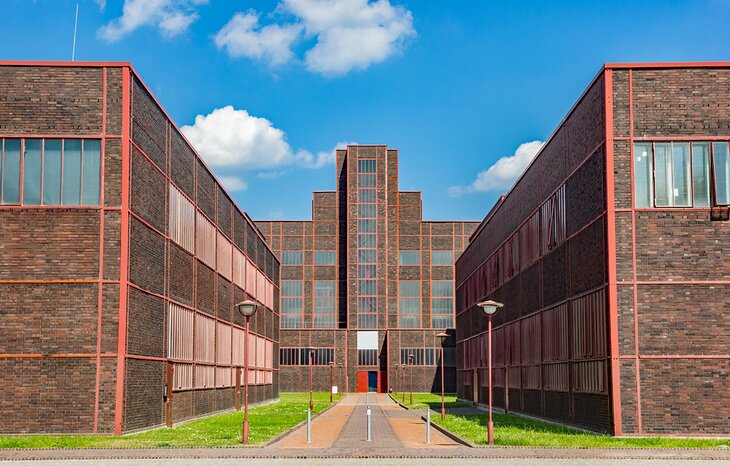 Another important fixture on the Zollverein World Heritage site is Red Dot Design Museum with its displays of contemporary and industrial-influenced designs.
Located in the former boilerhouse built in 1929, this five-story gallery covers an impressive 4,000 square meters and features fascinating exhibits relating to industrial and contemporary design. All told there are more than 2,000 exhibits from some 45 countries.
As interesting as the displays of design and art is the building itself, with its original fixtures still very much in view. Temporary exhibits are also held, along with workshops suitable for all age groups. English-language guided tours are available.
Address: Gelsenkirchener Str. 181, 45309 Essen, Germany
4. Museum Folkwang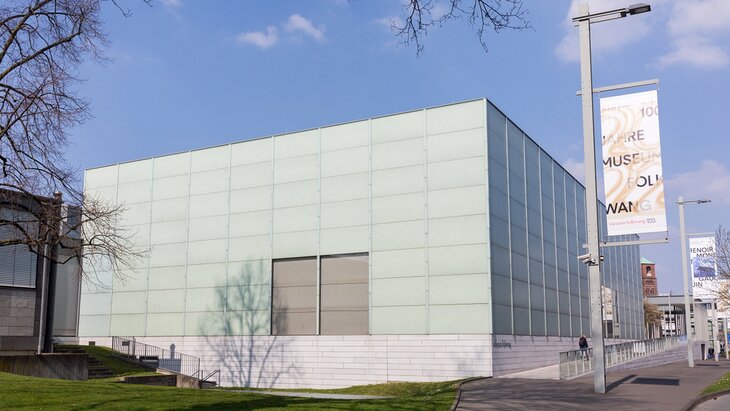 Essen's Museum Folkwang, perhaps the most important art gallery in the Ruhr, is well known for its displays of important artworks from the 19th and 20th centuries. It's also popular for its fine collection of European sculptures dating from the 13th century, along with a large number of paintings and applied arts from outside Europe.
Established in 1922 and housed in one of the city's most architecturally interesting buildings, Museum Folkwang, named after the Norse "meadow of the dead," also features a vast collection of nearly 350,000 posters in the German Poster Museum (Deutsche Plakat Museum).
Also of interest is a rich photographic collection with more than 50,000 images, as well as numerous prints and drawings. English-language guided tours are available for groups and individuals.
Address: Museumsplatz 1, 45128 Essen, Germany
5. Visit Essen Minster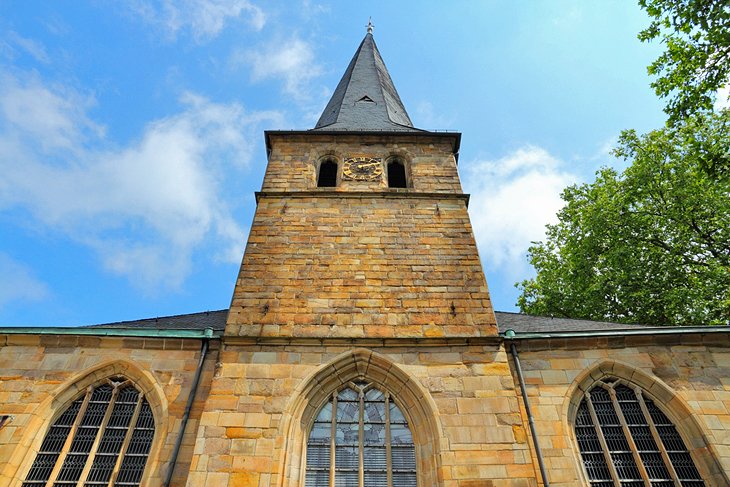 Located in the historic Burgplatz, the old Roman Catholic Essen Minster (Essener Münster), also known as Essen Cathedral (Essener Dom), is a must-see attraction in Essen. Originally built as an abbey in the 9th century and thought to be one of Germany's oldest cathedrals, it's a delightful building to explore.
The most notable features of the interior are a seven-branched bronze candelabrum dating from around 1000 BCE and the Golden Madonna from the same period. The latter is widely considered one of the oldest sculpted figures of the Virgin Mary in Europe.
Other notable features include the Column of Ida, the cathedral's oldest surviving fixture; the late 13th-century Gothic monument to Altfrid, Essen's founder; and the spectacular sandstone Entombment of Christ, a sculpture dating from around 1500.
Afterward, be sure to visit the rich Essen Cathedral Treasury (Domschatz Essen). Situated in the neighboring Bishop's Palace, it's home to one of the most important and complete collections of religious art and artifacts in the country.
Address: Kettwiger Str. 42, 45127 Essen
6. Stroll around Grugapark and the Botanic Garden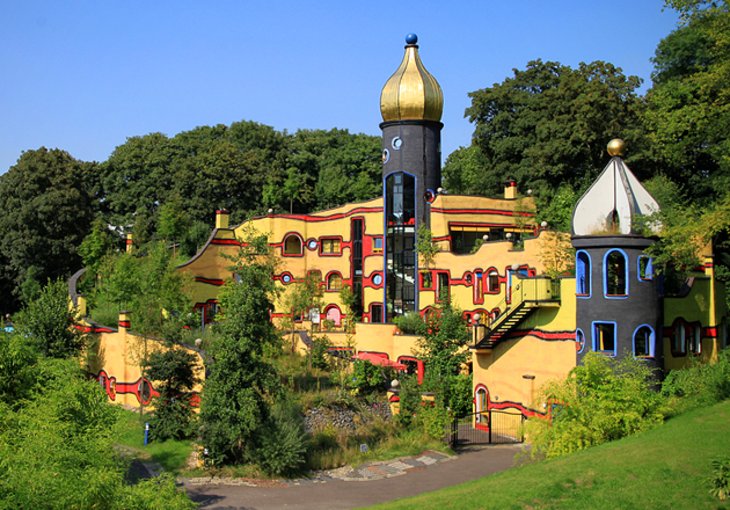 A pleasant and short walk from Essen's city center lies the beautiful Grugapark, 175 acres of public park laid out in 1929 for the Great Ruhrland Garden Show. Enlarged in 1952 and again in 1965, it's a wonderful place to visit and can easily swallow up the best part of a day given its many interesting attractions.
Highlights include the Grugahalle sports complex, an observation tower, numerous old fountains, and several restaurants. Be sure to also visit the architecturally interesting Hundertwasser House. This delightful, quirky, colorful building is designed by and named after renowned Austrian architect Friedensreich Hundertwasser.
Perhaps the most visited area of the park, however, is its botanic garden. The must-visit Botanischer Garten Grugapark is home to interesting collections of plants from around the world. Highlights include an Alpinum, as well as species from Asia, North America, and the local area. Local plant varieties can in fact be enjoyed in the traditional Westphalian Farmer's Garden.
Also worth a visit is the beautiful Stadtgarten, the Municipal Park, home to the city's main theater. For the kids, the fun includes animal enclosures, an aquarium, and an amusement park. There's also a narrow-gauge railroad, the three-and-a-half-kilometer-long Grugabahn.
Address: Virchowstraße 167a D-45147 Essen, Germany
7. Rent a Bike in Zollverein Park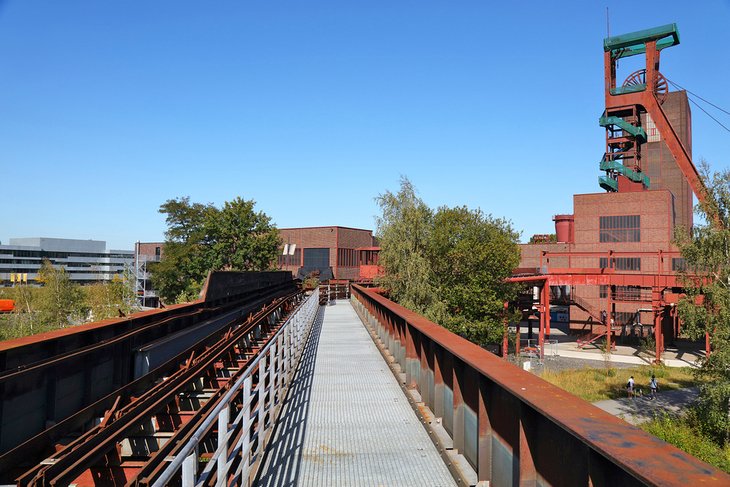 In addition to its many fine museums, restaurants, and numerous cultural activities, the sprawling Zollverein Coal Mine Industrial Complex offers a variety of first-rate recreational activities and other things to do. One of the most popular of these in winter is the Zollverein Ice Rink. The Zollverein Eisbahn is a huge 1,800-square-meter ice facility built amid the site's old coke ovens, and even offers lessons for those new to skating.
Another highlight is the outdoor area of the park. It's home to a wide variety of wildlife and botanical rarities that have reappeared since the facility's grounds have been allowed to return to their natural state.
If walking is your thing, take a stroll on the Ring Promenade. This well-groomed three-and-a-half-kilometer network of trails circles the property, linking its various attractions. Bike rentals are available. If visiting on a weekend between May and October, be sure to take a ride on the Sun Wheel, a 14-gondola Ferris Wheel that rises high above the old coke plant.
Address: Zollverein A14, Gelsenkirchener Straße 181, 45309 Essen
8. Tour the Old Synagogue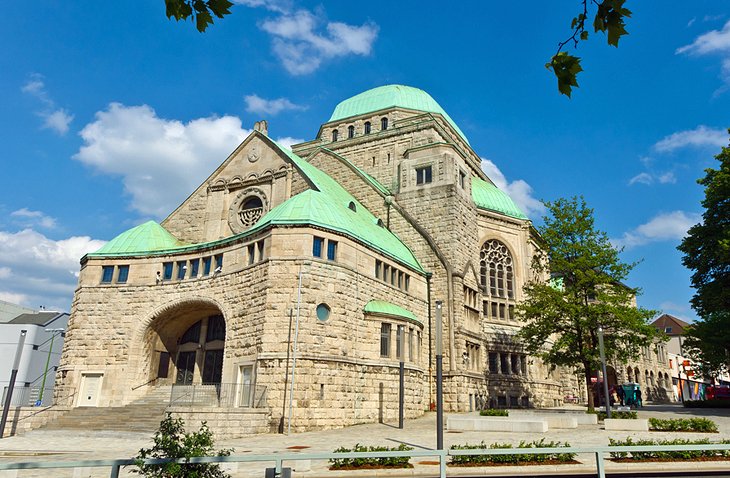 The Old Synagogue (Alte Synagogue) in Essen serves both as a place of worship and a memorial site. Built in 1913, this vast building is one of the best-preserved and most impressive Jewish cultural sites in Germany.
Partially destroyed by the Nazis in 1938 and further damaged by Allied bombing, the city acquired the building and eventually rebuilt and rededicated it as an important "House of Jewish Culture." Exhibits worth visiting include one focusing on the pre-war and war years, which deals with the topics of Jewish persecution and resistance, as well as those dealing with matters such as Jewish traditions and festivals.
English language audio guides are available, as are 90-minute guided tours. The facility also offers a rich program of concerts, theatrical performances, and readings. The adjacent House of the Rabbi (Rabbinerhaus) is used to house the city's archives of material related to its Jewish population through the centuries.
Address: Edmund-Körner-Platz 1, 45127 Essen
9. Villa Hügel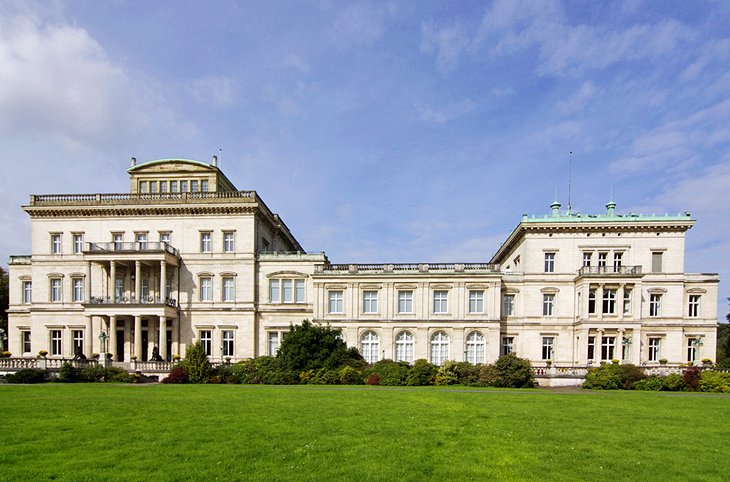 Located on the north side of the Baldeneysee, Essen's largest lake, stands the elegant Villa Hügel. This grandiose mansion was built in 1873 for the Krupp family, one of the region's oldest and wealthiest industrialist dynasties.
Set in a wonderful large park overlooking the Ruhr, this splendid 269-room mansion was bequeathed as the Alfried Krupp von Bohlen und Halbach-Stiftung, a non-profit trust to preserve the property for public enjoyment.
Highlights include excellent collections of historical artworks and artifacts, some of them housed in the adjoining Kleines Haus, as well as an interesting exhibit about the family's rich history, including the 200 years it dominated the country's arms industry. Periodic special exhibitions and events are held regularly in the villa itself.
Guided tours are also available, and a popular series of chamber music concerts is staged during the summer months.
Address: Hügel 15, 45133 Essen, Germany
10. Take a Trip to Old Town Werden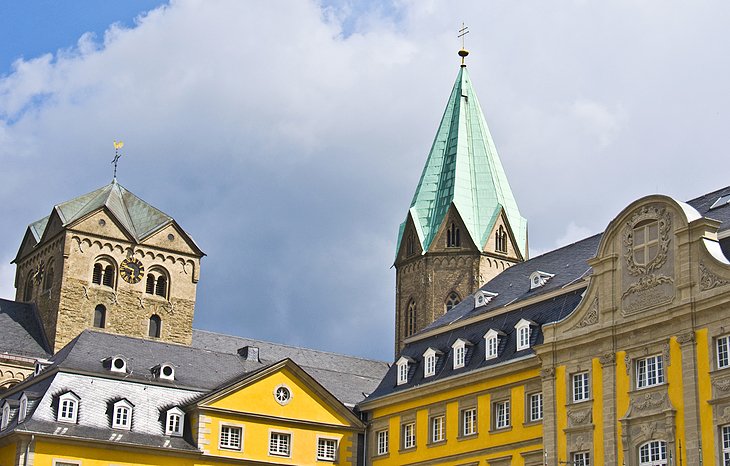 The Old Town of Werden, a historic borough of Essen that's easy to get to via a short streetcar ride, is a pleasant place to spend time exploring.
With a long history extending back as far as the 8th century, this village-within-the-city was established by St. Ludger, the patron saint of the huge Werden Abbey that can trace its history back to the 8th century, and much of which now houses the Folkwang University of the Arts.
It's in Werden that you'll find the splendid 13th-century Abbey Church, one of the finest Late Romanesque churches in the Rhineland. Highlights of a visit include the late Baroque interior and its Treasury, home to a bronze crucifix from 1060 and the St. Ludger's Chalice dating from around 900 CE.
11. Cruise on the Baldeneysee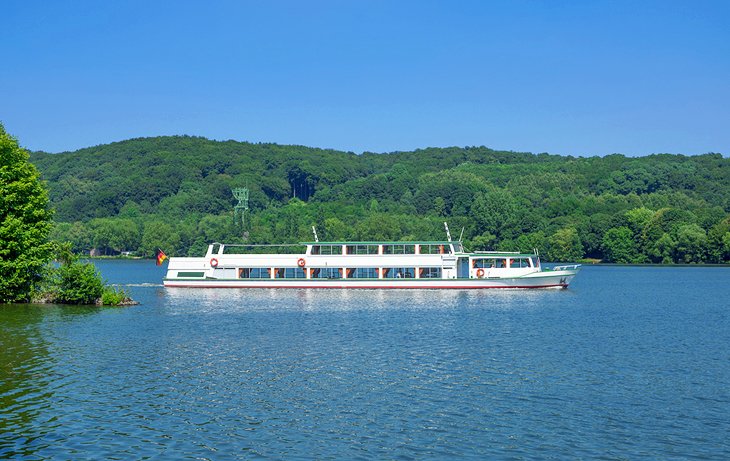 Essen's largest lake, the Baldeneysee is an artificial body of water formed after the construction of a dam in 1933. The lake measures eight kilometers long and is one of the region's busiest tourist attractions.
It's particularly popular among water sports enthusiasts, from canoeists and kayakers to those who enjoy sailboats, and is home to around 20 sailing clubs. Casual boaters and tourists can rent simple pedal-powered boats by the hour.
Numerous tour boats are also available, ferrying passengers to and from many of the lake's most popular sites, including the picturesque 13th-century Schloss Baldeney and the Heisinger Bird Sanctuary. It's also popular as a fishing destination, while families tend to enjoy its many beaches.
For a special treat, book a sunset dinner experience at any one of the many waterfront restaurants or cafes dotted around this lovely body of water.
12. Enjoy the Views at Bottrop Tetrahedron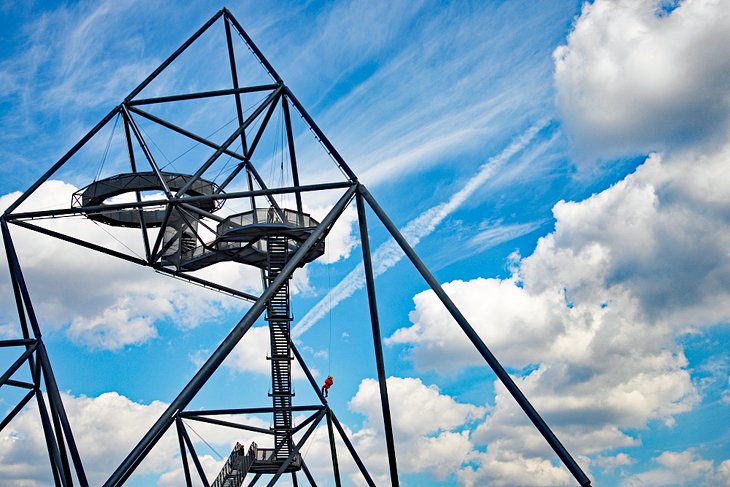 Just a few miles north of Essen is the town of Bottrop, famous for its huge steel-constructed Tetrahedron (Bottrop Tetraeder) landmark. Standing high atop a former dump site from an abandoned mine, this impressive pyramid-shaped structure is set on four nine-meter-tall pillars and boasts a side length of 60 meters.
It's a fascinating place to visit and can be explored on foot via a series of walkways and staircases, and offers some of the best views over the region.
Another of the top things to do here is to visit alpincenter Bottrop. Billed as the world's longest indoor ski slope, this massive, 640-meter-long dome opened in 2001 and includes all kinds of winter fun year-round, from skiing and snowboarding to tobogganing and adventure sports such as a high-ropes course, paintball, a skydiving tunnel, and a thrilling mountain coaster. A variety of ski lesson options are also available for learners.
Address: Beckstraße 57a, 46238 Bottrop, Germany
13. SEA LIFE Oberhausen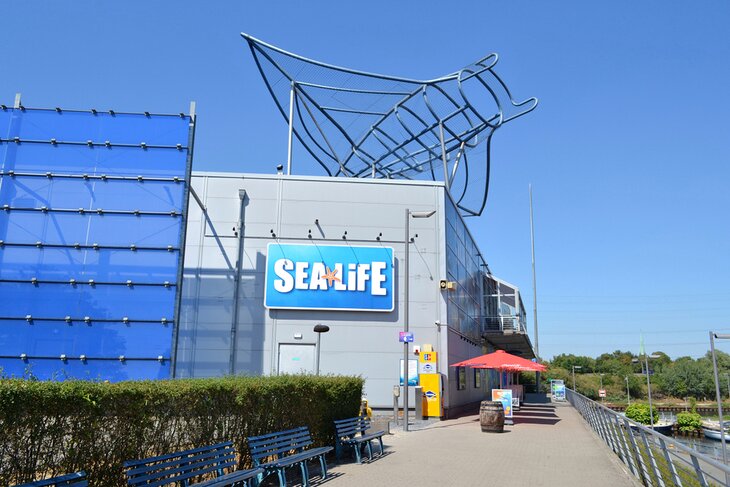 If there's time left in your jam-packed Essen travel itinerary, especially if you're traveling with kids (but that's not obligatory!), check out SEA LIFE Oberhausen. Just a short 25-minute drive away from downtown Essen, this big family attraction is home to the country's largest shark nursery. You'll also enjoy seeing fascinating marine life, including seahorses, octopi, as well as numerous local species.
This family attraction also offers diving experiences, which allow you to get up close to a variety of sea creatures. Be sure to also check out their official website for details of feeding times, which are always a great time to visit.
Address: Zum Aquarium 1, 46047 Oberhausen, Germany
14. Bochum Dahlhausen Railway Museum & Steam Train Ride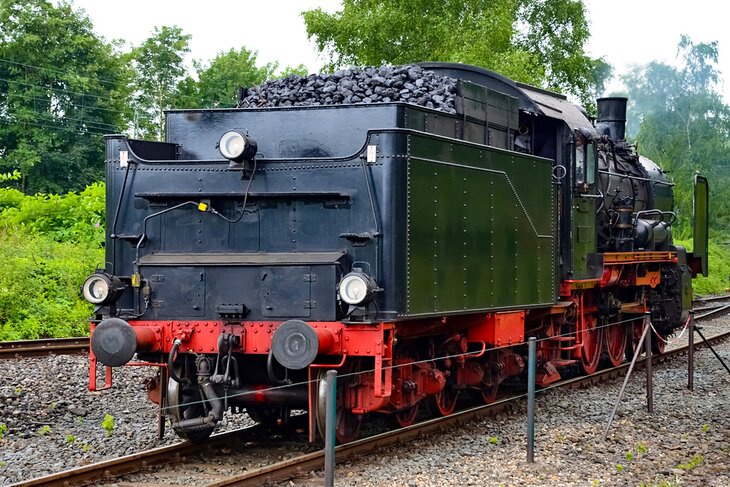 Located an easy 20-minute drive east of Essen, the Bochum Dahlhausen Railway Museum (Eisenbahnmuseum Bochum-Dahlhausen) is a must-visit for those interested in the history of railway transportation.
Established in 1977 in a former state-owned engine depot dating from the early 1900s, this fascinating museum, the largest of its kind in the country, offers a detailed look into the history of Germany's railroads, as well as those who worked on and ran them.
Many of the old buildings are still in use to keep the museum's engines running, from the huge turntable to the coaling, sanding, and watering sheds, while guests can explore a number of old carriages and rolling stock, the oldest dating back to the 1850s.
For a special treat, try to time your visit to coincide with one of the regular summer authentic steam train rides that take place on the main lines. Guided tours are also available.
Address: Dr.-C.-Otto-Straße 191, 44879 Bochum
15. Take a Trip to Old Town Kettwig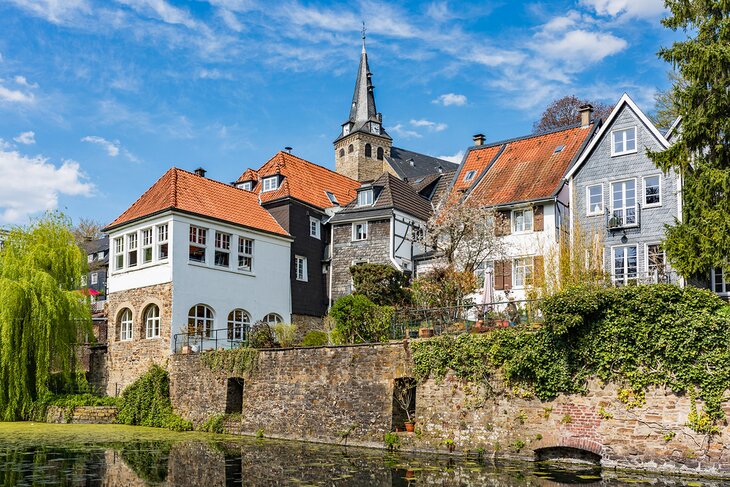 An easy 25-minute drive southwest of downtown Essen and you'll find yourself in the quaint Old Town district of Kettwig. This charming historic district is a delight to explore on foot and provides a close-up look at authentic old Germany, with many of its well-preserved half-timbered homes and businesses built in the 1600s onwards.
While winding along its pedestrian-friendly lanes and narrow streets, have your camera ready to grab photos of the Ruhr River, along which some of the best-preserved and prettiest old homes can be seen. Some of the best views can be had from the old town bridge.
Other fun things to do in Kettwig include exploring the Kettwig Sculpture Park located near the river and the historic St. Peter's church, which dates back to the 13th century. Market days are fun here, too, and have been held here each Tuesday and Friday for decades.
Map of Attractions & Things to Do in Essen
More Related Articles on PlanetWare.com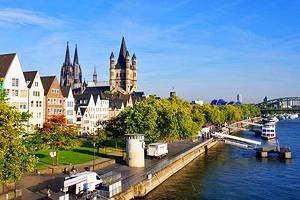 Easy Train Rides: Just 30 minutes from downtown Essen by rail is the equally interesting, though much bigger, city of Düsseldorf, a popular getaway for tourists thanks to its exquisite shop-lined Königsallee avenue. Add another 20 minutes to your travel time and you're in Cologne, a must-visit for its spectacular cathedral, while a little farther still down the line is the former capital of West Germany, Bonn, with its many fine old churches and important cultural attractions.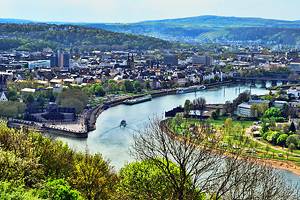 Boat Rides: If boating and cruising are your thing, check out the attractions of Bremen, in the northernmost region of the country. From here, you can take your pick of fun river cruises on the Weser River, or head out all the way to the North Sea past the port Bremerhaven. Other great cruise destinations include the spectacular Rhine Valley and Mosel Valley, as well as the historic port city of Hamburg.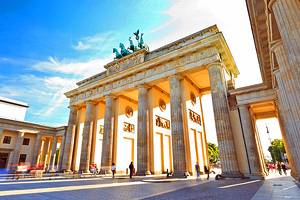 A Capital Idea: For those who enjoy everything a big city can deliver in terms of tourist attractions, Germany's capital city of Berlin is a no-brainer. In addition to exploring the city's magnificent Charlottenburg Palace, there's the cultural hub of Museum Island, where you'll find many top-rated museums and galleries located within a short distance of one another.