13 Top-Rated Attractions & Things to Do in Dortmund
Dortmund, the largest city in Westphalia, lies on the eastern edge of the Ruhr in the fertile Hellweg area. The city has long been the center of Germany's coal and steel industries, a heritage that's celebrated in a variety of excellent museums and attractions.
These days, visitors are drawn here by its numerous open spaces and parks — half the city is made up of wooded areas, farmland, and parks, as well as numerous waterways. Consequently, Dortmund is a pleasant city to explore on foot, with one of the highest densities of pedestrian-friendly city squares anywhere in Germany.
Dortmund is also well known for its famous football team, Borussia Dortmund. Founded in 1909, it's one of the most successful clubs in Europe, with the continent's biggest stadium, the Westfalenstadion, and the largest regular attendance. A museum, the Borusseum, celebrates their successes.
To learn more about these and other great places to visit in this vibrant German city, be sure to refer to our list of the city's top tourist attractions and things to do in Dortmund.
1. Start Your Dortmund Adventure in the Alter Markt and Altes Stadthaus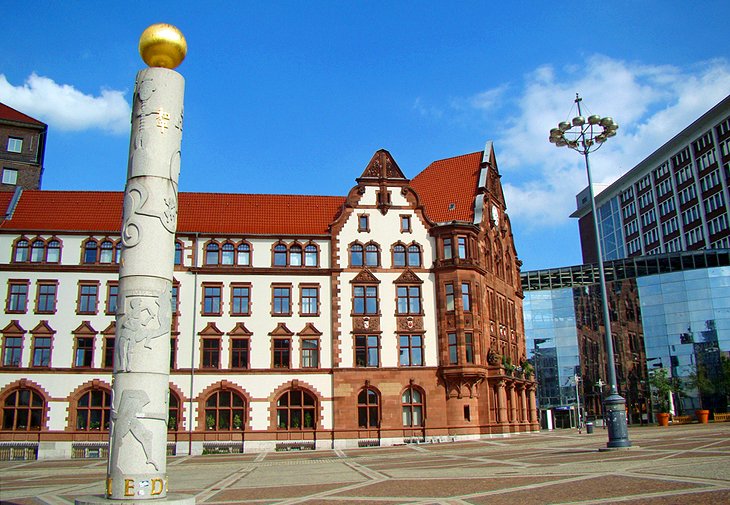 The central feature of the Old Town of Dortmund is the Alter Markt, the Old Market. This large pedestrian-friendly area can trace its roots back to the 12th century, when town merchants and tradesmen would display their wares here. It remains a popular shopping area to this day, and is home to numerous shops, boutiques, and galleries, as well as cafés and restaurants.
Historical highlights of the square are its old fountain, added in 1901 as a drinking trough for animals, and the Old Civic Hall, or Altes Stadthaus, a fine Neo-Renaissance structure built in 1899. A notable feature of the building's façade is the large eagle representing the city of Dortmund.
Another nearby old building worth seeing is Berswordt Hall, the Town Hall.
Address: Alter Markt, 44137 Dortmund
2. St. Reinold's Church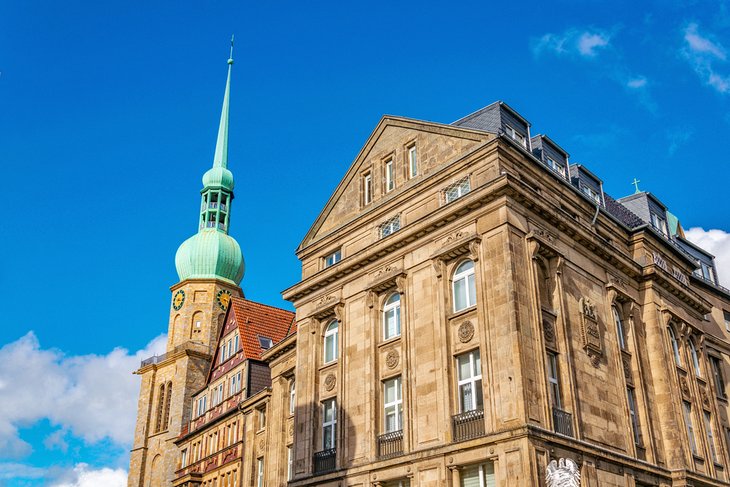 Dominating Dortmund's cityscape is St. Reinold's Church (Reinoldikirche), its 104-meter-tall tower visible for miles around. Started in the 13th century and not completed until 1454, the church is named after Dortmund's patron saint, Reinold.
It stands above the market square, where the historic Helweg trade route passed through Dortmund. You can climb the tower for its sweeping views across the city, and to see the church's six steel bells, together weighing some 20 tons and added in 1954 during reconstruction after WWII.
Other city churches worth visiting are the 12th-century St. Mary's, home to the Marienaltar by the Dortmund master, Konrad of Soest, and the Petrikirche, built in the 14th century and famous for its beautiful altar with 633 gilded figures, made in Antwerp in 1521.
Address: Ostenhellweg 2, 44135 Dortmund
3. Take a Tour of the Zollern Colliery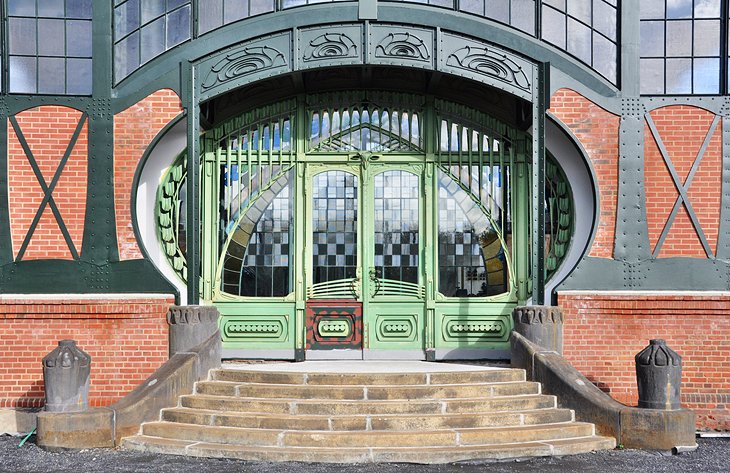 One of eight former industrial sites now included under the umbrella of the Westphalian State Museum of Industrial Heritage, the Zollern Colliery is a disused coal mine famous for its stunning architecture, particularly the redbrick façades of its main buildings. The best of these is the Machine Hall, built in 1904, with one of the most attractive Art Nouveau entrances in Germany.
Along with its tall steel structures, highlights include exhibits detailing the often harsh conditions faced by workers, as well as numerous artifacts and machinery. English language guided tours are available.
Other related attractions include the Graf Wittekind Visitor's Mine on the site of three coal mines used from the 16th to 20th centuries, with demonstrations of mining techniques. Also worth a visit, the Hansa Coking Plant, a still-operational facility that turns coal into coke, offers a unique insight into this fascinating process.
Address: Grubenweg 5, 44388 Dortmund
Official site: www.lwl.org/industriemuseum/standorte/zeche-zollern/english
4. Wander Westfalenpark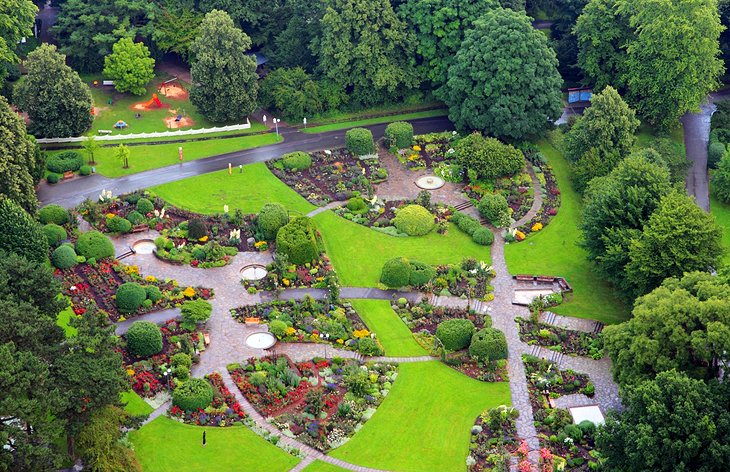 Covering 175 acres, Dortmund's Westfalenpark is one of the city's largest and most popular green spaces. The park is home to a number of attractions, including a 212-meter-high television tower affectionately known to locals as the Florian Tower (Florianturm). Its revolving restaurant, at 138 meters, has outstanding views of the city.
The German Rosarium is a superb display of more than 2,600 varieties of roses that can be explored along a pleasant walking trail.
Westfalenpark is also where you'll find Dortmund's massive Trade Fair Center; the Ice Stadium, with its ice-skating and roller-skating rinks; and the Westfalenstadion, the largest football stadium in Europe and home to Borussia Dortmund.
Address: An der Buschmühle 3, 44139 Dortmund
5. Spend the Day with the Kids at Rombergpark & Dortmund Zoo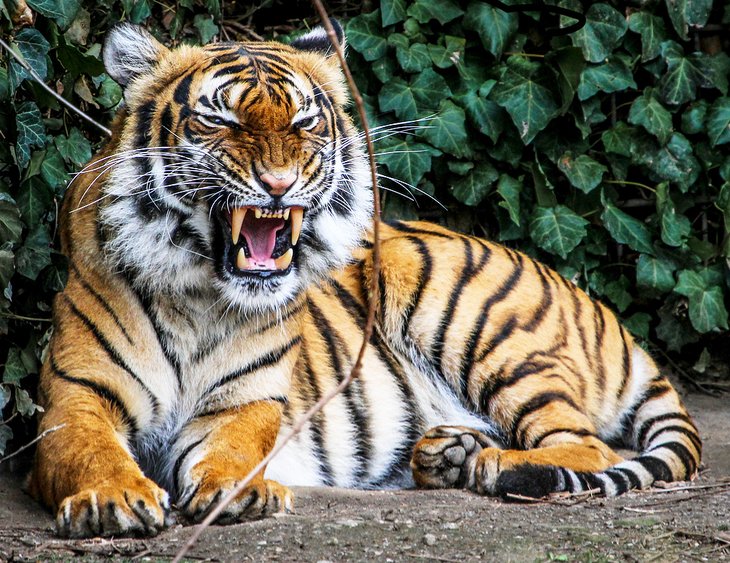 Another popular park — and one that's an easy walk from Westfalenpark — is Rombergpark. Established for a wealthy family in the 1820s, it was taken over by the city in 1927 and opened as a public park. It's a delightful spot to explore, and a day can easily be spent between its two main attractions: Dortmund Zoo (Zoo Dortmund) and Rombergpark Botanical Garden (Botanischer Garten Rombergpark).
While not a particularly large attraction, Dortmund Zoo opened in 1953 and is a great place to spend a few hours with the kids. It has made a name for itself for its breeding of South American species, and has a number of big cats, including lions and tigers, which the kids will enjoy seeing. A variety of themed guided tours are available that focus on particular species.
The botanical garden is also fun to explore. Covering nearly 170 acres, it's a big green space. Highlights of this original English-designed landscape include an arboretum featuring indigenous and non-native trees, and no less than four historic greenhouses, one of which houses a great café.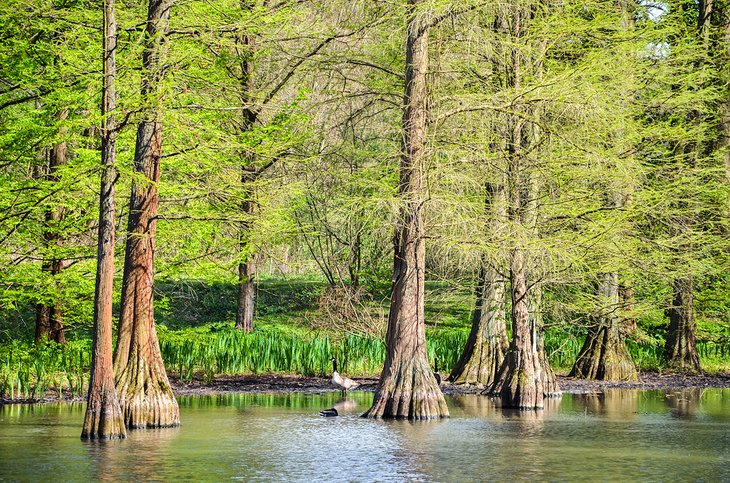 There are also two lakes to explore, the larger of which serves as a habitat for multiple species of fish and turtles. Time your visit right, and you might also be able to take in a concert or summer event here. And pack a picnic!
Address: Am Rombergpark, 44225 Dortmund
Official site: www.dortmund.de/en/leisure_and_culture/zoo/home_zoo/index.html
6. Take a Side Trip to Hohensyburg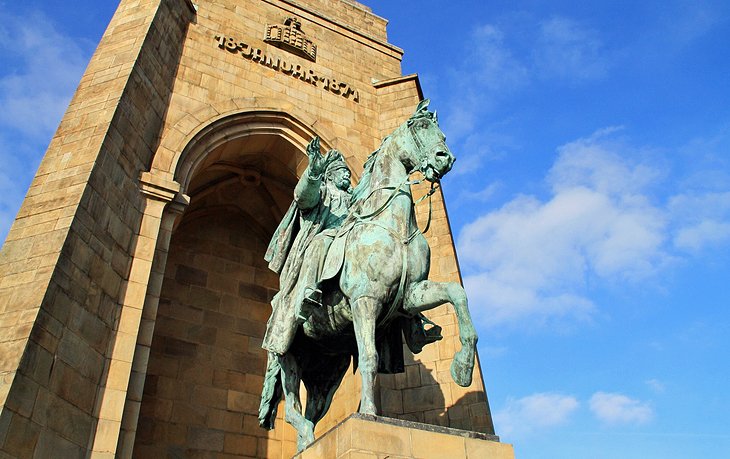 About 12 kilometers south of Dortmund perched on a wooded crag above the Ruhr valley stands the Hohensyburg, an ancient castle complex dating back to an 8th-century fortress known as Syburg. The castle ruins seen today date from around 1100 and include two large keeps, living quarters, and remnants of the old wall. A more recent addition is the war memorial, added in 1930 to commemorate the fallen from WWI.
A popular destination for hikers, the hill also has a number of other attractions, including the Vincketurm, a 26-meter-high tower offering panoramic views, and the Kaiser-Wilhelm-Memorial, built in 1902. Below the crag lies the Hengsteysee, an artificial lake formed by the construction of a dam in 1928.
Address: Hohensyburgstraße, 44265 Dortmund
7. Dortmund U Tower and the Depot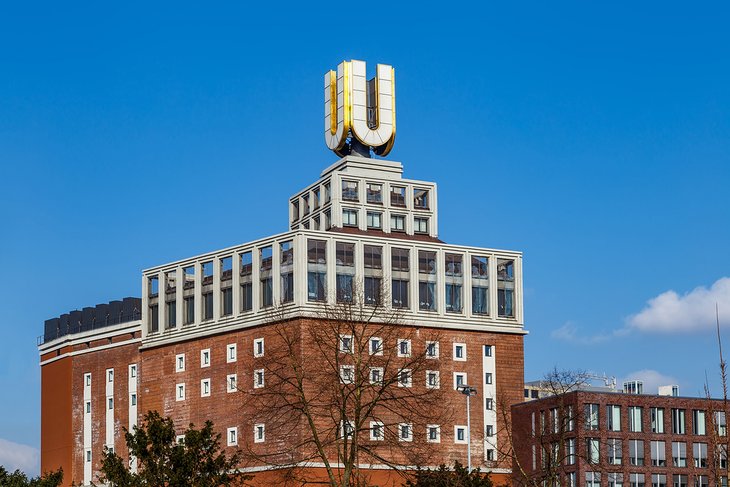 In addition to its industrial past, Dortmund also has a number of important attractions focusing on its rich cultural heritage. Perhaps the most important — certainly the most conspicuous — is the Dortmund U Tower (Dortmunder U), a huge former factory now transformed into a hub of artistic and creative activity.
Highlights include the work of local and regional artists, along with filmmakers and photographers. The building is also home to Museum am Ostwall, a fine collection of 20th-century paintings, objets d'art, sculptures, and graphic art, as well as works by the Expressionist group, Die Brücke.
Another important center for the arts is the DEPOT. Located in a former tram workshop, the DEPOT is home to more than 40 creative enterprises and offers a varied program of cultural activities and events, from exhibitions to movies, markets, and fairs, along with theatrical performances and workshops.
Address: Brinkhoffstrasse 4, 44137 Dortmund
Official site: www.dortmunder-u.de/en
8. All Aboard the Transport Museum and Mooskamp Station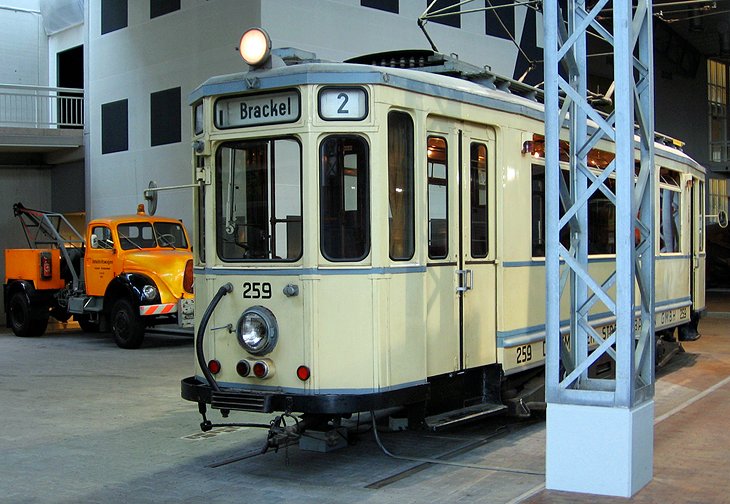 If you like vintage vehicles, don't miss the excellent collection of old trams at Dortmund's Local Transport Museum. Housed in Mooskamp Station, the oldest of the trams included in these fascinating displays of the city's century-old transit system date back to the early 1900s. From Dortmund, these old trams headed deep into the Rhur Valley, carrying workers to the region's mines, coke plants, and steelworks.
Also of interest is the Automobile Museum. Home to a collection of fine vintage vehicles, including Jaguars, Ferraris, and luxury Mercedes Benz models, the museum also includes fascinating displays relating to the development of Germany's auto industry.
Address: Mooskamp 23, Dortmund
9. Explore the Port Authority Building and Museum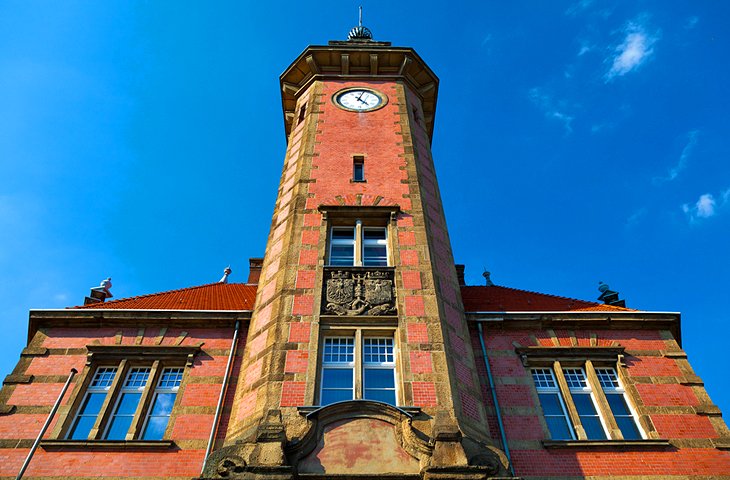 Dortmund Germany's location on the River Emscher, close to the River Ruhr, has made the city an important player in the transportation of goods by water. It's here that the Dortmund-Ems Canal, a 269-kilometer-long route to the sea that was opened in 1899 to help deal with the region's ever increasing production capabilities, starts.
Today, a number of old buildings from the canal's heyday survive, most notably the old Port Authority Building, home to an excellent museum depicting the history of the port. Highlights include a large model of the port, a replica of a ship's bridge, and collections of maps and artifacts relating to the region's rich maritime history.
Address: Sunderweg 130, Dortmund
10. Tour Haus Dellwig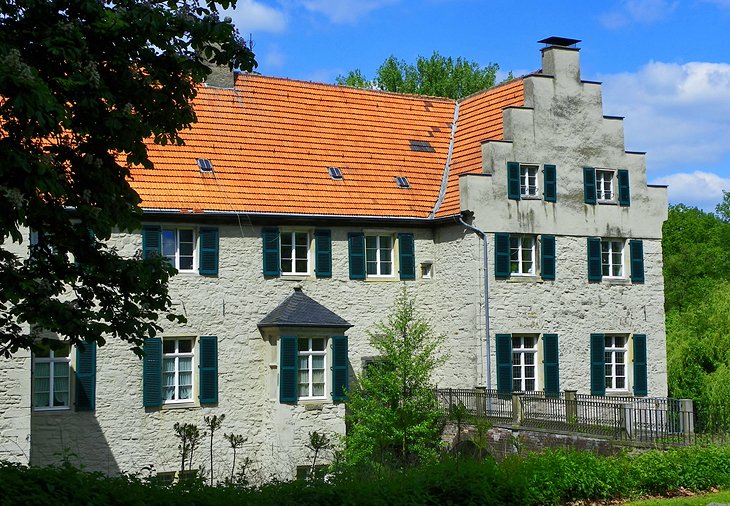 Haus Dellwig — also known as Wasserschloss Haus Dellwig — is an old moated mansion first mentioned in city records in the 12th century. These days, this impressive building houses a variety of exhibits relating to Dortmund's rich history. Highlights include fully restored rooms, such as the kitchen and various living quarters, as well as a variety of workshops, including a cobbler's shop and bakery.
You can see more artifacts from Dortmund's history at the Museum of Art and Cultural History (Museum für Kunst und Kulturgeschichte), with displays of old furniture, gold coins, medieval and 19th-century paintings, as well as examples of 17th- and 18th-century folk art. The Natural History Museum (Museum für Naturkunde ) is notable for its collections of fossils and minerals.
Address: Dellwiger Straße 130, 44388 Dortmund
11. Wasserschloss Haus Rodenberg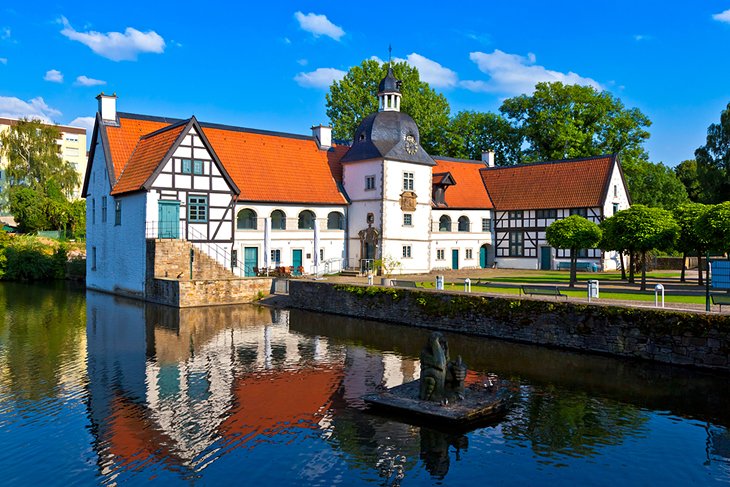 An outstanding example of Renaissance architecture, Wasserschloss Haus Rodenberg is surrounded on three sides by a moat and overlooks a lake in the center of a park. The first records of this impressive mansion are from 1290, and it is known to have been reconstructed after 1422. In the late 1600s, it was converted into the Baroque moated castle you see today.
The lake and parklands are popular in the summer, and the castle houses the Märchenbühne, a puppet theater with shows for children and adults. It is near the Aplerbeck U-bahn station.
Address: Rodenbergstr. 36, Dortmund
12. Things to Do in Dortmund for Kids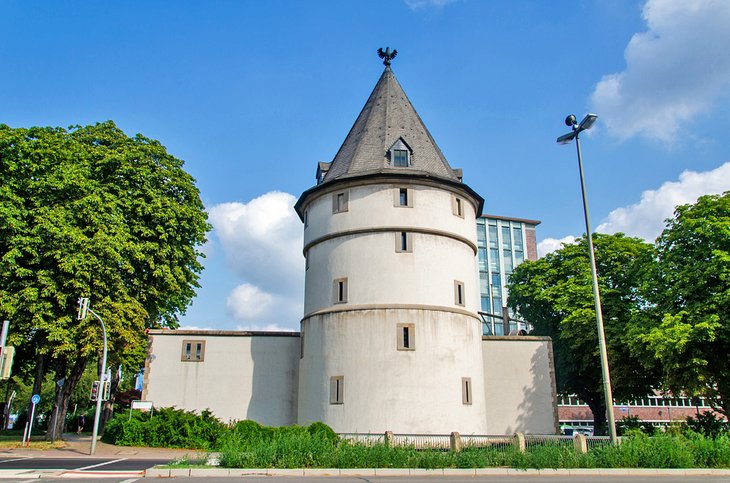 Dortmund has several tourist attractions and things to do that are designed specifically with kids in mind. The whole family will enjoy the Adlerturm Museum. Located in the 14th-century Hawk's Tower, this fun museum focuses on life during the Middle Ages, packing numerous medieval artifacts, weapons, and models into its six floors.
The hands-on mondo mio! Children's Museum in Westfalenpark is another of the city's top fun places to visit with kids. Suitable for kids of all ages, this attraction features a huge globe that welcomes visitors in a variety of different languages, along with fascinating displays of musical instruments, power generators, and toys made from recycled materials.
Another child-friendly draw is the Giraffe-Museum, a quirky little museum dedicated to the world's tallest animal. Highlights include more than 10,000 giraffes made of everything from wood to ceramics and cloth.
Address: Ostwall 51a, 44137 Dortmund
13. German Football Museum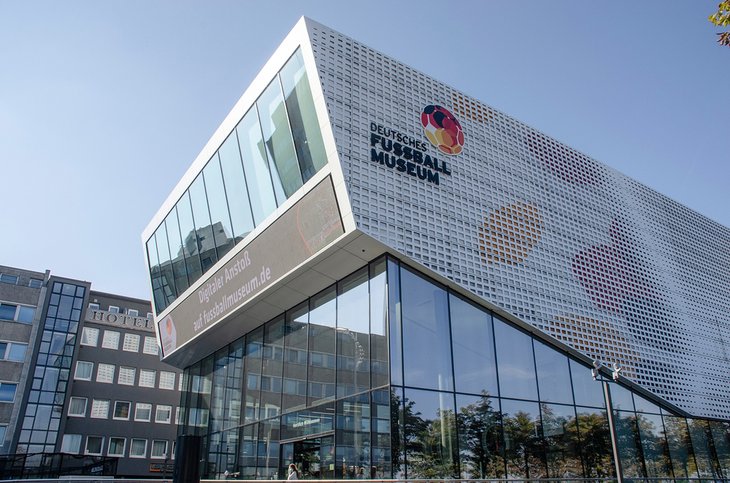 Soccer fans can get their fill of the game at the new German Football Museum (Deutsches Fußballmuseum), one of the city's most popular museums. Exhibits delve into the sport's economic, cultural, and social significance, in addition to its entertainment value. Along the way, you'll learn about fan culture, football as a role model, and its relationship with nutrition.
How historic events have influenced the sport is explored through exhibits on football under National Socialism in the 1930s and 40s, as well as under the Communist regime in the GDR. The ball used in the 1954 final is the centerpiece of a display about Germany's first World Cup victory. You'll see other great moments in German football, and learn how the game developed in England and Germany.
Address: Platz der Deutschen Einheit 1, Dortmund
Dortmund - Climate Chart
Average minimum and maximum temperatures for Dortmund, Germany in °C
J
F
M
A
M
J
J
A
S
O
N
D

4

0

5

0

8

2

12

5

17

9

20

12

22

13

22

13

18

11

14

8

8

3

5

1

PlanetWare.com
Average monthly precipitation totals for Dortmund, Germany in mm.

81

56

76

69

74

97

89

76

74

71

84

89
More Related Articles on PlanetWare.com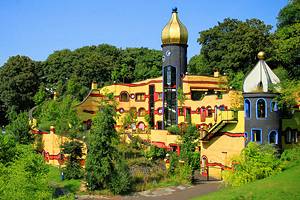 Dortmund Day Trips: An easy 30-minute drive (or train ride) west of Dortmund, the city of Essen makes a fun day trip for families, especially if your itinerary includes the impressive Zollverein Coal Mine Industrial Complex. Add another 25 minutes to your journey, and you'll have the chance to explore Düsseldorf, home to Germany's most elegant avenue, the Königsallee, as popular for its luxury shopping as it is for its sightseeing opportunities. And just 30 minutes south of Düsseldorf is Cologne, home to one of the most magnificent old city centers in Europe, dominated by magnificent Cologne Cathedral.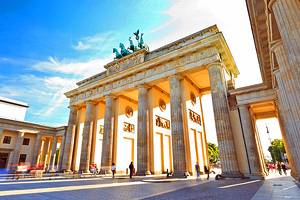 Germany's Big Cities: Germany's capital city of Berlin is a must-visit and offers no end of fun things to do, from visiting its many art galleries and museums to touring historic sites like the Berlin Wall. The historic city of Frankfurt is also worth visiting, and is popular for its romantic setting on the River Main, museums, and cultural events. Bavaria's capital of Munich features a stunningly beautiful cathedral, as well as a lovely old public square, the Marienplatz.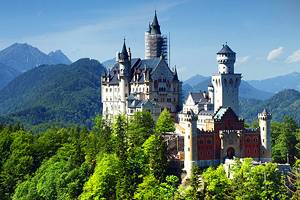 Germany Vacation Ideas: To immerse yourself in one of the most picturesque medieval-era towns, include Rothenburg in your Germany travel itinerary; it's many towers and well-preserved old buildings are wonderful to explore. A great way to see the sites is via a river cruise through the Rhine Valley, stopping at attractive old towns and villages along the way. For more dramatic scenery, the best places to visit are in the Garmisch-Partenkirchen, a mountainous region popular with sports enthusiasts year-round.