14 Top-Rated Cities in the Netherlands
Although it's one of Europe's smallest nations, the Netherlands offers plenty of good reasons for tourists to visit. Sightseeing opportunities are everywhere, and thanks to a superb rail and road network – not to mention the country's diminutive size – it's extremely easy to get around.
One of the top things to do in the Netherlands is to partake in some city hopping. Each of the fun tourist destinations included in our list of top cities in the Netherlands are easily accessible to visitors via public transit, often with journey times of less than an hour. In fact, you can even get to the country's largest and most visited city, Amsterdam, via high-speed train from London, England in just a few hours.
Whichever of these cities you do choose to visit (and why not all of them?), you'll find plenty of information about the best things to do when you get there in our comprehensive list of the top cities in the Netherlands.
Note: Some businesses may be temporarily closed due to recent global health and safety issues.
1. Amsterdam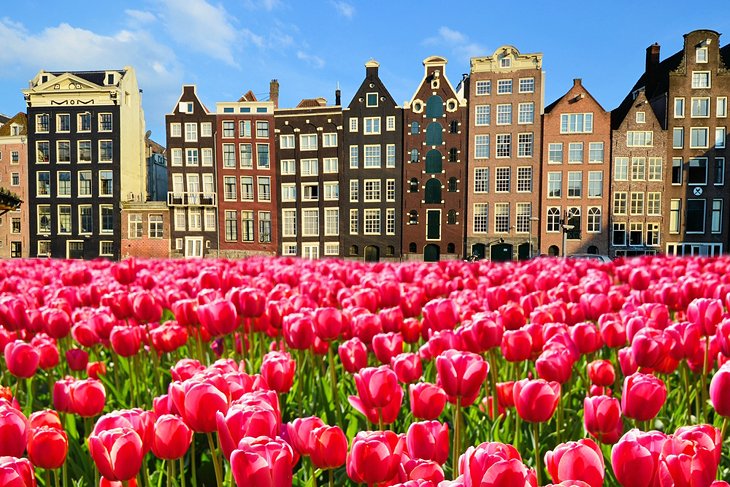 The largest city in the Netherlands – and one of the most-visited cities in all of Europe, attracting over 20 million tourists per year – Amsterdam offers plenty of great attractions to visit.
Topping our list of fun things to do in Amsterdam is wandering the cobbled streets that line the city's many picturesque canals. This is especially fun to do around the city's attractive Jordaan neighborhood. The old homes here were constructed in the early 17th century and are notable for the small inner courtyards tucked away behind them.
After exploring this area on foot, head over to Grachtengordel. This romantic area features the iconic bridges and houseboats the city is so well known for. No end of fun can be had exploring the many quaint shops, or stopping at a café for some people watching.
From here, you're just a few minutes away from Dam Square and many other attractions. One of the most-visited is the Rijksmuseum. This huge, architecturally stunning museum and gallery is home to an incredible collection of artwork that includes many important pieces by the Old Masters, including Rembrandt.
Other must-visits include the Anne Frank House and the Van Gogh Museum. And if you've not had enough of exploring the city on foot, head over to the Vondelpark. This 120-acre urban park is also great to relax in, so take a picnic, or throw down a blanket and catch a theatrical or musical performance here.
Accommodation: Where to Stay in Amsterdam: Best Areas & Hotels
2. Utrecht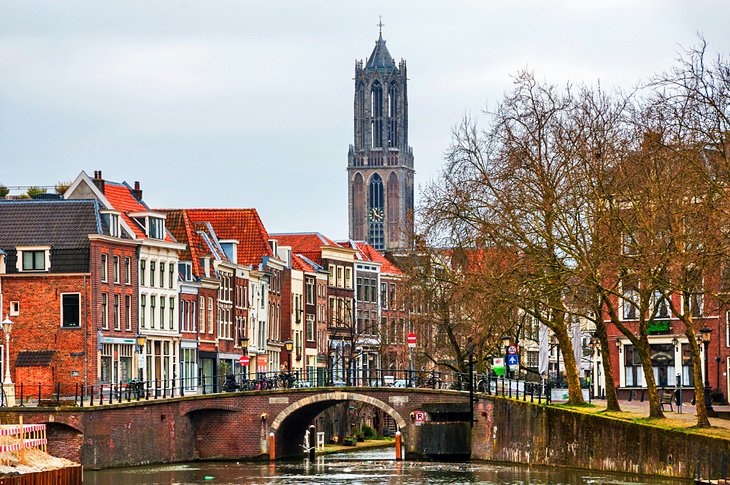 Although it's one of the largest cities in the Netherlands, there are parts of Utrecht that will fool you into thinking you're somewhere much smaller. Much of the older architecture has been well-preserved and is in areas often devoid of traffic, making exploring on foot a pleasurable experience.
The focus of your stroll through Utrecht should be around the charming Old Town area. Known as Binnenstad, it's here, in Cathedral Square (Domplein), that you'll come face-to-face with the spectacular St. Martin's Cathedral, or Domkerk. Built in 1254, it's somewhat smaller now, as the original tower - the Domtoren - stands alone across a park, separated from the main structure by a storm in the 17th century.
Another top attraction you can experience on foot is DOMUnder. Here, a fascinating self-guided tour takes you deep underneath Cathedral Square to the remains of the old Roman fortress upon which the city was built.
Other must-see attractions in Utrecht include Museum Speelklok, dedicated to musical clocks, and the Centraal Museum, which houses the city's collections of art and artifacts. If you can squeeze in one more Utrecht point of interest, make it the Railway Museum, with its displays of old steam engines and rolling stock.
3. Maastricht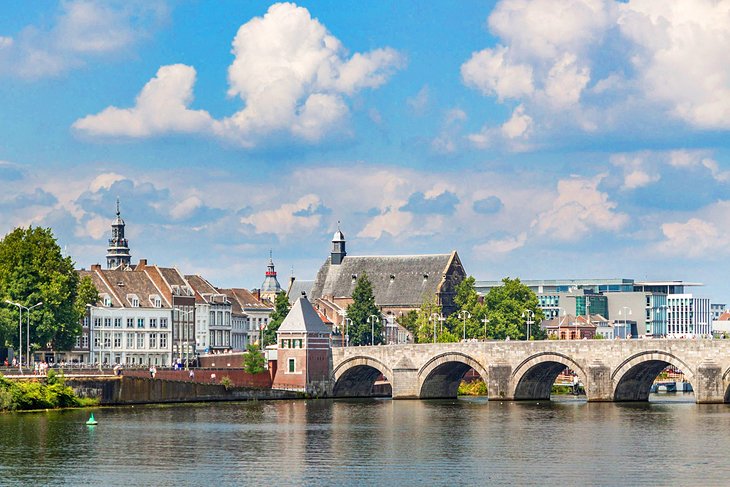 The attractive city of Maastricht is able to trace its history all the way back to 50 BC. It was then that the Romans established a crossing point over the river Maas. Since then, Maastricht has grown tremendously and now covers both sides of this important trade route.
Today, this attractive old city draws not traders but tourists. Many of them come here just to enjoy walking across the spectacular Wilhelminabrug and Sint Servaasbrug bridges as they tour Maastricht's lovely riverside districts. It's a must-do here, with the Sint Servaasbrug dating all the way back to the 13th century.
Along the way, you'll pass a variety of interesting historic sites. These include remnants of the medieval town walls, and the market square with its old Town Hall. Be sure to also pop into the oldest church in the Netherlands, St. Servaaskerk. The church can trace its roots all the way back to the 4th century, and is home to the Treasures of Saint Servatius, with its extremely old religious artifacts.
The St. Pietersberg Caves are also worth visiting. Consisting of more than 20,000 centuries-old passageways and tunnels stretching a total of 80 kilometers, the caves can be explored as part of a fun tour.
4. Delft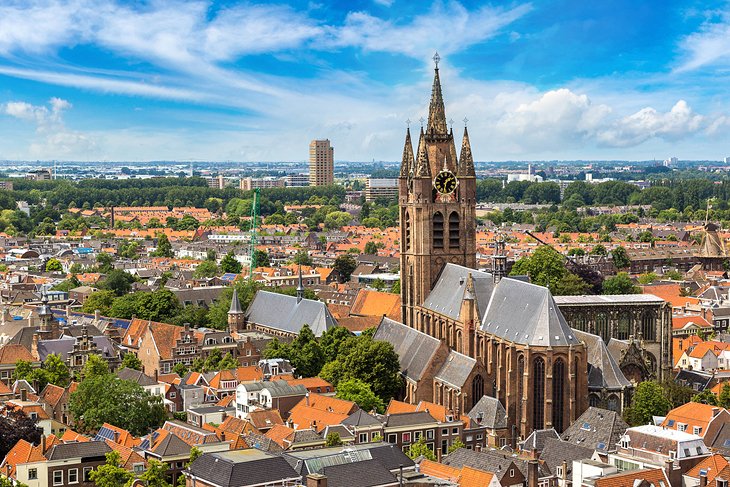 An easy commute from The Hague and Rotterdam, the city of Delft is famous the world over for its pottery. Delftware has adorned dining tables and mantlepieces for over 400 years, and thanks to a revival in past decades has helped cement the city's reputation as a tourist destination.
It's no surprise, then, that one of the city's top attractions is De Porceleyne Fles. Founded in 1653, this company's still going strong, and is in fact the last remaining of 32 such companies that once existed in Delft.
Sign up for a guided tour, and you'll be able to watch painters adorn this famous pottery with its distinctive blue and white motifs, as well as enjoy a tour of the factory and. And, of course, you'll have the chance to buy a little something memorable to take home with you as a souvenir.
Be sure to allow time in your Delft itinerary to explore the picturesque Old Town. Like most historic town centers in the Netherlands, it's a picture-perfect scene of old canals, homes, and waterside cafés.
5. Rotterdam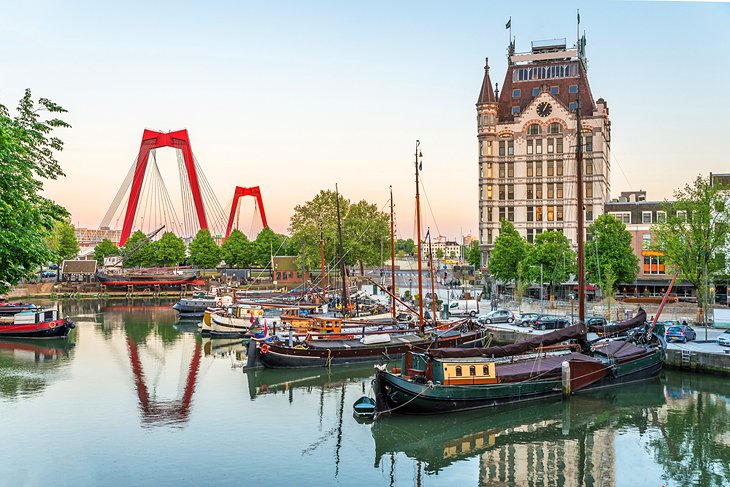 Located only 40 minutes from Amsterdam by train, the port city of Rotterdam should definitely be included on your Netherlands travel itinerary. Located at the North Sea end of the Rhine, Rotterdam is the busiest (and largest) port on the planet, with much of Europe's freight passing through it.
While the architecture here is newer than in Amsterdam – much of the city core was destroyed in the war – there's still plenty of sightseeing to be enjoyed here. Rotterdam highlights include the beautiful 15th-century Grote of Sint-Laurenskerk church, notable for its stained-glass windows, its three organs, and the chance to climb its tower.
Also worth seeing, Museum Boijmans Van Beuningen is a popular art gallery that includes works by Ruben and Rembrandt. The city is also famous for its variety of cool modern architecture, including the 185-meter-tall Euromast and the famous Cube Houses.
If there's time in your schedule, be sure to hop aboard a boat for a tour of the Europoort harbor. It ranks as the world's sixth largest port, and it's impressive watching the huge volume of shipping traffic come and go.
6. The Hague
The third largest city in the Netherlands has much to offer travelers in search of memorable experiences. Topping our list when visiting The Hague (Den Haag) is the city's Binnenhof, or Inner Court, featuring buildings dating all the way back to the mid-13th century.
Here, you can explore the majestic old homes that once belonged to the aristocracy and which now serve as home to the country's parliament. Be sure to visit the Knight's Hall, or Ridderzaal, a huge medieval hall that's been immaculately preserved.
From here, it's an easy walk to the city's best shopping and dining opportunities, as well as other popular attractions. Among the must-sees are the 14th-century Great St. James Church (Grote of Sint-Jacobskerk) and the famous Peace Palace, built in 1913 and home of the International Court of Justice.
7. Haarlem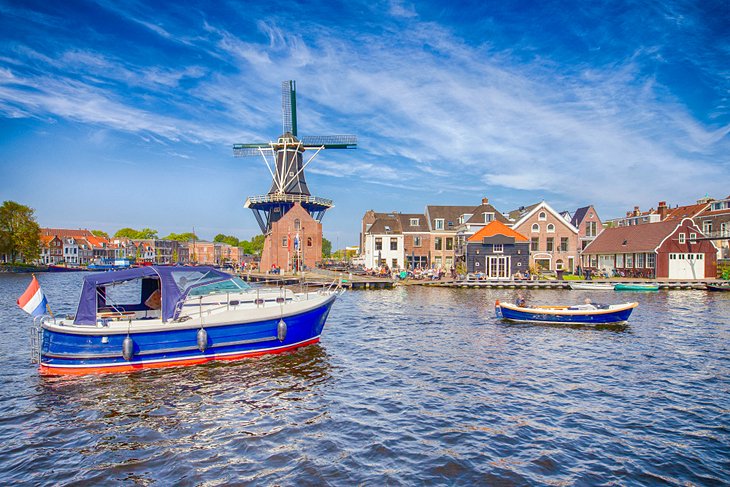 One of the most attractive towns in Noord-Holland, Haarlem is just a few minutes away from Amsterdam and makes for a great break from the crowds of its much bigger neighbor. Here, you can wander the lovely streets of the old port area without the crowds, taking in the many attractive old homes and buildings of the historic Bakenesser Gracht district.
It's also where you'll find Hofje van Bakenes, a 14th-century courtyard that's remained unchanged for some 700 years, as well as old drawbridges and the original 15th-century city gate. It's also fun to walk around the old town square, where you'll find the Grote Kerk. This old church dominates the square, and for a unique experience, try to grab one of the regular organ recitals held here.
Other must-sees in Haarlem include the City Hall, which dates back to the 13th century, and the fascinating Teyler's Museum, an 18th-century museum focusing on the development of art and science.
8. Lisse (Keukenhof)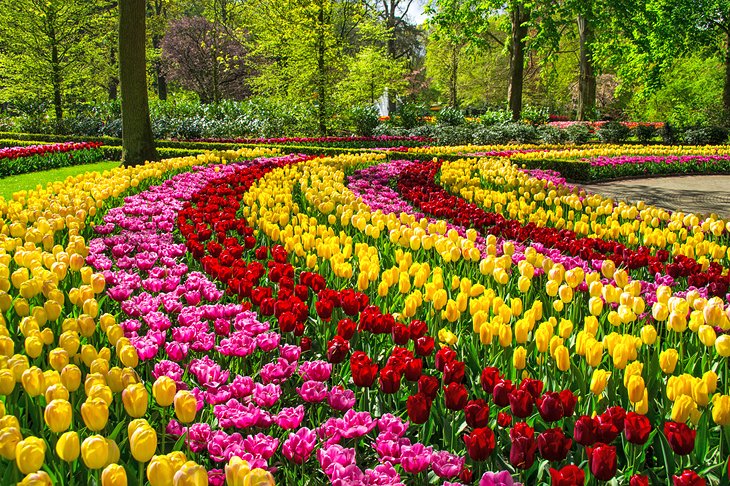 Nothing screams "You're in the Netherlands!" quite like a visit to Keukenhof, the country's leading tulip-growing enterprise. It's located in the town of Lisse, just 40 minutes' drive from Amsterdam.
Visit here in springtime, and you'll be rewarded with a breathtaking vista of countless flowering tulips set in a beautiful park-like setting, and the perfect backdrop for a selfie or two.
Known in the Netherlands as the "Garden of Europe," Keukenhof covers an impressive 70 acres and is considered one of the world's largest public gardens. As the flowers spring into bloom, the local townsfolk celebrate with their annual flower parade, Bollenstreek, which winds through the town. There's also a museum in Lisse dedicated to the history of the country's most important flower.
9. Arnhem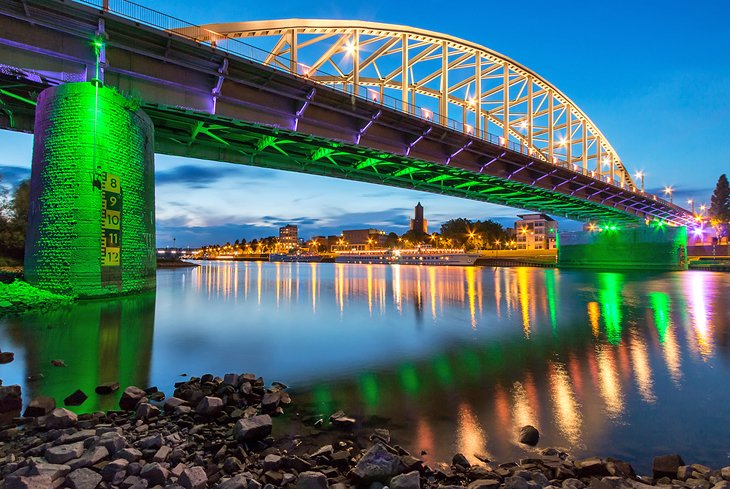 Arnhem earned its place in the annals of war thanks to being included in the ill-fated allied operation known as Market Garden. It was around the city's important Rhine River bridge in 1944 that intense fighting between British paratroopers and German defenders took place, the scars of which can still be seen today.
But there's much more to here than following the drama that was portrayed in the famous A Bridge Too Far film. The city can, in fact, trace its roots to pre-Roman times, and during the Middle Ages, it blossomed as a place of trade and commerce.
Arnhem remains a vibrant place for visitors to explore, and in addition to its many pleasant old streets and squares lined with boutique shops and cafés, it's home to numerous cultural and adventure opportunities. Of these, the best include the superb Netherlands Open Air Museum, which showcases traditional Dutch lifestyles and ways of life, and the country's largest conservation area, Hoge Veluwe National Park, with its endless opportunities for outdoor fun.
10. Breda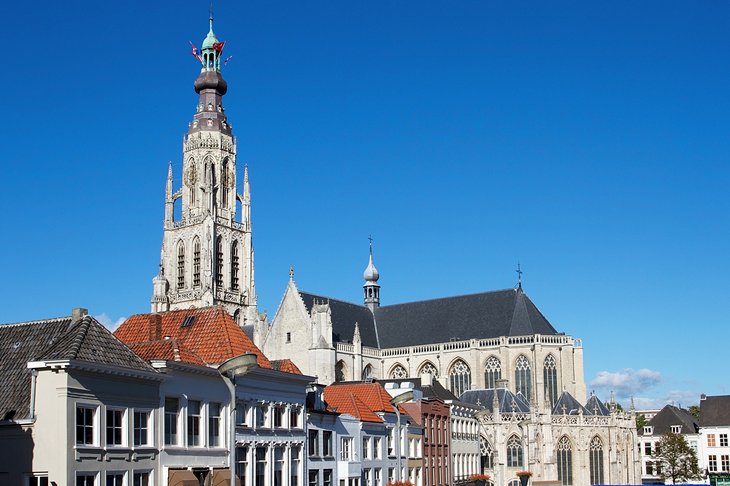 Just a stone's throw from the Belgian border, Breda's rich history and well-preserved Old Town center makes it a popular stopover for travelers to the Netherlands. Lined with old townhomes, fortifications, and moats, it's a delightful place to explore on foot or, as so many Netherlanders do, by bike.
A must-see here is the charming Begijnhof district, a small church community within the city center that has remained unchanged for close to 200 years.
Breda's largest church, the 13th-century Grote Kerk, should also be visited, with the main feature being its 97-meter-tall church tower. A short stroll away is the fascinating Spaniard's Hole (Spanjaardsgat), a twin-towered water gate near the historic Port Quarter, and Breda Castle, a former home of the country's royalty.
11. Eindhoven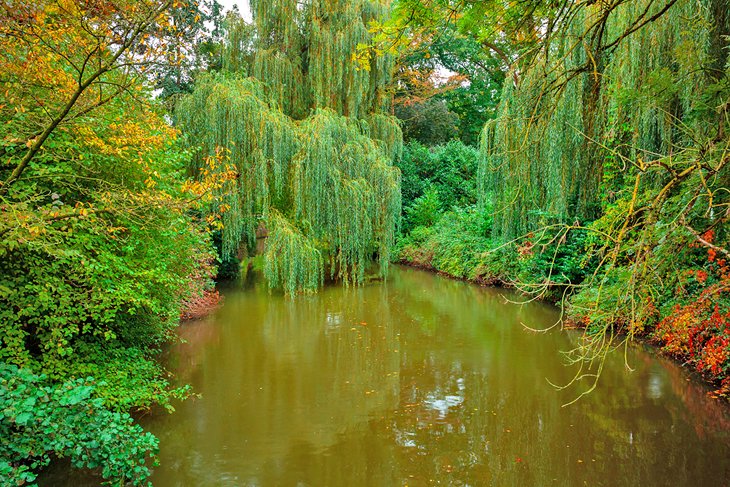 Famous as the birthplace of electronics firm Philips, Eindhoven offers plenty of fun things for travelers to do. Topping our list of favorite experiences in the "City of Light" is exploring its many connections to the art world.
Start your exploration of the city's rich cultural heritage with a visit to the Van Abbemuseum, a gallery housing important works of modern art by the world's leading artists, including Pablo Picasso.
Hop on a bus and, just a few minutes ride away, you'll find yourself in the quaint village of Nuenen, made famous by Vincent Van Gogh, who not only painted scenes depicting the locale, but also lived here for a short period. The Vincentre attraction is dedicated to this period in the great artist's life.
12. Groningen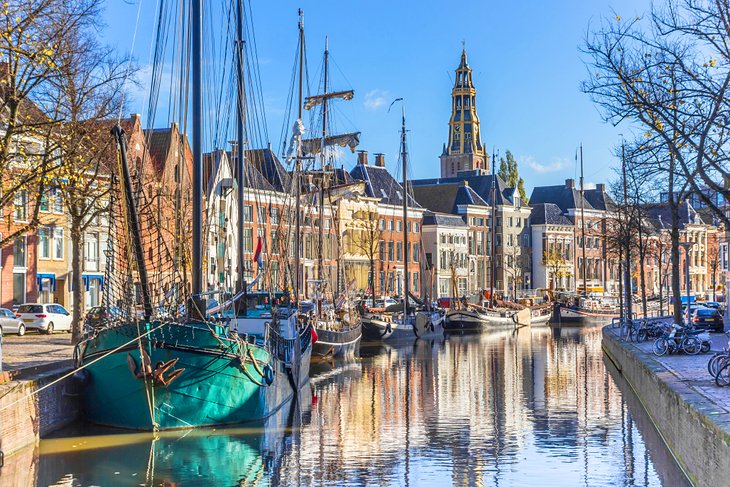 One of the country's most important port cities, Groningen's history can be traced back hundreds of years to a time when it was granted rights to mint its own coins and became an important trading hub.
These days, this vibrant university city has a reputation for its many cultural opportunities, as well as its lively festival scene. In fact, some of the city's most popular open spaces regularly host concerts and other events, with one of the most popular being the Noorderzon Theater Festival, held each summer in Noorderplantsoen park.
The city center is where you'll find Martin's Church, a 13th-century edifice that dominates the city's pedestrian-friendly market square. As much fun as it is to walk in Groningen, cyclists will be pleased to know this bustling city has a reputation as a bike-friendly destination, with its many cycle paths making it ideal to explore on two wheels.
13. Leiden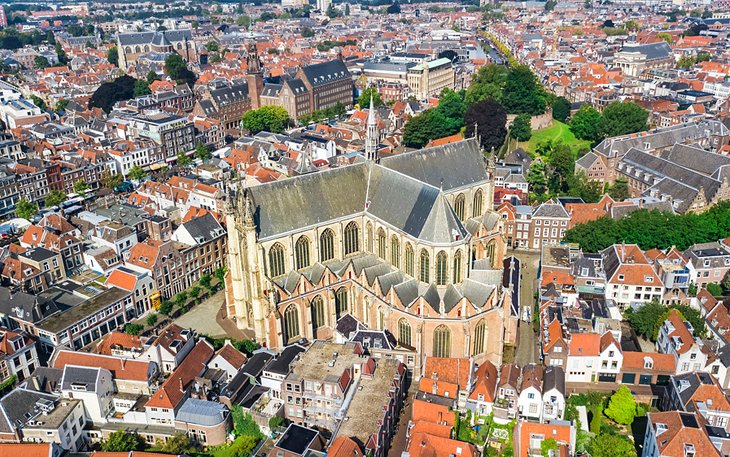 Leiden (or Leyden) is another quintessentially Dutch town that should be included in your Netherlands' travel itinerary. It was here that the country's national flower, the tulip, was first introduced to the continent.
Venture out into the surrounding countryside, and you'll be rewarded with an unforgettable image of these colorful flowers being grown in their thousands, waiting to make their way around the globe.
Visit the town's Wednesday street market, and you'll not only find plenty of tulips on display, but also a wide variety of local produce, including cheeses and meats, as well as traditional craft goods. From here, you're just steps away from the canals where you can pick up a fun tour boat for a longer journey out onto the Rhine River.
14. Nijmegen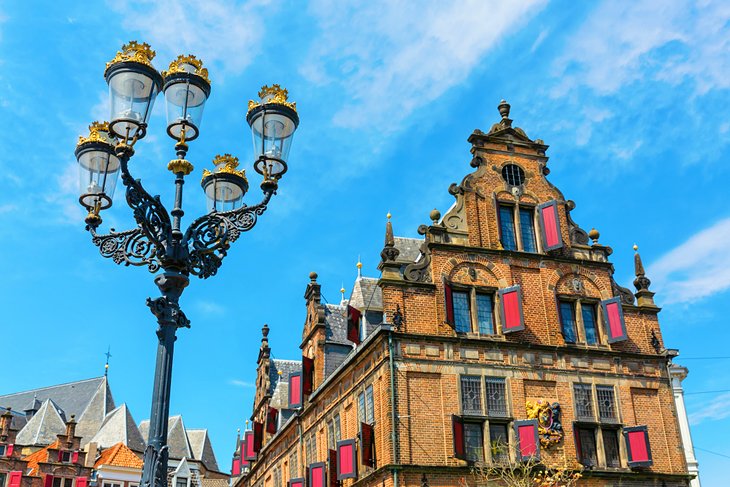 Just a few kilometers from the border with Germany - and close to the city of Arnhem - Nijmegen is certainly worth exploring. A highlight of a visit to this bustling city is the chance to stroll along the banks of the Rhine, stopping to watch the river traffic, or sitting on a café patio in one of its many pedestrian areas for refreshments as the world passes you by.
Popular places to visit here include the Valkhof, a very pleasant park that incorporates a site once fortified by Charlemagne in the 8th century. The views over the Rhine from here and the old ruins of the Maartenskapel will certainly make you want to linger awhile.